The iconic Nissan 350z (Z33) came from the factory with the perfect formula; rear wheel drive, front engined and a generous sized engine. Rare for anything built in the last few decades!
But let's be honest, as performance car owners we are never satisfied.
It didn't take long for aftermarket performance parts to become available for the Nissan 350z, and today these mods are plentiful.
In this guide we'll review the best 350z mods for you to consider, broken down by the handling, performance and exterior mods.
Handling Mods for Your Nissan 350z
If you've recently taken ownership of a 350z, upgrading your car's handling is probably the first place you'll look to start.
When we look at handling, typically we consider this anything to do with your suspension and brakes.
Do know this is open to interpretation though, as your brakes, wheels and tires will also affect how your car grips the road. We will cover those other components later on in this list of modifications.
350z Suspension Upgrades
One of the most common complaints from Nissan 350z owners is that the standard suspension is too high.
With most models weighing in at (well) over 3,197 lbs (1,450 kgs), the Fairlady Z isn't light by performance car standards. Some owners feel the 350z was built to be a "cruiser", despite it's racing roots.
Thanks to this weight, your car's suspension needs to work hard to feel lively compared to something like a Mazda Miata.
The good news is, aftermarket parts are plentiful for you to upgrade your 350z suspension.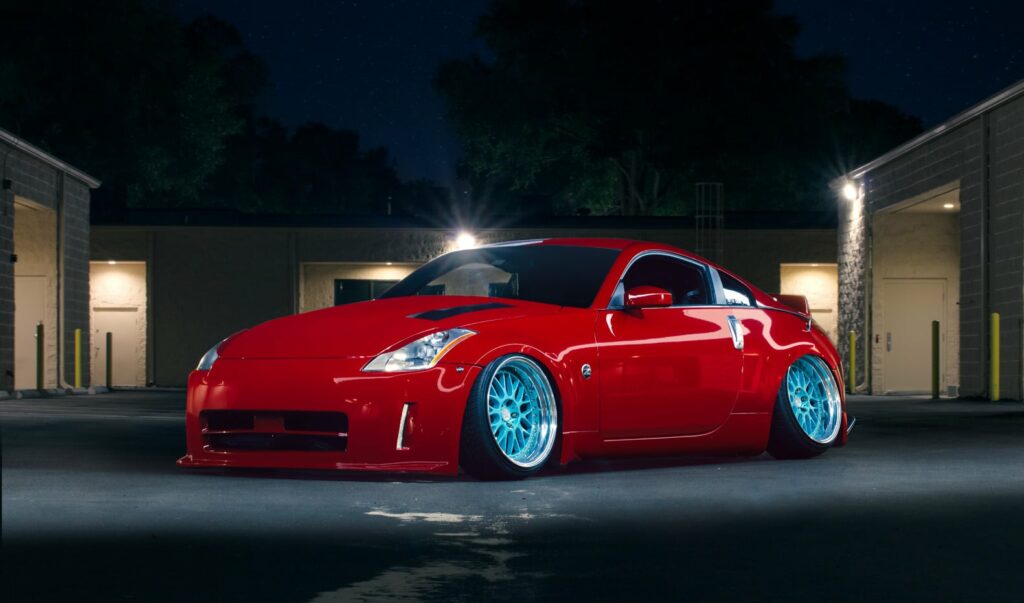 Lowering Springs
Lowering their suspension is one of the first 350z mods most owners will make. Though the 350z sits well from factory, it can still ride a little high for spirited driving.
There are many pros and cons when comparing lowering springs vs coilovers, however the main take away is that by lowering your car, it sits flatter through the corners, meaning less body roll and, to a point more grip.
Using aftermarket springs to lower your car is going to be cheaper than coilovers, though it's worth remembering they aren't as adjustable as coilovers.
Some lowering springs to consider include: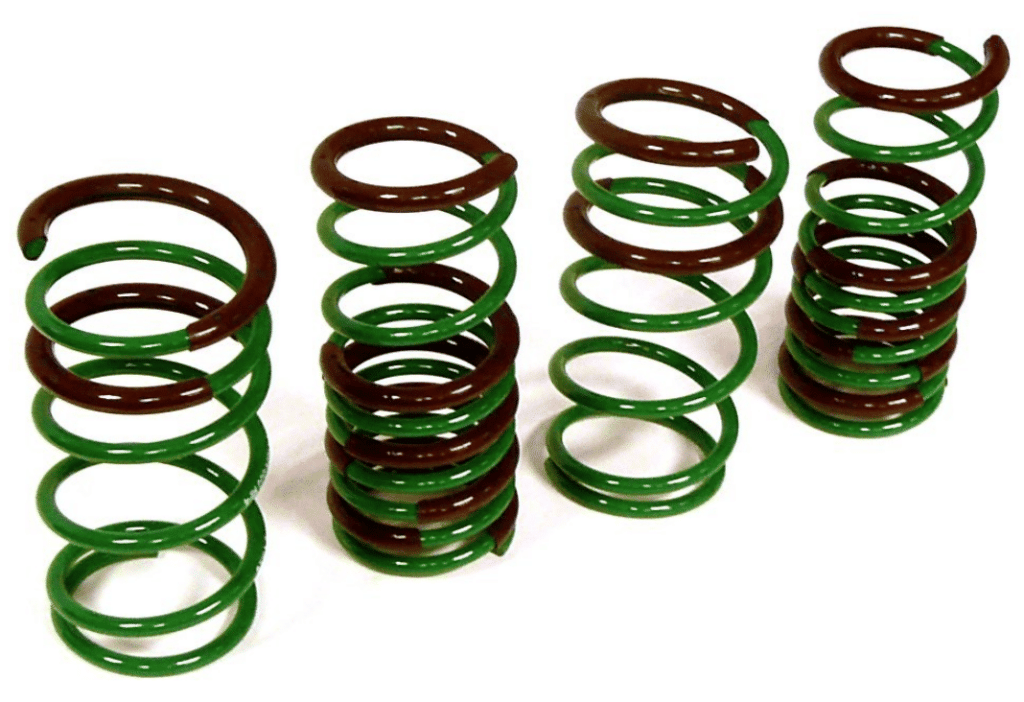 For more on this topic, check out our guide to 350z lowering springs.
Coilovers
Coilover suspension is a popular suspension upgrade among owners looking to improve the handling of their car.
Some owners first make this modification to improve the look of their car, but soon learn that they can provide both improved handling without sacrificing comfort, thanks to their correctly matched shock valving and spring rates.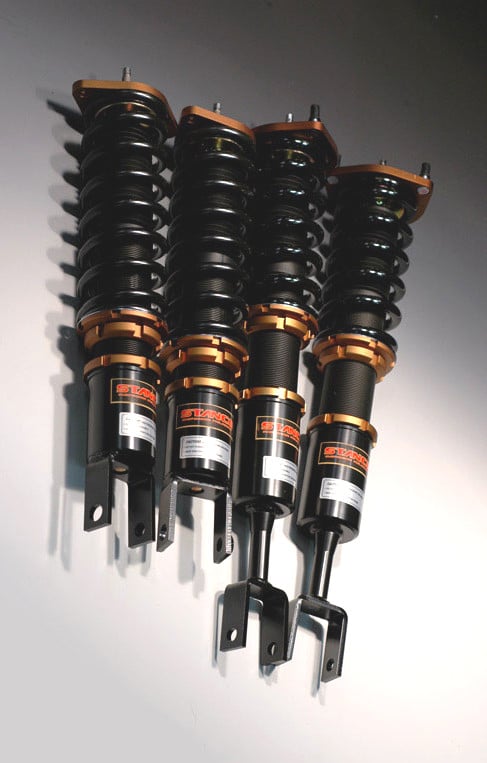 Those looking to bring their 350z to club events such as hill climbs and track days will no doubt look for coilover suspension to allow them to fine tune their car's suspension.
Some of our favorite budget coilovers for a street-driven Z's that sees the track less than once a year are:
For a more in depth look at coilovers for your 350z, take a look at our guide to the best 350z coilovers.
Air Suspension
350z owners looking to aggressively lower their car for shows while still allowing for a suitable ride height for day to day driving will often choose air suspension.
Air suspension allows you to lower your car further than most coilovers, sometimes all the way to the ground.
But unlike coilovers which need to be manually adjusted for height, air suspension can be raised for driving over speed humps or up difficult driveways.
They are designed in a similar way to coilovers in that they are usually a single unit, but the struts have air bags to lower and raise your car's ride height using an air compressor, which is controlled by a button, switch or remote.
Some of the best 350z air suspension kits are from:
Air Lift (may be discontinued though)
Sway Bars
Also known as anti-roll bars or stabilizer bars, sway bars are designed reduce body roll during fast cornering or bumps in the road.
A common complaint from 350z drivers is that they "body roll" from factory. Once you're confident with your car and pushing it harder and harder, a 350z can begin to feel a bit slow to respond through the turns.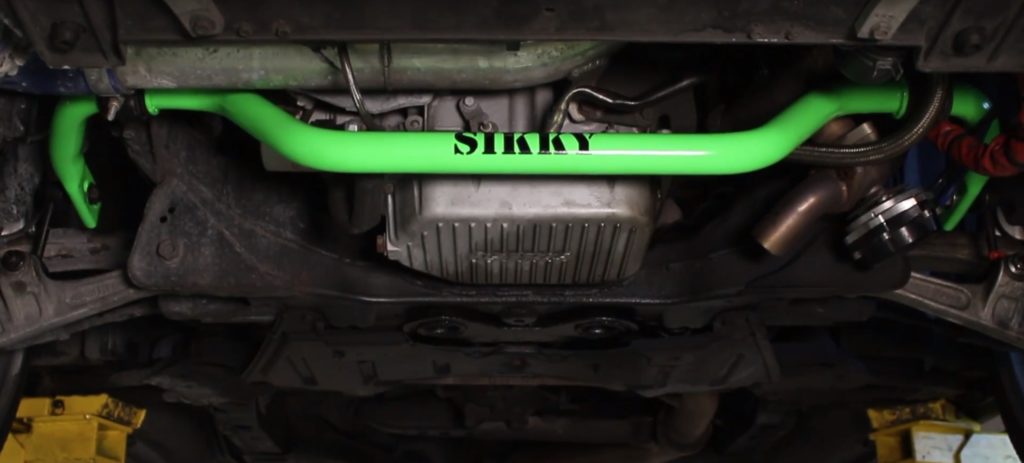 OEM Z33 sway bars are a hollow construction, and typically of 7mm or 5mm thickness. Most commonly 34mm front and 21mm rear (there are some different models from different years), they're not as stiff as they could be.
Most aftermarket 350z sway bars increase torsional stiffness by a minimum of 40%, up to over 250%, usually giving you the option of adjusting this amount of stiffness so it is suited to your use.
Popular brands of sway bars include:
Often called a "strut brace", these components brace the top of your strut suspension mounts together.
A strut bar adds increased stiffness of your chassis between the strut towers of your car, which can flex during heavy cornering.
Luckily for Z33 owners, strut bars come standard on most models.
Some owners will remove their OEM strut bar for street use as you are unlikely to feel the benefits, while others are forced to upgrade due to aftermarket engine modifications (like the plenum spacer we discuss below) requiring more room.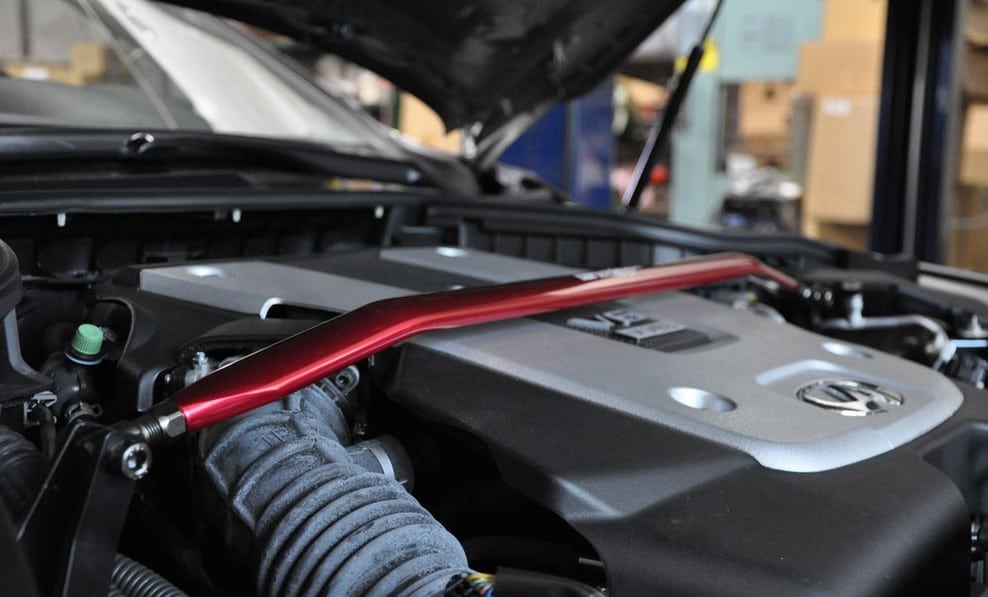 That said, some of the aftermarket units look amazing, so they may be worth it for the bling factor alone.
Check out 350z strut bars from:
Camber Kits
Those looking for increased adjustment of Nissan 350z's suspension angles should consider aftermarket camber kits.
As the 350z doesn't offer camber adjustment, and cannot use a camber plate at the front of the car, aftermarket camber kits are required when lowering a 350z.
These aftermarket suspension arms allow you to either reduce your camber (to save your tires from wearing quickly), or increase your camber (to improve track performance, or stop your tires from scrubbing when lowered aggressively).
Aftermarket Control Arms
Control arms connect the suspension of your 350z to the chassis. Also known as wishbone or A-arms, they're usually the last piece of the puzzle for improving your car's handling, and usually only found on cars heading to the track.
Aftermarket control arms are generally lighter than stock and made with stronger materials, meaning they're stiffer, further reducing any unwanted flex.
Usually aftermarket control arms are used in situations where suspension angles are very extreme, and all other methods of adjustment have been maxed out.
Two common examples are for a car that:
is aggressively lowered, like a bagged show car, or
needs increased steering lock, like a drift build Z33.
350z Brake Upgrades
Similar to coilovers, it's best to look at upgrading your 350z's brakes before going all out on power.
Not only does it mean you'll be able to stop faster and stay safe on spirited drives, big brakes do look great.
But you don't always have to upgrade the entire caliper and rotor unit to get performance benefits.
Do note in this section that some lucky Nissan 350z owners have Brembo calipers from factory. These are a great unit and really, there's no need for you to go with a 350z big brake kit any bigger than these unless you're heading to the track. Even then, the OEM 350z Brembos are probably more than enough for those heading to club events.
Brake Pads
While the factory z33 brakes aren't terrible, the OEM pads could be better.
A common complaint of 350z owners is how dusty their brakes are. There is a reason for this – the standard brake calipers are quite small, so your car's brake pads, which are of a composite material (not metallic), need to work much harder than those in a big brake kit.
These non-metallic  pads won't wear your brake rotors as much but the pads tend to wear quickly as this is the weakest point in the braking system (by design). As your pads wear down, your wheels will be covered with this material.
But if you aren't driving aggressively, and your 350z is more of a daily driver or is being built for show events, you can consider a brake pad with less dust that won't wear quite as quickly.
Aftermarket units will typically be a semi-metallic, full-metallic, or ceramic brake pad.
The best brake pads for a street-driven 350z are probably ceramic, as they are a good combination of durability, grip, and resistance to brake fade.
Typically ceramic pads are very quiet, and dust is usually better than the OEM composite pads.
Aftermarket Brake Rotors
Combined with ceramic brake pads, most 350z owners run slotted or cross-drilled rotors, or a combination of both.
A common misconception of aftermarket rotors is that they will improve stopping power. On the street, most owners of aftermarket brake rotors will notice an improvement in the life of their pads, but no additional power.
The advantages from cross drilled and slotted rotors becomes much more obvious during extremely hard and repetitive braking, where you will usually experience much less "brake fade".
350z Big Brake Kits
When upgrading pads and rotors still doesn't get your 350z stopping as well as it should, it's time to go with a big brake kit.
For those in need of a modest upgrade, we strongly recommend looking at the factory upgraded 4-pot Brembos found on some models of Nissan 350z. These are a great set of brakes and are very well supported – you'll never have trouble finding spare parts for them, and they are very affordable.
An alternate option that is still affordable is the Akebono big brake kit. Similar to the 350z Brembos, the Akebono calipers are an OEM brake used on Nissan and Infiniti models.
Both of these options are 100% bolt on; no custom mounts are required.
Of course, the sky is the limit, and there are some huge brake kits out there for the Nissan 350z. In the end it depends on your need and goals.
Braided Brake Hose Kits
Stainless steel "braided" brake hoses are less likely to "bulge", like your OEM Nissan brake hoses will. You'll never notice this difference driving to your job though.
If you begin to bring your car to track days or club events, it's something you'll want to consider.
We deliberately placed this section after big brake kits as it's our opinion that you should upgrade to a more powerful brake kit before opting for braided hoses.
While it is possible to make your own braided brake hoses, it's a difficult and messy job and you don't save much by doing it yourself. For this reason we recommend buying a pre-made kit. You'll save in installation time and pulling metal splinters out of your hands!
Uprated Brake Fluid Flush
Often forgotten as a potential upgrade, bad brake fluid can make any pad and rotor upgrade a waste of time.
From factory your Nissan 350z has DOT 3  fluid. Depending on the service history of your car, you may still be using the original  fluid (hopefully not)!
Your OEM DOT 3 fluid may be "cooked" (boiled) during sessions of heavy braking and can otherwise have water and air in it.
Brake fluid sucks in moisture, meaning over time it will contain water. Water boils at a lower temperature than brake fluid, meaning even street driving can cause it to boil, leaving you with the feeling of brakes that fade very easily.
An affordable brake performance "upgrade" is to flush your car's braking system with DOT 4 fluid, then use a brake bleeding kit to remove any air.
Most people in the 350z community like to use the following fluids:
While it is possible to run DOT 5 in your system, which is a very high performance brake fluid, it's overkill even for most track applications.
It is also more difficult to flush your brake system with. Where DOT 3 and 4 can mix together a little, DOT 5 really does need all of the previous fluid out of your braking system.
Wheels
Wheels are a highly personal choice so we won't go too deep into this topic.
Most modified Nissan 350z's end up with 19″ or 20″ wheels due to the size of the car and brakes they end up with. This size is generally the best combination of looks and handling. Some show cars will run larger of course.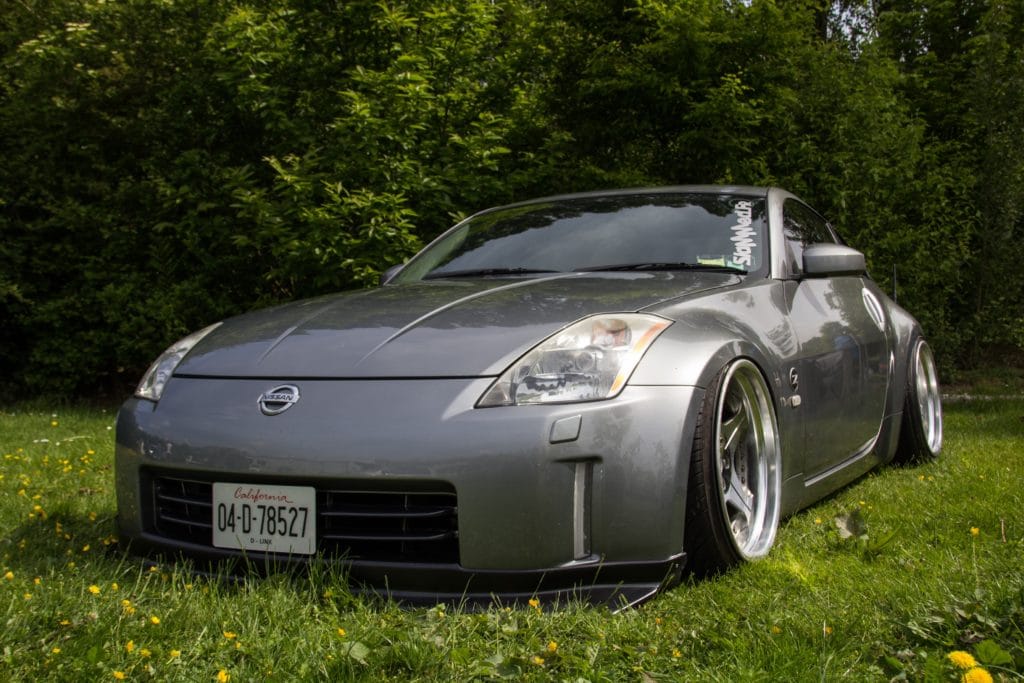 Factory 350z Wheel Sizes
From the factory, they came with the following wheel sizes:
2003-2005 Base: 17×7.5″ +30mm front / 17×8.0″ +33mm rear
2003-2005 Touring v1: 18×8.0″ +30mm front / 18×8.0″ +30mm rear
2003-2005 Track v1:  18×8.0″ +30mm front / 18×8.5″ +33mm rear
2005-2007 Touring v2:  18×8.0″ +30mm front / 18×8.5″ +33mm rear
2006-2008 Track v2:  18×9.0″ +30mm front / 19×10.00″ +30mm rear
2007-2008 NISMO:  18×9.0″ +30mm front / 19×10.00″ +30mm rear
It's always worth noting these sizes when shopping for aftermarket wheels. If you're simply looking for a "different look" without changing the dynamics of your car, it's best to stick to wheels in similar sizes.
350z Wheel Fitment
Known to many as "flush" wheel fitment, you may be looking for 350z wheels that fit perfectly within your guards.
It's generally accepted that the following wheel widths and offsets work well on a 350z:
Front: 9.5″ +12mm
Rear: 10.5″ +22mm
This is a "safe" wheel size. You'll need to roll your fenders, but otherwise it won't require extreme camber or stretched tires.
Of course, we strongly recommend doing your research first before buying wheels to fit your fenders, as there are a lot of variables involved in getting a great fitting wheel.
You're better off getting a set of wheels that are a guaranteed fit, then using wheel spacers to get your fitment perfect, instead of wheels that sit way too far out of your fenders and rub all of the time.
350z Performance Mods
Your Nissan 350z is no slouch! Though power output varies between models, even the "slowest" version came from the factory with 276hp (206 kW).
2003-2006 models came with a VQ35DE 3.5L V6, while 2007-2009 have the VQ35HR 3.5L V6, and both are the perfect base for future performance mods.
Air Intake
If you haven't already done it, the perfect place to start tuning your 350z is with your air intake.
As your VQ engine is non turbo (naturally aspirated), you need to keep the air going into the engine as cool as possible to squeeze more performance out of your car.
Cold Air Intake
The OEM air intake is a great unit which performs well, so many owners choose not to modify it.
If you want your engine bay to look unique however, and hunt for those extra horsepower, there are some high quality units available from:
Plenum Spacer
The plenum chamber is the space between your car's intake and the rest of your engine. It's pressurized and the better it flows and keeps air cool, the better your car will perform.
A popular mod to help your car breathe more easily is to install a plenum spacer. It may look difficult to install but it's actually a very simple process.
Not only is there an increase in top-end power, engine response is better and smoother, while you'll feel an increase in low and mid-range torque.
Important to note: you'll need do an an ECU reset after installing this spacer otherwise your car will run worse than before.
Some spaces are compatible with your OEM strut brace, while others aren't, so make sure you know what you're buying.
350z plenum spacers are available from:
350z Exhaust Systems
To continue helping your engine to breathe, you'll want to upgrade it's exhaust. The OEM exhaust system on your 350z is designed to keep your neighbors happy and meet emissions standards.
The right aftermarket exhaust system will keep your engine cooler, improve power and response, sound great and look great – there's a reason why it's such a popular 350z mod.
We've written a whole guide on 350z exhausts, so take a read if you're thinking about upgrading.
Similar to wheels, this is a very personal purchase, as some owners are looking for maximum noise and performance on a budget, while others want the best looking and sounding system available.
Budget Exhaust Systems
If you're looking for a cheap exhaust upgrade, take a look at the following:
Some of Our Fav 350z Exhausts
If noise and finish quality is more of a concern for you, check out these systems:
Your 350z has fairly good exhaust manifold from the factory, but they can't compete with those that tuners have designed and produced since the z33 was first engineered by Nissan.
There's no denying it – a set of aftermarket headers will make your engine bay look great and are likely to bring some top end power gains.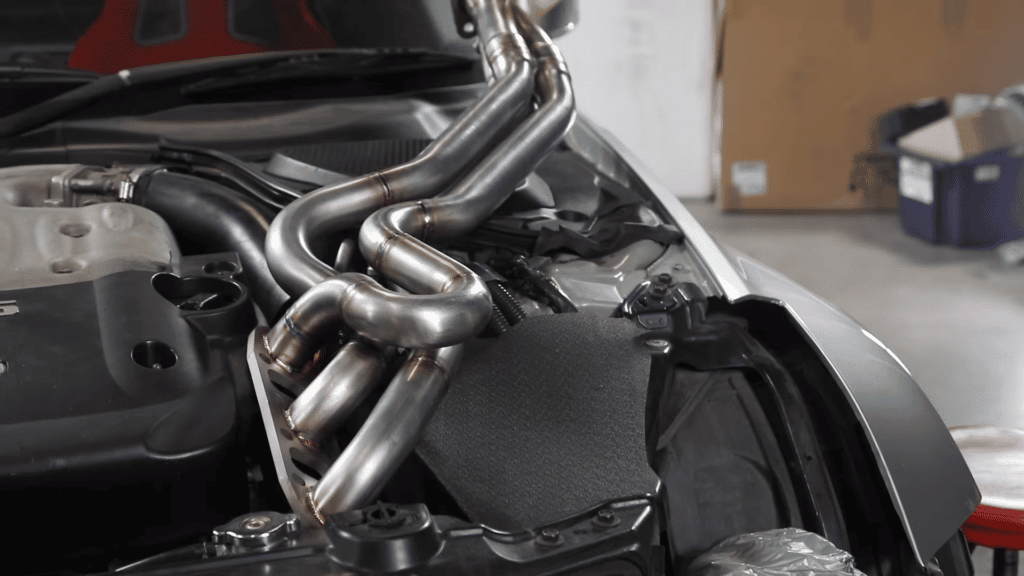 Check out the following 350z headers:
For the price of purchase and install though, you need to be devoted to keeping your car naturally aspirated. Opting for a turbo kit (forced induction) is going to provide better bang for buck.
Hi-Flow Cats & Test Pipes
If there's ever been something to stifle a car's performance, it's emissions standards. Taking the time to upgrade your catalytic converter to something that flows a lot better is well worth it.
350z High Flow Cats
If you're going to be using your 350z for street use, chances are your local laws require the use of a catalytic converter. Fines for not doing so are usually steep.
A good high flow cat will help your car to get rid of exhaust gas faster, and also make your exhaust louder. This video helps to explain the difference.
High flow cats are made by:
350z Test Pipes
Illegal for street use just about everywhere, test pipes are a very cheap and simple way to improve the performance and increase the noise of your Z33.
Also known as "straight pipes", they are a piece of tubing with flanges welded on to be a direct swap your OEM catalytic converter.
You have loads of options to buy test pipes for your Nissan 350z, check out the options from:
Berk Technology
Invidia
Kinetix Racing
Tomei
350z Engine Mods
Once your 350z is set up to handle well and brake hard, you're probably looking for a bit better performance, right?
Whether you're running a VQ35DE or VQ35HR in your Z33, the maximum horsepower you'll see from factory is 306hp (228kW). The 350z is no slouch, but over time you'll become more and more used to the OEM power output and be hungry for more.
If you've come this far, hopefully your 350z is breathing better with a great intake, plenum spacer and exhaust system.
From here on is where it becomes more difficult.
Bang for buck, you're going to have trouble beating a 350z turbo kit, but it is a serious upgrade. Even a cheap single turbo kit is doing to set you back $5000 or so, with yourself doing the bulk of the work.
350z Remap / ECU Upgrade
On an otherwise standard Z33, it doesn't make any sense to upgrade or remap your ECU. Nissan 350z remap power gains only come when other changes to the car have been made – such as an exhaust, intake, injectors, camshaft or other engine mods.
Most units will allow for speed and rev limit removal, however some will include more advanced features such as launch control, EGR valve removal, catalytic converter delete and, for those running a turbo kit, anti-lag.
350z Turbo Kits
Not for the faint of heart, 350z turbo kits or superchargers don't come cheap. But unlike naturally aspirated modifications such as camshaft upgrades, forced induction gets worthwhile results.
A forced induction install can bring your total power output up by 50% while remaining fairly reliable, while come kits claim a 100% increase in power output over a stock Z33.
The key to a great Nissan 350z turbo conversion isn't the bolt on kit though, your ECU tuner can make your car reliably high-powered, or a disappointing lemon. Don't skimp on your tune if you take this route.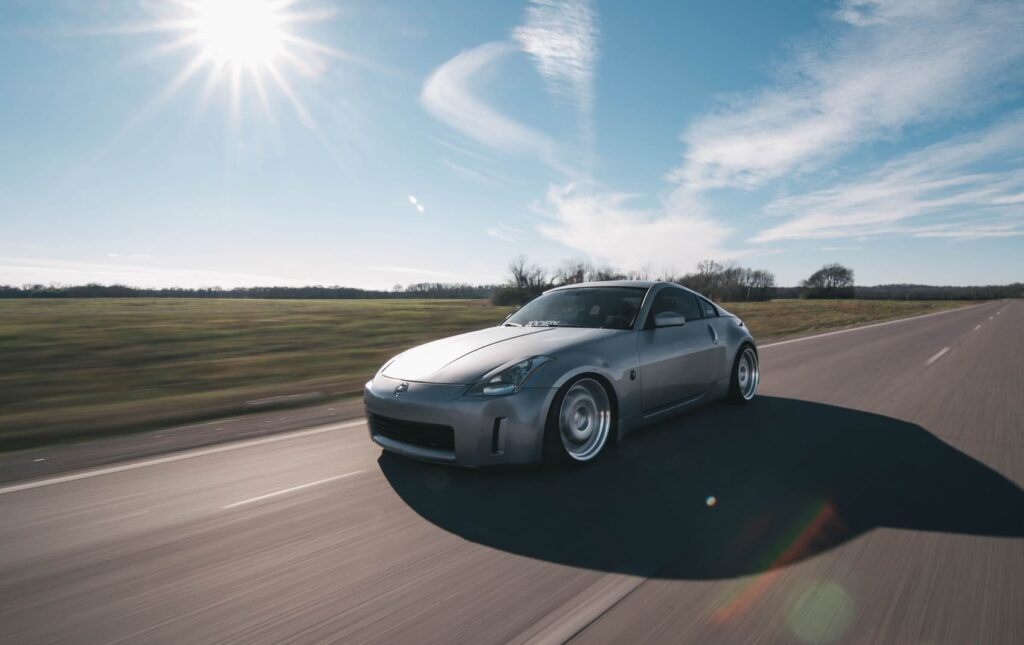 Nissan 350z Mods List
For most Z33 owners, they prefer to modify their car in this order:
Suspension
Wheels
Brakes
Exhaust
Intake
Other exterior mods (such as an aftermarket body kit or bash bars)
Gearbox-related changes like clutch upgrades and short shifters
Engine
Of course, your 350z mod list may be different to the norm. Some will perform exterior mods before anything else as they are affordable, while others want to get their brakes performing well first. Some will take it that next level again and swap the engine for something like a VH45DE, VK45DE or an LS .
However you choose to modify your 350z, enjoy the process. The Z33 is an amazing car and one that responds well to upgrades. Just keep in mind that the more modifications you make, the more it will affect the cost of insuring your Nissan 350z.
Feature Image: Nissan 350z by Alexandre Prévot, modified by Low Offset, CC BY-SA 2.0