Drifting is like the figure skating of motorsports. It requires serious skills, style, and most importantly, the right car.
The used car market is a goldmine of cheap drift cars that are worth checking out. But before you storm your way to Craigslist, pick up the cheapest RWD manual, weld the diff, and give this list a shot.
Read on as we'll list 15 of the best drift cars under $10,000 and explore what makes each of them worth considering.
What Makes a Great Drift Car?
Even though we know that it's not the car — it's the driver; we cannot ignore the fact that you do need a certain type of car to be able to drift.
But while many people think you need a Japanese street car to be the base of your new drift build, it really isn't the case.
Arguably, with the right upgrades, you could turn any car into a drift missile if you wanted to. But the point here is to find a car that can do this right out of the gate, without needing much work.
Here's what you need to look for in a car if you want to get it sideways effortlessly.
Rear Wheel Drive
This one's a no-brainer. Take a closer look at any car while it's drifting and you'll see that it's a rear-wheel drive. To get the rear end sliding, you're going to want power at the rear wheels.
We aren't saying that it is impossible to drift a front-wheel-drive car. It just wouldn't be called a drift; the proper term for sliding an FWD car is snap oversteer.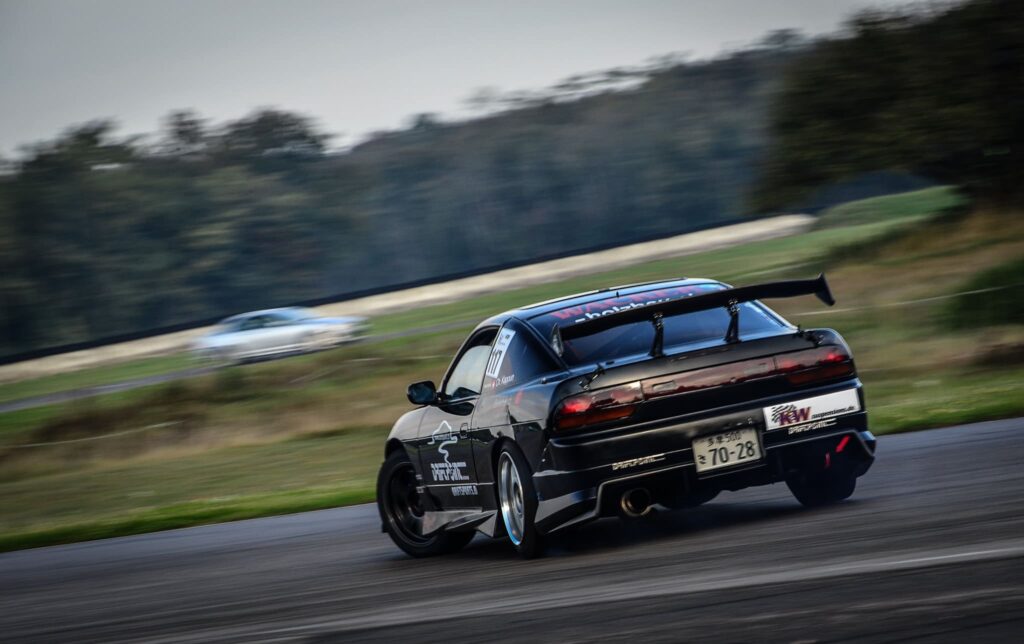 Limited Slip Differential
The main purpose of a differential is to enable your wheels to rotate independently. However, it cannot control the amount of power being sent to each wheel. This becomes a problem if both wheels, for any reason, have different levels of traction.
For example, if one of your wheels is on a patch of ice and you accelerate, it's going to spin without the other wheel moving at all.
A limited slip differential negates this effect by sending torque to both your wheels, regardless of their traction level.
This is necessary for a drift car because it will only slide if both its rear wheels lose grip at the same time.
Note: "Slip" refers to the difference between the inside and outside wheel speed, not traction.
Manual Transmission
Drifting without a clutch is possible as long as you have power and go fast enough. This is called "power oversteer".
With a clutch and manual transmission though, you'll have way more control over your drift.
In lower-powered cars, the only way to break traction on a dry surface is to clutch kick the rear end out. The more power your engine makes, the easier it is to drift without using the clutch.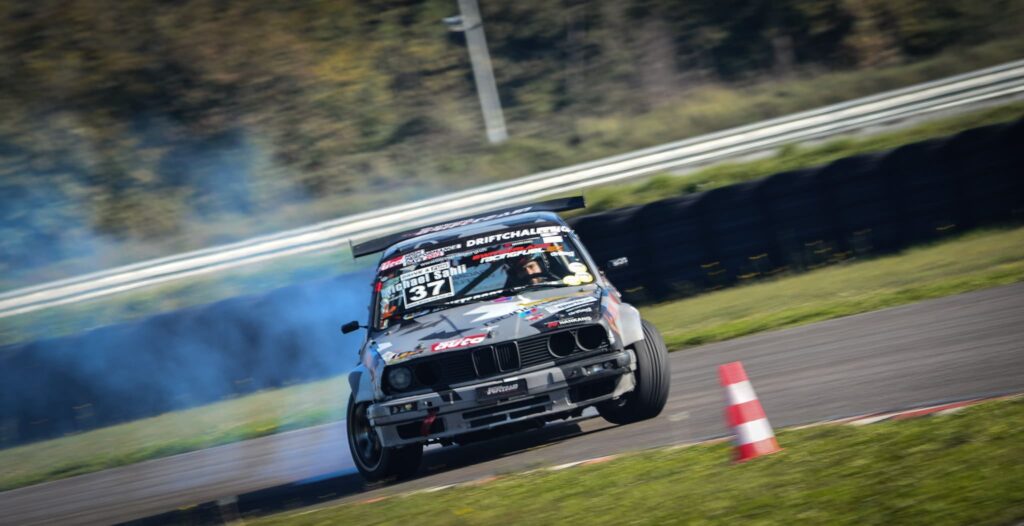 Power
You don't necessarily need 500 hp to drift properly. Even 100 to 150 hp is more than enough.
In fact, drifting a low-powered car like the Miata requires more skill as compared to drifting a V8 Mustang. That said, starting out on an underpowered car will help you develop your skillset.
Excess power certainly helps, but it also hides bad driving. Bob Hall; "father of the Miata" once said, "If you can't drive fast with 90 hp, then 900 hp will not help you".
Can Cheap Cars Drift?
In your early drifting days, you're inevitably going to end up breaking things. With that in mind, going for a cheap, RWD car that has good aftermarket support is your best bet. That way you can easily find used parts and maintenance costs won't burden you too much.
The last thing you need for drifting is an all-out sports car. Most pro drifters that you see today started out with the cheapest drift cars that were simple and functional.
Here's a list of the best cheap drift cars out there.
The Best Drift Cars Under $10k
We've divided this list into two sections. The first is the popular drift cars you'll often see in drift games online that are proven options that you can't go wrong with.
Others are the lesser-known hidden gems that you probably didn't know about. Each category has a lot to offer, and most importantly, all of these cars can be purchased for less than $10,000.
That said, be advised that even though you might be able to find these cars for less than 10k, running them won't be cheap — if you're learning how to drift, you're going to break stuff. Let's get right into it!
Popular Options
These tuner's choice cars are seen drifting more often than not. Ask any car enthusiast about the best drift cars and you'll definitely hear some of these names come up in conversation.
Here's our take on some of the most popular drift cars right now.
Mazda Miata (NA/NB) MX-5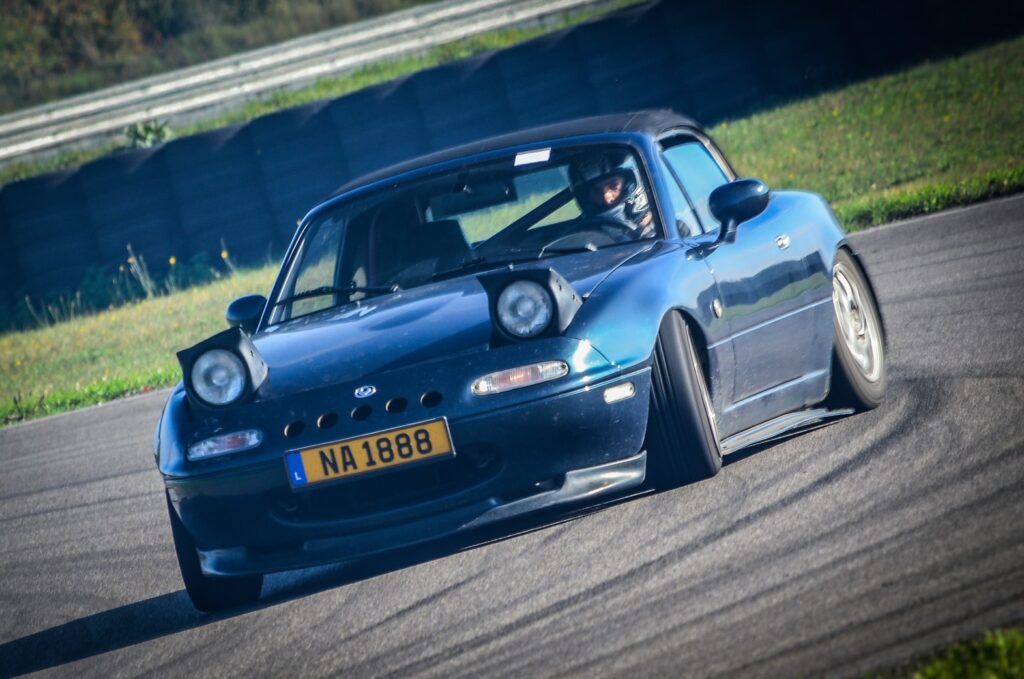 Power Output: 140 hp @ 6500 rpm | 162 nm @ 4500 rpm
Engine Capacity: 1.8L
Wheelbase: 2260 mm
Curb Weight: 1000 kg
Weight to Power Ratio: 7.1 kg/hp
Suspension: Independent Double Wishbone
You've heard people say this before, and we're going to say it again — Miata Is Always The Answer. This zippy little car literally does it all.
If you're just starting out on your drifting journey, the Miata is a great platform, to begin with. It's the ultimate learner drift car as it's tricky and unforgiving.
The same thing that makes the Miata fun to drive, makes it difficult to drift. It is designed to grip the road and does a great job at it.
It'll throw a tantrum at the slightest driver error — not the most forgiving car to drift with. You can't get a wide drift angle because of the short wheelbase. The more you push it, the more it wants to spin.
Though some aftermarket parts can help your Miata drift more easily, if you can drift flawlessly in a Miata, you can do the same with just about every other car on this list. It'll make you a better drifter.
Most people who choose to build a competitive drift car eventually choose to perform an engine swap to their Miata, using something like a K-series or LS engine.
Mazda RX-7 FC Turbo II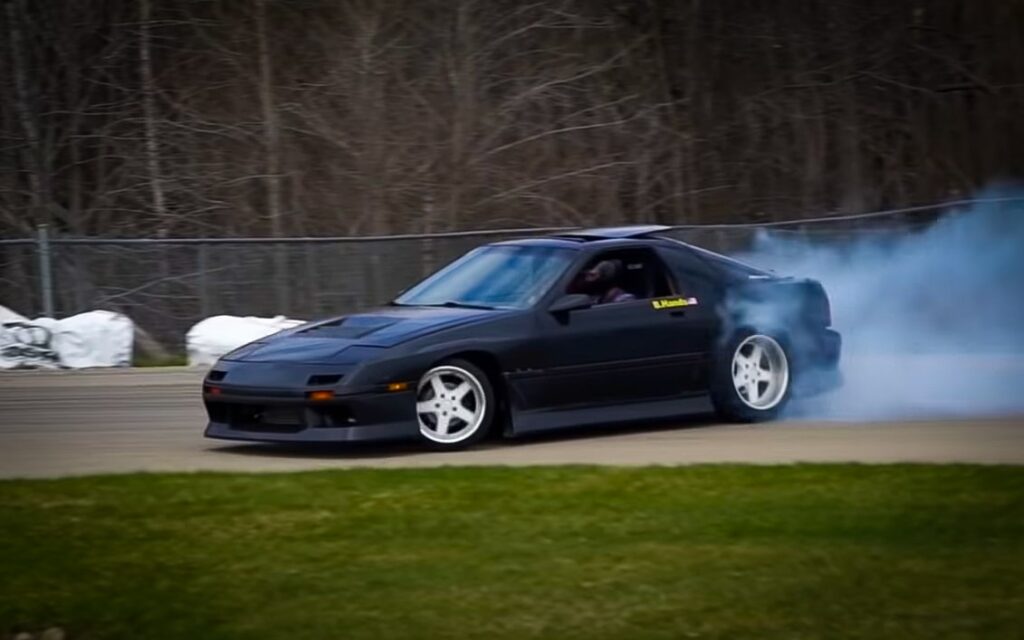 Power Output: 200 hp @ 6500 rpm | 265 nm @ 3500 rpm
Engine Capacity: 1.3L
Wheelbase: 2430 mm
Curb Weight: 1250 kg
Weight to Power Ratio: 6.2 kg/hp
Suspension: Front – Independent McPherson Strut | Rear – Independent Transverse Arms
The Mazda RX-7 has become a staple name in the drift scene. It looks stunning and comes with a small displacement rotary engine that loves being redlined — the ideal recipe for going sideways.
Rotary engines, despite all their flaws, receive insane amounts of love and support from car enthusiasts. It's a lot of work to maintain them but it's well worth it.
What makes them so drift-friendly is that they can rev to their maximum capacity without breaking a sweat. Mazda even recommends revving this engine to the limit in order to clear out carbon deposits. An "Italian tune-up" if you will.
However, the FC RX-7 is quickly appreciating in value just like some of the other JDM legends have. It's getting harder and harder to find a fourth-generation, FC RX-7 for under $10,000.
BMW E36 325i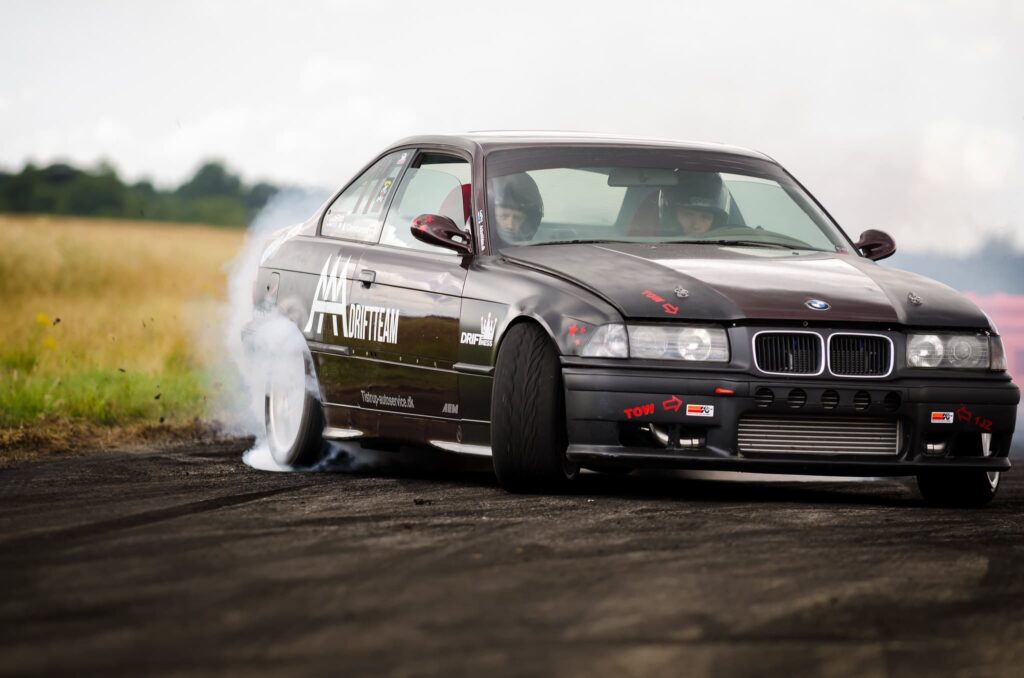 Power Output: 192 hp @ 5900 rpm | 254 nm @ 4700 rpm
Engine Capacity: 2.5L
Wheelbase: 2700 mm
Curb Weight: 1329 kg
Weight to Power Ratio: 6.9 kg/hp
Suspension: Front – McPherson Struts | Rear – Multi-Link Z Axle
BMW E36s are among the best cars for drifting and they really shine when modified. Believe it or not, a used BMW E36 is hands-down, one of the best drift cars under 10K.
Grab yourself a quality home welding kit, weld the diff, get the shock mounts and cooling system upgraded, and you're all set.
With a near 50:50 weight distribution, this car is just as predictable in a drift as it is in a straight line. Add a screaming inline 6 to this equation and you get a solid drift missile.
Because there were over a million E36s sold, they've depreciated really well. E30s and E46s are just as great, and in some cases better, it just depends on the price.
Nissan 350z
Power Output: 283 hp @ 6200 rpm | 362 nm @ 4800 rpm
Engine Capacity: 3.5L
Wheelbase: 2650 mm
Curb Weight: 1545 kg
Weight to Power Ratio: 5.2 kg/hp
Suspension: Front & Rear Independent Multi-Link
Talk about bargain drift cars and the 350z is very likely to come up in conversation. Nissan's Z platform is backed by an enormous aftermarket community that never seems to run out of stock.
You can't go wrong with a 350z no matter what style of motorsport you're into. It loves burning rubber and is a tried and true platform for just about anything.
Its VQ V6 motor provides enough grunt to break traction effortlessly, whenever required. It also comes with a solid manual transmission setup that has gained street rep for being quite reliable even when being pushed hard.
You can easily pick up a pre-2007 used Nissan 350z below $10k. Those manufactured after 2007 come with a more powerful VQ35HR engine and are usually priced above $10k. Still, for something this new, the Z33 is a bargain.
Combine that with the wide range of 350z mods on the aftermarket and you can easily get this car dialed to drift on the cheap.
Nissan S13 (KA24 240SX)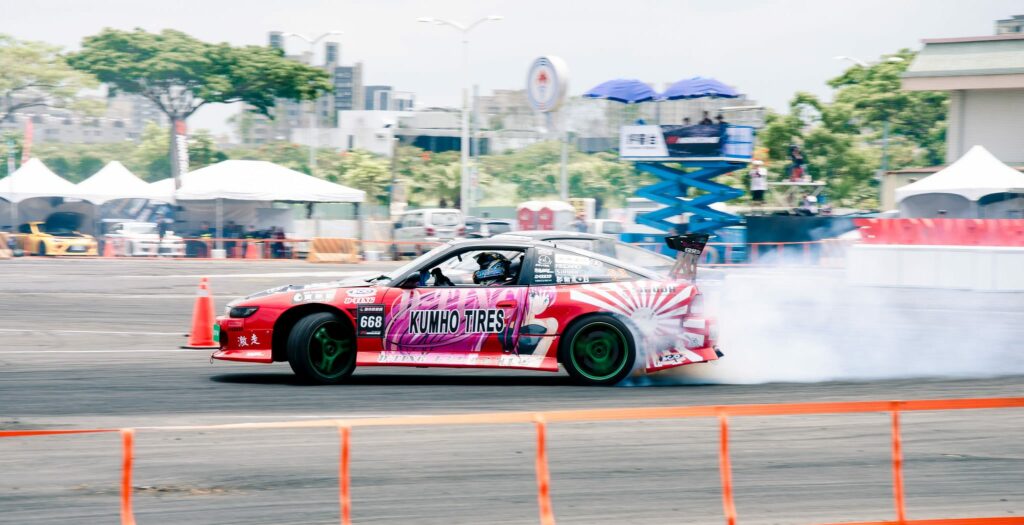 Power Output: 155 hp @ 5600 rpm | 217 nm @ 4400 rpm
Engine Capacity: 2.4L
Wheelbase: 2463 mm
Curb Weight: 1223 kg
Weight to Power Ratio: 7.89 kg/hp
Suspension: Front – McPherson Strut | Rear – Multi-Link
Nissan's S-chassis cars helped lay the foundation for drift culture as we know it today! They're light, easy to control, and handle a lot sharper than most other cars on this list. Their long-ish wheelbase allows for better angles and stability while drifting.
Drift events across the globe are littered with insanely modified, engine-swapped 240SXs — the coupe variant of the S13 and S14 chassis sold in North America.
In the same way, the Miata can make you a better driver, S-chassis Nissan cars will make you a better mechanic for sure. Swap in an SR20DET and it won't be a low-maintenance car, but they are fairly easy to work on. To keep one in good shape you'll end up giving it a once-over on a regular basis.
If you manage to find an S13 or S14 that hasn't been beaten the hell out of, consider yourself lucky and bag that thing before someone else does.
Finding one under $10,000 is getting harder nowadays considering the massive drift tax levied on these cars.
S13s are a lot easier to find as compared to S14s and the S15s — the forbidden fruit of the American car scene. You're going to have to wait until 2024 to import one of these bad boys.
Nissan 300ZX Twin Turbo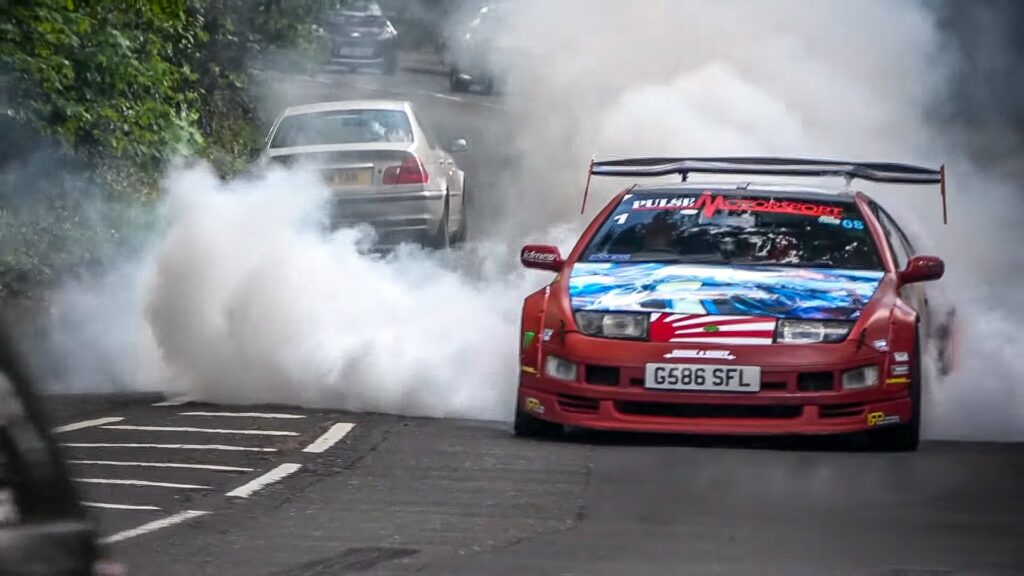 Power Output: 283 hp @ 6400 rpm | 375 nm @ 3600 rpm
Engine Capacity: 3.0L
Wheelbase: 2570 mm
Curb Weight: 1644 kg
Weight to Power Ratio: 6.75 kg/hp
Suspension: Front – Double Wishbone | Rear – Depreciated Rack
The 300zx is a lot of car for the money. It isn't on the hit list for most drifters out there, but damn, don't they look gorgeous when going sideways? So much so that even Lamborghini felt the need to copy some of its design cues for the Diablo.
The twin-turbo forced induction system provides more than enough grunt to break traction and its long, tourer-esque dimensions make it easy-ish to control your drift angle.
It's not as light and snappy as a typical drift car though. Some enthusiasts like this quality while some don't.
Toyota Corolla Sport GT-S (AE86)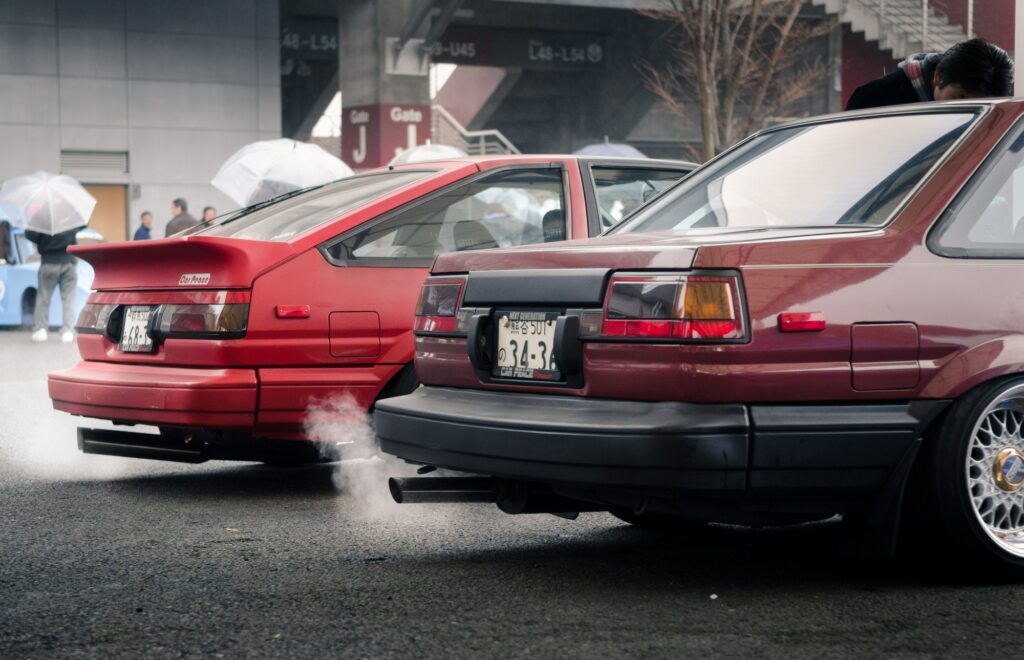 Power Output: 112 hp @ 6600 rpm | 132 nm @ 4800 rpm
Engine Capacity: 1.6L
Wheelbase: 2400 mm
Curb Weight: 1089 kg
Weight to Power Ratio: 7 kg/hp
Suspension: Front – Independent MacPherson Strut | Rear – Four Link Live Axle
This one needs no introduction. The AE86 Corolla is one of the reasons why drifting got worldwide recognition as a sport.
What was thought to be the underdog of the JDM world turned out to be so much more! That's what makes the AE86 so iconic.
This seemingly sub-standard hatchback absolutely dominated every motorsport it was used in — rally, touring, and most importantly, drifting.
Its near-perfect weight distribution and live rear axle make it ideal for drifting. This thing will drift even when you aren't trying. It's small, snappy, and is at its happiest when sideways.
Getting an AE86 to drift perfectly at high speeds requires serious commitment. When done correctly though, it's extremely rewarding.
Finding one is not that easy considering how it shot up in popularity because of Initial-D, but if you're lucky to find a grandma car they are an excellent platform to work with.
These are the cars that most enthusiasts probably don't think of when looking for a drift car under $10k. Some of these can be difficult to find, but they are available if you search in the right places.
Here's a closer look at the hidden gems of the drift world.
Ford Mustang Fox Body (1992)
Power Output: 220 hp @ 4200 rpm | 300 nm @ 3200 rpm
Engine Capacity: 5.0L
Wheelbase: 2553 mm
Curb Weight: 1392 kg
Weight to Power Ratio: 6.3 kg/hp
Suspension: Front – MacPherson Strut | Rear – Live Axle
The Fox Body Mustang is well known for its effortless drifting dynamics. There's something about V8s that other small displacement engines just cannot replace.
The extra torque makes it easy to control your slip angle and helps minimize driver error.
Finding one of these in good shape isn't too difficult considering that Ford sold over a million units over the course of 15 years.
You'll come across Fox Body Mustangs with a 5L Windsor V8 and a 2.3L turbo. Both are great, but the V8 is the more reliable option here.
Lexus SC300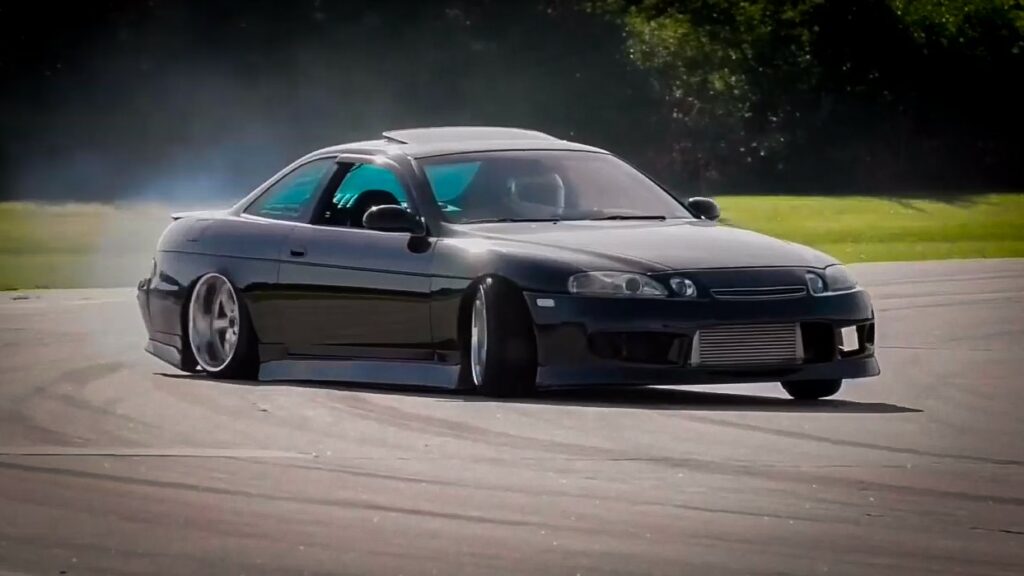 Power Output: 225 hp @ 6000 rpm | 298 nm @ 4800
Engine Capacity: 3.0L
Wheelbase: 2690 mm
Curb Weight: 1610 kg
Weight to Power Ratio: 7.06 kg/hp
Suspension: Front – Double Wishbone | Rear – Helical Spring
The term "hidden gem" is a great way to describe the SC300 because it's basically a Supra wearing a tuxedo.
So if you've always wanted to own an MK4 Supra but can't afford it because of the enormous drift tax, this is your chance. Keep it low-key though.
Both the Supra and SC300 were built on a similar platform and share a long list of parts. This means that it can benefit from the aftermarket support that the Supra gets. Parts are cheap and plentiful — an ideal scenario for a drift car.
The SC300 comes with the same tuner-friendly 2JZ-GE engine, transmission, and subframe as the Supra, making it an easy swap for a turbocharged 1JZ or 2JZ.
One thing that sets these two cars apart is luxury, even though it probably isn't the first thing on your drift build checklist.
If you're already experienced drifting and want a comfortable, period-correct car that you can drive to the track and also to the club, this one is worth looking at.
Toyota Cressida MX83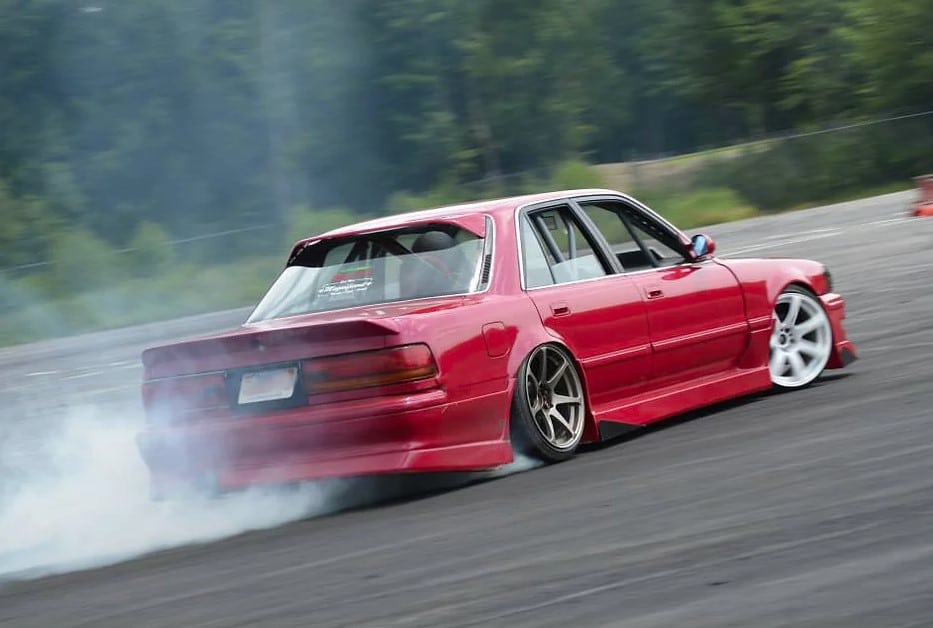 Power Output: 168 hp @ 5600 rpm | 230 nm @ 4600 rpm
Engine Capacity: 3.0L
Wheelbase: 2660 mm
Curb Weight: 1355 kg
Weight to Power Ratio: 8 kg/hp
Suspension: Independent MacPherson Coil Springs
The Toyota Cressida is extremely underrated and is often overlooked when it comes to motorsport. Interestingly, just like the SC300, this one also shares some parts with the Supra.
Finding a Cressida in top-notch condition isn't uncommon. This no-frills sedan can easily turn into a fun and cheap drift rig. All it needs is a little bit of love and a remapped ECU.
Some people love the appearance, while others hate it. It's dated but with some work, it can look seriously baller.
The long wheelbase means you can get some serious drift lock. It's really predictable!
Merkur XR4Ti Turbo (Ford Sierra)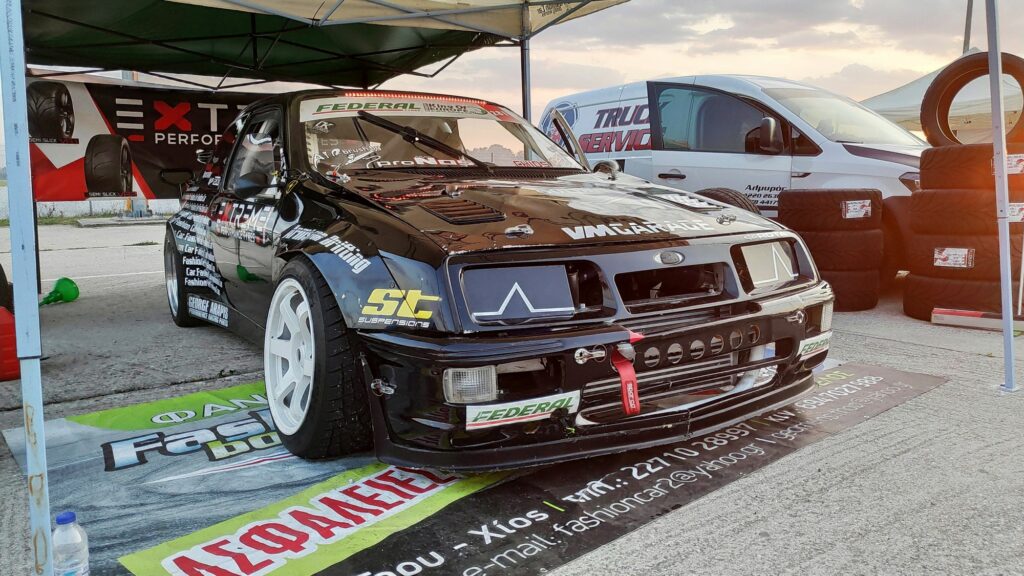 Power Output: 175 hp @ 5200 rpm | 271 nm @ 3000
Engine Capacity: 2.3L
Wheelbase: 2610 mm
Curb Weight: 1339 kg
Weight to Power Ratio: 7.65 kg/hp
Suspension: Front – MacPherson Strut | Rear – Coil Springs, Semi-Trailing Arm
The XR4Ti is a German-made variant of the Ford Sierra that went on sale in the US between 1985 and 1989. It was sold as "Merkur" which was a sub-brand of Lincoln and Mercury at the time.
This tiny, turbocharged car makes a healthy 175 hp and is an absolute blast to drive. Finding one should be relatively cheap and easy because nobody really seems to care for them.
When it comes to drifting capability, it ticks all the right boxes — it's lightweight and has a great power-to-weight ratio.
Mercedes-Benz 190
Power Output: 132 hp @ 5100 rpm | 198 nm @ 3500
Engine Capacity: 2.3L
Wheelbase: 2660 mm
Curb Weight: 1220 kg
Weight to Power Ratio: 9.2 kg/hp
Suspension: Front – MacPherson Strut | Rear – Multilink
Amongst all the variants in Mercedes-Benz's W201 lineup, two cars, in particular, caught our attention the most: 190E 2.3L and the 190E 2.3L-16V Cosworth. The latter is becoming increasingly rare and going up in value by the day.
Although it is possible to find one under $10k, your chances are slim. The 190E 2.3 however, can easily be purchased for next to nothing and is one banger of a car. These things were built to last.
Light drift cars are fun but the heavier ones aren't bad either. The 190E can whip burnies all day while still being a practical daily driver. It's like a German Cressida.
Volvo 740 2.3L Turbo
Power Output: 163 hp @ 4800 rpm | 264 nm @ 3450 rpm
Engine Capacity: 2.3L
Wheelbase: 2770 mm
Curb Weight: 1321 kg
Weight to Power Ratio: 8.1 kg/hp
Suspension: Front – Independent MacPherson Strut | Rear – De Dion Axle
Every drifter has preferences. Some like their cars stiff and agile while others like them long and flowy. The Volvo 740 is more suitable for the latter.
This Scandinavian drift brick is powered by a 2.3L turbocharged engine known for its ability to take a solid beating. If maintained correctly, the red block engine can easily cross 600000 miles.
The combination of sufficient low-end torque and a live rear axle makes it easy to get the 740 sideways.
Some people hate the prancing moose look, others love it. Built well in wagon form, and these are the hotness.
Chevy S10 2WD Regular Cab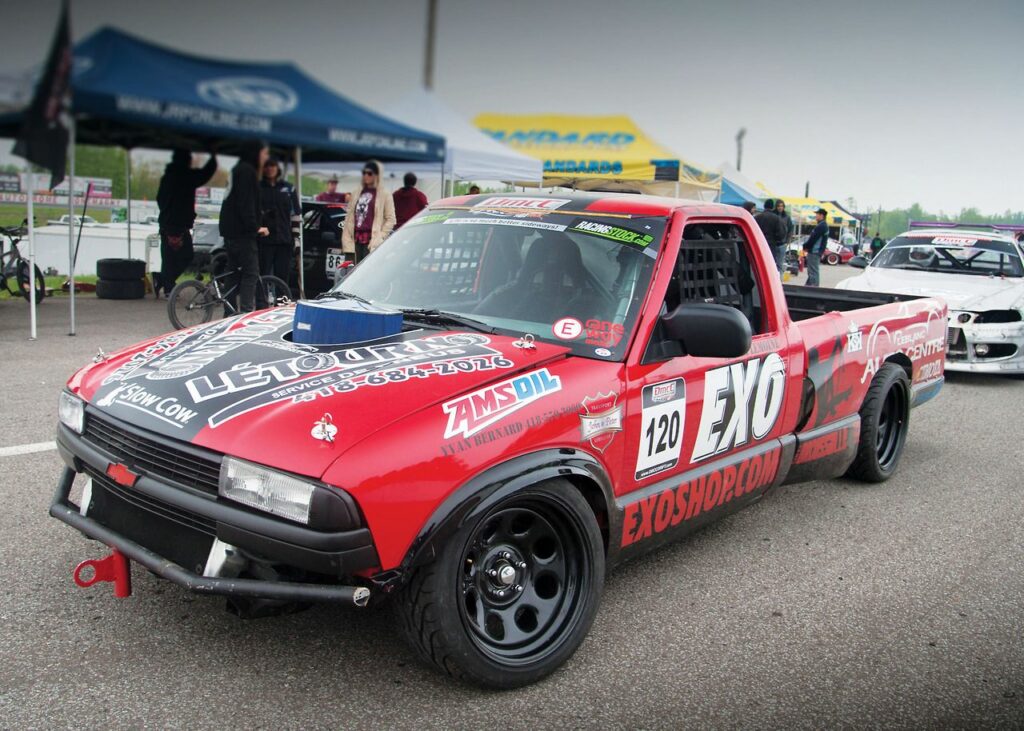 Power Output: 180 hp @ 4400 | 245 nm @ 2800 rpm
Engine Capacity: 4.3L
Wheelbase: 2751 mm
Curb Weight: 1905 kg
Weight to Power Ratio: 10.58 kg/hp
Suspension: Front – Independent Coil Spring | Rear – Two-Stage Variable Multileaf
A drift truck?! Why not? In fact, RWD trucks like the Chevy S10 are easier to drift than some coupes and sedans. This has a lot to do with having most of their weight concentrated over the front axle.
In comparison to a regular car, setting up a truck for drifting requires some extra work. When done correctly, the result is going to be poster-worthy.
Chevy S10s end up just as low as any other car when set up for drifting. We recommend installing coilovers and a fat rear sway bar. Consider shelling out some dough for drop leaf springs and a watts-linkage.
They're also dirt cheap and can be used for just about anything. The S10 was sold in many different styles and engine variants. They're all great but we'll pick up the 4.3L V6 any day.
Ford Ranger 3rd Gen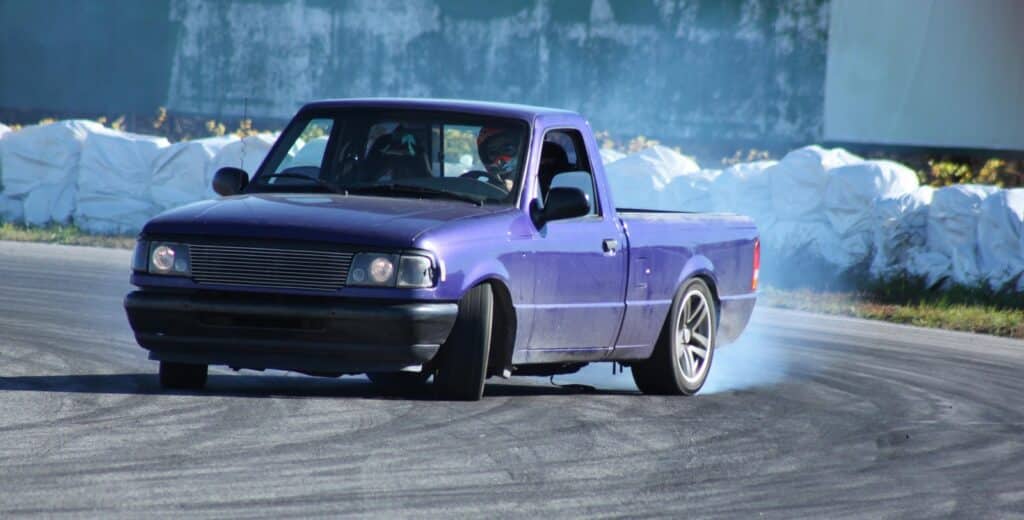 Power Output: 207 hp @ 5250 rpm | 238 nm @ 3000 rpm
Engine Capacity: 4.0L
Wheelbase: 3198 mm
Curb Weight: 1968 kg
Weight to Power Ratio: 9.50 kg/hp
Suspension: Double Wishbone
After nearly two decades of being one of the best-selling trucks in America, the third-gen Ford Ranger received a long list of much-awaited updates.
Ford decided to ditch the weird yet exciting twin I-beam suspension setup and went with a simple wishbone-style unit.
This makes repairing and fixing the new design much easier and cheaper which is good considering that there will be frequent drifting-related repair work.
Just like the Chevy S10, the Ranger is reliable as a hammer, and as long as you pick the V6, drifting it will be a piece of cake. Get that engine looked at before putting your money down though.
Here's our list of the best drift cars under $10k! Do you have any honorable mentions that you would've liked to see here? Let us know by leaving a comment below!