So you have a few exhaust upgrades installed on your Nissan 370z, but it still lacks the punch you're looking for? It's about time you made the switch to aftermarket headers.
The VQ37VHR engine is a masterpiece — it's over-engineered, versatile, and loves being modified. Replacing your stock exhaust manifolds with aftermarket headers is a great way to get a few extra naturally aspirated ponies out of this engine.
Not many cars can take advantage of aftermarket headers the way your 370z can. Keep reading to discover the best headers for 370zs and to know why your car will love this upgrade!
370z Header Swap: Worth It?
As long as your Nissan 370z is tuned correctly, you'll gain around 15 whp and 10 Nm of torque from a simple header install; totally worth it!
But remember — Nissan put a lot of thought into designing these factory exhaust systems. The engineering that goes into each factory manifold is mind-bending; every pipe is precisely shaped and sized for a purpose.
If you don't know what you're doing, messing around with your exhaust system can create more problems than it solves. So do your homework, and buy quality parts to avoid future trouble.
This said, your OEM manifolds aren't perfect.
Why Headers Work So Well With 370zs
Nissan's Z34 range is all about affordable performance. They've cut costs wherever possible so that more people could afford these cars.
The OEM exhaust manifolds are clearly one of the parts Nissan needed to cut costs on. They aren't tuned for performance, are heavy yet are prone to cracking, and they don't handle heat well.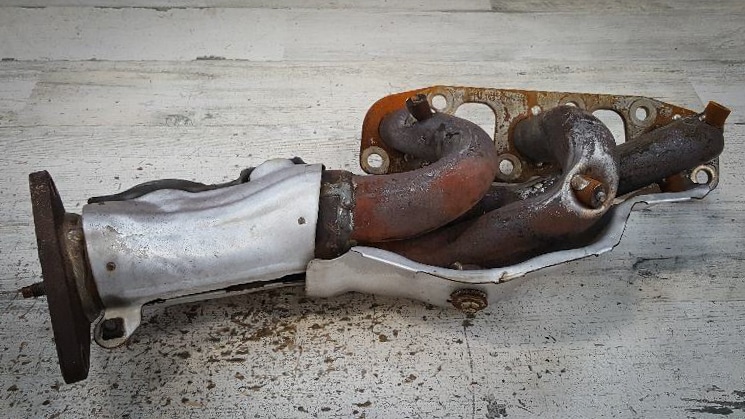 That's why replacing your exhaust manifolds with aftermarket headers has many benefits. Here are two important reasons why headers work well with your 370z.
Heat Resistance and Build Quality
You know yourself; your right foot is going to start feeling heavy after you install aftermarket headers. The more you push your Z, the hotter your engine will get.
Aftermarket headers are designed to work perfectly, even when things get too hot. This makes them more durable and the chances of cracks and leaks are a lot lower.
Your engine bay will feel hotter than usual after you install headers; that's normal. There are easy steps you can take to manage the excess heat.
VVEL + Good Scavenging + Valve Overlap = Mini Supercharger Effect
Your VQ37VHR engine utilizes something called a "Variable Valve Event and Lift" system. It is the presence of this technology that makes aftermarket headers work so well with your 370z.
In a traditional setup, the amount of air going into your engine is controlled by the throttle body. But here, it is done by the intake camshaft. This is how:
Traditional cams use egg-shaped lobes that rotate 360° to open and close the intake valve. VVEL involves a link-style rocker arm connected to a comma-shaped lobe that only rotates 90° back and forth.
This allows your intake valves to open or close (valve lift) only as much as necessary, relative to your throttle input — something that wasn't possible with a rotating lobe.
In a fixed cam setup, the space between the throttle body and the intake valve contains vacuum at zero throttle, less air at mid throttle, and sufficient air only at full throttle.
But with VVEL, the throttle bodies constantly remain wide open, allowing there to be plenty of air right outside the intake valve, ready to rush in.
Tuners take advantage of this by maximizing valve overlap — the sweet spot when your intake and exhaust valves are open at the same time.
Aftermarket headers have larger collectors than your stock exhaust manifolds. They're designed to enhance exhaust scavenging; the "pulling" effect that occurs as each exhaust pulse drags the next one behind it.
The combination of good scavenging and valve overlap creates a suction-like effect that makes something important happen:
During valve overlap, because of a difference in air pressure within the engine and each manifold, exhaust gases exit with enough force to draw more air in as they leave the chamber. This creates a mini supercharger effect.
This process is enhanced because VVEL ensures that the space between the throttle body and the intake valve contains plenty of air, regardless of the throttle position.
Alright, enough tech talk. Let's get into the list that you're here for. Here are some of the best short and long tube 370z headers you can buy right now.
The Best Short Tube Headers for 370z
Regardless of their type, headers are difficult to install. Dig deeper into auto forums and you'll come across threads littered with horror stories of the demon bolts and having a tough time removing the OEM manifolds.
Enthusiasts argue that gains from short headers aren't worth the difficult installation process; this is where we beg to differ. Gains are gains — it doesn't matter where they come from and how difficult they are to achieve.
Sure, you could install test pipes on your 370z and call it a day, but sooner or later, your 370z's exhaust upgrades will push you in the direction of a new set of headers.
Short tube headers, commonly called "shortys", are known for their early torque delivery and a loud, raspy exhaust note.
Unlike long headers, these will let you retain your catalytic converters. If you live in a place where a cat delete will land you into legal trouble, short headers are the way to go.
DC Sports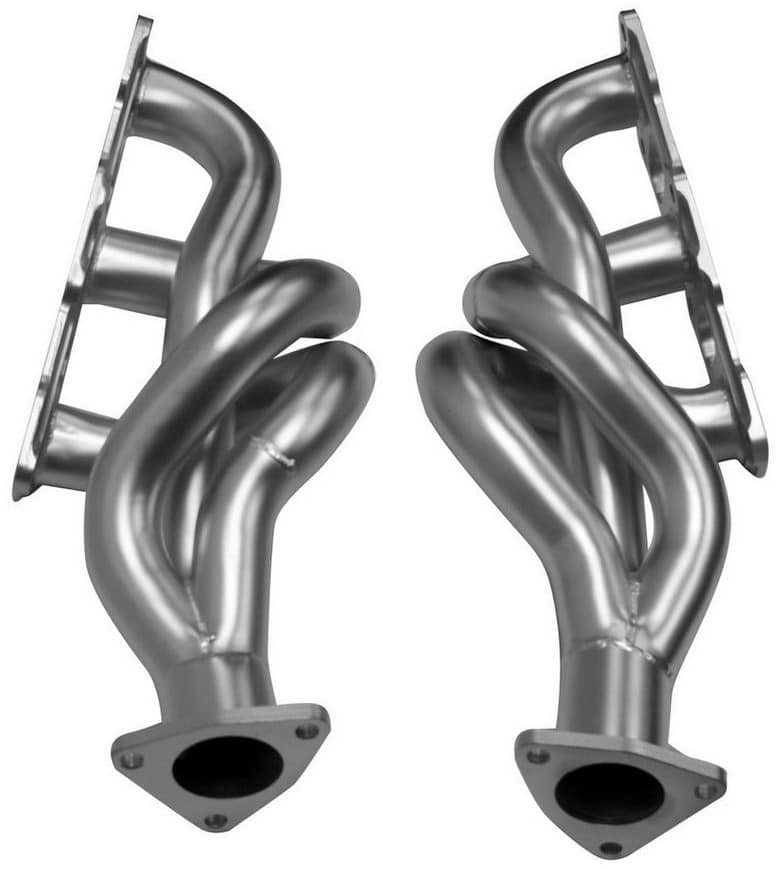 Manufacturer: DC Sports
Part Number: NHC4202
Construction: T-409 Ceramic Coated SS Alloy | Stainless Steel
Style: Short Tube, Equal length
Buy On: Amazon
DC Sports headers can be purchased in two variants; stainless steel and ceramic-coated alloy. The latter is often called a Z1 knockoff, but we look at it as an affordable substitute.
The price point of these headers sits right between Megan Racing on the low end, and Z1 Motorsports on the high end. We wouldn't compare these to Amuse or any of the long tube headers.
Despite a low sticker price, the build quality of these headers is solid; CNC machined flanges, mandrel bent piping, and TIG welded fittings are pretty much the standard when it comes to good quality 370z headers.
Combined with a proper tune, you'll gain some low end and mid-range power from these headers.
Installation time is the same as most other headers — around 7 hours. It gets easier if you follow DC Sports' detailed instruction manual. To top the deal, DC Sports offers a 12-month warranty against manufacturing defects.
Megan Racing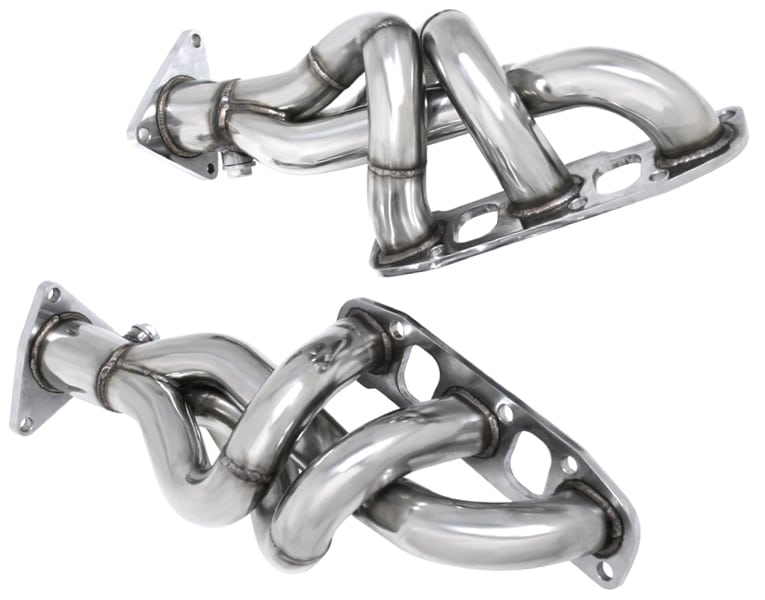 Manufacturer: Megan Racing
Part Number: MR-SSH-N7Z
Construction: T-304 Stainless Steel
Style: Short Tube
Buy On: Amazon
Megan Racing makes the cheapest 370z headers on the market, and quite honestly, they're not half as bad as some of the reviews will tell you.
There are a few lemons in Megan Racing's inventory, but at this price point, we can't really blame them. These are simple short tube headers that'll do what they're supposed to do and nothing more.
We're happy to see that Megan Racing offers T-304 stainless steel at this price. Without a doubt, these are better than unbranded eBay headers.
If you're on a really tight budget, willing to go through the installation process, then Megan Racing headers are a good choice for you.
Amuse R1 Titan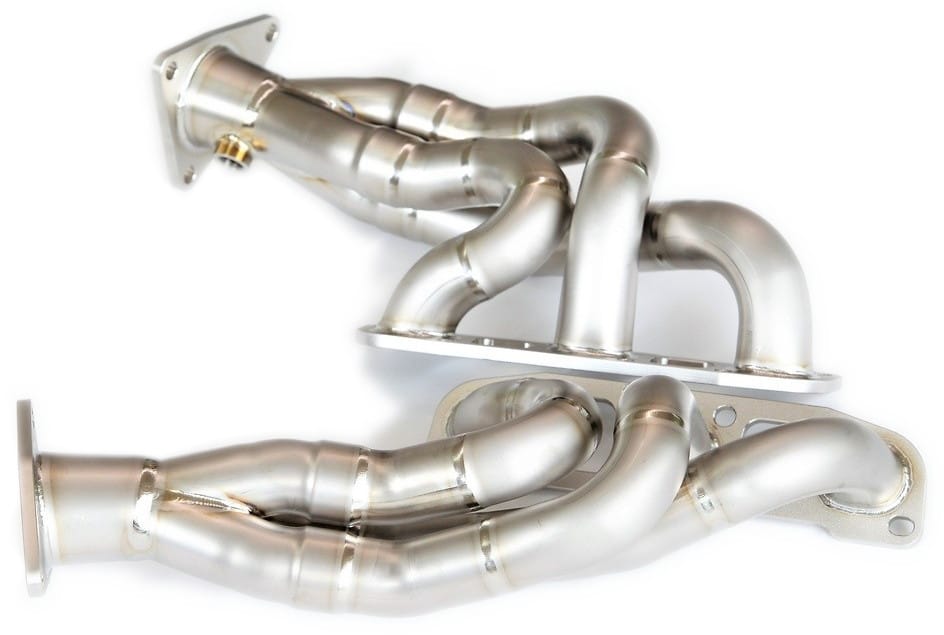 Manufacturer: Powerhouse Amuse
Part Number: AMUSE370Z8
Construction: Titanium
Style: Short Tube
Hideki Tanabe, the tuning legend who founded Amuse Powerhouse, was all about pushing cars to their maximum potential without making any drastic mechanical changes to them.
His flawless tuning wizardry can be felt in Amuse's parts even today. Check out any of them and you'll know what we're talking about.
Powerhouse Amuse is best known for crafting high-quality titanium exhaust components. Their cat-back exhausts and headers are all the rage in the tuning scene. Three reasons why titanium is ideal for exhaust applications:
Extreme heat resistance
High tensile strength
Weight reduction
These headers weigh just 2.7 kg! That's nothing compared to the OEM manifolds at 7.8 kg. With Amuse headers installed, your 370z will be significantly lighter, but so will your wallet.
Titanium is a very expensive metal to work with. Thankfully, Powerhouse Amuse also offers a much cheaper, stainless steel version of the same headers.
AJP Distributors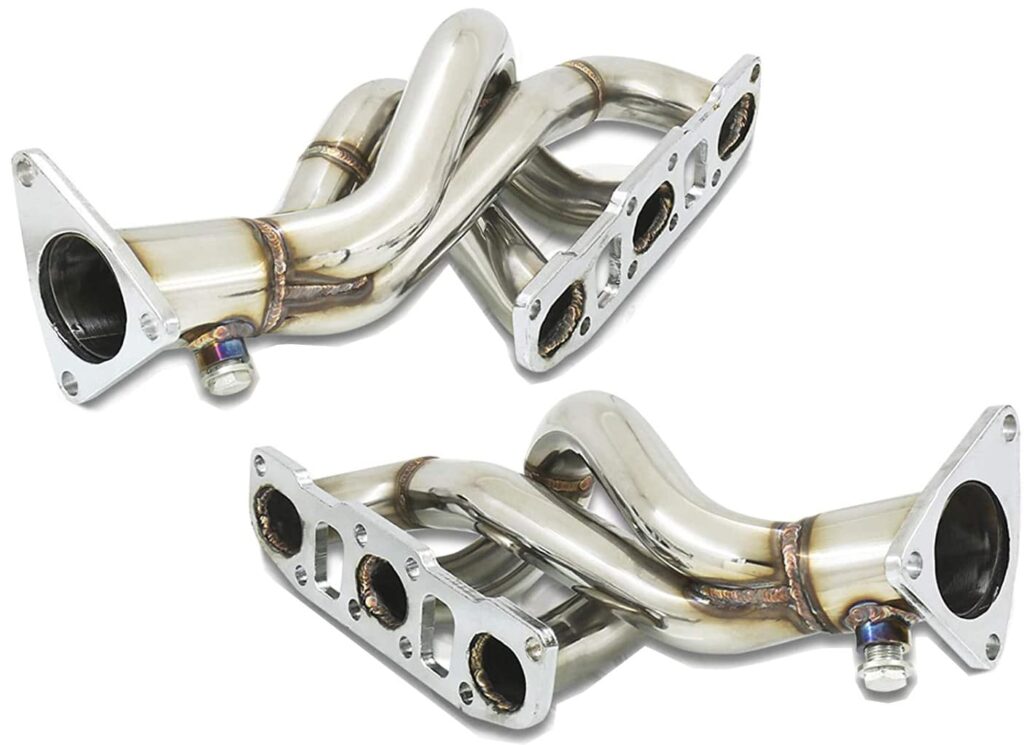 Manufacturer: AJP Distributors
Part Number: HDS-152
Construction: 0.90 Gauge Stainless Steel
Style: Short Tube
Here's a worthy contender for Megan Racing headers. They're both constructed using stainless steel and they fall under a very similar price bracket. With AJP headers though, you'll have the option of buying the same unit in a gunmetal version.
AJP claims power gains up to 11 hp and 4.7 lb/ft from only the headers, and another 7 hp if you straight pipe your 370z. That's a total gain of 18 hp.
Whether or not this will happen, largely depends on your tuner. The manufacturer recommends getting these headers installed by a professional.
The 1.42" runner pipes and 2.5" outlet on these headers are slightly larger than most others on this list. Additionally, this unit features a 0.5" crack resistant flange and the gaskets are included.
Z1 Motorsports
Manufacturer: Z1 Motorsports
Part Number: N/A
Construction: 304 Grade 16 Gauge Stainless Steel
Style: Short Tube, Equal Length
There's something reassuring about aftermarket parts that look good enough to stare at for a dopamine fix. That's how we feel about the Z1 headers; one glance and you'll know they've been constructed with care.
Complete with ⅜" laser-cut flanges and a smooth flowing handmade collector, the Z1 header unit features equal-length tubing that is mandrel-bent and black purge TIG-welded — sounds like something straight out of a Rick and Morty episode.
This construction technique is the reason why Z1 was able to make the smoothest flowing Nissan 370z headers on the market.
Just like with every awesome aftermarket part, there's a catch with these headers; they were originally designed to fit the VQ35DE engine. You're either going to need the stock catalytic converter from an old 350z, or you'll have to purchase the Z1 high flow cats as an add-on.
You'll also need additional manifold-to-cat gaskets and the driver's side motor mount bracket will need to be cleared. If this is something you can get behind, there's no better option than Z1 Motorsports headers.
370z Long Tube Headers
Nissan's typical VQ engine sound is like a fine wine (and also a trumpet); you could care less at first, but then it grows on you. With long tube headers installed, that won't be the case — it's going to sound exotic, and you're going to love it.
Be ready to ditch the catalytic converters though; your Z is going to draw both, the right, and the wrong kind of attention after you install full-length headers. If you live in a place where the law enforces CARB regulations strictly, this will be a problem.
Unlike short headers, full-length headers make most of their torque closer towards the redline. Low-end torque is a godsend in stop and go situations. But on a racetrack, you'd be better off with more power at the top end.
Pro tip: With full-length headers installed, you're going to see the dreaded Check Engine Light quite often. It can be fixed with the help of anti foulers / O2 sensor spacers and some steel wool though.
PPE Engineering
Manufacturer: PPE Engineering
Part Number: 837001
Construction: T-304 Stainless Steel
Style: Long Tube, Stepped
Buy On: Enjuku Racing
With so many companies selling the same aftermarket parts, we totally get why manufacturers are compelled to offer something unique.
PPE engineering headers have an edge over the competition when it comes to customizability. You'll have the option to choose among two different collectors: a formed collector with spikes, or a parallel merge collector. You'll also get optional ceramic coating; either silver or black.
The parallel merge collector demands a premium, but it's worth it because it flows a lot smoother. It also has better scavenging properties as compared to the formed collector.
Another thing we love about PPE headers is that they're stepped — a design that involves making the primary tubes incrementally larger towards the collector.
A design like this broadens the torque curve and helps to tune the exhaust flow in a way that generates more power in the mid-range.
One thing worth noting, these headers are a lot quieter compared to other full-length headers on this list.
Fast Intentions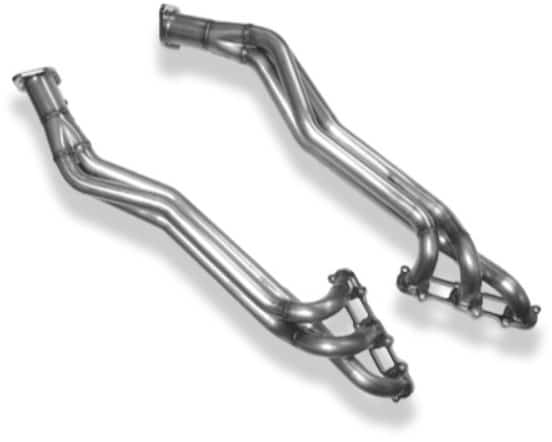 Manufacturer: Fast Intentions
Part Number: FI-370-LTH
Construction: T-304 Stainless Steel
Style: Long Tube
Fast Intentions sure knows a thing or two about making high-performance exhaust systems. The first set of production long tube 370z headers was manufactured by them.
These headers were designed specifically for two things:
To match the firing order of the VQ37VHR engine
To reduce the exhaust gas temperature
The inlet pipes on these headers are arranged in a sequence that favors your engine's firing order and creates an even exhaust pulse. This was achievable because the VQ37VHR engine has a pretty straightforward "1-2-3-4-5-6" firing order.
This significantly improves exhaust scavenging and reduces turbulence, making sure that your throttle response is instantaneous.
Having a lower EGT helps to stabilize the air-fuel ratio, reducing the possibility of spark plug fouling and other maintenance/safety-related issues.
Construction is as good as it gets — ⅜" mild steel flanges, a 2.5" collector and 1-⅝" primary tubes. They sound pretty good too; expect a deep, low-end rumble and raspy, yet smooth high-end exhaust note.
Motordyne
Manufacturer: Motordyne
Part Number: MD-027/030
Construction: 304 Stainless Steel
Style: Long Tube, Switchable Module, Stepped
So you want the performance of long tube headers, minus the "bees in a jar" raspiness, and the inevitable legal issues that come along with being straight piped? Motordyne has you covered.
These headers are equipped with a V-band clamp that allows you to attach and detach different modules. This means that you can switch between straight pipes, resonators, or a high flow catalytic converter — talk about having your cake and eating it too.
You can either buy the headers already combined with the module of your choice, or go crazy and buy all three. Take a look at the options that Motordyne offers:
Straight Pipes
These are standard across all full-length 370z header options. With straight pipes, you'll experience exhaust power in all its glory, but it comes at a price.
Anyone who has driven a straight-piped car consistently for over four hours will tell you how annoying the droning sound gets.
Helmholtz Resonators
This module is essentially a resonated test pipe; though you'll still be on the wrong side of the law with these installed on your car.
What Motordyne calls a "Helmholtz" resonator is actually a J-tube resonator. Both do the same thing and have almost identical acoustic properties. The main purpose of having one of these is to retain the power of your test pipes while muffling some of the rasp.
High-Flow Catalytic Converters
These are the best headers for 370z owners who want the reduced emissions that a catalytic converter provides, along with the added power of test pipes.
Most importantly, these are perfectly legal — even if you live in the sunny state.
Motordyne headers are known for having a smooth power curve and adding more power than what Fast Intentions headers do.
The Best Headers for Your 370z
Headers aren't something you buy every day. The perfect thing to do is to install them once and forget they're there, especially if you're the one who's wrenching. With that in mind, you must select the right pair.
We're going to make this decision easier for you. Here's what we'd pick:
Our Favourite 370z Long Tube Headers: PPE Engineering
We just couldn't pass these up. Sure, some customizability would've been great, but their perfect build quality and sound make up for it.
The Best Short Tube Headers for your 370z: Z1 Motorsports
Z1 Motorsports has always struck the right chord with Nissan Z34 owners. Their short tube 370z headers are a massive hit among the aftermarket community for all the right reasons.
The perfect balance between price, quality, and performance — that's what you can expect from these short tube 370z headers. Of course, they aren't cheap. If you're on a budget, the DC Sports replicas are certainly worth considering.
What do you think about this list? Do you think Motordyne's module switchable headers are a better alternative to Fast Intentions headers? Let us know by leaving a comment below!