Test pipes are the holy grail of exhaust system upgrades. They're basically straight pipes that replace your catalytic converters — the most restrictive part of your exhaust assembly.
The stock catalytic converters keep a lot of power locked away with their smaller piping diameter and a dense core. Replacing them allows for a freer-flowing exhaust setup which means more power, better sound, and increased overall efficiency.
In addition to this, the OEM catalytic converters also tend to fail and need replacement, and they aren't cheap to replace. Test pipes are an affordable solution to that problem.
Bang for buck, there aren't many modifications as cheap and effective as test pipes, which is why they have become so popular among car enthusiasts.
In this guide, we'll review the best test pipes for 370z drivers, along with an explanation of everything you need to know before going ahead with this upgrade.
Things to Know Before Straight-Piping Your 370z
We look at performance upgrades in two ways; unlocking power and adding power. For example, a 370z turbo kit adds power but exhaust system upgrades unlock the power that's already there.
Test pipes are undoubtedly the cheapest, simplest and most effective exhaust system upgrade out there.
Because of their position in the exhaust system on the Nissan 370z, many people also call these "down pipes". They join onto the exhaust manifold on each side of the Nissan VQ37VHR motor and turn downwards before joining your Z's Y-pipe unit.
Here's what you need to know before going ahead with your 370z test pipe install.
Legal Status
For emissions control and safety reasons, in most regions it is mandated by law to have catalytic converters installed in your car's exhaust system.
Getting test pipes essentially means that you'll have to get rid of your catalytic converters. This makes it illegal to use test pipes in some cities.
The only situations where you can get away with a straight piped setup are:
If your 370z is a "track-only" car.
If you live in a place that doesn't enforce emissions laws too strictly.
If you manage to build a straight piped exhaust setup that's not too loud and obvious.
Sound
This is the main reason why 370z owners make the switch to test pipes. It makes the 370z sound like it's supposed to — deep, refined and throaty.
At certain RPMs though, you'll hear some drone creeping into the cabin. This can be solved by getting resonated test pipes.
Performance
When it comes to building a great exhaust system, flow is king. The better your exhaust setup flows, the more power it can make.
This is exactly what test pipes do. They free up your exhaust system all the way from your 370z's exhaust headers to the tip.
With a good set of test pipes and a tune, you'll see a gain of over 10whp and 5wtq. In addition, you'll experience a crisp throttle response and find that the needle climbs up the rev-range a lot faster.
And while we're talking about performance, don't forget about weight as well. You can expect to make your car around 15 pounds lighter by installing test pipes. This is because your Nissan 370'z OEM catalytic converters are very heavy.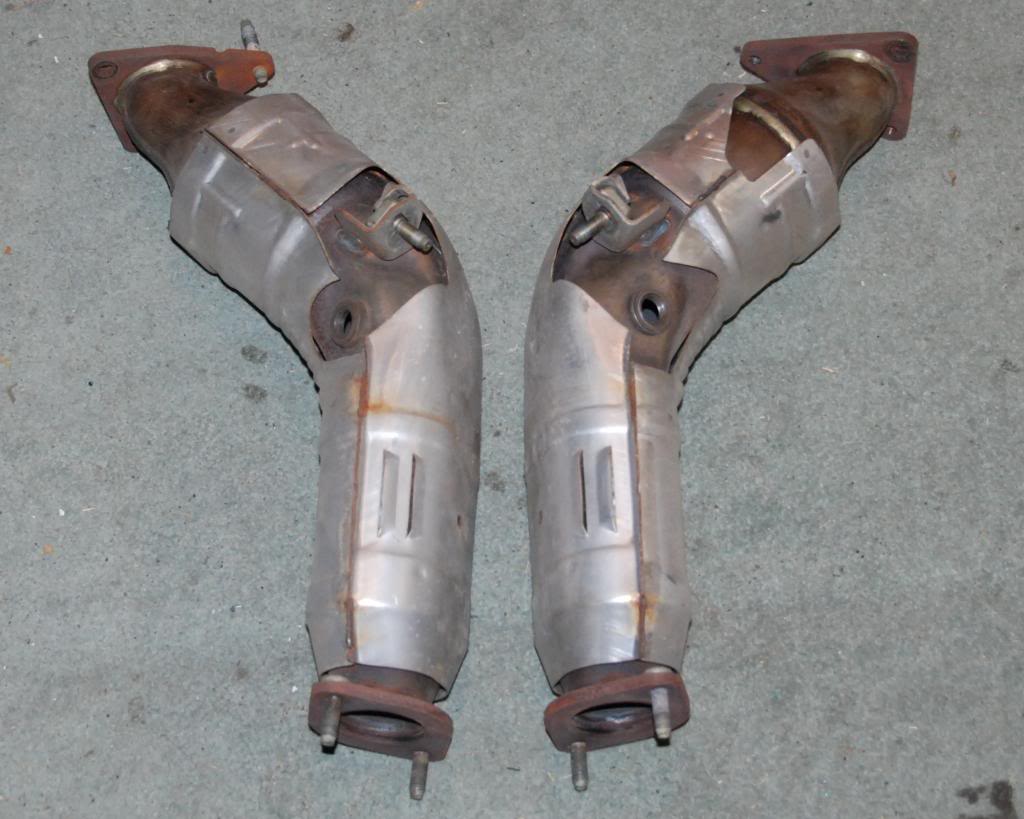 Check Engine Lights
It is not uncommon for 370z owners to see error codes and check engine lights after installing test pipes, or any intake/exhaust upgrade for that matter.
This happens because your ECU detects something unusual and it is programmed to communicate this to you.
With test pipes this usually happens for two main reasons:
O2 sensor malfunctions due to excess heat.
Changed exhaust flow results in changed air-fuel ratio (which the ECU isn't aware of).
The most common solutions to this problem include:
Getting a tune.
Buying test pipes that come with spaced out O2 sensor bungs.
Get a set of non-foulers.
Stuffing your non-foulers with steel wool.
Resonated vs Non-Resonated 370z Test Pipes
It is normal for Z cars to develop a raspy tone when exhaust modifications are made. Some enthusiasts don't mind it but others do.
As the name suggests, resonated test pipes have an inbuilt resonator that is designed to cancel out certain frequencies of sound.
The resonator helps quiet down the overall exhaust note. You're probably wondering whether that defeats the purpose of getting test pipes in the first place (it doesn't).
Test pipes tend to get insanely loud and resonators smooth out the overall sound. It lowers the harsh raspiness and gives you a deep, refined sound.
The Best Test Pipes for Your Nissan 370z
Mechanically, test pipes are very simple. This is one of the reasons why they're so inexpensive and easy to manufacture.
In spite of the design being simple, not all test pipes are the same. At a glance, they will look similar but there are subtle differences that make them perform differently.
These differences include the material they're built from, how they're welded, piping diameter, and whether or not they're resonated.
Here's a list of our favorites you can choose from.
ISR Performance
Manufacturer: ISR Performance
Part Number: IS-RSTP-Z34
Type: Resonated
Piping Diameter: 2.5 Inches
Construction: Stainless Steel
Making quality parts available at an affordable price is something that ISR Performance is known for. They make some of the most affordable 370z test pipes on the market.
The ISR test pipes bolt-on exactly where the stock catalytic converters come off. It's a perfect fit and it can be installed using the OEM bolts, washers and gaskets.
Each test pipe comes with a small resonator that does a great job at muffling some of the unwanted rasp that's audible beyond 3000 RPM. ISR Performance also sells a non-resonated version of these test pipes.
It's 2.5" brushed stainless steel piping looks and feels premium. This kit definitely gives the expensive test pipes a run for their money. These are the best test pipes for 370z owners who want great quality at a very low price.
AAM Competition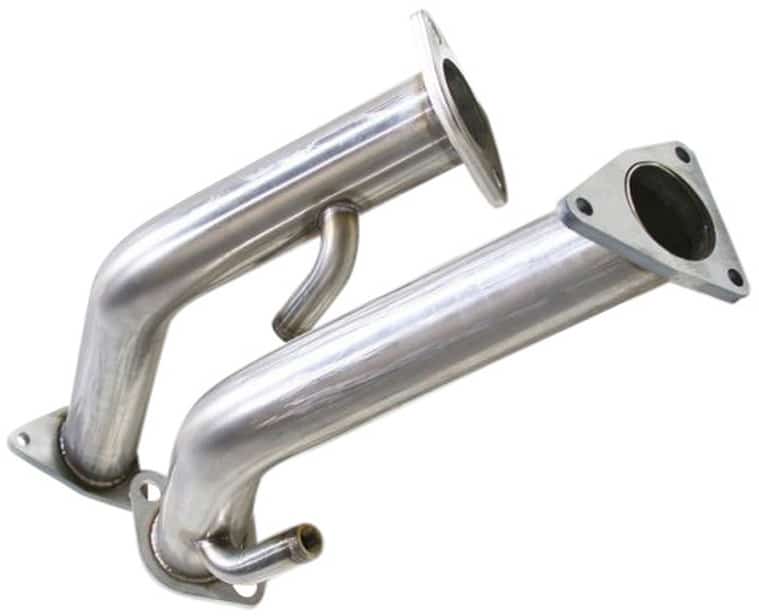 Manufacturer: AAM Competition
Part Number: AAM37E-TP25
Type: Non-Resonated
Piping Diameter: 2.5 Inches
Construction: Stainless Steel
The team at AAM Competition certainly knows a thing or two about making top-notch exhaust components. Their true dual exhaust and y-pipes are a hit amongst 370z owners and these test pipes are no different.
AAM Competition has designed their test pipes with a strong focus on build quality. They claim that it adds 8+ rwhp while giving out a deep and rich exhaust note.
The non-resonated version mentioned here sounds loud and raspy. If that's something you're not into, we recommend going with the resonated variant.
These test pipes are TIG welded and are constructed using 16 gauge T-304 stainless steel. Even the flanges are stainless steel which further increases the overall durability of this kit.
Berk Technology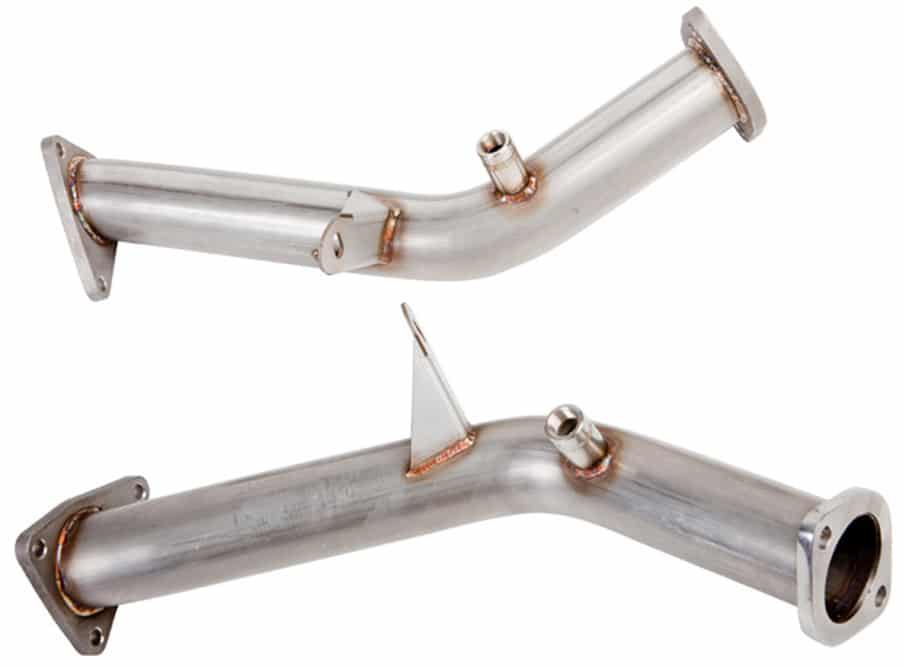 Manufacturer: Berk Technology
Part Number: BT1407
Type: Non-Resonated
Piping Diameter: 2.5 Inches
Construction: T-304 Stainless Steel
If you're 100% sure that you want non-resonated test pipes, make sure to put these on the list. Berk Technology test pipes have quite a reputation in the Z community.
One of the main reasons why Berk test pipes are popular is that they come with a mechanical CEL fix that works better than most others on the market.
These test pipes come with fully gusseted support-brackets. This means that a thick metal plate is used as a connector between the bracket and the pipe. This feature makes the support-brackets much more durable than some of the other brands here. This is especially important if you live in a very hot climate.
Berk test pipes also come with graphite collector gaskets — the same gaskets used on their high flow cats. These things can withstand temperatures of over 3000 °F, which is far more than what the exhaust system makes. The purpose of this feature is to prevent leaks.
Overall, these 370z test pipes are extremely promising and totally worth the price.
Invidia
Manufacturer: Invidia
Part Number: HS09N7ZTPPB
Type: Non-Resonated
Piping Diameter: 2.5 Inches
Construction: Stainless Steel
When it comes to price, Invidia's test pipes sit right between the high-end and affordable options. Despite this, they certainly don't look cheap; the polished stainless gives these test pipes a premium feel.
These test pipes come with a CEL fix. Just like most other units that have this feature, it will not work for every single 370z out there.
Whether your car throws codes at you or not depends on your upgrades too. If you see O2 codes though, getting a bung extension will help solve this issue.
These test pipes work and sound the best when paired with Invidia's cat-back exhaust system. Once installed, you can expect increased gas mileage and power.
Megan Racing
Manufacturer: Megan Racing
Part Number: MR-SSDP-N7Z
Type: Resonated
Piping Diameter: 2.5 Inches
Construction: T-304 Stainless Steel
Megan Racing makes some of the most inexpensive yet great quality exhaust components. Their test pipes especially provide great value for money.
Even at a low price, these test pipes come with CNC machined flanges and mandrel-bent stainless steel piping — just like some high-end test pipes.
These are the best test pipes for 370z owners who simply want a freer-flowing exhaust set up at a low price.
Motiv Concepts
Manufacturer: Motiv Concepts
Part Number: NA
Type: Non-Resonated
Piping Diameter: 2.5 Inches
Construction: Stainless Steel
Motiv Concepts is a fairly new name in the world of aftermarket parts. However, they've spent over two years building and modifying cars. From race cars to SEMA builds, their team has seen all of it.
These test pipes utilize U.S. made RathGibson tubes — one of the most trusted pipes and tubing brands out there. These polished tubes come with ⅜ inch thick flanges that will hold the pipes in place no matter how rough your local roads are.
The O2 bung is spaced-out in order to keep the O2 sensor away from direct heat. This helps prevent the dreaded check engine light.
These test pipes come with all the necessary hardware, gaskets, bolts and so on. To top all this, Motiv Concepts also provides a limited lifetime warranty on their test pipes.
Tomei Expreme Ti
Manufacturer: Tomei
Part Number: TB6100-NS02A
Type: Non-Resonated
Piping Diameter: 2.26 Inches
Construction: Full Titanium
When it comes to building titanium aftermarket parts, no one does it better than Tomei. They've built a solid reputation for working with this material.
If you're into unconventional designs and materials and are sick of seeing stainless steel everywhere, you've got to explore what Tomei has to offer.
The main advantage of titanium is its weight. The catalytic converters on your 370z weigh roughly 20 pounds while the Tomei Ti test pipes weigh just 3 pounds! That's 17 pounds saved.
Performance aside, these test pipes look absolutely gorgeous. It's a shame that you won't be able to see them when they're installed.
The Tomei test pipes come with dual O2 bungs so that you can plug in your factory O2 sensor and an air-fuel ratio sensor. The package comes with all the necessary hardware, gaskets and plugs.
If you're serious about straight piping your 370z and want the absolute best, look no further.
Tunerbits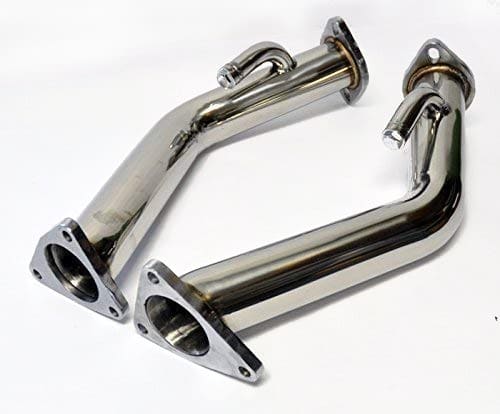 Manufacturer: Tunerbits
Part Number: CC-N370Z
Type: Non-Resonated
Piping Diameter: 2.5 Inches
Construction: Stainless Steel
Tunerbits test pipes aren't the most popular but they perform as good as most other test pipes on the market. This unit is very basic and you can expect quality that's similar to what Megan Racing offers.
Just like most other test pipes on the market, these test pipes will definitely throw engine codes. But it's nothing that a good tune can't fix.
Considering the price tag on these things, the value is hard to beat. These pipes are perfect if you want to spend as little as possible while still getting to experience what straight piping is like.
When you order these test pipes, be sure to inspect the quality and check for defects. If you spot any before installing them you can easily get them replaced.
Blackhorse Racing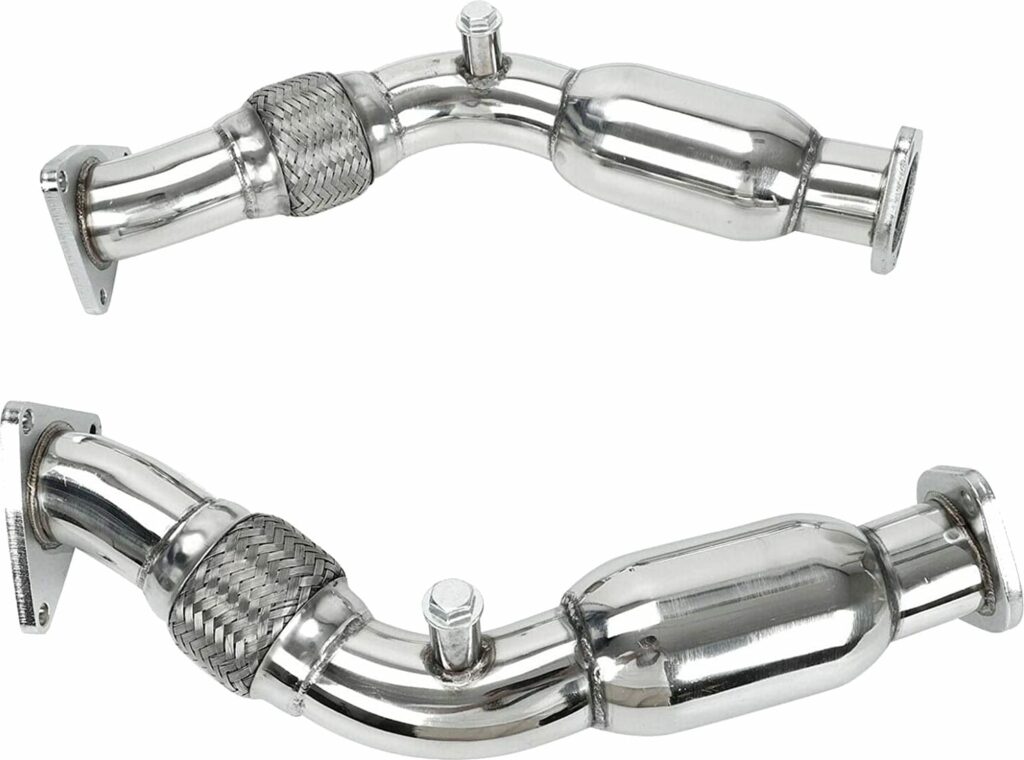 Manufacturer: Blackhorse Racing
Part Number: HM1236
Type: Resonated
Piping Diameter: 2.5 Inches
Construction: T-304 Stainless Steel
Blackhorse Racing test pipes can be directly compared with those made by ISR performance and Megan Racing. Quality-wise, they're very similar and they're priced equally low.
For what these test pipes cost, the whole package is very impressive. It comes with vented gaskets and all the necessary hardware.
They're constructed using T-304 stainless steel and feature CNC machined flanges for extra rigidity.
Our Favorite 370z Test Pipes
The main deciding factors that you need to consider when buying test pipes for your 370z are material, weight and build quality.
After considering all these factors, these two test pipe kits are the two that we're confident in recommending.
The Best Option: Tomei Expreme Ti
Tomei products have been mentioned in our modification guides multiple times. Their commitment to making the best quality titanium parts is what impresses us the most.
The Tomei test pipes look great, add a good amount of power and are the best sounding 370z test pipes in this list.
Cheap But Quality Option: ISR Performance
Bang for buck, the resonated test pipes from ISR Performance are very hard to beat.
They sound a little cleaner than the pure straight through units but are still very lightweight and non-restrictive. The finish quality is really nice as well.
How strict are the emissions laws in your city? Do you plan on installing test pipes by yourself? Leave us a comment!