So you've had your Nissan 370z for a while, it has been taken care of, and now you want to pump some new life into it. There's no better way to do this than by installing a turbo kit.
Unlike superchargers that draw power off the crankshaft, turbos utilize the energy from wasted exhaust gases.
With the right turbo setup, your 370z can churn out anywhere between 330 whp and 500 whp and even more. This is a big leap considering that it makes only 280 whp when in stock form. Of course, this can be controlled by setting the boost at your desired limit.
Doesn't matter if you regularly hit the track or not, your turbo'd 370z will be a blast to drive even on the street.
And the best part? Your VQ37VHR engine won't lose its reliability so long as you complete and maintain the build correctly.
In this guide, we'll explain what you can expect from your turbo build and we'll list the best turbo kits for your 370z.
370z Turbo Build Reliability
Turbo kits are often accused of reducing the reliability of your engine. While this isn't entirely wrong, we must stress one fact — many enthusiasts have put thousands of miles on their turbo'd 370zs without running into major issues.
There are hundreds of turbo'd 370zs out there, being daily driven. As long as your turbo kit is installed correctly and paired with the right supporting modifications, you should be in the safe zone.
The best thing you can do to improve the reliability of your turbo build is to run it on low boost. You don't need 500whp to have fun. The 370z is a blast to drive even at 420whp; a hell of a lot more power than stock.
Capabilities of Your VQ37VHR Engine
While the VQ37VHR engine wasn't designed to be boosted from the factory, over the years we've seen that it holds up well. Very well actually.
This engine can handle numbers like 500whp even with stock internals. Going beyond that will put some strain on the engine.
If you want to enter Stage 2 territory (600whp+), you're going to need to upgrade your internal engine components. Rods and pistons are the best place to start as these two are known to be the weak link when upgrading to a turbo.
Properly built 370zs can even handle upwards of a whopping 1000whp! That's saying something about the VQ platform and its reliability when it comes to forced induction.
Best Twin Turbo Kit for 370zs
Twin-turbo kits tend to be more expensive than single turbo kits. However, we've seen this gap bridging closer by the day, with newer technology being applied to single turbo kits.
Both single and twin turbo kits have their advantages. Twin turbos spool up much quicker as they use two small turbines instead of just one big turbine. This means less lag; something that's very important for most enthusiasts.
We love the look of twin turbos on the 370z. The setup looks very clean and OEM-like. Here are the best 370z twin turbos on the market.
AAM Competition
Manufacturer: AAM Competition
Configuration: Twin
Installation: Easy
Fuel Management: Included
Engine Management: Included
Turbine: BorgWarner EFR
AAM Competition makes the best turbo kit for 370z owners who consider turbo lag as their mortal enemy. The secret behind its minimal lag lies in the BorgWarner EFR series turbos that it uses.
BorgWarner EFR turbos are known for using Gamma Ti turbine wheels.
Gamma Ti is also called titanium aluminide. It's essentially an intermetallic chemical compound used to create alloys made of — you've guessed it, titanium and aluminum.
This is the same tech that's used in countless aerospace applications thanks to its low weight and inertia. It takes a lot less pressure and energy to get these turbines spinning quickly.
This means that the turbines will spool up sooner. As a result, the boost kicks in 1500 revs quicker than what you'd expect from a typical twin-turbo kit.
Apart from this cutting-edge technology, another major advantage of this kit is its contents. When AAM says "turn-key solution" they really mean it. This kit includes almost everything you could possibly need.
This includes an engine management system, a Walbro 225 fuel pump, and a lot more. With the right build, you can expect a gain of around 200 whp and 140 wtq over stock.
Fast Intentions
Manufacturer: Fast Intentions
Configuration: Twin
Installation: Easy
Fuel Management: Included
Engine Management: Included
Turbine: Garrett GTX2860RS
If you love getting creative with your car and want a highly customizable 370z turbo kit, then this is what you should get. It's the best turbo kit for 370z owners who love fine-tuning their build.
Fast Intentions offers a range of options to customize your twin-turbo kit. These include engine management systems, fuel system upgrades, pipe coating styles, and a bunch of other modifications.
You can even choose between Xonarotor 49.48, 78.64, or Garret GTX2860RS turbos. The best part is that you won't have to source parts individually; which means, no compatibility issues.
This 370z twin turbo kit uses the latest blow-off valves by TiAL and a cast-stainless steel turbine housing which enables better airflow and weight reduction. The attention to detail and build quality is second to none.
Even the cooling components are computer-aided software designed, so you know they are a precise fit. All this is done at their local facility in the USA.
Greddy
Manufacturer: Greddy
Configuration: Twin
Installation: Needs fabrication
Fuel Management: Not Included
Engine Management: Not Included
Turbine: Greddy
Greddy is a trusted and proven name when it comes to forced induction. If you see a bunch of boosted Zs at a car meet, chances are that most of them are running the Greddy kit.
This 370z turbo kit is sold as a "tuner kit" without any fuel management. However, Greddy has its own fuel management kit with the pre-programmed E-manage Ultimate system, injectors, pump upgrade, regulator, and a return system as an option.
The Greddy twin-turbo kit for 370z needs to be special-ordered though, so it might take a while before it reaches you.
It's a complete bolt-on kit designed to raise your engine's horsepower output to about 500whp. This can be achieved with a shockingly safe, low boost of 6psi, provided your 370z has other upgrades like an aftermarket exhaust system, a high-performance fuel delivery system, and a great tune.
GT Motorsports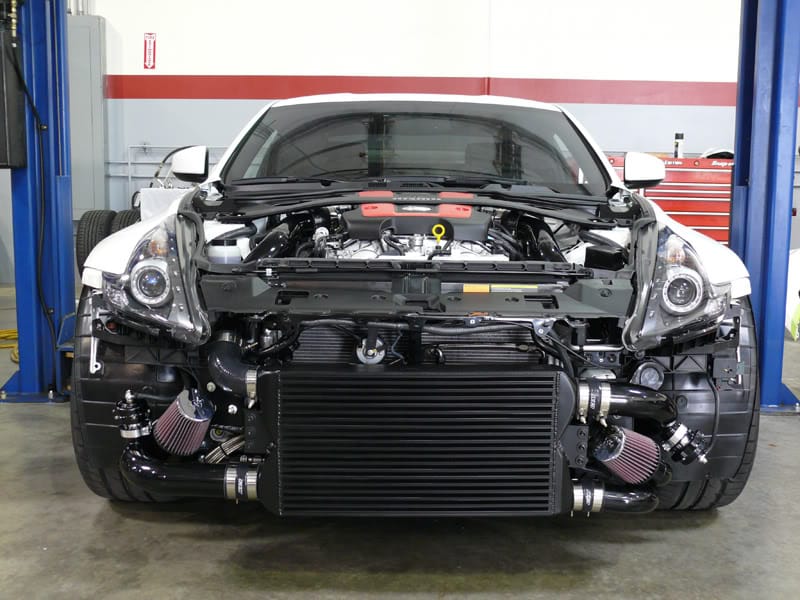 Manufacturer: GT Motorsports
Configuration: Twin
Installation: Moderately Easy
Fuel Management: Included
Engine Management: Included
Turbine: Garret GT28RS
The GTM turbo kit is very popular among Z fanatics and other VQ37VHR owners. Originally developed for the Infiniti G37, this turbo kit was later adapted to fit the 370z.
As you might have guessed, it fits like a glove and works the way it should. This is not too surprising as this kit was developed specifically for the VQ37VHR engine.
The GTM turbo kit for 370z is sold as Stage 1 (500HP), Stage 2 (700HP), Stage 3 (900HP) and Stage 4 (1000HP). These numbers will vary depending on your tune, dyno conditions, and supporting upgrades.
Each of these stages includes different components that can be customized for your build.
For example, the Stage 1 kit comes with Garret GT28RS turbos, Denso 600cc injectors, and a Walbro 225 liter per hour fuel pump. Stage 2 comes with Garret GTX30-76R turbos, Fuel Clinic 1200cc injectors, and an Aeromotive Flex 400 liter per hour fuel pump.
The turbos used in this kit aren't as advanced as what you'll find in the AAM kit but they're reliable. Quite honestly, the Stage 1 kit is the most reliable and overall, the best turbo kit for 370zs.
SFR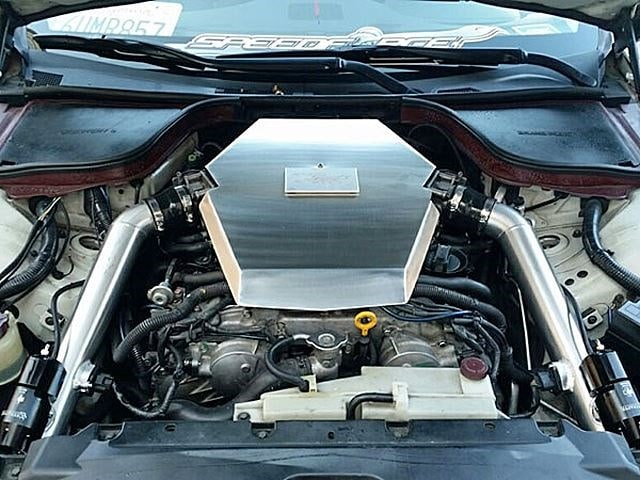 Manufacturer: Speed Force Racing
Configuration: Twin
Installation: Moderately easy
Fuel Management: Optional
Engine Management: Optional
Turbine: T3/T4 Turbonetics 60-1 hi-fi
SFR turbo kits created quite a buzz in the 350z turbo world. But with the VQ37VHR, things are slightly different.
The reason why Speed Force Racing isn't as popular with the 370z is that there are many other high-value turbo kits available.
However, this doesn't mean that this kit is not good. It's as good, if not better than most other 370z twin-turbo kits in this list. Cheaper too!
Even at a lower price, you get top-shelf components like Turbonetics 60-1 turbos, 38mm TiAL wastegates, UpRev Osiris engine management, AEM 320lph pump, K&N air filters and lots more.
This kit fits manual and automatic 370zs and the installation is quite straightforward. If cost is an issue, with some patience, you can install this kit by yourself.
Nissan 370z Single Turbo Kits
By changing the size of your turbo, completely different torque characteristics can be achieved. While smaller (twin) turbos spool up quicker and provide good low-end torque, single turbos are all about massive top-end power.
This is why single turbos are a popular upgrade among drag racers and people who daily drive their track cars. Whether you're building a Lambo killer or a dyno queen, big single turbo kits provide the ultimate in bragging rights when it comes to power.
Even though twin turbos are the ultimate all-round choice, single turbo builds have proven to be maintenance-friendly and in some cases, more drivable.
Unlike twin turbos which are more balanced and linear, single turbos have an interesting contrast between daily driveability and all-out performance. The only problem? Turbo lag.
You can look at turbo lag in two ways;
Annoying, or
An opportunity to drive without boost.
The latter allows you to not stress your engine when it doesn't need to be. This comes in handy if you're stuck in bumper-to-bumper traffic or other stop-and-go situations.
The boost may take a while to kick in. But when it does, the wait will be worth it. After all, it's the rate of change in acceleration that gets your pulse racing; not top speed.
Here are the top Nissan 370z single turbo kits on the market.
STS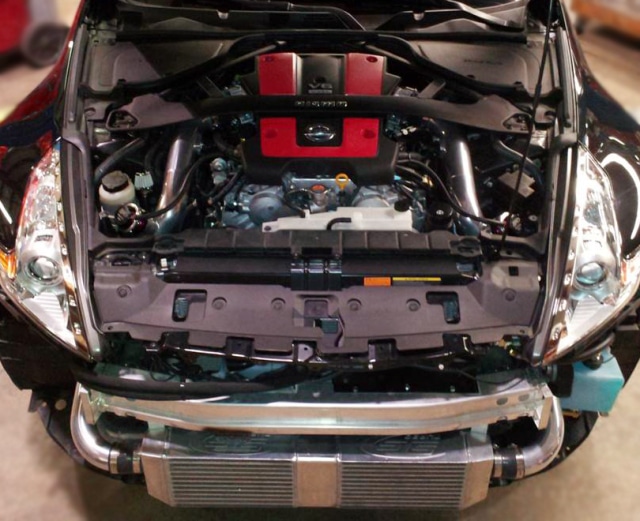 Manufacturer: Squires Turbo Systems
Configuration: Remote Mounted Single Turbo
Installation: Easy
Fuel Management: Optional
Engine Management: Optional
Turbine: STS
The STS single turbo kit is controversial because of its design. It's the only turbo on this list that's rear-mounted; which seems like a crazy idea at first.
A lot of enthusiasts have strong opinions against rear-mounted turbos, while some of them love the design.
Conventional physics would suggest that mounting the turbo away from the engine bay is a great idea. Think about it; by mounting your turbo in the rear, you're eliminating a heat source of 1300°F from the engine bay.
This also declutters your engine bay, leaving you more room to perform regular maintenance, repairs, and upgrades. And since the turbo is exposed to ambient air, its temperature drops by around 500°F. This will increase the overall performance, compared to regular top-mounted turbos.
On paper, this seems extremely beneficial. But it has its drawbacks. Some of them include:
Risk of debris entering the turbo
Slower spool time (arguable)
Risk of breaking the turbo if you bottom out on a tall bump (very unlikely)
STS even offers methanol injection to further reduce the inlet temperature. That makes this the coolest Nissan 370z single turbo kit, which might be of interest to you if you live in a very hot climate. It's worth knowing, however, that some 370z owners who opted for this feature have reported rust issues.
The STS single turbo kit allows you to retain your stock exhaust manifold, catalytic converter, intake manifold, and even throttle bodies if you choose. This reduces the overall cost of the kit.
At a low boost of 5.5 psi, you can expect to make 410whp. Considering all the pros and cons, we feel this turbo kit is best used on a track-only 370z. Track cars are exposed to higher temperatures, and can really benefit from all the additional cooling this kit has to offer. The risk of debris entering the turbocharger is also less likely on the track.
Soho Motorsports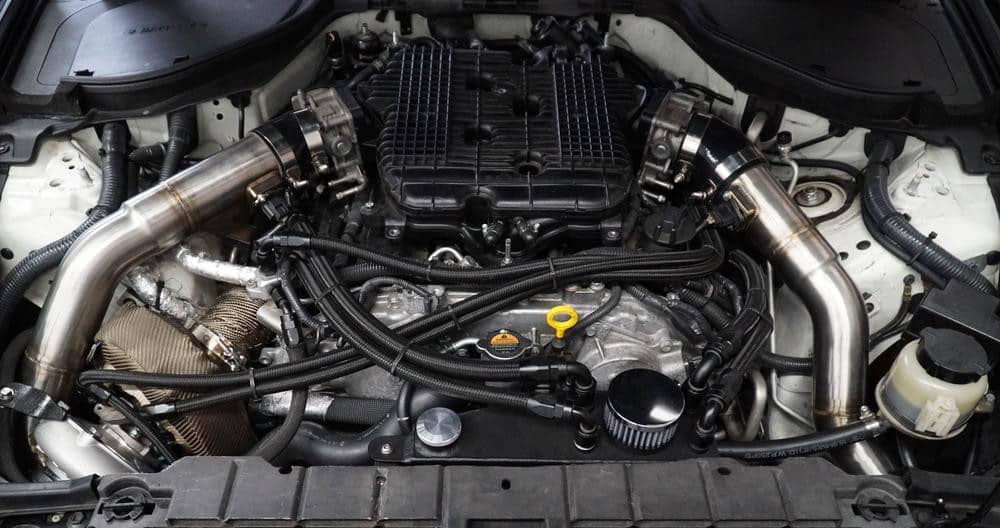 Manufacturer: Soho Motorsports
Configuration: Single, top-mounted
Installation: Easy
Fuel Management: Optional
Engine Management: Optional
Turbine: Garrett GTX3582R Reverse Rotation
When it comes to making high-quality single turbos, Soho Motorsports is the first name that comes to mind. Their single turbo kits are known to be simple, effective, and very well thought out.
The kit they made for the Nissan 350z owners was highly acclaimed and they've done it once again with the 370z. They've put their experience with Z cars to good use and have successfully created one of the best Nissan 370z single turbo kits we've ever seen.
The VQ37VHR is a complicated engine — at least when compared to the VQ35DE. That said, the engine bay of the 370z is known to be slightly cramped and difficult to work with.
This is a real problem for those who love working on their car. Also, more effort means more installation costs. To tackle this, Soho Motorsports developed something called "reverse rotation".
This is a space-saving technique commonly used on single turbo kits. This feature enables the rerouting of the hot and cold piping in a way that makes the most out of the space available in the engine bay. This is useful considering that the turbo is top-mounted.
The kit utilizes components from some of the best brands like Garrett, Turbosmart, Injector Dynamics, Aeromotive, and so on.
All this quality along with 500 whp on 8.5 psi boost makes the Soho Motorsports single turbo kit a total steal.
The Best Turbo Kit for 370z: Our Verdict
With so many tempting options, it's going to be a tough choice to make. Your decision might vary based on where you live and how accessible the manufacturer's facility is.
If you're asking us which kit is best though, here are our top picks:
The Ultimate 370z Twin Turbo Kit: AAM Competition
If you hate lag and want OEM driveability, with more power, the AAM Competition is the best 370z twin turbo kit your money can buy.
Nissan 370z Single Turbo Kit: Soho Motorsports
If you don't mind some lag, appreciate simplicity, and want a well-designed turbo kit that can take a beating, Soho Motorsports has just the right unit in store for you.
Planning your 370z turbo install? Are you doing it yourself or getting it done at a shop?
Leave us a comment below!