Nissan's 350z is the kind of car that makes you want to drive hard and flat out.
If you're starting to outgrow your 350z or simply want it to make a lot more power, forced induction is the best way to go.
The VQ35DE/HR engines are overengineered and can handle more than twice their stock power. That's one of the reasons why modified 350zs are such a hit among their owners.
Turbocharging your 350z is the best way to get supercar level horsepower on a budget.
In this article, you'll find everything you need to know before boosting your Z, along with recommendations on some of the best Nissan 350z turbo kits.
Can You Turbo a Stock 350z?
350zs are strong enough to handle a turbo kit even when they're completely stock.
However, to make your turbo build safer and to keep your car reliable, we recommend some supporting upgrades.
By doing this, you'll be able to get more power out of your 350z turbo build while keeping it nice and reliable.
How Much Horsepower Can a VQ35DE Turbo Build Handle with Stock Internals?
While setting a power goal for your boosted VQ35DE engine, it is important to consider both horsepower and torque. On stock internals, this engine can handle up to 400 whp and 400 wtq.
The VQ35HR engine, however, can manage around 20 whp and 20 wtq more than the DE variant thanks to its stronger internal components.
Turbo-Proofing Your 350z
A sure way to keep your turbo build super reliable is by getting a tune and installing the right supporting modifications. Doing this will allow your boosted 350z to manage its power efficiently.
When it comes to supporting mods, some are absolutely necessary while others aren't. Installing an aftermarket 350z exhaust system with components like 350z test pipes and y-pipes can make your turbo Z a lot more responsive.
Below we'll discuss the most necessary supporting upgrades for your Nissan 350z turbo build:
Fuel System
The main purpose of a turbocharger is to force more air into your engine. In order to keep the fuel-air ratio well balanced, more fuel needs to be added to the engine.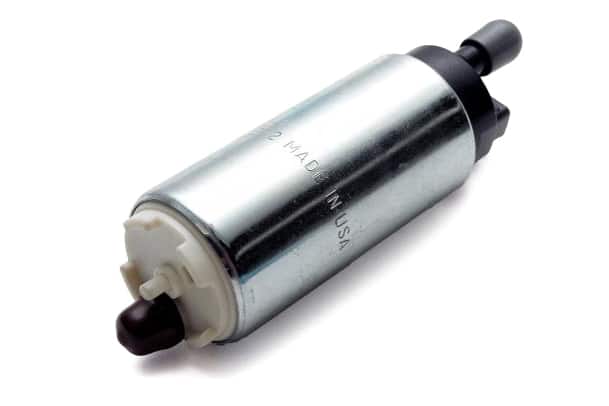 This extra fuel demand can be met with the help of aftermarket fuel system upgrades like:
High-power fuel pump
Fuel rails
Pressure Regulators
Cooling
Excessive engine heat is one of the biggest reasons for fading performance. This isn't uncommon in the world of forced induction, especially if you live in a hotter climate.
If your 350z makes a lot more power than what it is designed for, it's natural for it to generate extremely high levels of heat. The best solution to this problem is an upgraded cooling system.
Spend a little extra on a great cooling system and your turbo build will stay reliable all day. Here are your best options:
High-Performance Radiator
Oil Cooler Kit
Vented Hood
Depending on the size of the intercooler included with your turbo kit, a larger unit may be worth considering.
Clutch
Premature clutch wear is a common issue when it comes to turbo builds. It doesn't take long for all that extra power to eat into your OEM clutch.
It's good practise to plan for this in advance by installing an aftermarket 350z clutch as a part of your turbo build.
Doing this will give you much better performance and your Z will start to feel like a proper track car. You'll be able to launch faster and harder without your clutch slipping.
Engine Oil
Engine oil behaves differently in different conditions. It is designed to change its viscosity according to the temperature it is subjected to.
For your boosted VQ35DE/HR engine, we recommend switching to high-performance oil that can properly lubricate all your engine components even under extreme levels of heat.
Getting the best engine oil for your 350z will go a long way when it comes to the overall longevity of your engine components.
Beyond 400 whp
If you want more than 400 whp from your 350z turbo build, you're going to have to upgrade your internal engine components. These include:
Ported cylinder heads
Larger cams
Forged piston rods
Head gasket spacer
Low compression pistons
Living With a Turbocharged 350z
If you plan on using your turbocharged 350z as a weekend toy, there isn't much you need to worry about. However, if it's going to be your only vehicle that is daily driven, things change.
400 whp does seem like a lot of power for a daily driver but its only a matter of getting used to.
Below we'll run you through some of the most common quirks you'll experience when living with your turbocharged 350z.
Power & Drivability
With strict speed limits and heavy traffic, you're going to have very limited access to all that power — which can be frustrating and challenging at times.
Once you get through the initial learning curve and know exactly when the boost kicks in, things will get a lot easier.
Turbo lag is the most notorious quirk that comes along with installing a turbo kit. Turbos use your 350z's exhaust gas pressure to make power. That's why it takes some time for the turbine to spool up completely before it can deliver the boost.
Stiffer Clutch
If the 350z is your first sports car, chances are that you find it slightly harder to drive than normal cars. That's how it is with sports cars; driving them takes effort. The pedals are stiff, the shift knob is heavy, it goes and stops fast… you get the idea.
These things are going to become even more apparent once you install a turbo kit. If you're upgrading to an aftermarket unit (and you should) as part of the install, the difference in your clutch pedal and taking off from a stop is going to be noticeable.
A setup like this isn't ideal if you live in a place that sees a lot of traffic. However, if you have the opportunity to occasionally track your Z33 or do some canyon runs where you can experience what it's capable of, it will all be worth it.
Increased Maintenance
You must've heard that every turbocharged 350z needs more maintenance. This is true but there's more to it.
It's not the turbo kit that's going to need the extra care; your entire car is going to need it. This is mainly because it's going to be working a lot harder than what it's designed for.
This includes everything that you normally do to maintain your Z, only this time, after boosting it, the frequency will increase.
You're going to have to monitor your car more closely. This is nothing to worry about, just be aware of things like oil leaks, possible overheating, rattling and you'll be good to go.
The best thing you can do to properly maintain your turbocharged 350z is to increase the frequency of engine oil changes.
Nissan 350z Twin Turbo Kits
Many enthusiasts argue that if you're spending on forced induction, you may as well go all out and install a twin-turbo kit.
Twin-turbo systems have less lag and a wider powerband that makes them more usable for most applications. Daily driving, autocross, drifting or competition motorsport, twin-turbo kits can handle it all.
Here's a list of our favorite Nissan 350z turbochargers on the market…
JWT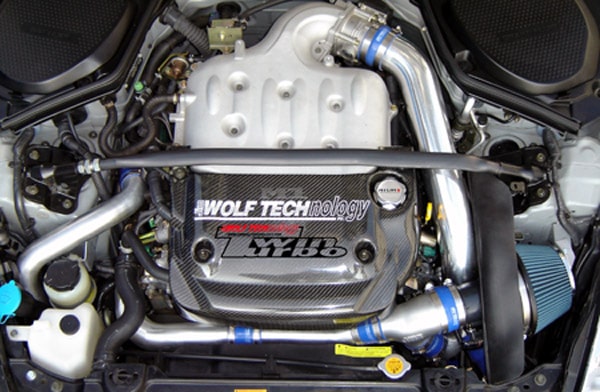 Manufacturer: Jim Wolf Technologies
Engine Compatibility: VQ35DE
Fuel Management: Not Included
Engine Management: Not Included
Turbine: Garrett GT25 | GT28 | GT30
Buy On: Enjuku Racing
Twin-turbo kits by JWT have been around for a few years now and they have earned the trust of many 350z owners.
This 350z twin turbo kit was designed in conjunction with the engineers at Garrett. As a result, all its components work really well together.
You can easily achieve upwards of 360 whp without stressing out this turbo kit. If you wish to go over 400 or even 500 whp, some supporting modifications will get you there.
We highly recommend the JWT turbo kit for enthusiasts looking for a very reliable 350z turbo kit.
HKS GT
Manufacturer: HKS
Engine Compatibility: VQ35DE
Fuel Management: Not Included
Engine Management: Not Included
Turbine: HKS GT-SS | GT-2530 | GT-RS
If you want to be able to customize your turbo build so that it can meet your power output goal, we recommend going with the HKS GT twin-turbo kit.
This 350z turbo kit does not include the intercooler or piping, intake, ECU and oil inlet fittings. Buying a partially assembled kit like this is a great opportunity to add your own spin on it.
You'll be spending a lot less and on top of that, you get to choose components that are suited to your build. Obviously, installation won't be as easy as a full bolt-on kit. That's because this turbo kit is engineered for the VQ35DE engine but not exclusively for the 350z.
If you're heading down this track and don't have a shop yourself, we recommend getting the installation done by professionals who can handle any fabrication work.
Greddy TT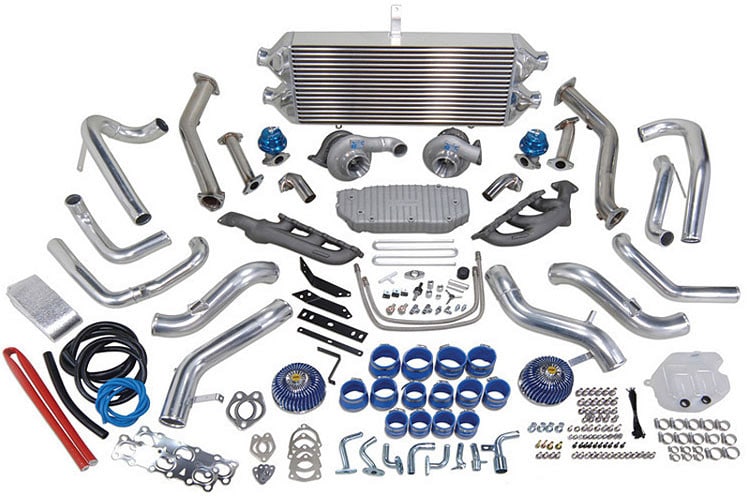 Manufacturer: Greddy
Engine Compatibility: VQ35HR
Fuel Management: Not Included
Engine Management: Not Included
Turbine: Greddy TD06SH-20G
Greddy is a name you can trust when it comes to Japanese designed aftermarket parts. It is the best turbo kit for 350z owners who want something that is tried and tested.
The Greddy TT kit has been acclaimed by casual automotive enthusiasts and professional racers alike.
However, this is a tuner kit. What this means is that Greddy has left out some key components in order to leave room for customization and tuning — similar to what the HKS GT kit offers.
This stage 2 kit features all the main ingredients for big horsepower. This includes larger turbines, intercooler and racing downpipes.
The main advantage of a tuner kit is that fuel system selection is up to you. As it's not included, you won't be limited by the kit. This way you can select your components according to your desired power output.
The Greddy turbines used in this kit are capable of a massive 900 whp. And to make sure this power figure can be reached, this turbo kit comes with a type 32R intercooler that's powerful enough to keep things cool even under extreme levels of heat.
This turbo kit will only work for you if your 350z was manufactured after 2007. This is because it was designed exclusively for the VQ35HR engine which was seen on the 07+ Nissan 350z.
Speed Force Racing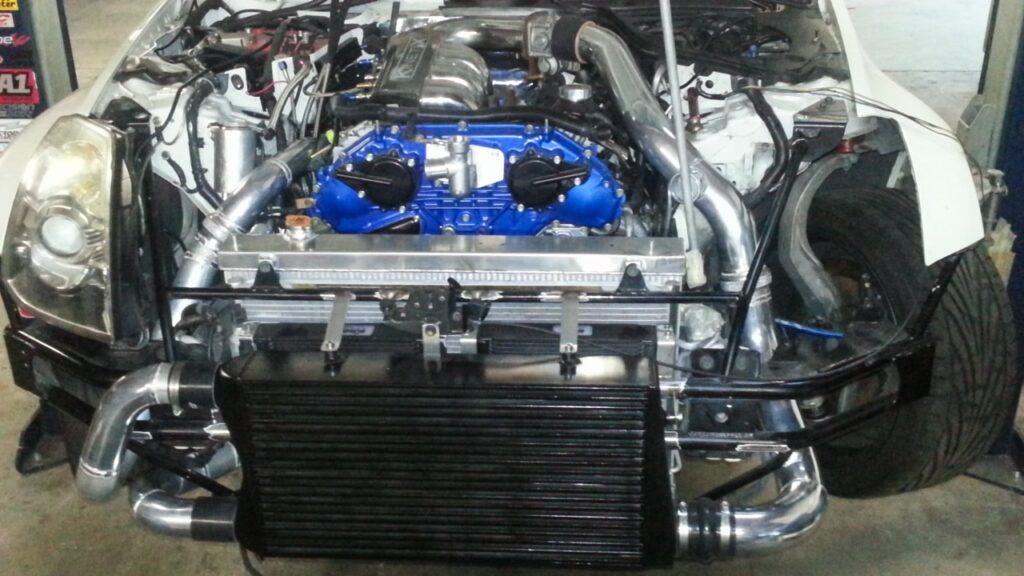 Manufacturer: Speed Force Racing
Engine Compatibility: VQ35DE
Fuel Management: Included
Engine Management: Included
Turbine: Turbonetics 60-1 | Precision T62/67 | Garrett GT30R/35
It's surprising that the SFR TT kit isn't as popular as Greddy or JWT. The amount of thought and effort that has gone into making this 350z twin turbo kit is extremely impressive.
Even though this isn't a tuner kit, it feels like one when you consider the number of customization options available. For example, the turbine selections include Turbonetics 60-1, Precision T62/67 and Garrett GT30R/35R.
This kit comes with 50mm Tial blow off valves and a Walbro 225 fuel pump. The best part is that you can select your own fuel injectors depending on your desired power output. If 440cc injectors aren't enough, SFR will supply 550cc, 650cc or 720cc injectors on demand.
SFR claims 476 whp on a stock block at 10.4 psi boost and 456 whp at 9.4 psi. On a built motor, you can gain over 740 whp with this Nissan 350z twin turbo kit.
Single Turbo Kits For 350z
Unlike twin-turbo kits that use two small turbines, single turbos rely on one large turbine to make power.
Some people don't like this as it usually means more lag, but in our experience, once you learn how to drive your newly turbocharged car on boost, it's fine.
Single turbos are known for delivering a higher amount of torque than what twin turbos are capable of. Instead of spreading the torque evenly in a wider rev range, single turbos deliver a stronger boost in a short powerband.
Check out some of the best Nissan 350z turbochargers on the market.
Turbonetics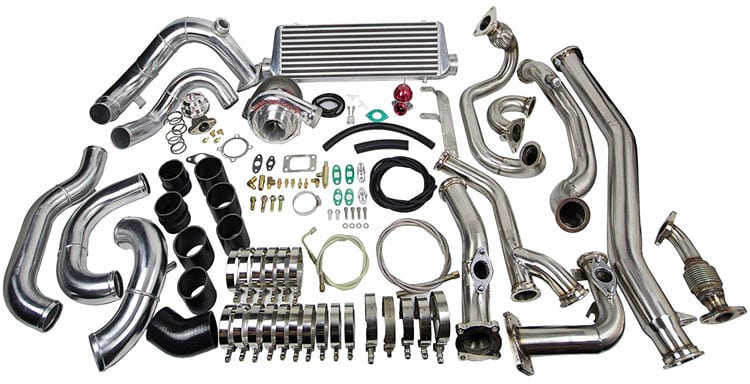 Manufacturer: Turbonetics
Engine Compatibility: VQ35DE
Fuel Management: Not Included
Engine Management: Not Included
Turbine: Turbonetics 60-1
Every market segment has that one product that's 50% cheaper, doesn't do half the things that more expensive products do, but is still decent quality.
If you are on a budget when it comes to turbocharging your 350z, we highly recommend the Turbonetics single turbo kit.
This kit is by no means perfect. Though the turbine is solid, the fitment hardware that it comes with is of lower quality. Expect snapped clamps and/or stripped bolts during installation.
This kit will work just fine for daily driving, as long as you're on conservative boost levels.
APS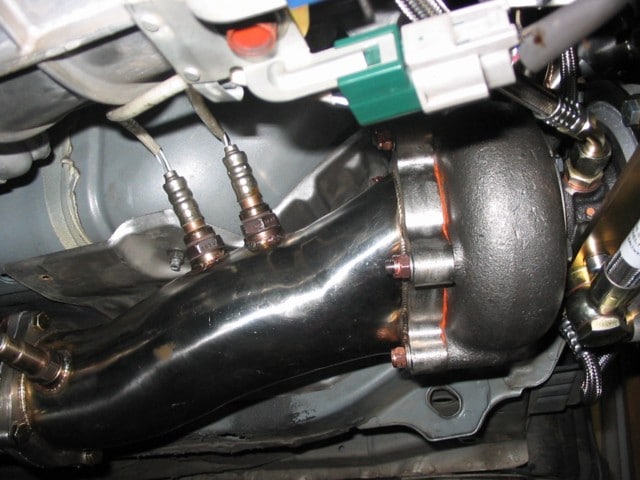 Manufacturer: APS
Engine Compatibility: VQ35DE
Fuel Management: Not Included
Engine Management: Not Included
Turbine: Garrett Water Cooled
Heat is the number one enemy of good performance. Keeping things cool especially on your turbo rig is vital. This is something that the APS single turbo kit does very well.
The main feature of this 350z turbo kit is its water-cooled Garrett turbine which extends the overall life of your turbocharger by helping it stay as cool as possible.
A turbine like this needs some extra work during installation. You're going to have to plumb in extra water lines to the sides of the turbo's center housing for its water-cooling feature to function properly.
Doing this is necessary because if it's not done correctly, it can cause irreversible damage to your turbine. However, the benefits of water-cooled turbos significantly overpower its disadvantages.
To cool things further, this water-cooled turbine is strategically placed lower to avoid heat soaking other components in the engine bay. We find this very impressive for such a cheap 350z single turbo kit.
The catch is, these kits are hard to find nowadays. If you're lucky they come back in stock now and then or you can find one second hand.
The Best Turbo Kit For 350zs
We wish there were more forced induction options for the 350z; considering its popularity in the aftermarket community.
However, we have our favorites among those that are available. They include:
Our Favourite 350z Twin-Turbo Kit: Jim Wolf Technologies
Considering the build quality, price and power capacity, the Jim Wolf Technologies turbo kit is the most effective 350z twin turbo offering on the market.
Top Single Turbo Kit For Your 350z: Turbonetics
There's no sugar coating it, this isn't the perfect kit. It is cheap though. If you want to make big power reliably, without spending too much, look no further than the single turbo kit by Turbonetics.
How much power do you want from a turbo kit? Will you be daily driving your turbocharged 350z?
Let us know by leaving a comment below!