A standard 350z clutch is a serious unit. It's not uncommon for a Nissan 350z owner to make it to over 100,000 miles (over 160,000) on their first clutch.
If you have been driving your 350z on the street, shifting well and not beating on your car,  your clutch pedal should feel light and manageable, perfect for stop/start city driving or long highway runs.
However, if you have taken it to the track or given your Z car hell over the years, you might have felt the clutch either sticking or slipping by now.
Changing to a new clutch can completely transform the way a 350z drives. It can also give you the peace of mind that comes with picking what goes under the hood of your car.
In this guide, we're going to show you the best clutches for your Nissan 350z, the different models available and the benefits of upgrading your stock clutch.
Why Should I Change My Stock Nissan 350z Clutch?
You've probably already done several modifications to your 350z. Upgrading these parts can increase the performance of your Z33 and make an already great car even better.
Although the 350z's standard clutch is a strong unit, it just wasn't designed to withstand the high stress of heavy launches, burnouts or drifting.
The clutch will often slip when hot, making for bad launches and nasty gear changes. After a few heavy launches you might also experience the clutch sticking and it being hard to get into lower gears.
Advantages of an Aftermarket Clutch for Your Nissan 350z
There are loads of benefits you'll get from upgrading to an aftermarket clutch, but most importantly:
Your clutch will perform better in higher temperatures,
Increased clamping force of an aftermarket clutch means you can launch faster and harder without the clutch slipping,
You will get more power to the wheels, increasing acceleration and overall performance,
If you have made engine upgrades to your 350z's VQ35DE you might not have truly felt their potential if you haven't changed your clutch to one with a higher torque capacity.
What to Watch Out for With an Upgraded Clutch
One small issue with some aftermarket performance clutches is that you can experience some difficulties with daily street driving.
If you plan to daily drive your 350z on the street, you'll want to go for a clutch that you can still start from a stop easily, otherwise, your clutch might require "race starts" every time you take off after stopping.
Our Favorite Nissan 350z Clutch Kits
Most 350z owners choose to change the whole clutch kit as the simplest clutch-upgrade option. Let's face it, dropping your gearbox, installing one component and then reinstalling the whole thing is not something you want to do regularly.
Instead of replacing a single part, you should take the opportunity to change all the pieces in and around the clutch that have been worn out over the years of driving. At the very least this means a clutch and flywheel replacement.
The best Nissan 350z clutch kits include everything you need. At a minimum, this is the clutch disc, pressure plate, throw-out (or "thrust") bearing, and ideally, the flywheel. All these parts are prone to wear and tear from use so changing only one piece might not fix your problem until you replace the lot.
There are several contenders for the best 350z clutch kit, from performance-oriented kits perfect for racing to simple ones that will increase the longevity of your clutch and make gear shifts much smoother.
Let's take a look at them.
JWT Clutch & Flywheel Combo Kit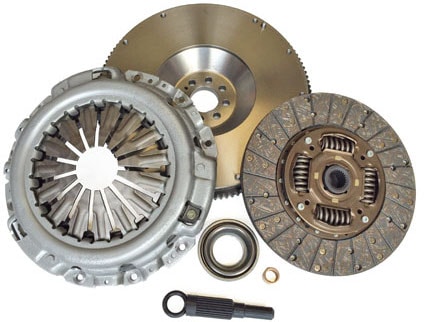 Manufacturer: Jim Wolf Technology (JWT)
Disc Type: Metallic full face disc
Torque Capacity: 620 lbs/ft
Torque Capacity over OEM:  72%
Best for: Track performance
If you're going to increase, or you have already increased, your Fairlady Z's engine output, the JWT clutch kit will make sure that extra power gets to the ground thanks to a 1,200kg clamping force and it's high torque capacity.
It might take some time to get used to it while daily driving, but for club and track days, this acceleration is a godsend.
If you haven't modified your car and you're not planning to increase performance in the future, the Jim Wolf Technology clutch kit might be overkill.
ACT XT/Race Clutch Kit
Manufacturer: Advanced Clutch Technology (ACT)
Disc Type: Sprung six-puck race disc
Torque Capacity: 669 lbs/ft
Torque Capacity over OEM:  83%
Best for:  Fast track starts
Buy From: Amazon
ACT is a US-based manufacturer dedicated to creating clutches for sport and street driving.
ACT designed this clutch to be a great all-rounder, perfect for performance 350z owners. With a metallic, six-pad clutch disc and a high torque capacity, this clutch will ensure quick shifts and explosive acceleration.
The relatively high torque capacity makes it one of the best aftermarket 350z clutch options.
If you're going to buy this clutch kit, consider dropping in a lighter flywheel to guarantee top performance.
Exedy Stage 1 Clutch Pro Kit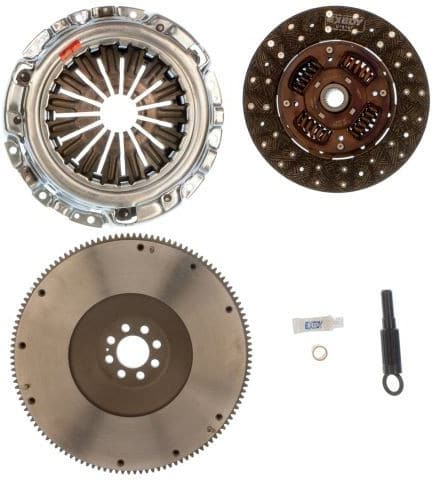 Manufacturer: Exedy
Disc Type: Ultra-fiber organic full face disc
Torque Capacity: 500 lbs/ft
Torque Capacity over OEM: 40%
Best for: Fast street driving
Buy From: Amazon
Want to upgrade your 350z's clutch while keeping it easy to drive on the street? Exedy's Stage 1 clutch kit is perfect for you!
Although they have clutch plates at every level, the Stage 1 variant is specially manufactured to combine a performance upgrade while maintaining a stock-like feel.
It's great for daily driving and still capable of sustaining the increased abuse of the occasional track day or burnout.
The flywheel is lighter than stock, but it's heavier than most of the other aftermarket options. In some ways, this kit is the gateway from OEM parts to aftermarket equipment.
SPEC Stage 5 Clutch Kit
Manufacturer: SPEC
Disc Type: Metallic full face disc
Torque Capacity: 650lbs/ft
Torque Capacity over OEM: 81%
Best for: All-round race performance
Buy From: Enjuku Racing
The SPEC Stage 5 kit is the most race-ready option in the list and the one you should consider if you're hitting the track frequently.
Designed for competition use, the SPEC Stage 5 has an impressive torque capacity, a solid, metallic full face disc, and a high-pressure plate clamp.
You can rest assured that most modifications you could make to your 350z engine (which increase HP) will be compatible with this clutch.
You might be able to manage this clutch kit on the street, but it won't be fun, especially in traffic.
Competition Clutch Stage 2 Clutch Kit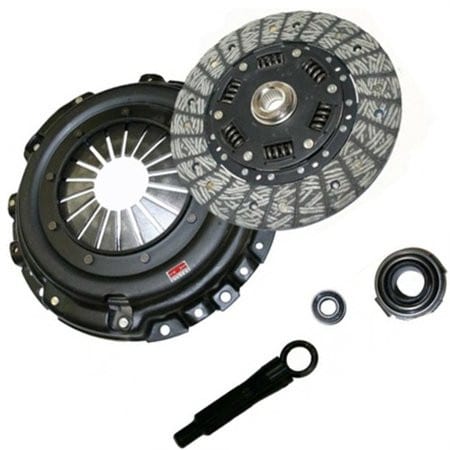 Manufacturer: Competition Clutch
Disc Type: Metallic disc (Full face or four/six pucks)
Torque Capacity: 550 lbs/ft
Torque Capacity over OEM:  56%
Best for: Those spending time on both track and street
Buy From: Enjuku Racing
Competition Clutch is a US-based manufacturer renowned for its broad range of high-performance clutches created to satisfy every kind of driver.
This one earns our nod as one of the best 350z clutch kits because it can handle both track and street driving.
Unlike higher stage clutches, this clutch offers smooth engagement and the quick shifts of racing performance while retaining a normal acceleration, making the transition from stock easier but still allowing your 350z to perform to its fullest.
Although the torque capacity might not compete with the more track-oriented clutch kits in this article, the added durability of the pressure plate and metallic disc will let you race and drift without worrying about the plate wearing out under high-heat conditions.
One advantage of this kit is that the clutch disc offered can be selected between full face disc, four pucks or six pucks.
If you're going to be spending time on the street, full face is probably the way to go.
Best Clutch for Your Nissan 350z
Can't find a clutch kit that meets your specific needs? No problems.
In this section, we'll take a look at the best particular pieces you can mix to make a kit of your own.
JWT High Clamping Force Clutch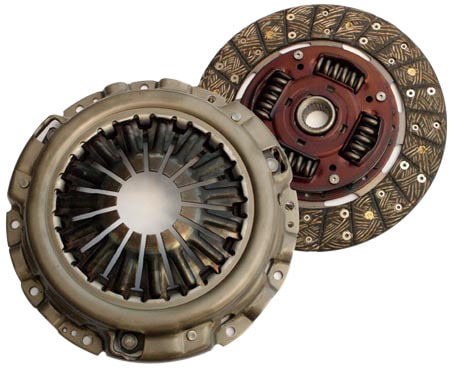 Manufacturer: Jim Wolf Technology (JWT)
Disc Type: Organic full face disc
Best for: Fast street
Buy From: Enjuku Racing
If you want to try JWT's high-performance clutches but with a different configuration than their kit, this might be the way to go. Drop in this disc and you'll be blazing from the start and shaving seconds from your best time.
Although it's an organic fiber pressure plate, JWT ensures that it can work under high temperatures and pressure. If you're only giving your car a hard time every once in a while, this could be a great unit for you as it will still be comfortable for daily driving.
These kits are precision clutches, meaning they need a precision fit. They don't come with one of the simple alignment tools that many other units are packaged with, so be sure to grab yourself a clutch centering tool to get your alignment perfect.
ACT 6-Puck Clutch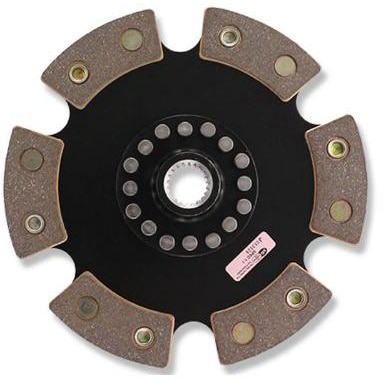 Manufacturer: Advanced Clutch Technology (ACT)
Disc Type: Ceramic six-puck disc
Best for: Daily driver meets weekend racer
Buy From: Amazon
This six-puck configuration provides great engagement and smooth gear changes, while still allowing hard launches. That means the potential for a healthy mix of racing and daily driving.
If you're looking for something balanced that can perform great in both driving styles this ACT option is perfect.
And since it's such great value, you can pair it with either a heavy flywheel for smoother driving or a lighter one if you want better acceleration.
Exedy Clutch Disc
Manufacturer: Exedy
Disc Type: Organic full face disc
Best for: Street driving
Buy From: Amazon
This is Exedy's organic clutch disc, an upgrade from the stock version of the 350z and fairly similar to the one included in the clutch kit posted above.
Buying this simple clutch disc opens up a myriad of possibilities and combinations. You can combine its great value with different pressure plates and flywheels to achieve the car feel you want.
Very affordable and with proven durability this clutch disc is the best aftermarket replacement for your stock clutch – your car will feel "new" again.
350z Flywheel Upgrades
A flywheel is an integral part of your clutch system.
A significantly lighter flywheel will deliver more responsive shifts and quicker acceleration as you pass up through the gears.
But they can also increase the chance of stalling in traffic or create loud engine vibrations, so they are a performance-only upgrade.
Competition Clutch Lightweight Flywheel
Manufacturer: Competition Clutch
Weight: 1.17 Lbs
Best for: Track days only
Buy From: Amazon | Enjuku Racing
Competition Clutch provides one of the lightest, yet most durable flywheels on the market, allowing the clutch to transmit all of the engine's power to the wheels.
The incredibly low weight of this flywheel makes for rapid acceleration. You will feel the difference and increase performance even if you only change the flywheel.
However, keep in mind that a common issue associated with lighter flywheels is a noticeable chattering noise when hitting the clutch.
ACT Streetlite Flywheel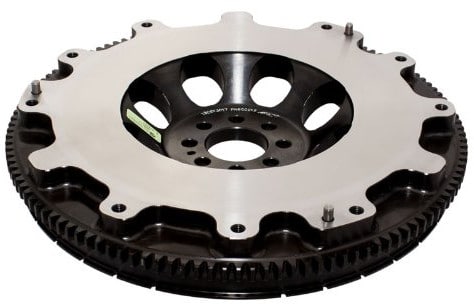 Manufacturer: Advanced Clutch Technology (ACT)
Weight: 17.4 lbs
Best for: Fast street and light track use
For those seeking to change the flywheel to a mid-weight unit, ACT developed this excellent option.
It's much lighter and stronger than the stock version (which weighs in at 27.8lbs) but it's still heavier than most performance-oriented flywheels.
With the ACT Streetlite, you'll get a smooth engagement, easy gear changes, and minimal noise.
What is the Best Clutch for a Nissan 350z?
There's no absolutely objective answer to this question. All of the clutches in this article are excellent options that will improve your car's performance over OEM parts.
The best clutch for Nissan 350z owners like yourself comes down to how you're going to drive your car. You might want to modify your car extensively and hit the track frequently, or you'd like to just drive around with a smoother clutch.
For daily driving, you want something manageable and smooth while improving responsiveness and longevity.
That's why you should consider buying either a streetable clutch kit or tailor your experience around specific parts:
It's completely possible to take your daily-driven car to the track every once in a while. But for top track performance, go with one of best clutch kits for the Nissan 350z that is race ready:
If you're on a budget and looking for the best-value options, these options are great for casual racing or "performance street" setups:
Still unsure which clutch is right for your Nissan 350z? Ask us in the comments below and we'll try and point you in the right direction!