Test pipes are essentially straight pipes that you can install to replace the catalytic converters in your Nissan 350z.
As you probably already know that catalytic converters are extremely restrictive and don't help performance. Replacing them with test pipes is an inexpensive way to enhance the volumetric efficiency of your VQ35DE engine.
This modification will inevitably make your exhaust louder and raspier. Sometimes the exhaust note can get so loud that you might find yourself breaking sound ordinance laws. Some 350z owners like this, while others don't.
Since you're reading this article, our guess is that you're seriously considering a cat delete. That's what we'll discuss in this guide.
Here we'll help you find the best 350z test pipes based on price and quality.
350z Test Pipes Construction
These exhaust components are essentially straight-through pipes that replace your catalytic converters. That's why there are also called "straight pipes" in some parts of the world.
Price can fluctuate on these pipes based on materials used, finish, and if the pipes are resonated or not.
Each test pipe is specified by its inlet diameter (in inches), it outlet diameter (also in inches), and its construction type (typically stainless steel).
Resonated vs Non-Resonated
Resonated test pipes are built to eliminate exhaust rasp, but at the expense of slightly hindering airflow. They give you a more refined sound than the loud, aggressive note of non-resonated versions.
Many 350z enthusiasts won't touch non-resonated test pipes with a 10-foot-pole, because of the sound factor. The sound on non-resonated pipes can get pretty nasty, especially above 3,000 RPM.
If you're just looking for increased power, but don't want your car to be too loud, resonated pipes are the way to go.
Pros and Cons of a 350z Cat Delete
As we mentioned earlier, test pipes replace your 350z's catalytic converter with simpler, smoother straight pipes. But even though they're just bits of tubing, they offer a lot of benefits.
This improves your exhaust's airflow, which leads to all sorts of performance gains:
increased horsepower,
increased torque,
and better fuel economy.
Second, cats are quite heavy, so catalytic converter removal will shave off a good amount of weight, which is also good for your 350Z.
Third, test pipes make your car's exhaust louder, with a better sound (the sound being "better" is hotly debated, though).
The only real cons of installing test pipes are the fact that they're not always easy to install, they add to pollution, and they can create more in-cabin exhaust smells.
Best Test Pipes for the 350z
Not all test pipes are created equal, and the price shouldn't be the deciding factor. You have to decide for yourself if you want a loud, noisy test pipe (non-resonated), or a quieter, more refined one (resonated).
There are other factors that differ between 350z test pipes:
the materials used to construct the pipes (stainless steel being the most common),
the inlet and outlet diameter sizes (we like 2.25" to 2.5"),
and the performance gains you can expect.
Inexpensive Options
These test pipes are all on the low end of the three-figure range. They're inexpensive, but that doesn't mean they're bad. If you want to increase your Z car's airflow for a reasonable price and replace your cats, take a look at these.
If you aren't convinced of the power increase that this exhaust system modification will unlock, it makes sense to start small and not overspend.
Once you see what these pipes can do, then you might consider upgrading to high-performance models.
Auto Dynasty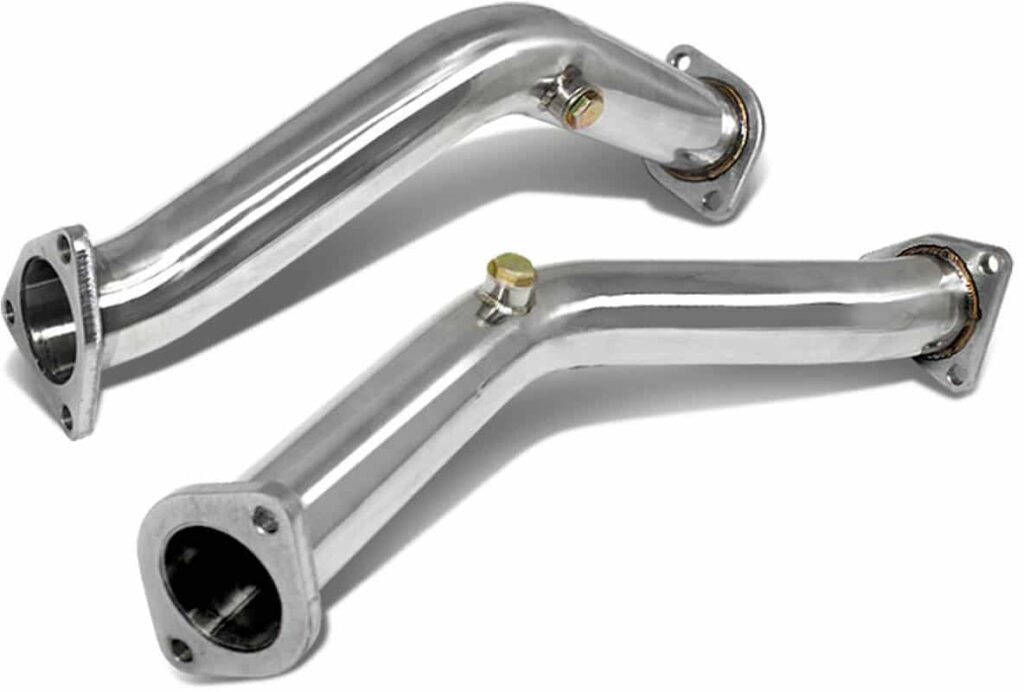 Manufacturer: Auto Dynasty
Inlet (In.): 2.5"
Outlet (In.): 2.5"
Compatibility: All Years (VQ35DE and VQ35HR engines)
Material: T-304 Stainless Steel
Let's kick off this list with a cheap, but a confusing option. Auto Dynasty calls these "turbo" downpipes. Why they call these things "turbo downpipes", we don't know!
They work well on a non-turbo Infiniti G35 and will bolt onto your 350z's standard exhaust system too. You do not need a turbo to run them.
They're one of the cheapest 350z test pipes because of their simplicity. They are non-resonated and straight pipes, meaning they will be one of the louder, raspier options available.
Gent5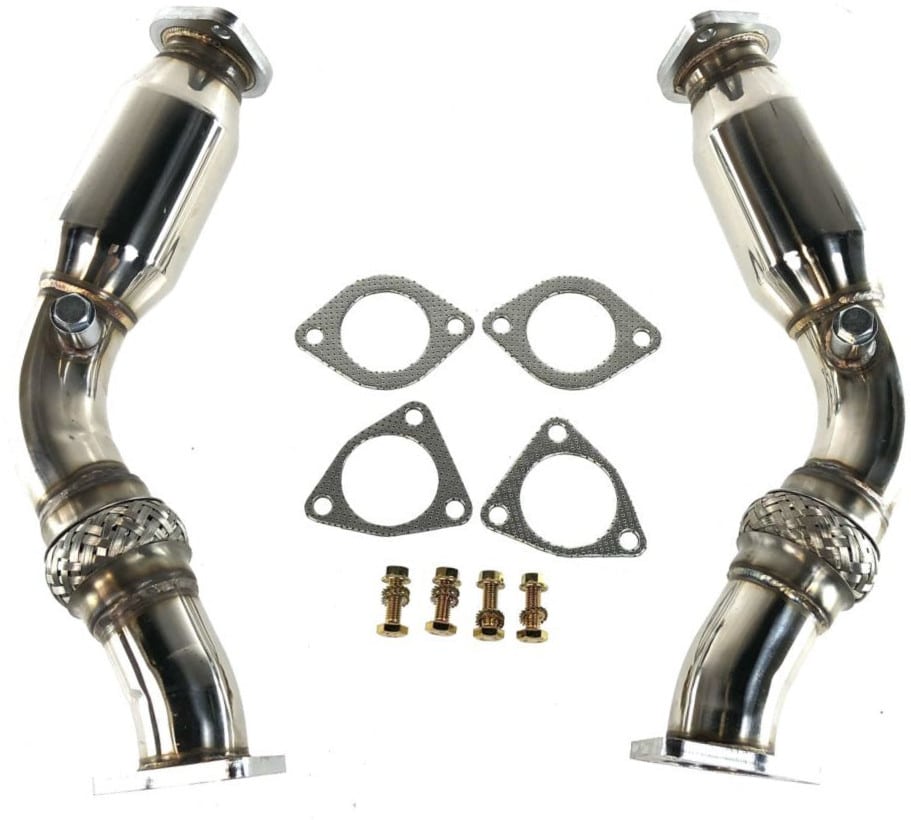 Manufacturer: Gent5
Inlet (In.): 2.5"
Outlet (In.): 2.5"
Material: Stainless Steel
Gent5's flex pipes do well under pressure; the flex section helps to prevent cracking when you're pushing towards redline. For this reason, they're popular for competition use.
They are built to reduce flex on your 350z's headers and 350z Y-pipe, which will keep your exhaust system more stable and supported, and reduce the risk of cracking.
The ability to flex means better joins between your exhaust components, which helps reduce hiss, while still giving your exhaust a nice rumble.
Best of all, Gent5's test pipes are really affordable. They come with a one-year limited manufacturer warranty on defects, workmanship, and materials. Since cracking is the major thing to look out for with exhaust components, this is nice to have.
ISR Performance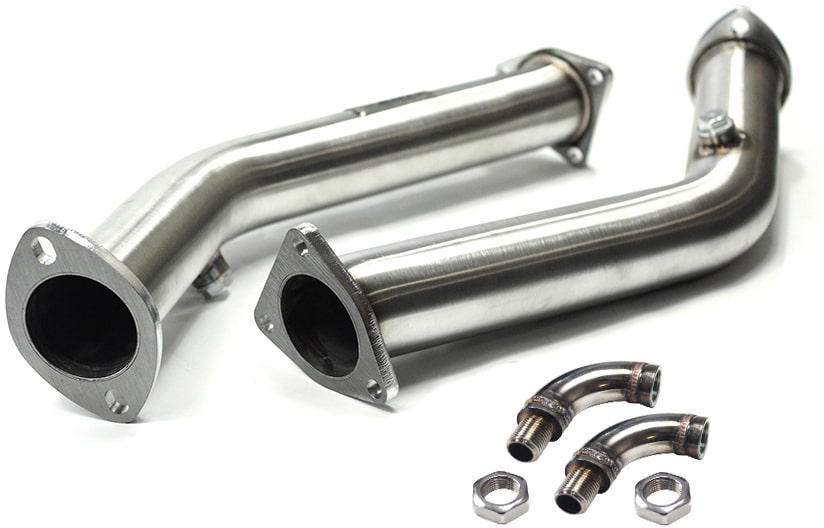 Manufacturer: ISR Performance
Inlet (In.): 2.5"
Outlet (In.): 2.5"
Material: Stainless Steel
Buy From: Enjuku Racing
ISR Performance makes these high-quality test pipes for a low price. They can be used with stock components as well as aftermarket parts, though it's important to know they are only compatible with the VQ35DE motor (not VQ35HR engines).
You might notice some drone with these pipes, but typically only when your throttle's wide open your car is under heavy load.
Overall, ISR Performance's test pipes will give your 350z a nicer, deeper tone than you'd have without them. At such an affordable price, these are definitely worth a look.
Berk Technology
Manufacturer: Berk Technology
Inlet (In.): 2.36"
Outlet (In.): 2.36"
Material: 304 Stainless Steel
Buy From: Enjuku Racing
Berk Technology is known for their affordable, reliable aftermarket parts, and their 350z test pipes are no exception.
If you want to tune your Z car, these pipes have O2 ports tapped with a bung built in on each pipe, which is designed to allow you to easily bolt on wideband O2 readers. Most importantly, it comes with a fix so you won't get a check engine light or any error codes as well.
These pipes are not resonated, so you can expect them to be quite loud and raspier than the OEM catalytic converters you had before. For the money, these are some really great 350z test pipes.
AAM Competition
Manufacturer: AAM Competition
Inlet (In.): 2.5"
Outlet (In.): 2.5"
Material: Stainless Steel
Buy From: Enjuku Racing
From a cost point of view, AAM Competition's test pipes are on the high end of the inexpensive list of test pipes. AAM claims a dyno-proven 8-10 rear wheel horsepower gain, but your experience will vary depending on your specific car and dyno.
When you install these test pipes though, you will shave off about 11 pounds in weight over each OEM catalytic converter, making your Z33 significantly lighter than when it rolled off the production line.
AAM makes these pipes for both DE and HR engines, but for simplicity's sake, we've linked to the DE version.
Invidia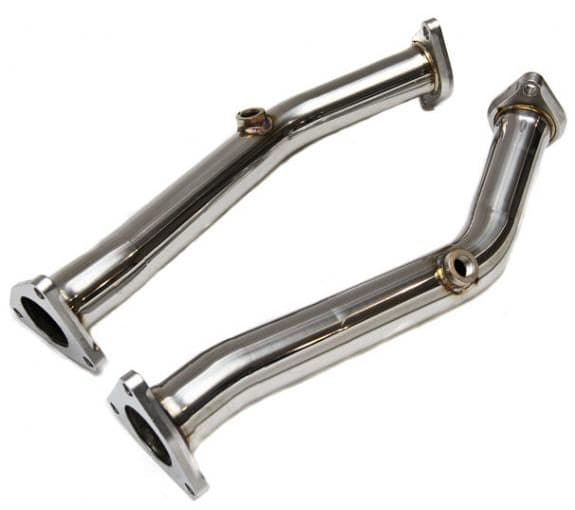 Manufacturer: Invidia
Inlet (In.): 2.36"
Outlet (In.): 2.36"
Material: Polished Stainless Steel
With Invidia's test pipes, we're starting to go into the higher-budget territory, but they're still affordable, especially if you're planning to keep your Nissan 350z for more than a year or two.
They're well-made with a beautiful finish, and they're reliable; the sturdy support brackets help to reduce exhaust movement.
Invidia claims a better throttle response, increased power, and better gas mileage with these installed instead of your stock catalytic converters.
Since test pipes naturally allow a greater volume of exhaust gases to pass through your system, this isn't hard to believe, but know that real-world power gains will be limited.
Though they're a bit pricey, Invidia is a very reputable company, so they're definitely worth checking out. They match up perfectly with Invidia's N1 350z exhaust system, too!
Kinetix
Manufacturer: Kinetix
Inlet (In.): 2.25"
Outlet (In.): 2.25"
Material: Stainless Steel
Kinetix's 350z test pipes are well made and sturdy, and the price reflects that. Since these pipes retain the factory oxygen sensor mount, Kinetix promises that they will not throw a check engine light (CEL) when used.
They'll add a raspy, aggressive note to your Z car through the 3-4000 RPM range. It's loud and not conservative, so be aware of that. Kinetix also claims a 4-8 HP addition with these pipes.
The rather unique 2.25" diameter of these pipes means they'll match up perfectly with aftermarket 350z exhausts from brands like Borla, Stillen, and Invidia.
High Performance Test Pipes
The products listed below are more expensive options. But that increase in price brings with it higher quality welds and typically a smoother finish, resulting in greater opportunity for improving performance.
They're considered by many to be the best test pipes for the 350z.
These pipes are usually made from higher quality material than the others listed above. If you're an enthusiast who cares about what the underside of your car looks like, these are the ones to check out.
In many cases these are resonated pipes, so we're bordering on the topic of high-flow cats. Either way, these pipes are built to last, increase your car's performance and to cut down on rasp.
Motiv Concepts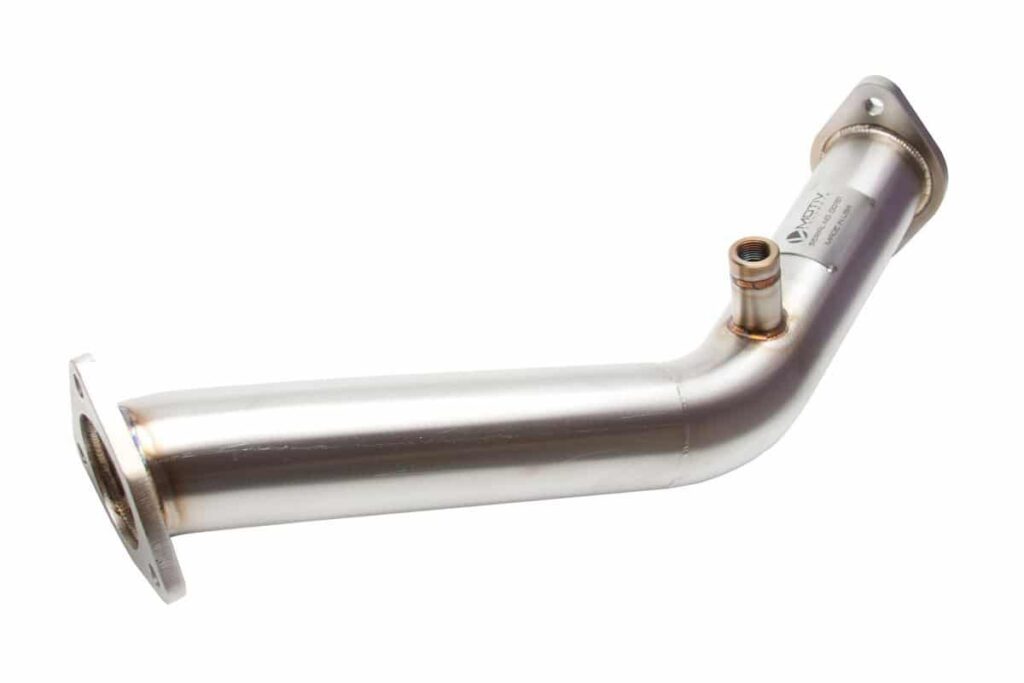 Manufacturer: Motiv Concepts
Inlet (In.): 2.5"
Outlet (In.): 2.5"
Material: 304 Stainless Steel
Motiv Concepts' test pipes are a high-end product that's made with RathGibson tubes and finished with the company's signature brushed finish, with their name on the plaque.
These are certainly some of the slickest-looking options available.
Motiv doesn't offer any dyno-proven test claims, but you can expect similar performance results that you might get from other 2.5" diameter pipes.
These pipes also come with O2 sensor bungs built-in for wideband tuning or AF monitoring, and a mechanical CEL fix.
Something to be aware of: Motiv says the CEL fix is less effective on the 07+ HR motors than it is on the 03-06 DE motors.
Kinetix Resonator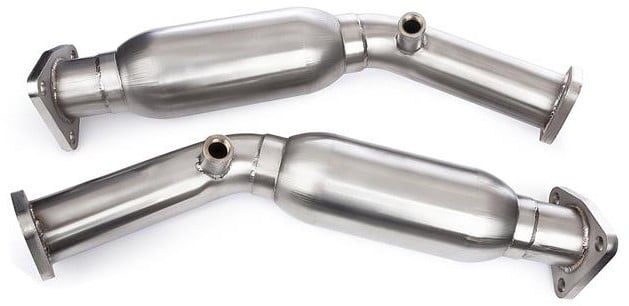 Manufacturer: Kinetix
Inlet (In.): 2.25"
Outlet (In.): 2.25"
Material: Stainless Steel
Kinetix's resonated test pipes are similar to the others in this guide, but they're not quite as loud. These pipes also have a slightly deeper tone than their non-resonated version.
The stainless exhaust resonator is welded in-line, offering the same great airflow that test pipes are supposed to provide, but without the raspy, aggressive exhaust notes that many people don't like.
If you're willing to spend a little bit extra for more conservative-sounding pipes, these are definitely worth a look.
Invidia High Flow
Manufacturer: Invidia
Inlet (In.): 2.36"
Outlet (In.): 2.36"
Material: Stainless Steel
Invidia knows that enthusiasts are always looking for ways to increase power and improve the sound of their car, so the company's released these test pipes with high flow cats.
The factory catalytic converter is basically a screen that heats up and burns off excess fuel, but slows down exhaust flow, chokes your engine, and reduces noise.
These high-flow cats replace the OEM units to allow freer airflow and to give your car an aggressive, raw sound. The exhaust note is slightly less extreme than cat-less systems.
The high-flow cats offer more horsepower and torque than factory cats, too.
Tomei Expreme Titanium
Manufacturer: Tomei
Inlet (In.): 2.36"
Outlet (In.): 2.36"
Material: Full Titanium
These Tomei Expreme test pipes differ from the other Tomei pipes on this list because they're made of full titanium. These pipes are also compatible with both DE and HR engines.
They're some of the best straight pipes for the 350z in terms of durability and reliability, thanks to their insanely lightweight and sexy titanium construction.
The welds on these pipes are also excellent, almost making them look like art pieces rather than aftermarket parts. Tomei guarantees enhanced airflow with these pipes, because they machine every engine component they make.
Tomei is one of the leaders in automotive research and racing – these are definitely worth the steeper price point.
Motordyne ART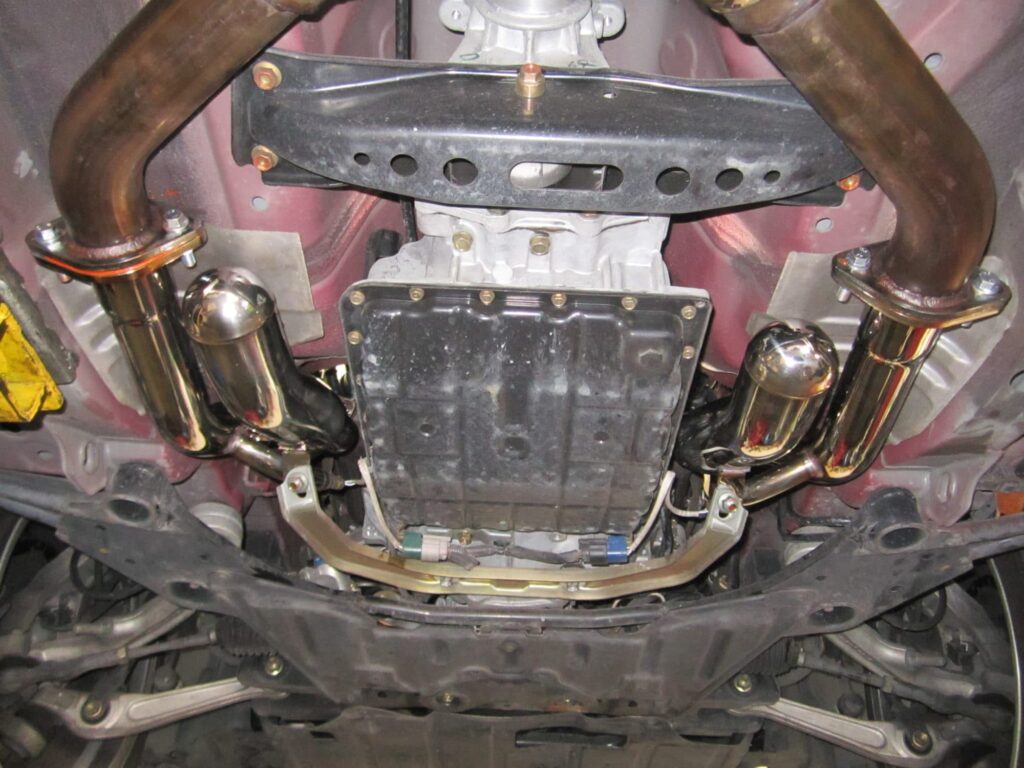 Manufacturer: Motordyne
Inlet (In.): 2.25"
Outlet (In.): 2.5″
Material: SUS304 Polished Stainless Steel
Another work of art, Motordyne's "Advanced Resonance Tuning" test pipes look beautiful. A work of ART if you will.
But more than that, they claim a performance boost of up to 5 HP at 2,500-3,500 RPM, and 10 HP at high, 6,000-7,000 RPM. Motordyne also claims these pipes will add 23 ft/lb of torque to your 350z.
Sound-wise, these pipes eliminate all rasp, even at high RPM.
Independent reviewers have these test pipes ranked higher than any other, though they're also the most expensive. Some might say they're too expensive, considering they're just pipes that remove your 350z's cats, but that's a decision you need to make.
Our Recommended Nissan 350z Test Pipes
There are lots of 350z mods you can make, but removing your catalytic converters and installing test pipes is one of the cheapest options to quickly increase power, improve exhaust pressure, sound, and fuel economy.
Before buying new test pipes for your 350z, there are a few things you should decide. What are you looking for?
The cheapest option that'll give your Nissan 350z the best bang for your buck?
The best for performance increases from your VQ engine?
Performance increases with a subtle lift in noise?
Will you be installing them with other exhaust mods, like aftermarket headers?
Or, perhaps you're looking for a happy medium of all of those…
Luckily, we have some recommendation categories below. You generally can't go wrong picking from this list:
Best 350z Test Pipes for Performance: Motordyne ART
Motordyne's resonated pipes are the most expensive on this list, but they also give you the most gains.
A 5-10 whp gain (depending on RPM) is nothing to sneeze at, and the 23 ft/lb of torque added to your 350z is a great benefit. Perhaps best of all, these pipes are great at eliminating rasp and hissing noises.
Best Test Pipes on a Budget: AAM Competition
AAM Competition's test pipes are one of the few on this list that is dyno-proven to increase your car's performance by 8-10 HP, depending on RPM.
That's arguably better than many high-performance pipes, but these come at just a fraction of the cost! They're also fairly lightweight considering their price, so you'll see a nice drop in weight from your car from swapping these in.
Our Favorite Test Pipes: Tomei Expreme Titanium
These are probably the best-looking test pipes, from the finish and welding perspective, but they're also some of the best on the market. The titanium construction of these pipes makes them extremely lightweight, but ultra-durable.
They'll cut down on obnoxious sound, and will give your Z car great airflow and a modest power boost. They're a bit pricey, but you won't have to hope or guess about the quality of the product.
Tomei is a household name among 350z owners that can be trusted, which is why they get our vote.
Are there any awesome test pipes we're forgetting for the 350z? Let us know by leaving a comment! And if you're on a very tight budget, you might want to learn about doing a muffler delete instead.