The Nissan 350z is responsive, handles well and will make enough noise to put a smile on your friend's face.
But in the same way, it can be well behaved, ride nicely, and be quiet enough to take your mother to the shops.
It's a driver's car, through and through.
In this buyer's guide we'll tell you the things you should know before buying a Nissan 350z, such as:
the key characteristics of the car,
differences between different model names,
differences between different model years,
common problems,
reliability, and
maintenance costs.
A Brief History
The first Nissan 350z rolled out of the factory in July 2002, to be sold on the Japanese market. Shortly after, buyers in the US, UK, Europe and elsewhere around the world began to take delivery. They were all sold and marketed as a 2003 car.
Known as the Nissan Fairlady Z in Japan, Nissan's 350z was the next in line of a long history of "Z cars". The first Z car produced was the "S30" sold as a Nissan Fairlady Z, Nissan 240Z and Datsun 240z in different markets around the world.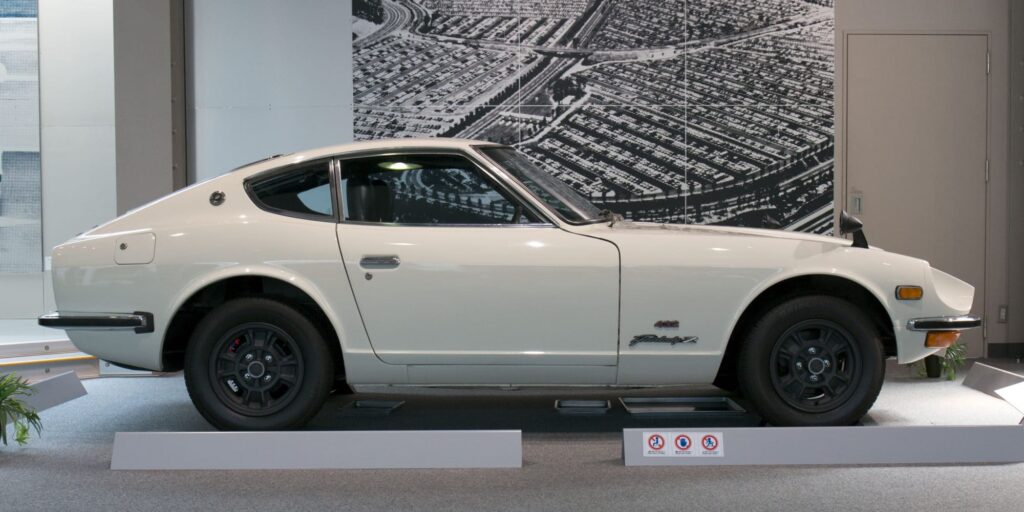 Identified by the model code "Z33" (and sometimes called a "Nissan Z33"), they were produced right up until 2009 and sold as the Nissan 350z before being taken over by the newer Nissan 370z.
Z cars have long been a favorite with car enthusiasts – both those who can afford to buy new and those who prefer to buy used when they are more affordable.
They have been popular with car enthusiasts, and modified 350z's are no exception. Though more modern, it's considered by many to be one of the best JDM cars you can buy.
Key Characteristics
Years sold: 2003-2009
Manufactured in: Japan
Body style: 3-door coupe, 2-door roadster
Layout: Front-engined, rear-wheel drive
Platform: Nissan FM
Engine: 3.5 L VQ35DE V6, 3.5 L VQ35DE RevUp V6, 3.5 L VQ35HR V6
Transmission: 5-speed RE5R05A automatic, 6-speed FS6R31A manual
Weight: 3,188–3,602 lb (1,446–1,634 kg)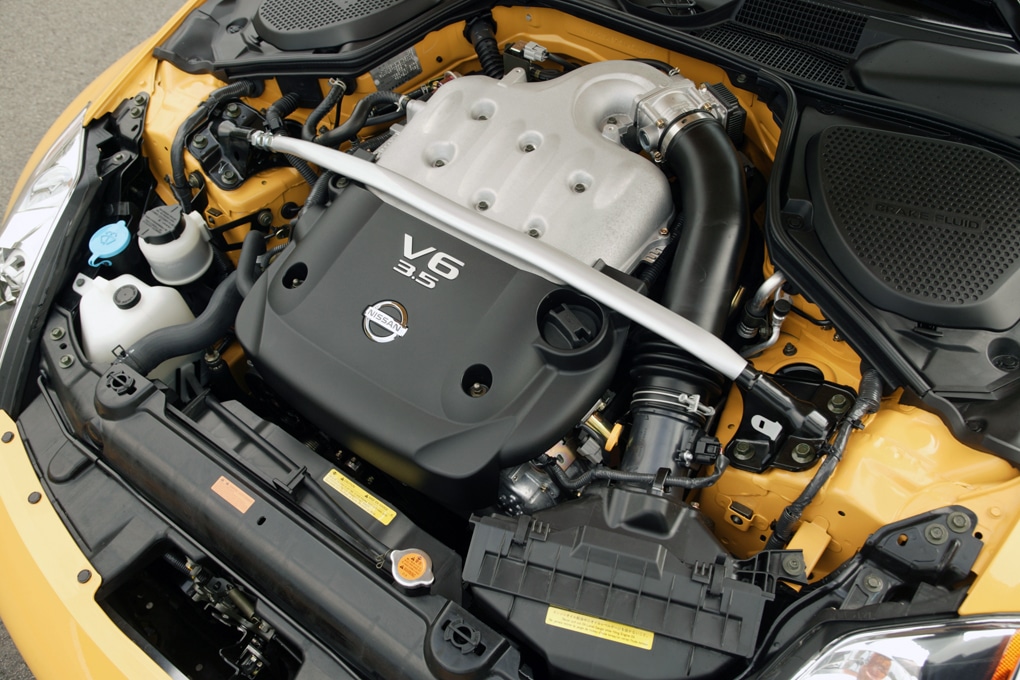 Nissan 350z Models & Trim Packages
Though not all models and trim packages were sold in all markets, generally, they were sold in one of the below specs.
There were some special edition models which may be of interest to collectors or investors that are well ahead of the curve.
In this section we show you some of the key features of each model, and give you an easy way to spot which model is which. It's not uncommon for Nissan 350z owners and car yards to not be aware of the model they are selling.
Do know that these are just basic guides. As Nissan 350z's have so many interchangeable car parts, many dealers made non-official upgrades and many of these upgrades were also done in the years of ownership since buying the car new.
Also keep in mind that these different trim packages can affect your 350z's insurance costs as well.
Base
A very well spec'd car for the price, the Base model Nissan 350z missed out on the viscous limited slip differential and traction control. The cloth seats were both not-heated and not-electric. All base models were supplied with 17-inch wheels.
A common complaint of Base model buyers is its lack of cruise control.
How to spot a Base model: Check the steering wheel for cruise control buttons. If there are none, it's a Base model 350z.
Enthusiast
The Enthusiast model brought with it the traction control, viscous type of limited slip differential and cruise control that was missing from the Base model.
How to spot an Enthusiast model: Below the steering wheel, check the dashboard for a "TCS" button (traction control). If there is one, but there are no switches for a heated seat, you're looking at an Enthusiast model 350z.
Performance
Filling the gap even further, the Performance model 350z gave buyers 18-inch wheels, Nissan VDC instead of traction control, and an aero-kit with rear spoiler and front air dam.
Optional on the performance model is the impressive Brembo brake package, which is still a popular upgrade for 350z owners who didn't opt for this when ordering (or buying used).
How to spot a Performance model: If instead of a "TCS" button under the steering wheel on the dashboard there is a "VDC" button, but there is no switch for heated seats, its a Nissan 350z Performance.
Touring
The Touring model was kind of a combination of the Performance model and luxury.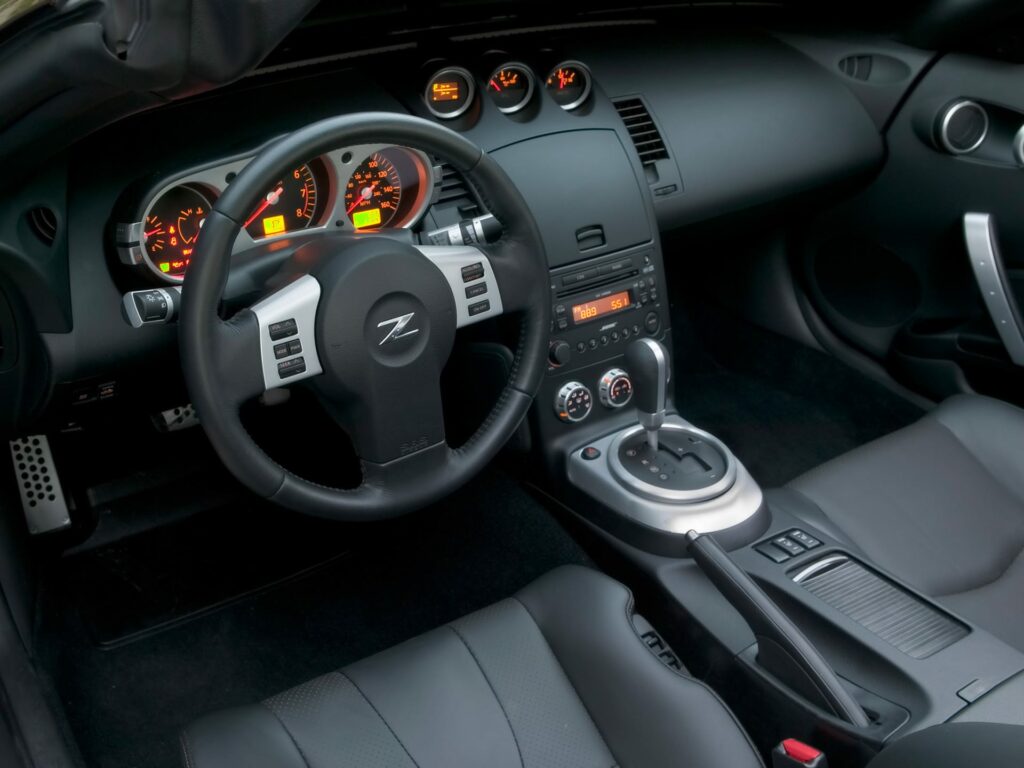 Electronic, heated leather seats were standard on all Touring models, as were the Nissan VDC, a viscous LSD, 18-inch wheels and xenon headlights.
Uprated Brembo brakes and a GPS system were optional.
How to spot a Touring model: If it has heated seats, xenon headlamps and 18-inch wheels, you're probably in a luxury Touring model.
GT Pack (Grand Touring)
Adding the GT Pack to a 350z saw the addition of cruise control, Bose stereo system, and electronic, heated leather seats.
How to spot a car with the GT Pack: If it has a Bose stereo and heated leather seats, but no 18-inch wheels, it is most likely a Nissan 350z with a GT Pack. If it has Rays 18-inch wheels, it's either a GT Pack with them as an option, or a 350z Touring model.
Track
The Track model came from the factory with Brembo brakes, the front air dam, rear spoiler, cloth seats, 18-inch wheels, and the viscous LSD.
GPS was optional on Track model 350z's.
How to spot a Track model: If it has Brembo brakes and cloth seats, it's probably a Track model Nissan 350z.
Nissan 350z New Price
Sold in many different regions, the Nissan 350z was competitively priced in all of them.
Filling a gap in the market for a high-powered, front-engined, rear-wheel drive was enough, but combined with its low price when new, it's no wonder the Nissan 350z sold so well.
Below are the new Nissan 350z prices when released in different regions for the cheapest variant (typically a 6-speed Base model). All prices are in the country's local currency.
USA: $26,370
UK: £24,000
Japan: ¥3,907,440
Australia: $59,990
Canada: $44,900
Nissan 350z Facelift Differences (Revisions)
As with many cars, the Z33 did see some revisions over the years. Most importantly, this was in the engine, however there were some other minor changes here and there.
Keen Nissan 350z buyers will want to pay attention, as buying the right car from the start can end up much cheaper than trying to seek out OEM "upgrades" later on.
MY03 (2003 Model)
This is the first release of the Nissan 350z, powered by a 276HP (206kW) Nissan VQ35DE 3.5L V6 engine.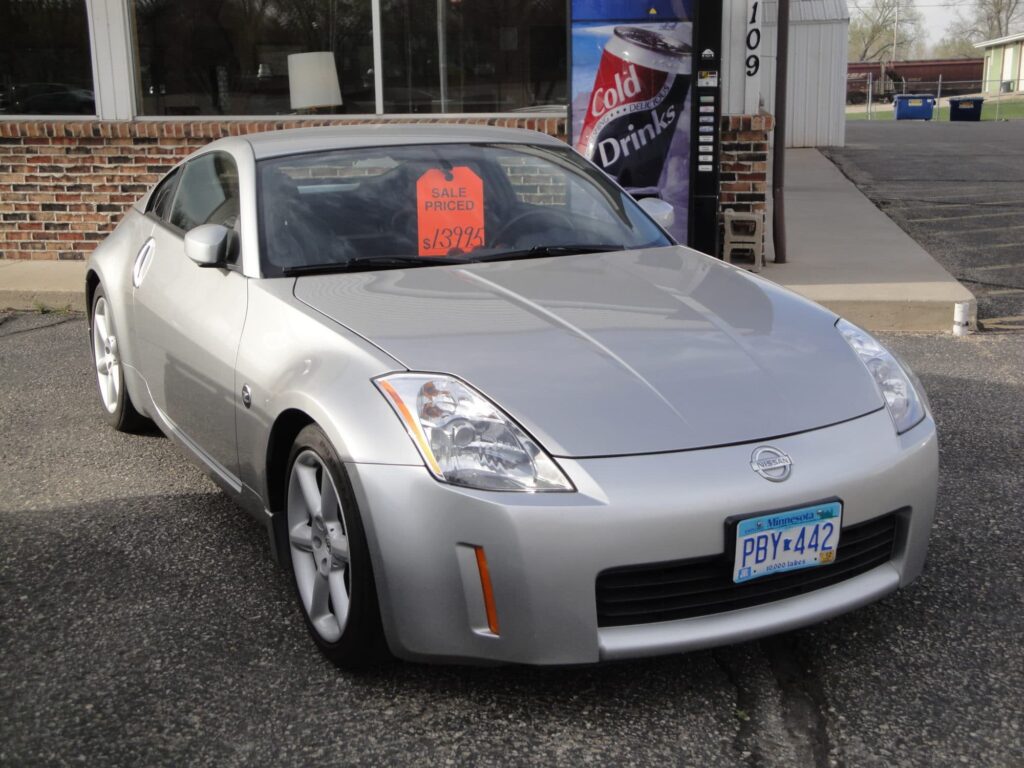 MY06 (2006 Model)
The first major revision was in 2006, with a switch to the 297HP (221kW) Nissan VQ35DE "rev-up" engine, which had a higher rev-limit.
In most markets, the rear lights became LEDs, and there was a minor revision to the front bumper and reflector design.
MY07 (2007 Model)
The major revision came in 2007, bringing with it a 309HP (230kW) Nissan VQ35HR 3.5L V6 engine. This engine brought with it an increased redline to 7500rpm.
The VQ35HR sits slightly lower as it is a taller engine, and also required a "bulge" in the hood to allow it to fit.
Some interior parts, including the controls and the center console were improved to make them stronger, and in some markets, more cup holders were added. The ignition key hole became illuminated too.
On the outside, Rays 18-inch wheels eventually became standard on all models and the headlight design changed slightly.
Which 350z Model is Best?
A common question. If you aren't limited by budget, the VQ35HR engine is the nicer one to have, so a car made after 2007 is best.
Depending on which Nissan 350z you want, a cheaper car or one that is better suited to aftermarket mods may be better.
We usually guide 350z buyers to decide which group they are in before choosing the model that is right for them:
If you want a well performing car with plenty of luxury: Seek out a 350z Touring or GT Pack car with 18-inch Rays wheels.
If you want a great base for modifying: Try and find yourself a Base, Enthusiast or Track model car with Brembo brakes. The Brembos are ample for all but the most serious drivers, and the standard cloth seats are way lighter than the leather alternatives. You won't feel as bad replacing them with a more serious bucket seat anyway.
If you want to buy one to lock in the shed in the hopes it gains value: See if you can find a Nissan Fairlady Z Type E. Good luck!
Common 350z Problems
The VQ35DE Has Been Known to Burn Oil
Not so much of a problem if maintained, but if left – be prepared to say goodbye to your piston rings. It's not as big of an issue as it sounds, but may be worth checking the oil level when inspecting a potential purchase.
The Exhaust Can Leak
Where the exhaust splits before the catalytic converters is a common place for the exhaust to leak. You should be able to hear this by letting the car idle and having a listen.
This can be a positive for those looking for an excuse to upgrade their 350z's exhaust, but can be an expensive exercise if you want to replace it stock for stock.
Driveshaft Clicking
A seemingly common problem with Nissans of this era is clicking driveshafts. The good news is, it's typically a cheap fix. Giving them a service and packing them up with grease usually does the trick.
Quick Synchro Wear
Some MY03-MY06 350z's had trouble with faster than usual synchro wear. It's not widespread but is something to think about when taking a 350z for a test drive.
MY07 onwards does not have this problem.
Worn Clutch
The standard clutch will usually go for over 40,000 miles (65,000 kilometers). Though this is pretty good, you can be guaranteed that one day it will need to be replaced.
Replacement 350z clutches are easy to get your hands on but are an expensive exercise in labour. The good news is, you shouldn't need to do it again for a long time.
Paint Fading and Chipping (Interior and Exterior)
Some colors are worse than others, but many 350z owners have felt their front bumper paint has faded faster than the rest of the paint on their car.
Those doing a lot of highway driving also found that the paint on their front bumper bar has chipped quite quickly.
Nissan budgeted on the interior of the 350z, painting the interior plastic. It's very common for this to chip off, especially if you live in an a climate that experiences extremes – hot or cold.
Suspension Knocking
Suspension is a high-wear part, but the 350z has managed to get a huge amount of life out of the OEM gear. By 15 years, most Z33 owners have found their car to have needed a new set of bushes.
The standard rubber bushes can be replaced cheaply and easily, and is a good opportunity to upgrade to a polyurethane bushing instead to firm up the handling.
Worn Shock Absorbers
Stock shocks are often feeling a bit worse for wear at this point. When looking to buy a used 350z, check the service log book to see if this has already been done as it could save you a good amount.
Thankfully replacement shock absorbers aren't difficult to find and aren't difficult to install if you know your way around the tools. For those wanting to improve the handling of their Nissan 350z, coilovers are a popular replacement.
Are 350z's Reliable?
Despite listing some common issues above, 4 out of 8 of these "problems" are typical on any ageing car.
The reality is, the 350z has that same Nissan reliability you'd expect from a Nissan Micra. Problems typically tend to arise from cars that haven't been well maintained, or have had a very hard life.
Even owners that are honest about taking their Z33 for a "spirited drive" regularly don't have reliability problems – you'd really need to give yours a hard time to have this trouble.
Are Nissan 350z's Expensive to Maintain?
More good news. 350z maintenance costs are no higher than a Nissan Maxima unless you choose to make it so.
While many enthusiasts will use high performance oils and service their car on more regular intervals, this is optional. Owners that treat their Nissan 350z like any other car won't notice particularly expensive servicing costs.
This is helped by the fact that the 350z shares parts with a lot of other Nissan models, especially the engine which Nissan used in the Pathfinder, Altima, Maxima, G35, Murano, Stagea, Cefiro, and was also used in Infiniti and Renault models.
Given the current age of the Nissan 350z, replacing its battery and spark plugs as part of a full service is a good idea if you're buying one second hand right now.
It's also worth knowing that spending a few extra dollars on a high quality synthetic engine oil can extend your engine life significantly.
Are Nissan 350z's Good Cars?
Overall, we think Nissan 350z's are exceptional cars. There's a lot to like about them:
Front-engine
Rear-wheel drive
High power from factory
Very reliable
Average maintenance costs
Great looks
Why Are Nissan 350z so Cheap Then?
350z's are affordable as they aren't too complicated. Nissan managed to produce such a well performing car for a very reasonable price by keeping it simple and focusing on what matters.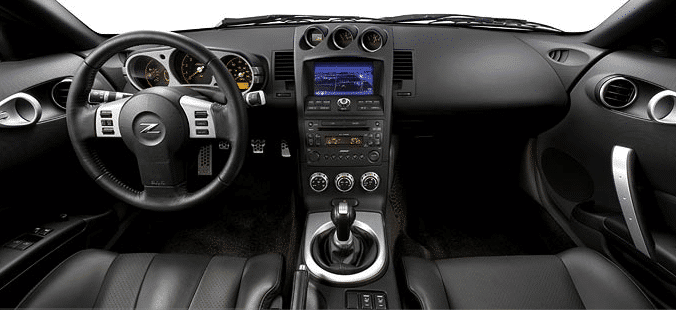 Take a seat in one and you'll see – the interior is simple – not in a bad way, but in a "you don't need any more than this" way. In a similar way to what Toyota did with the 86, the 350z is a true homage to its Fairlady Z heritage; everything that matters, and nothing that doesn't. Think of the 350z as a muscly Mazda MX-5.
Nissan 350z Buyer's Guide
We went fairly deep in this 350z buying guide in the hopes it helps you to decide which model and year is right for you.
With a good amount of torque, enough power to break traction, front engine rear wheel drive and loads of aftermarket support, it's obvious to see that 350z's are one of best options around when it comes to cheap drift cars.
If you still have questions, please leave us a comment or reach out to us on social media.
Feature image: U.S AirForce Photo/Senior Airman Larry E. Reid Jr.