There's no denying it, tow hooks on 350z's are "in" right now.
What was once something you kept in your car's tool kit for emergencies or track days are now seen on Z cars that only ever see the street.
In this article we'll take a look at the OEM 350z front tow hook and your best aftermarket tow hook and strap options, both using the front tow hook location, and the license plate method.
We've also made some recommendations based on whether or not the tow hooks are designed for actual race use, or for style only.
Obviously a race tow hook can be used on the street, but we'd be weary of using a tow hook that is designed for looks over function when it comes to relying on it for track days.
350z Tow Hook Locations
Off of the production line, your Nissan 350z has two main tow hooks. There's nothing wrong with either of these tow hooks for use in emergencies, but their awkwardness can lead to damage of your bumpers if you do need to be pulled out of a ditch or the side of the track.
For this reason, those who are often being pulled out of trouble, will usually go with an aftermarket tow hook, strap, or choose to run bash bars.
If you have an aftermarket body kit it's especially important to check, as it's common for these bumper bars to make your car longer than stock, and the OEM tow hooks aren't long enough.
Factory Nissan 350z Front Tow Hook
The front tow hook hole is located in the center of your car, usually underneath the license plate (depending on the region your car was purchased in, your license plate may be elsewhere).
The tow hook itself is located in your trunk with your spare wheel and scissor jack.
The OEM 350z tow hook install is straightforward – you take it out of the trunk, remove the small plastic plate in front of the tow hook hole, and thread it in a little way. Once it's in far enough, use the jack handle to wind it in all the way.
Factory Nissan 350z Rear Tow Hook
The rear 350z tow hook location varies a lot based on where your car was purchased, but is usually on the underside of your car on the driver's side, or behind a small plastic plate on your rear bumper.
Aftermarket 350z Tow Hooks
While the OEM tow hooks technically work OK, they have some problems:
They aren't very visible, which is bad for emergencies.
Their use can damage your front and rear bars.
They don't play well with aftermarket body kits.
They are ugly.
And while you might think there are a lot of options for 350z tow straps and hooks, it can actually be difficult to find them, as the 350z uses a uniquely threaded hole.
To help you, we've put together this list of options.
Aftermarket Front Tow Hooks & Straps
Most people get their front tow hook sorted first. There are 2 main options for the front end of your 350z before going custom:
OEM mount tow hook
OEM mount tow strap
Unfortunately, Nissan 350z owners don't get as many aftermarket choices as 370z or R35 GTR drivers, but we'll run you through your best options.
OEM Mount Front Tow Hooks
Probably the easiest type of 350z tow hook to install, the OEM mount front tow hooks are as simple as buying and screwing into the factory mount.
You should know that the 2003-2004 Nissan 350z has a 16mm thread diameter for the tow hook, while the 2005 onwards comes with a 22mm thread diameter. So when buying, make sure you're getting the right one for your car.
AutoTecknic Front Tow Hook
Manufacturer: AutoTecknic
Color: Black, Blue, Purple, Red, White
Style: Folding Hook
Best for: Style
Thread Diameter: 16mm, 22mm
Check Prices at: Amazon | Vivid Racing
If you're looking for the "folded down style" front tow hook, AutoTecknic's aluminium tow hooks are worth checking out.
Available in a wide range of colors, these front tow hooks are very popular for street driven Zs as they are easy to install, look great, won't trip people walking past the front of your car and will fit under a car cover.
While AutoTecknic do make the promise that they're built for genuine towing use, we'd still prefer a heavy duty unit like the MCR or Moonface for regular towing use.
With that said, these are a great option for street use or occasional track use as they are much more affordable, and are still a quality product.
iJDMTOY Front Tow Hook
Manufacturer: iJDMTOY
Color: Red
Style: Folding Hook
Best for: Style
Thread Diameter: 16mm
Check Prices at: Amazon
iJDMTOY's aluminium tow hooks are similar to those from AutoTecknic, though not quite as strong.
In a smaller range of colors and fitment options, these are a good backup option if you are looking for the "race style" but don't have the intention of regularly using the hook.
While some Z owners have managed to use them for towing with success, just as many have been left with a damaged tow hook.
MCR Traction Hook
Manufacturer: Matchless Crowd Racing
Color: Red, Yellow
Style: Folding Hook
Best for: Race use
Thread diameter: 22mm
Check prices at: Vivid Racing
Front tow hooks from Matchless Crowd Racing are the real deal. Manufactured in Japan, these are known locally as a "traction hook".
MCR's front tow hooks screw in easily to your OEM mounting hole and can be adjusted for length using a locking nut – especially helpful for those using an aftermarket front bumper bar.
Thanks to a clever design, this folding tow hook doesn't flap around like some do – so the paint on your front aero won't be damaged like some cheaper units will.
Moonface trailing hook
Manufacturer: Moonface
Color: Red, Yellow, Blue, Gunmetal, Silver, Green, Pink, Orange, White, Chrome
Style: Folding Hook
Best for: Race use, Looks
Thread Diameter: 16mm, 22mm
Check Prices at: ZShop
The Moonface trailing hooks are a bit more solid than those from Matchless Crowd Racing. More expensive and a little heavier than the MCR tow hook, usually we'd go for the MCR every time.
However the Moonface trailing hook is a really good option for earlier Z33 owners, with the 16mm tow hook hole. If you actually want to be able to tow your car with a folding tow hook, and you're limited to 16mm options, definitely consider this one from Moonface.
They're also a complete bling-spec unit, available in a wide range of colors – assuming you can find them!
OEM Mount Tow Strap
These are getting very difficult to find, but thankfully one option is still on the market. OEM mount tow straps are a material alternative to the heavier and less flexible tow hooks.
In some scenarios their flexibility can really help you out when being pulled out of a ditch or the side of the track.
Some track owners will not allow for a tow hook that sits further out than your front bumper, which might satisfy their insurance policy, but is sure to damage your front bumper when you need to be towed off the side of the track. A tow strap can be very helpful in this scenario.
NRG 350z Tow Strap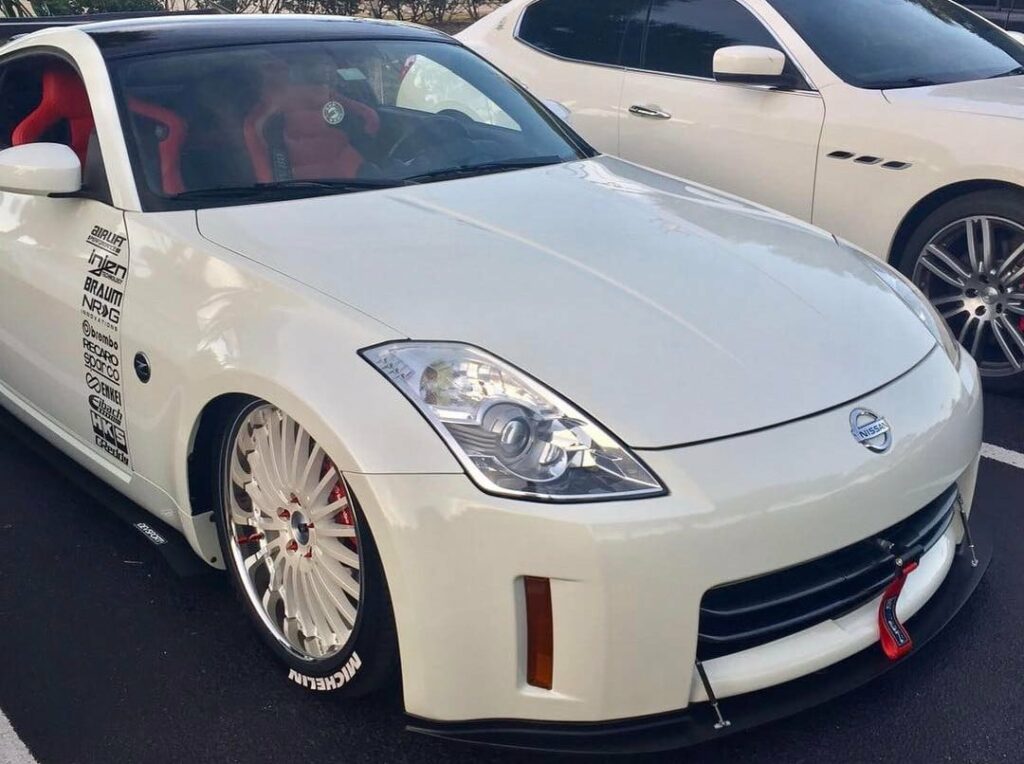 Manufacturer: NRG Innovations
Color: Black, Blue, Red, Green
Style: Strap
Best for: Race use, Style
Thread diameter: 16mm, 22mm
Check Prices at: Vivid Racing
The OEM mount Nissan 350z tow strap from NRG Innovations is a clever little unit. Rated for 5000lbs (2267kg) of towing weight, it's easily strong enough to tow your 3602lb (1634kg) Nissan 350z.
Supplied with a stainless steel locking screw, the strap then screws into this unit. Straps are available in black, blue, red and green, ready to suit your Zs color scheme.
Able to pivot and flex, you're left with a towing mount that should get you out of all but the worst track-side situations.
Aftermarket 350z Rear Tow Hooks
After sorting out your front tow point, it's time to look at the rear. While the 350z does have the OEM mount, it's not very obvious for quick use, and can cause damage to your rear bumper depending of how your car is being pulled out.
The rear is ever so slightly more difficult to install, but 100% worth it in the looks department. Unlike the front tow hook, you don't need to worry about thread diameters, as the rear racing tow hooks bolt onto the OEM mount in a different way.
Auto Dynasty Rear Tow Hook
Manufacturer: Auto Dynasty
Color: Black, Blue, Gold, Purple, Red, Silver
Style: Solid Hook
Best for: Race use, Style
Check Prices at: Amazon
Auto Dynasty's rear tow hook is a true JDM style hook. CNC machined and anodized in a wide range of colors, they look great, but more importantly they are a solid unit.
These have long been a loved unit as they are not only quality, they're insanely cheap too.
We have a mix of opinions between these and the Benen rear tow hooks. Some of us like the unbranded look – no advertising on the hook, while others feel it's missing something.
Benen Rear Tow Hook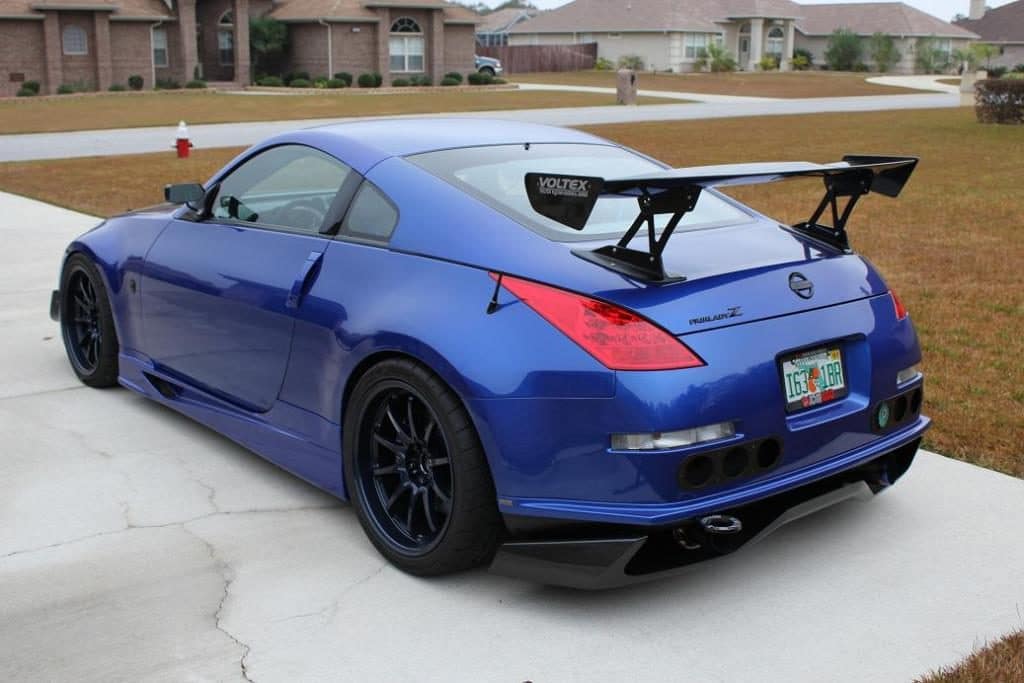 Manufacturer: Benen Industries
Color: Black, Blue, Red
Style: Solid Hook
Best for: Race use, Style
Check Prices at: Amazon
Sold under a lot of different names, Benen Industries have been making these super strong rear tow hooks for what seems like forever now.
Similar to those from Auto Dynasty, they are CNC machined and anodized.
Benen's rear tow hooks give that JDM look while providing a solid point for you to tow from. As we mentioned with the Auto Dynasty hooks, it really comes down to whether or not you like the branding.
Tow Hooks & Straps
It all comes down to whether you're looking for a very strong hook point for towing, or if you're hunting for that JDM racing style. Either way, the options above should give you plenty to work with.
Did we miss a great tow hook or strap option for Nissan 350z drivers? If we did, please leave us a comment!