Whether you're a seasoned mechanic or someone who simply loves tinkering around with car parts, you'll need the highest-quality tools by your side. Luckily, there's no shortage of high-quality tool sets that suit just about every need.
What you do need to keep an eye out for is a comprehensive tool kit that'll let you do any job and last you a long time.
In this guide, we've compiled a list of the best mechanics tool sets that will work just as well at home and in your personal workshop.
Things to Consider When Buying a Tool Set
Since most premium tool sets are expensive, the last thing you want to do is make a mistake when buying one. Once you know exactly what to look for, you can narrow down your search a lot faster.
Here are the most important aspects that you should consider when picking out a tool set.
Number of Pieces & Variety
Your tool set should be as versatile as possible, so choosing a large kit with more pieces really pays here. Since we're looking for the best set for a workshop, you're going to need more than just a socket set that consists of 30 pieces.
An easy way for you to figure out which tool set to choose depends on the car parts you'll be working on, and what jobs that you're going to perform — and the tools the job calls for.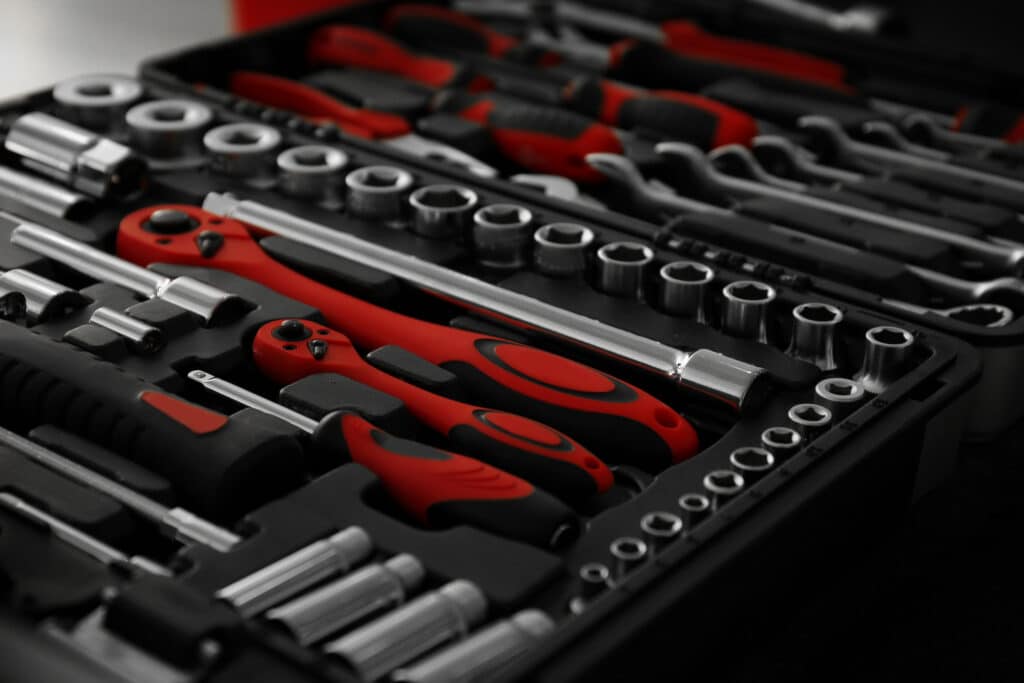 Keep in mind that merely having a set with a large number of pieces doesn't mean that it's better than a smaller counterpart.
Sure, having a tool set with a large number of tools is useful, but having the relevant tools for your job is even more important. Having 20 different wrenches but no sockets makes little sense.
Instead, keep an eye out for a set that includes everything from torque wrenches and sockets to hex bits and extension bars.
Features
Some tool sets provide better features on their tools than others. Take teeth ratchets as an example. A standard tool set offers a 72-tooth ratchet that has a 5-degree swing arc per tooth, whereas a 120-tooth version offers a 3 degrees swing arc.
When you're trying to ratchet in tight spaces, you'll find that higher tooth units provide better accessibility. The downside of that is tools breaking because of so much pressure.
Another important feature is tool marking. It's essential that the markings on your tools stand out so that you can identify them easily.
When it comes to features, think of the ones that are important to you and seek a tool set that caters to your needs.
Range and Size Increments
There's no point in having a large tool set if you don't have the right size increments. You'll find that most kits offer SAE and metric measurements, but check out the increments too.
Look at the smallest and the largest size in your tool kit, then the increments. Some tool sets offer increments of 2mm, whereas you might need 1mm increments.
Usually, the smaller the increments, the better. But that also means your tool set will be quite huge.
Storage and Organization
Having a sturdy case that holds all your tools is just as important as the tools themselves. If you're paying a premium price then the case — not just the tools, should match that value.
The other important aspect is how well your tools are organized within the box. Make sure that they fit neatly into their designated compartments in the case and aren't loose.
Your case should withstand the impact of being dropped on the ground — without breaking or shifting the tools within.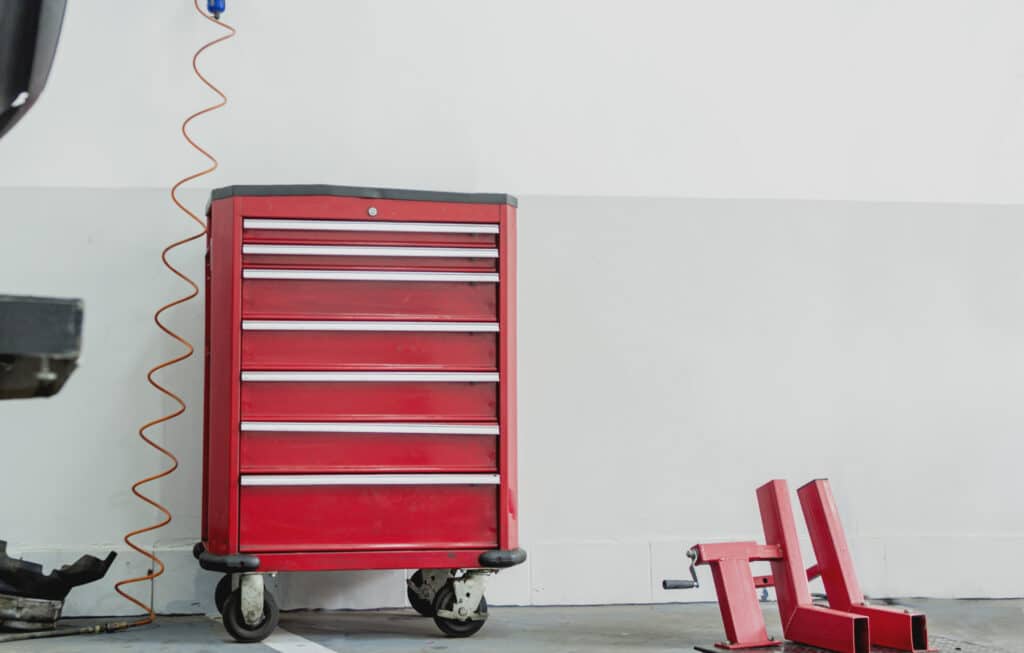 Warranty
Buying a large number of tools is a long-term investment and preferably something you should do only once in your lifetime. So it's a no-brainer that you'll want to buy a set that comes with a long-lasting warranty.
You could also go one step further by taking out insurance on your tool set. The last thing you want is for your investment to get stolen or lost without having any safety measures.
Inside a Mechanic's Tool Box: What to Expect?
The perfect tool kit for mechanics will vary based on your needs, but certain tools are common in most boxes.
Here are some of the most important tools that every box should have:
Hammer: If you're just starting out, a 16-ounce claw hammer with a wooden handle should be fine for most jobs. You can always upgrade to a fiberglass handle with a padded grip. Mechanics might want to consider specialty hammers such as a Ball-Peen or a rubber mallet.
Screwdrivers: Any basic tool set will have a range of screwdrivers. Make sure that the screwdriver range in your workshop has a variety of handle lengths and sizes. You should have Philips and straight screwdrivers.
Pry bar: Pry bars are more often used by mechanics in workshops as opposed to beginners working at home. Having pry bars helps to check for play in suspension joints and they come in handy when you have to replace a pump or a gearbox.
Wrenches: Your box should have a good set of wrenches, with a variety of sizes and types. Make sure that you spot both combination and adjustable wrenches within your kit.
Pliers: A tool box is incomplete without a set of pliers. Having pliers might be even more important than wrenches since pliers can grip just about any shape or size. For home use, slip-joint suppliers will work fine. Workshop mechanics can also add locking, needle-nose, and groove-lock pliers to their collection.
Ratchet and Socket Sets: Having a good set of ratchets and sockets is essential for working on your car. If your tool set only provides a basic set, you may find yourself looking to add specialty ones as your jobs diversify.
Allen Wrenches: Another addition to your automotive tool collection is a set of folding Allen wrenches. Just make sure that all of them are in SAE and metric sizes. The good thing about Allen wrenches is that they're cheap, should you feel the need to add more to your collection.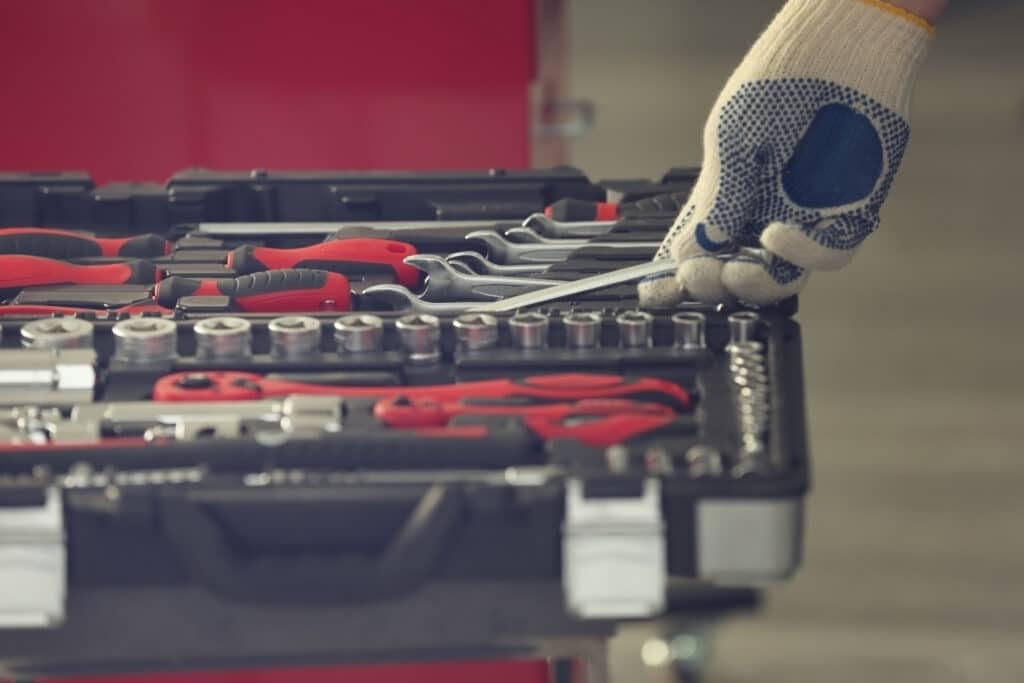 It's not uncommon for automotive tool sets to be missing some of these, so it may make sense to buy a simple kit and add some specific tools to it one by one afterwards.
Best Tool Sets for Mechanics
Finding the best automotive tool brands is nothing short of a challenge when there are so many options to choose from.
To make things easier, we've compiled a list of kits ranging from budget-friendly options to premium sets that professional mechanics will drool over.
Tool Sets for Beginners
If you're just starting to dabble in workshop projects, you don't need a massive tool kit. You simply need a set that'll allow you to do basic tasks such as a routine service.
We've listed some of our favorite beginner-friendly tool sets below.
EPAuto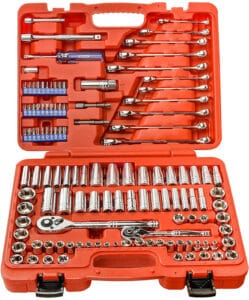 Manufacturer: EP Auto
Part Number: ST-03F-1
Number of Pieces: 122
Weight: 13.17 pounds
Warranty: Lifetime
Buy on: Amazon
If you're looking for an affordable starter kit that contains the most common tools, EPAuto's 122-piece tool set is hard to miss.
Every piece in this kit is crafted from chrome vanadium steel and is corrosion-resistant so durability is the last thing you'll have to worry about.
Inside its sturdy case, you'll find tools such as sockets, screw, bits, an extension bar, adaptor, ratchet drive, open wrench, along with a drive bit holder — all in SAE and metric measurements.
You'll also get a spark plug socket compatible with an inch-pound torque wrench, ⅜-inch drive 72-tooth ratchet crafted from high-grade steel, and accompanying screw bits.
For its price, you'll be happy to know that this kit even comes with a lifetime warranty.
Amazon Basics
Manufacturer: Amazon
Part Number: AMZ1702
Number of Pieces: 201
Weight: 16.49 pounds
Warranty: 3 year
Buy on: Amazon
In Amazon's 201-piece kit, you'll find the most common wrenches, sockets, and hex keys made from chrome vanadium steel. Additionally, all tools are in imperial and metric measurements.
To top it off, the tools feature a polished chrome finish to keep corrosion and rust at bay.
Also included within the kit is a 3-piece drive pear-head ratchet that makes it easy for you to get into any tight spots. The quick-release switch and reversible design make way for more control and convenience.
Cartman
Manufacturer: Cartman
Part Number: 696577706409
Number of Pieces: 205
Weight: 21 pounds
Warranty: Limited
Buy on: Amazon
Yet another handy tool set for home use, Cartman crafted this 205-piece set from high-quality steel and finished in chrome to ensure durability and anti-corrosion. Inside its blow-molded case, you'll find everything from drive sockets, socket wrenches, and more.
Cartman also included 12 pieces combination wrench, 14-piece ¼-inch sockets, and 11-piece ⅜-inch sockets. This kit is ideal for those needing to do auto electrical work as well, as you'll find other tools such as a wire stripper, an auto-voltage tester, and both diagonal and long nose pliers.
Budget-Friendly Tool Sets
Just because you're buying a comprehensive tool kit, doesn't mean you have to burn a hole in your wallet. There are plenty of sets out there that are great for home and workshop use without breaking the bank.
We've listed some of our favorites below, and while they may not share the build quality as premium kits, they'll have everything you need to get the job done.
Crescent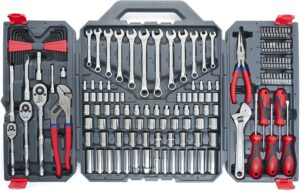 Manufacturer: Crescent
Part Number: CTK170CMP2
Number of Pieces: 170
Weight: 20.2 pounds
Warranty: Lifetime
Buy on: Amazon
Crescent updated its case and made one with a sturdy blow mold case and tools crafted from a special blend of Crestoloy steel for added strength and durability.
In this 170-piece tool set, you'll find 72-tooth ratchets with a 5-degree arc swing and off-corner loading sockets for a stronger grip.
The tip of every screwdriver is vapor blasted, and all the tools meet the ANSI and ASME specifications. The kit also has sets of ¼-inch, ⅜-inches, and ½-inches as well as metric.
Some of the other tools you'll find in this box are combination wrenches, 2 pliers, 4 screwdrivers, 44 driver bits, and 26 hex keys.
DekoPro
Manufacturer: DekoPro
Part Number: DE675529
Number of Pieces: 118
Weight: 17.45 pounds
Warranty: 30 day
Buy on: Amazon
This tool set consists of 118 pieces, all crafted from high-quality steel along with a high-polish chrome finish. Not only does this leave you with a long-lasting set of tools but you'll be at ease knowing that every piece is corrosion-resistant.
Though this has fewer tools than some of the more extensive tool kits, it's great for simple jobs. It's a perfect choice for DIY car projects and automotive maintenance as it contains a range of ½-inch and ⅜-inch metric-sized sockets, extension bars, universal joints, pliers, screwdrivers, and a lot more.
Portability isn't an issue since all the tools are organized in a durable blow-molded case that's great for carrying around. Additionally, all the tools in this kit either meet or exceed ANSI standards.
Dewalt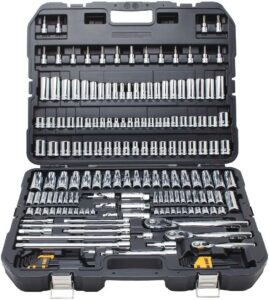 Manufacturer: Dewalt
Part Number: DWMT75049
Number of Pieces: 192
Weight: 37.1 pounds
Warranty: 3 year limited
Buy on: Amazon
Dewalt's tool set is a favorite amongst many tool collectors and is designed for the workshop. Made out of high-quality steel, this 192-piece tool set specializes in sockets and high-end ratchets.
The box also harbors 126 sockets with laser-etched markings, as well as a screwdriver adapter for the ratchets, universal adapters, screwdriver bits, hex keys, and extended bars.
The sockets use Dewalt's DirectTorque technology to prevent the rounding of fasteners, and the tools have a chrome vanadium finish and contain knurled control rings.
The lifetime warranty is another great perk — especially for how affordable this entire kit is.
Beestand
Manufacturer: Beestand
Part Number: BSTT205TT
Number of Pieces: 205
Weight: 22 pounds
Warranty: Lifetime
Buy on: Amazon
Consisting of 205 pieces, Beestand's kit offers a lifetime guarantee and a 60-day money-back guarantee. Inside the box are common sockets, hex keys, and wrenches.
The folding plastic case is surprisingly durable and boasts an impressive collection of SAE and metric tools that meet ANSI standards.
Beestand ensured that all the tools were top-notch by using high-quality steel which was later polished, drop forged, and electroplated.
The box includes ¼-inch, ⅜-inch, and ½-inch sockets and three ratchet handle sizes.
Premium Tool Sets
Completing major repairs and car modifications will require a lot more than just a standard kit.
Professional mechanics who want to make their lives easier will install a car lift (or stand) and a premium mechanic grade tool set like the ones we've listed below.
Keep in mind that a premium set means that you're going to pay a premium price. But if you're reading this far we're guessing you're a bit like us — if you're going to do something, you'll do it right. No point in cheaping out. These sets are for you!
Craftsman
Manufacturer: Craftsman
Part Number: 981080001
Number of Pieces: 450
Weight: 43 pounds
Warranty: Lifetime
Buy on: Amazon
If you're looking for an extensive tool set, the 450-piece Craftsman will help you complete just about any job.
This box contains 16 combination wrenches that allow you to get into tight spots that ratchets won't. Amongst the tools are 3 quick-release ratchets in ¼-inch, ⅜-inch, and ½-inch drives.
You'll also get 191 sockets that are 6, 8, and 12-points. The carry case itself is pretty sturdy and the entire set comes with a lifetime warranty.
WorkPro
Manufacturer: WorkPro
Part Number: W009044A
Number of Pieces: 408
Weight: 27 pounds
Warranty: Lifetime
Buy on: Amazon
Although WorkPro made the tools in this set with metric measurements only, they made up for it in their large variety of tools. Inside this kit, you'll find a utility knife, hex key, pliers, hardware kit, combination and adjustment wrenches, and sockets.
All the tools in this 3-drawer heavy-duty metal box are fully polished and chrome-plated. WorkPro even finished its pliers off with nickel plating for an added layer of rust protection.
If you want an upgrade, you can always opt for the additional drill combo kit or the hand tool set.
While all the tools in this box are of the highest quality, you'll be at ease knowing that it comes with a lifetime manufacturer guarantee.
GearWrench
Manufacturer: Apex Tool Group
Part Number: 80942
Number of Pieces: 239
Weight: 41.7 pounds
Warranty: 1 year
Buy on: Amazon
Made from alloy steel, the GearWrench tool set contains 239 pieces complete with a polished finish. In this 3-drawer storage box, you'll find ¼-inch, ⅜-inch, and ½-inch standard pockets, as well as ¼-inch and ⅜-inch pockets.
You'll also get a magnetic bit driver with 9 bits — Phillips, Torx, and slotted. The box has side flaps so that you can lock the drawers in place and it comes with a durable handle and a steel-hinged lid.
Apex Tool Group used a corner loading technology in their sockets and wrenches to reduce fastener rounding. They included both imperial and metric sizes and included 45-tooth quick release, combination wrenches, and sockets.
Pittsburgh
Manufacturer: Pittsburgh
Part Number: 63464, 45951, 69312, 63457
Number of Pieces: 301
Weight: 47.8 pounds
Warranty: Lifetime
Buy on: Amazon
Weighing almost 50 pounds, Pittsburgh's 301 piece kit isn't extremely portable. You're likely to keep this set stationary in your workshop because it contains just about every piece you'll need.
Pittsburgh used chrome vanadium steel to make its SAE and metric size tools. Within this took kit you'll find breaker bars, extensions, and universal joint adapters. They also included star, square, and spark plug sockets.
Some of the other tools in the box include a 16-piece short-arm hex key, 26-piece long-arm hex key, and 16-piece screwdriver set.
Their tool set also features combination and adjustable wrenches and the entire kit is backed by a lifetime warranty.
Kobalt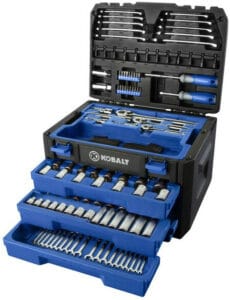 Manufacturer: Kobalt
Part Number: 85183
Number of Pieces: 227
Weight: 32 pounds
Warranty: Limited lifetime
Buy on: Amazon
Kobalt used chrome vanadium steel and a fully polished chrome finish to craft every tool in this 227-piece set.
Some of the tools included in this kit are 117 6-point and 12-point sockets, 4 extensions, 30 combination wrenches, and 40 hex keys. They also included three 72-tooth ratchets that provide a 5-degree arc swing.
All the tools fit perfectly within the 3-drawer carrying case and the entire kit comes with a lifetime warranty.
Boxo USA
Manufacturer: Boxo USA
Part Number: PA917
Number of Pieces: 80
Weight: 31.6 pounds
Warranty: Limited lifetime
Buy on: Amazon
Boxo designed this King of the Hammers (KOH) tool bag to accompany you on off-road adventures. The outer part of this kit contains heavy-duty zippers to provide an added layer of protection, and the inner tool roll uses a pouch that flaps open.
As for the tools themselves, you'll find 6-point impact sockets, a Ball-Peen hammer, various wrenches, screwdrivers, pliers, ratchets, and a lot more packed into this compact tool kit.
Additionally, Boxo stitched this 80-piece kit from Condura Nylon so that the tools remain organized and don't rattle about.
Our Favorite Automotive Tool Set
After reviewing some of the best sets out there, there are definitely some that stood out from the rest.
Whether it was for their affordability or versatility in tools that do just about any job, we've listed our favorite mechanic tool set brands below.
Best Automotive Tool Set: Craftsman
Craftsman takes the cake for manufacturing the best car tool kit out there. This kit contains a large variety of tools that are perfect for performing just about any job in the workshop.
Best Value for Money: DekoPro
If you're looking for the best mechanic tool set under $100, don't miss what DekoPro has to offer. It contains all the high-quality tools that you'd need to do most repairs and has a lightweight, portable case.
Most Comprehensive: WorkPro
The WorkPro tool set contains a whopping 408 pieces — giving you just about every tool that you'd need for your next project. The tools are well organized in the 3-drawer box, made from sturdy aluminum. This set comes with a lifetime warranty.
We'd love to know which of these tool sets you own or plan to purchase. Got a kit that we missed out on? Let us know in the comments below!