For some maintenance jobs, it's only a matter of time before you have to get under your car. And while people are lucky enough to have a car lift in their home garage, most of us need to find a cheaper way to get our car off of the ground.
Whether you need to jack up your car to install a set of coilovers, roll your fenders, rotate your wheels, or drain some engine oil, you want to be safe while you do it. If you think a floor jack is enough to keep your car safely in place, think again.
Relying solely on a floor jack to support your car's weight is risky business since it can slip or fail. But by using stands to support your car in conjunction with your floor jack, you get an extra layer of protection.
In this guide, we'll review some of the best jack stands on the market and highlight the most important factors you should consider when buying one for your garage.
Different Types of Jack Stands
The type of jack stand you need will ultimately come down to what kind of job you need to perform on your car.
As a general rule of thumb, go for the ones that are simple, strong, and offer the best protection. If you're feeling stuck, below are some different things you should keep an eye out for.
Fixed Height
As the name implies, these jack stands can't be adjusted. The great thing about them is there is no wiggle room for parts to fail and the car to collapse on you.
The obvious downside is that you can't adjust the height of the jack stand. Jobs that require higher elevation won't be possible. Also, the units themselves are large, you won't be able to collapse them to fit in certain storage spaces, so portability can be an issue.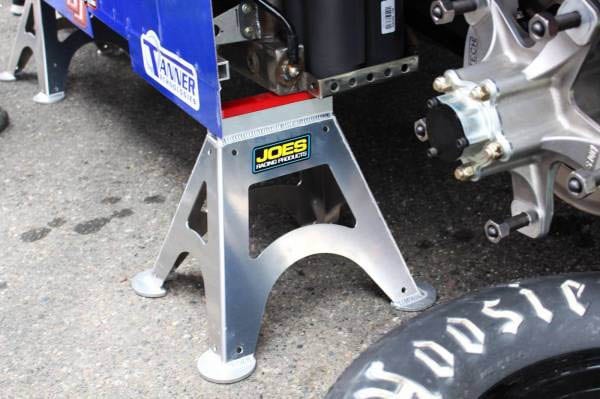 However, fixed-height jack stands are perfect if you're going to use them in the same location and for similar jobs. You'll find that they're reliable and durable.
If you head to the race track often, you will probably notice that these are a popular choice among other hobby racers.
Adjustable Height
For most mechanics, adjustable height jack stands are the right choice. Besides the ease of adjustability, you can take them with you and store them easily in your car's boot.
Most of them are tripod or quadpod stands that have a notched center column for height adjustment. You adjust the height with an attached ratchet.
When opting for adjustable jack stands, make sure they're heavy-duty and come with a steel pin to insert into the center column holes. If you want to be extra careful, find jack stands that come with a second safety pin.
Things to Consider When Purchasing Jack Stands
A lot of factors come into play when purchasing jack stands for your home garage.
Aside from the obvious things like budget, ease of use, and quality, you'll need to keep an eye out for certain features too.
We've mentioned some of the most important ones below.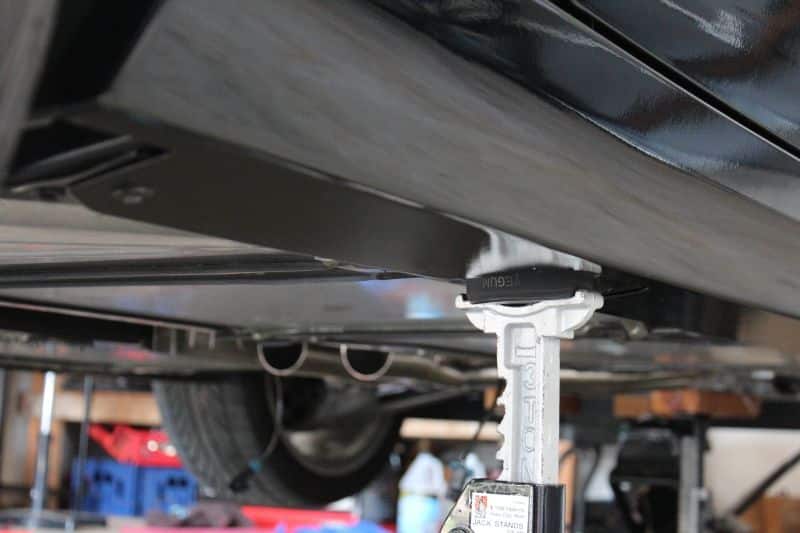 Load Ratings
The most common jack stands support up to 2-tons. That's for a pair, which means each stand supports 1 ton.
It's crucial that you check the owner's manual for your car's curb weight. Remember that your car's weight distribution isn't even from the front to back because of the engine.
You should round up your vehicle's curb weight when comparing the load rating on the jack stand to be certain that you're not overloading them.
Weight
The weight of each stand is particularly important if you intend on moving them around.
If you're going to use jack stands in one location, you can choose ones made from steel, which are fairly heavy. Chances are you'll find yourself pushing them around on the floor with your feet a lot.
If you need to move your jack stands a lot, lightweight ones will make your life easier. In that case, your best bet is to choose a jack stand made from aluminum.
Lift Height
Lift height plays a huge role if you're working on a large vehicle such as an SUV or pickup truck. You'll need jack stands that can raise your car higher than standard vehicles.
Sports or exotic car owners might fret about the lift height because their cars are lowered. For these, you'll want jack stands that have a lower starting height so you don't need to jack it up higher than necessary just to take the wheels off.
Material
Premium jack stands are made from higher-quality materials which is what makes them so sturdy. Being under a car exposes you to great risk, so the material isn't something you should compromise on just to save a few bucks.
Be careful when you opt for small and lightweight jack stands made from light steel or aluminum. That's the type of jack stand you would use on a standard weight vehicle, definitely not a heavy-duty one.
Jack Stand Safety
Using jack stands properly can make the difference between having complete protection and risking your car falling on you while underneath.
There are two minor but key things that you can do to ensure you're safe while working on your car, like:
Ensure that you've parked on a flat and level surface. Pull up the handbrake and use your best wheel chocks around your wheels.
After you've raised your car with a floor jack, put the jack stands under the pinch points, which are on the sides of your car. You can set the jack stands under your car's frame if it doesn't have pinch points.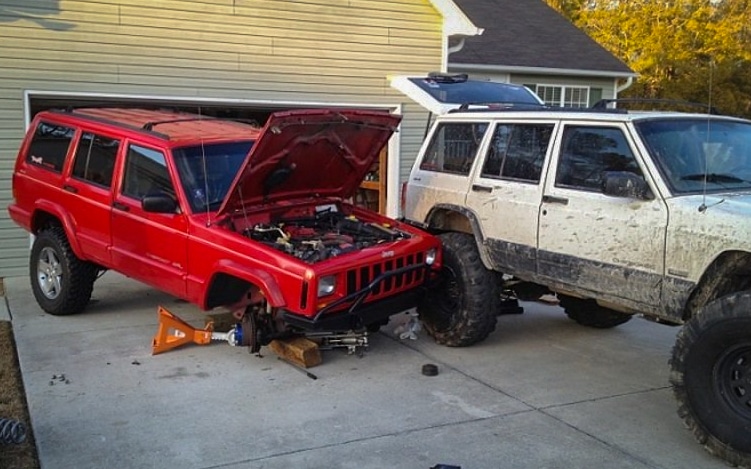 All that's left after is to lower the floor jack onto the stands and rock the car to make sure that it's solidly in place.
The Best Car Jack Stands
After scouring the market for high quality options that fit every need, budget and use, we compiled this list of jack stands for your garage.
Regardless of whether you're rolling your fenders or replacing old brake pads, you'll find exactly what you need below.
Heavy-Duty Jack Stands
If you need a jack stand that can effortlessly lift big vehicles like SUVs and pickup trucks, heavy-duty jack stands are where you need to start (and end) your search.
Not only can they hold a lot more weight but they're also built to be a lot more secure than regular jack stands.
Pro-Lift
Manufacturer: Pro-Lift
Part Number: T-6906D
Load: 6 tons
Weight: 26.4 lbs
Warranty: 1 Year
Buy on: Amazon
Designed by Pro-Lift, these 6-ton jack stands are perfect for heavier vehicles. They're made from steel and come with a high-quality cast ductile iron ratchet bar. With a build quality like this, rest assured that they're going to last you a long time.
Some of the safety features that come with this jack stand include the double lock mechanism with handle locks and two pins, as well as counter-weighted pawls that prevent load disengagement.
This set is height adjustable and consists of two beams and a stand. They meet the ANSI/PALD standards and can fully extend to about 24-inches. When you fully collapse them, they are 15-inches long.
Without a doubt, they're the best jack stands for the money.
Torin Big Red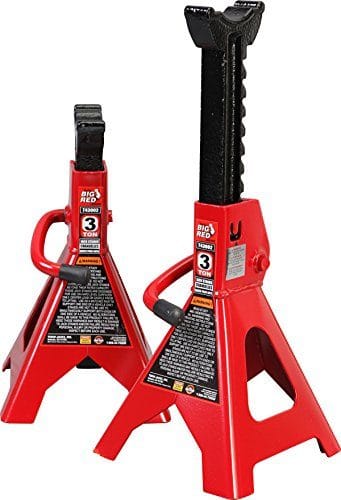 Manufacturer: Torin
Part Number: T43202
Load: 3 tons
Weight: 15 lbs
Warranty: 1 Year
Buy on: Amazon
Torin's 3-ton jack stands are ideally suitable for small cars and light-duty trucks. These jack stands are likely to last for a long time since they're made from forged steel with a welded frame.
You can adjust the height of the stands from 11-inches to about 16-inches, and the multi-position ratchet bar comes with a sawtooth design. They've also made the saddle surface area quite big so that you get better contact and support for the load.
The pyramid foot base is 6.7 x 7.5-inches so that you get stable support, and Torin has tested these jack stands to ensure they meet ASME standards.
Powerbuilt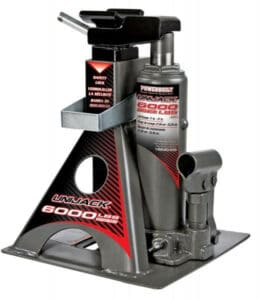 Manufacturer: Powerbuilt
Part Number: 620471
Load: 3 tons
Weight: 22.7 lbs
Warranty: 1 Year
Buy on: Amazon
The Powerbuilt Unijack is slightly more expensive than a regular 3-ton jack stand. That's because it combines a jack stand and a hydraulic bottle jack in one unit.
This definitely makes things more convenient since you won't need to purchase a floor jack separately and storage becomes easier too.
Its lifting range is from 11-inches to 21-inches, making it perfect for light-duty trucks and SUVs. Powerbuilt designed this unit to lift and hold unibody and body-on-frame cars safely.
They've also made the lifting points such that they prevent damage when you're raising your car. Because of their concave and flat lifting surface feature, lifting your car to different heights also becomes a lot easier.
Apextreme
Manufacturer: Apextreme
Part Number: YC001
Load: 3 tons
Weight: 11.33 lbs
Warranty: 1 Year
Buy on: Amazon
Another solid option is Apextreme's 3-ton jack stands crafted from reinforced steel –– which is what makes them super durable and sturdy.
The ratchet bar has a sawtooth design and a double-lock protection feature, and you can adjust the height from 11-inches to 16-inches. This pair has a wide pyramid foot base and saddles that have a large contact surface.
Although these jack stands are lightweight, they are perfect for supporting large vehicles such as SUVs, up to 3 tons. Apextreme ensured that the jack stands meet ANSI/PALD standards.
Performance Tool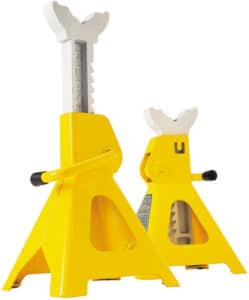 Manufacturer: Wilmar Corporation
Part Number: W41022
Load: 3 tons
Weight: 15.9 lbs
Warranty: 1 Year
Buy on: Amazon
Wilmar Corporation made these 3-ton Performance Tool jack stands as a heavy-duty set, perfect for cars and light-duty trucks. They used steel to ensure that the stands were safe and durable.
Besides the steel, it's the water-resistant powder-coated surface that makes these stands durable. You can adjust the self-locking ratchet from 11-inches to 16-inches.
Included are double-locking pins and a large saddle so that you can easily place your car on the lifting points. The other safety feature is the wide base, which provides additional stability.
Considering these jack stands are built from high-quality materials and offer various features, they're quite affordable for the price.
Omega Lift
Manufacturer: Omega Lift
Part Number: 32038
Load: 3 tons
Weight: 13.66 lbs
Warranty: 1 Year
Buy on: Amazon
Omega manufactured this jack stand pair to support vehicles weighing up to 3 tons. They used steel and a welded frame design to ensure that the stands would be durable. The added strength and support come from the pyramid foot base and double-locking pins.
Other features that provide long-lasting support are the multi-position ratchet bars, made from ductile iron. The sawtooth design allows you to adjust the height quickly and lock it in place.
It also comes with a handle lock and a large saddle surface, which allows greater contact to provide better support. Omega tested the stands to ensure they meet ANSI/PALD standards, offering a 1-year warranty to go with.
As for the ratchet bars — they'll help you elevate your car from 11-inches to 16-inches.
Big Red Aluminum
Manufacturer: Torin
Part Number: T43004
Load: 3 tons
Weight: 10.2 lbs
Warranty: 1 Year
Buy on: Amazon
Torin's aluminum jack stands are perfect for those in need of something ultra-portable. Aside from being light, these stands allow you to remove the base for easy storage.
These stands provide 3-ton support and have an adjustable height range from 10-inches to 15-inches. For added stability, Torin made the saddle with a large surface a wide foot base.
While these stands may be lightweight in nature –– they're a lot sturdier than you'd expect. Torin used high-grade aluminum and fitted a removable locking support pin that you can insert into six different positions. These stands meet the ASME safety standards and come with a 1-year warranty.
Budget-Friendly Jack Stands
The first thing you usually look at when purchasing a jack stand is the quality — and then the price. Ideally, you'd like a sturdy jack stand that is affordable.
The jack stands we've featured below are precisely that — affordable without compromising on quality. In fact, some of the budget-friendly jack stands we've featured are some of the best products you'll find.
Amazon Basics
Manufacturer: Amazon Basics
Part Number: SW-STJK03
Load: 3 tons
Weight: 11.77 lbs
Warranty: 1 Year
Buy on: Amazon
If you're looking for affordable steel jack stands that can do the job well, Amazon Basic's pair will be your first pick. Due to their steel frame, these 3-ton jack stands are durable and protected against rust.
The fact that the set weighs just slightly more than 11 pounds makes them very portable. You can reach from 12-inches to about 18-inches with these stands, and the ratchets self-locks, so it's convenient not to have to lock with a key.
Apart from meeting ASME standards, the Amazon Basic Steel jack standards also come with a 1-year warranty.
Cartman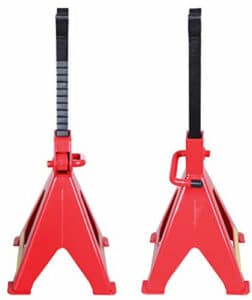 Manufacturer: Cartman
Part Number: CM-PS-2T
Load: 2 tons
Weight: 12.17 lbs
Warranty: 1 Year
Buy on: Amazon
The Cartman jack stands are ideal for cars since their load limit is 2 tons –– supported by forged steel and a welded frame design. These stands are relatively affordable considering the high-quality steel used to make them ensures that they last a long time.
They have a double-locking pawl and tooth design for added protection. You can multi-position the ductile ratchet bar and elevate your car from 11-inches to 17-inches.
The quick adjustment mechanism helps you to lock in the desired position real fast. They also come with an outer footpad and the entire set meets ANSI requirements.
Torin
Manufacturer: Torin
Part Number: AT43202B
Load: 3 tons
Weight: 14.15 lbs
Warranty: 1 Year
Buy on: Amazon
Crafted by Torin, these lightweight jack stands feature a welded frame design that easily supports vehicles weighing up to 3 tons. You can adjust the ratchet bars from 11-inches to 16-inches real quick, thanks to its sawtooth design.
It's also got a big saddle surface for a wide pyramid foot base for stable support. You can use the dual-purpose handle for carrying or saddle column release.
Torin ensured that these jack stands met ASME standards by testing them, but they also offered a 1-year warranty.
Premium Jack Stands
Top-of-the-range jack stands are made of better quality materials and have features that stand out from the rest of the market.
And while these jack stands are certainly more expensive, they make up for it in their build quality.
Hein-Werner
Manufacturer: Hein-Werner
Part Number: HW93503
Load: 3 tons
Weight: 19 lbs
Warranty: 2 year
Buy on: Amazon
Most mechanics and car enthusiasts prefer buying jack stands made in the USA, which is exactly where the Hein-Werner jack stands come from. Since these are premium jack stands with stellar build quality, expect to pay a premium price for them.
In fact, they're almost three times more expensive than most jack stands that support the same load.
Hein-Werner made the multi-position ratchet bars from steel to ensure that they last longer and provide an added layer of protection.
You can use the dual-purpose handle to carry the stands or as a saddle column release. The legs spread the weight more evenly with the folded metal footing.
To make things better, Hein-Werner offers a 2-year warranty for the jack stand pair.
Sunex
Manufacturer: Sunex International
Part Number: 1003AJ
Load: 3 tons
Weight: 9.9 lbs
Warranty: 1 Year
Buy on: Amazon
Don't let this lightweight jack stand fool you –– it can easily take the weight of vehicles up to 3 tons along with a heavy-duty flanged base that supports the entire load.
Sunex designed these jack stands from aluminum and included an adjustment pin to support the column in six different positions. The lifting range is from 10-inches to 15-inches, and the steel base has a 7-inch diameter.
These jack stands are portable and come with a 1-year warranty.
Esco
Manufacturer: Esco
Part Number: 10498
Load: 3 tons
Weight: 11 lbs
Warranty: 1 Year
Buy on: Amazon
Esco's professional-grade jack stands leave no room for worry as far as durability is concerned. Aside from their solid build quality, these jack stands come with a powder-coated finish which prevents them from rusting.
To ensure maximum safety, Esco fitted with a circular base pad along with a removable flat top rubber saddle that protects the car frame much better than its other counterparts.
The locking pin allows you to quickly and conveniently lock in the position, and you can adjust this stand from 13-inches to 21-inches.
US Jack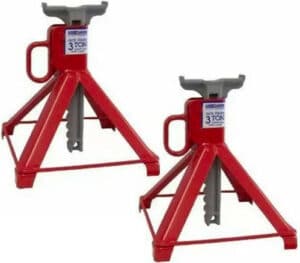 Manufacturer: US Jack
Part no: D-41609
Load: 3 tons
Weight: 18 lbs
Warranty: 1 Year
Buy on: Amazon
Another set of jack stands that are made in the USA, US Jack is a fairly popular name and their stands are used by the U.S. Military, Boeing, and Lockheed Martin. You'll notice that they've fitted a double lock on their jack stands, which uses two pawls to engage two teeth on the load bar.
Additionally, they made the load bars from iron to support 3 tons, and this pair has stamped legs held in place by an outside perimeter ring that's welded to the legs.
You can reach anywhere from 11-inches to 17-inches with these jack stands.
Our Favorite Jack Stands
The jack stands that we've listed in this guide are some of the best on the market, but we can't deny that we have our favorites.
If you're looking to make a quick decision, here's what we'd go with.
Best Overall: Amazon Basics
You can't go wrong with this sturdy pair of jack stands, crafted from high-quality steel and built to last you a while. Not only do these stands have great features to back them, but they're priced just right.
Most Portable Jack Stands: Big Red Aluminum
If you're on the search for an ultra-light and portable jack stand, you simply can't miss Torin's Aluminum jack stands. They're easy to carry around and even easier to store given the fact that you can easily disassemble the base.
Safest for Heavy Vehicles: Hein-Werner
Solid, dependable, and well designed, these Hein-Werner jack stands are hands-down the best piece of equipment you can get for your heavy-duty vehicles. Backed by a 2-year warranty, you're getting your money's worth if you can afford to shell out a few extra bucks.
Did you find the perfect jack stand for your next project? We'd love to know which one you've got your eyes on so let us know in the comments below!