When it comes to JDM cars, the Mazda RX8 is one of the best bargains on the market. And even though it's a complete beast bone-stock, you'd be lying if you said you never wanted to make some modifications.
Coilovers are a great aftermarket upgrade to turn to if you want to take your RX8's impeccable handling to the next level — you just need to know what to look out for.
When well designed, they won't just improve the handling of your car but also allow you to easily adjust your ride height.
To help you choose the best RX8 coilovers, we've compiled a list of some of the most popular aftermarket options. While some are more basic and affordable, others are packed to the brim with features.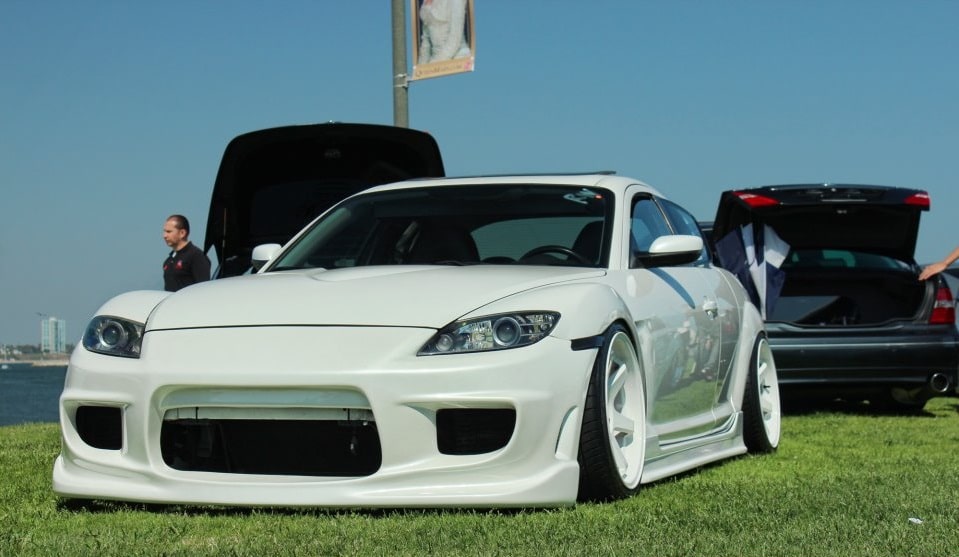 Monotube or Twin Tube?
There are two things to consider when picking the right coilovers for your car –– damping adjustment levels and construction type. Damping levels are self-explanatory, the more levels you have, the better your control on the stability and stiffness of your ride.
As for the construction type, there are two options: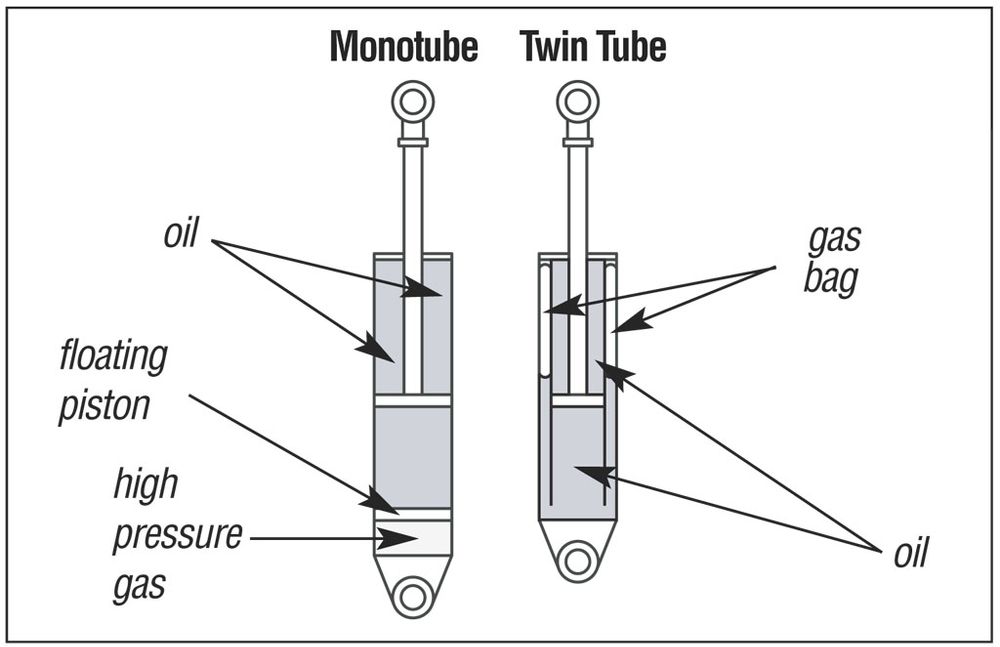 With a monotube damper, you've got one chamber that contains both the hydraulic fluid and gas. This is a more stable option as the free-floating piston that separates the two prevents them from ever mixing.
In twin-tubes, there is an inner chamber for the fluid and an outer chamber for the gas. At high speeds, when the ride gets a little rough and bumpy, the fluid and gas may mix, which can severely impact your ride quality and performance.
Of course, a big plus that makes monotubes the more popular choice is the ease of installation. Monotubes have a single shell whereas twin tubes are more complex. The slightest misalignment could throw the damping performance off.
Now that we have the different types out of the way, let's dive into the top Mazda RX8 coilovers.
If you're like most people, the goal is to set up your RX8 in a way where that you can skirt the ground on the way to the shops, but also carve the contours of a canyon over the weekend.
Street Coilovers for Your RX8
Street coilovers are for your everyday use. While some may argue about choosing lowering springs, you can't deny the improved handling that comes with installing coilovers.
So if you're looking for better control of your daily driven RX8, take a look at the options below.
TEIN Flex Z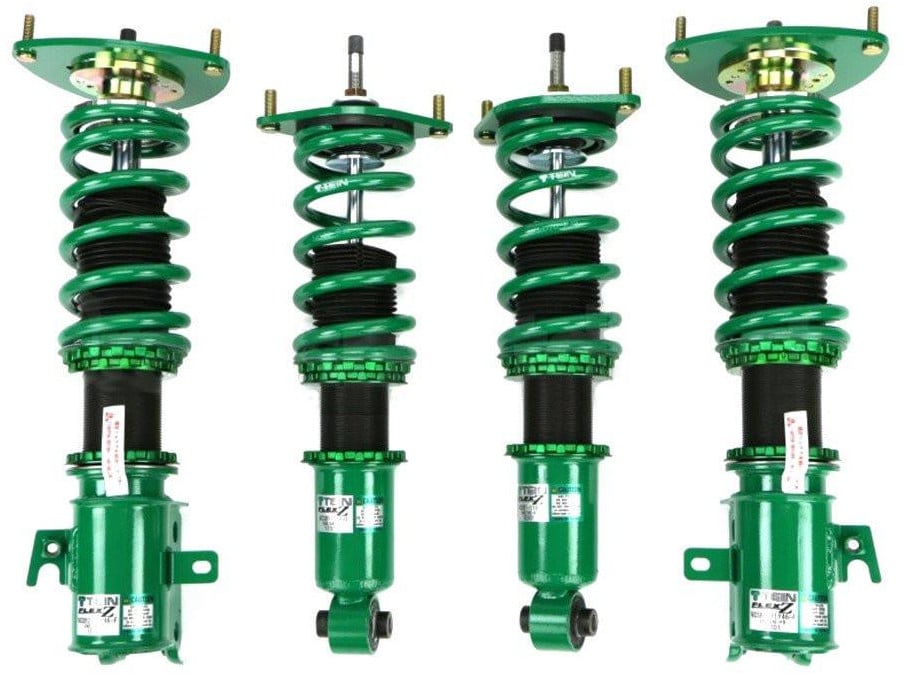 Manufacturer: TEIN
Part Number: VSM58-C1SS3
Damping Adjustment: 16 Levels
Construction Type: Twin tube
Spring Type: Linear
Warranty: 1 Year
Buy On: Enjuku Racing
TL;DR — competitively priced, high durability and quality, electronic damper adjustment option
A testament to Japanese engineering, TEIN's Flex Z coilovers brings to your RX8 their exceptional quality at a hard-to-beat price.
A big advantage of their legacy in R&D is assured performance and quality, like the EDFC electronic damping system which allows you to control the damping from inside the car.
You might be fazed by the sealed body structure but that actually pans out for the better, especially at this price. The TEIN Flex Z is primarily road-designed but definitely capable on track too. All in all, you're really going to struggle to find a better setup at this cost and quality.
Megan Racing EZII Series
Manufacturer: Megan Racing
Part Number: MR-CDK-MRX8-EZII
Damping Adjustment: 15 Levels
Construction Type: Monotube
Spring Type: Linear
Warranty: 1 Year
Buy On: Amazon | Enjuku Racing
TL;DR — budget-oriented, entry-level, good for first-time users
When it comes to suspension upgrades, Megan Racing is tough to beat if you're on a budget. The build quality and finish are in line with their price. At 15 levels of adjustment, it's a decent option for daily driven RX8s.
If you're a driver who wants to test out things before making a serious investment, you'll like what these have to offer. You can always upgrade to a better set as you get used to the ride.
Raceland Classic
Manufacturer: Raceland USA
Part Number: RA-SET-RX8
Damping Adjustment: Infinite
Construction Type: Monotube
Spring Type: Progressive
Warranty: Limited Lifetime
Buy On: Amazon | Raceland
TL;DR — budget-oriented, entry-level coilovers, good for entry-level street use
The Raceland Classics are another popular option amongst RX8 drivers and for about 1-3 inches of adjustment below stock ride height. These are for average street use which means your RX8 will be low enough for the added style with better than average drive quality.
Keep in mind, this kit doesn't come with upper strut mounts so make sure you hold onto the stock mounts — or opt for an upgrade. Additionally, if you're trying to fine-tune your wheel fitment after lowering your RX8, installing wheel spacers is a good idea.
What we don't like about these is their vague damping adjustment. If you want to fine-tune your ride so it's perfect, you'd better look elsewhere.
Coilovers for Occasional Track Time
If you plan to take your RX8 to the track frequently, you'll want more stability, especially when cornering at high speeds.
In this case, it helps to have more levels of damping and custom springs rates. Ideally, well-designed coilovers should give you the flexibility between street use and hitting the tracks every now and then.
ISC Suspension N1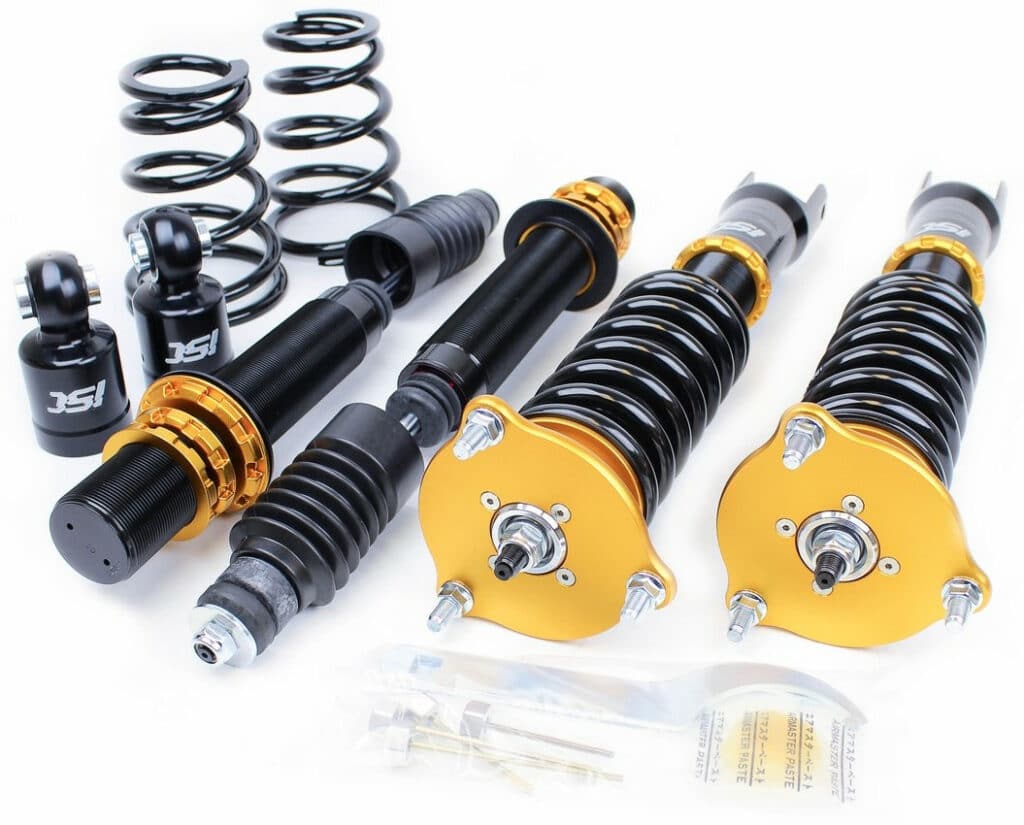 Manufacturer: ISC Suspension
Part Number: M108
Damping Adjustment: 32 Levels
Construction Type: Monotube
Spring Type: Linear
Warranty: 5 Years
Buy On: Enjuku Racing
TL;DR — custom spring rates at no extra cost, 5-year warranty, good ride, and depth quality
While not as popular and not (yet) a go-to for the Mazda RX-8, these are still at par with many strong contenders on this list. Although, between the 5-year warranty, thereby rivaling Fortune Auto, and the option to choose your spring setups at no extra cost — the ISCs are steadily growing in popularity.
If you're on a budget and looking to occasionally hit the tracks, these definitely make it to the top of our list for cheap RX8 coilovers.
Depending on your preferences, ISC offers different packages for street, track, rally, and drag. Personally, we think you'll be sorted with the Street Sport variant if you're looking for occasional track use.
KSport Slide Kontrol
Manufacturer: KSport
Part Number: CMZ110-SK
Damping Adjustment: 36 Levels
Construction Type: Monotube
Spring Type: Linear
Warranty: 1 Year
Buy On: Amazon
TL;DR — affordable, 36 levels of adjustments, drift-oriented
Despite being entry-level, KSport gives you 36 levels of adjustment. Of course, if you're looking at primarily track performance and drifting more than street use, you might need to pack on more suspension mods, but otherwise, you're golden!
KSport is easily one of the top front-runners when it comes to cheap coilovers. Definitely a great entry-level option, they also allow you to lower the ride height without having to change the compression level. Do keep in mind that despite coming with upper mounts, they don't allow you to adjust camber or caster angles.
Fortune Auto 500 Series
Manufacturer: Fortune Auto
Part Number: FA-500-SE3P
Damping Adjustment: 24 Levels
Construction Type: Monotube
Spring Type: Linear
Warranty: 5 Years
Buy On: Enjuku Racing
TL;DR — customization options, 5-year warranty, all-rounder option
Right off the starting line — the wild color schemes and customization freedom of the Fortune Auto's make them a fan favorite, all while maintaining quality at affordable prices. Add to this their 5-year warranty and that the fact that they're manufactured in the USA, and the scales are well and truly tipped in their favor.
On the Mazda RX8, the Fortune Auto 500 series coilovers provide a good balance between street use and performance on the track.
Even without customization, which is a big plus, these give you a smooth ride while allowing adjustments for significantly stiffer dynamics. Need we say more?
For More Regular Competition Use
If you're looking at spending a fair amount of time on the track, then go all out and pick up some high-end coilovers for your RX-8.
These are full-blown track-only coilovers, so you can still drive on them daily. But when you do go to a track day, they'll serve you especially well.
We've listed some of our favorites below to make things easier for you.
KW Variant 3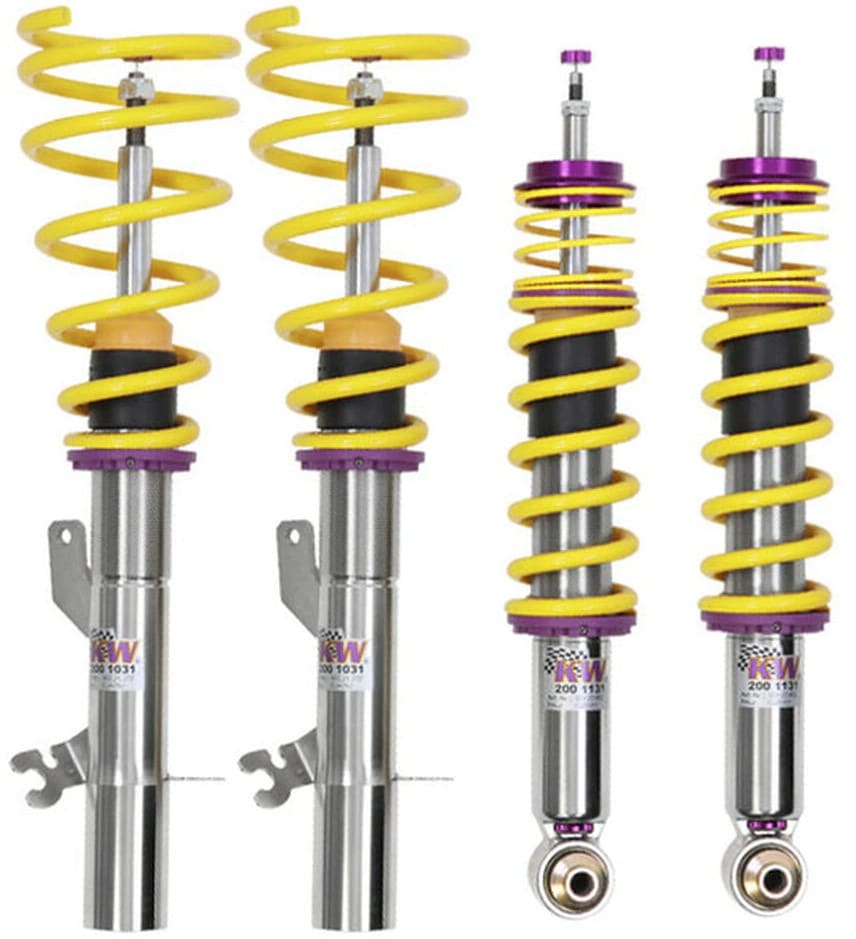 Manufacturer: KW Suspensions
Part Number: 35275008
Damping Adjustment: 14 Levels
Construction Type: Monotube
Spring Type: Progressive
Warranty: Limited Lifetime Warranty
Buy On: Amazon | Enjuku Racing
TL;DR — reasonably priced, comfortable ride quality, performance delivered
When looking at performance upgrades, KW stands out for its simplicity and quality to detail. Their Variant 3 coilovers is no exception — think of them as the perfect 'go for it without thinking' option if you find yourself feeling overwhelmed with the number of choices out there.
Get these on your RX-8 and you'll no longer be battling body roll and pitch during cornering and braking. They even round up a-okay for street use, albeit more stiff than you'll be used to. On the track, however, it's a whole other story — their superior handling outshines many other coilovers in this category.
Given their price and ride quality, KW V3's check off all the boxes for RX8 track coilovers.
Stance XR1
Manufacturer: Stanceparts
Part Number: ST-SE3P-XR1
Damping Adjustment: 15 Levels
Construction Type: Monotube
Spring Type: Linear
Warranty: 2 Years
Buy On: Enjuku Racing
TL;DR — high durability, low-riding frame with assured drive quality, go-to option for track use
A well-known name in the automotive upgrade market, Stance dishes out some high-quality coilovers that live up to the brand's reputation. Similar to the 'SS' Super Sport coilovers they make, the XR1 coilovers are improved in key features such as build and material quality. The new design and bushing materials add to the longevity and overall performance.
With a wider damping range than the SS, the XR1 also promises better corrosion protection. While they might feel stiff and bumpy on roads, the track is where these coilovers truly come alive.
BC Racing BR Series
Manufacturer: BC Racing
Part Number: N-05-BR
Damping Adjustment: 30 Levels
Construction Type: Monotube
Spring Type: Linear
Warranty: 1 Year
Buy On: Amazon | Enjuku Racing
TL;DR — competitively priced, easy installation, wide range of adjustment levels
BC Racing's BR series coilovers are a worldwide favorite amongst car enthusiasts and for good reason. They perfectly bridge the gap between affordability and high quality — playing in the big leagues. With a Swift spring option and wide range adjustment, the BR is easily one of the best value options for your Mazda RX8.
Most RX8 enthusiasts set these coilovers at a comfortable mid-level damping, so the riding style is firm yet street-friendly. Competitively priced, these high-performance coilovers are perfect for making your Mazda RX8 feel at home on the track!
The Best RX8 Coilovers
If you've made it this far, it should be quite clear that at the core of it, most coilovers are similar. But we can all agree — the devil is in the details.
And since finding the perfect coilover kit can be overwhelming when there's so much to choose from — we've highlighted some of our favorites below to make things easier.
Best Coilovers for Daily Driving: TEIN Flex Z
There's a reason why TEIN is one of the most popular aftermarket brands out there. They've cracked the price to quality ratio, giving you everything you'd want in a set of coilovers. The electronic adjustment option being a massive plus!
Best All-Rounders: Fortune Auto 500
Promised performance, customization options, a balance between street and track — all with a 5-year warranty at a mad competitive price. If you can afford it and if you're serious about coilovers for your RX8, then there's no debate that Fortune Auto's coilovers are the best match.
Best for Regular Track Use: KW Variant 3
German engineering and performance delivered at an affordable price are what comes to mind when you think of these KW coilovers. Tried and tested, these are your go-to if you're looking at street use with occasional track coilovers for your Mazda RX8.
That's our round-up for the greatest coilovers for your Mazda RX8! We'd love to know which ones are on your car, or if we missed something. Don't forget to drop a comment below!