If you've shopped for coilovers before, you've definitely come across Tein. The Yokohama-based company has been manufacturing suspension components since 1966.
They're known for making affordable but well-made lowering springs and coilovers, particularly for JDM cars.
In recent years, they've risen in popularity owing to their approachable price tags and build quality, so much so that their characteristic moss-green color is instantly recognizable to the trained eye. But are Tein coilovers good?
The short answer is yes, for what you pay, Tein coilovers are as good as they get. In this article, we've put together a review of some of the most popular coilover options from the Japanese suspension manufacturer.
The Tein Lineup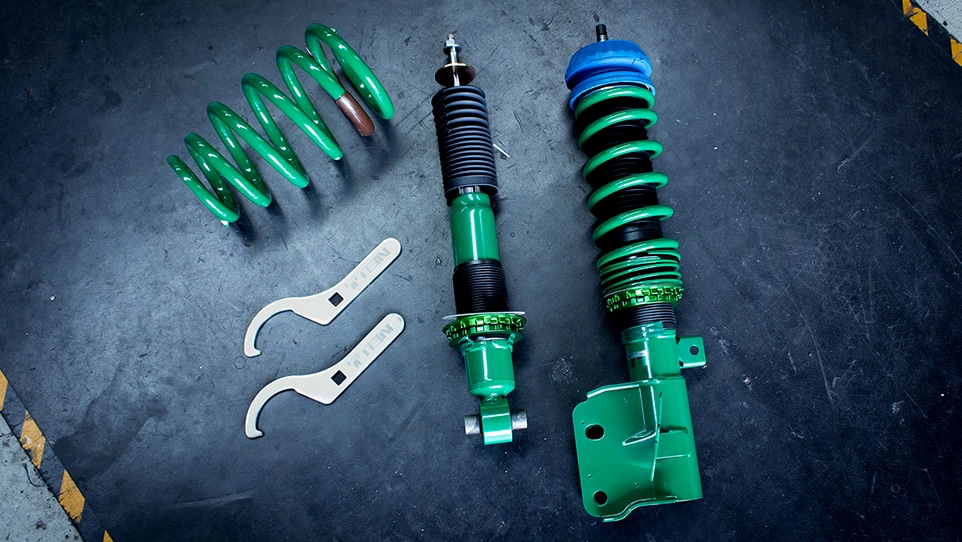 Tein offers a huge variety of suspension upgrades suitable for various budgets and applications, depending on what you're looking for.
Among their best-selling products are coilovers, which have been installed on project cars and builds for ages. Tein offers lowering springs and coilovers for just about every automotive application and budget.
Below we've reviewed the 4 most popular coilover options from Tein, including the Street Advance, the budget-friendly Street Basis Z, the performance-focused Flex Z and Flex A, and the street-focused SS lineup.
While all 4 of these are similar in some way, they have very different features suitable for different kinds of builds, barring the standard adjustments.
Street Advance
Construction: Twin-tube, fully threaded
Height adjustment: Yes
Damping adjustment: 16 levels
Remote reservoir: None
Price range: $$
The Tein Street Advance coilover series is one of Tein's most popular coilover options. It falls neatly between the Street and Premium categories and offers a decent amount of features for the money.
Street Advance coilovers are one step up from the Basis series; they include 16 levels of adjustable damping, with all the right tools included in the box.
They're height adjustable, thanks to the fully threaded design, and they're designed to be compatible with OEM suspension mounts.
Like most Tein coilovers, because they have adjustable damping, they're also fully compatible with the company's EDFC, or Electronic Damping Force Controller.
This electronic device, which is sold separately, allows you to adjust damper settings with a little dial in the interior, instead of through tools.
The Street Advance family hits the sweet spot when it comes to pricing, floating around the $1,000 mark.
Street Basis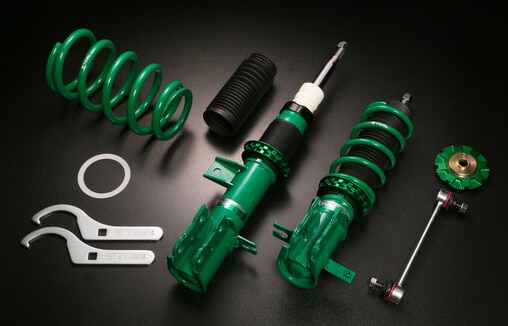 Construction: Twin-tube, fully threaded
Height adjustment: Yes
Damping adjustment: None
Remote reservoir: None
Price range: $$
If you're after a solid coilover setup but don't really need adjustable damping, then the Tein Street Basis coilover series is more suitable for you.
It's part of the same coilover family as the Advance Z, and it uses essentially the same basic construction.
However, the Basis loses adjustable damping but retains all of the other features, including the twin-tube design and adjustable ride height.
The lack of damping adjustability is balanced out by the lower price, floating around the $700-$800 mark. However, because of that lack of damping adjustment, you also lose the EDFC compatibility.
If you don't really need the adjustable damping but do want the other aesthetic and performance improvements that coilovers provide, the Street Basis range is for you.
Flex Z
Construction: Twin tube, fully threaded
Height adjustment: Yes
Damping adjustment: 16 levels
Remote reservoir: None
Price range: $$$
The Flex Z coilover series is further up the pecking order in Tein's coilover lineup, slotting above the Street Advance. It also features the usual features, including 16 levels of damping and a twin tube design.
Even though they're built for street use, the Flex coilovers are more performance-oriented and they feature superior technology compared to the Street Basis and Advanced series.
The dampers you get with these aren't rebuildable, but they do feature replaceable inserts, making them a bit futureproof.
The standout feature of the Flex Z is adjusting the ride height through case length, rather than spring pre-load or the damper stroke length.
In other words, you can adjust the ride height with minimal to no effect on the ride quality, and no matter what height you choose, the suspension travel will remain exactly the same.
Flex Z coilovers are extremely reliable, and if something does go wrong, you won't have to spend an arm and a leg to replace the entire setup, as Tein offers replacement damper inserts.
Both the Flex Z and the Flex A make it possible to adjust damper settings on the fly, thanks to EDFC compatibility.
If you're keen on being able to adjust your camber angle, the Flex A includes camber plates and an internal bump stop; it's 100% rebuildable too.
Despite all of that, the Flex family is still surprisingly affordable, starting at around $700.
SS
Construction: Twin Tube, fully threaded
Height adjustment: Yes
Damping adjustment: 16 levels
Remote reservoir: None
Price range: $$$
SS or Super Street coilovers by Tein are designed to improve handling while sacrificing as little ride comfort as possible. They use a fully threaded height adjustment system and twin-tube dampers with 16 levels.
You can order them with a pillow ball upper mount and camber plates if required. They also include full compatibility with EDFC, so you can adjust damper settings without needing to use your toolkit.
The only caveat with the SS series is that it's been discontinued, but Tein offers a service where they can still put an SS kit together for you by special order, as part of their Specialized Damper series.
It will take time to arrive, but rest assured, you can equip your project car with SS coilovers if you order them specially. However, it won't come cheap — around $1,500 for the whole package, depending on the car that you have.
On the plus side, as the SS series is part of the Specialized Damper program, Tein can build it for whatever car you have, even if they don't offer a kit for that particular model as part of their regular lineup.
Are Tein Coilovers Good?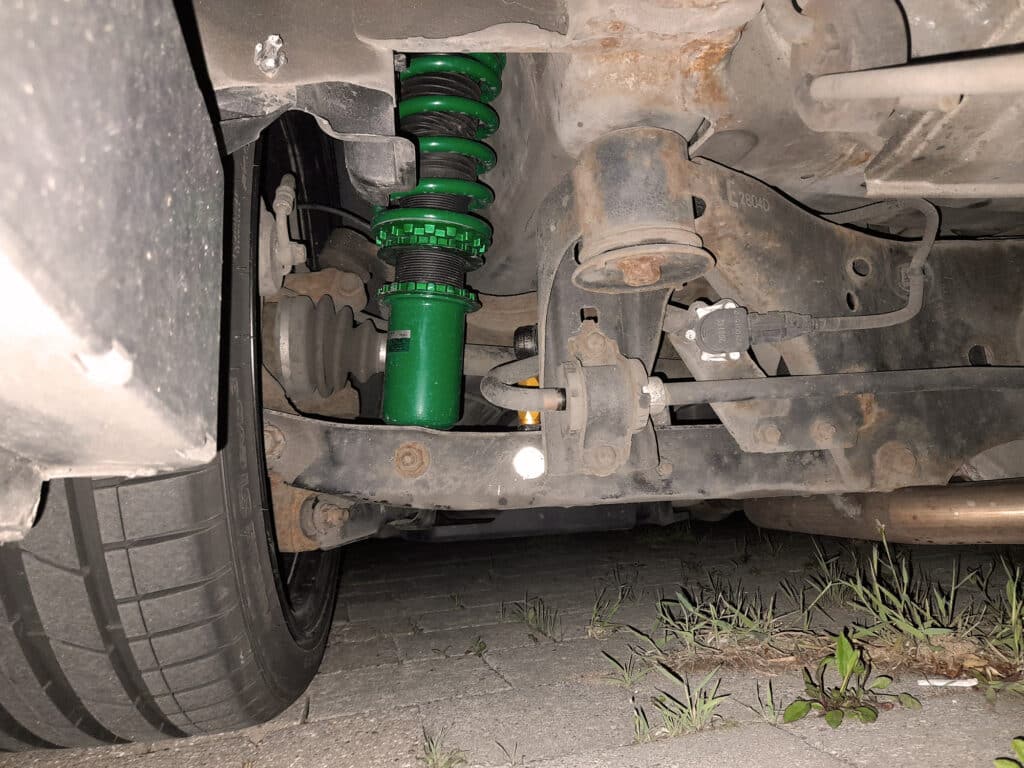 Tein Suspension has been around for over half a century, and they have a proven track record in the automotive suspension domain, particularly when it comes to coilovers.
They offer reliable warranty and predictable quality no matter where you buy them. They're available in multiple parts of the world, and they're relatively easy to purchase.
Many enthusiasts swear by Tein coilovers, and for good reason. When it comes to entry-level coilovers, few other manufacturers offer proven performance, decent specs, and usable features.
In Summary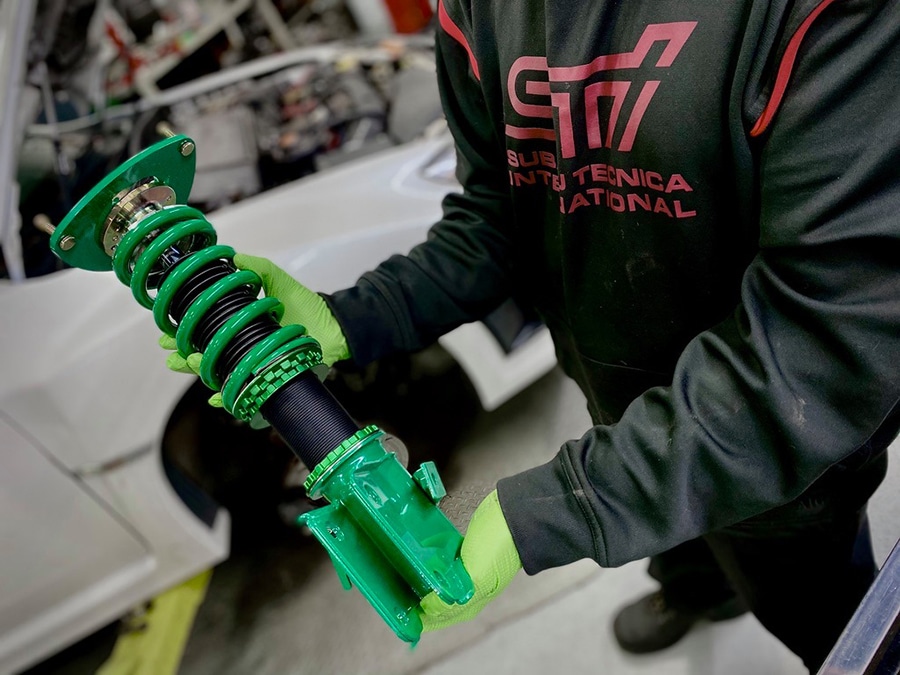 Coilovers are one of the best and most cost-effective ways to improve your car's handling. The lower roll center and stiff spring rates significantly reduce weight transfer, which improves your car's stability through corners.
If you're confused about which one to install on your car, we recommend the Street Advance and Basis, as well as the Flex Z for street builds.
They provide the best compromise between ride quality and ride height, and you can rest assured that they'll make for an excellent platform for you to build on.
How has your experience been with Tein coilovers? Let us know by leaving a comment below.
If you find this article useful, consider sharing it with your friends online. We appreciate your support!