So you want a 350z bash bar.
If your 350z has graduated from daily driver to drift car, it's a fairly easy decision to make.
Why keep destroying your bumper bars and bending your reinforcement bar every time you take a small hit?
Bash bars give you way more space for things like aftermarket intercoolers (if forced induction is one of your 350z mods), or cold air intakes.
Hose lines for oil coolers can be easily mounted to a bash bar using zip ties in seconds. Doing the same with an OEM front bumper bar can be a frustrating process, especially if you're regularly removing your front bar.
Done right, a bash bar without a factory bumper can look cool too.
In this article we'll look at what a bash bar is, why you might want one for your Nissan 350z, and the different types available for both the front and rear of your car.
What Is a Bash Bar? Does My 350z Need One?
We're getting ahead of ourselves though. You may have heard of a bash bar called something else, like a:
baja bumper,
crash bar,
drift armor,
drift bar,
tube bar / tube front end.
The purpose of one of these bars is to replace the OEM plastic bumper bar, and the steel structural beam/bar that sits behind it. Replacing these two items can cost $500+, plus the cost of painting, if not much more.
Unlike the bumper bar that comes on your Nissan 350z from factory, a front bash bar is much more likely to protect your headlights and hood in the event of a crash.
So while a small tap to the front end of your car with the OEM setup can become an expensive hassle, a bash bar is designed to be treated rough.
They take crash after crash and as they're made of steel, they can be repaired. If they are ever damaged beyond repair, another one is available for not a lot of money.
Best of all, they are a bolt on mod for your 350z, meaning if you sell your car in future, you can switch the OEM bumper back on and no one will ever know about the fun you had with it.
If you're skidding or generally hooning your Nissan 350z, or if you want to simply stand out from the crowd, check out these drift bars.
350z Front Bash Bars
Let's face it, if you're going to hit something – the car in front of you or something else, chances are it will be with the front end of your Z33, so a front bash bar is the right place to start.
Worth noting, especially for a front bash bar are the options you have available. Most bash bars are made to order, meaning you can usually add additional supports, a jack point or a tow hook.
In this section we'll check out the best options available.
Drift Armor Front Bash Bar
Bolt on: Yes
Corner bracing: No
Finish: Unpainted
Fits under factory aero: Yes
Intercooler clearance: Yes
Jack point: No
Tow hook mount: No
Price: From $124.99
This bolt on front bash bar from Drift Armor is designed to help you fit an aftermarket front mount intercooler or cold air intake.
Unlike some 350z front bash bars, the Drift Armor units can fit UNDER an OEM bumper bar, meaning it is a suitable reinforcement bar replacement for those converting to forced induction but need the space for an intercooler, but don't want to go with the "drift look".
Like many bash bars, the Drift Armor units come unpainted. For many Z33 owners, this becomes an opportunity to paint it in a brighter color.
Their simplicity makes them a lightweight unit, and the brand's popularity in the drift scene is an obvious tick of approval.
Heliarc Works Front Drift Bar
Bolt on: Yes
Corner bracing: Optional
Fits under factory aero: Yes
Intercooler clearance: Yes
Jack point: Optional
Tow hook mount: Optional
Price: On Demand
Possibly one of the nicest units available is, not surprisingly, one of the more difficult and definitely more expensive to get.
Heliarc Works 350z drift bars are custom made to order, meaning you can get pretty much whatever you want.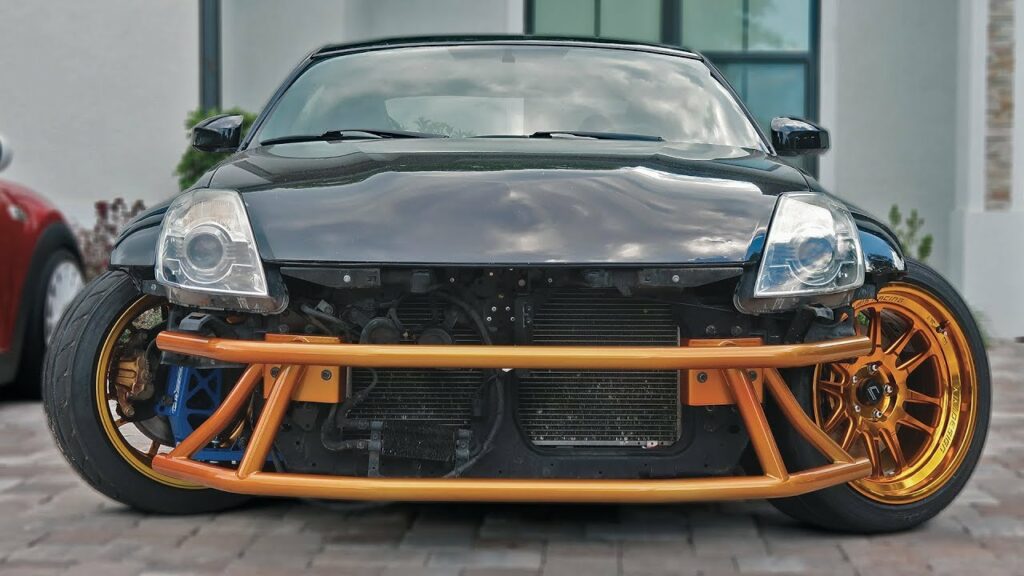 Street Faction Front Crash Bar
Bolt on: Yes
Corner bracing: Yes
Fits under factory aero: Yes
Intercooler clearance: Yes
Jack point: Optional
Tow hook mount: Optional
Price: From $200
Out of the box it's clear Street Faction's tube front end is a quality unit. While most of the bash bars on the market are tube bent, most don't follow the contours of the car.
Street Faction have gone the extra mile to make sure theirs match the shape of your Fairlady Z, which includes clearing your signal lights/indicators.
These front bash bars some powder coated from Street Faction. If you are looking to buy an unpainted bash bar for your car, it's worth getting a quote for powder coating first, as you'll probably find it's cheaper to buy one already coated from Street Faction.
What we love about the Street Faction front bash bars are there optional license plate mounts. If you're still driving your 350z on the street, this is a really tidy way to mount your plate – no messy zip ties here.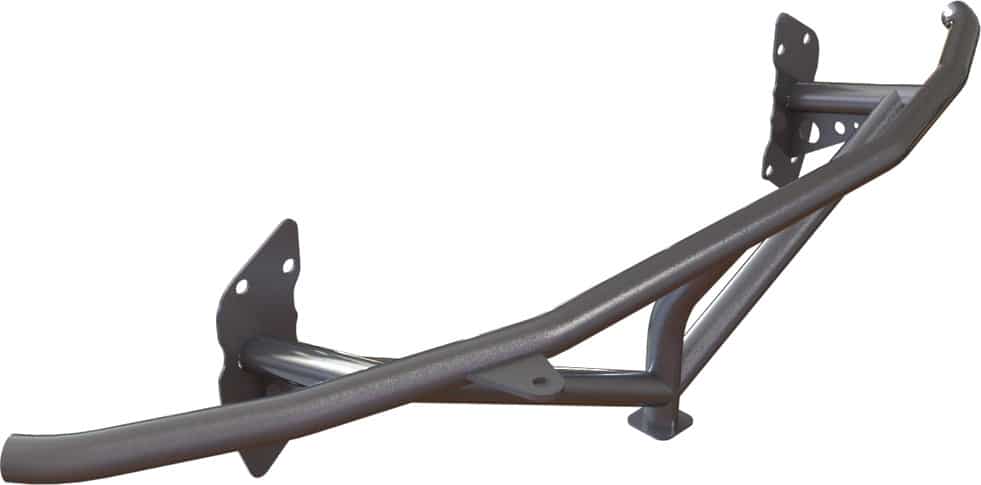 350z Rear Bash Bars
Of course, hits don't always come from the front end. Rear bash bars are arguably more helpful than the front, even for track days where you aren't drifting.
While you can use a tow hook with factory aero, you're a lot less likely to damage your rear bumper bar with it sitting in your garage at home.
Using a rear bash bar means you don't have to hoping the guy at the track who pulls you out of the gravel knows what he is doing.
The good news is that there are rear bash bars available for your Z. The bad news is, you don't have anywhere near as many options as the front.
Street Faction Rear Bash Bar
Bolt on: Yes
Corner bracing: Yes
Fits under factory aero: Yes
Jack point: Optional
Tow hook mount: Optional
Price: From $300
You can expect the same sort of quality from a Street Faction rear bash bar as you can the front.
It comes in the same powder coated finish as the front, fits under your aero rear bumper bar and provides the same sort of weight savings as you'll get on the front.
The same options apply;
jack point,
license plate mount,
tow hook mount.
All in all, a really tidy unit.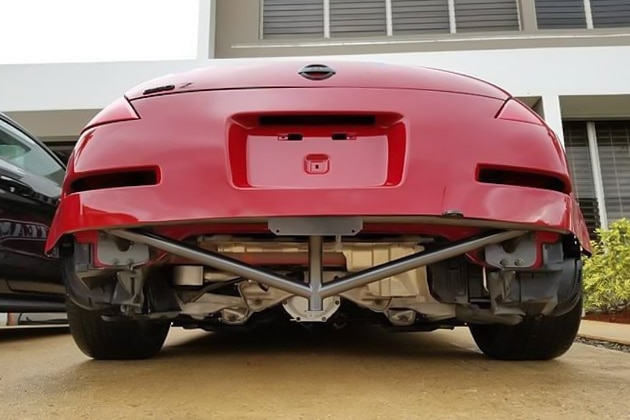 The Best 350z Bash Bars
Let's cut to the chase – so long as your bash bar is made by someone who knows how to bend tubes and weld without weakening it, your bash bar will do the job.
But when you consider the time and money spent making one of these yourself, the value of these units becomes clear.
In the end, you're paying for quality in both the build and finish. If you're building your Nissan 350z to be a drift missile, grab the cheapest bash bar you can find and rattle can it black.
If you care about how you car looks, we think this is the right combo:
Not very creative. We get it. The truth is though, these are really nice units, for a very reasonable price.
There aren't a huge amount of options available right now – somehow there are less companies selling bash bars for 350z's today than there were a few years ago.
If you think we missed an obvious option, please let us know! Thanks for reading, and happy drifting!
Feature Image: @streetfaction