Looking to increase the power of your Nissan 350z? Installing an aftermarket cold air intake system can be a great place to start.
Despite being a cheap modification, an upgraded 350z air intake will often increase horsepower while also improving fuel economy.
Generally speaking, upgraded cold air intakes don't cost as much as exhaust modifications. They can however, still add a small bump in horsepower and ft/lb of torque to your car's performance.
They're also easier to install than most 350z exhaust systems, and usually don't require professional assistance, which makes them one of the most affordable mods.
This article will guide you though everything you need to know about intake systems, and help you choose the best cold air intake for your Nissan 350z.
What Is the Difference Between Cold Air Intake and Short Ram Intake?
A cold air intake is designed to draw in as much cold air as possible, helping to allow your car to breathe easier. It places the air filter as far from the heat of the engine as possible—typically in the fender of a car or under one of the sides of the engine.
That way, the cooler air can be sucked into the engine for combustion. Cooler air brings more oxygen into the combustion chamber, which makes more power.
A short ram intake replaces your factory intake with a new, smoother pipe and faster flowing air filter. It's usually closer to your engine with the theory being that more air can reach your engine, faster.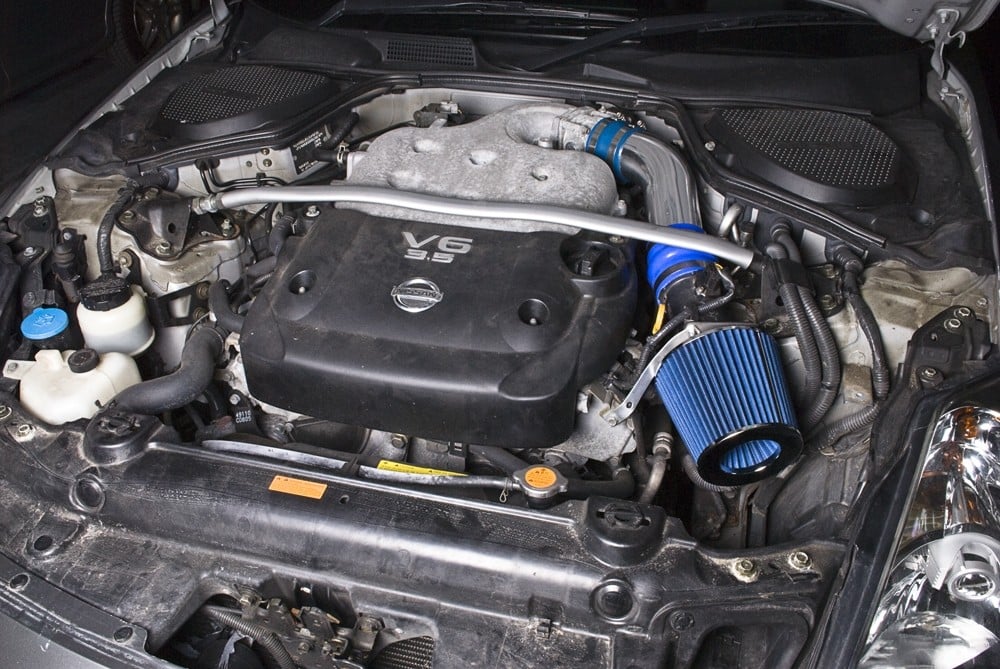 The problem is, short ram intakes suck engine heat into your intake system. This usually reduces horsepower and torque which is the opposite of what you want.
For this reason, we really prefer cold air intakes, or 350z "CAI" systems over short ram intakes. It's our view that cold air intakes are superior to short ram intakes, that's why we only list cold air intakes in this guide.
Is a 350z Cold Air Intake Worth It?
For most Nissan 350z owners, performance gains are typically more important than ease of installation or price.
The truth is, 350z CAI gains are limited – it's unlikely to increase horsepower to a level where your car will be noticeably faster than other Nissan 350z's.
But, combined with other 350z modifications and after getting a tune, your car will have a competitive edge with more horsepower, torque and a more aggressive sound.
What is a "Heat Shield," and Do You Need One?
A heat shield reduces the heat that your VQ engine produces from reaching your intake system, which is an open element air filter.
When a heat shield is available for your aftermarket intake system, it's definitely something we recommend getting.
Otherwise, your intake piping could get so hot that it leads to "heat soak," where the piping heats up the air going into your engine, decreasing engine performance.
This is also why a good intake system is built from aluminum. Aluminium piping doesn't get hot enough to hurt performance.
For systems without heat shields, we strongly suggest wrapping them in reflective "heat wrap" tape.
Cheap 350z Air Intakes
These budget 350z air intakes come at a low price, but still offer respectable improvements over your OEM/stock intake.
We use the term "cheap" but that doesn't mean nasty. Thankfully the industry is producing some great intakes at very affordable prices nowadays.
Really, these are your "best value" options for a CAI upgrade.
Mishimoto MMAI Performance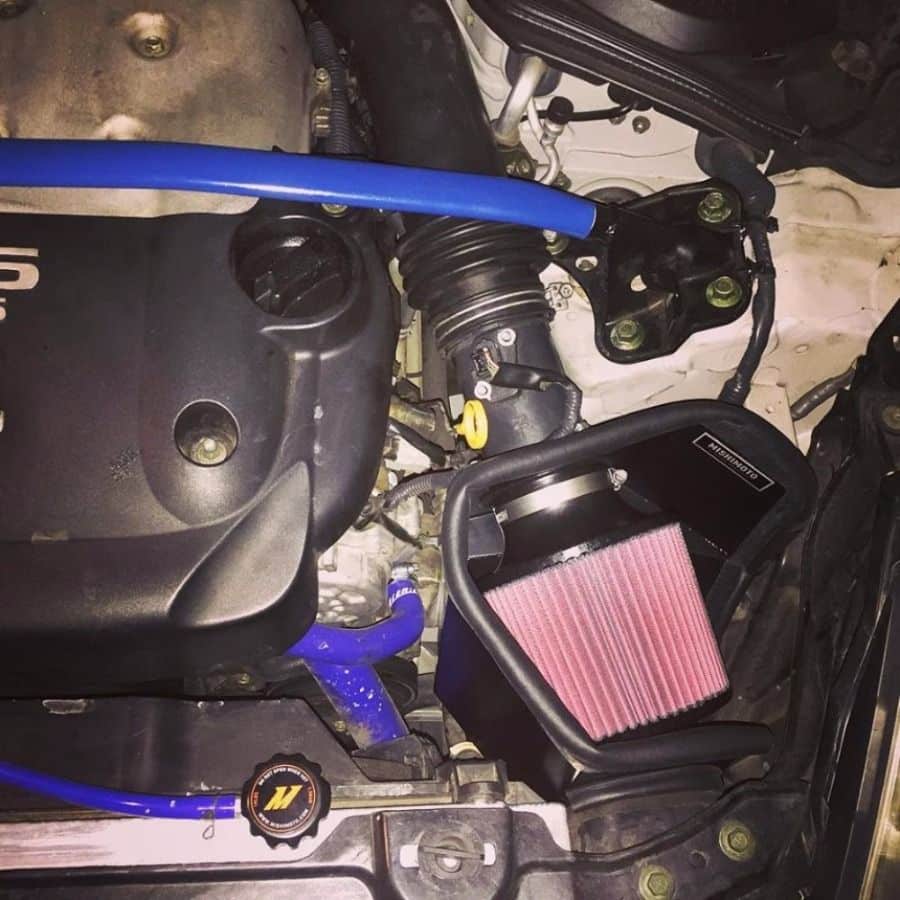 Manufacturer: Mishimoto
Estimated Gains: +10 HP
Sound: Aggressive
Compatible Years: 2003-2006
Warranty: Lifetime
Check Prices: Amazon
Mishimoto's direct fit, bolt-on air intake is dyno-proven to provide in increase of around 10 HP and 13 ft/lb. Its filter provides 271% greater surface area than the OEM air intake, allowing your Z car to suck down a lot of extra air.
The intake kit comes with the heat shield and necessary hardware for easy installation.
It will give your 350z a great, aggressive sound—definitely louder than the stock intake—and will help your car perform better, all at a reasonable price.
Injen Technology SP1986P Polished Mega Ram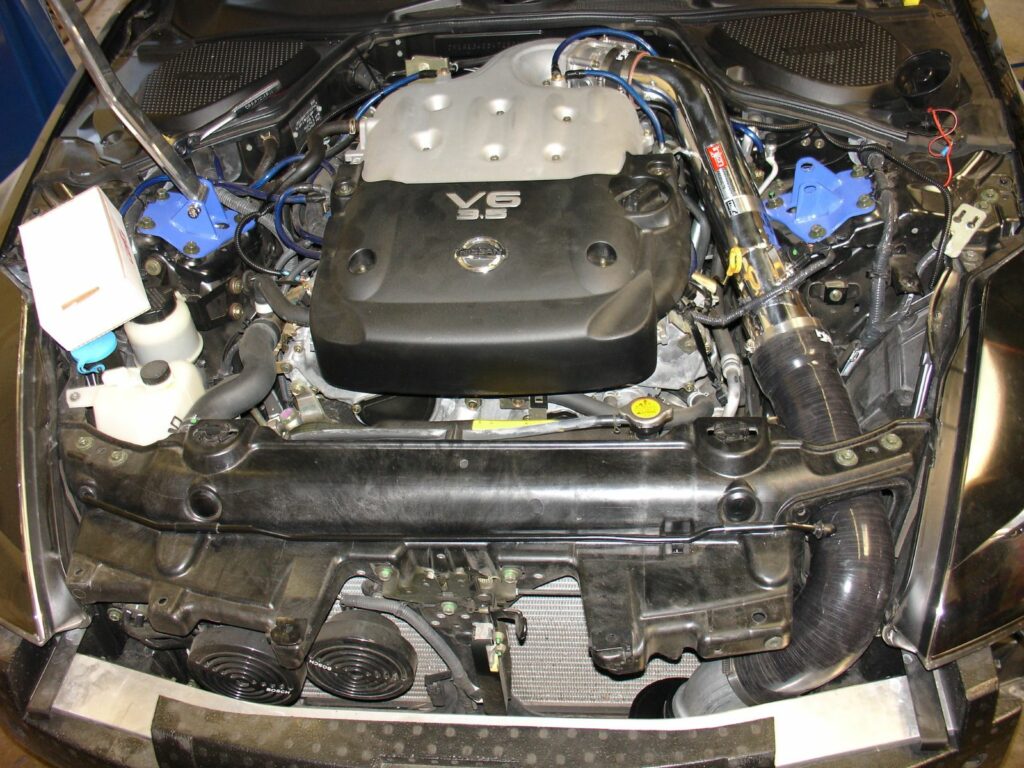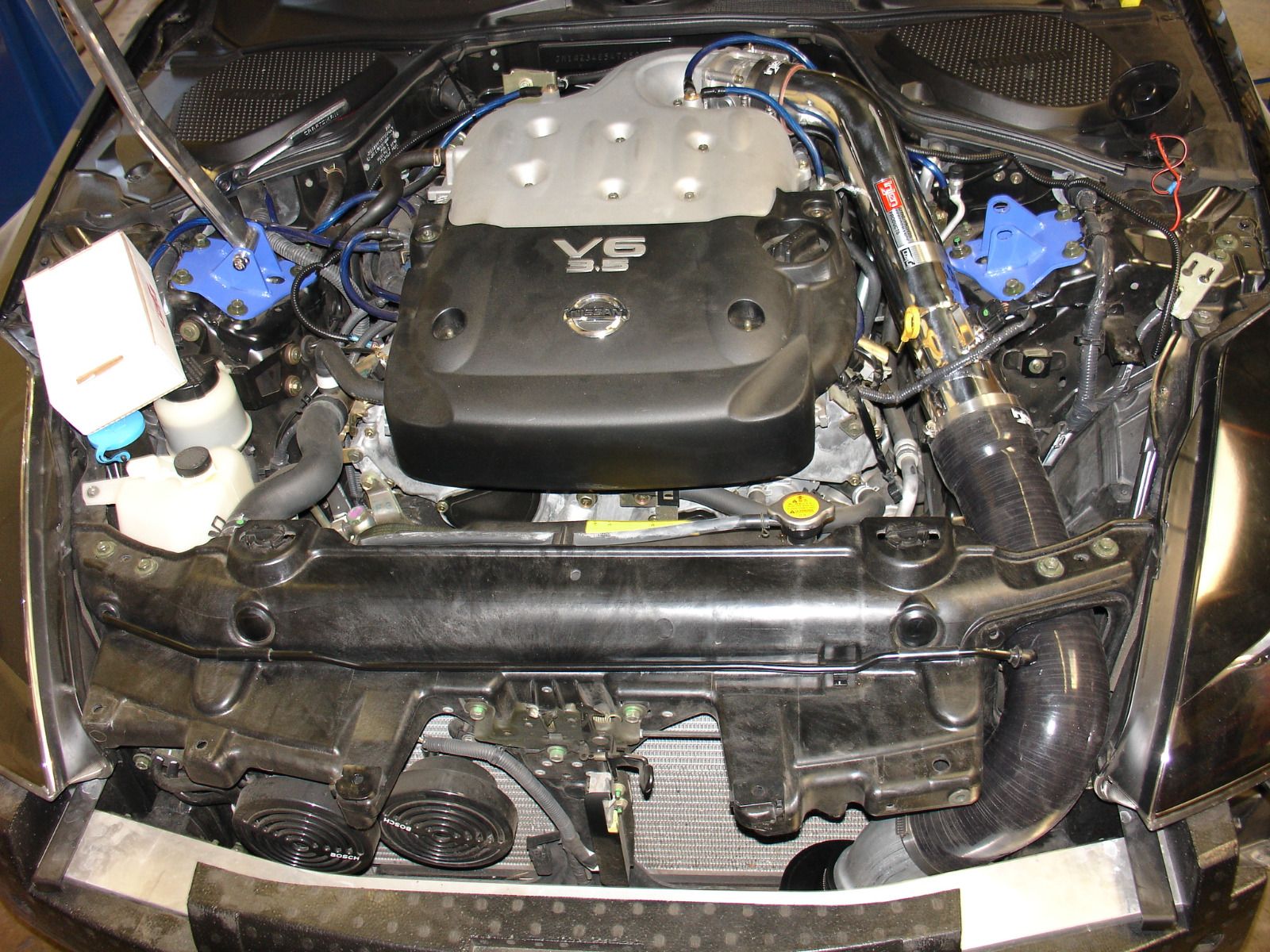 Manufacturer: Injen Technology
Estimated Gains: +10-12 HP
Sound: Similar to stock
Compatible Years: 2003-2006
Warranty: Limited Lifetime
Check Prices: Amazon
Injen's SP1986P is one of the best 350z cold air intakes for the price. The soft flexible tubing included with the product makes installation easier than some of the others in this guide.
You should get better mileage and quicker acceleration with the Injen cold air intake installed.
After resetting your ECU, you should see an increase of around 5 HP with this intake, but for greater gains (+10-12 HP) you will need to get a professional tune.
This intake works best when heat wrapped, because this system has been known to become quite heat soaked. When wrapped though, it represents incredible value for the money.
Stillen Hi-Flow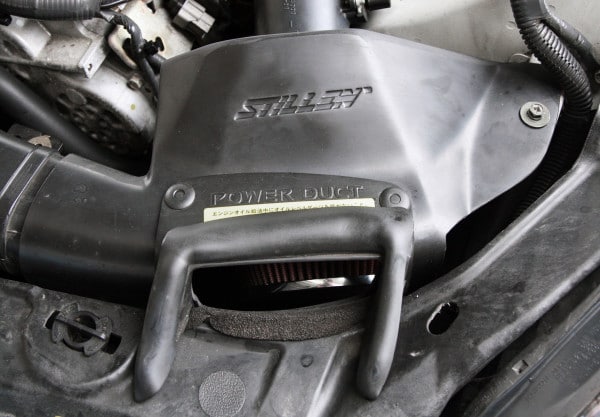 Manufacturer: Stillen
Estimated Gains: 4HP
Sound: Aggressive
Compatible Years: 2003-2006
Warranty: 30-day return policy
Stillen is known for their great aftermarket parts, and their hi-flow intake is one of the best cold air intakes for 350z drivers. It provides about 5 extra HP and 4 ft/lb of torque, but also gives you a crisper throttle response.
Stillen's signature "Aluminum Venturi Ring" is provided, which speeds up the time it takes to direct airflow into the intake chambers, really helping with throttle response.
The tone lends a more aggressive acceleration sound to your 350z, but isn't noticeable at all at idle.
For those looking for an OEM look in your CAI upgrade, this Stillen unit definitely ticks the box.
High Quality CAI Systems
These intakes are sometimes expensive, but they're the most durable and reliable intakes.
They're known for their reliability and modest performance gains.
Proven and no BS, if you're planning to keep your Nissan 350z for a lifetime, these are the ones to go for.
NISMO R-Tune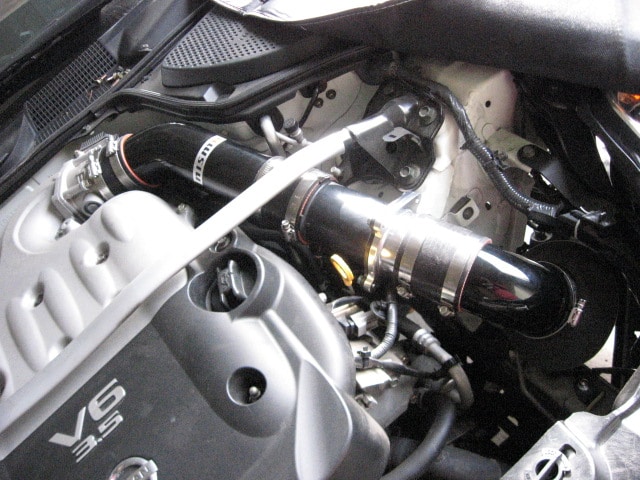 Manufacturer: Nissan
Estimated Gains: 7 HP
Sound: Aggressive and loud
Compatible Years: 2003-2006
Warranty: None
Check Prices: Amazon
This genuine NISMO cold air intake is one of the best cold air intakes for 350z because it's designed specifically for VQ engines, including the VQ35DE and VQ35HR.
You will see modest gains of 5-7 HP after installing and doing an ECU reset with a NISMO intake.
But when coupled with a plenum spacer, high-flow cats or test pipes, cat-back exhaust and a tune, a 30HP bump isn't uncommon.
Compared to the OEM intake, the sound is much more aggressive and loud.
K&N 57-6013 FIPK Performance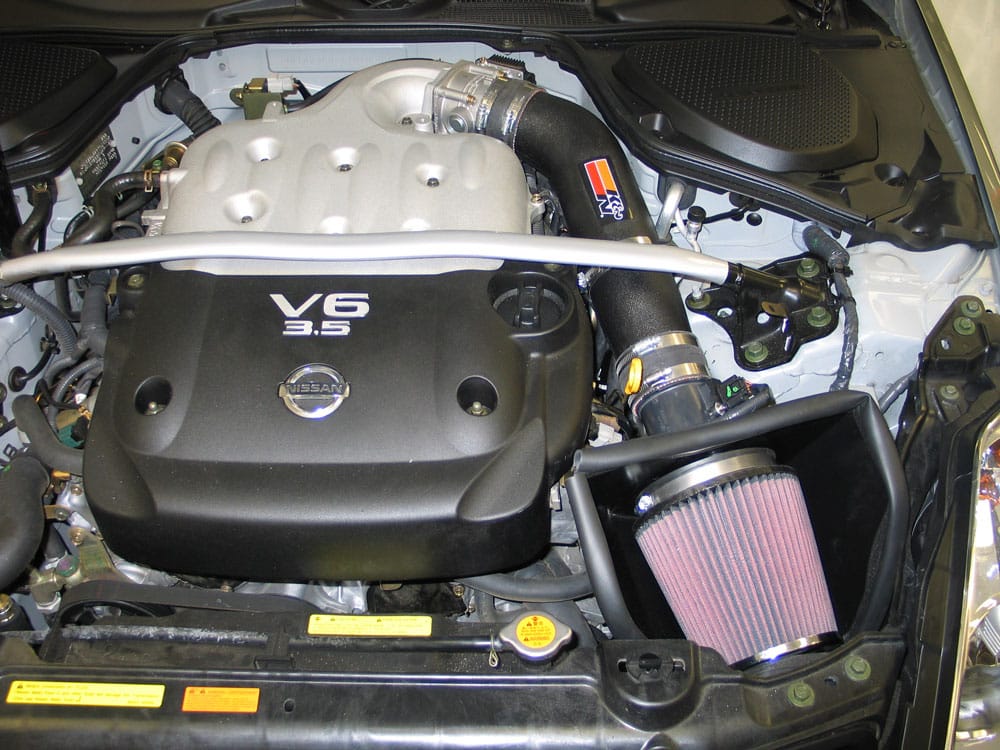 Manufacturer: K&N
Estimated Gains: 10.65 HP
Sound: Deep and throaty
Compatible Years: 2003-2006
Warranty: 10-year/Million Mile Limited Warranty
Check Prices: Amazon
The K&N FIPK Performance intake will add substantial power to your 350z, especially at high RPM.
Their claimed figure is 10.65 HP at 5,500 RPM and above. It'll also give you a noticeable improvement in fuel economy (about 1-2 MPG).
It'll add a satisfying, throaty growl to your car upon acceleration, though it's quiet when you're at speed or idling.
It removes soundproofing components from under the hood, leaving you with more engine noise and a cleaner looking engine bay and a small bit of weight reduction.
K&N 69-7071TS Series Silver Typhoon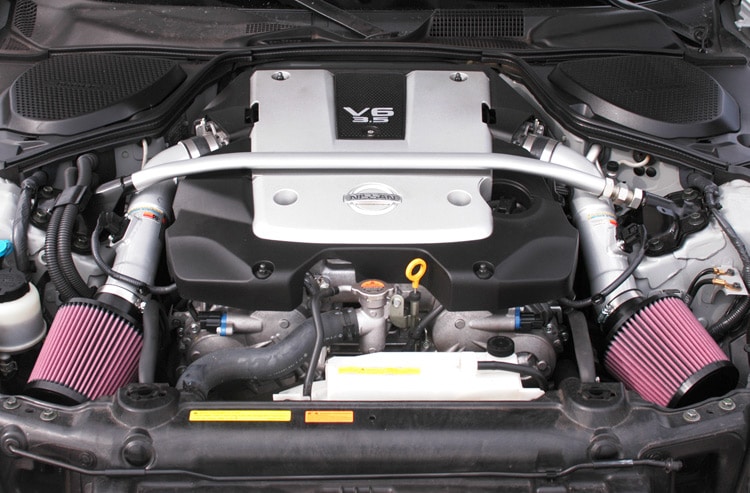 Manufacturer: K&N
Estimated Gains: +8.17 HP
Sound: Deep and low
Compatible Years: 2007-2008
Warranty: 10-year/Million Mile Limited Warranty
Check Prices: Amazon
Without a tune, the power gains might not be as powerful as the K&N FIPK Performance intake. This is due to the difference between VQ35DE and VQ35HR. The K&N Silver Typhoon system will make your 350z accelerate much smoother though.
With a tune though, this dual intake system will help your engine to breathe much better and bring further power gains.
Sitting in the car, the sound from this intake is a bit quieter than the other K&N intake, but it still gives a nice sound under acceleration or heavy load.
Fuel economy increase is a bit better than the FIPK intake though, upwards of 4 MPG, meaning this modification pays for itself in time.
AEM 21-547
Manufacturer: AEM
Estimated Gains:  15 HP
Sound: Aggressive
Compatible Years: 2003-2006
Warranty: Limited Lifetime
Check Prices: Amazon
AEM's cold air intake is a longer pipe intake. That means you might lose pressure relative to shorter intakes, but hot air becomes less of an issue. This makes overall performance of this intake very nice.
What we love about this system is, it's guaranteed by AEM to last the life of your Z car.
AEM's intake fits perfectly on all VQ35DE-engined models and is one of the better cold air intakes for 350z drivers based on performance gains alone.
You will notice a mid-range power increase from around 3,500 to 5,500 RPM, upwards of around 12 HP, and about 5 HP on the low-end.
It gives off a much more aggressive sound than the stock intake.
For those looking to add some color under the hood, these intakes are available in a wider range than usual.
Highest Performance Cold Air Intakes
When looking at cold air intakes to increase your 350z's performance, you'll be hoping to gain horsepower, torque, and to add a better sound than the stock intake.
But you might also find increases in MPG, which is an added bonus of having good throttle response and more direct airflow.
Injen Technology SP1987 Mega Ram
Manufacturer: Injen Technology
Estimated Gains: 17 HP
Sound: Loud
Compatible Years: 2007-2008
Warranty: Limited Lifetime
Check Prices: Amazon
Another dual intake system for later model, VQ35HR equipped cars.
Injen's SP1987 cold air intake really opens up the engine's ability to breathe. This brings an improvement in performance by 17HP and 9 ft/lb of torque.
Some people find installation is a hassle on these units because the rubber hoses are difficult to fit.
But on the flip side, unlike some of the other units here, the ultra long tube in this CAI is a welcome inclusion to make installation easier.
This is not a cheap 350z intake by any means, but if you're looking for power and performance gains, with great finish quality you should strongly consider this unit.
aFe TR-3001 Takeda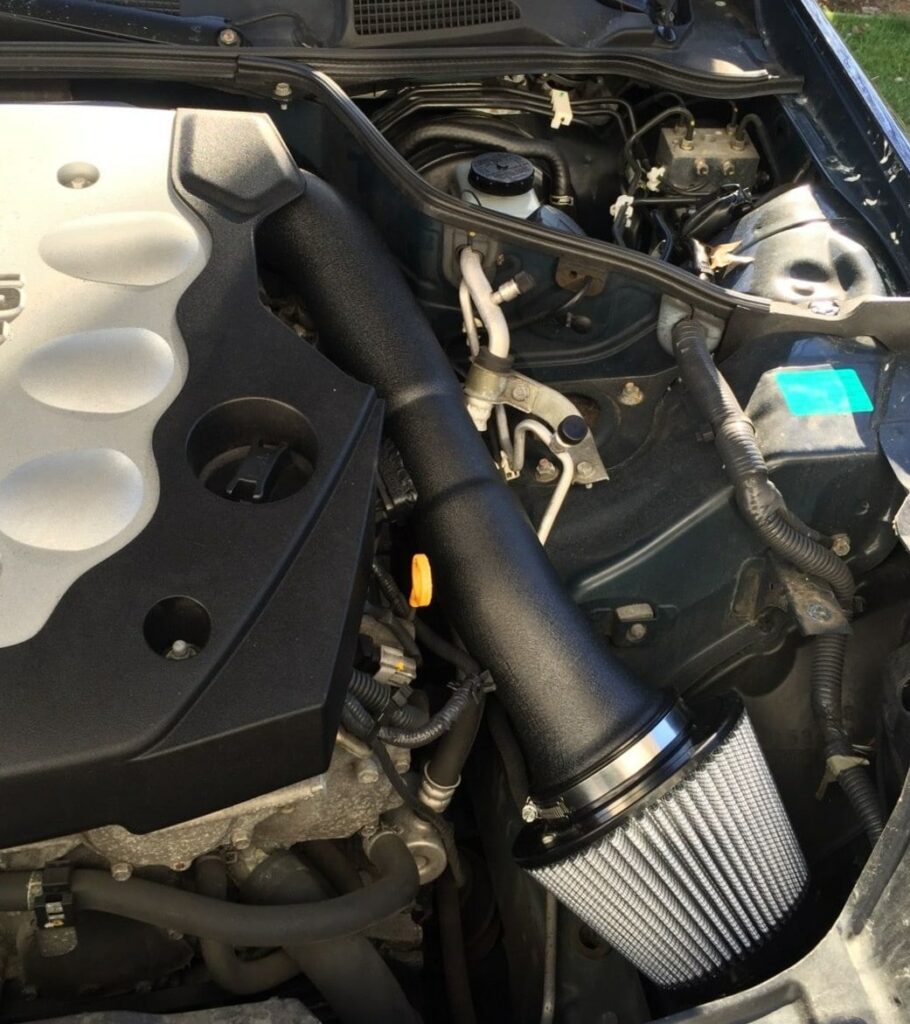 Manufacturer: aFe Power
Estimated Gains: +19 HP
Sound: Deep and throaty
Compatible Years: 2003-2006
Warranty: 100,000 miles
Check Prices: Amazon
The TR-3001 Takeda from aFe Power is one of the best 350z intakes available if you're looking for all out performance gains. An additional 19 HP and 16 ft/lb of torque is nothing to sneeze at!
Despite this, it's still a cheap 350z intake.
Most of these power gains are felt in the mid-range between 2,500-3,500 RPM. Your car will drive much smoother, and you should notice a much better throttle response.
Unlike some of the other units listed here, this intake comes with step-by-step instructions for easy installation. Fitment is perfect for all model years, meaning you won't have to modify anything. An ECU reset is recommended after installation in order to see the best power gains.
The TR-3001 offers a slightly deeper, throatier sound than your standard Nissan intake.
These units are available in Black and Polished to suit whatever style you want in your engine bay.
Volant 12635
Manufacturer: Volant
Estimated Gains: +18 HP
Sound: Aggressive
Compatible Years: 2003-2006
Warranty: Limited Lifetime
Check Prices: Amazon
We love the Volant 12635, not only are the power gains from this intake great (up to 18 additional HP, and up to a whopping 40 more ft/lb of torque), it looks very similar to the OEM intake, which we're big on here.
Volant claim their cold air intake will also increase MPG by 1-2 miles.
Installation is not as simple as other intakes. In some cases, you might have to make slight modifications to make the air vent to fit it properly.
The piping could is a really tight fit, but they compensate by providing you with a longer coupler.
These extra few hassles is the price you have to pay for a unit that looks incredible once installed.
Sound is similar to the stock 350z intake. The provided air filter is also cleanable and reusable. Overall, these are a really nice unit for the money.
Recommended Cold Air Intakes for Nissan 350z
Affordable 350z Intake: Mishimoto MMAI Performance
Mishimoto's CAI is the most inexpensive on the list, but also adds a nice 10-12 HP and 13 lb/ft of torque, so its performance gains are noteworthy.
For the OEM Look: Volant 12635
It's hard to look past the package that Volant have put together here. Aside from their branding, this CAI system blends in nicely to your engine bay. Perfect when the boys in blue are trying to ruin your day.
High Performance 350z Intake: aFe TR-3001 Takeda
Not only does the aFe Takeda system give you the greatest performance gain out of all of these CAIs, it's also one of the most affordable. It's hard to beat this combo.
Are there other cold air intakes for the Nissan 350z that you suggest we try? Leave us a comment below!