Plenum spacers are a great way to dip your toes into the world of modifying your 350z. Not only do they change how responsive your car is, it's a very cheap upgrade to make.
The best part about plenum spacers is that installation is simple. They give you a noticeable performance gain without a great deal of hassle like needing a dyno tune.
This guide covers the most important information you need to know before installing one, along with in-depth reviews of the best plenum spacers for your Nissan 350z.
Are Plenum Spacers Really Worth It?
An intake plenum spacer increases the capacity of your plenum chamber allowing it to hold a higher volume of air, which means more air going into your engine.

The air is evenly distributed amongst all the cylinders and eventually, it gives you an increase in power –– albeit small. It essentially allows your VQ engine to breathe better.
A high-quality plenum spacer will give you the best bang for your buck in terms of performance gains.
But how does this upgrade affect your car's performance? Here are some of the most noticeable advantages when using a plenum spacer on a Nissan 350z:
Throttle response –– as your engine can breathe more easily.
Top-end power gain –– the average number being between 8 and 13 whp.
Torque gain –– usually, this is noticeable in mid-range RPMs.
More aggressive intake sound.
What Material to Choose?
The two most popular materials used to manufacture plenum spacers are aluminum and thermo-polymer.
While both of them work perfectly fine, it helps to know which is better before you put your money down.
Here are the main differences between aluminum and thermo-polymer plenum spacers:
While neither costs a fortune, aluminum usually costs a little bit more and tends to be more durable.
Thermo-polymer, on the other hand, is more affordable and thermally efficient.
The aluminum plenum spacer has almost the same color as the intake manifold, while the thermo-polymer is dark black.
Thermal polymer spacers may crack around the bolt area while installing, but this is only really a risk if you over-torque the bolts.
Understanding Plenum Spacer Size
When looking for a 350z plenum spacer, you'll notice that they're available in different thicknesses and sizes. So which one should you choose?
Mainly there are three different sizes to consider:
Thicker spacers promise better performance as they increase the air volume the most, but in reality, there's a very small difference between them.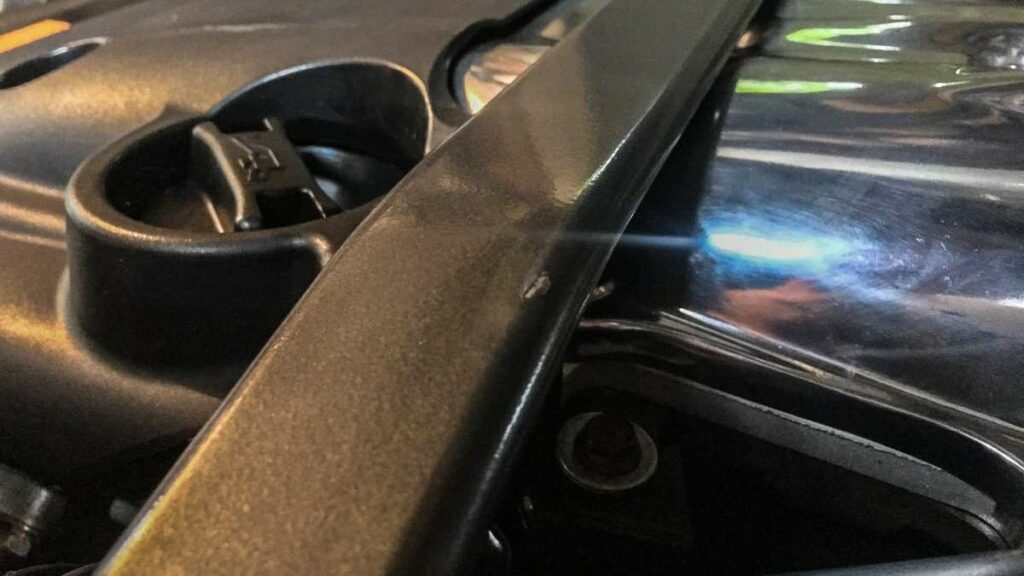 It's worth mentioning that larger spacers do not fit under the OEM strut bar and the engine cover, in which case you'll need to look for aftermarket options or modify your current strut bar.
For the majority of 350z owners, we recommend ⁵⁄₁₆" thick plenum spacers because they still provide a great increase in performance in all rev-ranges and do not require any modifications when installing.
So when you read our reviews below, you will notice that we only chose a size of ⁵⁄₁₆".
Note: The exception to this rule is when combining a spacer with forced induction. If you're running a 350z turbo or supercharger kit, you'll probably want to go with the thickest spacer you can get.
The Best Plenum Spacers for Nissan 350z
No matter the size, plenum spacers add more power to the engine, improve throttle response, and reduce fuel consumption.
Below you'll find some of the best plenum spacers for your Nissan 350z that offer maximum performance gains without burning a hole in your wallet.
Skunk2 Racing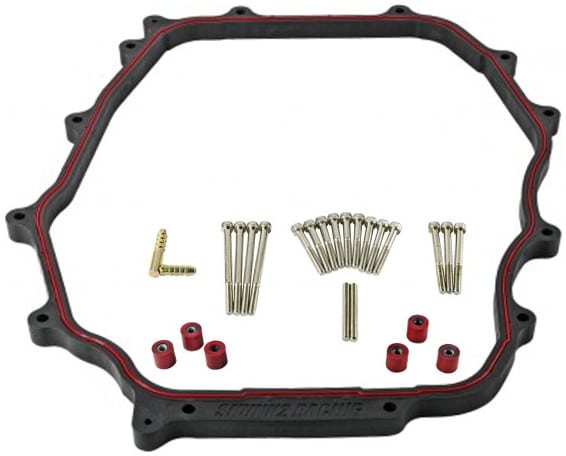 Manufacturer: Skunk2 Racing
Part Number: 307-07-0400
Construction: Thermo-polymer composite
Weight: 2.2 lbs
Buy On: Amazon | Enjuku Racing
When it comes to high-quality and high-performance plenum spacers, Skunk's V2.0 is one of the best.
What makes it stand out is its unique thermopolymer construction. Compared to aluminum spacers, the thermal insulation characteristics of thermopolymer are much better, resulting in lower air temperatures — leading to a higher power increase.
Owing to its thicker design, it is able to increase the volume of the plenum chamber resulting in more air for the front cylinders.
With all these great features, the power of your stock engine can be increased by up to 8.5 whp, along with improved throttle response and claimed better fuel efficiency of more than 2 mpg.
BLOX Racing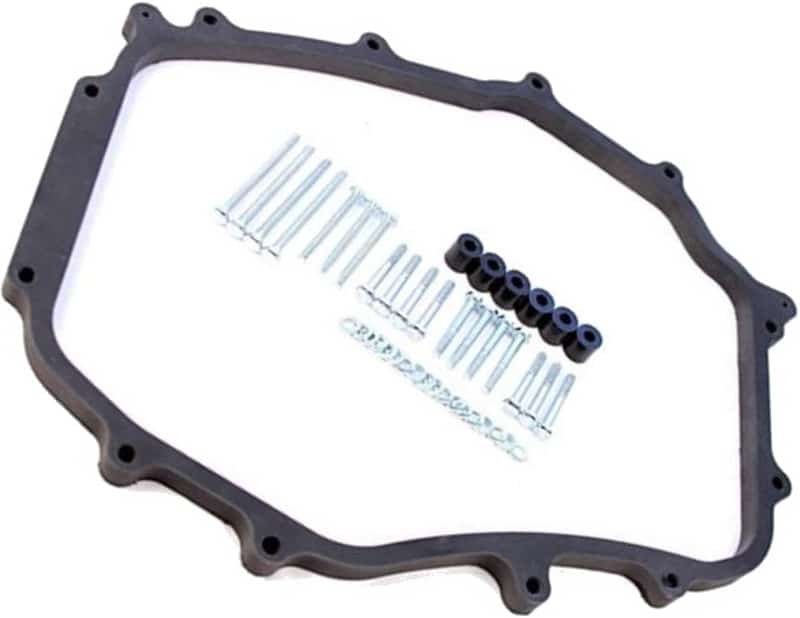 Manufacturer: BLOX Racing
Part Number: BXIM-40201-G2
Construction: Thermal-polymer
Weight: 2.0 lbs
Buy On: Amazon
BLOX Racing makes the cheapest plenum spacer for 350z owners without any sacrifice in quality and material selection. This ⁵⁄₁₆" thick spacer allows you to keep your OEM strut bar— it's the ideal size for both fitting and power gains.
With this plenum spacer, you can be sure that you will have increased throttle response and power. This is the result of ⁵⁄₁₆" thick construction, which increases the manifold capacity and reduces the temperature of the air intake on your 350z.
Installation is easy and, thanks to its optimal size, it does not require any special tools or further adjustments.
Overall, the kit is a reliable unit at a reasonable price and is the best choice for those looking to increase power without spending a lot.
AAM Competition
Manufacturer: AAM Competition
Part Number: AAM35I-APS
Construction: 6061-T6 Aluminum
Weight: 3.0 lbs
Buy On: Enjuku Racing
This plenum spacer from AAM Competition offers the most power gains in high RPMs, which is about 8-13 whp.
It's probably the most you can expect from such a simple modification, and AAM Competition offers the maximum possible benefit.
It's made of strong and lightweight T6 aluminum to hold the pressure in the manifold while not adding too much extra weight.
With this upgrade, you're going to keep the factory strut bar and engine cover, which is nice if you want to retain the OEM look as much as possible.
Keep in mind that this plenum spacer requires a modified top plenum gasket, but the great thing is that it is included in the kit.
The downside of this kit is that you're unlikely to see the same torque improvements as you would from the others. To get that extra horsepower, you pay for it in torque.
To sum up, the AAM Competition plenum spacer delivers the highest top-end power gains for your 350z and maintains the factory look under the hood.
Motordyne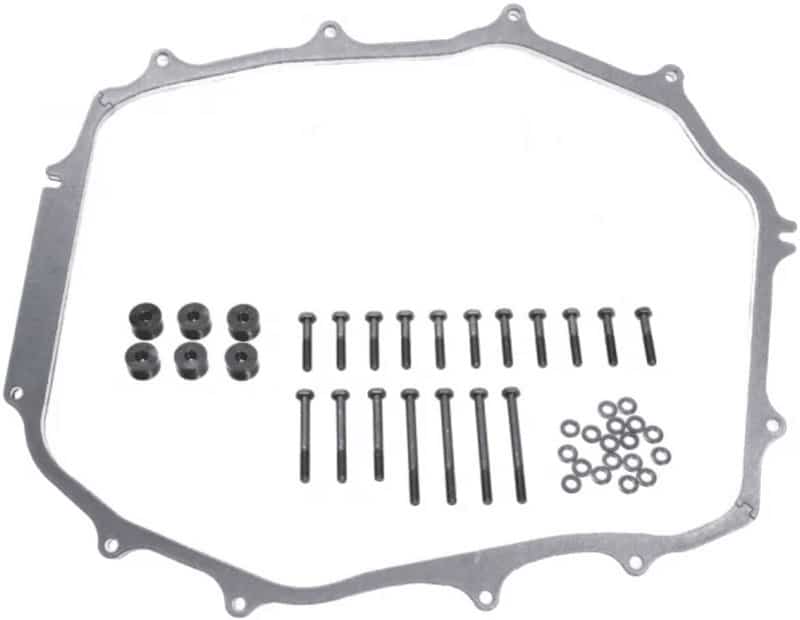 Manufacturer: Motordyne
Part Number: MD BASIC 5.16
Construction: Aluminum
Weight: 3.0 lbs
Buy On: Amazon
Motordyne is the closest competitor to AAM Competition's aluminum plenum spacer, which is also ⁵⁄₁₆" thick and offers similar gains. They're also priced at a very comparable price, so it makes it even harder to choose.
The Motordyne Basic spacer has a convenient benefit –– it comes with a pre-attached, high-quality gasket, making installation even easier.
Installing it on your stock Nissan 350z, you can expect a 9-11 whp increase after installation, and a 14-17 whp increase on a turbocharged or supercharged 350z engine.
Stock power gains are a little lower than the AAM Competition spacer, but the latter does not have a pre-assembled gasket. Moreover, the Motordyne Basic fits perfectly with the OEM engine cover and strut bar, which is the benefit of ⁵⁄₁₆" size.
All in all, the Motordyne plenum spacer is a popular choice amongst many Nissan 350z owners and it certainly lives up to its expectations.
Z1 Motorsports
Manufacturer: Z1 Motorsports
Part Number: NA
Construction: Aluminum
Weight: 3.0 lbs
This is another viable ⁵⁄₁₆" plenum spacer for your Nissan 350z that gives noticeable top-end power gains and mid-range torque. Thanks to its special narrowed and angled design, it improves the tone of the engine that is most distinct in high revs.
The price of this plenum spacer is very similar to the other contenders, coming in around $200 but the quality is on point.
This plenum spacer does not come pre-assembled with the gasket, however, an OEM plenum gasket is included in the kit.
In any case, the installation is easy. The strut bar is also kept in the factory location, and the two don't interfere with each other.
Best 350z Plenum Spacers on the Market: Our Top Picks
Fitting a performance plenum spacer is one of the best upgrades you can make to your car. Combined with a 350z cold air intake, 350z exhaust headers, test pipes and 350z specific exhaust system, your Z33 will be able to breathe better than it ever could have before.
The result is more mid-top end power, better responsiveness, much better sound and, depending on your combination of parts, often more torque.
Although an intake plenum spacer is an inexpensive upgrade, you should still choose the right one that fits your needs. To make your decision easier, we've listed a few of our favorites below.
Best-Value: BLOX Racing
High-quality, thermal-polymer material is what you get from BLOX racing –– all at a reasonable price. Despite its price, this plenum spacer is very popular among Nissan VQ35DE engine owners.
High Performance: AAM Competition
With the AAM Competition plenum spacer, you can easily expect increased throttle response, an increase of up to 13 whp at high RPM, and a more refined engine tone.
Best Overall: Motordyne
The Motordyne Basic plenum spacer guarantees a noticeable increase in top-end power and comes with a pre-attached plenum gasket for hassle-free fitment.
Do you think it's worth installing a plenum spacer on your Z? Let us know your thoughts along with your favorite plenum spacer from this list!