Upgrading your Evo's factory exhaust system comes with a slew of benefits regardless of whether you're daily driving or attending regular track days.
If you're missing an aggressive tone on your Mitsubishi Evo X and find yourself scrolling through aftermarket exhaust systems occasionally, we got you covered.
In this guide, we'll explore some of the best exhausts for your Evo X along with in-depth reviews of each upgrade.
How Good Is the OEM Mitsubishi Evo X Exhaust System?
Overall, the OEM Mitsubishi Evo X exhaust system isn't bad, but it will, be a restrictive barrier to true sports car enthusiasts looking to modify their Evo X.
The factory exhaust system is equipped with a 2.5" pipe with restrictive canisters. Upgrading it with a straighter 3.0" full cat-back system will give you a refined tone and more power.
What Are the Benefits of Upgrading?
There is no doubt that upgrading your stock exhaust to a premium system will improve the performance of your Evo X.
Some of the most noticeable differences include:
Better Sound: If you thrive on an extremely loud sound with deep rumbles and aggressive tones, a performance exhaust system will meet your expectations. You won't be disappointed by the extra attention while driving your Evo X down the street.
Improved Performance: A high-performance exhaust system has a less restrictive design that allows for better gas flow, resulting in power gains.
Increased MPG: The freer the exhaust, the faster the accumulated gas can run out, which improves engine performance — leading to better fuel economy.
Less Weight: Most aftermarket upgrades use lightweight construction to reduce weight as much as possible — less weight means better acceleration and handling.
Budget-Friendly Evo X Exhausts
Upgrading to a better exhaust system doesn't necessarily mean emptying your wallet if that's what you're thinking. You'll easily find a number of high-quality exhaust kits if you're on a budget.
Below you will find some of the top exhaust systems that do wonders for the tone and performance of your Evo X, without breaking the bank.
Spec-D Tuning N1
Manufacturer: Spec-D Tuning
Part Number: MFCAT3-LAN08T-SD
Design: Cat-back
Construction: Full T-304 stainless steel
Tip Size (in): 4.0
Piping Diameter (in): 3.0
Sound: Deep smooth tone
Buy On: Amazon
Spec-D Tuning Style N1 is the cheapest exhaust system on our list for your Mitsubishi Evo X, and probably in the entire market. However, it offers many premium features that you'll usually only find in higher-priced systems.
The sound is great and deep but not too loud, so you won't wake up the entire neighborhood. This is great if you're not looking for an extremely loud exhaust system.
This exhaust is that it comes with 3″ piping that guarantees better flow and performance. You can expect up to a 12 whp increase, which isn't bad considering its price.
It's made of high-quality stainless steel with precision welding and includes cool burnt tips that make this system look like a premium exhaust system. The only downside is that with time, the color from the blue exhaust tips does end up fading.
STM Single Exit
Manufacturer: STM
Part Number: STM-EVOX-EXSE-SS
Design: Cat-back
Construction: Stainless steel
Tip Size (in): 3.5
Piping Diameter (in): 3
Sound: Deep rumble
STM has a great budget-friendly upgrade if you're looking for a single exit cat-back system. The build quality is on point and every weld looks like a craftsman's masterpiece.
We don't think you can get a better-looking single exit exhaust system for your Evo X other than this system from STM. The fitment is perfect and fits on factory hangers without modifications, so it makes for a quick installation.
Weight reduction is the biggest benefit that you get when upgrading to a single exhaust. This one saves you 25.15 lbs, which is almost half the factory weight.
GReddy RS Race
Manufacturer: GReddy
Part Number: 10138404
Design: Cat-back
Construction: Stainless steel
Tip Size (in): 4.5
Piping Diameter (in): 3.14
Sound: Aggressive
As far as performance upgrades are concerned, GReddy always has a lot to offer and their Mitsubishi Evo X RS Race exhaust system is no exception. It's an amazing product at a reasonable price.
It has a huge pipe diameter which means less sound damping and maximum airflow. If you're after an increase in performance, this is a top option. Better flow also means your car will get on boost faster, meaning it will feel much more responsive.
With a less restrictive exhaust, your Evo X will sound sporty and aggressive. Like other single exhaust systems, you'll save a ton of weight.
This high-quality stainless steel system comes with an 80mm replacement gasket, so rest assured that the installation is going to be a breeze.
High-Performance Evo X Exhausts
If you're strictly looking for serious performance gains, these are the products to pay attention to.
Many of the options below not only offer the greatest power gains but also drastically transform the sound of your Evo X.
aFe Takeda
Manufacturer: aFe Power
Part Number: afe49-36701
Design: Cat-back
Construction: 304 stainless steel
Tip Size (in): 4.0
Piping Diameter (in): 3.0
Sound: Loud at high RPM
Buy On: Enjuku Racing
aFe Power comes with a high-quality exhaust system for your Mitsubishi Evo X. What makes this exhaust such a popular option is its power delivery which works even better if you've upgraded the turbo on your Evo X.
It offers a hefty 15 whp and 17 wtq increase over the factory exhaust system, which you'll notice the moment you step on the throttle.
On the other hand, it comes with dual free-flowing mufflers that make your Evo X sound aggressive and loud at high RPM. It also uses a mitered merge collector to reduce turbulence and increase air flow, which also reduces drone.
There's no denying that the Takeda exhaust system looks awesome on the Evo X, thanks to its 4″ laser-etched stainless steel tips. The system bolts-on without a hassle.
APEXi RS Evolution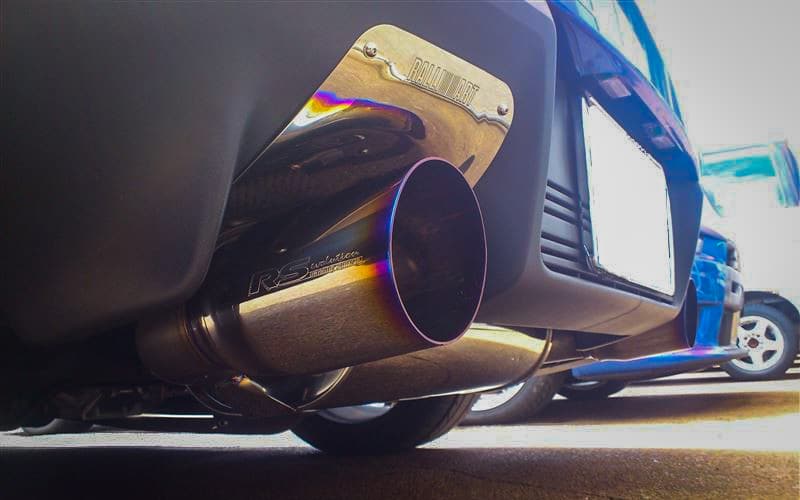 Manufacturer: APEXi
Part Number: 113AM013
Design: Cat-back
Construction: SUS304 stainless steel
Tip Size (in): 4.72
Piping Diameter (in): 2.75
Sound: Quiet and discreet
Buy On: Amazon | Enjuku Racing
If you're just looking for performance gains and don't care much about sound, then RS Evolution is the perfect exhaust system for you.
This exhaust doesn't scream loudly nor does it provide a throaty rumble. However, it offers a nice increase in torque and throttle response due to the patented Megaphone pipe structure.
The build quality is solid and well-crafted, and that's what you'd expect from APEXi. The entire system is made of SUS304 stainless steel and TIG-welded to ensure long-lasting durability.
The tips are massive — 4.72″, with the APEXi logo on them. Great for bragging rights at the next Cars & Coffee meet.
Overall, the RS Evolution is an excellent cat-back Evo X exhaust system.
HKS Hi-Power SPEC-L2
Manufacturer: HKS
Part Number: 31019-AM111
Design: Cat-back
Construction: SUS304 stainless steel
Tip Size (in): 3.7
Piping Diameter (in): 2.55
Sound: Aggressive 
Buy On: Enjuku Racing
Upgrading to a HKS product is a no-brainer. Their quality is proven and they consistently provide additional performance.
The Hi-Power cat-back exhaust system was specifically designed to unleash the power of Mitsubishi's 4B11T engine by utilizing the straightest pipe possible.
Incorporating both the straight design and SUS304 stainless steel material makes this system 54% lighter than stock. In other words, this exhaust system weighs only 20.7 lbs.
However, this exhaust won't make your Evo X very loud or give it a deep rumble — it was designed with power gains in mind. It is a little louder than the factory system, though.
Despite the quality of this system and it's long feature list, it's still priced rather reasonably.
Injen Stainless Steel
Manufacturer: Injen Technology
Part Number: SES1899CB
Design: Cat-back
Construction: 304 stainless steel
Tip Size (in): 4.5
Piping Diameter (in): 3.0
Sound: Aggressive and loud
Buy On: Enjuku Racing
When it comes to stellar quality and performance, Injen is a company you can trust. This exhaust system is precisely designed for maximum power.
This exhaust has been dyno-tested by Injen to improve up to 16 whp and 15 wtq. The best part is that the entire exhaust system costs less than $1,000, making it one of the best value exhausts for the Evo X.
After installation, you'll certainly notice a louder and more aggressive sound — bound to make heads turn when your Mitsubishi CZ4A passes 5,000 RPM.
Injen devotes a lot of time to TIG welding each exhaust system to ensure the best quality every time. As an added bonus, their customer support is very helpful, so you won't need to worry about after-sales services.
APEXi Hybrid Megaphone
Manufacturer: APEXi
Part Number: 115AM013
Design: Cat-back
Construction: SUS304 stainless steel
Tip Size (in): 4.5
Piping Diameter (in): 2.5
Sound: Comfortable not too loud
Buy On: Amazon | Enjuku Racing
APEXi's Hybrid Megaphone is another excellent cat-back exhaust system for your Evo X that delivers noticeable power gains at a reasonable price.
Exceptional durability, perfect TIG-welds, and 304 stainless steel construction guarantee a premium product for the money. You'll instantly notice an increase in performance over stock, which is especially obvious at high RPM.
Keep in mind that this isn't a particularly loud system. The Hybrid Megaphone's power lies in its performance, not all out volume. So while it will be a little louder than OEM, it's not going to blow your socks off.
As far as aesthetics are concerned, the Hybrid Megaphone looks great especially with the oval tail tips that give it a touch of class.
Tanabe Medalion Concept G
Manufacturer: Tanabe
Part Number: T80139
Design: Cat-back
Construction: SUS304 stainless steel
Tip Size (in): 4.0
Piping Diameter (in): 2.75
Sound: Clean and calm
Buy On: Amazon | Enjuku Racing
The Medalion Concept G by Tanabe is a great choice for performance enthusiasts, all the while keeping the Evo X quiet in the streets.
Tanabe's main goal was to create a high-efficiency exhaust system for the CZ4A with an extremely clean sound output below 93db, keeping it street legal in most locations.
While developing the system, Tanabe kept durability in mind, incorporating SUS304 stainless steel into this long-lasting unit.
Their Concept G design principles place a focus on optimal piping and angle-cut tips, adding to the Evo X already sporty style.
Although it is still a dual muffler cat-back system, it's a little lighter than OEM, thanks to the SUS304 material.
Best Sounding Exhausts for Your Evo X
If you're still looking for the best sounding Evo X exhaust system for sale, then you'll find this section the most appealing.
All of these exhaust systems provide the best possible sound, while some of them are still available at a very reasonable price.
ETS V3 Extreme
Manufacturer: Extreme Turbo Systems
Part Number: 100-10-EXH-007
Design: Cat-back
Construction: Stainless steel
Tip Size (in): 4.5
Piping Diameter (in): 3.0
Sound: Deep and loud
Buy On: Amazon
Crafted by ETS, the V3 Extreme is probably one of the most ideal exhaust systems you can get for your Mitsubishi Evo X. It offers both and extremely aggressive sound and a nice performance boost.
Since this exhaust system doesn't have any additional mufflers, it makes for an immensely loud setup while also reducing the weight to a minimum. In fact, it only weighs 22 lbs, which is considerably lighter than OEM.
In addition to the thunderous sound, it features a special, non-restrictive, high-flow design.
While focusing on performance and sound, ETS didn't forget appearance. They included massive 4.5″ brushed stainless tips, which looks great on the rear of the Evo X.
ETS is a well-known brand, so you don't have to worry about the quality of the build and warranty with this premium exhaust system.
Tomei Expreme Ti
Manufacturer: Tomei
Part Number: TB6090-MT02A
Design: Cat-back
Construction: High-quality titanium
Tip Size (in): 4.5
Piping Diameter (in): 3.0
Sound: Very loud
Buy On: Enjuku Racing
The Expreme Ti by Tomei is probably the best Evo 10 exhaust system if you want a loud and aggressive sound.
It's a single exhaust design using titanium construction for maximum weight reduction. In fact it only weighs 9.7 pounds, which is five times less than the factory exhaust system. That's an enormous reduction!
But it's not just about weight. The main reason you should consider this exhaust system is how it sounds. There is a lot of praise in the Mitsubishi Evo X community for its loud, deep, and rumbling sound.
On top of that, the Expreme Ti exhaust will give a more noticeable burble when downshifting your Evo X, which is one of the reasons why many enthusiasts favor this upgrade.
ARK DT-S
Manufacturer: ARK Performance
Part Number: SM1801-0103D
Design: Cat-back
Construction: SUS304 stainless steel
Tip Size (in): 4.5
Piping Diameter (in): 3.0
Sound: Aggressive, loud
Buy On: Enjuku Racing
Another well-known name in the world of high-performance upgrades — ARK Performance has a great-sounding exhaust for your Evo X. This is a dual muffler system that does not compromise on a deep tone.
Thanks to its special design, this exhaust features a reservoir that reduces drone to a minimum while maintaining a loud and aggressive sound.
If you do highway driving this is a huge relief. you won't experience any discomfort after spending on an upgrade — no drone at all!
To craft this beauty, high-quality T304 stainless steel and micro TIG welds were used and the end-result is a premium product that will satisfy any Evo X owner.
ARK has tested the entire system for maximum power and engine response.
Borla S-Type
Manufacturer: Borla
Part Number: 140285
Design: Cat-back
Construction: T-304 austenitic stainless steel
Tip Size (in): 5.0
Piping Diameter (in): 2.75
Sound: Deep rumble
Buy On: Amazon
Borla's S-Type system isn't too loud, but it's got a deep growl when you're cruising around the city. This exhaust gives your turbocharged 4B11T engine a different growl that most Evo X drivers only dream about.
Taking into account the amazing sound, Borla did a great job in manufacturing the T-304 stainless steel unit, reducing weight by more than half over the factory system.
To make things even better, this exhaust is capable of boosting high-end power by double-digits, which makes it an obvious choice for most Evo X owners.
For those wanting an aftermarket appearance, the S-Type is an eye-catching exhaust thanks to its excellent finish and 5.0″ tips.
Invidia Q300
Manufacturer: Invidia
Part Number: HS09MEXG3T
Design: Cat-back
Construction: SUS304 stainless steel
Tip Size (in): 4.3
Piping Diameter (in): 3.0
Sound: Deep and sporty
Buy On: Amazon
Invidia did a great job with this exhaust for Evo X. It makes your Mitsubishi Lancer sound the way it should have from the factory.
The Q300 is a very civilized cat-back system that only opens its throat when you're really hard on it. It might be too quiet at idle for some, but it's the perfect compromise between practicality and performance as far as we're concerned.
This is the best choice if you are looking for a quiet exhaust with improved performance and a sporty note that you'll only hear at high RPM.
Invidia has always produced the highest performance upgrades for JDM cars, and their Q300 is no exception. Its continuous piping and free-flow design ensures noticeable low-end torque and more horsepower at the top end.
COBB Tuning Turbo Back
Manufacturer: COBB Tuning
Part Number: 552301
Design: Turbo back
Construction: 304 stainless steel
Tip Size (in): 3.0
Piping Diameter (in): 3.0
Sound: Throaty and aggressive
If you're on the search for the best turbo back exhaust system for your Evo X, COBB tuning has a great option.
Unlike cat-back exhaust systems that only include exhaust piping beyond the catalytic converter, turbo back systems include everything from the downpipe all the way to the tips.

This turbo-back system includes a 3″ mandrel-bent stainless steel downpipe, a high-flow catalytic converter, cat-back piping and quad tips to go with.

Installation is a breeze since this system was designed as a direct replacement to the OEM exhaust and uses all the stock mounting points.
As a full turbo-back system, it sounds full-bodied and way more aggressive than any other cat-back system you'll encounter.
One of the major perks of installing a turbo back exhaust is the increase in power gains over a cat-back, however, you will definitely be paying more since this is a far more comprehensive system.
The Best Exhaust for Your Evo X: Our Top Picks
With a long list of exhaust systems to dive into, choosing the right one can be overwhelming.

Luckily for you, we've picked some of our favorite exhaust systems, based on sound, performance and price.
Best Value: Spec-D Tuning N1
From high-quality construction to an impressive 12 whp increase over the factory exhaust, the value you get from this cheap N1 system is very difficult to beat.
High-Performance: Injen Stainless Steel
Injen always has the right product when it comes to performance. This exhaust upgrade guarantees 16 whp and 15 wtq improvements over the stock system and still comes in under $1,000.
Best Sounding Evo X Exhaust: ARK DT-S
The deep growl and aggressive rumble of this system, without the annoying drone sound, will satisfy every audiophile. Combined with a nice performance boost and it's weight reduction properties, it is the perfect system for a high-end modified Evo X build.
As with any modifications, remember that it will affect your Evo X's insurance policy. It's likely to drive up the cost of your coverage, or if you don't declare the mods they might void your policy.
Do you have a favorite we missed? Are you running one of the systems we reviewed? Let us know in the comments below!