There's a lot of debate on whether or not you should install a catch can on your Evo X. While there's an argument for and against, the real answer comes down to how you drive and the kind of mods you're currently running.
If you have a high boost Evo X and want to push it to its limits, fitting an oil catch can is an important safety upgrades for your engine.
In this guide, you'll find everything you need to know, along with the best Evo X catch can kits to control excess oil and protect your engine from damage.
Do I Need a Catch Can for My Evo?
During combustion, pressure from the piston pushes combustion gas as well as small amounts of oil and fuel past the piston rings and into the crankcase. This is commonly referred to as "blow-by."
To keep the crankcase from excess pressure and robbing the engine of power, blow-by is pulled from the crankcase via positive crankcase ventilation, or a "PCV" system and sent back into the intake.
Of course, oil and fuel are not what you want in your air intake.
While the factory crankcase ventilation/PCV system works fine on a stock or moderately modified Evo X, it does have its limits. Excess power or simply an aged PCV system can mean more and more oil and fuel vapors reach your intake.
The OEM PCV valve is the first part that's prone to leaking, which inevitably leads to increased pressure in the crankcase and also makes it harder for oil to return back to the pan.
A quality catch can helps reduce crankcase vapors along with the amount of accumulated oil in the intercooler and intake piping, and turbocharger of your Evo X.
Best Catch Can Kits for Your Evo X
When it comes to finding the best catch can for your Mitsubishi Evo X, it's important to consider both the design and how effectively the catch can does its job.
Based on this, we've listed some of the kits that improve engine longevity and protect the engine internals on your Evo X.
MAPerformance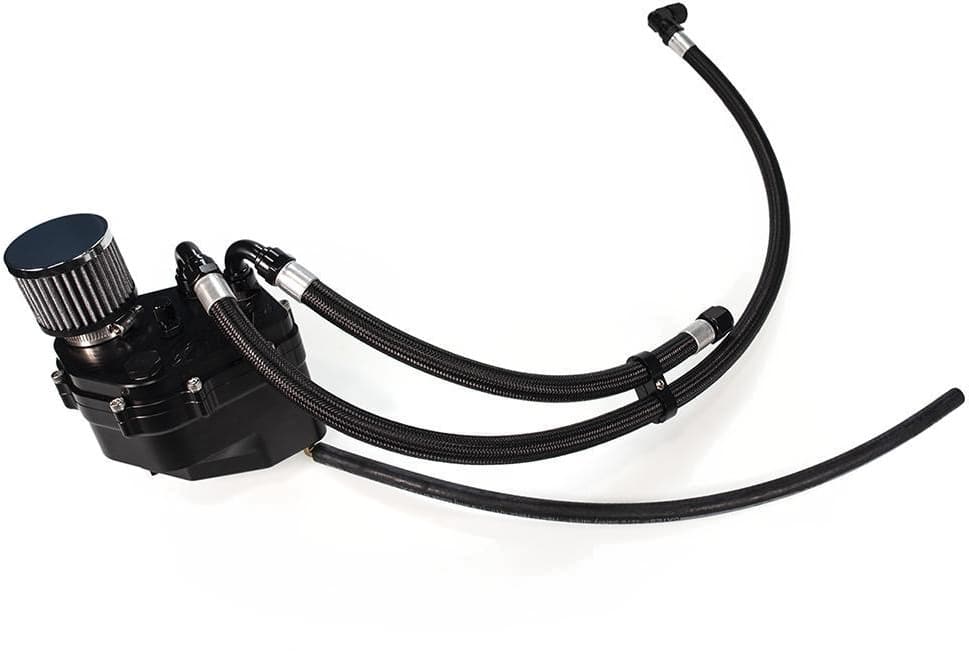 Manufacturer: MAPerformance
Part Number: EVOX-OCC
Location: Crankcase
Warranty: Limited lifetime
Buy On: Amazon
MAPerformance has one of the highest quality catch cans for your Evo X. What makes this catch can particularly special is its design. It's actually a two part system despite just being a single unit.
It bolts in the coolant tank's location and acts as the coolant expansion, or overflow tank, as well as an oil catch can. Installation is quick and won't require any special tools or modifications –– the whole job can be done in less than an hour.
This upgrade comes with a drain kit that makes it easy to clear any accumulated oil. This a handy way to clear old oil that not many other rivals offer.
Since this is a premium product it comes with a high price tag, which might put some off. In any case, you can't deny that it's one of the best catch cans on the market.
Radium Engineering (PCV Only)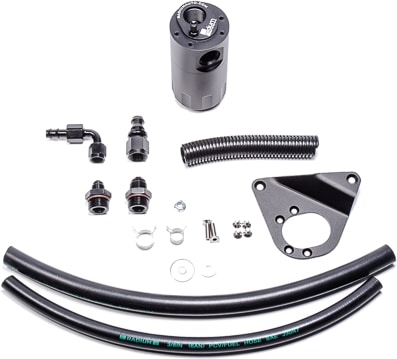 Manufacturer: Radium Engineering
Part Number: 20-0105
Location: PCV line
Warranty: 12-months
Buy On: Amazon
Designed by Radium Engineering, this simple yet effective catch can kit reduces oil sludge and crankcase steam. It connects directly to the PCV hose keeping your Evo X's crankcase well-ventilated.
When it comes to the build quality of this catch can kit, it's hard to fault. If anything, it's such a solid unit that the supplied hoses are so heavy-duty that it's sometimes hard to get the hose on the fittings.
What helps here is using a little bit of oil to lubricate the fittings before the hoses are mounted. Aside from this, installation is easy and can be done in under an hour.
You can relax when connecting this catch can to the intake on your Evo as this unit is pressure sealed. It holds a high boost very well.
Radium Engineering (Dual)
Manufacturer: Radium Engineering
Part Number: 20-0108-08
Location: Crankcase and PCV line
Warranty: 12-months
Buy On: Amazon
Another versatile system by Radium Engineering, this kit includes both PCV and crankcase catch cans.
By using two catch cans instead of one, you get:
a more efficient collection of steam from the crankcase
the collection of oil sludge and unused fuel
This kit is a perfect upgrade if you have noticed any oil accumulation in your Evo X's intercooler.
As a high-performance kit, it's built to withstand heat which is customary with boosted cars.
Installing this kit will take longer than others but that's mostly because there are more units within it. On the upside, the kit includes all the hardware and fittings you'll need for easy fitment.
Kozmic Motorsports
Manufacturer: Kozmic Motorsports
Part Number: K27 X CCK-A
Location: Crankcase
Warranty: Limited manufacturer warranty
Buy On: Amazon
This catch can kit from Kozmic Motorsports is the only system that claims a small increase in engine power after installation on a stock Evo X.
Although the power increase is not noticeable at best (and non-existent in the real world), it's nice to know that your money is going toward engine durability and possible horsepower.
With better oil flow, this kit reduces the accumulation of oil in both the intake pipe and the intercooler. It's been proven to increase the longevity of seals, gaskets, and your Evo X's oil itself.
Another great thing about this system is that it comes with a convenient oil dumping drainage kit and manifold capping plugs.
Cusco
Manufacturer: Cusco
Part Number: 564 009 A
Location: PCV line
Warranty: Lifetime warranty
Cusco's oil catch tank is one of the cheapest options you can get for your Mitsubishi Evo X. It connects directly to the PCV line and captures any excess oil that comes through the PCV system.
The first thing you'll notice is that this kit includes a transparent hose. The first time you start your engine after installing this kit, you'll notice that the hose will be yellowish or even black. This is functional, but it definitely doesn't look great under the hood.
Aesthetics aside, this is a great starter kit if you don't plan to spend a ton on upgrades but still want to improve the lifespan of your stock Mitsubishi 4B11T engine.
Our Favorite Evo X Catch Can Kits
While catch cans won't stop every last bit of oil from entering your intake manifold, we can't deny they do a decent job at preventing a large buildup of contaminants.
If you're still undecided on which catch can to choose, we've listed some of our top recommendations below.
Cheap Evo X Catch Can Kit: Cusco
Cusco's catch can kit comes at an affordable price while providing great oil-catching properties. It just lacks a perfect appearance, but it's a fully viable upgrade for owners who want cheap function over form.
Best Overall: Radium Engineering Dual
Radium Engineering's Dual system is leaps and bounds more effective in collecting oil than its rivals –– a lot of which has to do with the dual catch cans. Its ability to easily withstand high temperatures is a major positive.
Have you tried any of these oil catch cans on your Evo X? We'd love to know your favorite in the comments below!