Air intakes are one of the first things Mitsubishi Evo X owners like to upgrade. They're easy to install, light on the pocket, and look great under the hood.
However, with the number of air intakes available on the market, finding the right match can quickly get confusing.
In this guide, we list some of the best air intake options for your Evo X that easily help you meet the power gains you're looking for.
In a Hurry?
Our top pick is the K&N Cold Air Intake. It doesn't require any additional modifications for your engine, and is dyno-tested to improve the airflow by up to 50%, which means more horsepower!
If you're looking for a budget air intake, then AEM's CAI kit is your best choice. It gives you more power, better engine sound, and comes with a lifetime air filter.
Things to Consider if You Want the Perfect Evo X Intake
Different types of air intakes serve different purposes. Before we dive into the many options available for your Mitsubishi Evo X, let's talk about a few things you need to keep an eye out for.
Some people might be looking only for a better engine sound, whereas others just want more power. You don't want to end up spending a few hundred bucks for an intake that doesn't meet your requirements.
Another thing to keep in mind is that intakes are made of different materials, and some require modifications during installation.
If you're chasing all out power, it's best to at least combine your new intake with an aftermarket Evo X exhaust system.
Heat Shield
Your Evo X's 4B11T engine is known to run hot. If you're living in a hot climate where there's way too much heat under the hood in Summer, your cold air intake alone won't be able to suck in cold air.
That's when a heat shield comes in. The main purpose of the heat shield is to reduce the heat around the filter area.
You'll see a noticeable change simply by installing a radiant shield around the intake components. Usually, radiant shields are made of 0.2" thick aluminum that can hold up to 900F degrees.
Speaking about effectiveness, these shields are tested to reflect about 98% of the heat and you'll often see them used in track cars.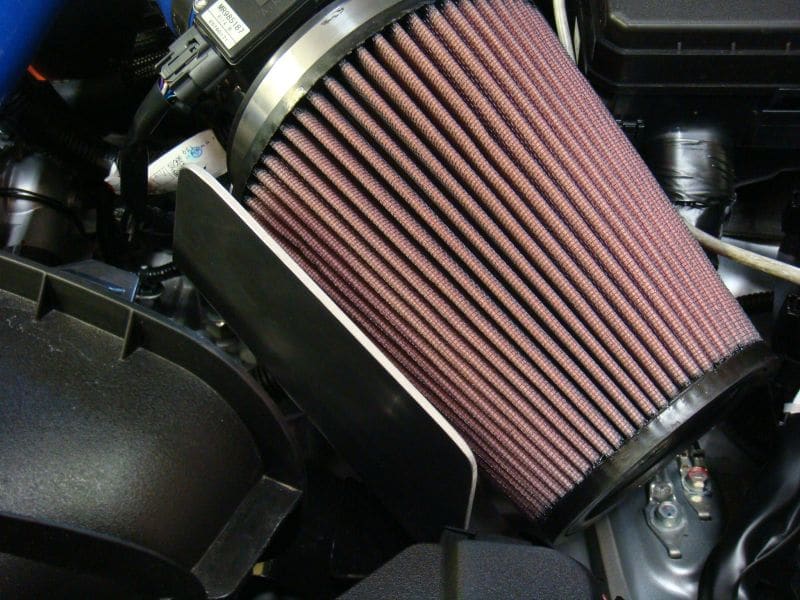 Both of these intake systems are designed to provide more cold air into the engine. While they do look pretty similar, they deliver a few different benefits.
Short ram intakes are designed to provide cold air in the shortest amount of time. The main benefits of these intakes lie in their price point and weight. Shorter piping means less material used in production, which saves weight and cost.
On the downside, because of the shorter piping, these intakes suck air much closer to the engine. Since this air is much hotter, it inevitably means less power for you. To counteract this problem, short ram intakes often come with a heat shield added to the kit.
Cold air intakes, on the other hand, draw in air from outside your engine compartment by placing the air filter optimally. They're designed to have the straightest possible path for your airflow in order to reduce resistance.
Typically, cold air intakes are more expensive and require additional customization under the hood, but often deliver better results.
Do I Need a Blow off Valve?
Many owners think that after upgrading to an air intake, they need to upgrade their Evo X's blow-off valve too, but this isn't necessary.
The only time you need to upgrade your blow-off valve is when you substantially increase the boost into your engine.
Luckily, your OEM blow off valve is strong enough to withstand simple Evo X performance upgrades. It's a strong unit that holds boost well until 25 psi, which is more than enough on a stock 4B11T block.
We do however, recommend installing an Evo X oil catch can at some point, as this will ensure cleaner air in your intake system.
Price
Spending more money on the absolute best Evo X intake doesn't necessarily mean it will deliver better results.
It all comes down to what you want from your intake. If you only want more sound, then a budget-friendly intake will do the trick.
But if more engine power, great sound, and easier maintenance is what you're looking to gain, then a higher-priced intake will meet your needs better.
It's also worth mentioning that more expensive intake systems usually come with a heat resistance shield and a better air filter.
So what price should you expect to pay for an intake? A low-end intake will cost around $250-$350, while others can go up to $400-$550.
Best Air Intake Options for Your Evo X
Whether you're chasing big power gains or just something that sounds crazy enough to turn heads, aftermarket intakes for the Evo X are in plenty.

Our list of air intakes includes options that are budget-friendly, high-performance, and even some that tick both these boxes.
High-performance intakes are more expensive but that's only because they offer much more than your standard intake upgrades. Aside from using better materials, these intakes see a higher airflow, sharper sound, and durability that's hard to beat.
HPS Black Short Ram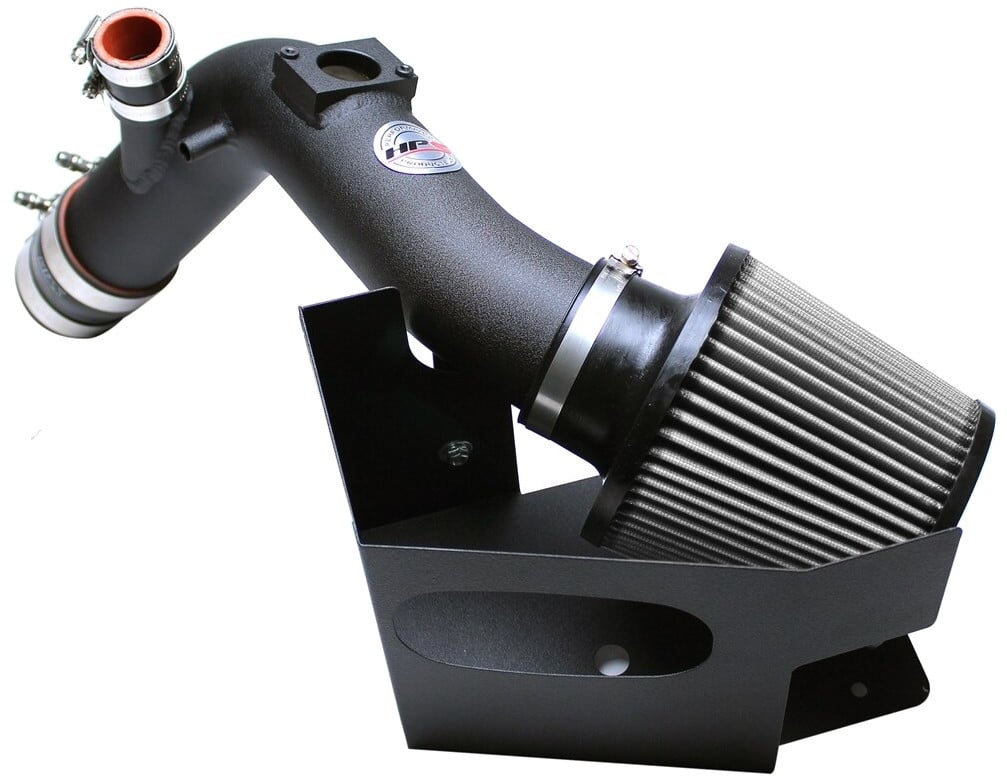 Manufacturer: HPS
Sound: Loud
Estimated Gains: 20-25 whp
Type: Short Ram
Warranty: Limited Lifetime
Buy Here: Enjuku Racing
The HPS short ram intake is built for performance and leaves you with a great looking engine compartment, all at a reasonable price.
It has a built-in free-flowing mandrel-bent aluminum tube, which increases torque, throttle response, and horsepower too.
What makes this intake stand out is the heat resistance shield. It's a heavy-duty powder-coated shield that detains heat coming out from the engine, ensuring that your intake gets the coldest air possible.
If you're installing the intake yourself, you'll appreciate the beginner-friendly manual which comes along with the intake. It has clear pictures and steps you can follow.
On the plus side, the HPS short ram intake doesn't require any tuning or coding after installation.
The kit also includes a K&N high-flow air filter which provides a more extensive air sucking and dust capacity area.
All in all, the HPS short ram intake is the perfect match for beginners who are looking to upgrade their stock intake at a lower price.
AEM Gun Metal Intake System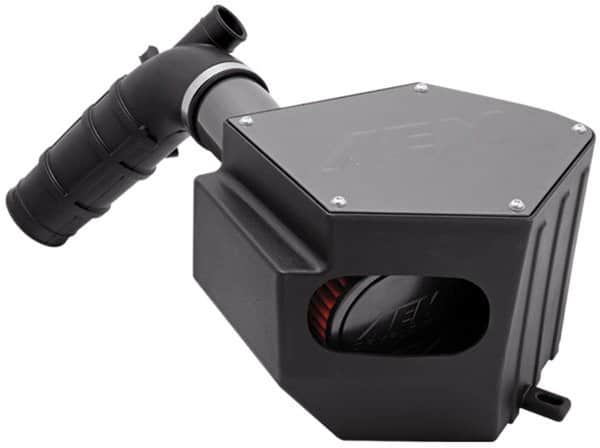 Manufacturer: AEM
Sound: Aggressive
Estimated Gains: 14 whp
Type: Cold Air
Warranty: Limited Lifetime
Buy Here: Amazon
AEM's Cold Air Intake is the perfect choice for those who want superior sound and improved throttle response while retaining the stock appearance. Since the air box looks very similar to the factory one, not many people will notice the difference when you pop open the hood (including the law).
An average dyno test resulted in a 14 whp increase. Keep in mind that this power increase highly depends on your overall engine condition and modifications.
Although it won't increase your power output by as much as the others in this list, you'll find a noticeable torque boost and improved throttle response after installing this intake. More importantly, the intake includes a powder-coated heat shield for reducing heat.
It's important to note that installing this air intake can be tricky since the connecting joint is smaller by about 2mm and it tends to come loose.
K&N Typhoon Kit
Manufacturer: K&N
Sound: Loud
Estimated Gains: 17 whp
Type: Cold Air
Warranty: 10 years
Buy Here: Amazon
K&N has always stood out when it comes to looks, and this cold air intake is no exception. The intake pipe comes in the same color as the engine cover, which is fantastic.
K&N also claims that its intake improves the airflow by up to 50%, and they have tested this on the dyno.
Many Evo X owners, including those with the GSR, have noticed a surprising increase in the torque, throttle response, turbo sound, and less lag under wide open throttle.
It includes a high-quality, oversized air filter that will serve you as long as 100,000 miles. The swooshing sound from the blow-off is another thing that is sure to grab eyeballs.
Installation is a piece of cake. Everything is a bolt-on but it does require around 2 hours of work and some special tools. Then again, that's just because of the Evo X's difficult piping.
Injen Polished Short Ram
Manufacturer: Injen
Sound: Aggressive
Estimated Gains: 24 whp
Type: Short Ram
Warranty: Limited Lifetime
Buy Here: Enjuku Racing
Our list would be incomplete without the mention of this high-end intake from Injen.
The kit comes with an Evo X intercooler charge pipe which helps feed the engine with cold air. Along with this, you also get a heat shield included in the kit.
It's worth mentioning that Injen is the first company in the world that holds four patents on the intake systems tuning.
If you're thinking of upgrading to this kit, expect to see a noticeable increase in horsepower and an impressive sound to go with. This intake is also tested on the dyno and showed a respectful increase of 24 whp and 24 lb-ft of torque numbers.
For those looking to upgrade their charge pipe along with their intake, Injen's intake kit is definitely a great choice.
AMS Performance Intake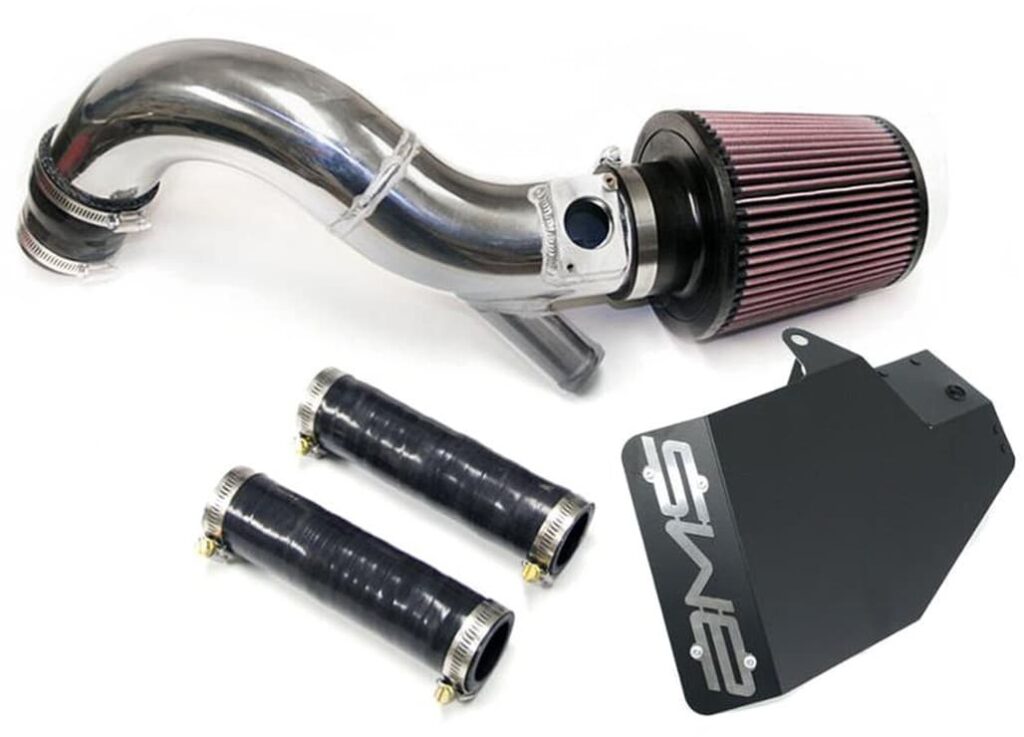 Manufacturer: AMS
Sound: Loud
Estimated Gains: Up to 45 whp (with boost controller)
Type: Short Ram
Warranty: Limited Lifetime
Buy Here: Amazon | Enjuku Racing
If you're looking for an intake that looks amazing under the hood and provides up to 45 whp, AMS Performance has the right intake for you.
Installing a blow-off valve (BOV) on this intake is very easy thanks to its fully in-line recirculation entry angle. This feature provides a steady airflow while eliminating turbulence.
In addition to this, the air filter cover on this intake improves the sound making both the 4B11T turbo spool and blow-off valve sound much louder.
The guys at the AMS workshop do a great job while TIG welding using an excellent quality 3" mandrel-bent aluminum. The intake itself gives you a power increase of up to 45whp by using the AMS manual boost controller, leaving a factory 21 psi.
Lastly, installing this intake doesn't require any additional modifications before mounting since it's all bolt-on.
ETS Velocity
Manufacturer: ETS
Sound: Aggressive
Estimated Gains: Up to 56 whp (with boost controller)
Type: Short Ram
Warranty: Limited Lifetime
Buy Here: Amazon
With a 5" inlet, this air intake by ETS is possibly the largest one on the market. Having such a wide inlet makes it capable of providing more air to the engine to increase it's power output.
It has been dyno-tested several times by the ETS team. Using a manual boost controller at 22 psi, they managed to get a 56 whp increase in power.
Considering its low price point, this intake is a true winner when it comes balancing power vs value.
The stainless steel intake also comes with a bolt-on MAF sensor adapter that perfectly fits the MAF sensor tube, saving you time and hassle during installation.
Other great features are the dowel pins and a perfect inner diameter that lets you connect the intake to the rubber grommet effortlessly and fast.
The only downside is its lack of user-friendly installation instructions. But, seeing as how it provides the highest whp increment amongst all other intakes, it's worth passing the job to your local mechanic.
Our Favorite Intakes for Evo X GSR and MR
After reviewing the best air intake options for your Evo X, we can confidently say that they all do the job well. However, there were a few that stood out from the rest.
We've listed the top intakes that would be the best fit for the Evo X GSR and MR models below.
Best Intake for Evo X GSR: K&N Typhoon
If you're looking for incredible sound paired with great looks and decent power gains, K&N's cold air intake is the best option for you. Definitely well worth the hype, this one.
Best Intake for Evo X MR: ETS Black Stainless Steel
As the largest intake on our list, it's no surprise that the ETS Black Stainless Steel delivers some of the highest power gains you can expect. What really seals the deal is its low price point and aggressive sound.
Which intake system has made the biggest difference for you? Got a favorite that we missed? Tell us in the comments below!