If you're all about increasing the power of your Mitsubishi Evo X, switching your stock intercooler with an upgraded, performance unit has probably crossed your mind.
Intercooler and turbochargers go hand in hand, so in case you're planning to upgrade your turbo, you shouldn't skip out on an intercooler. A performance intercooler lets you squeeze out more horsepower from your Mitsubishi Evo X's turbo and provides better results.
In this guide, we list some of the best Evo X intercoolers for performance gains along with installation and sizing tips.
Why Upgrade?
Intercoolers are used in all turbocharged engines as their primary goal is to cool down the air pushed out from a turbocharger. When the cooler air hits the intake, the engine can produce more power and reduce fuel consumption.
If you're not sure whether or not you need this upgrade, take a closer look at some of the benefits you can expect.
Increased Performance
The biggest difference you'll notice after an intercooler upgrade is improved performance. Most of the turbo intercoolers on our list provide more than 10 whp after installation.
Keep in mind that this number is without any tuning. If you apply the correct tune you can expect to see much higher numbers. However, upgrading only the intercooler isn't the best idea.
To get the most out of its upgrade, consider these supporting upgrades:
Engine Safety
When there's too much heat around the engine, two things can happen to a turbocharged engine — low-speed pre-ignition and engine "knock." Basically, both of these scenarios mean that your engine suffers from high cylinder-pressure.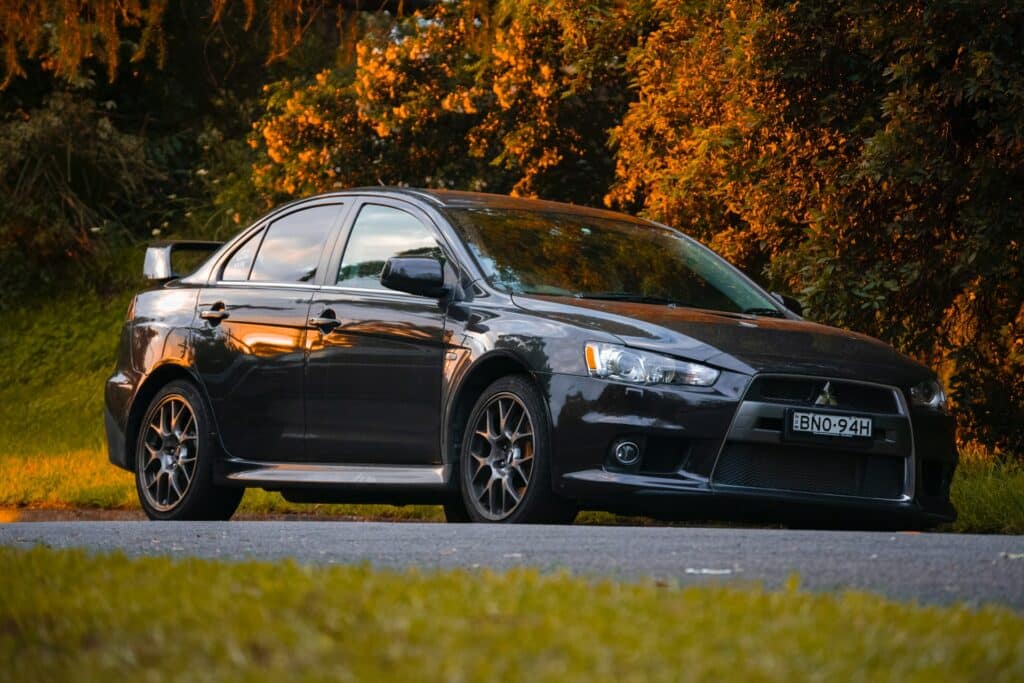 If this pressure is too high, expect to see some serious engine wear or even catastrophic failure. While fuel additives like octane boosters can help here, it's not really a long term fix.
Since an intercooler upgrade can reduce the amount of heat sent to the engine, it makes sense to get one for your Evo X for both safety and performance.
Stock Evo X Intercooler Size
Before you head out and buy a new intercooler, you should know how big the OEM intercooler is. The stock Mitsubishi Evo X intercooler size is as follows:
Length: 19.3 inches
Height: 11.5 inches
Width (thickness): 2.56 inches
Volume: 568 cubic inches
The most important number here is the core thickness. The wider the core is, the better airflow it provides.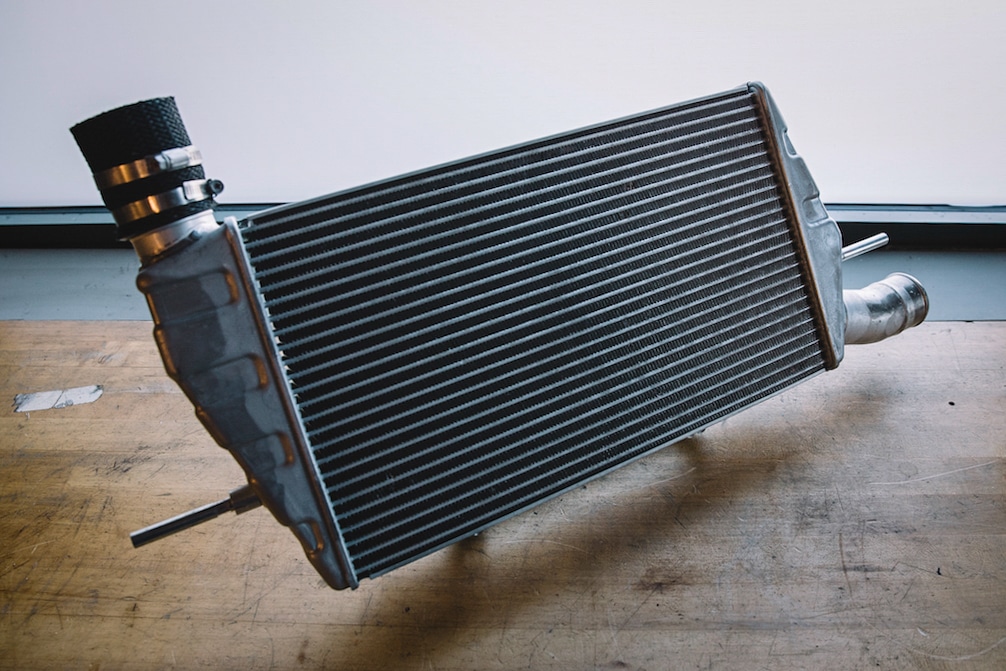 Which Size to Choose?
Installing a slightly bigger intercooler will always improve engine performance. But going too big will bring more drag, which denies any power increase.
Your OEM Evo X intercooler can safely hold about 405-440 whp. Since it's 2.5" in width, take a look at the size you should pick according to your power needs.
3" – Best for 450-600 whp
3.5" – Best for 500-720 whp
4" – Best for 550-780 whp
Although these sizes allow similar power gains, a lot depends on the intercooler manufacturer and built quality.
Installation Tips
Some Evo X owners think that a 4" thickness intercooler doesn't fit without cutting or removing the crash beam. However, it bolts on without any difficulties with some extra attachment points.
Installation of a 4″ intercooler into your Evo X is easy and can be done in under an hour. The great thing about most of the upgrade kits is that they come as a bolt-on option.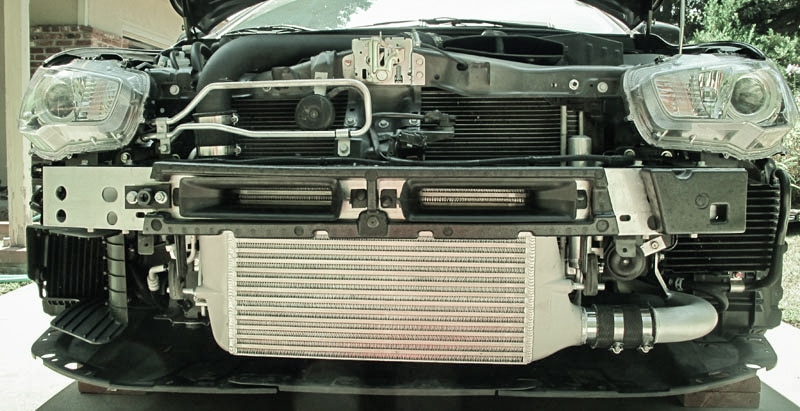 Replacing your current intercooler only requires removing the front bumper and then unscrewing several bolts and finally replacing the parts.
On the other hand, anything above 4" in thickness will require extra work. It's not unheard of as there are many extensive Evo X builds with 5" intercoolers.
The Best Evo X Intercoolers
When it comes to choosing an intercooler upgrade for your Evo X, you can opt for a core upgrade or a full replacement kit with core, pipings, and mounting hardware.
To make your decision easier, we have a comprehensive list of different intercoolers for Evo X, including all price ranges.
ETS 4″ Full Kit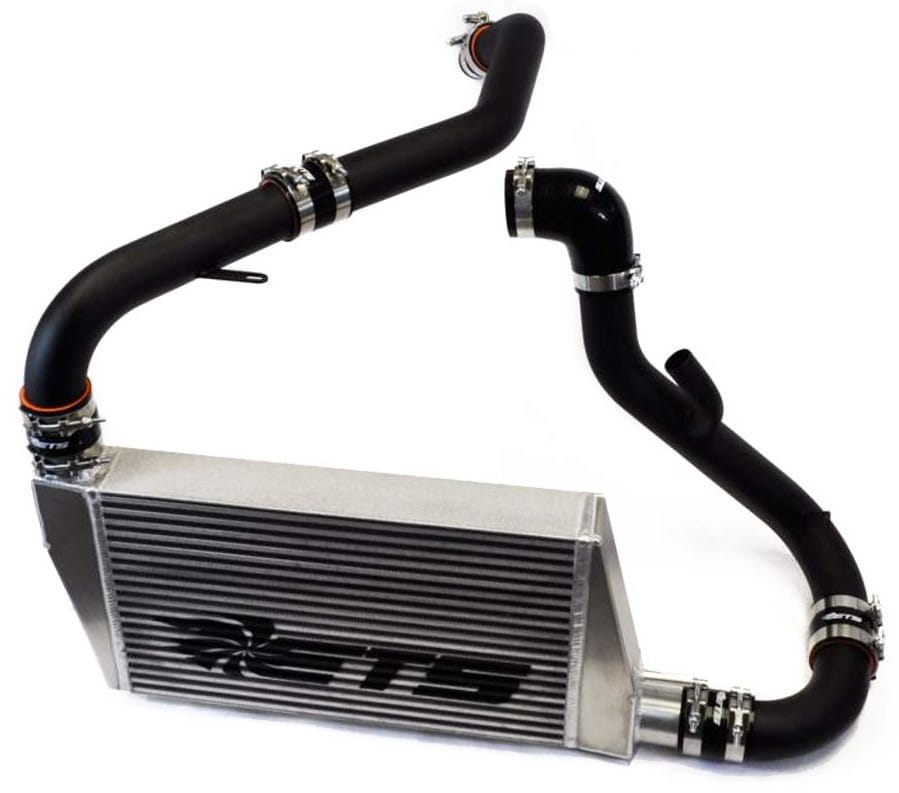 Manufacturer: Extreme Turbo Systems
Part Number: 100-10-ICK-025
Construction: Aluminum
Estimated Gains: 20-25 whp
Dimensions (in): 20 x 12 x 4.0
Buy On: Amazon
This kit by ETS is hands down one of the most popular and widely advised options amongst Evo X enthusiasts. It comes with a bolt-on design that doesn't require removing or redesigning the crash beam and saves time spent on installation.
Like most Evo X owners who want to keep their car street legal, this intercooler retains all safety features, keeping you and your Evo X safe.
It also comes with a black titanium piping set that keeps the air cool until it reaches the engine. The improved charge rows within the core provide great airflow distribution which improves the overall performance.
The ETS 4" intercooler is rated to hold up to 700 whp, so for the majority of owners, this upgrade will leave plenty of room for future modifications to their Evo X. By installing this kit on your OEM setup, you can expect a decent increase in power of between 20-25 whp.
Although it offers amazing power capability, if you aren't trying to reach those high numbers, it's best to opt-in for a smaller upgrade that's cheaper too.
AMS Modular Unit
Manufacturer: AMS Performance
Part Number: AMS.04.09.0001-1
Construction: A356 T6 Alloy Aluminum
Estimated Gains: 10 whp
Dimensions (in): 12.4 x 20 x 3.5
Buy On: Amazon | Enjuku Racing
AMS is a well-known name when it comes to automotive performance upgrades, especially for JDM turbocharged cars. So it's no surprise that this intercooler lives up to its name and hype.
Installation doesn't require any additional tools or hardware, as it bolts on and directly connects to the original piping. Since installation doesn't call for any cutting you can re-install the stock intercooler at any time.
The A356 T6 alloy aluminum end tank ensures better airflow and improves durability by reducing the chance of cracking. It also offers 80% more internal flow compared to the OEM intercooler.
After driving your Evo X for the first time after installation, expect a 10 whp increase without any tuning. But if you decide to let the tuners do their magic, this intercooler can hold up to 780 whp.
The team at AMS tested this intercooler on their Time Attack Evo and set some serious records on the drag event. Besides, this is a huge intercooler with a clear AMS badge on it, which definitely adds aggressiveness to the car's front.
Overall, it is a go-to Evo X intercooler upgrade for those who're looking for a durable and efficient purchase.
Mishimoto Performance
Manufacturer: Mishimoto
Part Number: MMINT-EVO-10X
Construction: 6061 Aluminum
Estimated Gains: 10 whp
Dimensions (in): 19.5 x 12 x 3.5
Buy On: Amazon | Enjuku Racing
Mishimoto is a leading brand focused on performance cooling systems. They always offer excellent durability and efficiency with their parts, and their intercoolers are no exception.
This intercooler is designed to fit bolt-on over your stock Evo X intercooler. The only thing you'll have to do before installation is to attach mounting pegs. After that, it's a direct fit that retains the crash beam and original piping.
It's also been dyno-tested and shows an increase of 10 whp and 8 wtq over the OEM intercooler, without re-tuning. If you are planning for pushing big power through your Evo X, this intercooler can handle around 600 whp.
Its special core design with an improved fin pattern maintains exceptional heat exchange and doesn't allow the core to lose pressure. With an optimal pressure level, it guarantees faster spooling time and continuously cool airflow.
Since it offers moderate power increase and great longevity at a reasonable price, it's a great choice for new Evo X owners with none or few modifications on the engine.
Treadstone Performance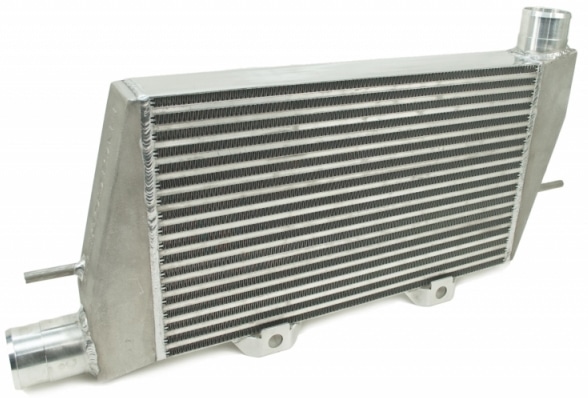 Manufacturer: Treadstone
Part Number: TREV10
Construction: 6061 T6 Aluminum
Estimated Gains: 10 whp
Dimensions (in): 20 x 12 x 3
Buy On: Amazon
Treadstone has a great budget-friendly front-mounted intercooler (FMIC) upgrade for the Evo X. While it isn't as popular as other big names on this list, it gets the job done well and it doesn't hurt that you get a great bang for your buck.
Although it comes priced well, you'll instantly be surprised at how well it's welded, and the increased power it delivers.
Take a closer look at its construction and you'll understand why it's so durable. Both the bar and plate have been made from 6061 T6 aluminum which provides excellent cooling performance and durability.
More importantly, Treadstone uses an in-house welder to TIG weld each end-tank to make a unique masterpiece every time. Also, they throw it through a 150 psi pressure check to ensure its effectiveness.
Like many intercoolers on this list, this one gives an immediate 10 whp increase, and it's rated up to 600 whp.
AEM Core Kit
Manufacturer: AEM Intakes (K&N Performance)
Part Number: 2102-A
Construction: Mandrel-Bent Aluminum
Estimated Gains: 11 whp
Dimensions (in): 12.50 x 19.25 x 3.50
Buy On: Amazon
This intercooler is a direct fit for Evo X GSR models between 2010-2014. Since it comes from AEM Induction Systems, you can expect to receive high performance and a long-lasting intercooler upgrade.
What's great about this intercooler is that it offers an extra port in the discharge tube. In this port, you can install a water injection nozzle, boost pressure sensor, or temperature probe.
Installing this intercooler is a quick and painless job. You'll only need to cut a small hole in the front plastic cover.
Apart from adjusting the plastic cover, the front looks better than stock and secures a nice amount of extra power.
Before buying an AEM intercooler, you should know that the warranty requires you to buy an extra part — 2102-B, which is a charge pipe kit — to get covered with the one-year limited warranty.
Depo Evo X 4.0″
Manufacturer: Depo Racing
Part Number: DR10087
Construction: Aluminum
Estimated Gains: 10 whp
Dimensions (in): 20 x 12 x 4.0
Though it's the least expensive intercooler, the Depo intercooler is suitable on Evo X builds up to 700+ whp, which is an insane performance for such a purchase.
It was built to compete with brands like ETS and AMS, and it sure does. The welding points are neat, and the entire FMIC feels like other high-quality contenders.
The 4" thickness bar and plate design make it very effective for cooling down the air and improving airflow. To get the most out of this intercooler, upgrading the turbocharger, intake, and exhaust would be a great idea. Of course, a re-tune is a must here.
The installation will save you time as it doesn't require any modifications. It's a simple bolt-on solution for those who're looking for quick gains. After removing the front bumper, there's enough space for fitment.
Our Favorite Evo X Intercoolers
A performance intercooler does wonders for your Evo X and doesn't cost that much to upgrade. While the OEM intercooler is only 2.5" thickness, choosing a 3.5" or 4" FMIC will pave the road to significant performance upgrades.
There are plenty of stellar brands to choose from, so after taking into account their benefits, we've listed our top picks below.
The Best Evo X Intercooler: ETS 4″ Upgrade Kit
Hands down, ETS always provides the best upgrades for Evo X. Especially with this kit, you get a high-performance core, black piping, and hardware for bolt-on installation.
Best Bang for Your Buck: Treadstone Performance
Treadstone may not be an incredibly popular name amongst car enthusiasts, but it's got a superb quality FMIC for the Evo X. Great price, durable material, and its ability to handle up to 600 whp make it a viable option for most Evo X owners.
Thinking of getting a new intercooler for your Evo X? Which one is your favorite? Tell us in the comments below!