The Mitsubishi Evo X can surely turn heads as far as its looks are concerned but if we're talking about sound — it doesn't show off as much as other cars do. Luckily for most Evo X owners, a blow off valve (BOV) can be a huge novelty.
It's not all about the sound though — a performance blow off valve is a necessary upgrade if you have an upgraded turbocharger or an aggressive tune on your car.
In this guide, we help you choose the best BOV for your Evo X and list some of our favorite options to choose from.
What Does a Blow Off Valve Do?
The blow off valve is an inseparable part of a turbocharged vehicle.
We've written about the benefits of a blow off valve before but simply put, it's a pressure release system that diverts the accumulated pressure from the turbo, either to the atmosphere or back to the intake of your Evo X.
BOVs that redirect the air back into the intake usually leave you with a sound that isn't as loud.
If you're aiming to hear the classic "whooshing" sound, a vented BOV is what you need. Vented BOVs vent the pressure back into the atmosphere and feature a trumpet-like design at the exit to amplify the sound.
Keep in mind that you'll only hear the BOV in action when you take your foot off the gas between shifts.
How Good Is the OEM Blow Off Valve?
The OEM CZ4A blow off valve can safely handle anything below 25 psi. So if we're talking high boost levels, the factory BOV will have a hard time dealing with the additional pressure. This eventually results in an increase in turbo lag and poor turbo performance.
Aftermarket blow off valves, on the other hand, are capable of holding 30 psi and more which is more than enough for most high-performance builds.
Why Upgrade?
We can think of a few situations where you would want to replace your blow off valve. For instance, the factory unit might leak — which is a common issue on most high-mileage Evo X's.
Another scenario is if you have a heavily modified Evo X with a monstrous power output — you'll need an upgraded blow off valve to handle all that boost.
In any case, upgrading to a better blow off valve can have a handful of benefits like:
Increased performance: Installing an aftermarket blow off valve on your Evo X can improve the throttle response while correctly regulating the boost pressure. Also, a high-performance BOV can reduce the time it takes to reach full boost.
Improved turbocharger life-span: Once the turbocharger builds up its boost and you suddenly shift gears, a surge takes place. A BOV redirects this pressure away from your turbo and prevents any damage which may otherwise take place.
Better sound: When the blow off valve releases pressure into the atmosphere, it makes a signature whooshing sound. Car enthusiasts usually end up installing a BOV for this reason.
Looks great under the hood: The factory BOV sits at the back of the engine compartment, which is a very visible location. Since a majority of aftermarket valves come in a variety of colors, it certainly adds to the aesthetics of your engine bay.
Best Value BOVs for Your Evo X
Although a BOV seems like a simple unit that shouldn't cost a lot of money — when opting for well-known brands, the price stacks up quickly.
You can still get your hands on a high-quality blow off valve if you're on a budget. They may not be the loudest BOVs out there, but they certainly get the job done.
TiAL Q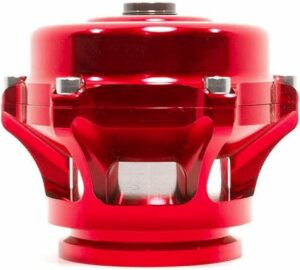 Manufacturer: TiAL
Part Number: tial-Q.6R
Sound: Crisp
Warranty: 1-year
Buy On: Enjuku Racing
If you're looking for a universal blow off valve that doesn't compromise on great sound, TiAL has just the right part for you. It features a high-quality build that is suitable for monster Mitsubishi 4B11T builds.
This BOV offers 60% better airflow over the factory design, which means it's able to blow off more air per cycle. Aside from this, the BOV is incredibly durable, thanks to its CNC machined 6061 aluminum body.
The Tial Q also comes with a variety of springs of different strengths. This one, for instance, offers a 6psi spring strength which is an optimal choice for the majority of Evo X owners.
If you've got a heavily modified Evo X and are looking for a great blow off valve that doesn't hurt your wallet, this is the perfect BOV for you.
Forge Motorsport Type RS
Manufacturer: Forge Motorsport
Part Number: FMDVRSR-BLK-34
Sound: Not so loud
Warranty: Limited lifetime warranty
Crafted by Forge Motorsport, the Type RS comes with a special design that holds an extremely high flow rate.
It's a great beginner-friendly BOV that can be tuned without any special tools. The guys at Forge Motorsport achieved this by incorporating a variable pre-load spring and ratchet type top cap that allows for easy adjustments according to your driving needs.
The valve uses a progressive rate and an individual conical spring that retains the boost pressure in the 7-22 psi range — sometimes even 30 psi as confirmed by several Evo X owners.
This is super helpful if you have an upgraded turbocharger and want to effectively control the boost. However, to reach a higher psi, you'll need a stronger spring, which thankfully is included in the kit.
WORKS DV
Manufacturer: WORKS Motorsports
Part Number: 125.103
Sound: Slightly louder than OEM
Warranty: 12 months
WORKS offer a wide range of high-quality aftermarket upgrades for the Evo X and their diverter valve is no exception. When installed right, it holds upwards of 30 psi while still retaining its original driveability.
This is a fully recirculating valve that returns all excessive boost pressure straight back to the intake — which is great if you have a bigger turbo on board.
The only downside to it is that it has nothing interesting to offer as far as looks are concerned, which may disappoint some Evo X enthusiasts. In fact, it looks very similar to the OEM blow off valve.
If you don't care much about aesthetics, this won't be a problem for you.
Another thing to keep in mind is that this valve won't be as loud as others on our list because it uses the design of the diverter valve, which is known to be recirculating. 
Both the blow off valve and the diverter valve (DV) do the same thing. However, the DV doesn't release the pressure back into the atmosphere — which means less sound.
Best Sounding BOVs
Many Mitsubishi Evo X owners upgrade their BOV just for the sound, and we totally understand why — it sounds so good that it's bound to turn heads your way.
In this section, you'll find the best sounding blow off valves for your Evo X, without compromising on performance or durability.
GReddy FV
Manufacturer: GReddy
Part Number: 11501666
Sound: Very loud
Warranty: 1-year limited
Buy On: Enjuku Racing
GReddy is another top-notch brand that offers reliable upgrades for all car lovers. Their BOV is popular amongst many Evo X owners for a number of reasons.
For starters, this BOV features a slimmer CNC outlet capable of drawing in more air, which results in a better blow off sound and greater performance. In fact, the sound is the reason why it's loved by so many in the Evo X community.
It holds a boost of up to 10 psi more than the OEM unit and doesn't cause any turbo flutter, which makes it a safe upgrade for your turbocharger.
Installing this BOV is a quick job and it has all the necessary hardware you need for easy fitment.
Another great thing about this BOV is you can get a recirculation adapter to make it a bypass valve. Keep in mind that if you decide to make this conversion, the sound won't be as loud.
Turbosmart Dual Port
Manufacturer: Turbosmart
Part Number: TS-0205-1022
Sound: Moderately loud
Warranty: 1-year limited
Buy On: Enjuku Racing
Turbosmart is a great alternative to the OEM blow off valve as it sounds great and looks sporty under the hood. In fact, you'll want to keep shifting gears just to enjoy the loud and refined tone that it offers.
Though it's not as loud as premium BOVs out there, it certainly gets the job done. In addition to this, it comes with a red top to match your Evo 10's valve cover and Brembo brakes.
When installed right, you can even expect a slight improvement in throttle response. Although installation is just as easy as other options on this list, just make sure to tighten everything up correctly as some Evo X owners reported increased lag after a weak fitting.
Overall, the unit is solid and sounds like a dream when changing gears, making it a sweet deal given its price.
High-Performance Evo X BOVs
For an Evo X that makes way more power than it's supposed to, a normal blow off valve just won't do the trick.

Your best bet is going for a high-performance unit that offers unmatched durability to keep your turbo and engine internals away from wear and tear.
HKS SSQV4
Manufacturer: HKS
Part Number: 71008-AM015
Sound: Very loud
Warranty: 1-year
Buy On: Enjuku Racing
HKS is well known for dishing out some of the best high-performance aftermarket upgrades out there. Unsurprisingly, their SSQV4 BOV lives up to the hype and sounds just as great as it performs.
The kit includes a blow off valve, two polished aluminum pipes, couplers, and all the hardware necessary for an easy installation. More importantly, the build quality is on point, and every part in this kit feels sturdy with appealing aesthetics to go with.
In fact, most Evo X enthusiasts claim that this is the best-looking BOV money can buy, and we have to agree.
Installation is a breeze and it only takes around 30 minutes to bolt-on since everything fits like OEM. You'll immediately hear the difference thanks to its unique sound that's loud, satisfying, and sure to put a smile on your space.
GFB Respons TMS
Manufacturer: Go Fast Bits
Part Number: T9033
Sound: Adjustable
Warranty: 1-year
GFB offers a versatile blow off valve for your Evo X, that offers just about everything — effective boost control, great price, and even the ability to adjust the sound.
This BOV is specifically designed to reduce turbo lag which it does with great ease. It's been tested by GFB where it showed a 30% faster boost build-up after gear changes along with up to 40% increased transitional boost.
All in all, it's one of the best blow off valves you can get for your extensively modified Evo X. It offers easy access to adjust the venting ratio recirculation to the atmosphere which also adjusts the sound.
The build quality is excellent, just like any other product from GFB. It looks great under the hood, and the installation is quick thanks to the fact that it bolts-on directly without any hassle.
Considering all its features, and it's reasonable price, the Respons TMS is a great option.
Best BOVs for Your Evo X: Our Top Picks
Finding the right blow off valve for your Evo X can be overwhelming when there's so many options to choose from.
To make your decision easier, we've compiled a list of our favorite Evo X blow off valves best suited to your driving needs.
Budget-Friendly Evo X BOV: TiAL Q
The TiAL Q not only comes at an affordable price but can also easily withstand high boost pressure while retaining its durability. There's also the fact that it looks pretty sick under the hood!
Best Sounding Evo X BOV: GReddy FV
This BOV has been praised widely in the Evo X community for its jaw-dropping sound, and it wins our praise as well. It's a high-quality unit that will serve you for a long time while providing excellent sound and boost control.
Best Performing Mitsubishi Evo 10 BOV: GFB Respons TMS
GFB offers a versatile BOV for your Mitsubishi that does wonders both for performance and sound. It perfectly holds up to 30 psi without a single problem.
Have you tried any of these blow off valves on your Evo X? Got a BOV that we missed out on? Tell us in the comments below!