When it comes to getting more power out of your Mitsubishi Evo X, nothing gets the job done like upgrading your turbocharger.
Of course, there's a lot more to it than slapping on a new turbo kit and taking off down the street. Just like all other Evo X performance mods, there are a few things to consider — like your power goals for instance.
In this guide, we explore some of the best turbo options for your Evo X along with supporting mods that you shouldn't skip out on.
How Much Boost Can a Stock Evo Take?
Before jumping in and buying a 1000 whp rated turbo, you'll first need to know how much power your Evo X can handle.
The stock turbo on your Evo X can safely take about 21-23 psi on regular fuel or up to 32 psi if running on E85. This said, you'll need to upgrade your Evo X's blow off valve to handle this much boost as the OEM unit becomes useless past 25 psi.
Keep in mind that raising the boost to these limits will bring a lot of stress on your engine's internals, so everything should be done with caution. The stock engine block can safely handle around 450-500 whp with the right tune. But, the more important thing here is torque.
Too much torque at low RPM is what wears components out, not the power. Pro tuners state that they're running around 400 wtq to the wheels without problems, but 380 wtq is really the top end of the safe zone.
How Will a Turbo Upgrade Affect My Evo?
Upgrading to a performance turbo does have its own set of pros and cons, it's just that the positives outweigh the negatives.
It all comes down to the power gains you're looking for. That and the right supporting mods that will keep your Evo X from engine wear and tear.
Let's take a look at what you can expect with an upgraded turbo setup.
Improved Performance
Installing a bigger or better turbocharger will increase engine power and provide better power delivery through your entire rpm range.
You can also expect significantly more low-end torque and better throttle response with more push at every rpm level.
If you're an Evo enthusiast thinking about participating in drag competitions, then upgrading to a performance turbo is a no brainer.
So Obviously… More Fun While Driving
If your Evo X is a daily driver you'll be happy with how pleasurable and fun it is to drive. However, with the extra performance, it just asks to be used as a race car.
If you choose a bigger turbo, you can expect a louder whirring sound on idle. But the loudness depends more on your exhaust setup. The freer the exhaust, the more aggressive sound you can expect.
Higher Strain To Other Components
Although a turbocharger upgrade gives many advantages, there are some important things to keep an eye out for. A bigger boost will put more pressure on the engine internals, meaning increased wear or, in very rare cases, catastrophic failure.
Usually, engine failure occurs when running a bad tune. We can't stress this enough, that a correct tune is a must.
Your engine isn't the only component that will be affected by a turbo upgrade. The next part that faces stress due to the increased torque is your clutch, which is what you need to keep an eye on.
If you're going for big power, when you upgrade your Evo X's clutch, that can then start to cause trouble with with your differentials and axles.
What Additional Upgrades Do I Need?
In order to get the most out of your turbo upgrade, it's best to get the suggested upgrades that will support your new setup.
Having the right supporting mods will not only give you the best performance but also protect your engine against breakdowns.
Though it's not going to change how your car operates, monitoring your boost is going to be key, so we strongly suggest installing an Evo X gauge pod and a quality boost gauge as a minimum.
Cold Air Intake (CAI)
An air intake is one of the first things car enthusiasts upgrade in their Evo X. So, if you haven't done it already, now is the right time, especially if you're looking into a turbo upgrade.
Upgrading your Evo X intake helps push more air into your engine — this is useful as more air means more exhaust, and more exhaust means more energy for the turbine to feed off.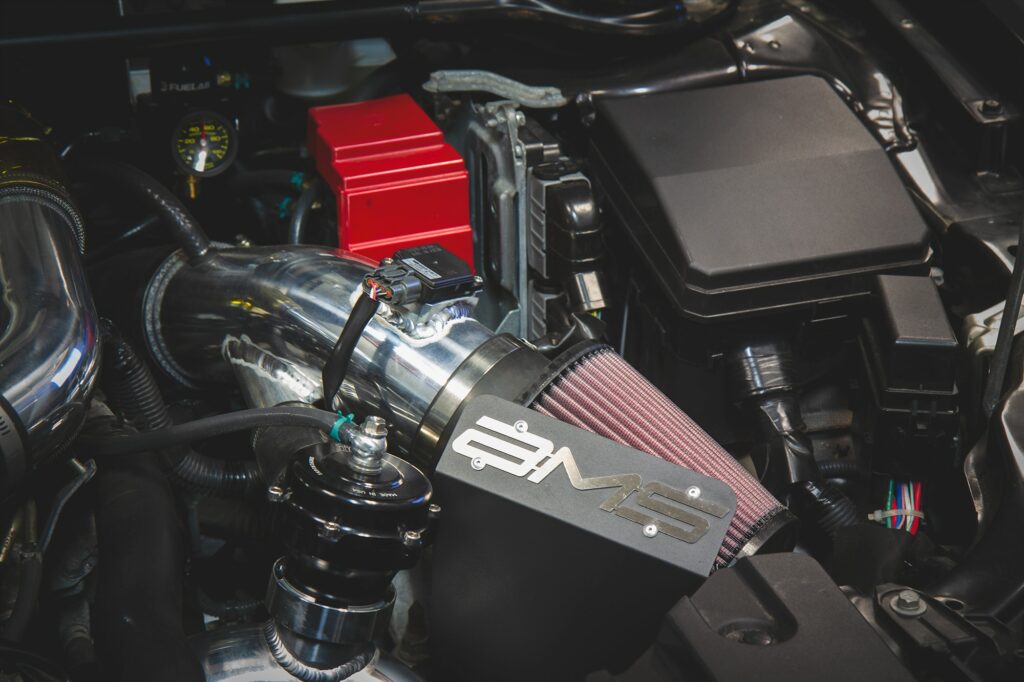 The OEM airbox is just too restrictive and doesn't handle higher boost levels very well.
Upgrading to a CAI will provide high-flow and cooler air to the engine. Combining one with an Evo X oil catch can is a good idea too, as these ensure cleaner air through your intake system.
Exhaust
The next upgrade on your list should be a quality Evo X exhaust. There's nothing worse than raising a boost that can't go out freely.
Opting in for a cat-back exhaust system will reduce enough back pressure to improve the performance and sound at a reasonably lower price.
If you have the budget and are looking to upgrade your Evo X to around 500 whp, you should install a turbo-back (full exhaust) system in order to achieve those numbers.
Intercooler
A high-performance intercooler can add around 5% to 10% more power and improve the cooler air supply to the engine. Why is it important when you upgrade your turbo?
Upgrading your Evo X's intercooler and turbocharger go hand in hand. Your new turbocharger will push more hot air to the intercooler, which job is to cool it down. The stock intercooler will not be able to do its job, so installing a more powerful one is a good idea.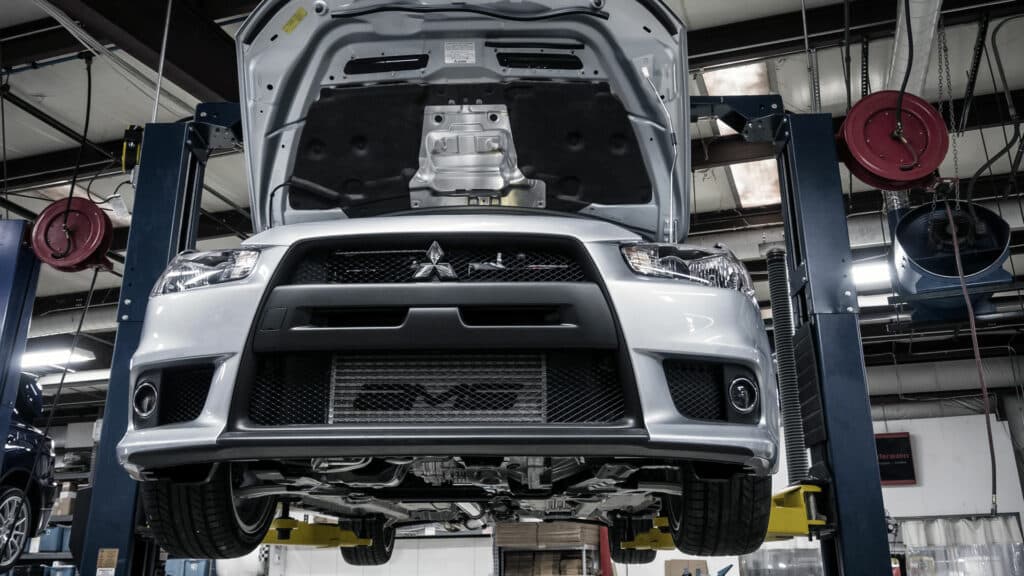 Motor Mounts
With more power from your engine comes greater force. Mitsubishi's OEM motor mounts are known to be a little weak, especially the front mount.
When you put a ton of extra power through your 4B11T, you'll need to upgrade your Evo X's engine mounts too.
Doing this will make sure you keep a good amount of throttle response, and your car feeling as "tight" as it did from the factory.
Clutch
The clutch is responsible for handling your engine's torque. With increased engine power, you'll have much more torque. That will result in more pressure on the clutch, which can lead to a clutch slipping.
To avoid the clutch from slipping or an unexpected breakdown on the road, we suggest upgrading it to a performance kit if you're planning to push above 400 wtq.
Note: The stock Evo X clutch can hold up to around 400 wtq.
Best Turbo Kits for Your Evo X
Whether you're looking for incredible power gains or just a slight bump in numbers, this list has a number of options to suit your needs.
Nevertheless, it's best to do your homework and figure out exactly what numbers you're looking for before narrowing down on your options.
There's no need for choosing the most plausible or expensive option, just for the sake of having a power gap for the future.
Garrett GTX3076R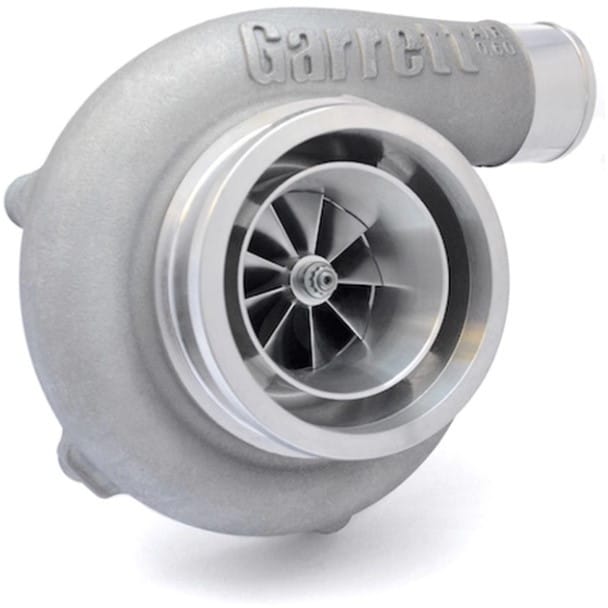 Manufacturer: Garrett
Part Number: 836042-5003S
Configuration: Twin-Scroll
Engine Compatibility: 4B11T
Warranty: Garrett Limited Warranty
Buy On: Amazon | Enjuku Racing
The Garrett GTX3076R bolt-on turbocharger is a popular choice among Evo X owners. It gained its popularity by being a beginner-friendly upgrade, yet providing up to 510+ whp.
The installation itself is easy. It features a specifically designed twin-scroll turbine housing to bolt-on precisely to the Evo's exhaust manifold and a stock downpipe.
More importantly, when upgrading to this option, you don't need to have a custom heat shield because of the turbine's housing. The stock exhaust heat shield stays in place and gives a neat look under the hood.
The biggest difference you'll notice with this turbocharger is that it spools 300-400 rpm later than stock but definitely kicks in more on the high end.
It's an excellent turbine if you want to have minimum modifications when upgrading and especially if you enjoy driving in a high rpm range.
AMS 950XP Kit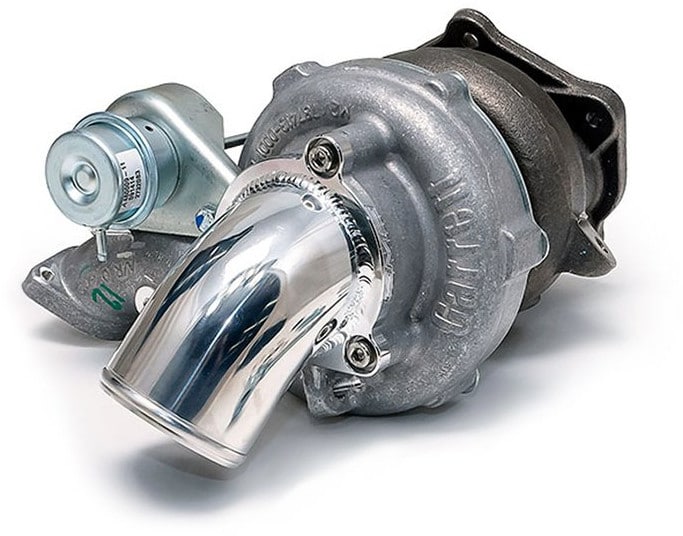 Manufacturer: AMS Performance
Part Number: AMS.04.14.0003-2
Configuration: Single
Engine Compatibility: 4B11T
Warranty: 1 Year
AMS Performance's 950XP offers a bolt-on AMS 950XP Turbo turbocharger thanks to the included AMS 304 stainless steel exhaust manifold.
Thanks to a larger inlet and included hardware, surge issues that cause turbo flutter are eliminated, and airflow is greatly improved. With minimum surge spikes, you can expect:
a rapid turbo spool
seamless power allocation and
superb throttle response.
The great thing about this upgrade is that it can be used with a normal 93 octane pump gas to achieve 650+ whp. These days when we're all short on time, it's a nice feature to have.
Precision 6266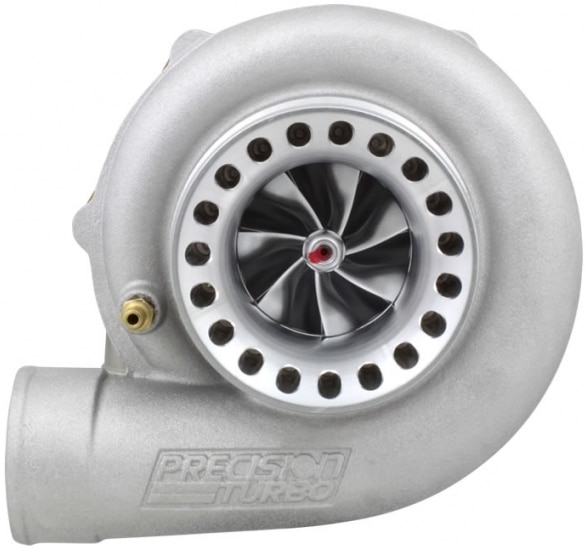 Manufacturer: Precision Turbo
Part Number: 505-6266-TH06
Configuration: Single
Engine Compatibility: 4B11T
Warranty: 1-Year Limited Warranty
Buy On: Amazon
If you're all about chasing power gains, don't skip out on the PTE 6266 turbocharger. Keep in mind that the turbo itself is really big, so consider this purchase only if you have appropriate upgrades in place or plan on getting them.
Because of its size, it will spool very slowly, but when it kicks — it kicks hard. Some Evo X owners enjoy this setup for daily driving because it saves on mpg by being a slow spool turbo.
A noteworthy feature about the Precision Turbo is that it uses forged 2618 aluminum and CNC machine to create performance-oriented compressor wheels. This technology helps provide better efficiency and quicker momentary response, which results in less turbo lag.
All in all, it offers great power delivery properties at a really low price. Considering its power delivery, you should get this turbocharger if you already have a modified Evo.
Garrett GTX3071R
Manufacturer: Garrett
Part Number: 803712-5001S
Configuration: Twin-Scroll
Engine Compatibility: 4B11T
Warranty: Garrett Limited Warranty
Buy On: Enjuku Racing
Another great bolt-on turbocharger from Garrett for your Evo X. If we're talking about power, both the GTX3071R and GTX3076R are at the same level.
However, the GTX3071R will be a better choice if you aim for not more than 380 whp. The power delivery is excellent in all rev-ranges because of its smaller exducer diameter on the compressor wheel.
With a perfect sized compressor wheel and improved compressor housing, this turbo reduces turbo lag to a minimum.
Bolting on this turbo is a straightforward process that doesn't require any special tools. It even retains the original heat shield for better temperature distribution.
MHI TF06-18K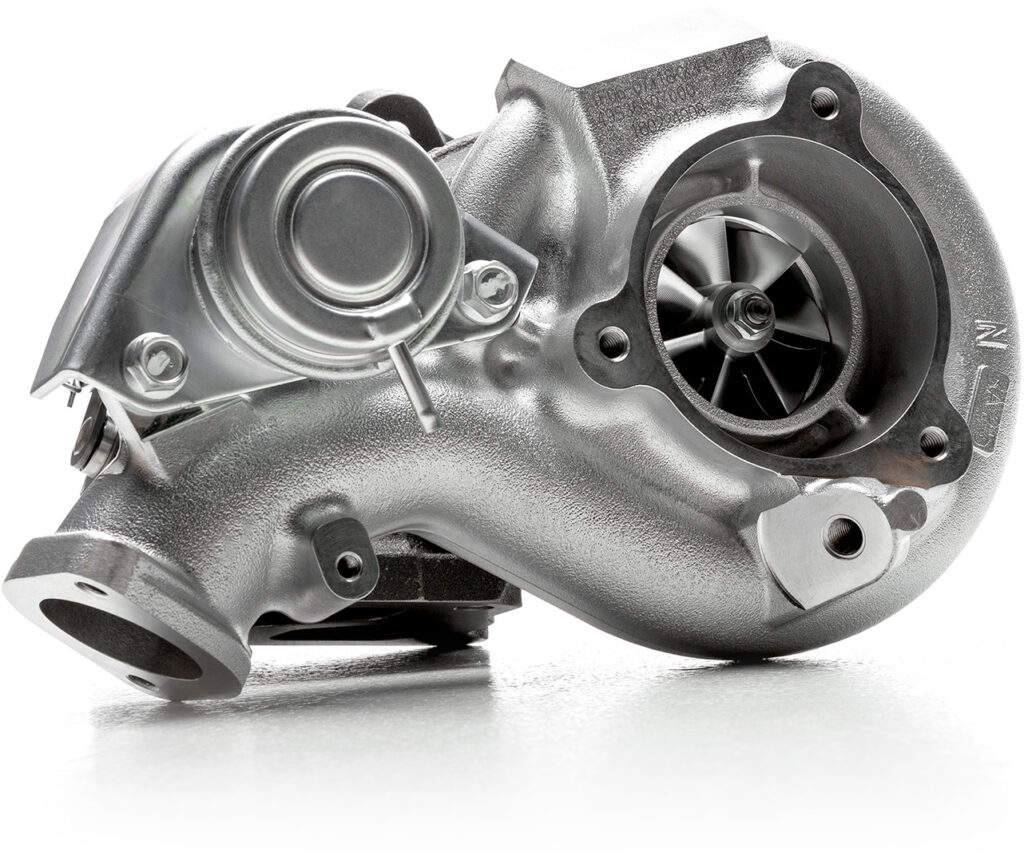 Manufacturer: Mitsubishi Heavy Industries
Part Number: 49S36-07000
Configuration: Single
Engine Compatibility: 4B11T
Warranty: 1 Year Limited Warranty
Buy On: Amazon
You can't go wrong with the MHI turbo since it's made by Mitsubishi and is an ideal choice for fast road and track use. You'll notice a significant increase in power after installation, even without a proper tune.
The boost comes a little later, around 4000 rpm compared to stock, but it's sure to make you smile in the high rev-range. Compared to other turbos on this list, the MHI turbo is a strong contender because of its head-to-head performance at a lower price.
What's even better is that it is a bolt-on turbo upgrade and doesn't require any modifications. Giving your Evo an appropriate cat-back exhaust system along with TF06-18 turbo, you'll be pleased with the performance and aggressive sound.
All in all, it's no surprise why this turbocharger is widely loved amongst many Evo X owners. You can get this upgrade for a low price and yet enjoy a long-lasting component under your hood.
Garrett GTX3576R Gen2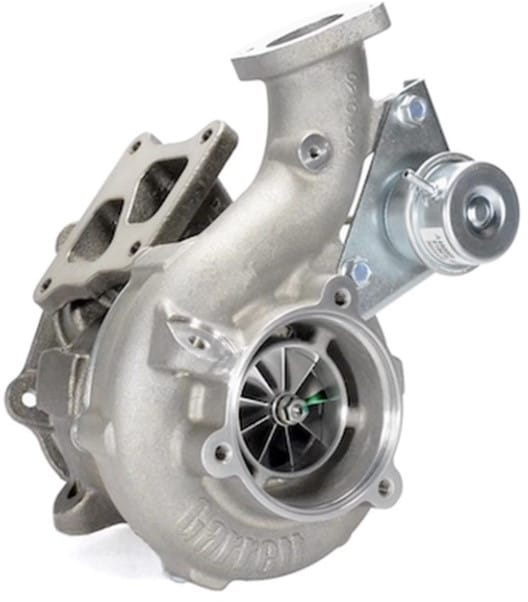 Manufacturer: Garrett
Part Number: 856801-5047S
Configuration: Twin-Scroll
Engine Compatibility: 4B11T
Warranty: 1 Year Limited Warranty
Buy On: Amazon
The last on our list is a dual ball bearing, twin-scroll turbine from Garrett with a frame size of 35mm and a compressor wheel of 76mm. With features like these, you can expect smooth 640 whp monster builds for hard racing and track days.
It's an extensively used turbocharger for high-performance builds. Most Evos equipped with this turbo churn out between 450-550 whp without stressing out the internals.
Of course, to experience the maximum potential of this turbine, it's best if you have some accompanying mods like:
Bigger injectors (ideally 1000cc)
E85 tune
High-performance cams
High-flow fuel pump
Cold air intake
However, if you're not looking for an extensive list of mods, don't worry. You'll still see good results as this turbo runs perfectly fine on a stock Evo too.
Overall, it's a perfect choice for those who're looking for massive power gains at a reasonable price.
Evo X Turbo Upgrades: Our Top Picks
There's no doubt that there are a number of turbo kit upgrades for Mitsubishi Evo X, and most of them do a great job at performance and longevity.
But when it comes to choosing the best, some stand out from the rest.
Best Streetable Mitsubishi Evo X Turbo: Garrett GTX3076R
It's the most popular choice amongst many Evo X owners looking at a 350-450 whp range. It features a fair price, high power capacity, and bolt-on convenience.
Reliable High-Power Turbo Upgrade: Garrett Gen2 GTX3576R
If you're looking to spend a little more for a big, reliable, and high-power turbo for your Evo X that can handle more than 600 whp, the GTX3576R is the right fit under the hood.
If you do go down the track of more boost, just don't forget about those supporting mods like an oil catch can, to protect your car.
And on the topic of preventing your investment, remember to update your Evo's insurance policy after making these upgrades. You might need to sign up to a modified car insurance premium to be sure you're covered properly.
Do you have one of our listed turbochargers installed in your Evo X? Tell us your set up in the comments below.