Daily drivers don't have to be boring. There are plenty of fun, underappreciated cars that you can own and drive every day without breaking the bank.
If you set your mind to it, you can use pretty much anything as your daily driver, but there are some cars that lend themselves to this purpose better than others. Especially when they're pre-owned.
Caveats such as dated interior styling and lack of technological features are present in many of these cars, but for the price you're paying, each one of them is a steal.
In this article, we've listed some of the most fun and affordable cars that you can own and drive daily.
Fun Daily Drivers Under $5K
Let's kick off the list with the most budget-friendly options. Below we've listed some of the best cheap daily driver cars that you can buy under $5k.
However, do note that these prices are subject to change depending on where you buy the car, its mileage, overall condition, and whether or not it appreciates/depreciates in value over time.
1996 – 1998 BMW E36 328i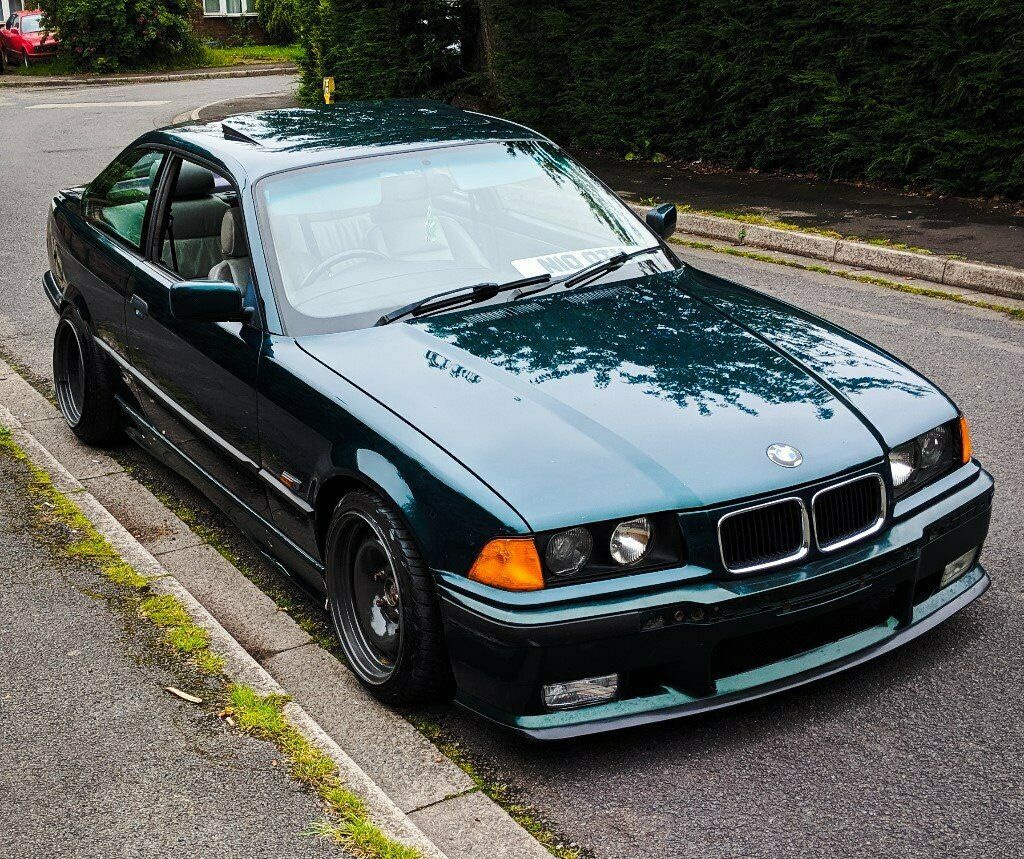 Price: $2000 to $5000+
Power: 190 hp
Torque: 280 lb-ft
Drivetrain: RWD
Engine: 2.8L 6-cylinder M52B28
Maximum Cargo Space: 15.4 cu.ft.
Combined Fuel Economy: 17 mpg
Old BMWs from the 90s embodied the slogan of "sheer driving pleasure" far more effectively than those manufactured at the time of writing.
And the best part is that they've depreciated to a point where you can actually find a relatively decent example under $5k.
The E36 328i is one such car that comes to mind. It's no M3, but it packs quite a punch. Parts are easily available, considering its high sales numbers.
Add a straight-6 engine that sounds unmistakably German into the mix, and you're all set. Being a rear-wheel drive car, it's also one of the best drift cars you can buy.
The E36 328i cost upwards of $30k when it was first launched. That's almost $45k in today's money. Now that's a bargain.
2000-2003 Toyota Celica GT-S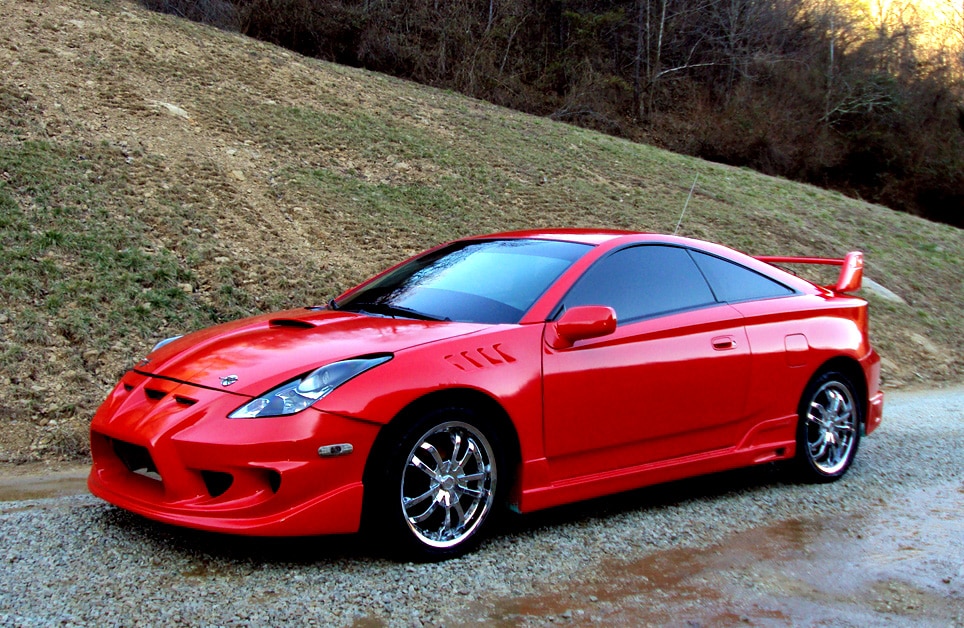 Price: $4,000 to 5,000+
Power: 180 hp
Torque: 130 lb-ft
Drivetrain: FWD
Engine: 1.8L 4-cylinder 2ZZFE
Maximum Cargo Space: 16.9 cu.ft.
Combined Fuel Economy: 28 mpg
The Celica GT-S is commonly dismissed by many enthusiasts as an uncool FWD car, but few see its allure.
We've seen examples of trashed GT-S' with over 200,000 miles that are going strong with minimal problems.
Sure, it would've felt right at home with an RWD drivetrain, and a little more oomph would've been nice, but it makes peak power at 7,600 rpm. Very few sports coupes from that era do that.
Just like its distant cousin, the MR2, it's built on the TE230 platform. It's powered by a 2ZZFE engine similar to the one seen in the Lotus Elise, minus the Yamaha-built twin-cam aluminum head.
MY 2003 GT-S' are rare because just over 3,000 were made in comparison with the 50,000+ manufactured in 2000.
The 2000 model year cars came with drive-by-wire throttle, and those manufactured after that got electronically controlled throttle, along with a few more creature comforts.
1997-2007 Ford Crown Victoria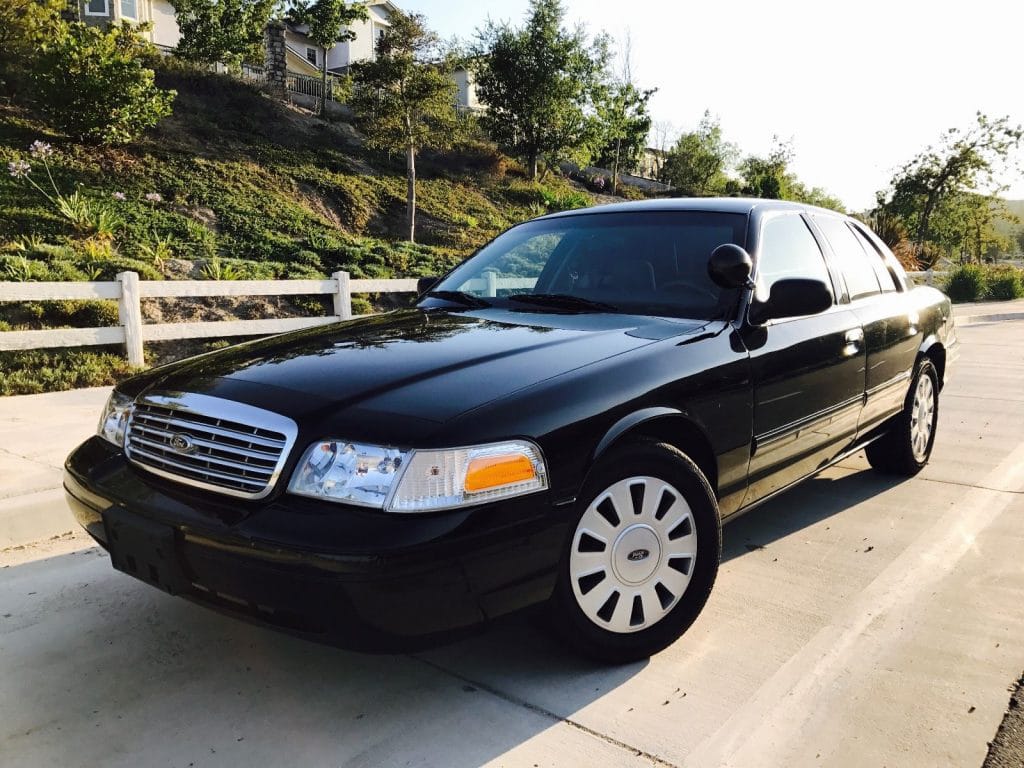 Price: $4,000 to $5,000+
Power: 200 hp
Torque: 275 lb-ft
Drivetrain: RWD
Engine: 4.6L SOHC Modular V8
Maximum Cargo Space: 20.6 cu.ft.
Combined Fuel Economy: 18 mpg
If you like the idea of owing a dependable RWD American car with a big old V8 that doesn't guzzle gas as much as you'd expect, then the Ford Crown Victoria is where it's at.
These cars were practically bulletproof, you can drive them all day because they're perfectly set up for cruising.
The seats are cushy, and it's a bit of a boat, but that's nothing a set of lowering springs or coilovers can't fix.
It provides decent gas mileage; you can expect up to 18 mph combined, 28 mpg on the highway, and even more, if you're hypermiling.
Crown Vics are known for having loads of legroom, plenty of headroom, a massive trunk, and ample working room in the engine bay.
Take care of it with normal oil changes along with regular maintenance and it will last well beyond 300,000 miles.
Best Daily Drivers Under $10K
In the world of used cars, more money doesn't necessarily mean more features or more power. That's mainly because rarity and demand are massive determinants of used car pricing.
That said, in contrast to the $5k price range, you get a lot more variety when you bump up the budget to 10k. Here are some of our favorites.
2003-2009 Porsche Cayenne Mk1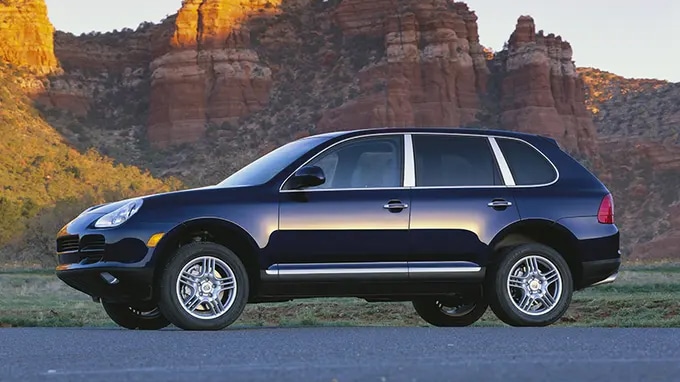 Price: $4,000 to $7,000
Power: 247 hp
Torque: 228 lb-ft
Drivetrain: AWD
Engine: 3.2L DOHC VR6
Maximum Cargo Space: 60.3 cu.ft.
Combined Fuel Economy: 12 to 36 mpg
The Mk1 Cayenne is as close as you can get to owning an SUV with sports-car performance in this price range. These cars are surprisingly reliable and make for a fantastic family car that you can drive daily.
Early Cayennes are well-known for their varied trim levels, starting from what some call the "basic" 247 hp powered by a 3.2L VW VR6 V6.
If you can stretch your budget, we recommend the Cayenne S which is powered by a 340 hp 4.5L V8.
2003-2005 Audi A4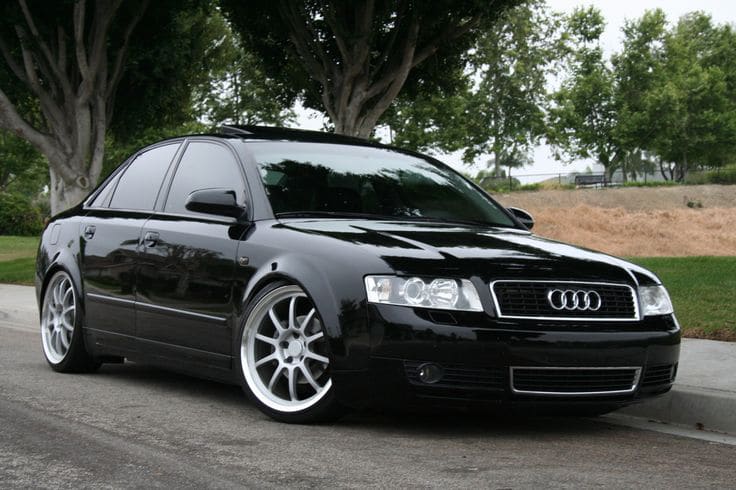 Price: $4,000 to $10,000
Power: 220 hp
Torque: 221 lb-ft
Drivetrain: AWD
Engine: 3.0L Turbo V6 ASN
Maximum Cargo Space: 13.4 cu.ft.
Combined Fuel Economy: 21 mpg
The A4 has remained at the top of its class for years — a noteworthy achievement for any car in the competitive sports sedan segment.
It comes in three body styles:
four-door sedan,
two-door convertible, and
Avant (wagon).
Whichever body style you choose, the Audi A4 will deliver outstanding luxury and performance.
The A4 1.8T models get a 1.8L turbocharged four-cylinder engine, while a 3.0L V6 powers the A4 3.0 models; the latter is what we recommend.
1998-2011 Lincoln Town Car
Price: $5,000 to $10,000
Power: 239 hp
Torque: 287 ft-lb
Drivetrain: RWD
Engine: Naturally-Aspirated 4.6L Ford Modular V8
Maximum Cargo Space: 21 cu.ft.
Combined Fuel Economy: 18 mpg
The 2003 Lincoln Town Car offers everything you can expect from a traditional American luxury sedan: space, comfort, stability, and an RWD drivetrain (unique in this class). The only part lacking is technical advancement.
For 2011, the Lincoln Town Car came in two trim levels:
Signature Limited, and
Signature L (which looked like a limousine) with a wheelbase longer by six inches.
All models use a quiet 239 hp 4.6L V8 mated to a 4-speed automatic transmission.
While previously the Town Car was the choice car for luxury limo services, the upgrades on the 2003 models expanded its market to business people. Which also makes it one of the best sleeper cars with a V8.
Daily Driver Cars Under $20K
This is arguably the best price range for buying fun, pre-owned daily drivers. The selection is near endless, but we've only listed our favorites.
Below you'll find some of the best cars that you can drive every day for under $20k.
2003 Ford Focus SVT
Price: $6,000 to 14,000
Power: 170 hp
Torque: 145 lb-ft
Drivetrain: FWD
Engine: 2.0L 4-cylinder Zetec-R
Maximum Cargo Space: 112.8 cu.ft.
Combined Fuel Economy: 20 mpg
The 2003 Ford Focus SVT is a faster version of the ZX3, and it's a joy to drive. Not to mention the reasonably good gas mileage it provides.
Compared to the standard Focus, the SVT is more agile, sharper in turns, and grips a whole lot better.
That's because of an increase in spring rate by 10% (front) and 20% (rear) and a larger front stabilizer bar.
2006 Pontiac Solstice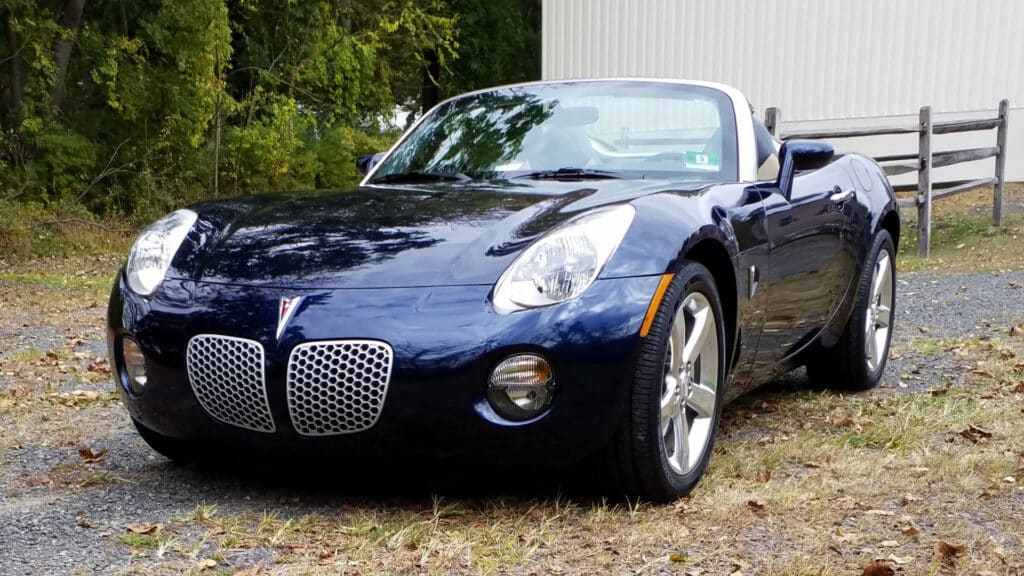 Price: $3,000 to $15,000
Power: 177 hp
Torque: 166 lb-ft
Drivetrain: RWD
Engine: 2.4L DOHC 4-cylinder LE5
Maximum Cargo Space: 5.4 cu.ft.
Combined Fuel Economy: 21 mpg
The Pontiac Solstice can be a real hit or miss depending on what your needs are. It's a wonderful roadster, it has a solid drivetrain and the Ecotec is quite reliable.
But remember, these cars are old, and they're convertibles, so expect the top to fail at some point. The Interior is cramped, and the trunk space is not great.
When you buy this car, what you're paying for is its stand-out looks, affordability, reliability, and that classic American roadster feel.
The standard Solstice comes with a five-speed close-ratio manual transmission, but if you look into the later models, you'll have the option of a five-speed automatic.
1996-2002 Pontiac Trans Am WS6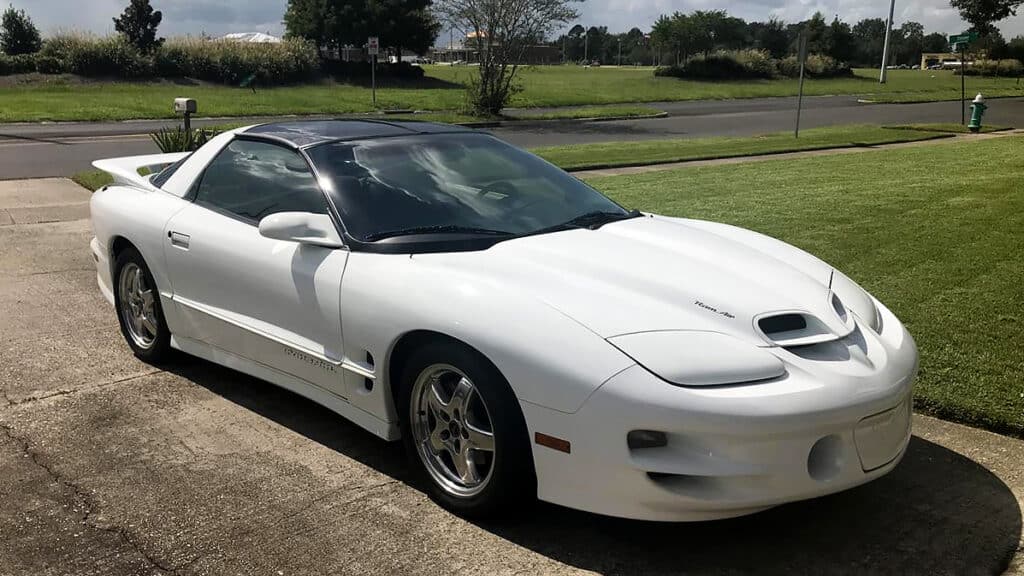 Price: $12,000 to $20,000
Power: 320 hp
Torque: 345 lb-ft
Drivetrain: RWD
Engine: 5.7L V8 LS1
Maximum Cargo Space: 33.7 cu.ft.
Combined Fuel Economy: 24 mpg
The Pontiac Firebird Trans Am WS6 had a comeback in 1996 that upgraded the traditional Trans Am from 285 hp and 325 lb-ft of torque to 305 hp and 335 lb-ft.
Later in 1998, more upgrades and a six-speed manual resulted in the WS6 making 320 hp. 2002 marks the end of the Trans Am WS6's journey.
The latest models have the most amount of features and creature comforts, and they also stand out in their power output increase, which bumped them to 325 hp and 350 lb-ft of torque.
You can find them in coupe, convertible or T-top body styles, with a bold design that has aged well and matches the car's performance.
2005-2016 Mazda MX-5 Miata (NC)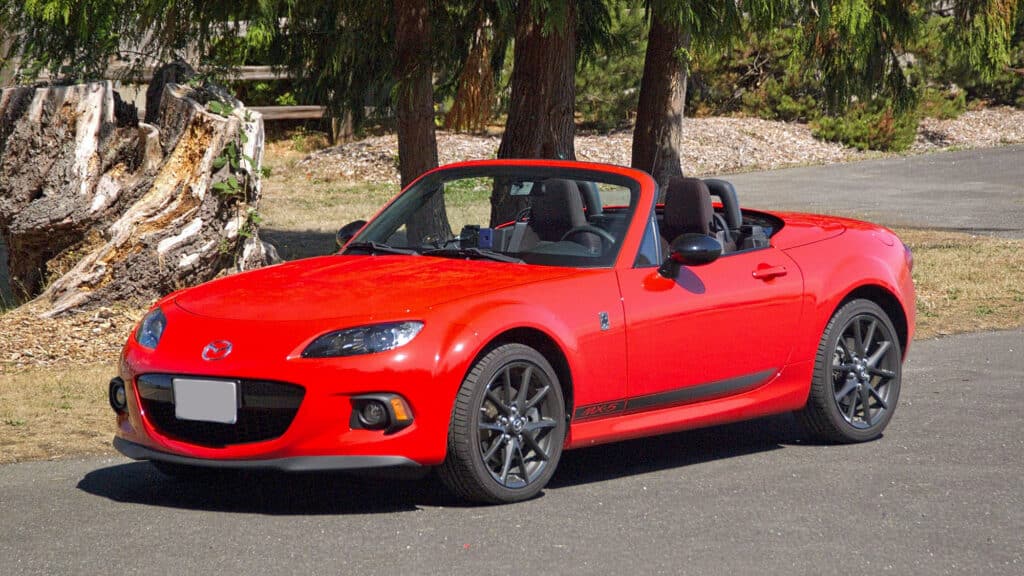 Price: $9,000 to $16,000
Power: 170 hp
Torque: 140 lb-ft
Drivetrain: RWD
Engine: 2.0L DOHC MZR LF-VE
Maximum Cargo Space: 5.3 cu.ft.
Combined Fuel Economy: 24 mpg
The Mazda Miata is the ultimate go-to roadster. The newer, beefed-up NC churns out 170 hp, which is not very fast on paper, but it retains the iconic handling dynamics that Miatas are most associated with.
It's on the heavier side compared to the NA and NB, but it is a lot more modern in comparison and doesn't feel too dated.
Mazda claims that you can expect to feel at least 90% of the 140 lb-ft around the 2500 rpm mark.
As with every other Mazda roadster, driving one is a sheer joy, and it makes for a fantastic daily.
(2001-2008) BMW 7 Series E65 740i / 750i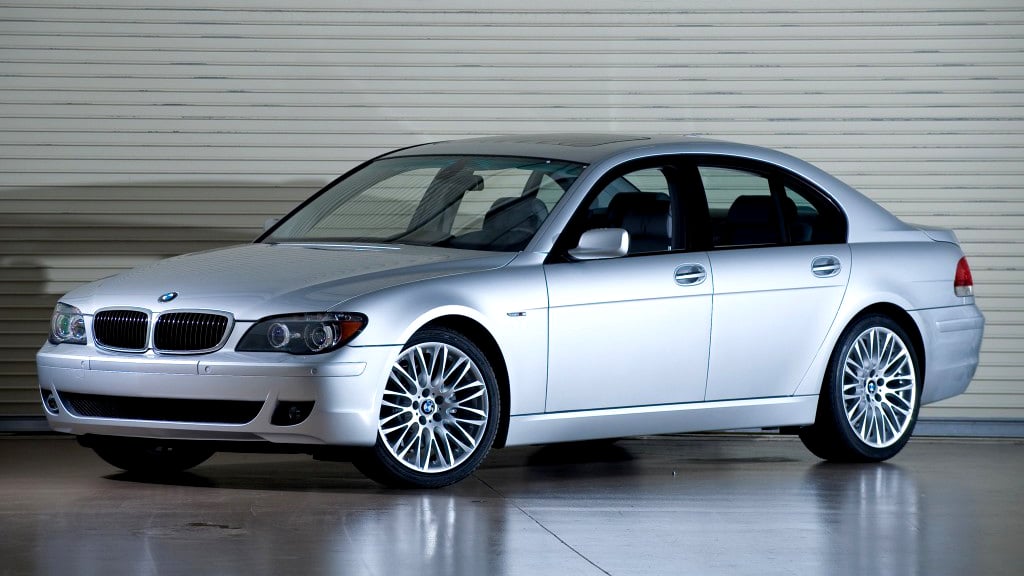 Price: $9,000 to $16,000
Power: 302 hp
Torque: 287 lb-ft
Drivetrain: RWD
Engine: 4.0L V8 DOHC 32 Valve
Maximum Cargo Space: 22 cu.ft.
Combined Fuel Economy: 21 mpg
The infamous Bangle-butt 7er got a ton of bad press when it was first launched. That was despite its exceptionally refined driving dynamics and the plethora of cutting-edge features.
BMW purists didn't love how it looked, and many enthusiasts followed in their footsteps by dismissing the bulbous bimmer. Luckily for us, it depreciated to a point where it's shocking how much value you get for the money you spend.
The lineup includes the 740i, 740iL, and 750iL. Each of them are powered by either V8 or V12 engines.
We recommend the 750i and long-wheelbase 750Li. They are powered by a 360 hp, 4.8L V8 that's combined with a six-speed automatic transmission.
But remember, these cars aren't the most reliable, so be sure you find a well-maintained example.
2011 Mini Cooper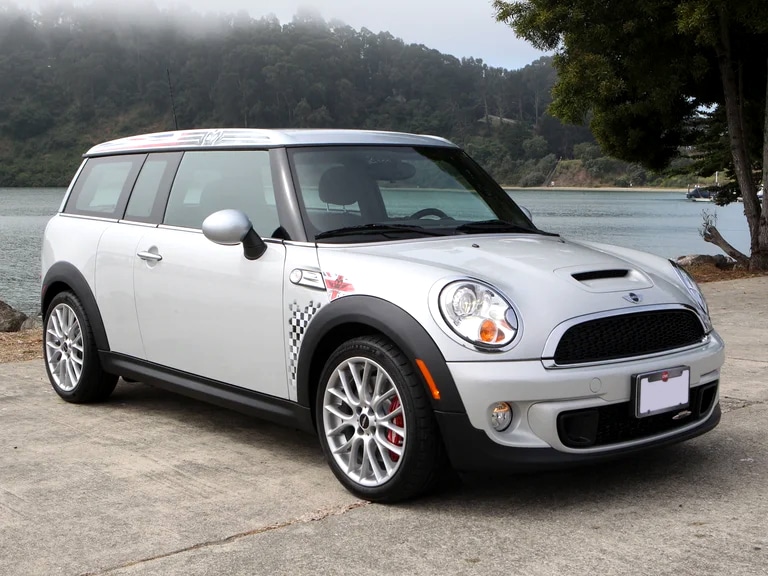 Price: $2,500 to $11,000
Power: 121 hp
Torque: 114 lb-ft
Drivetrain: FWD
Engine: 1.6L 4-cylinder Prince
Maximum Cargo Space: 24 cu.ft
Combined Fuel Economy: 29 mpg
The 2011 Mini Cooper combines British features and German engineering. The result? A lively, eco-friendly car that's entertaining to drive in almost every trim.
It's available as a two-door hatchback and a convertible in three trims: Cooper, Cooper S, and John Cooper Works (JCW).
The 2011 Mini Cooper is powered by a 1.6L four-cylinder engine, producing 121 hp and 114 lb-ft of torque.
The Cooper S comes with a turbocharged version of the same engine producing 181 hp and 177 lb-ft of torque. The JCW, on the other hand, makes 208 hp and 192 lb-ft of torque owing to its turbocharger.
In addition to the excellent driving dynamics and fuel economy, the Mini Cooper offers sufficient cargo space, which is only 5.7 cu.ft. with the rear seats up, but with the rear seats down, it expands to 24 cu.ft.
1997-2004 Porsche Boxster/Boxster S
Price: $11,000 to $24,000
Power: 258 hp
Torque: 229 lb-ft
Drivetrain: RWD
Engine: 3.2L flat-6 M96.24
Maximum Cargo Space: 9.1 cu.ft.
Combined Fuel Economy: 19 mpg
Sure they are plenty of roadsters that cost less than the Boxster, but none offer the feeling that Porsches can.
While this mid-engine roadster debuted in 1997, it received numerous improvements in 2003 that made it highly advanced without meddling with the 356 Speedster and 550 Spyder charm that defines the Boxster.
The Boxster S originally sold for $9,000 more than the basic version. It's powered by a 3.2L engine (as opposed to the 2.7L standard option) that accelerates faster and is more reliable.
Third Gen (1999-2007) Toyota MR2 Spyder
Price: $9,000 to 20,000
Power: 138 hp
Torque: 126 lb-ft
Drivetrain: RWD
Engine: 1.8L 4-cylinder 1ZZ-FE
Maximum Cargo Space: 2.75 cu.ft.
Combined Fuel Economy: 25 mpg
Toyota's third-generation MR2 is perhaps one of the few actual alternatives to the Mazda Miata MX-5. The third-gen model was launched in 1999, continuing the superbly successful run of the Mk2.
It's powered by an all-aluminum 1.8L 4-cylinder engine featuring dual overhead cams and four valves per cylinder.
It comes with a 5-speed manual transmission (U.S.) and a 6-speed manual (Europe) with RWD as standard. The MR2 accelerates from 0 to 62 mph in 6.8 seconds.
It's an incredibly responsive car that's capable of out-handling some of the more expensive cars in its class. The only downside is that it's prone to snap oversteer.
Best Cars for Daily Driving Under 40k
Let's move along and take a look at the cream of the crop. Note that in this price range you can find well-maintained examples of relatively new cars that are a delight to own.
Find some of the best used daily drivers under $40k listed below.
2008-2011 Mitsubishi Lancer Evo X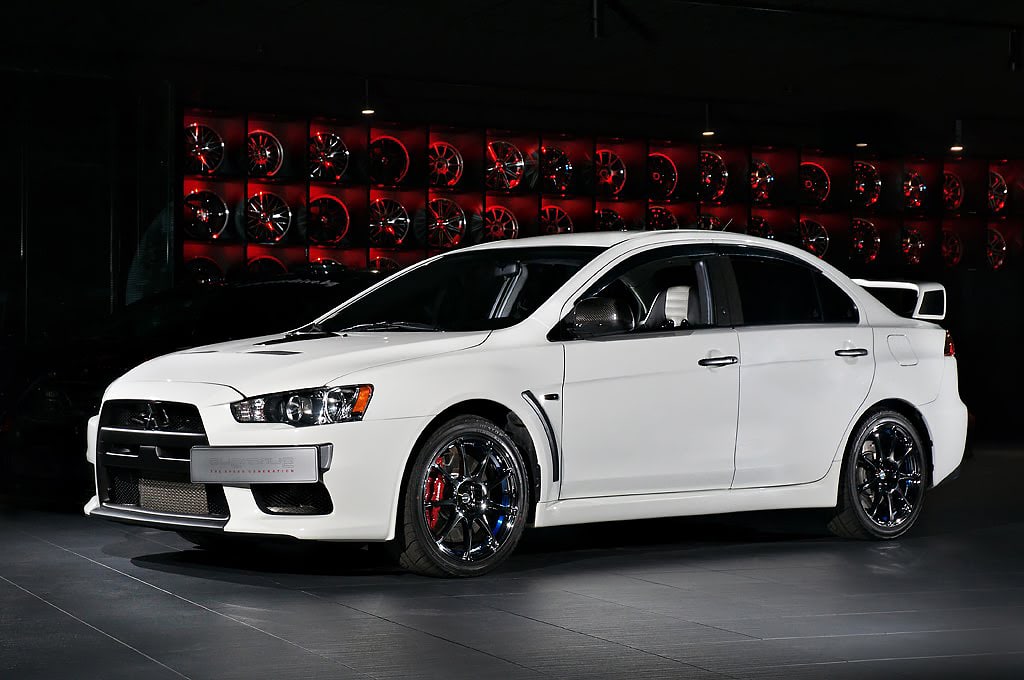 Price: $12,000 to $28,000
Power: 291 hp
Torque: 300 lb-ft
Drivetrain: AWD
Engine: 2.0L 4-cylinder 4B11T
Maximum Cargo Space: 6.9 cu.ft.
Combined Fuel Economy: 18 mpg
If you want rally pedigree, impressive acceleration, and exciting handling, you'd have to compromise on comfort, style, and maturity. That was until Mitsubishi offered the Lancer Evo X in 2007.
The X is the 10th incarnation of the Mitsubishi Evo that brings sophistication to the car's history in the form of a successful attempt to rival the BMW M3.
When it launched, it was sold in GS and GR trim levels with 3 performance badges:
FQ-300,
FQ-330, and
FQ-360
These produce 291 hp, 324 hp, and 354 hp, respectively. The FQ-400 (403 hp) came later in 2009.
The Evo X is probably as close as it gets to a supercar you can drive everyday. It's easy to live with, offers a soft ride, and is easily one of the best JDM daily drivers you can buy.
Another plus is the aftermarket support for this platform. You can install Evo X coilovers, a performance exhaust system, an aftermarket clutch, and much more.
2020 Subaru Impreza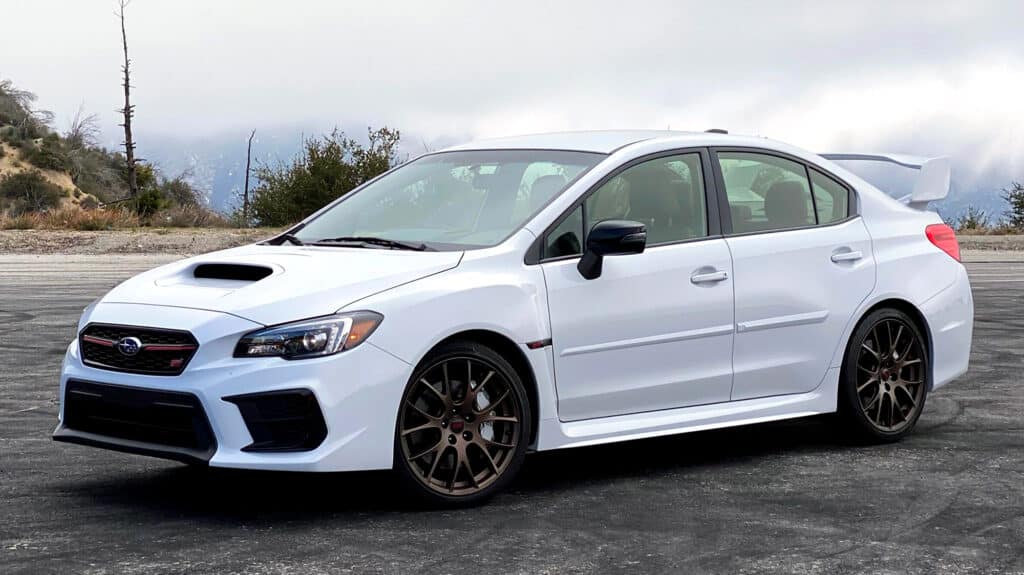 Price: $17,000 to $34,000
Power: 154.2 hp
Torque: 144.5 lb-ft
Drivetrain: AWD
Engine: 2.0L Boxer-4 DOHC FB20
Maximum Cargo Space: 55.3 cu.ft.
Combined Fuel Economy: 31 mpg
The 2020 Subaru Impreza is one of the most sensible choices and perhaps the best daily driver on this list. It comes with a standard AWD, making it ideal if your commutes involve driving in the snow.
You can own it as a sedan or a hatchback in four trim levels:
base,
premium,
sport, and
limited.
Across the range, a 2.0L flat-4 comes standard. While it's unimpressive in terms of torque specs, the continuously variable automatic transmission (CVT) (available on most models) makes the car extremely manageable in traffic.
Surprisingly, the Impreza offers more cargo space than numerous small SUVs and crossovers, and with an original base sedan costing less than $20,000, it's excellent value for a daily family car.
2016 Ford Mustang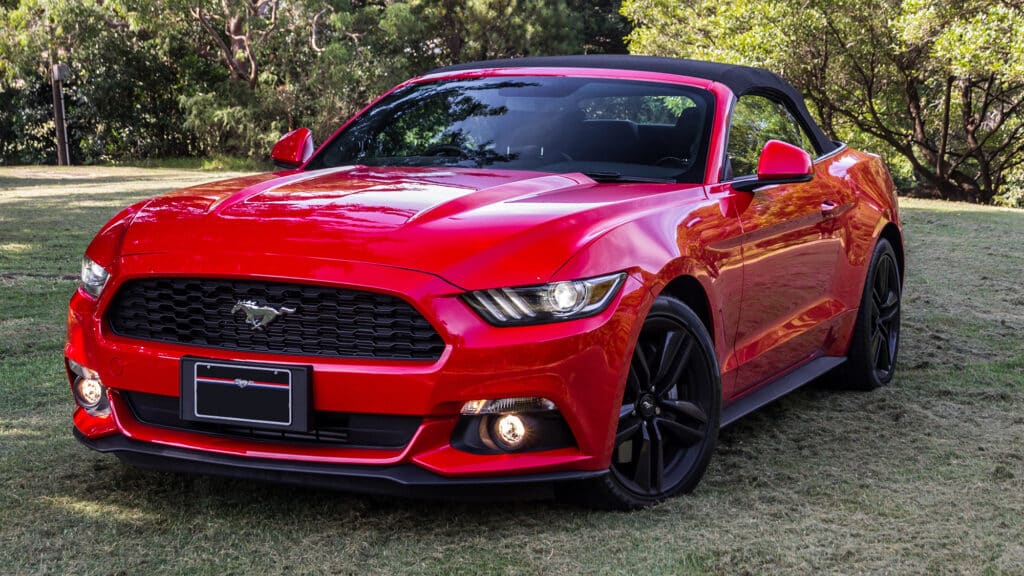 Price: $18,000 to $33,000
Power: 300 hp
Torque: 280 lb-ft
Drivetrain: RWD
Engine: 3.7L V6 CSG-637
Maximum Cargo Space: 13 cu.ft.
Combined Fuel Economy: 22 mpg
The appeal of the 2016 Mustang lies in its ambiguous identity as a traditionally crude muscle car with surprising crossover potential, to a point where it lures in Audi and BMW buyers.
You can find the car as a coupe or a convertible in five trims:
V6,
EcoBoost,
EcoBoost Premium,
GT, and
GT Premium.
Across the lineup, the power output starts at 300 hp and goes up to 435 hp. For daily drivers looking for a car that functions well outside the tracks, we recommend the standard setup, as it handles well, without compromising on comfort.
2017 BMW 3 Series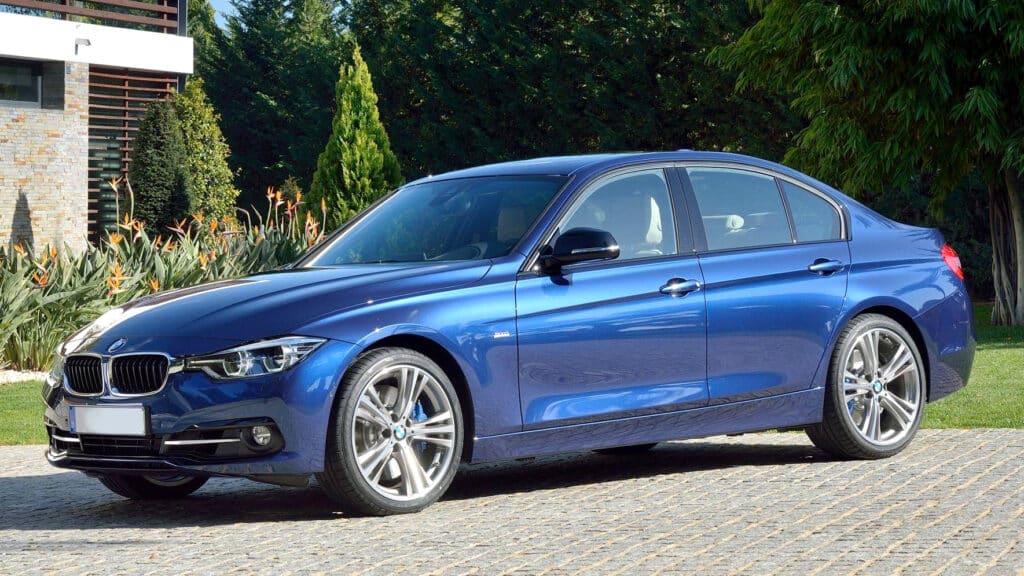 Price: $15,000 to $35,000
Power: 180 hp
Torque: 200 lb-ft
Drivetrain: RWD
Engine: 2.0L turbo 4-cylinder N20
Maximum Cargo Space: 56 cu.ft
Combined Fuel Economy: 33 mpg
In the competitive class of compact luxury cars, the BMW 3 Series has held a steady position as the best seller for years. In the Saloon lineup alone, it offers more than 30 different trim levels.
These cars are as comfortable as they are sporty, compact without being cramped, and produce more power than advertised. Not to mention the fuel efficiency.
They also come equipped with BMW's iDrive infotainment system as one of their major recent upgrades.
Concluding Thoughts
As we mentioned early on, you can drive any car daily if you set your mind to it. It's entirely a matter of preference.
That's why you'll find everything from roadsters, to SUVs, compact sports cars, and tuner cars in this guide.
If you're looking for something more practical with a ton of cargo space and plenty of oomph, check out our guide to the best fast wagons. Or if everything in this list is too new for your tastes, we've also written about the best classic cars for daily driving.
Enjoyed reading this post? Share it on Facebook, Reddit, or your favorite forums. We appreciate your support!