Arguably, one of the most confusing experiences in the life of a supercar owner must be the first time they get smoked by a blown Civic making unholy amounts of power. That is the beauty of sleeper cars.
As car enthusiasts, our love for sleeper cars is not always about them being cheap; it's also about the work you put into your normal-looking grocery-getter to make the unexpected happen.
However, during the past few years, the community around tuner cars has grown a lot, and people have taken notice of the cars that went under the radar for years and, in some instances, decades.
As a result, it is becoming more difficult to find cars with great sleeper potential for cheap. So, to help you out, we've listed some of the most unassuming and unquestionably quick cars in this guide.
We've also discussed what you should look out for when purchasing a sleeper car. Let's get down to it.
What to Look for in a Sleeper Car
There are two ends to the spectrum when it comes to understanding what a sleeper car is. You have those which are very affordable but do not make massive amounts of power. But they have a ton of tuning and upgrade potential while being extremely reliable.
And then there are pricier options that are fast from the factory and will need nothing but minor upgrades and ECU remapping in order to give you more-than-enough performance.
So, consider the amount of work and time you'd feel comfortable putting into the sleeper project.
Also, some of the cars on this list are more prone to maintenance and repair-related issues, which could be a huge factor if you value reliability and intend to use it as a daily driver as well.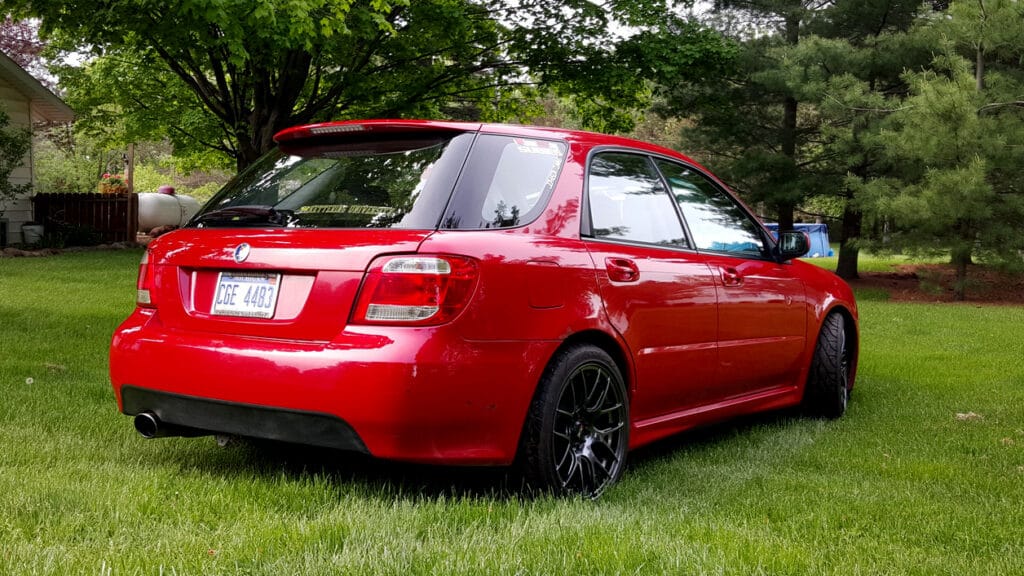 Another thing to look out for — there will be rare instances when the original owner planning to sell their car has no clue of its full capability and potential. If you're lucky enough to snag a deal like that, it would be a steal.
Keep in mind that buying these cars might not be too hard on the pocket. But if you want them to reach "supercar killer" status, you would have to put anything between a few hundred to a couple of thousands of dollars into them. Also factor in the cost of insuring your modified car.
Affordable Sleeper Cars Under $5K
As unbelievable as it might sound, you can get your hands on a full-blown sleeper car with tons of performance potential for as low as $2000. In fact, some of the most well-known sleepers are in this price range.
Almost anyone can afford these, and all they need is time, a few reasonably priced aftermarket car parts, a basic understanding of automotive work, and a bit of love.
Volvo 240 Turbo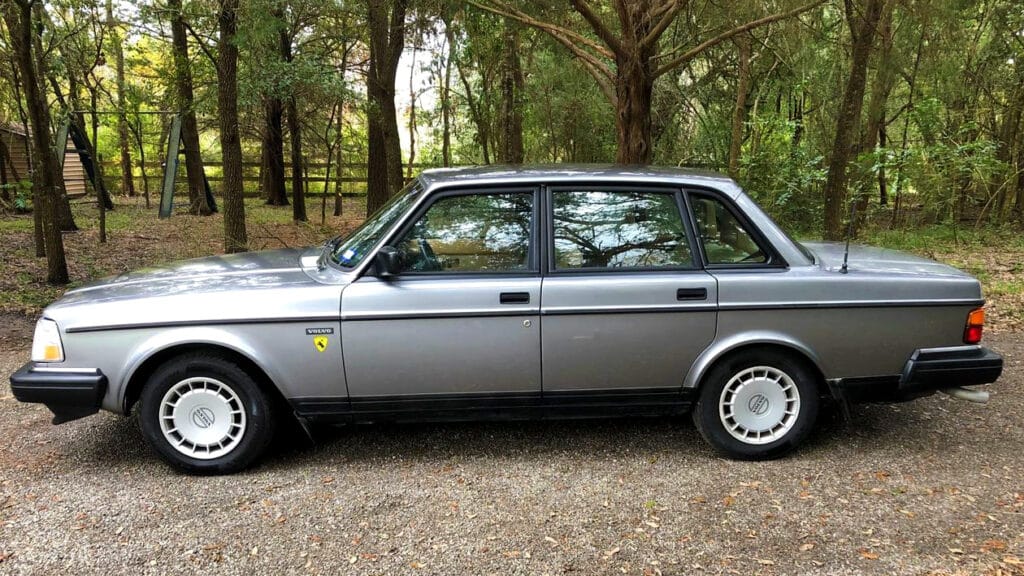 Average Price: $3,000 – $7,000
Engine: Turbocharged 2127 cc inline-4
Power Output: 153 whp @5500 rpm
Drivetrain: RWD
Torque: 177 lb-ft @3750
Curb Weight: 2961 lbs
The Volvo 240 is a true classic when it comes to sleeper/tuner cars. And what makes it one of the best sleeper cars in this price range is not only the tuning capacity but also its unsuspecting looks.
To the uninitiated, one glance at the Volvo 200 series, and they'd instantly dismiss it as boring and outdated. Little did they know.
The truth is, these old Volvos are extremely fun to drive and will definitely give the driver an exciting experience. They don't produce the most power when stock, so they aren't exactly track missiles from the factory.
But what they do have is excellent aftermarket support that will give you the ability to turn one of these into a capable dragster, a track car, or even a drift monster.
Plus, Volvo owners have a big welcoming community that will be there for you when you have questions to ask. It's good knowing there are countless people with enough experience and knowledge to guide you for almost anything you would want to do with this car.
Chevrolet Cobalt SS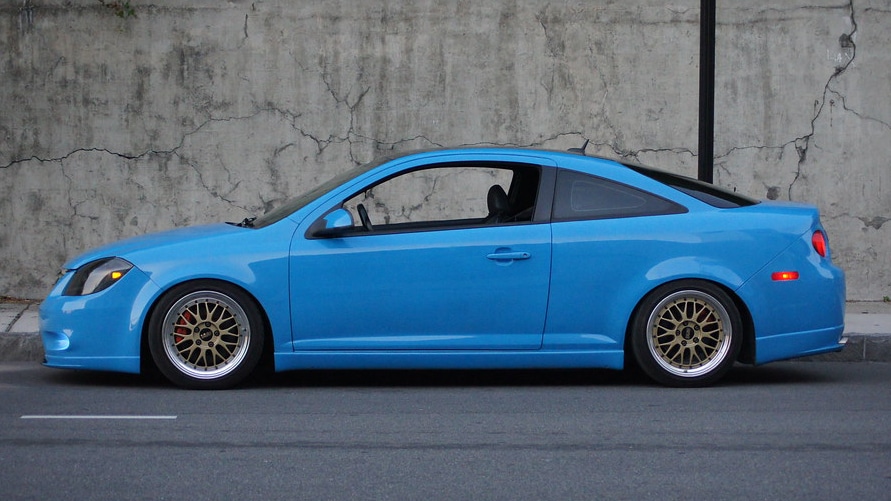 Average Price: $3,000 – $9,000
Engine: Turbocharged/Supcharged 2.0L Inline-4
Power Output: 260 whp @5300 rpm
Drivetrain: FWD
Torque: 260 lb-ft @2000 rpm
Curb Weight: 2,975 lbs
Chevrolet manufactured the innocent-looking Cobalt in naturally-aspirated, supercharged, and turbocharged versions. The boosted trims make tons of power and are a complete blast to drive, to say the least.
If you're on a budget, the Cobalt SS is a great option as it will double up as a reasonable daily driver. It's also one of the few sleeper cars under $5K that will have more-than-enough power stock and won't require you to put in too much of your time.
Nissan Sentra SE-R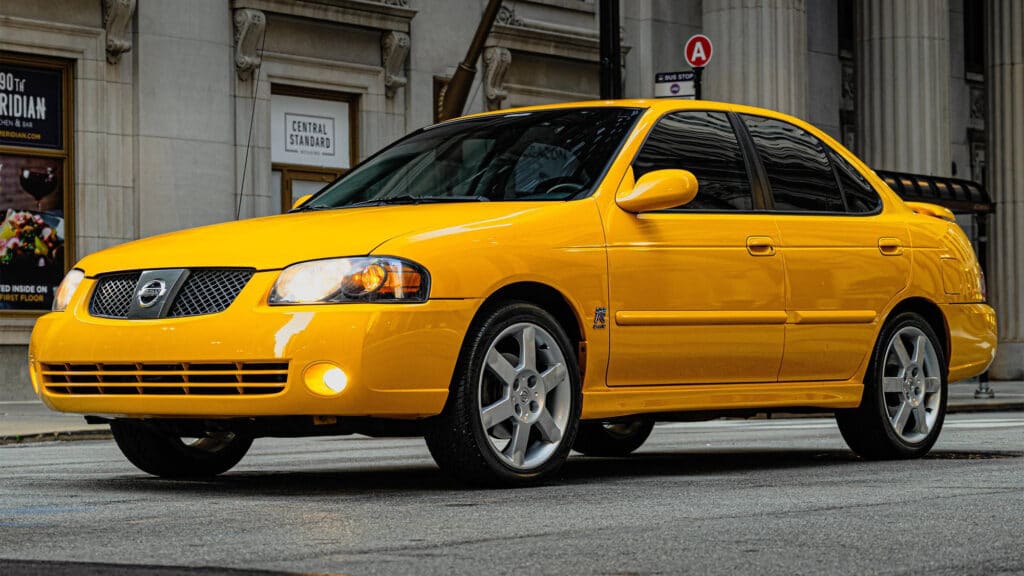 Average Price: $4,000 – $6,000
Engine: 2.5L DOHC Inline-4
Power Output: 200 hp @6600 rpm
Drivetrain: FWD
Torque: 180 lb-ft @5200 rpm
Curb Weight: 3,048 lbs
The 2000s Nissan Sentra SE-R and Spec V are among the most underrated JDM cars ever. They come with a 6-speed manual transmission and surprisingly nimble handling that'd make them perfect for track use.
The Sentra SE-R has a huge aftermarket community backing it up. This will give you the ability to build a 500+ hp beast that'll look like the most boring car of the last two decades. This is the car that makes Ferrari owners frown.
Mercury Marauder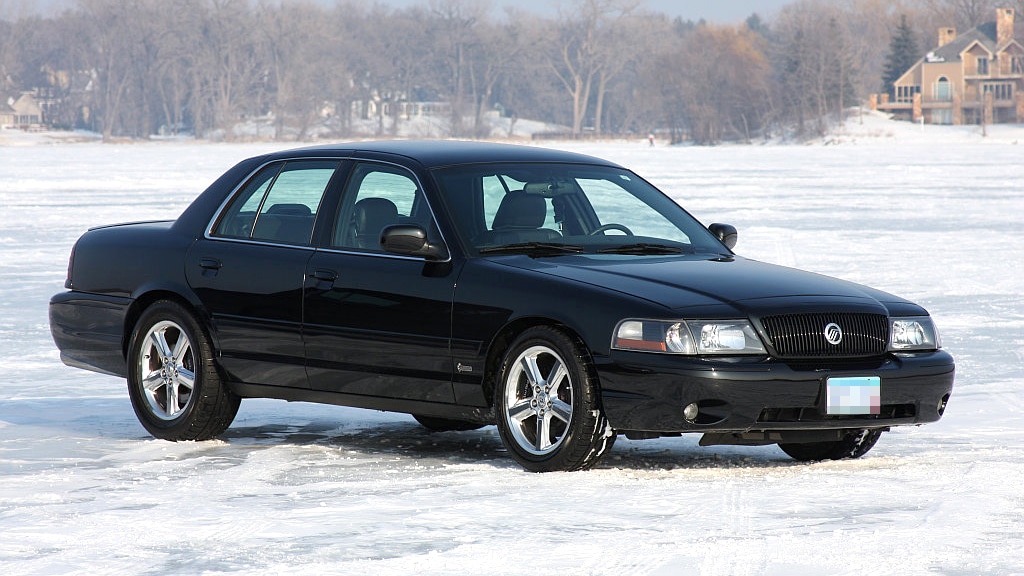 Average Price: $15,000 – $20,000
Engine: 4.6L DOHC V8
Power Output: 302 hp @5750 rpm
Drivetrain: RWD
Torque: 318 lb-ft @4250 rpm
Curb Weight: 4,165 lbs
This sweet American powerhouse was built on the Panther platform, which Ford used to make Crown Vics. However, the Marauder is a different animal. Under its hood is a beefy V8 enabling the muscle sedan to run the quarter-mile in 15.5 seconds. It also comes with a limited-slip-differential and an all-aluminum driveshaft.
The quality that turns the Mercury Marauder into a worthy American Sleeper car is that nobody will even notice this unsuspecting sedan until it starts to smoke other significantly powerful vehicles.
The potential for upgrades is also nearly endless; whether it be superchargers and turbochargers, or even a complete engine swap if you're aiming to give the Lamborghinis on the street a run for their money.
Saab 9-3x Aero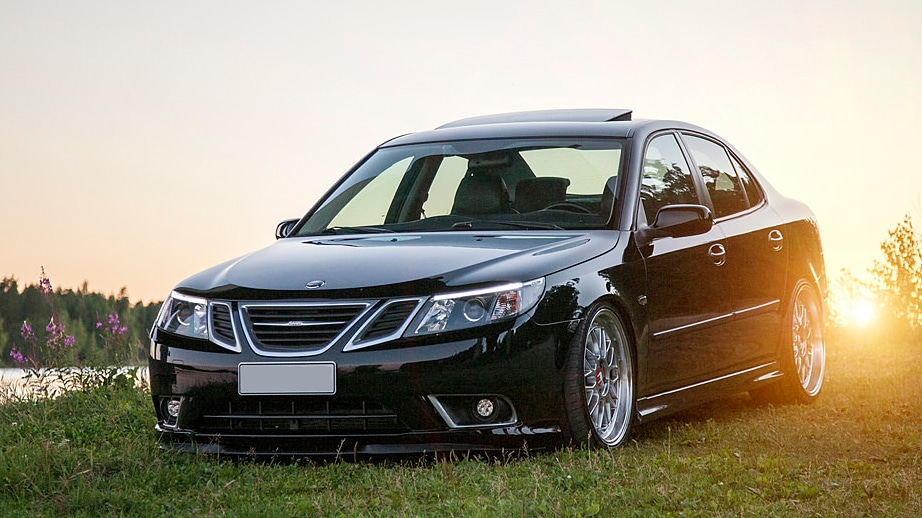 Average Price: $2,000 – $7,000
Engine: 2.8L DOHC V6
Power Output: 250 hp @5500 rpm
Drivetrain: FWD
Torque: 258 lb-ft @2000 rpm
Curb Weight: 3,285 lbs
The Saab 9-3x is basically a Subaru WRX, only cheaper to insure. It mostly shares the same parts with its rally champion step-brother, but in a body that looks like an unassuming generic mid-2000s sedan.
You can even find these with all-wheel-drive, but that will push the price tag over the $15K mark though.
The aftermarket support for the 9-3 is impressive because most of the parts that fit the WRX fit the Saab as well. You can even get them in a wagon version if that's what you're into.
As for the tuning capacity, the Saab is more than versatile. You push the power output as high as 500 whp without even having to open up your motor. If built well, the Saab 9-3x Aero can easily be the ultimate sleeper car.
Best Sleeper Cars for Under $10K
This price range is the sweet spot for purchasing a sleeper car since you can find a decent balance between stock performance and tuning versatility. These are the cars most favored by the people who build cars and those aiming to buy a fast daily driver.
But to unlock their true potential, we recommend that you install a few performance parts and tune the ECU to your liking, as these cars are typically not too difficult to work with and are a ton of fun.
Honda CRX II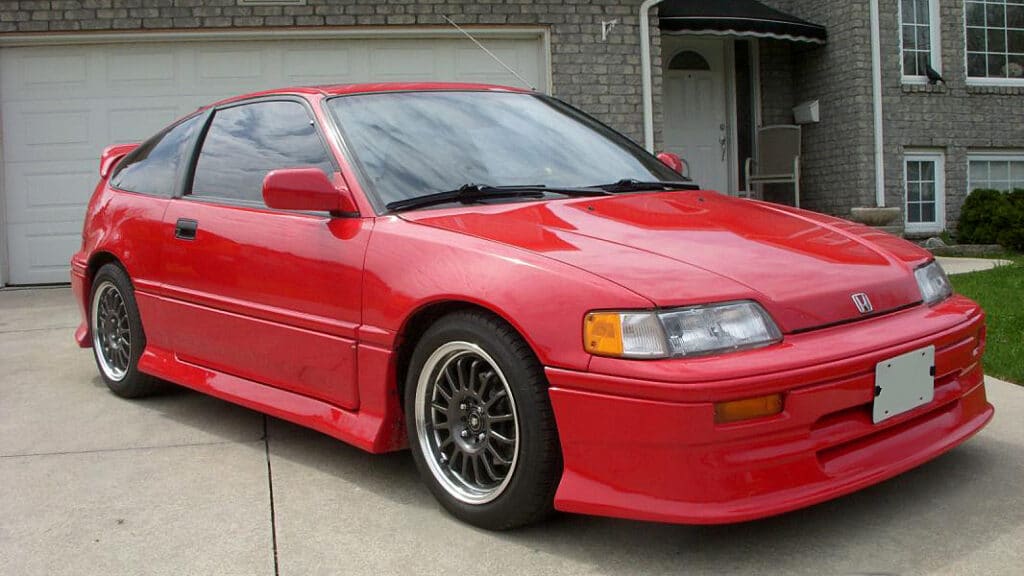 Average Price: $6,000 – $10,000
Engine: 1.6L Inline-4
Power Output: 129 whp @6800 rpm
Drivetrain: FWD
Torque: 105 lb-ft @5700 rpm
Curb Weight: 1,982 lbs
You can never go wrong with a good old CRX. They are very well-known among car enthusiasts for their extreme tuning capabilities.
These beloved Hondas have one of the most active online communities in the car world. As mentioned earlier, the support and guidance you'll get from these communities are very valuable.
Turbocharged Honda CRXs can be found on the market for under $10,000 any day. And you can even get a naturally-aspirated version and turbocharge it for as cheap as $2,000. Boosted CRXs can easily reach 400 hp.
If you think, "that's not enough power to beat a supercar," think again. These Hondas are extremely small and light. When a few "unnecessary" pieces of the interior are taken out, a considerable percentage of the weight is reduced, and you're ready to go.
Ford Mustang Fox Body 5.0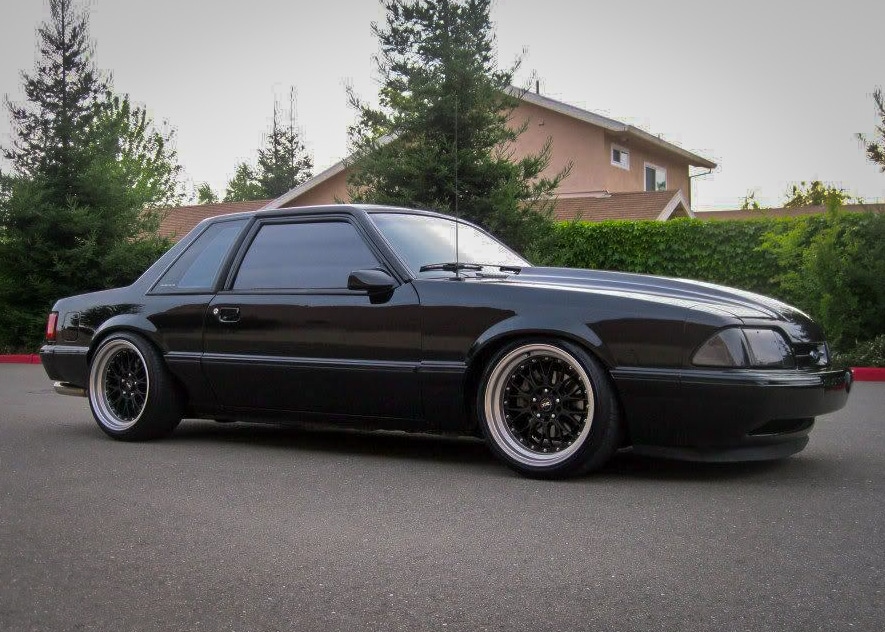 Average Price: $6,500 – $14,000
Engine: 5.0L V8
Power Output: 225 hp @4200 rpm
Drivetrain: RWD
Torque: 300 lb-ft @3200 rpm
Curb Weight: 3,069 lbs
The Fox Body is probably the most underrated and underappreciated Mustang ever. Made in the era that marked the death of classic muscle cars, it's precious because it outperformed every other car in its class at the time.
Some don't like the exterior design because it looks too timid, making it an ideal candidate for a sleeper car. The boxy look combined with huge rectangular headlights will fool any unfamiliar person into thinking it's an old, slow, and outdated piece of junk. Next thing they know, they'll be staring at its taillights.
Fox Body Mustangs can be purchased at vastly different price points. If you want, you can even go as low as $5,000, but you would need to look after it and spend on maintenance before starting to tune it properly. It'll take some time and money, but it's worth it.
Mazdaspeed 3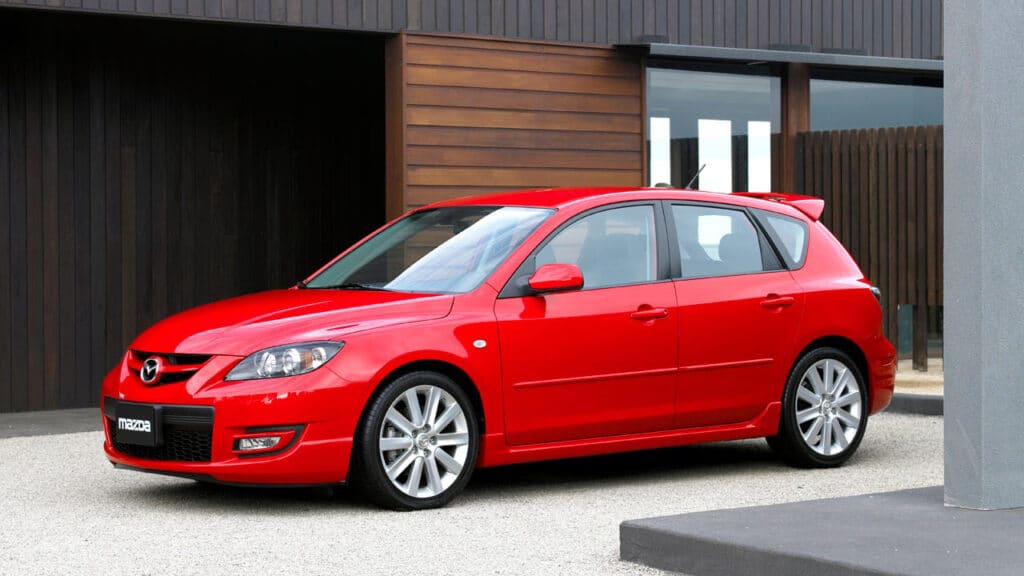 Average Price: $8,000 – $10,000
Engine: 2.3L DOHC Inline-4
Power Output: 263 hp @5500 rpm
Drivetrain: FWD
Torque: 280 lb-ft @3000 rpm
Curb Weight: 3,069 lbs
It's shocking that a vast majority of car enthusiasts don't know much about how awesome the Mazdaspeed 3 actually is. This, undoubtedly, is one of the most enjoyable sleeper cars on this list.
It might not sound like it when you look at the numbers. Sure, they are impressive, but the performance is nothing to write home about. But it's not really about the numbers, is it?
The best part is that it doesn't feel overdone, either in design or in performance. It's comfortable enough to be a daily driver and looks civil enough to be a sleeper.
These are a good value purchase with plenty of aftermarket support, and when you consider how cheap insurance is on a Mazdaspeed 3, it's clear that they represent incredible value.
Lexus IS300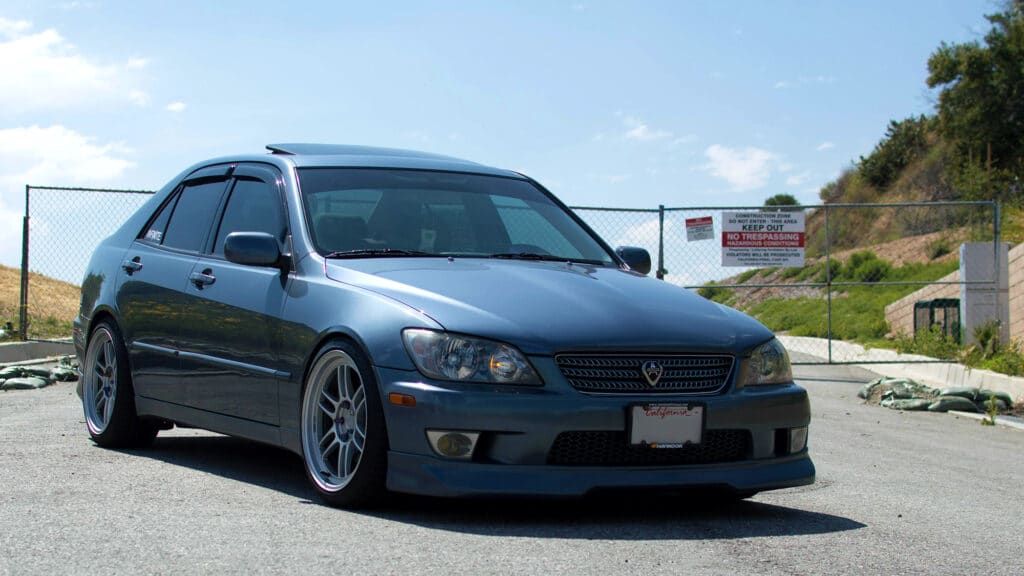 Average Price: $6,000 – $10,000
Engine: 3.0L DOHC 24-valve Inline-6
Power Output: 215 hp @5800 rpm
Drivetrain: RWD
Torque: 218 lb-ft @3800 rpm
Curb Weight: 3,255 lbs
The Lexus IS300 is a beautiful JDM sleeper with hints of luxury, the reliability of a Toyota, well-balanced weight distribution. The fact that it's rear-wheel-drive makes it one of the best drift cars too.
Yet, there's something special about the IS300, and that's the 2JZ-GE under the hood. Yes, the same 2JZ-GE we all know and love. It gets even better when you realize that you can buy a nice example for about $7,000. It wouldn't be the cleanest IS300 out there, but it'll get the job done.
The 2JZ also endows the Lexus sport sedan with fantastic tunability. And it's reliable enough to withstand huge amounts of power.
If you really want a sleeper car, grab yourself a 2JZ Lexus' wagon. Nobody will see you coming!
Sleepers for Under $20K
This is where you'll find the good stuff. By "good" we don't just mean variety, but also overall quality. Well kept, stock cars that have tuning potential are typically expensive as they hold their value well.
Though there are many capable sleepers in this price range, two, in particular, caught our attention the most.
Ford Taurus SHO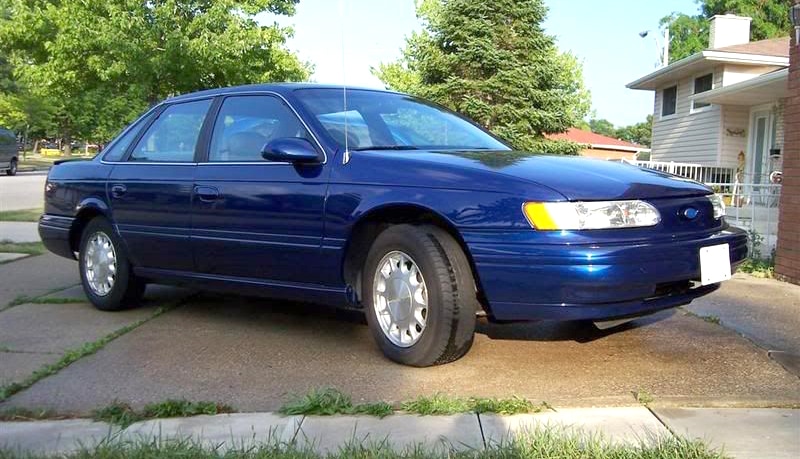 Average Price: $18,000 – $25,000
Engine: 3.5L DOHC 24-valve V6
Power Output: 365 hp @5500 rpm
Drivetrain: AWD
Torque: 350 lb-ft @1500 rpm
Curb Weight: 4,343 lbs
It's not easy to find a Ford Taurus, specifically the SHO trim, for under $20,000. But it's entirely possible if you settle for pre-2014 options. You wouldn't miss much if you get the older models; they are well worth their price.
Not all car enthusiasts know what the Taurus SHO is truly capable of. It packs quite a punch thanks to its twin-turbocharged V6, and to make the package even better, it's all-wheel-drive.
If not for the drag radials or the wheelie bar, the tuned 800 hp Tauruses would roam the streets unnoticed as they look like any other passenger car designed after 2010.
Dodge Magnum SRT8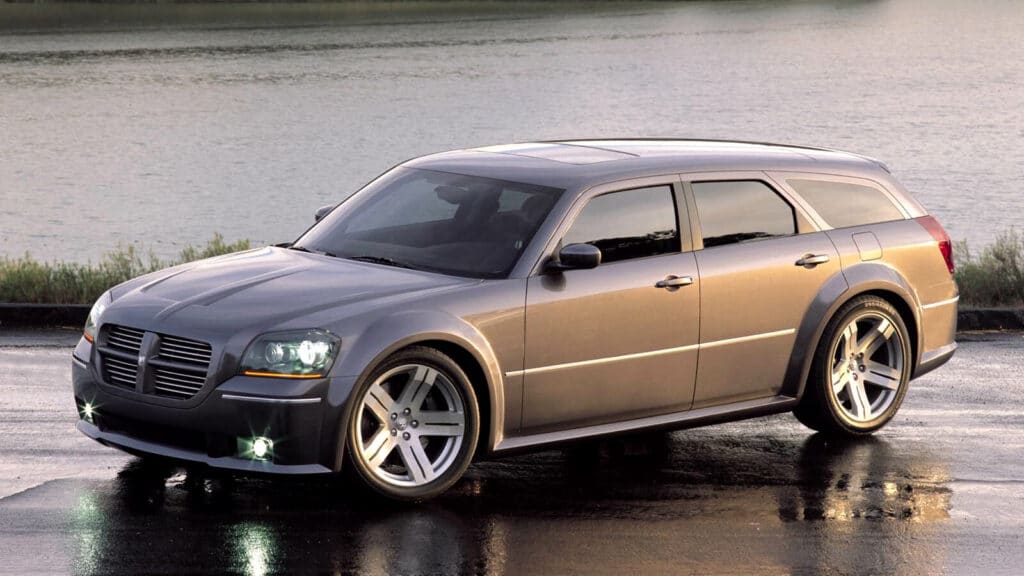 Average Price: $18,000 – $25,000
Engine: 6.1L V8 
Power Output: 425 hp @6000 rpm
Drivetrain: RWD
Torque: 420 lb-ft @4800 rpm
Curb Weight: 4,193 lbs
By far the most powerful sleeper car on this list with the most engine displacement and possibly the most overlooked. The Magnum SRT8, just like the Taurus SHO, is not easily available for under $20,000, and you'd have to sacrifice overall condition for the price. But with a little bit of patience, it will turn out to be a true supercar slayer.
The looks don't exactly blend in, but they definitely don't look like they belong to a 425 hp 6.1L engine either. And the fact that it shares the SRT platform with other beasts that Dodge makes gives you a ton of options when tuning and installing new parts.
The Best of the Bunch
While some people love to flash their cash and drive their supercar daily, most of us prefer to go fast and avoid the attention.
All the cars we've mentioned are worthy of praise as they are the best at what they do.
The absolute best? Well, that comes down to taste, intended use, and the amount of time, energy and money you are personally willing to put into your build. But as to our favorites, here are our top picks…
Under $5K: Volvo 240 Turbo
You just can't deny how cool a 200 series is despite it looking like a fossil. In a way, it embodies the true essence of what sleeper cars stand for.
You will never feel stranded with your Volvo — the communities surrounding old Volvos are exceptional. There's always someone out there to help you with the issue you have with you 240.
Under $10K: Mazdaspeed 3
The Mazdaspeed 3 is the ultimate mix of a sleeper car, a daily driver, and a track car. It's a shame something as cool as the Mazdaspeed 3 can go mostly unnoticed, yet again, that makes it a bit cheaper and a bit more accessible.
Under $20K: Dodge Magnum SRT8
The SRT8 is relatively unknown even to seasoned enthusiasts. And that's what makes it the perfect sleeper.
In a way, it's convenient that most sleeper cars out there were forgotten and overlooked. But luckily for us enthusiasts since it's because of the underappreciation that we can buy them at such cheap prices.
That being said, sleepers do what a car is supposed to do; perform. And for someone on a budget or just someone who's interested, they can be great opportunities to experience and experiment on.