Few Japanese FR sport sedans in the U.S. offer as much value as the IS300 does. You get the power and predictability of the 2JZ-GE, the ride quality of a BMW 330i, and plenty of tuning potential.
What more could you ask for? A wagon version.
The SportCross, or Altezza Gita as it's known in Japan, is special. It's quickly garnering coveted status as it's becoming increasingly difficult to find considering that Toyota made exactly 3,078 of these in North America.
Luckily for us, it hasn't shot up in value yet. At the time of writing, you can find these from anywhere between $6K to $20K.
But before you snag the first IS300 SportCross you find on the used market, there are some things you need to know.
In this article, we'll discuss the tech specs and quirks of the SportCross, along with some tips on what to look for when buying one of these in the United States.
Lexus' 2JZ-Powered IS300 Wagon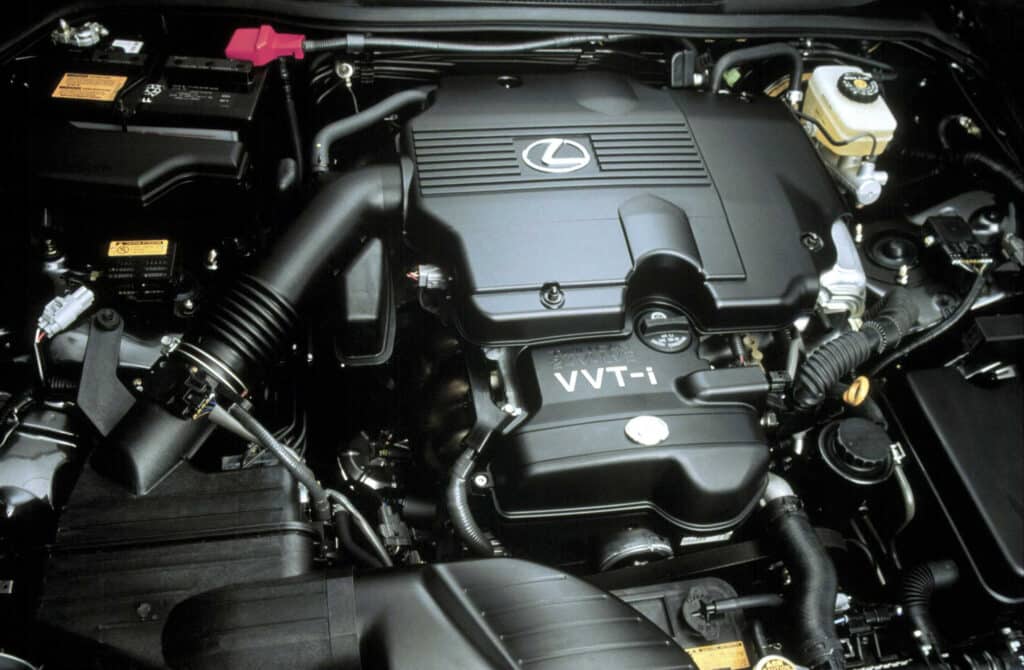 The IS300 was meant to be a direct competitor of Mercedes-Benz C-Class and BMW 3 series sedans, specifically the 330i.
Even though it's not as refined as the Bimmer in stock form, it can get there very easily with a few changes — all it needs is a set of IS300 coilovers and sway bars. The great news is, most of the best IS300 mods work just as well on the wagon as they do the sedan.
And this applies to the wagon too, because it has the same wheelbase as the sedan and it's only 125 lbs heavier.
The stock suspension is on the softer side, which makes the ride quality very plush. But it is well damped so it doesn't feel like a boat.
High trim models get features like heated seats, Alcantara leather interior, torsen limited slip differential, and a lot more.
The steering feel isn't as weighted and refined as its German-made rivals, but hey, it's a Toyota with an L. Parts are cheap, the 2JZ-GE is bulletproof and highly tunable, and it's as reliable as a hammer.
And the best part is that it's arguably the rarest J-spec RWD wagon that you can buy in the United States, making it one of the best drift cars you can buy in estate form.
But that's if you find one with an LSD; the wide majority of these came with open differentials. If you don't know why that's important, check out our article on the different types of limited slip differentials for more information.
It makes for a fantastic daily that can haul everything from camping gear, tents, a bicycle or two, and even skis, considering the front and rear passenger seats are collapsable.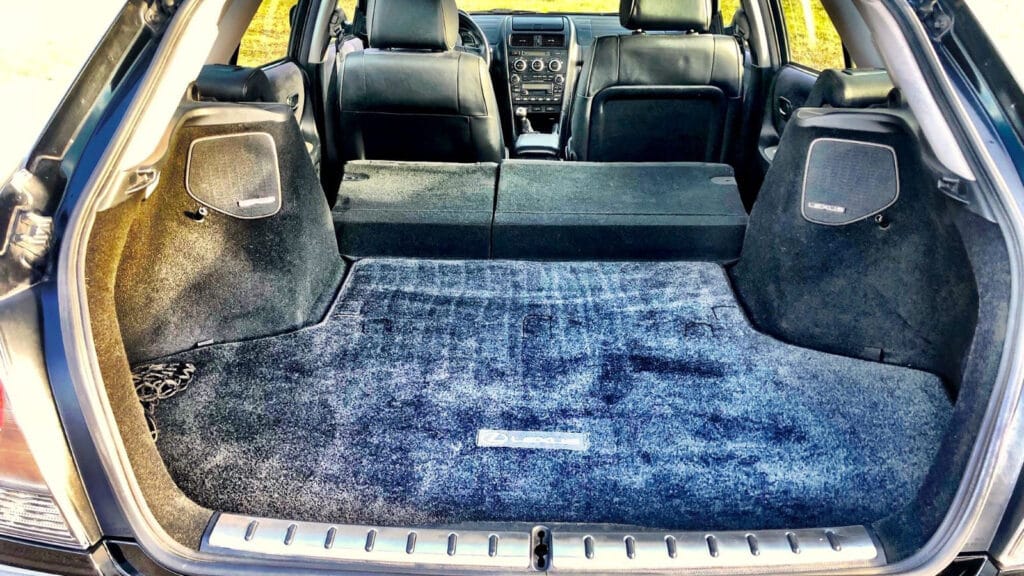 It is definitely a bonus that the SportCross is so rare; you're unlikely to come across another one at your local cars and coffee. But that's also going to make your search more difficult.
Our biggest pet peeve with the SportCross is that it was never offered with manual transmission. Lexus could've very well included it as an option, but instead, each of the 3078 SportCross cars came with the A650E 5-speed automatic.
There is a manual mode, however, but you can only downshift with it. It's nowhere close to the real thing but it sure helps if you want to drop a gear or two and pass vehicles on the freeway.
If you absolutely want a stick shift, swapping a manual transmission into the IS300 wagon is possible. The W55 and W58 transmissions from OEM IS300 sedans are the most common options.
IS300 SportCross Specs
Engine: Naturally aspirated 3.0 L straight-6 2JZ-GE
Fuel system: Port fuel injection
Power: 215 hp
Torque specs: 218 lb-ft
Transmission: 5-speed automatic
Layout: Front-engine, RWD
Production years: 2002 to 2005
Curb weight: 3,536 lbs
Length: 4415 mm
Wheelbase: 2670 mm
0-60 (s): 7.5
¼ mile time (s): 15.5
As functional as it is, it's also very easy to modify the IS300 SportCross. The aftermarket support for this car is insane, and the list of possible mods is nearly endless.
Several parts from the iconic Toyota Supra bolt right onto this car. With a bit of chassis and suspension development, you can install a turbocharger or supercharger if you want to go all out and utilize that 2JZ to its full potential.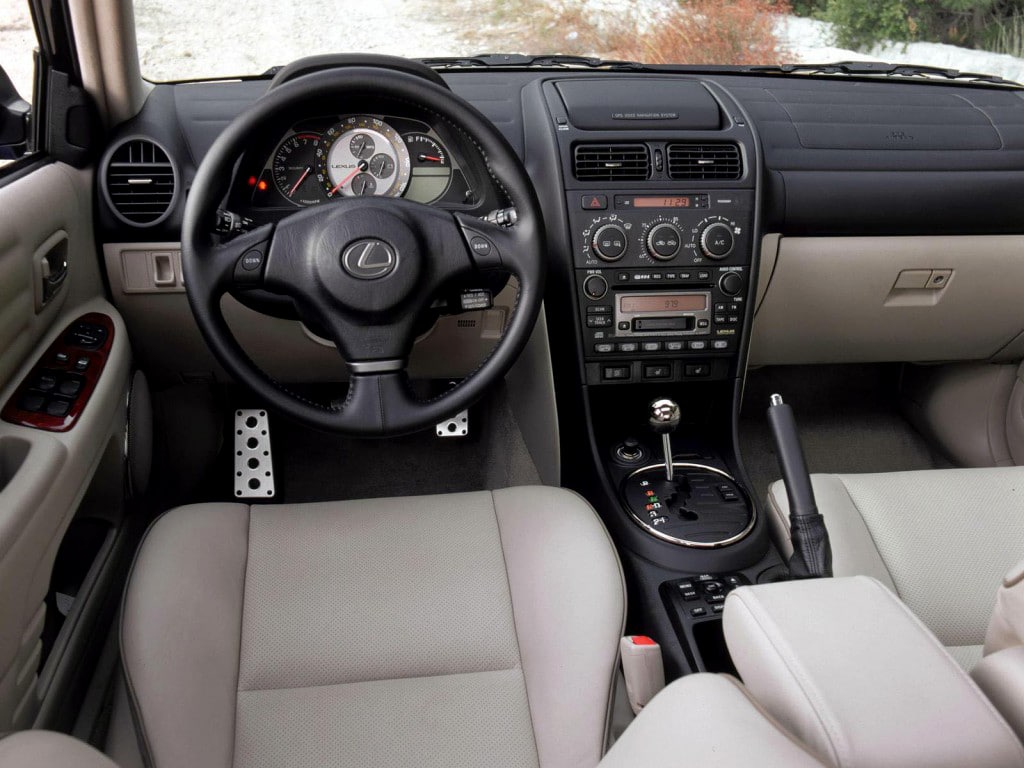 One thing to remember is that if your intention is to manual swap and boost the SportCross, choose the R154 or Getrag V160 manual transmission.
That's because the manual driveline of the stock IS300 doesn't do very well with too much boost, even though the engine can handle it.
Almost all parts are interchangeable between the sedan and wagon. The rear bumper is a commonly known exception. The front bumper from the sedan fits the SportCross, but the rear bumper doesn't.
All the aftermarket parts that fit the IS300 sedan such as coilovers or lowering springs, turbo kits, exhaust systems, headers, and air intake systems will fit the SportCross.
Installing IS300 headers designed for the sedan on a SportX will require minor fabrication work.
How Rare is the SportCross Wagon?
To put things into perspective, here are the production numbers for the IS300 manual and automatic sedans between 2002 and 2005:
Manual Sedans: 13122
Automatic Sedans: 73578
Let's compare that with production numbers for the SportCross.
| | |
| --- | --- |
| Year Of Production | Units Produced |
| 2002 | 1958 |
| 2003 | 471 |
| 2004 | 384 |
| 2005 | 265 |
| Total | 3078 |
It's worth mentioning that of these 3078 SportX wagons, very few came with limited slip differential. Most of these have open diffs, so that's something to note if you like going sideways.
These numbers don't account for the possibility that many of these cars have been totaled considering they came out 2 decades ago.
If you come across a pristine, low-mileage example that is stock and not thrashed on by the previous owner for anything less than $10K, it's a steal.
Even if you find one that's in relatively good shape and has close to 100,000 miles, it's still a good purchase. Well-kept 2JZ-GE motors can last well over 200,000 miles.
Another factor these numbers don't account for is undocumented manual swapped cars. Though IS300 manual swaps are straightforward, it's best to steer clear of those cars unless you know the seller, and if the build aligns with what you have in mind.
Electric Green, Absolute Red, and Solar Yellow are the rarest colors for this car. It's very hard to find an IS300 SportCross for sale in one of these colors.
Common Problems With the SportX
If you're wondering what to look for in an IS300 SportCross before you buy one, there isn't a lot to worry about. These cars have no major mechanical issues and are considered to be extremely reliable.
We're nitpicking, but here are some things we find annoying about this car:
Gas mileage isn't the best
You can't upshift in manual mode
The chrome metal ball shifter gets too hot in the summer
The dashboard gets sticky over time
Stock suspension is too soft
Traction control can't be turned off, unless you pull the fuse
The Swiss Chronograph-inspired gauge cluster isn't to everyone's taste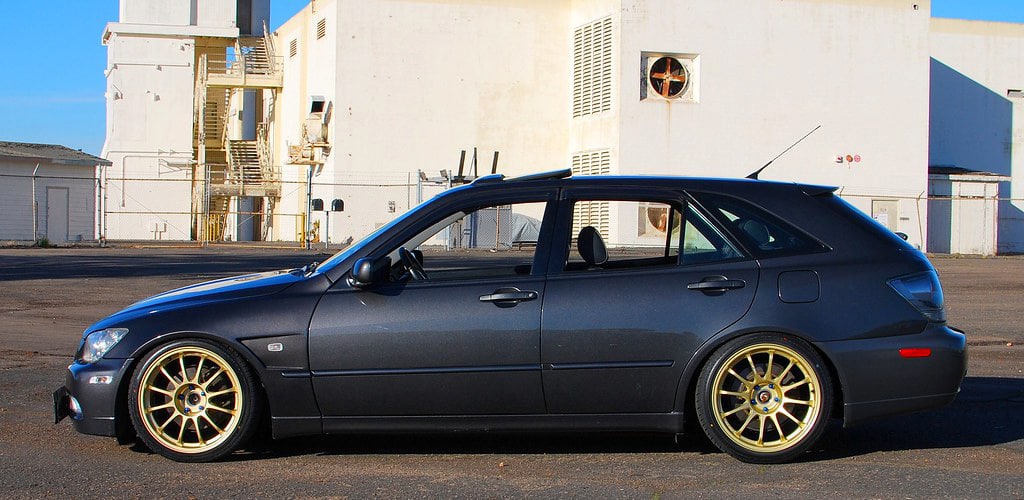 The few mechanical issues that do arise with these cars are easily fixable. These include:
Cracked radiator neck: This results in coolant leaks and overheating. Radiator replacement is required.
Trapped air in coolant lines: Easy fix. Flush the coolant lines and bleed the system.
Choppy throttle: Common issue with the A650E equipped cars. Throttle cable adjustment is required.
AC servo: Results in a clicking sound from the dashboard followed AC failure.
O2 sensor: Replace all 02 sensors when buying an old SportCross.
Valve cover leak: Valve gasket replacement required. This usually happens around 180,000 miles.
Final Notes
The SportCross is quite literally one of the best fast wagons that you can buy in the United States.
It has a ton of power at the rear wheels, offers unmatched practicality and reliability, and sounds fantastic. Even more so with the right IS300 exhaust system.
Find one with an LSD and you've got yourself a rare and unique drift missile. If you're on the fence about buying one and then modifying it, we recommend keeping it stock because it can and will appreciate in value over time.
What do you think about the SportCross wagon? Would you go through the trouble of finding one, or simply get the sedan? Let us know by leaving a comment below!
If you've enjoyed this post, don't forget to share it on Reddit, Facebook, or your favorite forums!