Station wagons once carried the stigma of being uncool family cars with sliding doors that only soccer moms drove. No kid wanted to be seen in one.
This patently-unsexy image is part of the reason they were overshadowed by SUVs in the U.S. domestic market.
In Europe, however, it's a different story considering how wagons have always been the go-to vehicles.
But times have changed, and so have wagons. They've gotten a lot faster, lower, and leaner.
So much so that wagon sales have seen a steady increase in America over the last few years, with over 250,000 units sold in 2018 alone.
Now everyone wants one, and we can see why. They offer plenty of power, are ideal for touring, have tons of cargo space, and make for the best sleeper cars when tuned correctly.
If you want a fast wagon that effortlessly blends practicality and performance, then stick around because we've listed some of the most sought-after and most affordable used wagons in this article.
Fast Wagons Under $10K
In some cases, keeping prices down means you'll have to opt for used and older models, but rest assured that every wagon on this list has aged well and offers exceptional value.
Remember used car prices heavily depend on several factors including the overall mechanical condition, number of previous owners, availability of service history, and mileage.
Let's kick-off the list with some of the fastest used wagons that you can find under $10k.
01-07 Subaru Impreza WRX Wagon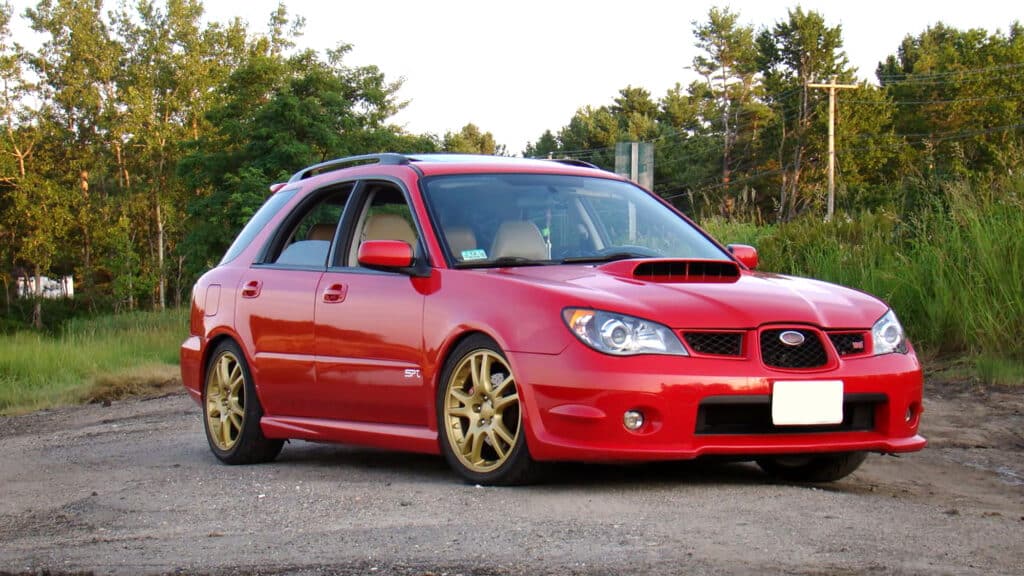 Average Price: $9,000
Power: 230 hp
Torque: 235 lb-ft
Drivetrain: AWD
Engine: Turbocharged 2.5L Flat-4 EJ255
0-60: 5.6 Seconds
Subaru shook up the U.S. market back when it first introduced the Impreza WRX in 2001. It carved out a special place for itself by filling the void for fun, affordable, turbocharged AWD cars.
The Impreza is an entry-level variant that retailed for about $23k when it first came out, and the WRX is the higher-end, turbocharged version that everyone wants. Luckily for us, they made a wagon version.
Equipped with a 5-speed manual transmission mated to a 2.5 L EJ255 flat-4 and Mitsubishi's TD04-13T single turbo, the 2006 WRX wagon isn't impressive on paper, but it is an absolute blast to drive in the real world.
The TD04 turbine is small, which means it spools up quickly. The flat-4 engine design allows for a lower center of gravity, effectively lowering the suspension roll center and keeping body roll at a minimum.
Traction control ensures the right amount of power is sent to the right wheels at all times. However, the steering feels rather light. We've seen better boot space in this segment — 12.8 ft³ isn't particularly impressive for a wagon.
The interior is rather bland as well. But these are things that you will get used to with time.
If you want something cheaper, the bug eye version is also an option. It's not everyone's cup of tea, but we love the way it looks!
00-01 BMW E39 540i Touring
Average Price: $10,000
Power: 290 hp
Torque: 324 lb-ft
Drivetrain: RWD
Engine: 4.4L V8 M62
0-60: 6.1 Seconds
If the idea of a V8 BMW wagon entices you, then you're going to love the E39 540i Touring. It was labeled as the fastest estate car in America when it was first launched and it came with a price tag of $60K.
Even at that price point, these cars sold like hotcakes. Now they can be had for around $10K depending on several factors.
The interiors are drenched in suede leather, you get 63 ft³ of cargo space with the rear seats folded, and the naturally aspirated 4.4L V8 makes it super-easy to cruise comfortably at highway speeds all day long.
It comes with a Sachs M-sport suspension from the factory, along with all the bells and whistles you could ask for at this price point.
Remember to ask the previous owner if or when the timing chain guides were replaced. Timing chains and guides on V8-equipped 5 series BMWs are known for being unreliable. When they fail, they fail spectacularly.
2004 Volkswagen Passat W8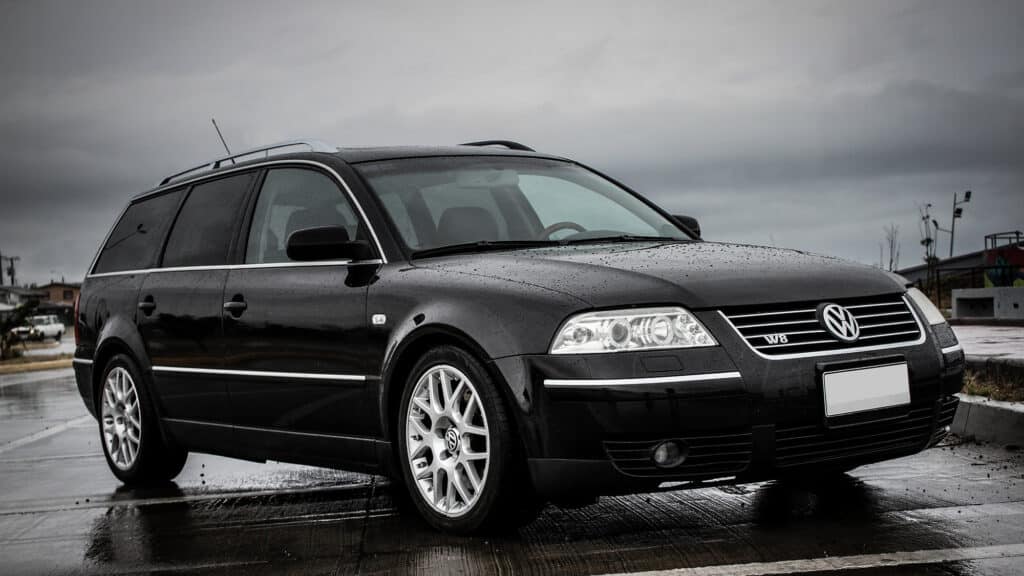 Average Price: $7,000
Power: 270 hp
Torque: 273 lb-ft
Drivetrain: AWD
Engine: 4.0L W8 BDP
0-60: 6.1 Seconds
The W8 Passat was the brainchild of Ferdinand Piëch — the group chair of Volkswagen. He's the same person who propelled the development of cars like Buggati Veyron, Porsche 911, and the upmarket W12 Phaeton.
Needless to say, the W8 Passat is a weirdly special car with an eccentric charm. It got even weirder when it was launched in wagon form.
Under the hood, it has two VR6 motors, each with two cylinders lopped off and welded together at a 72° angle to create a W8. That's a total of 8 cylinders.
Besides that, it's equipped with a six-speed manual and an all-wheel-drive system, which Volkswagen calls "4Motion".
It debuted with an MSRP of $55,820, but now it is possible to find one for under $10k. That said, good luck finding one, as there are reportedly under 100 of these sold in the US.
If you buy one, expect to get the cam adjusters fixed. It's an expensive fix, but beyond that, these cars are moderately reliable.
1996 Volvo 850R
Average Price: $6,000
Power: 240 hp
Torque: 221 lb-ft
Drivetrain: FWD
Engine: Turbocharged 2.3L Inline-5 B5234T5
0-60: 7.5 Seconds
The 1996 Volvo 850R is the quintessential Scandinavian sport wagon that boasts the same features as other European cars of its time at a fraction of the price.
Even though Volvos are typically known for their safety, the 850R's fame comes from its impeccable handling, performance, and utility. The turbocharged inline-5 motor sounds absolutely sublime.
When it first launched, the basic sedan started at $26,000, and the price range went up to $39,000 for the 850R Sportswagon.
Now the same cars go for as low as $4k. Although, some great examples have sold for $24k.
The only catch is that if you absolutely want a manual, it's going to be difficult to find one. Manual 850Rs were never sold in North America.
Automatic was the only option if you wanted to purchase a new one back in the day. The only stick-shift 850Rs you'll see in the United States are either imported or manual-swapped.
Importing a manual 850R from Canada into the U.S. is definitely less work than sourcing and swapping an M56H or M59 transmission into one.
If you go ahead with the swap, it's worth mentioning that the shifter will feel a bit mushy. But once it slots, it slots — very reminiscent of old BMWs.
2008 Saab 9-3 SportCombi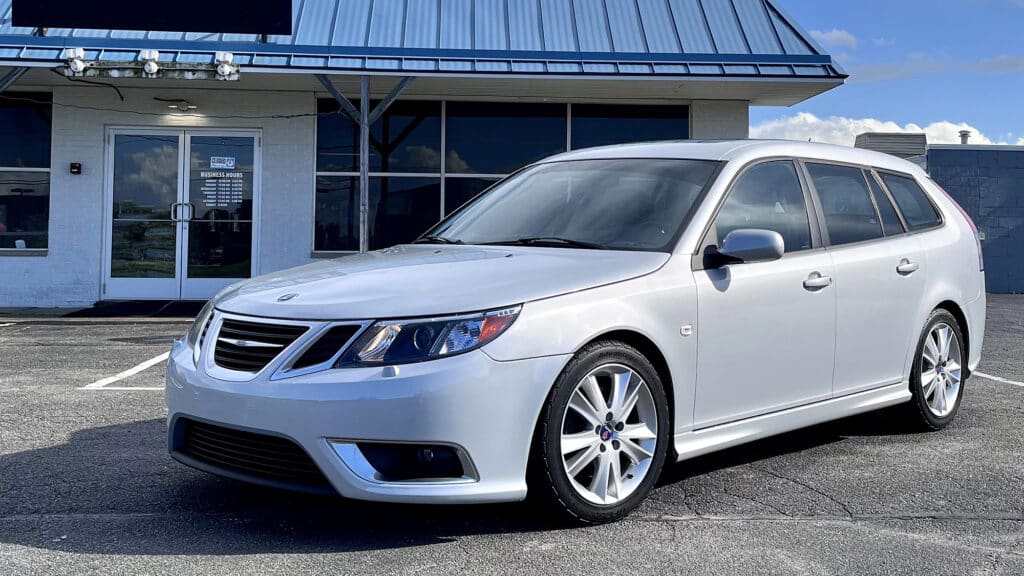 Average Price: $9,000
Power: 252 hp
Torque: 262 lb-ft
Drivetrain: FWD
Engine: Turbocharged 2.8L V6 B284L
0-60: 6 seconds
Owning an old Saab is a bit like owning an Audi from the same time period, except that it's more DIY-friendly.
They're reliable if you keep them well, parts are readily available, and you can get a lot of car for the money if you look hard enough.
The 9-3 SportCombi Aeros are as rare as they come, and even then the prices start at as little as $5,200. However, the Turbo X trim, which is even more obscure, can cost up to $17,930.
Saab 9-3s divide the car community. Some people absolutely love them, others don't. And that's primarily because these cars have GM-typical attributes, despite Saab's attempts at hiding them.
However, it's faster than most sport wagons, with its torquey 2.8L B284L V6 churning out 252 hp and 262 lb-ft.
Saab also made an all-wheel-drive version dubbed "XWD" that received a factory-tuned B284R V6 engine that made over 280 hp.
It was also sold with a 2.0L inline 4 which was reportedly smoother and more fuel efficient. Being a wagon, it offers a generous 72.3 ft³ of cargo space with the back seats folded.
If you decide to buy one, do check for rust under the wheel arches and at the subframe. If there's anything more than superficial rust, skip it. Another common issue with these cars is quick battery drain.
Because the turbo is sandwiched between the engine and the battery, the heat soak inevitably causes the battery to overheat and drain quickly.
If you intend on wrenching on one of these yourself, it's worth noting that something as simple as changing the spark plugs and coil packs involves removing the ECU and lots of other stuff.
Best Wagons Under $20K
Push the budget to ~$20k and a whole new world of options opens up. There are many cars we can list under this category, but we've only included those which you can find at this price point.
Obviously, spending more will mean lower mileage and better overall condition. The prices will fluctuate as these cars increase and decrease in value.
2005 Mitsubishi Lancer Evolution IX Wagon GT / GT-A
Average Price: $20,000
Power: 268 hp
Torque: 253 lb-ft
Drivetrain: AWD
Engine: Turbocharged 2.0L 16V Inline-4 4G63
0-60: 6.4 s
You read that right — Mitsubishi made Evo IX wagons, although very few. Their 2005 press release said they intended to make only 2500 of these. But rumors have it that there are just under 3000 including GT, GT-A, and MR trims.
Approximately 50% of these had the 6-speed manual transmissions combined with the non-MIVEC 4G63 engine sourced from the Evo VIII.
Color options include:
Silver
Black
Blue
Grey
White (rare)
Red (rare)
The GT variant is 44 lbs heavier than the Evo IX sedan because of its steel turret, anti-intrusion bars, and heavier rear foldable seats.
The automatic GT-A variant is 154 lbs heavier due to automatic transmission components.
Finding one of these in the United States at the time of writing is extremely difficult. If you do, expect to pay around $20k for it, and maybe more as it appreciates in value.
The good news is that these wagons will be legal to import by 2025, which will make it significantly cheaper to acquire them.
97-01 Audi B5 S4 Avant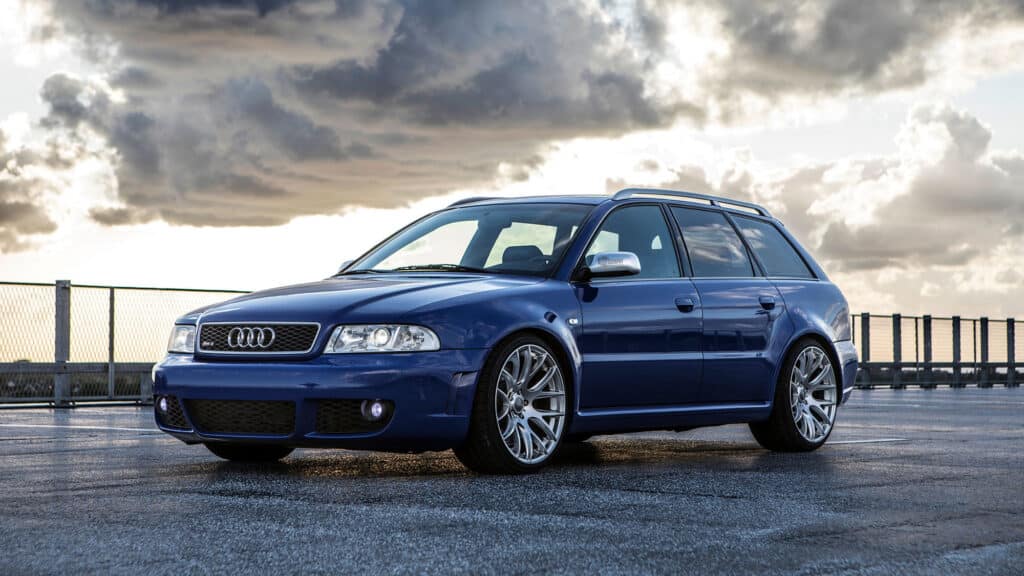 Average Price: $15,000
Power: 250 hp
Torque: 258 lb-ft
Drivetrain: AWD
Engine: Twin-Turbo 2.7L DOHC V6 APB
0-60: 5.3 s
The high-performance variant of the A4 compact executive sedan, the S4 has its roots buried deep into Audi's rally heritage.
You get the signature Quattro all-wheel-drive system as standard and a 2.7 L, DOHC, 30-valve, V6 with sequential turbos.
When it debuted, the B5 S4 had a price tag that hovered around $40k, but today you could snag one for anywhere around $15k+ depending on the condition.
You want to look for the B5 S4 Avant, which is Audi's word for "wagon". It's hands down one of the best fast wagons you can own under $20k. It does have its fair share of problems though.
If you're well versed with this car, chances are that you're on the fence about owning a used B5 S4.
Some even call it a gamble considering how notoriously unreliable it is. These cars will weigh down on your wallet if they aren't babied and taken care of.
It's worth noting that the engine is mounted far beyond the front axle, so expect to change your driving style to properly chuck one of these through corners.
If you can't find a manual easily, consider buying an automatic and then manual swapping it. There are extra steps and extra expenses involved if you take that route.
But consider the possibility that automatic S4s on the used market probably haven't been trashed as much as the manuals have.
2006 Mercedes-Benz E55 AMG Wagon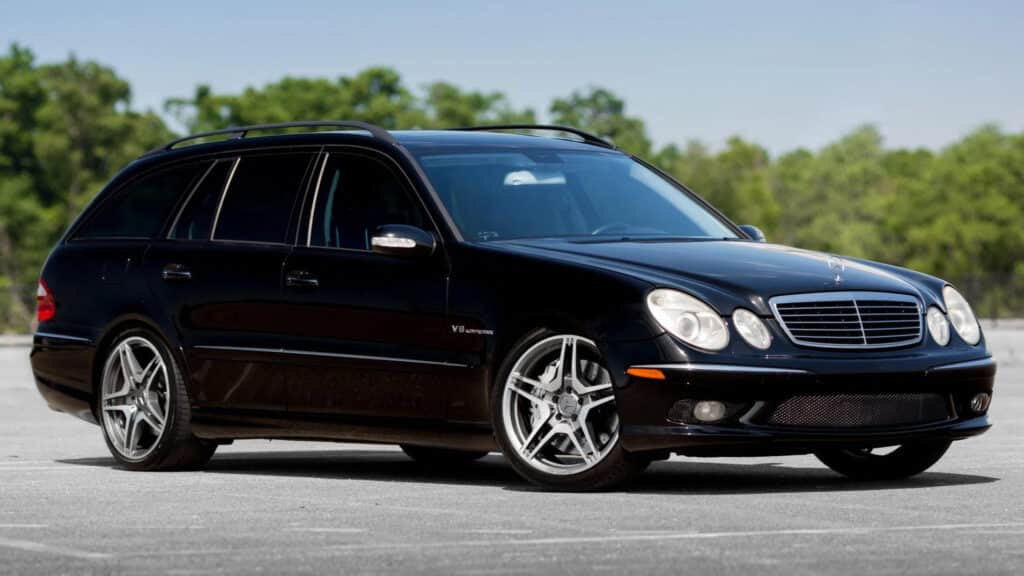 Average Price: $23,000
Power: 469 hp
Torque: 520 lb-ft
Drivetrain: RWD
Engine: Supercharged 5.5 L V8 M113
0-60: 4.1 s
W211 AMG wagons have a special place in the hearts of countless enthusiasts across the globe. These cars, notability the E55 AMG estate helped change the way wagons were perceived in North America.
The E55 AMG wagon could do this because it could outrun cars like the Ferrari 612 and the Shelby GT500 in a straight line. And this is a car that can comfortably seat 5 adults and 2 kids.
With the rear seats folded, you get 69 ft³ of cargo space. That's what it's all about in the world of fast wagons. Being able to haul groceries and haul ass at the same time.
Add charcoal Nappa leather interior, authentic woodgrain trim, and heated seats to the equation, and you're golden.
With a starting price of over $92k when it launched, the E55 AMG wasn't "affordable" by any means, but that's changing.
At the time of writing, you can buy a good example for anywhere north of $25k. Some have sold for as low as $15k.
But there's a catch. These cars are extremely rare, considering that less than 200 of them made it to the US.
Another dealbreaker is that aging AMGs that are out of warranty are basically a money pit. Even if you take care of them properly, they'll just break later.
That said, the 5.5L supercharged M113k is a simple, bulletproof engine as long as you don't tune it. If anything, it's the electrical gremlins that'll leave you stranded.
Find a low-mileage example and you're in for thousands of miles worth of fun.
2002 Toyota Crown Athlete V Estate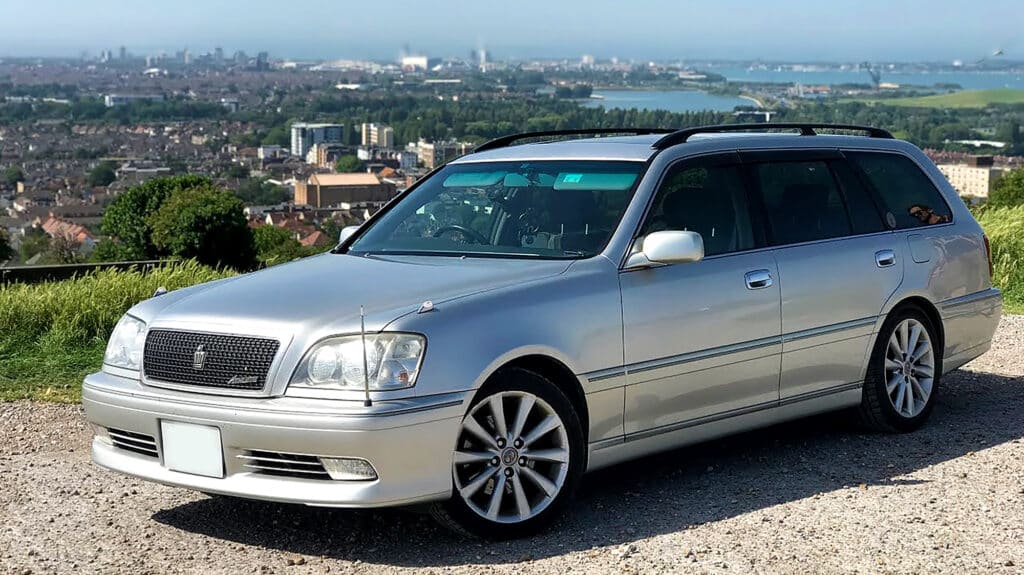 Average Price: $18,000
Power: 280 hp
Torque: 278 lb-ft
Drivetrain: RWD
Engine: Turbocharged 2.5 L Inline-6 1JZ-GTE
0-60: 7.9 s
The 2002 Toyota Crown Athlete Estate V is a proper JDM sleeper wagon that you do not want to miss out on. It is powered by a twin-turbocharged, straight-6 1JZ-GTE, and it is built on the JZS171W chassis.
This was one of a few 1JZ engine cars that Toyota produced, but do note that this isn't a Supra engine. The 1JZ and 2JZ engines are very different.
Considering that the Athlete V Estate is a sporty version of the 11th Gen Toyota Crown in wagon form that wasn't even sold in the United States, acquiring one can be a bit of a challenge, but it can be done.
These cars were first manufactured in 1999, which means they've been legal for import for the last 3 years.
Toyota made around 5000 of these. So you will come across a few examples if you scour the classifieds and ask around in online communities.
This cool wagon is the perfect straight-6 daily and what's great is that it's reliable and not prohibitively expensive to maintain.
2014 Acura TSX Sport Wagon
Average Price: $18,000
Power: 201 hp
Torque: 172 lb-ft
Drivetrain: FWD
Engine: Naturally Aspirated 2.4 L Inline-4 K24Z3
0-60: 8.9 s
The 2014 Acura TSX Wagon is perfect for those looking for a reliable and uncomplicated estate for daily use.
It's simple, there's only one factory option to choose from, which is the technology package, and it comes in only one trim.
But if you're someone who loves fast wagons and stick shifts, then the TSX Sport Wagon might not interest you. And that's because these cars never came with manual transmission.
It's a shame that the TSX wagon is such a looker, but doesn't get a J-series V6, a K20, or even manual transmission at the very least. Instead, it has a 2.4L K24 mated to a very vanilla H5 5-speed automatic gearbox.
201 hp is more than sufficient for daily driving, however. This car is no slouch, but we can't compare it to some of the other properly fast wagons listed in this article. Think of it as a sporty wagon and not a sport wagon.
You can expect to pay around $18k for a basic TSX Wagon and $21k for those equipped with the tech package.
Used Sport Wagons Over $20K
If the wagons listed above don't quench your need for speed, then you must check out what you can get your hands on if you stretch the budget.
Below we've listed some of the fastest wagons that you can buy for over $20k
2018 Volvo V60 Polestar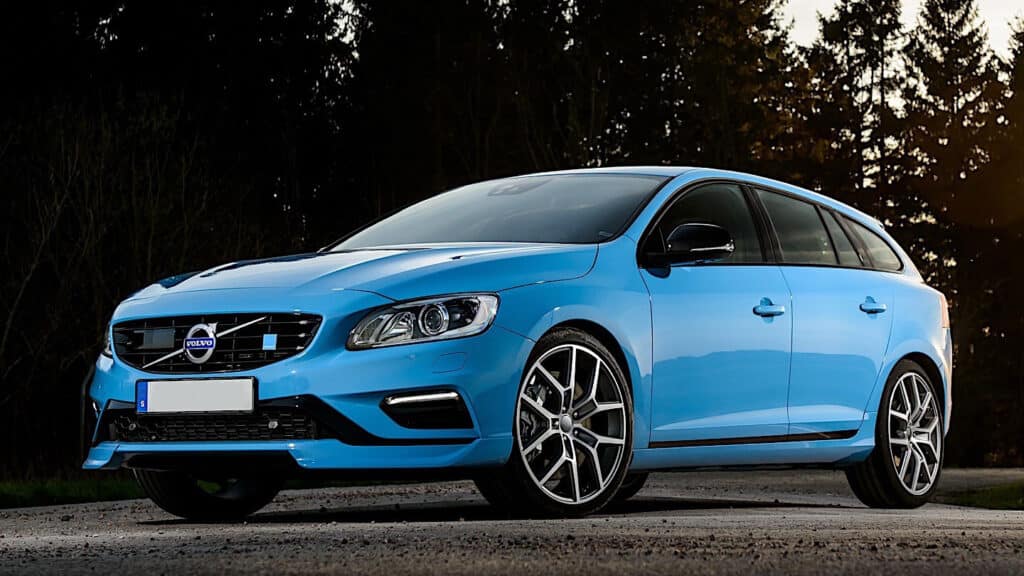 Average Price: $40,000
Power: 367 hp
Torque: 347 lb-ft
Drivetrain: AWD
Engine: 2.0L Twin-charged 4-cylinder VEA
0-60: 4.5 s
Volvo's transition from the 3.0L 6-cylinder B6304T5 engine to a smaller 2.0L 4-cylinder B4204T43 doesn't sound like an upgrade until you realize that the latter is twin-charged.
There's a reason why the Polestar engine won Wards 10 Best Engines award even when it was up against the likes of BMW M2, Jaguar XE, and the Porsche 718 Cayman.
It boasts a remarkable power output to displacement ratio of 184 hp per liter owing to its twin-charged setup — not to be confused with biturbo or twin-turbo.
The lighter engine meant better fuel economy and a lighter front end. We won't call it blisteringly fast, but when you're driving one of these, it's easy to forget sometimes that what you're driving is a wagon.
This car is essentially a reworked V60 developed by Polestar — Volvo's emerging go faster brand. It's a limited offering that comes with Öhlins suspension, Brembo brakes, and upgraded sway bars.
2013 Mercedes-Benz C63 AMG Estate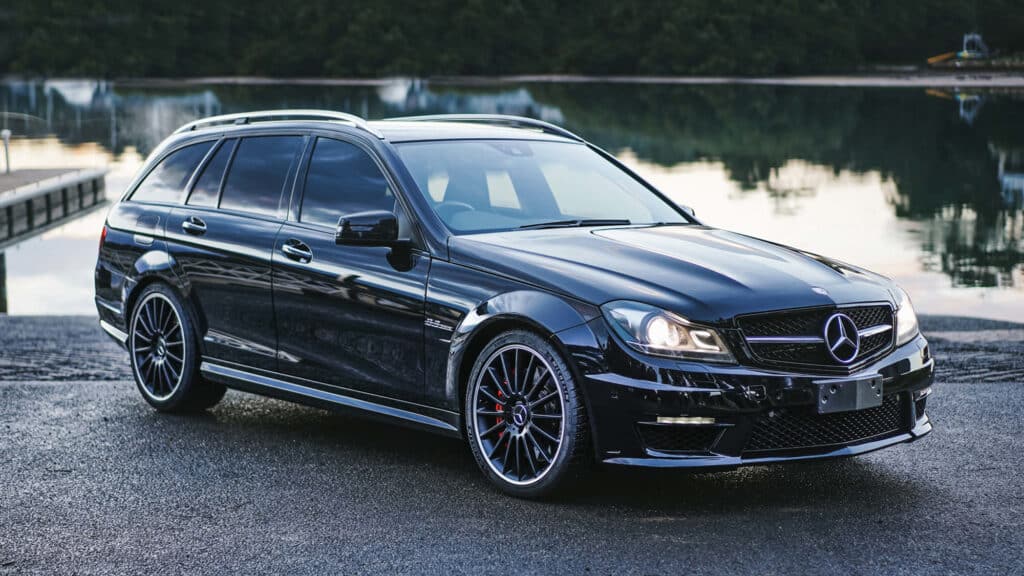 Average Price: $50,000+
Power: 451 hp
Torque: 442 lb-ft
Drivetrain: RWD
Engine: 6.2L V8 M156
0-60: 4.4 s
The W204-derived C63 AMG Estate is the perfect example of what people want to see in an RWD sport wagon.
Its massive 6.4L naturally aspirated V8 mated to the Speedshift Plus 7G-Tronic (7-speed torque converter) could give the M3 a run for its money.
One niggle that many owners have with this wagon is the small 17.4-gallon fuel tank. Paired with the large displacement V8, you can expect a range of ~200 miles if you're going hard on the throttle.
But it's hard to resist, especially with the glorious AMG soundtrack and all the exhaust pops and crackles.
The C63 Estate was among the last naturally aspirated AMGs and is dearly missed by countless enthusiasts in Europe. You can still find pre-owned examples, but they're hard to come by.
If you decide to look for one, get the performance plus pack; it includes upgraded suspension, brakes, and a much-needed limited-slip differential.
Dodge Magnum SRT-8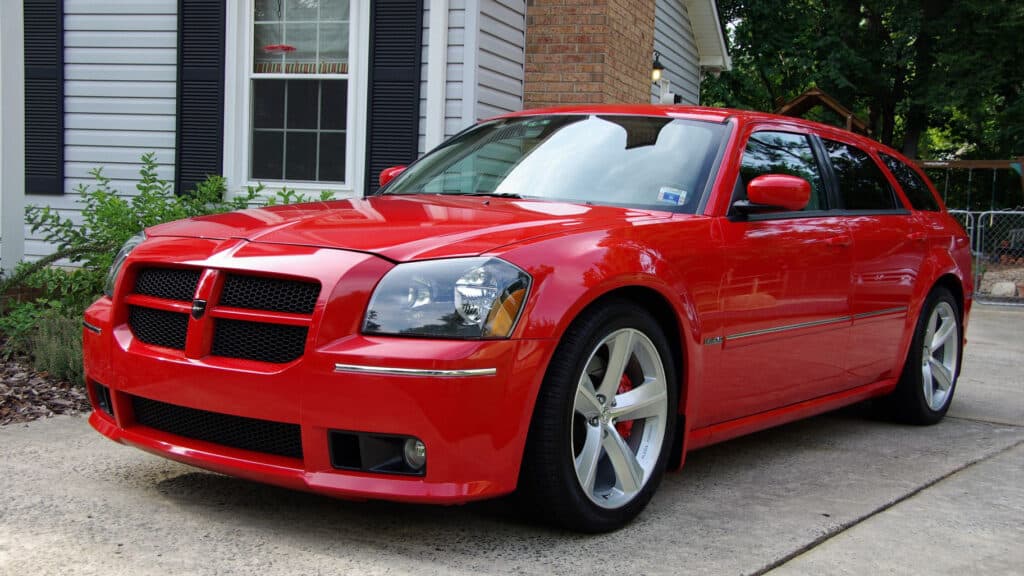 Average Price: $35,000
Power: 425 hp
Torque: 420 lb-ft
Drivetrain: RWD
Engine: 6.1L Hemi
0-60: 4.9 s
2008 marks the final year of Magnum's unfortunate short-lived production, but its dependability and power make it a future 08′ AWD classic.
Magnum SRT-8s share Chrysler's 425-hp 6.1-liter Hemi V8 and they're similar to the luxurious Chrysler 300 in ride quality.
In terms of driving experience, the Magnum SRT-8 feels surprisingly nimble and well-balanced despite tipping the scales at 4379 lbs, owing to the 16.1:1 rack-and-pinion steering.
The only downside is that it only came with an automatic transmission. As for cargo space, the Magnum offers 27.2 ft³ with all the seats up, expanding to 71.6 ft³ with the back seats folded.
2011-2014 Cadillac CTS-V Wagon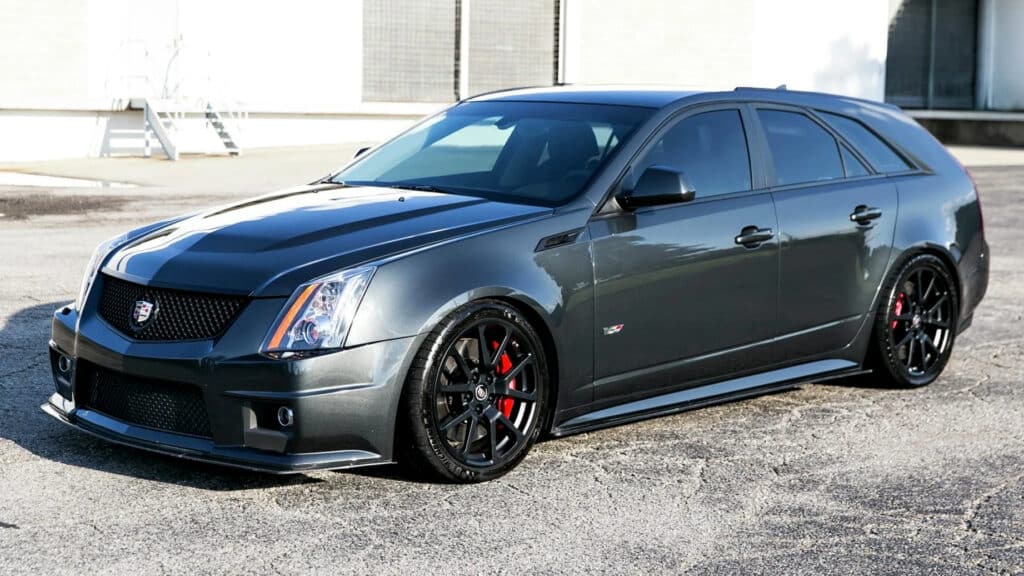 Average Price: $50,000
Power: 556 hp
Torque: 551 lb-ft
Drivetrain: RWD
Engine: Supercharged 6.2L V8 LSA
0-60: 3.9 s
Barring Gen 3, the Gen 2 Cadillac CTS-V has got to be General Motors' most ambitious offering.
With CTS-V, they managed to capture an audience that would've never considered buying a Cadillac. It was practically a 4-door Corvette drenched in cushy leather.
No other car could touch its 7:59 time at the Nürburgring, let alone its 0-60 time of 3.9 seconds. It was faster and significantly cheaper than its German rivals of the time.
Cadillac sweetened the pot by making this car in sport wagon form. It got magnetic ride suspension, 4-piston Brembos, a Tremec 6L95M 6-speed manual transmission mated the enormous 6.2L supercharged LSA V8.
All of that in a wagon that offers 58 ft³ of cargo space. This has got to be the most badass American wagon ever made.
E91 BMW 335i Touring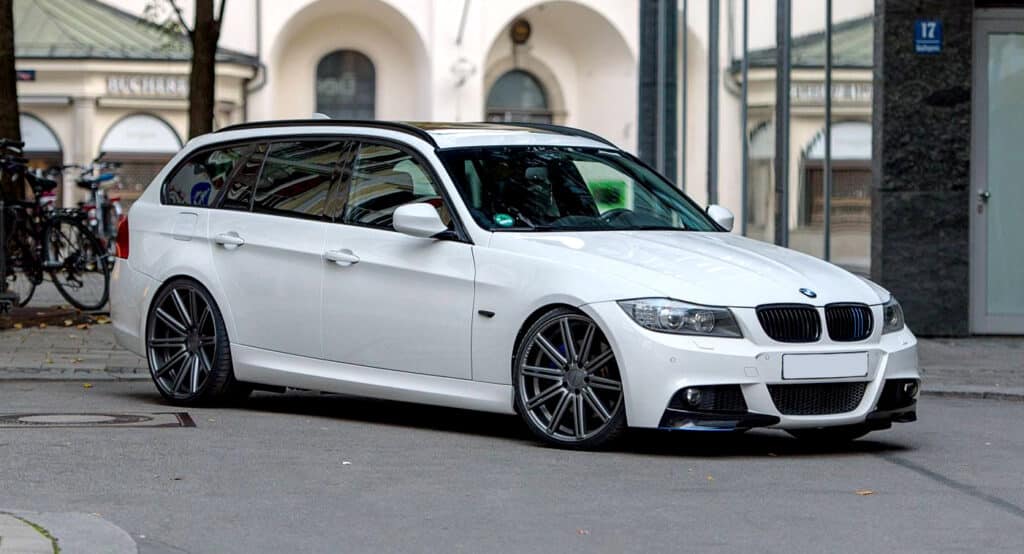 Average Price: $30,000
Power: 302 hp
Torque: 295 lb-ft
Drivetrain: RWD
Engine: Bi-turbo 3.0L Inline 6 N54B30
0-60: 5.7 s
If you've been eyeballing the new 2023 M3 touring but don't want to spend M3 money, then the E91 335i is definitely worth some consideration.
It's unassuming and tail-happy, making it the perfect sleeper wagon. But the main reason why it's popular among BMW enthusiasts is its extremely tunable motor.
The E91 is powered by BMW's first ever mass-produced turbocharged engine — the iconic N54B30. The internals are beefy and over-engineered. We're talking forged crankshaft, forged con-rods, and cast pistons.
The N54 can easily take on the likes of other iconic straight-6s like the RB26DETT and the 2JZ-GTE. Its stock Mitsubishi turbochargers are tiny, but they do an excellent job of spooling quickly.
So much so that it feels like a large, naturally aspirated engine. Be wary of wastegate rattles, water pump failures, fuel pump issues, and boost leaks. These are common but expensive problems that can be dealt with.
The 3-series BMWs, or all modern BMWs for that matter, follow a walled garden-type design philosophy.
They're hard to work on by yourself; they require special equipment and proprietary tools for most routine maintenance jobs. That's one of the reasons why these cars are expensive to own.
2006-2008 Audi B7 RS4 Avant
Average Price: $50,000
Power: 414 hp
Torque: 317 lb-ft
Drivetrain: AWD
Engine: 4.2L V8
0-60: 4.8 s
It's impossible to write this article without mentioning the B7 RS4.
Collectors will probably berate us for not choosing the 1992 RS2 Avant, citing its rarity. Audi enthusiasts will probably be pissy about not seeing the B5 RS4 get a big mention here, claiming the 2.7L V6 bi-turbo was a masterpiece.
But let's be honest, it takes a special type of person to consider either of those cars worthy of being classed "hot".
Audi finally got things right with the B7 RS4. The exterior is perfect, and the Quattro AWD system, combined with what seems now to be a rare 6-speed manual Getrag gearbox, is bang-on for hooning — able to withstand some actual abuse.
Its high revving 4.2L V8 is almost flawless, putting out 309 kW (420 PS) on a good day, though they are known for being down on power. The only weakness being carbon-buildup due to asphyxiating emissions requirements.
The B7 RS4 seems to be a "last of its era" type of car. V8 and manual in wagon form is becoming harder and harder to come by as the years go by.
As a result, many people have this car pegged to become a collectable in future years, though the region you're in may affect future values.
C34 Nissan Stagea
Average Price: $20,000+
Power: 148 hp – 250 hp
Torque: 133 lb-ft – 235 lb-ft
Drivetrain: AWD, RWD
Engine: RB20DE, RB25DE, RB25DET, RB26DETT
0-60: <6 s
While JDM fanboys have long been in love with the Nissan Skyline, many of them show their ignorance when it comes to the Stagea.
At best, they know about it and call it a "Skyline wagon", which is half correct. More often than not they're amazed they exist.
Commonly mistaken for a Volvo, Nissan released the C34 Stagea in so many flavors it's not funny:
AWD
RWD
Manual
Automatic
RB20DE (2.0L Straight 6 Non-turbo)
RB25DE (2.5L Straight 6 Non-turbo)
RB25DET (2.5L Straight 6 Turbo)
When you throw Autech, a company that only produces special edition models of Nissans, you also get:
The summary is, it's possible to get the Skyline GTR in wagon form. In countries where gray-imports of right-hand drive vehicles are popular like Australia, NZ and the UK these have topped the charts.
Nearly every bolt-on or plug-in power modification that is available for a Nissan Skyline of the same era can go into the Stagea.
Even if you can't afford the 260RS Autech edition, you can still build one yourself, since the RB26DETT, full drive train, brakes and everything else just bolts-in.
It's not uncommon to see RB30ET builds as well, which put out insane power with a big single turbo, while staying reliable and affordable. There's a wide range of stroker kits for Nissan's RB engines, so yeah, you can really go big with power output here.
Though not a simple bolt-on, some owners do use conversion front guards to install an R34 Skyline front-end on these cars too. These even make great drift cars since parts are cheap and plentiful and converting from AWD to RWD is ridiculously easy.
Summing Up
Call them what you will — estates, station wagons, variants, dad chariots, or shooting brakes, everyone can agree that wagons are awesome.
These cars fall into an exciting territory where enthusiasts looking to buy their first car, racers, daily drivers, families, and just about anyone who drives can agree on one commonality.
You'll never have to leave the fun car back at home when you drive one of these.
Tell us which car caught your attention the most by leaving a comment below.
Enjoyed reading this post? Share it on Reddit, Facebook, or your favorite forums! We appreciate your support.