The RB26DETT family of engines powered quite a few iconic cars. From R32 to R34 GT-Rs, Nissan's idea of an inline-six powerhouse was a treat for enthusiasts and tuners alike. The RB26 was a derivative of the RB25 that equipped the Skyline GT-S.
Often considered to be an engineering marvel, the RB26, much like the 2JZ, is known for its durability as well as for being purposefully over-engineered.
Why? Well, there existed a gentleman's agreement among JDM's top marques to cap published outputs to 276 horsepower. We've discussed this in our article that answers the question what is JDM?
But, Nissan had other ideas and engineered the RB26 with touring car races in mind, leaving plenty of headroom for greater output levels.
In this article, we'll dive deep into discussing all things RB26. More specifically, about its specs, reliability, and costs regarding engine swaps. Also, we briefly compare it to the equally famous and capable 2JZ-GTE.
Nissan RB26DETT Engine Specs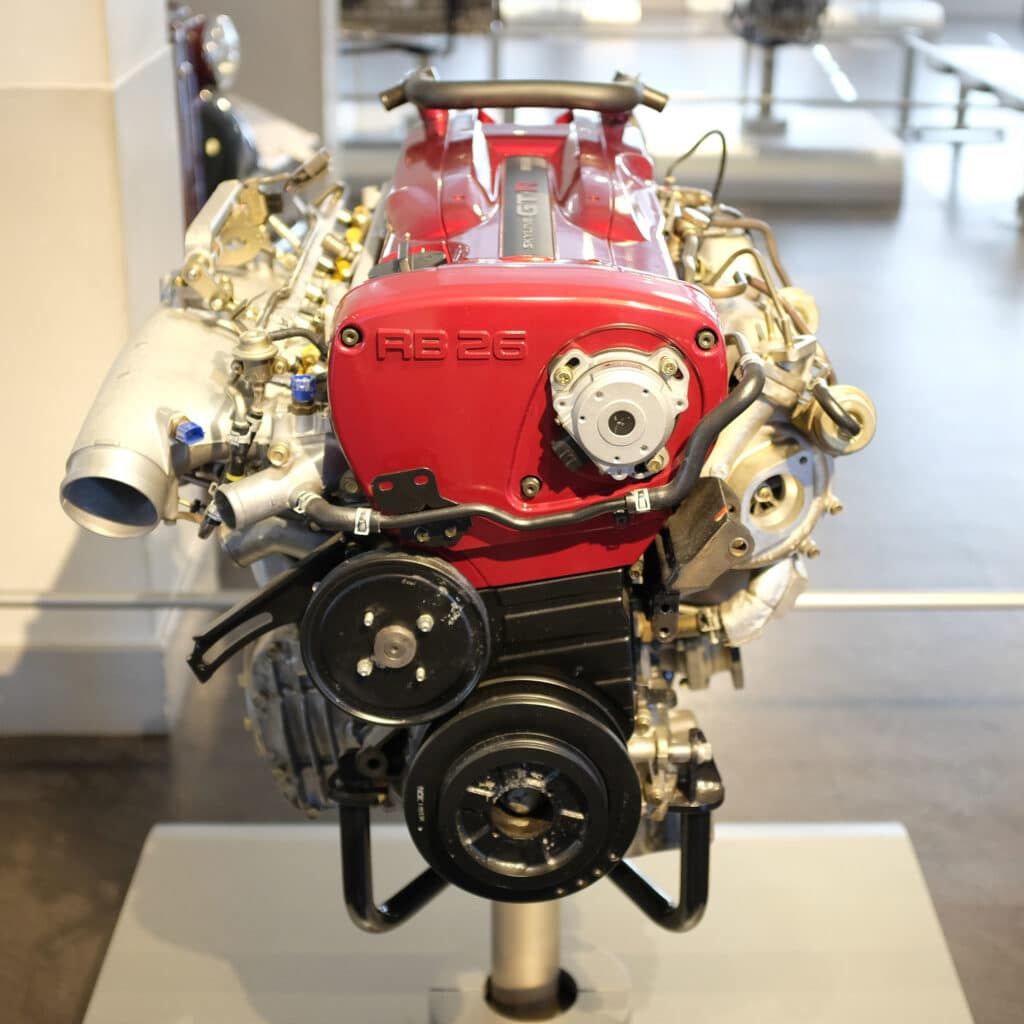 Engine Code: RB26DETT
Layout: Inline 6 cylinder Twin-turbo DOHC 24V
Displacement: 2.6L (2,568 cc)
Fuel System: Electronic Fuel Injection
Cylinder Bore: 86.9 mm (3.42″)
Piston Stroke: 73.7 mm (2.90″)
Compression Ratio: 8.5:1
Power: 276 hp at 6,800 rpm
Torque: 260 lb-ft at 4,400 rpm
Firing Order: 1-5-3-6-2-4
The RB26 engine was introduced in 1989 and had its run until 2002. A derivative of the RB25DET, this engine, unlike its predecessor, utilizes a cylinder block with no oil port. It features an inline-six layout with a cylinder bore of 86.9 mm, piston stroke of 73.7 mm, and a compression ratio of 8.5.
Contrary to what many believe, the name RB is not "Rhythm and Balance" or "Race Bred", it's simply the engine series. The 26DETT stands for "2600-cc DOHC Electronic Twin Turbo".
All RB series engines, including the RB26DETT, are interference engines manufactured in Yokohama, Japan. Nissan made use of the RB26 in R32 and R33 Skyline GT-Rs, while a reworked version of the engine was used in the R34. Yeah, all of these epic Skylines were more or less banned from the USA.
As mentioned, the RB26 is very durable and was built with performance in mind. The block is cast iron and provides a sturdy foundation for further upgrades. The cylinder head is aluminum, while the valvetrain features dual overhead camshafts with a total of 24 valves. Intake valves are 34.5 mm, while the exhaust valves measure 30 mm across.
Additionally, the intake is equipped with six 45mm throttle bodies instead of one, offering a better response.
Two Garrett T25 turbochargers (T28s in R34) with ceramic impellers take care of forced induction. Boost pressure stands at 10 psi (0.69 bar), helping the RB26DETT achieve 276 horsepower at 6,800 rpm and 260 lb-ft of torque at 4,400 rpm.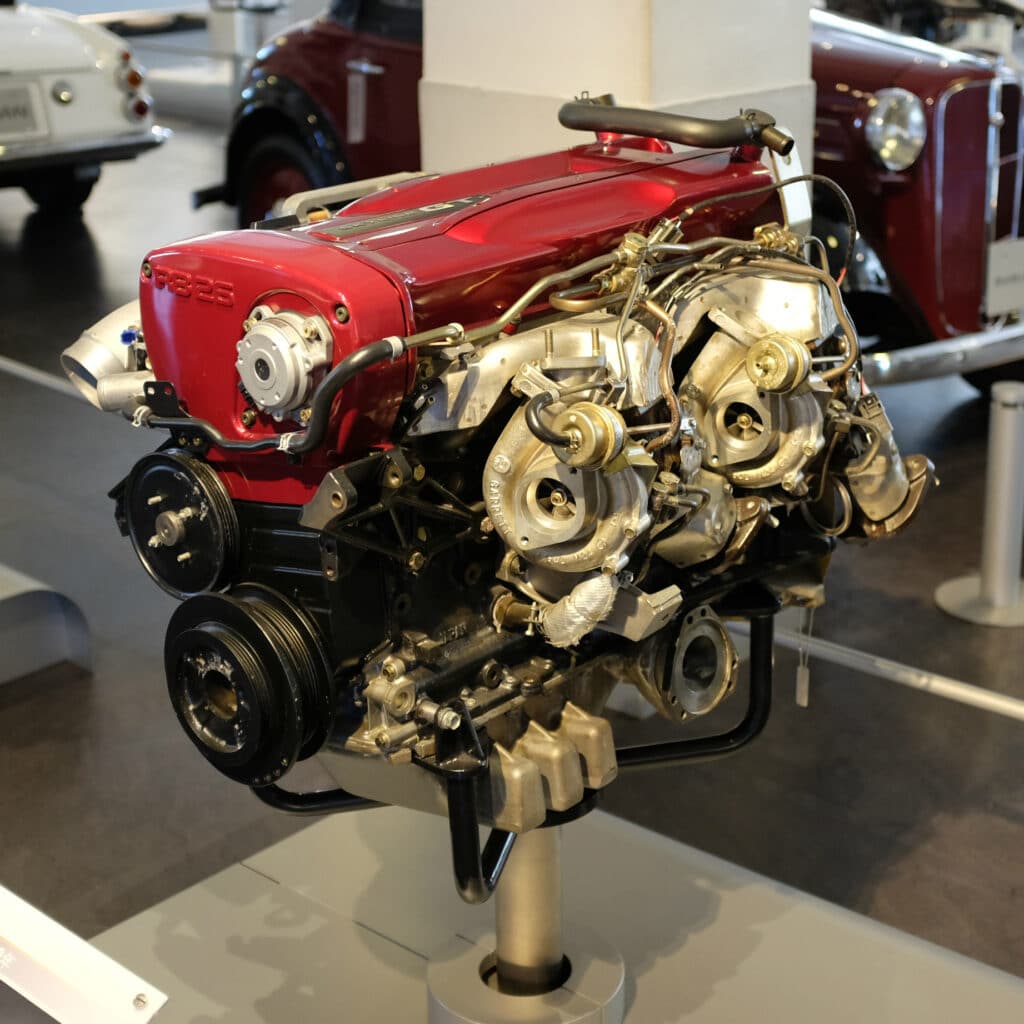 However, later versions produce 316 horsepower, with torque jumping to 289 lb-ft. The RB26DETT weighs around 273 kilos or 601 lbs and holds four quarts of oil with a viscosity of 7W-30.
RB26DETT engines used in R32 and R33 GT-Rs had solid lifters, belt-driven cams, piston squirters, and water-cooled oil-lubricated turbos. In the R34, the RB26 gets ball-bearing turbochargers, stainless steel dump pipes, and a dual-mass flywheel.
The Nismo-tuned RB26DETT N1 was basically a refined version built for motorsports. It got an upgraded cooling system, stronger rods, pistons, restyled manifold plus turbochargers with steel impellers.
The engine also received improved water and oil channels within the engine block. The pistons and rings were upgraded, and so were the camshafts. The N1 block is compatible with all GT-R engine bays, should you want to swap.
You can distinguish between both blocks quite easily. The N1 is cast with an identification mark of 24U, whereas the standard RB26DETT block is marked with 05U.
How Reliable Is a Nissan RB26DETT?
Generally, the RB26 is known for its durability and extreme reliability. However, earlier versions of the engine were known for oil consumption. Pre-1992 R32 motors had oil pumps failing at high rpm.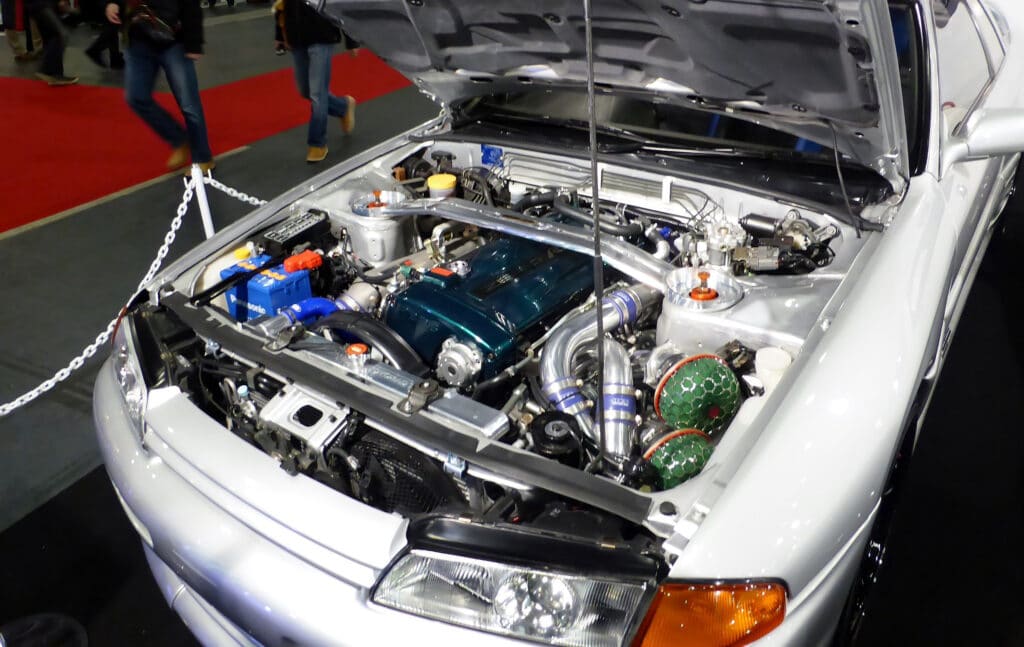 The surface where the crankshaft and oil pump meet was too small by design, causing it to fail. Problems with fuel ignition are not uncommon either. These are usually caused by malfunctioning ignition coils. However, you can try out the RB26 N1 pumps as they are known to fare much better than the stock ones.
Regardless of all this, you cannot overlook its tuning potential — which is perhaps its greatest enemy. To be honest, the RB26's problem is not that it's unreliable, but that it needs to be looked after really well. In general, over-revving, poor mapping, and over-boosting are what ruin it.
Understand that used engines are pretty old, and not all have been cared for so well. RB's reliability really boils down to how sensible and diligent you are with tuning and general maintenance.
With minor mods and a good map, you can easily extract 400 horsepower, which is plenty enough for an exciting drive. Pair that with proper servicing and frequent oil changes, and your RB26 will last very long.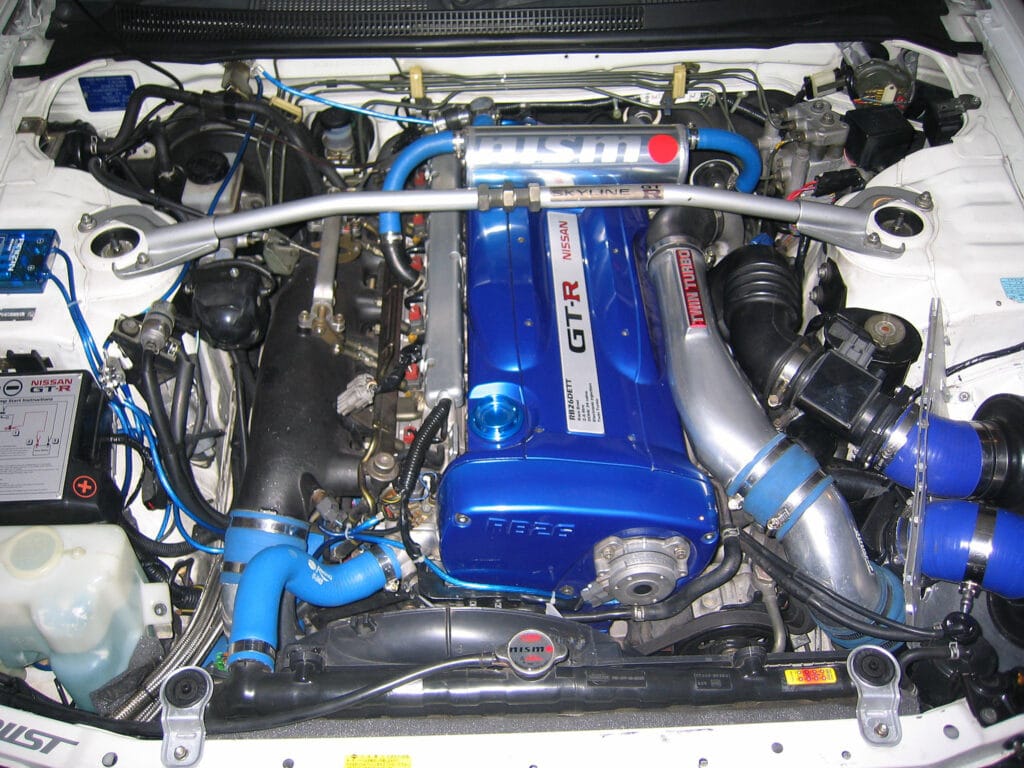 If you're planning to go beyond 600 hp, you better look at reinforcing the internals with some aftermarket parts, of which there are many.
Plus, NISMO manufactures brand-new cylinder blocks, pistons, and other parts having higher quality than the originals manufactured by Nissan. It's said that NISMO's regular blocks are better than the original N1 blocks.
RB26DETT Engine Swap: What are the Costs Involved?
If you're planning on swapping your stock motor with an RB26, the costs will be pretty high. Of course, that's relative. A cheaper build would involve an LS swap. However, if you're looking for JDM royalty, it's either 2JZ or RB26. Again, two expensive builds with little to no difference in costs.
Swaps are common for S-Chassis cars like 240SXs (S13, S14, and S15), but are seen in other cars too. We've even seen some modified G35's with RB26DETT swaps.
For an RB26 swap, the motor itself will set you back $10,000 or more, depending on the condition and who you source it from. Secondly, some engines don't come with a harness, ECU, and auxiliaries. So expect to shell another $5k-6k on them.
Also, all this is without the transmission. Add that, and the cost shoots up another couple of grand, depending on whether you're swapping it into a RWD or AWD chassis. Labor costs are something to consider too. But if you can manage to do it yourself, great! You'll be saving a thousand or two, if not much more.
Lastly, it's best to keep a buffer when it comes to engine swaps. So on top of the $20,000 or so you're planning on spending, keep an extra $3,000, just in case something breaks.
As you can tell, the build is not easy nor cheap. And don't get us started on tuning it. That's yet another way to burn a hole in your pocket. A Stage 1 upgrade (400-600 hp) costs around $4,000. Beyond that, it's just way too expensive, with all the upgraded internals and whatnot.
In short, we recommend you wait and see if the build is really worth it. If you didn't know, $23,000 is twice the cost of a used '98 240SX.
The Best Straight-6 Ever Made?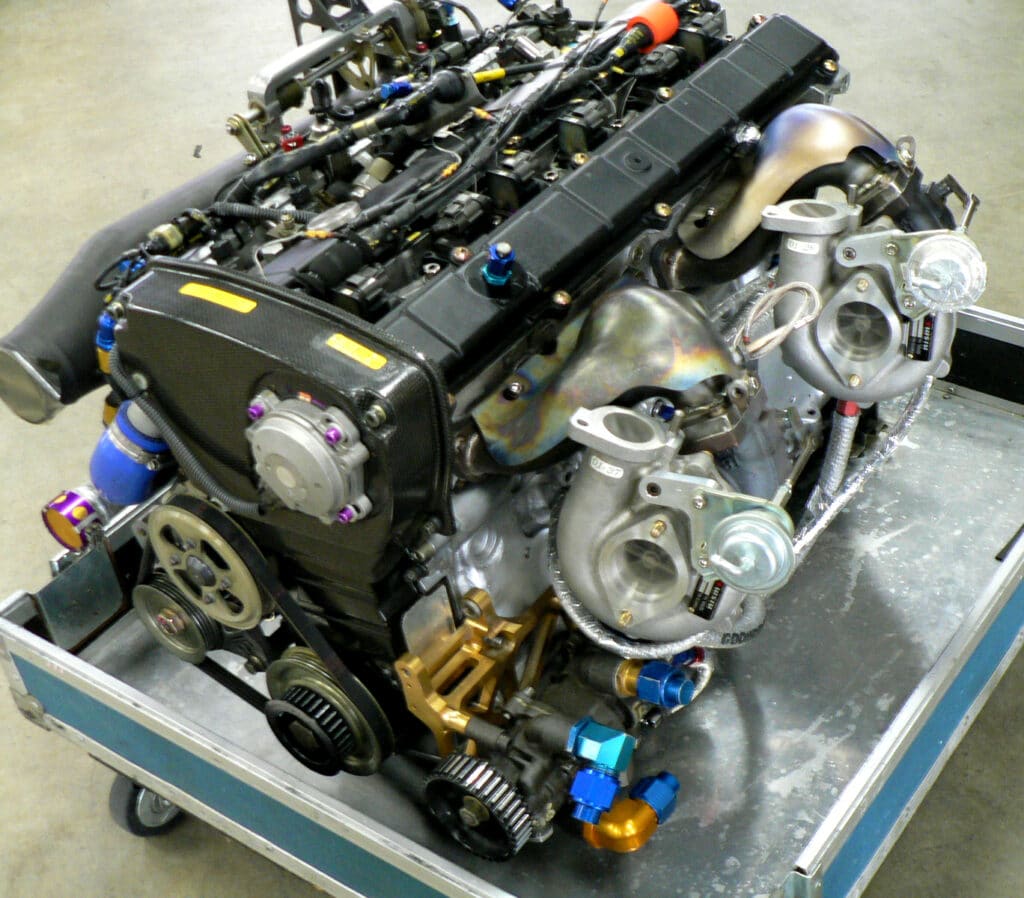 While most Nissan enthusiasts will consider this to be the best Nissan engine ever made, let's talk about the RB's biggest rival, the 2JZ.
Both engines have DOHC, are twin-turbocharged six-bangers, and share similar compression ratios. They also have a closed deck design with a cast-iron block and aluminum cylinder heads, ensuring top reliability.
That's where the similarity ends.
While they're both straight-six motors, the 2JZ gets a few advantages. Firstly, at 2,997 cc, it has a higher displacement than its resident counterpart. The 2JZ in its raw form produced 320 horsepower and 316 lb-ft of torque.
Also, the 2JZ makes use of sequential turbos and has a longer stroke, offering more low-end torque. This said, RB26's make great stroker engines, so if you're considering a serious build, remember that you're not comparing apples with oranges.
Secondly, unlike the RB26, the 2JZ is a non-interference engine. In interference engines, if a timing belt or chain breaks, the valves can get into contact with the pistons, resulting in catastrophic engine damage. The 2JZ doesn't have that issue.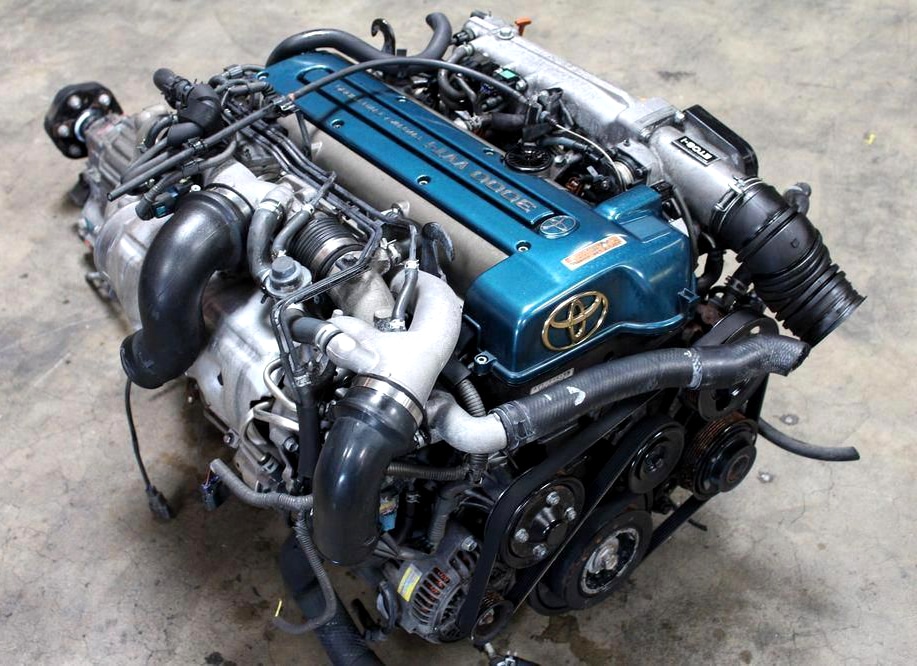 Let's go over the 2JZ's cons. At over 650 lbs (with all the accessories), the 2JZ is a fairly heavy engine. Also, the valvetrain design is quite different from that of the RB26. This calls for valve float during high engine speeds. And because it's a non-interference engine, running higher compression is not something that many would advise.
In terms of swaps, both are expensive prospects, as mentioned earlier. Now, it comes down to which one should you get.
There's no single answer to that, really. Both are extremely capable race-bred engines. They are over-engineered and demand a serious price premium in the pre-owned market. That is if you can find them.
If there's anything between the two, it's that the RB26 is rarer than the 2JZ. Plus, the 2JZ has various iterations used in many not-so-sporty cars. If that means anything.
Really, we're splitting hairs here.
The RB26 has its advantages and shortcomings, and so does the 2JZ. The bottom line is if you can afford to have them, then go ahead. Regardless of your pick, the experience will surely bring a smile to your face.
Which one of the two would you choose? Do you think the RB26DETT is worth the hype? Let us know in the comments below!
Feature Image: All Japan Day '09, CC BY-SA 2.0.