The RB26DETT and 2JZ-GTE are the most talked-about JDM engines thanks to their unbelievably high tuning potential and ability to handle a ton of power.
Though it's no surprise that both these straight-six motors are very potent, there's a lot of debate as to which is better.
Purists argue that the 2JZ objectively performs better owing to its relatively new non-interference design. And many others stand by the RB26, claiming that it's more iconic.
In this article, we'll attempt to settle this hot debate for you by comparing these engines side-to-side. We'll discuss the RB26DETT and 2JZ-GTE engines in detail by outlining their specs, history, tuning potential, and more.
RB26DETT vs 2JZ: Introduction and Specs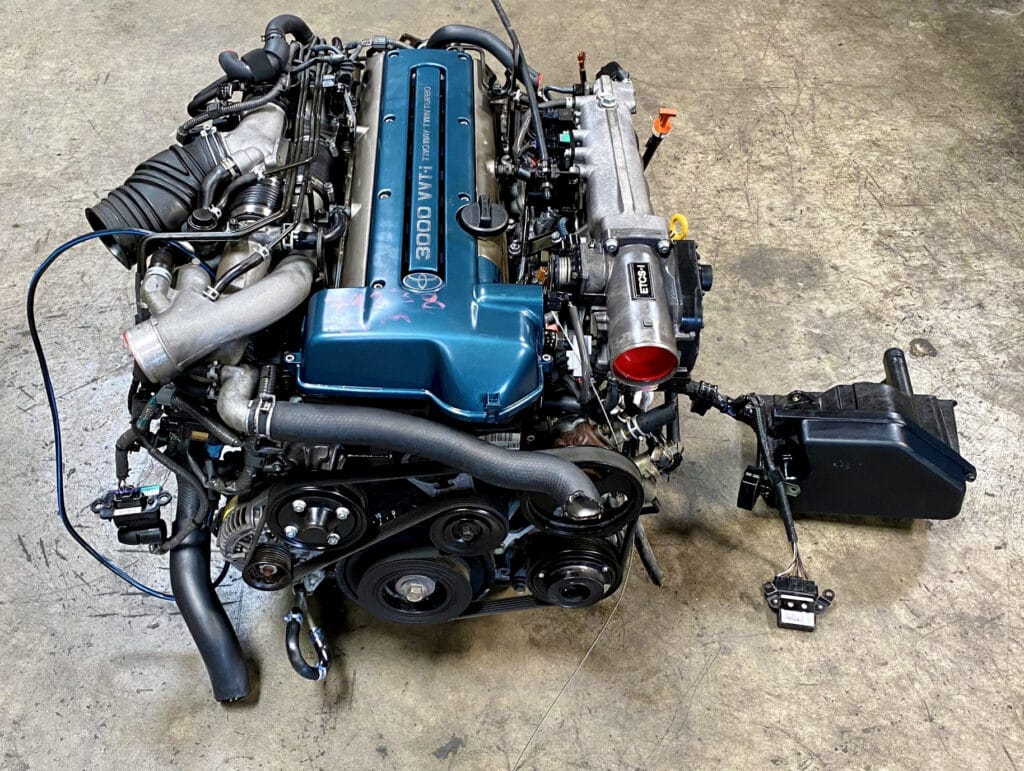 Engine Code: 2JZ-GTE
Layout: Inline 6 cylinder Turbocharged DOHC 24V
Displacement: 3.0 L (2,997 cc)
Fuel System: Electronic Fuel Injection
Cylinder Bore: 86 mm (3.39 in)
Piston Stroke: 86 mm (3.39 in)
Compression Ratio: 8.5:1
Power: 276 hp (JDM), 320 hp (North America) at 5,600 rpm
Torque: 320 lb-ft (JDM), 333 lb-ft (North America) at 3,600 rpm
Firing Order: 1-5-3-6-2-4
The 2JZ was introduced in the early 90s. It's an inline-six with an iron block, dual-overhead cams, and aluminum cylinder heads. Development of the 2JZ was based on its predecessor (1JZ) with the overall layout remaining largely similar.
Engine capacity was the most significant difference between the two. The 2JZ displaced 2,997 cc and had an 86 mm stroke compared to the 1JZ's 71.5 mm.
The cylinder diameter remained identical to its predecessor. However, the added stroke length called for a taller block deck and longer connecting rods.
Toyota's engine code nomenclature is confusing, to say the least. Here's a breakdown of the 2JZ-GTE engine code.
JZ: Engine family
G: Performance cylinder head (DOHC)
T: Turbocharged
E: Electronic fuel injection.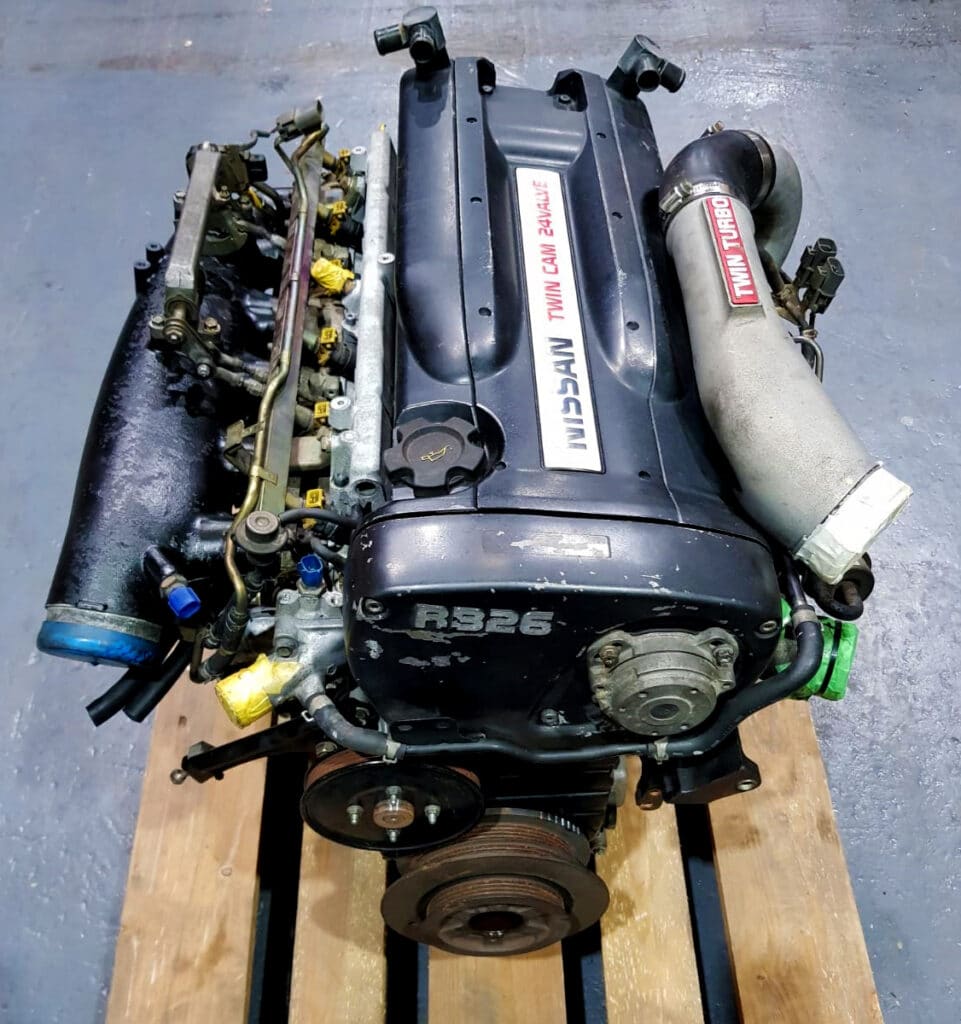 With that, let's move on to the next contender — Nissan's RB26DETT. Tech specs include:
Engine Code: RB26DETT
Layout: Inline 6 cylinder Twin-turbo DOHC 24V
Displacement: 2.6L (2,568 cc)
Fuel System: Electronic Fuel Injection
Cylinder Bore: 86.9 mm (3.42 in)
Piston Stroke: 73.7 mm (2.90 in)
Compression Ratio: 8.5:1
Power: 276 hp at 6,800 rpm
Torque: 260 lb-ft at 4,400 rpm
Firing Order: 1-5-3-6-2-4
A derivative of the RB25DET, the RB26 was introduced in 1989 and had its run until 2002. Unlike its predecessor, the RB26 utilizes a cylinder block with no oil port and features an inline-six layout with a cast-iron block and aluminum cylinder heads.
The RB26DETT has internal dimensions measuring 86.9 mm for cylinder bore and 73.7 mm for piston stroke and runs an 8.5:1 compression ratio.
The name RB is simply the engine series and not "Race Bred" or any of its other derivatives commonly thrown around in forum threads. The suffix 26DETT stands for "2600-cc DOHC Electronic Fuel Injection Twin Turbo".
2JZ vs RB26: Design and History
It has been decades since these engines were brought to life, but they're still extremely desirable even today.
Of course, behind every great engineering feat is the story of struggle, perseverance, and passion, and it's no different when it comes to RB and JZ engines.
Also, this dual would be incomplete without mentioning the JTCC (Japanese Touring Car Championship), Group A racing, and the widely known "gentleman's agreement" arranged between JDM marques.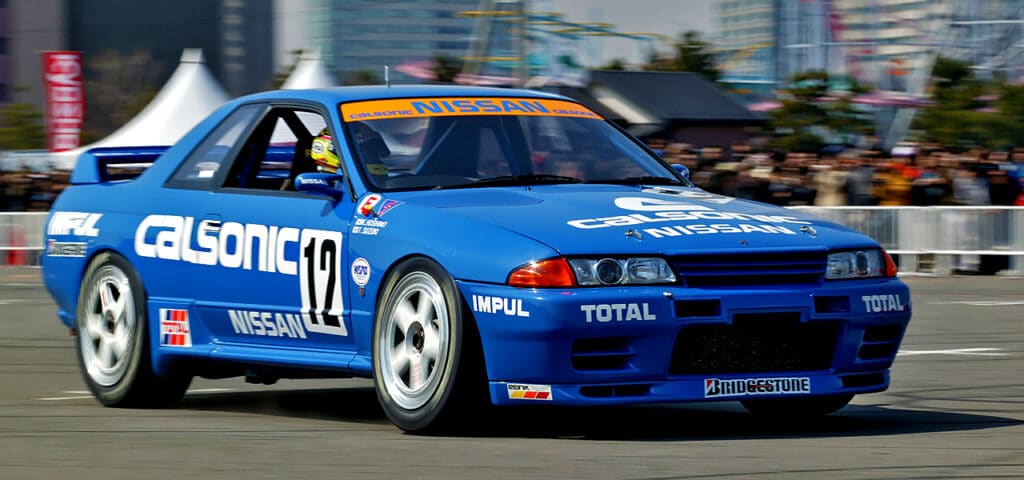 But for now, we'll let this discussion focus solely on these mechanical legends.
Powering several iconic cars, the RB26 was, no doubt, built with performance in mind. From R32 to R34 GT-Rs, Nissan's rendition of an ideal inline-six powerhouse turned out to be a treat for enthusiasts and tuners alike.
RB26 engines used in R32 and R33 GTRs made use of solid lifters, belt-driven cams, piston squirters, and water-cooled turbos.
In the R34, however, the RB26 got ball-bearing turbochargers, stainless steel dump pipes, a dual-mass flywheel, and a noticeable increase in output as a result.
The RB26 features a cast-iron block and aluminum heads, providing an excellent platform for monstrous power figures. Two parallel Garrett T25 turbochargers (T28s in R34) with ceramic impellers handle forced induction duties.
With a boost pressure of 10 psi (0.69 bar), the RB26DETT achieves 276 hp at 6,800 rpm and 260 lb-ft of torque at 4,400 rpm. Towards the end of its production run, however, RB26s were tuned to 316 hp, with torque jumping to 289 lb-ft.
Alongside the normal RBs, Nissan introduced the RB26 N1, a hardcore version built exclusively for motorsports. The engine featured better internals with stronger connecting rods, pistons, and an upgraded cooling system.
On top of that, the N1 got a restyled manifold, upgraded piston rings, camshafts, and turbochargers with steel impellers. Overall, it was an RB26DETT that could withstand intense abuse and scrutiny.
As for Toyota's iconic 2JZ moniker, two versions were made available in the market. The more common 2JZ-GE was intended for powering mundane cars, while the 2JZ-GTE was a factory turbocharged high-performance powerhouse.
If you didn't know, the 2JZ-GTE was introduced as a response to Nissan's RB26DETT.
Being a bit late meant engineers could make the 2JZ more potent than its resident counterpart. That resulted in the 2JZ having a longer stroke, more displacement, and sequential turbos, in addition to its more durable non-interference design.
While the RB26 manages 276 hp and 260 lb-ft of torque, the 2JZ puts out 320 hp and 333 lb-ft. Unlike the RB, the 2JZ offers more low-end torque, which is a significant advantage when on a track.
As for the 2JZ, both GE and GTE engines were derived from their respective 1JZ counterpart, namely 1JZ-GE and 1JZ GTE. While they share the same bore and stroke, the GTE came with several noticeable upgrades over its non-turbocharged sibling.
The motor made use of twin turbochargers with a factory boost of 10 psi (0.7bar), ran 8.5:1 compression, and came with forged pistons, connecting rods, and 380cc upgraded injectors.
But the significant difference between the 1JZ and 2JZ GTE engines (other than displacement) was the turbocharging setup.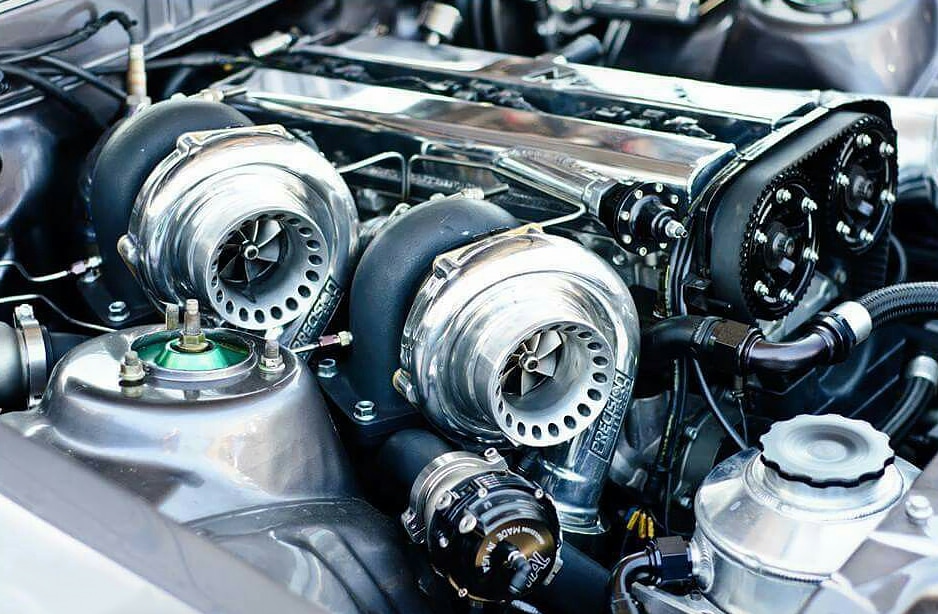 The former employed a parallel twin-turbo arrangement (like the RB26), while the 2JZ used sequential twin turbos instead.
Other noticeable upgrades in the 2JZ-GTE were recessed piston tops (giving a lower compression ratio), oil squirters, and a different head with redesigned inlet/exhaust ports, cams, and valves.
A few years later, the 2JZ twins received an update, where Toyota's variable valve timing (VVT-i) was introduced on both.
Also, the GTE now featured new stainless steel turbochargers, revised camshafts, and larger injectors (550 cc/min for North America and Europe, 440 cc/min for JDM).
Tuning Potential
With minor mods and a good remap, you can easily extract 400 hp from an RB26, which, to be honest, is plenty enough. However, if you find the number unimpressive, 600 hp is the next level to aim for.
Anything above that, and you're looking at upgrading the internals and engine block, depending on how much boost you want to run.
In terms of tuning potential, a stock 2JZ can hold up to 800 hp without any issues. Even stretching it to 1,000 hp won't do much damage to the stock engine block.
Toyota's over-engineering and quality control have made the engine quite dependable even at these crazy power levels.
However, if you're a complete hoon and for some reason find 1,000 hp lacking, there are stage three upgrades that can push your 2JZ well over 1,200 hp.
Keep in mind that you'd most certainly have to replace the block and a lot of the engine internals at this stage.
Sound
Barring V10, inline-six is arguably the best-sounding engine layout out there. The sound is never obnoxious but has a rich tone that intensifies as the revs climb.
As to whether the RB or 2JZ sounds best, there's really no one answer to that. However, if you listen closely, then perhaps the RB26 will edge ahead in terms of quality.
Why? Individual throttle bodies. Unlike the 2JZ, the RB26 has six throttle bodies as opposed to one large unit. Not only do individual throttle bodies increase power and responsiveness, but they also enhance the sound.
For the average person, it's really quite difficult to tell these engines apart, especially by just relying on the sound. But for enthusiasts and especially JDM car fanboys, it would be a piece of cake.
The induction sounds paired with the straight-6's inherently great sound make the RB and 2JZ a real treat for the senses.
Which One's the Ultimate Straight-Six?
Honestly, the answer is not that simple. Both engines are incredibly potent and capable of achieving insane horsepower figures, but they are not perfect.
At over 650 lbs (with all the accessories), the 2JZ is relatively heavy versus the 420-pound RB26. Also, the 2JZ's shim over bucket design is quite different from that of the RB26's shim-less setup. This calls for valve float in the 2JZ at high engine speeds.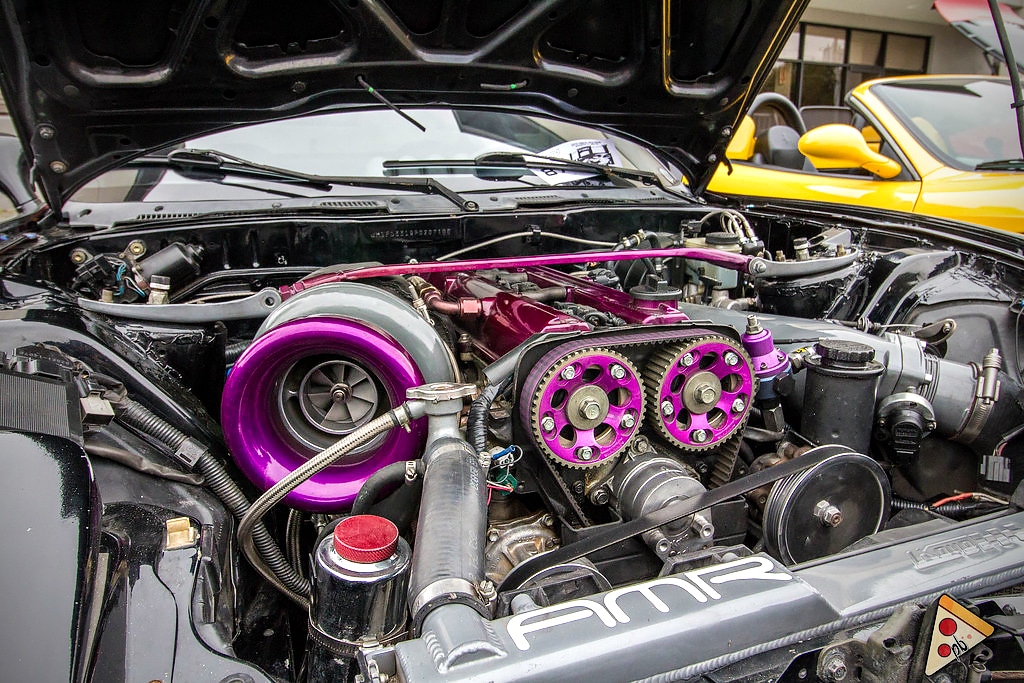 As for the RB26, it's down on displacement and power. By design, the 2JZ makes peak power and torque lower down in the rev range.
Also, the RB is an interference engine. If a timing belt or chain snaps, the valves can get into contact with the pistons, resulting in catastrophic engine damage.
Since the RB26 is oversquare, it doesn't offer as much torque as the 2JZ. But the RB makes up for that by having a higher redline. Another saving grace for the RB26 is that it's rarer than the 2JZ.
Also, only the RB has a proper racing pedigree. Contrary to what many believe, Toyota engineers never used the 2JZ for JTCC and Group A racing since it was deemed heavy. Instead, they used the 3S-GTE inline-four and 3UZ V8.
Both RB26 and 2JZ are mechanical legends; there's no doubting that. So here's what we think is the best use case scenario for these icons.
If you want 400 to 600 hp with an excellent engine sound and a bit of racing DNA, go for the RB26. But if 1000+ hp and extreme durability are your requirements, the 2JZ is the one to have.
Which one is your favorite? Let us know by leaving a comment below!