If JDM cars are your thing, the RB25 is probably no stranger to you. Often overshadowed by the mighty RB26, the RB25 is nothing short of an engineering masterstroke.
It has equally good, if not better, tunability, excellent reliability, and an iconic engine sound.
Nissan introduced the RB25DET in 1993. The 2.5L straight-six was made available in two versions:
Series 1 and
Series 2.
The latter was introduced in 1995. Found in early R34 and R33 GTS-T Nissan Skylines which weren't allowed in the USA, the RB25DET had quite a few advantages over its non-turbocharged counterpart.
In this article, we'll go over specs, reliability, and swap info for the RB25DET engine.
We'll briefly touch on the differences between the most popular variants of the RB25DE platform, along with pitting the RB25 against the SR20 and the coveted RB26 to see which one is the better pick for you.
Nissan RB25DET Specs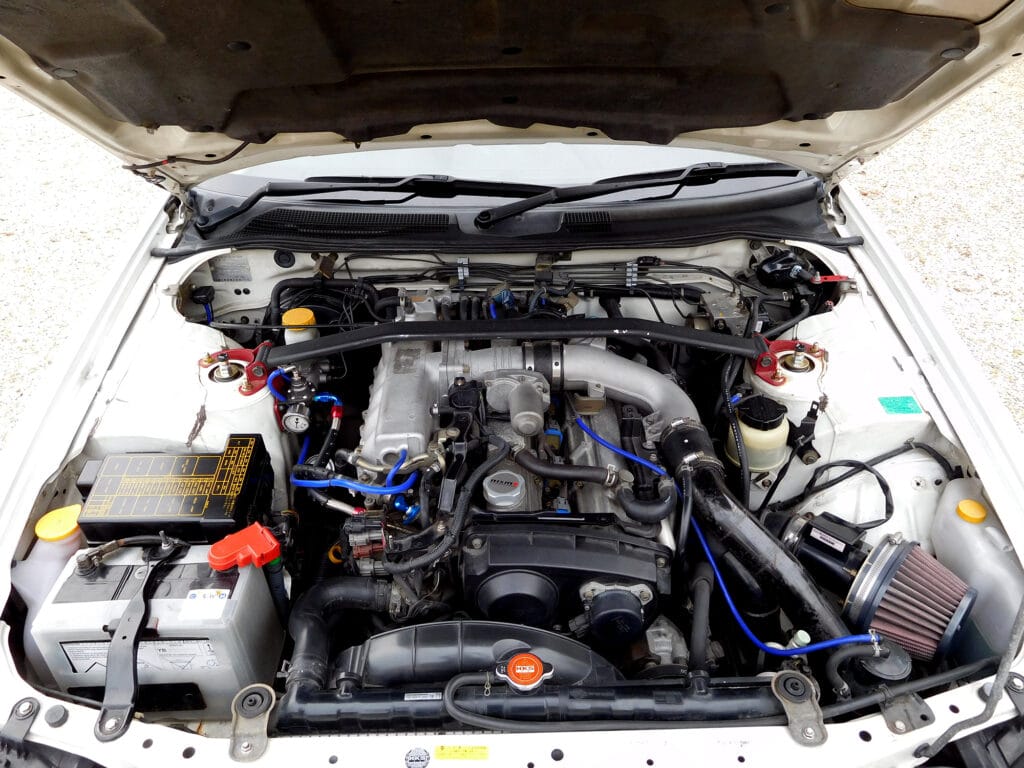 Engine Code: RB25DET
Layout: Inline 6 cylinder Turbocharged DOHC 24V
Displacement: 2.5L (2,498 cc)
Fuel System: Electronic Fuel Injection
Cylinder Bore: 86 mm (3.38 in)
Piston Stroke: 71.7 mm (2.82 in)
Compression Ratio: 8.5:1, 9.0:1 (RB25DET NEO)
Power: 245 hp to 250 hp (RB25DET), 280 hp @ 6,400 rpm (RB25DET NEO)
Torque: 235 lb-ft @ 4,800 rpm (RB25DET), 267 lb-ft @ 3,200 rpm (RB25DET NEO)
Firing Order: 1-5-3-6-2-4
Before we go on to understand the RB25DET, let's briefly look at the RB25DE. If you didn't know, the RB25DET is a factory turbocharged version of the RB25DE.
Everything else is pretty much identical except for the power ratings, of course. The RB25 had four iterations during its time in the market:
RB25DE,
RB25DET,
RB25DE NEO, and
RB25DET NEO.
The RB25DE was introduced in 1991 and powered the R32 Skyline GTS25. Versions after 1993 made use of variable valve timing (NVCS) on the intake side, adding more power and torque.
The non-turbo RB25DE made roughly between 180 and 200 horsepower, depending on the engine series.
RB25 engines used a similar cast-iron cylinder block to its predecessor, the RB20. But the 25 series came with a larger cylinder diameter of 86 mm, a piston stroke of 71.7 mm, and new connecting rods and pistons.
The inline-six engine displaces 2,498-cc with four valves per cylinder, twin camshafts, and an aluminum cylinder head.
The RB25DET shared fairly similar internals but was offered with larger injectors, improved pistons, reinforced connecting rods, and a bigger 45V1 turbocharger.
If you're wondering what the naming sequence stands for, the "RB" in RB25DET is the engine series while 25DET stands for "2500-cc DOHC Electronic Fuel Injection Turbo." All RB series engines, including the RB25DET, are interference engines manufactured in Yokohama, Japan.
The RB25DET weighs around 189 kilograms or 417 lbs and holds 4.3 quarts of oil with a viscosity of 0W-30 (for colder climates), and 5W-30 (for hotter climates).
Nissan revised both the RB25DET and RB25DE in 1995, releasing the second series to the market.
The newer engines featured upgraded ignition coils with built-in ignitors and a new turbocharger for the 25DET. The newer 45V2 turbocharger used a ceramic turbine wheel instead of the aluminum wheel found in the V1.
The changes didn't end there. Series 2 engines received a new airflow meter, mass airflow sensor, camshaft position sensor, throttle position sensor, crankshaft position sensor, and an updated ECU.
But, other than the slightly different camshaft designs, there weren't any mechanical differences between the series 1 and series 2 engines.
Fast forward to 1998, and Nissan introduced the new RB25 NEO, available to both the turbo and non-turbo engines. Changes were aplenty; NEO engines featured solid lifters instead of hydraulic lifters and revised camshafts with an on/off solenoid Variable VCT.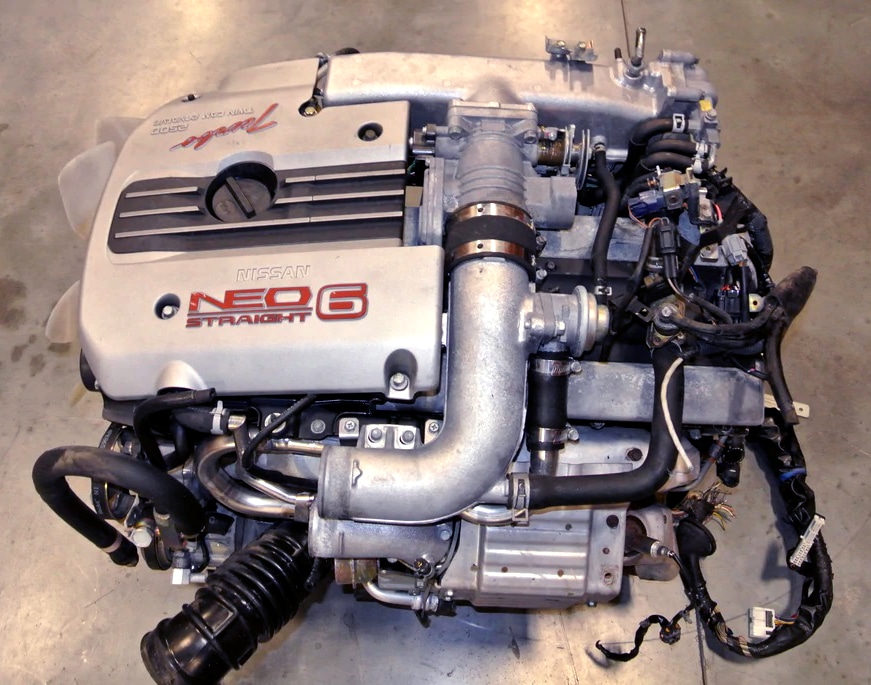 On top of that, the turbocharged DET engines received connecting rods from the RB26DETT and an upgraded 45V3 turbo with a larger OP6 turbine.
Some models used steel compressors and wheels, while others had a nylon compressor and a ceramic turbine. NEO engines also had a revised intake manifold, with the runner diameter getting reduced from 50 mm to 45 mm.
Additionally, NEO engine heads had smaller combustion chambers. Pair that to stronger connecting rods from the RB26 motor, and the engine can now run a higher 9:1 compression ratio.
This allowed the motor to make a peak power of 280 horsepower and 267 lb-ft of torque, the most ever in the RB25 lineup.
Common Problems With Nissan's RB25DET
Engines, especially Japanese makes, are typically over-engineered and built to last, and the RB25 is no exception.​
The motor is generally considered reliable and extremely strong. But at the end of the day, it's still a collection of moving parts, and there are bound to be problems. The RB25 is no stranger to that; it has a few minor issues worth keeping in mind.
Number one, sometimes the ignition coils fail and cause engine misfire. You need to replace the coils every 60,000 miles.
RB25s are also subject to electronic problems and fuel consumption issues. Of course, engines with higher outputs demand more fuel, and since the RB has its peak figures at 6,000+ rpm, it will surely consume quite a bit of fuel.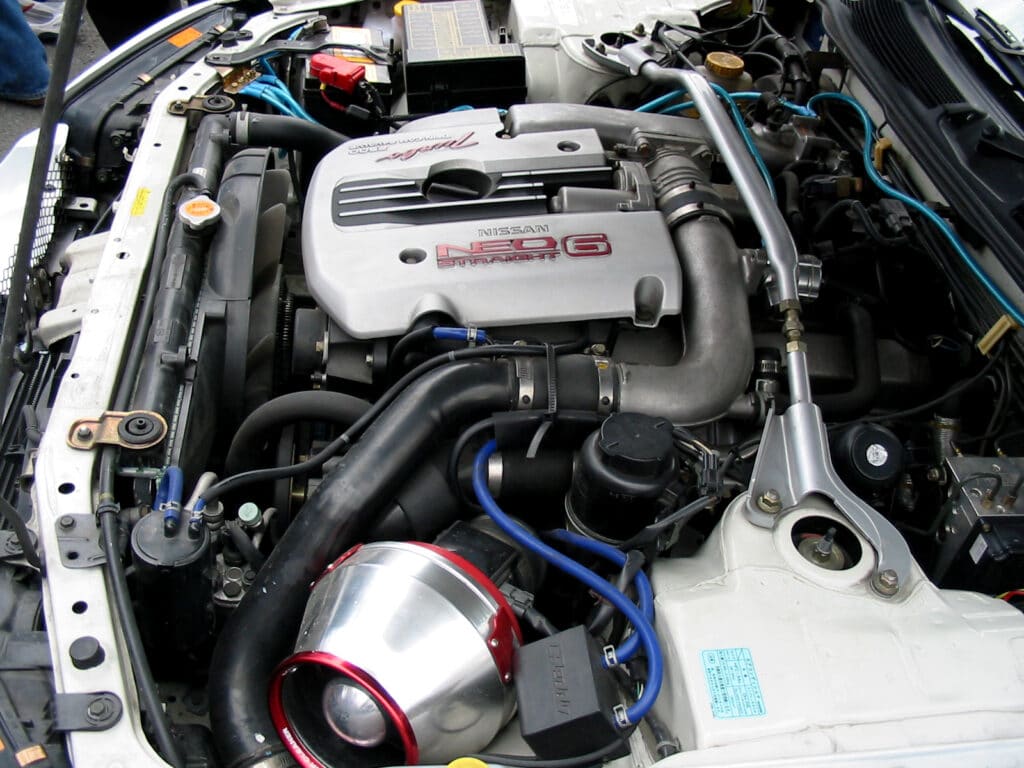 Also, because these are interference engines, it's a great idea to change the belts every 60,000 to avoid potential engine failure. That is of course, unless you want to find out what happens when a timing belt breaks.
Valve adjustments are advised every 60,000 miles as well, as these engines have solid lifters instead of hydraulics found in non-NEO RB25s.
Running more than 13 psi on a standard ceramic turbo might cause some trouble. Premature turbo failure can occur, so proper maintenance and timely oil changes are highly recommended to ensure adequate cooling and lubrication.
Regardless of all this, you cannot overlook its tuning potential; which is perhaps its greatest enemy.
To be honest, the RB25's problem is not that it's unreliable, just that it requires a lot of babysitting. Things like over-revving, poor mapping, lack of maintenance, and over-boosting can completely ruin it.
Boost pressure is super-critical, especially if your driving style involves staying at high revs for a long time. Once over 13 psi, you'll probably want to upgrade the internals.
Things like aftermarket fuel pressure regulators, upgraded head gasket, oil cooler, stronger head bolts, forged pistons, and connecting rods are worth considering.
Are RB25DET Engine Swaps Expensive?
If you're looking for an RB25 swap, the costs are generally on the lower side. For swapping an RB25, the motor alone will set you back around $2,000 depending on where you source it from.
Say you were to source an RB25 with quite a few add-ons, several of which are available used. But the asking price varies from $2,800 to $3,500, depending on the kit onboard.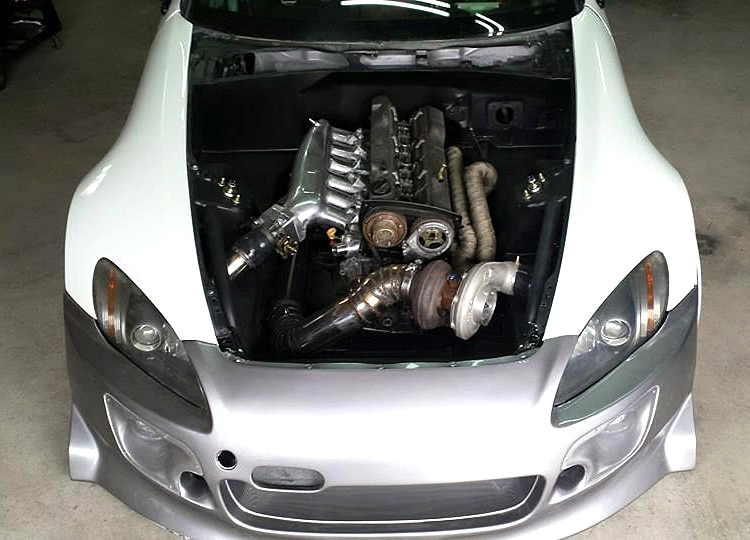 The thing is, an RB25 swap won't be expensive if you get deals. There are plenty of outlets offering an extensive array of parts for RB25. It's just that you'll have to be patient and diligent at doing a fair bit of research.
Also, DIY is the best way to save money. For instance, you could finish the entire build for under $4k. But that includes doing most of the work yourself. Labor costs can be expensive, ranging anywhere between $1,000 to $2,000, depending on how much work there is.
Here are some of the costs involved if you're to perform an RB25 swap:
Engine: $1,900-$3,500
Engine Mounts: $200
Aftermarket Intercooler: $225
Driveshaft: $350
Radiator: $250
Intake Manifold: $200
BOV: $100
Miscellaneous: $300
The costs mentioned above are heavily dependent on the place and deals on offer. But the general theme here is that the build is not cheap. If you were to finish the stock build under $4k, you'll want to spend more for improving some of the hardware.
Keep in mind, this is just the running gear. Things like an aftermarket exhaust, performance oil pump/cooler, button clutch, upgraded brakes, and coilovers are potential upgrades worth considering.
To be honest, if you're not careful with the project, a relatively decent build with quality internals will set you back a total of $7,000, and that's without labor. If you're keen on saving as much as you can, going DIY is your best option.
In terms of mapping, stage 1 should get you above 300 hp, but it will ramp up the cost. A stage 1 clutch pack costs $300 and the hybrid turbo costs between $600 to $2,000.
The ECU is another grand, if not more. After all this, you'll have the test and fine-tune the output, which requires a dyno, add that plus auxiliaries, and the total cost can easily reach $10k.
RB25DET vs SR20DET: Which One's the Better Swap Idea?
If you're looking for a relatively cheap build, the SR20DET is the one to have. Although the stock engine is a bit low on power, it's still a highly tunable motor with excellent aftermarket support. Later versions do support variable valve timing, plus ball bearing turbos are available as standard.
It's not all fun and games, though. The SR20DET's aluminum blocks are known to warp. Some owners have even experienced the stock rods and gaskets going out after a stage 1 upgrade. Plus, you need to check on the valves, as both SR20 and RB25 are interference engines, so that's something worth keeping in mind.
For argument's sake, the SR20DET is worth considering as a fairly cheap alternative. A complete SR20DET build can be done with approximately $5,000, and this is with upgrades like Carbon Clutch Kit, performance flywheel, intercoolers, and so on.
Is there any difference between the two? Yes, of course, there is. The SR20DET is a four-pot, while the RB is a straight-six motor, peak outputs differ, and stock internals are slightly better on the RB.
But really, if you're looking to save money, swapping an SR20DET isn't a bad option.
RB25DET Vs RB26DETT: Does Twin-turbo Make It a Better Buy?
The RB26 was introduced in 1989 and had its run until 2002. A derivative of the RB25DET, this engine, unlike its predecessor, utilizes a no oil port design.
RB26DETT engines came with solid lifters, belt-driven cams, piston squirters, and water-cooled oil-lubricated turbos. Earlier versions of the engine were known for oil consumption, and pre-1992 R32 motors had oil pumps failing at high rpm.
When compared to the RB25, the RB26 has significant advantages. In terms of power, the RB26 puts out 276 horsepower and 260 lb-ft of torque, with later versions producing up to 316 horsepower and 289 lb-ft.
The RB25, as you can tell, is a bit weak in that respect. However, sourcing an RB26 won't be cheap, which isn't the case with the RB25.
Sure, it's no bargain, but there is a significant advantage when it comes to saving money. Both engines have equally good aftermarket support, so that's a tie there.
For an RB26 swap, the motor itself will set you back $10,000 or more, depending on the condition and who you source it from. Secondly, some engines don't come with a harness, ECU, and auxiliaries. So expect to shell another $5k-6k.
Honestly, we'd choose the RB25, considering there is enough tuning potential, and it doesn't cost a fortune to build. Plus, reliability is almost the same, without much of a difference.
If there's anything between the two, it's that the RB26 was built to race, which is why the stock internals are so robust.
Is a Nissan RB25DET Right for Your Build?
The RB25 is by no means the best Nissan engine out there. Quite frankly, such a thing hardly exists. Engines are typically considered great if they hold up well, have parts available, and are highly tunable, with little to no internal upgrades.
If all this is taken into consideration, then the RB25 is one of the best motors you can get your hands on. It has excellent aftermarket support, parts are easily available, and quite a few engines are on sale as either new, used, or rebuilt versions.
Of course, the next thing to consider is money. Just as we mentioned above, it's no bargain in the motoring world, but it's among the most reputable. That is, there's enough demand, but it's not as highly coveted as its sibling, the RB26.
For an enthusiast, that's quite a deal, considering you're not losing out all that much plus, whatever that does differentiate between the two is shadowed by the price difference.
What do you think about the RB25DET? Let us know in the comments below!