1969 saw the birth of two now-iconic Japanese performance cars: the Datsun 240Z and the PGC-10 Skyline 2000 GT-R, or Hakosuka, as most enthusiasts call it.
Datsun would later become Nissan, but their legendary Z-cars and the GT-R are still very much alive and kicking today.
Nissan has continued to churn out impressive, high-performance engines ever since. Arguably more so than any other Japanese automaker.
These engines found a home in everything from supercar slayers and everyday sports cars to hot hatchbacks and even family sedans.
They're available in a wide variety of configurations including four-cylinders, V6s, V8s, and straight-6 units.
In this article, we've discussed the features, specs, and tuning potential of some of the best high performance Nissan engines ever made.
SR20DET: 2.0-Liter 4-Cylinder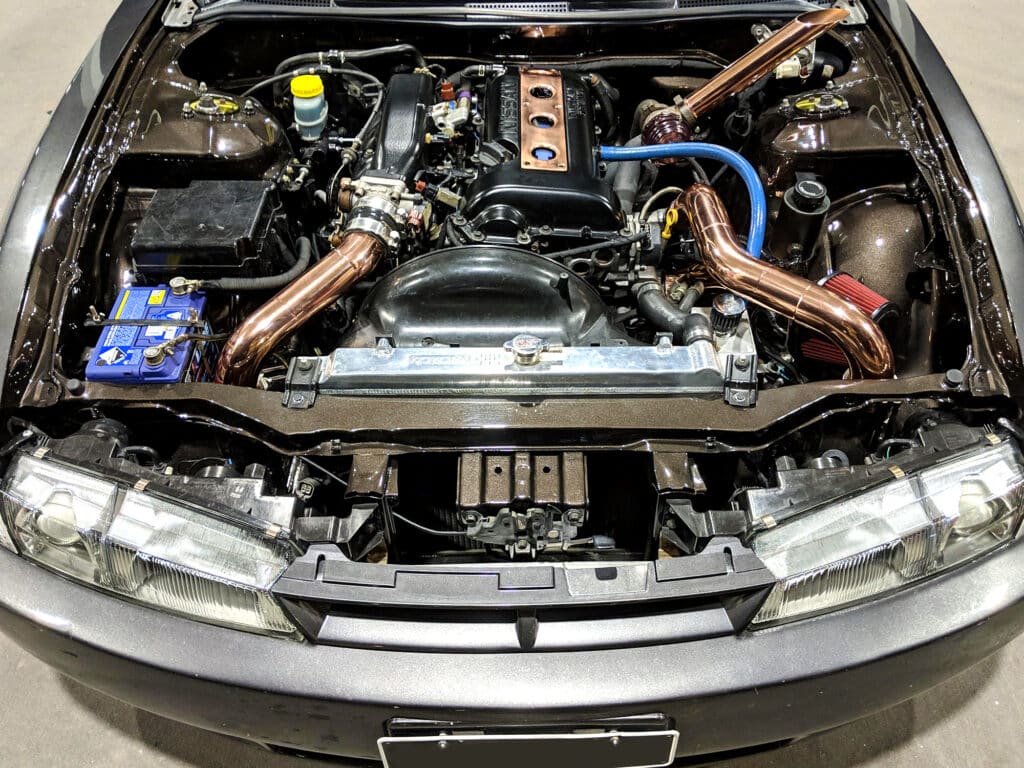 Layout: Turbo inline-4 DOHC 16 valve
Displacement: 2.0L
Power: 220 hp at 6,000 rpm, 250 hp at 6,800 rpm
Torque: 203 lb-ft at 4,000 rpm
The 2.0-liter Nissan SR20DET was only available in Japanese and European markets, where it saw use in multiple cars such as:
1991-1993 Silvia K's, 180SX, and Bluebird SSS Attesa LTD
1990-1994 Pulsar GTi-R and Sunny GTi-R (European version)
1994-1999 Silvia K
1999-2002 Silvia Spec-R
1994-1997 180SX Type R and Type X
1994-1995 Bluebird SSS ATTESA LTD
1993-1999 200SX (Euro)
1995-2001 Avenir Salut GT Turbo and GT4
1997-2001 R'nessa GT Turbo
SR20DET motors were available with and without variable valve timing, with different versions distinguishable by their unique valve covers.
Basically, if it has a black valve cover, it has variable valve timing and if it has a red valve cover, it doesn't. These are commonly referred to as black top and red top engines.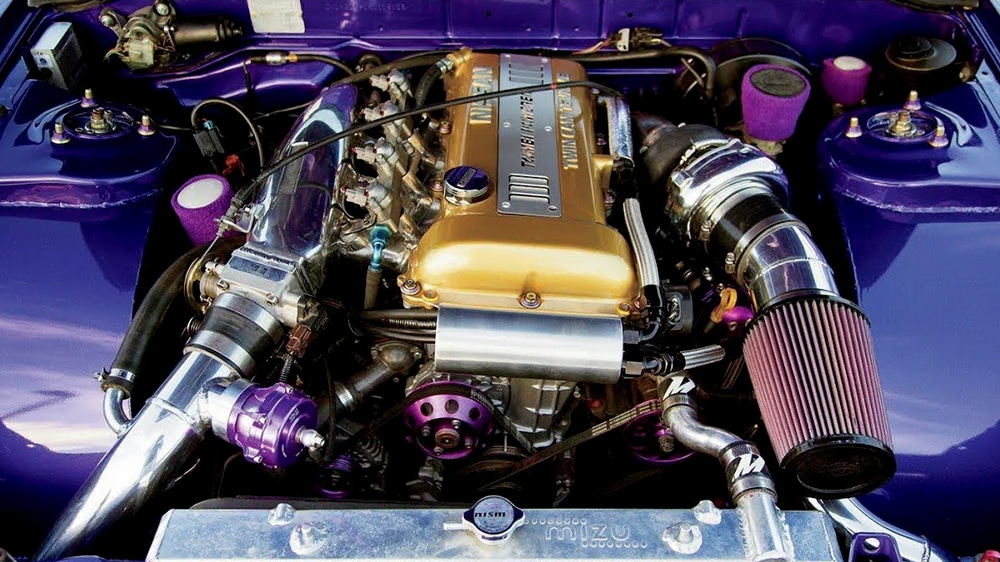 The SR20DET uses a square geometry, which means it's able to sustain high-rpm when you're driving at the limit.
It also provides decent torque at lower revs, essentially providing the best of both worlds, something that a lot of Nissan V8 engines can't do.
Seeing as the SR20DET comes with a turbo, and in some variants, it includes VVT and individual throttle bodies, which makes for a seriously impressive 4-cylinder unit.
Tuning the SR20DET is as easy as it gets; install a bigger turbocharger, feed the engine more fuel, and give it a proper tune, and the SR20DET can produce over 350 whp.
Upgrading the internals, cams, valve springs, head gasket, and head bolts lets you run up to 500 whp.
That's as far as it's recommended to take a road-driven car, but more power can be added if you're keen on throwing more time and money at it.
A properly built SR20 turbo can reliably run in excess of 700 whp. No wonder it's considered one of the best Nissan engines.
There's an honorable mention here for the SR20VET as well, which is equivalent to the DET in many ways, only it features Nissan's NEO Variable Valve and Lift technology, similar to VTEC, which you'll see on many of Honda's best engines.
Other key differences are that the VET lacks a distributor, has better airflow throughout the head, slightly higher compression, and improved cooling.
VG30DETT: 3.0-Liter V6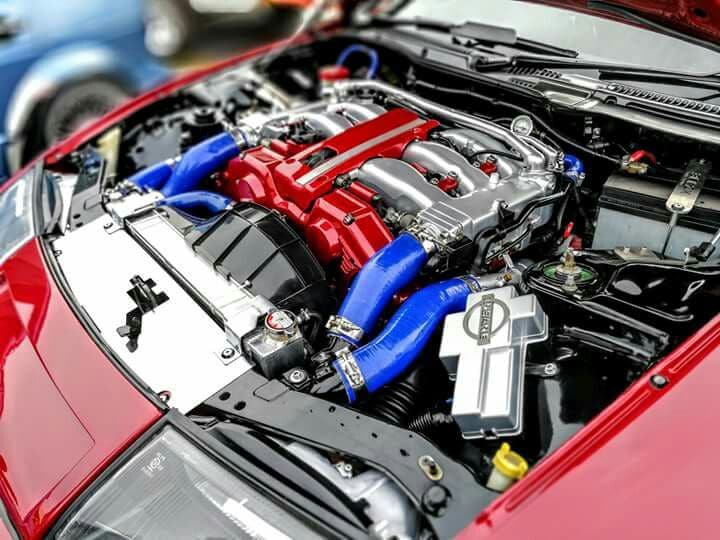 Layout: Twin-turbo V6 DOHC 24 valve
Displacement: 3.0L
Power: 276 hp at 6,400 rpm, 280 hp at 6,400 rpm, 325 hp at 6,800 rpm
Torque: 281.9 ft·lb at 3,200 rpm, 283.4 ft·lb at 3,200 rpm, 286.3 ft·lb at 3,600 rpm
Nissan's 3.0-liter twin-turbocharged V6 engine was exclusively found in the 1990 to 1996 300ZX Twin-Turbo in the States. In JDM spec, it was only available in the 1989 to 2000 Fairlady Z.
The VG30DETT engine never reached the same cult status as the SR20 and RB26 units.
It's much less common to see these swapped into other Nissan models, but 300ZX owners love them and have taken these engines to the next level.
Thanks to its twin-turbocharged VG30DETT engine, few cars could keep up with the Z32 Nissan 300ZX in the '90s.
The V6 engine features a cast-iron block, and the two cylinder heads each have a pair of cams and NVTCS: An early valve timing control system by Nissan.
In addition, there are two turbochargers with a side-mounted intercooler for each, forcing more air into the engine. The setup is able to pump out 300 hp in stock form, and it can handle a lot more than that.
There are cars running 700+ whp VG30 engines, but that's a bit excessive for road use, not to mention that reliability will take a hit.
For street use, 400 whp to 450 whp is a decent goal as it can be attained with a larger turbocharger, intake, exhaust, and a proper tune.
Those looking for even more power will need to look into forged pistons and other beefed up internals.
VQ35DE: 3.5-Liter V6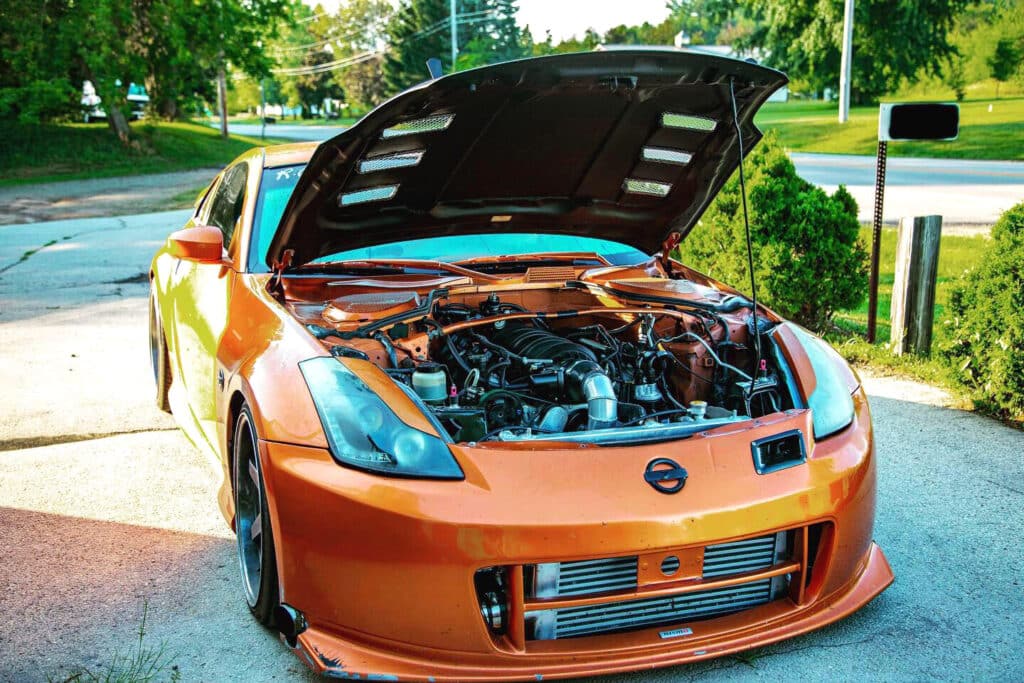 Layout: NA V6 DOHC 24 valve
Displacement: 3.5L
Power: 313 hp at 6,800 rpm
Torque: 363 Nm (268 lb-ft) at 4,800 rpm
Most people think of the 2003 to 2006 Z33 when the VQ35DE engine comes up in conversation.
However, it also powered the Infiniti G35 from the same era, along with about two dozen other cars, both from Nissan and other brands. Some of the most popular models include:
Nissan Pathfinder
Nissan Altima
Nissan Maxima
Nissan Stagea
Nissan Skyline V35 (Infiniti G35)
The VQ35DE is a great unit, and has appeared on multiple best-engine lists over the years. Some would say it's Nissan's best engine as far as naturally aspirated units go.
Nissan kept improving the VQ35DE, and in 2005 it morphed into the VQ35HR. The latter had improved exhaust timing, a higher rev limit and minor internal upgrades, boosting output to 313 hp.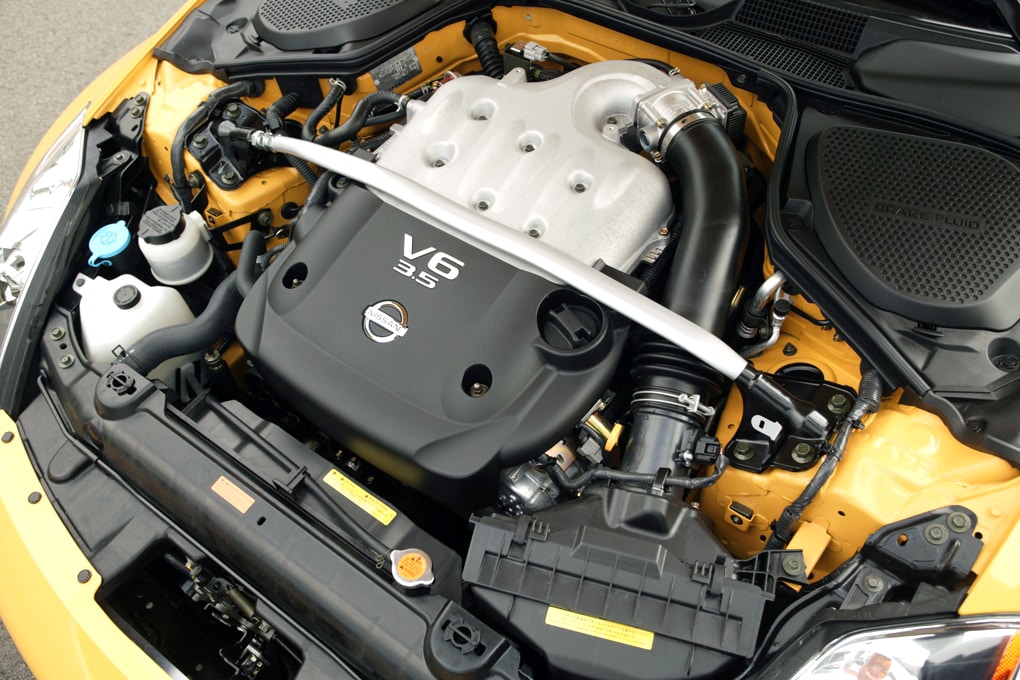 Since the VQ35 has seen action in so many different cars over the years, parts are widely available.
Although it's a great engine, it does have a few issues, most notably high oil consumption and low compression when low-octane fuel is used.
However, that's something you can fix by using fuel octane boosters or simply filling up with better quality fuel. The VQ35 is overall a very reliable unit that responds well to tuning.
In stock form, it comes with forged con-rods and crankshaft; and a high-flow induction system as well.
It's relatively easy to squeeze out more power from the Nissan VQ35 engine. Simple bolt-ons, such as an intake and full exhaust, new intake manifold and plenum, along with camshafts, and a good tune can get you over the 300 whp mark.
Beyond that, supercharging can offer a reliable 350+ whp, and going down the turbo route can easily get you past 400+ whp. At that point, you should definitely start looking into strengthened internals.
The big brother VQ37VHR did get a bump of 44 hp from only a small increase in displacement. The 3.7 l engine may be pump out more power stock, but you'll pay for it.
When it comes to using one for a swap, most people prefer a VQ35 variant because, with a turbo strapped to the side, the performance difference is negligible.
Of course, if you want to wind up the boost for maximum power, a HR or VHR variant is the better base to work with.
RB26DETT: 2.6-Liter Straight-6
Layout: Twin-turbo straight-6 DOHC 24 valve
Displacement: 2.6L
Power: 276 hp at 6,800 rpm
Torque: 260 lb-ft at 4,400 rpm
The Nissan RB26DETT engine can be found in the R32, R33, and R34 Skyline GT-R chassis, which means it was in production for over 13 years.
Many JDM enthusiasts will argue that the RB26 is the best Nissan engine ever. It certainly used to be, but we believe the VR38 has more tuning potential at the time of writing.
That said, the RB26 can hold its own against many modern engines and is still considered one of the best engines for drifting as well as drag racing.
Nissan has a whole family of RB engines, but the RB26DETT is hands down the best of the bunch. It packs more power than the RB20DET and RB25DET in stock form, and it easily has the most potential when it comes to extracting even more ponies.
With its cast-iron engine block, 24-valve aluminum head, individual throttle bodies, and parallel turbos, the RB26DETT is just begging to be tuned.
The first step when looking to extract more power from the RB26 is to make sure the engine is in good health.
Rebuilt turbos with metal wheels in place of ceramic ones can safely run 14 psi. Pair that with a high quality catback exhaust and you're looking at 350+ whp with a stock ECU.
The fuel pump, injectors, stock turbochargers, and MAF sensors need to be swapped when you reach roughly 400-450 hp.
All the other components can easily handle 600+ hp. The head and block can take 1000+ hp with supporting mods.
There have been some crazy builds with 2000+ hp, so the sky (or your wallet) is the limit here.
VR38DETT: 3.8-Liter V6
Layout: Twin-turbo V6 DOHC 24 valve
Displacement: 3.8L
Power: 480 hp at 6400 rpm, 600 hp at 6,800 rpm
Torque: 434 lb-ft at 3,200-5,200 rpm, 467 lb-ft at 3,300-5,800 rpm
The VR38DETT is the best Nissan engine of all time. It's been in production since 2007, and fitted in every R35 Nissan GT-R since 2009. It is the most powerful mass-produced engine ever made by the Japanese car manufacturer.
Each VR38DETT engine is hand-built in a dedicated clean-room by five specially trained mechanics known as "Takumi Craftsmen." Their names can be found on a badge on each GT-R engine.
Interestingly enough, if you've ever wondered who makes Nissan engines, you'll be surprised to know that a lot of them are built by Renault. So the fact that VR38DETT is handbuilt in-house makes it very special.
With the right parts, this twin-turbocharged all-aluminum V6 beast of an engine is even capable of slaying hypercars. In fact, the most powerful GT-R produces a rather insane 3,500 hp.
The VR38 is not only the best engine from Nissan's stable, it's the king of Japanese engines. While there are many engines from different manufacturers producing the same power in stock form, few can match its true power potential.
The VR38DETT has 24 valves controlled by dual overhead camshafts, and it features variable valve timing on the intake side only, with the turbine housing integrated into the exhaust manifolds.
It's a very rewarding engine to modify. Standard power figures range from 480-590 hp, but with quality parts and tuning, every version can run in excess of 1000 hp on pump gas.
A new, better-flowing turbo-back exhaust, improved intercooler, intake, larger turbos, fuel system upgrades, and mapping the ECU can release in excess of 150 whp.
The stock turbochargers can handle around 650 hp, and a pair of bolt-on upgrades can bring the total power up in the region of 700 to 900 hp while remaining driveable.
VK56DE 5.6-Liter V8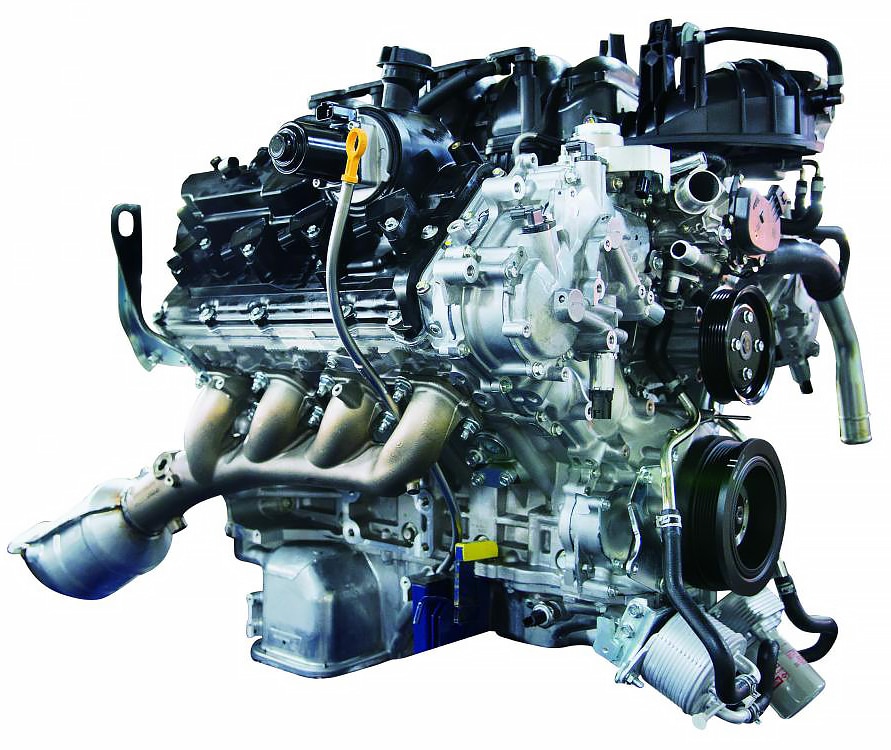 Layout: NA V8 DOHC 32 valve
Displacement: 5.6L
Power: 305 hp at 4,900 rpm, 320 hp at 5,200 rpm
Torque: 385 lb-ft at 3600 rpm, 393 lb-ft at 3400 rpm
Nissan's VK56DE engine is best known for its lightweight aluminum block, tuning potential, and overall durability.
It features a fully balanced 5-bearing crankshaft along with 2 aluminum heads and 2 camshafts. It has an electronic throttle and ignition system with individual coils on each spark plug.
Even though this 5.6L V8 doesn't rev too high and was originally built for off-road use, it's not uncommon for enthusiasts to swap this engine into smaller track-cars.
It's extremely robust and you should definitely consider it for your project car if you want one of the best Nissan V8 engines ever built.
FJ20ET 2.0-Liter 4-Cylinder
Layout: Turbo inline-4 DOHC 24 valve
Displacement: 2.0L
Power: 187 hp at 6,400 rpm, 202 hp at 6,400 rpm
Torque: 166.05 lb-ft at 4,800 rpm, 180.81 lb-ft at 4,400 rpm
The FJ20ET is a turbocharged version of the legendary FJ20E engine from the late 60s. It is a 2.0L engine featuring an iron block, 4 valves per cylinder, DOHC, and the world's first sequential fuel injection system.
It was the engine of choice for drag racing in the 80s. That's until it was rendered obsolete by the SR20, not because it was objectively better, but because the FJ20 was harder to come by, and more expensive.
FJ20s were equally popular in Group A racing as they'd make around 400 hp with 80s technology. At the time of writing, it's not uncommon to find modified examples of these engines making over 800 hp without breaking a sweat.
KA24DE 2.4-Liter 4-Cylinder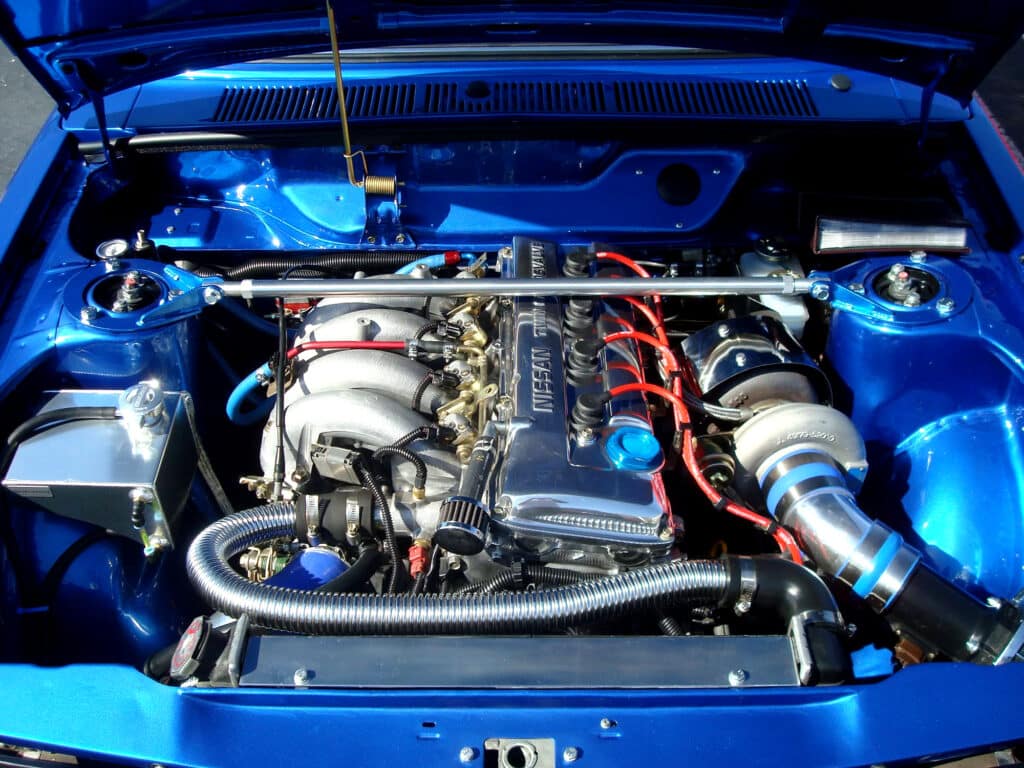 Layout: NA inline-4 DOHC 24 Valve
Displacement: 2.4L
Power: 143 hp at 4,300 rpm, 155 hp at 5,600 rpm
Torque: 153.3 lb-ft at 3,600 rpm, 159.9 lb-ft at 4,400 rpm
The KA24E and KA24DE are some of the most successful motors Nissan has ever made. They're often compared to the SR20DET as both engines have powered the same chassis over the years — most notably the 240sx and 180sx.
Nissan's KA motors have been in production for over 2 decades, with the KA24DE being the most preferred in the tuner community. That said, the SOHC KA24E version is more popular among drag racers.
Both engines are extremely receptive to forced induction and perform especially well when turbocharged with the right supporting mods.
The KA24DE engine features a sequential electronic fuel injection system, ignition timing control, and an EGR system.
It's got a cast-iron cylinder block, cast steel connecting rods, and half-counterweighted forged steel crankshafts.
Concluding Thoughts
There are many more Nissan engines that are lesser known and highly regarded in the tuner community. But to keep this post from turning into an exhaustive list, we've only included some of the best engines Nissan has ever made.
What's your favorite high-performance Nissan engine of all time? Let us know by leaving a comment below.
If you enjoyed reading this post and found it useful, consider sharing it with your friends on Facebook or Reddit. We appreciate your support!