Nissan's RB engine family is highly coveted in the world of tuner engines. The entire lineup is great, but the RB26 takes the crown even though its lesser-known siblings, such as the RB20 and RB25, are equally capable when it comes to longevity and tuning potential.
These may not be as popular as their RB26 cousin, but they sure pack a punch, especially the RB20. This 2.0L 6-pot is considered the granddaddy of all things RB, and is such an underrated piece of hardware.
Often making a steady appearance in the drifting scene, the RB20DET is almost always contested against the SR20 — another one of Nissan's engineering masterstrokes — as a swap alternative. Both engines are pretty robust with decent tunability.
But how does a straight-6 RB20 stack up against the SR20 4-pot? Or better yet, should you consider swapping an RB20 over an RB25?
In this article, we'll be answering these questions and discussing RB20 engines in detail, specifically the tuning potential, upgrades, tech specs, and general reliability.
Nissan RB20DET: Specs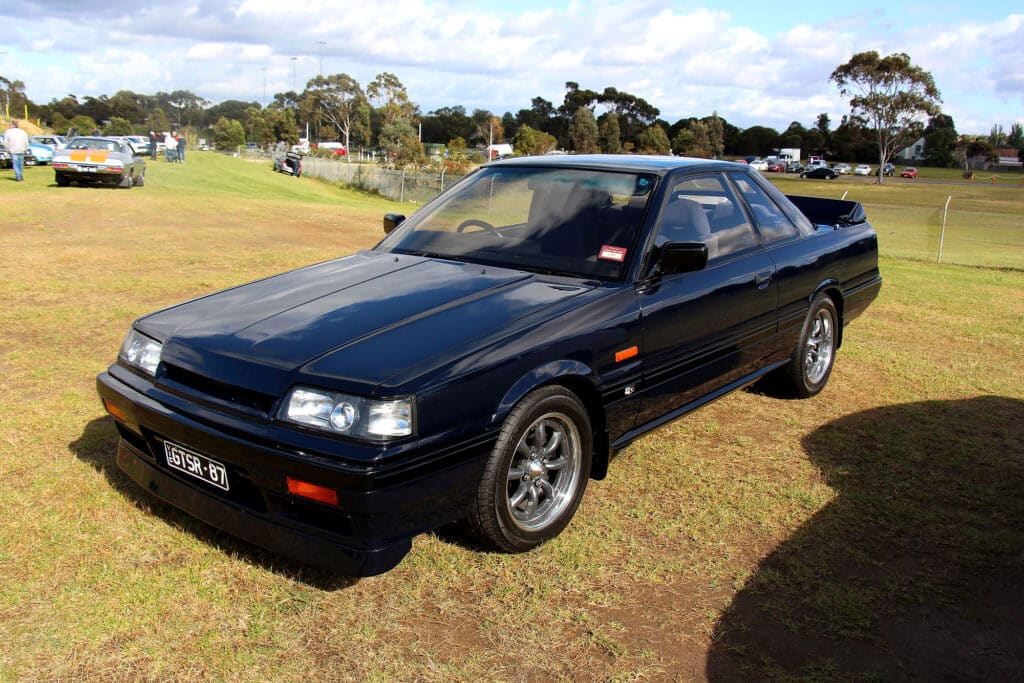 Engine code: RB20DET
Layout: Inline 6 cylinder turbo DOHC 24V
Displacement: 2.0L (1,998 cc)
Fuel system: Electronic Fuel Injection
Cylinder bore: 78 mm (3.07″)
Piston stroke: 69.7 mm (2.74″)
Compression ratio: 8.5:1
Power: 215 hp at 6,400 rpm
Torque: 195 lb-ft at 3,200 rpm
Firing order: 1-5-3-6-2-4
Over the course of its production life, the RB20 experienced an evolution of small changes that distinguish each generation Nissan released.
You had everything from the rudimentary RB20E to the RB20DET-R that powered the HR31 GTS-R homologation special. The "RB" in RB20DET is the engine series, while 20DET stands for "2000 cc DOHC Electronic Fuel Injection Turbo."
Nissan made use of the RB20DET in the HR31 Skyline, the Fairlady 200ZR, and the R32 Skyline. But the engine wasn't exclusive to these sports coupes and made its way into several daily runabouts like the Nissan Stagea, Laurel, and Cefiro.
The RB20DET has multiple iterations, visually identified by the engine cover. Red Top and Silver Top are the two types commonly seen in the market, with the latter being the more desirable.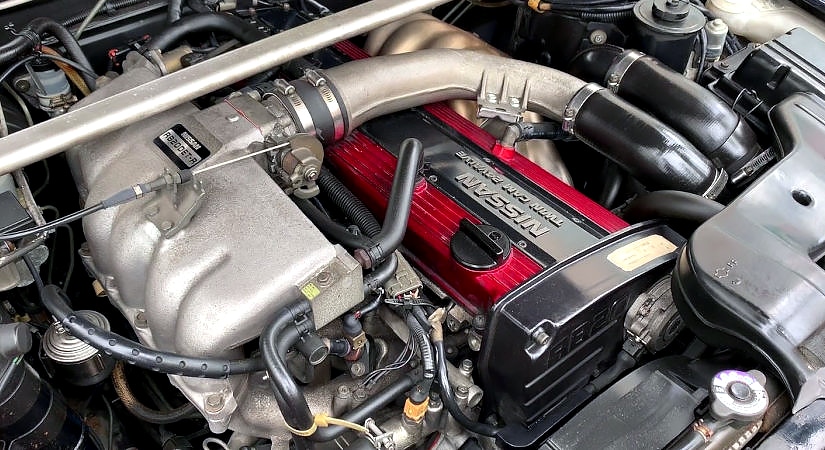 Red Top engines featured the Nissan Induction Control System (NICS), which uses a dual-stage induction system for better low-end torque. The Silver Top employs Nissan's Electronic Concentrated Control System (ECCS) and introduces a bigger turbo and a new ECU.
Displacing 1998 cc, the RB20DET has a cast-iron engine block and cylinder head with a 78 mm bore and 69.7 mm stroke. It's an oversquare engine, offering healthy amounts of power and torque without much compromise. The engine has an 8.5:1 compression ratio and features a Garrett ball-bearing T28 turbocharger running seven PSI of boost.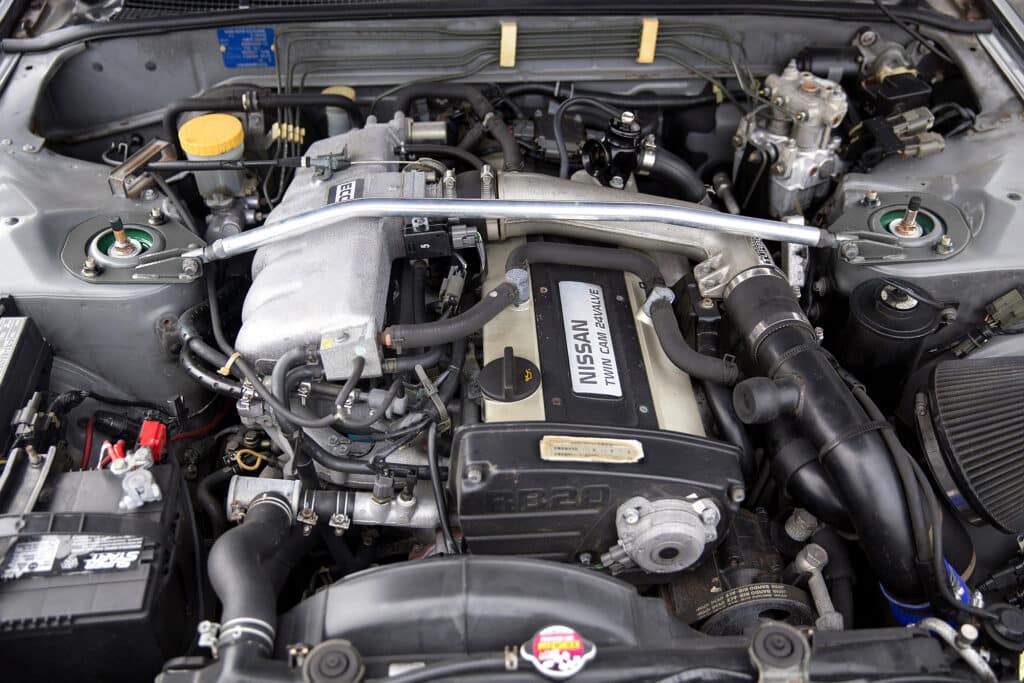 The RB20DET weighs around 245 kg or 540 lbs and holds 5.2 quarts of oil. The recommended viscosity is 7.5W-30, which, unfortunately, is not a standard in the U.S. As a result, many owners run 10W-40, which they find suitable for optimal engine performance.
How Reliable Is The RB20DET?
JDM engines are typically over-engineered, and the RB20 is no exception.​ The motor is considered to be reliable and extremely durable.
We've seen instances of stock motors lasting over 200,000 miles with nothing more than a bit of TLC. However, finding an unabused example is next to impossible.
But at the end of the day, it's still a collection of moving parts, and there are bound to be problems. The RB20 has a few minor issues worth keeping in mind.
RB20DET has known problems surrounding the crank collar. Due to a design flaw, the crank collar and the oil pump tend to get damaged, potentially leading to a complete loss of oil pressure.
The fix is to machine off and replace the stock collar, which, as you can tell, is neither cheap, nor easy.
Another issue with the oil pump is that it pushes too much oil into the cylinder, especially during high RPM. Furthermore, the oil may not end up draining into the pan, leading to oil starvation issues.
This isn't a straightforward fix either. Also, the RB20DET is an interference engine. If a timing belt or chain snaps, the valves can get into contact with the pistons, resulting in catastrophic engine damage.
Regardless, you cannot overlook the RB20's overall tunability. It's an excellent platform if you don't overdo it. To be honest, the RB20's reliability boils down to how sensible you are with mods.
Poor mapping and lack of maintenance can lead to an unreliable RB20DET build. The fact is, your RB20 could turn into a money pit if you aren't diligent with tuning and general maintenance.
What About The RB20DET's Tuning Potential?
It's not uncommon to see RB20s with over 300 hp. The stock block is good for well over 700 hp and can withstand increased boost pressures.
If you're considering a swap, we recommend capping it at 300 hp if you want a safe build that's worth the effort. Anything less, and there's no real incentive to put in the money and time.
You could go ahead and push over 450 hp, and the stock internals — barring the pistons and connecting rods — will be able to handle it. RB20DET upgrades to get to these power levels include:
Aftermarket intercooler (front mounted)
Full 3″ turbo-back exhaust
Upgrading to GTR fuel injectors (440 cc) versus RB20's stock 270cc
GTR fuel pump or walbro 255, or bosch 044, whichever fits your budget
Aftermarket fuel lines
ECU tuning
Turbo upgrade
If you're pushing past 450 hp, you may want to look at pistons, rods, and head studs. An intake upgrade is also on the cards, but isn't absolutely necessary unless you're swapping a bigger turbo.
However, we recommend you pay attention to upgrading the crank collar (if it's a rebuild) and address the oiling issues mentioned earlier.
Keep an eye on boost pressure too, especially if your use case involves constantly sitting at high revs. Over 12 psi, you'll probably want to upgrade the fuel pressure regulators and the head gasket, among other things.
You can technically swap an RB20DET for around $5,000. But that doesn't include the mods, though. Expect another couple of grand, depending on the build. Also, make sure you have enough money for miscellaneous expenses, and that your build is within spec — don't overdo it.
SR20DET vs RB20DET vs RB25DET: Which Is Better?
If you're looking for a relatively cheap build, the SR20DET is the one to get. Even though the stock engine is a bit low on power, it's still a highly tunable motor with excellent aftermarket support.
The SR20 is a 4-pot, while the RB25DET and RB20DET are straight-6 motors; peak outputs differ, and stock internals are slightly beefier on the RB. At 540 lbs, the RB20 is over 100 lbs heavier than the SR20.
Also, the latter is more powerful, despite being down on cylinder count. But the RB's added heft, owing to its cast-iron block and cylinder heads, is an advantage versus the all-aluminum SR20. Honestly, the real contention here is between the RB20 and RB25.
The RB25 is relatively newer compared the RB20. The latter is also down on power in its stock guise. But really, if you're looking for an RB engine, chances are it won't remain stock for very long.
Both engines cost about the same, with the RB25 being marginally more expensive. Aftermarket support is pretty good in both cases as well. That said, the RB25 is a torquey motor relative to the RB20.
If you factor in weight, the RB25 has a clear advantage, thanks to the motor being just 417 lbs. That's despite the increased engine capacity.
Durability, however, is relatively better in the RB20, but the difference isn't all that significant. The RB25 is less top-heavy, owing to its aluminum cylinder heads.
Both the RB20 and SR20 are relatively cheap builds, but you'll end up spending more anyway. The RB25 is the more expensive of the lot, but you do get a six-cylinder engine with around 250 hp out of the box.
If you can source an RB20 cheap, and then add mods, you kind of get the best of both worlds. In the end, it all boils down to money. But if that's no object, we'd say get the RB25. Heck, you can go one up and even swap an RB26DETT if you're looking for the ultimate RB build.
Nissan RB20DET: Conclusion
The RB20 is by no means the best engine out there. An engine is usually considered good if it holds up well, has performance parts available, and is highly tunable, with little to no internal upgrades.
If you factor in all this, then the RB20 can be considered one of the best motors available in the JDM space. It has excellent aftermarket support, parts are easily available, and quite a few engines are on sale as either new, used, or rebuilt versions.
The RB20's attainability is yet another attractive prospect. Parts are relatively cheap, despite the engine ceasing production years ago. Also, unlike its more coveted siblings, building one from the ground up doesn't require deep pockets.