Honda is known for its commitment towards making affordable, reliable, and fun to drive cars. Over the last couple of decades, they've made some of the most exciting engines the tuner community has ever seen.
From bespoke race-ready motors to production-friendly, street-focused units, the automaker has quite the pedigree when it comes to making great engines.
It's worth mentioning that most Honda engines end up in runabout econoboxes that will probably never get within 50 ft of a dyno.
In contrast, there are some obscure Honda cars that are powered by some of the best 4-bangers in the business, but these are high-ticket items.
So if you're on a budget but want a fun tunable project car, opting for a run-of-the-mill Honda engine is perhaps your best choice.
But of course, there are quite a few of these to choose from. In this article, we'll make your hunt easier by discussing some of the best Honda engines that you should consider installing in your project car.
Best Honda Engines to Build
From ever-popular B16 and K20 engines to icons like the F20C, C30A, and C32B, Honda's engine lineup is quite diverse and rich in terms of engineering prowess.
There are several gems in Honda's engine stable, but few stand out as favorites in the tuning community. Here's a list of Honda engines that we feel are a good platform for mods and upgrades.
Honda B18C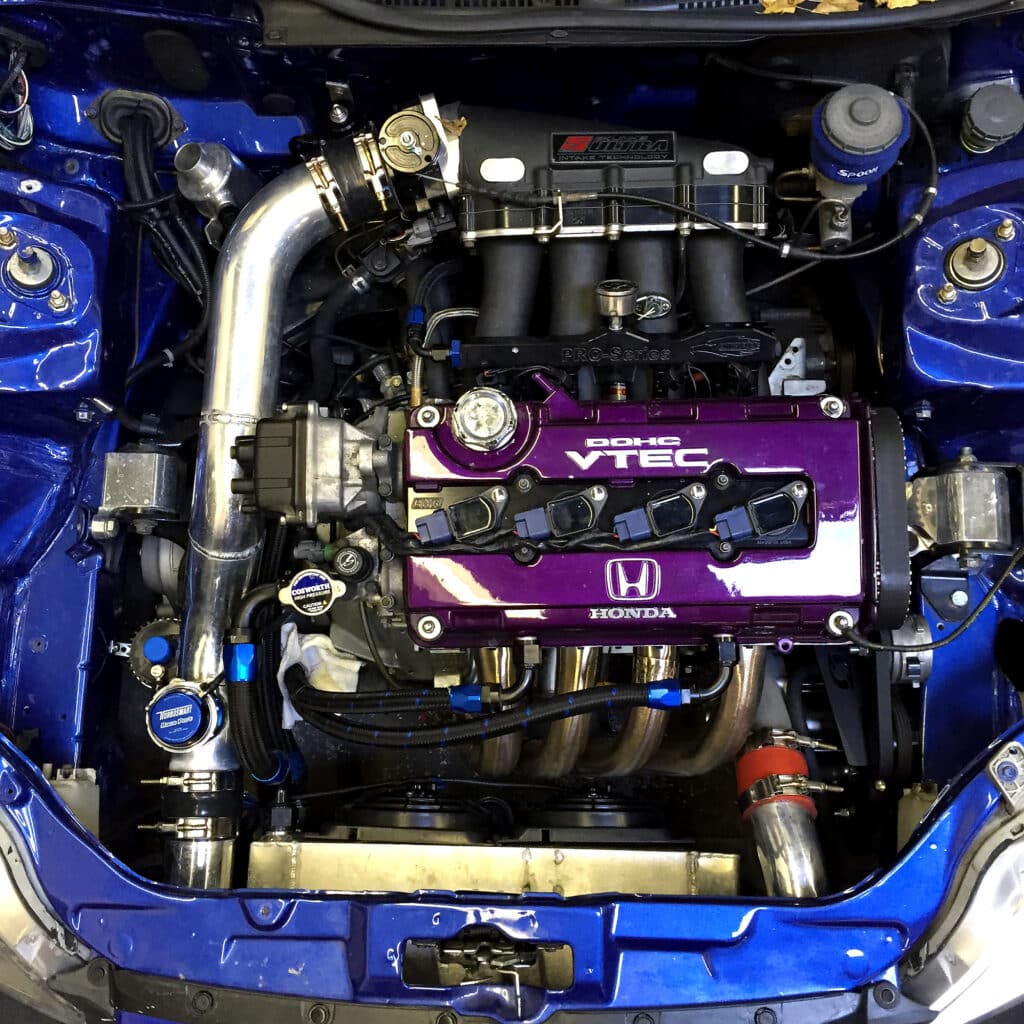 Honda's B-series engines are particularly favored among tuners across the globe. Out of all the B-series engines that Honda has made over the years, the 1.8L B18C is definitely the best of the bunch.
There are 9 variants of the B16 engine, and as for the B18, Honda made several versions for different markets. The B16A puts out 160 hp from the factory, while the B18C is rated at 178 hp.
Honda is known for making reliable engines, and the B-series is no exception. Well-maintained examples of the B18C can last well over 300,000 miles, as long as you don't go overboard with engine mods.
Here's why we love Honda's B18C engine:
Can be sourced easily
Excellent aftermarket support
Easy on the pocket
Excellent valvetrain design
Revs to the moon
Swap-friendly
Heavily modded examples have hit close to 1,000 hp
Easy to work on
Robust and reliable
Honda K20A
As a successor to the B-series, Honda's K-series lineup, particularly the K20A (2.0L) and K24 (2.4L), is gaining popularity as the go-to choice among tuners.
Sure, a well maintained K20A may not be as affordable as the B16A or the B18C, but the engine lineup overall is significantly more advanced than its predecessor.
The most notable difference is i-VTEC instead of VTEC. The introduction of Honda's intelligent-VTEC system adds variable cam phasing, allowing the ECU to actively advance and retard the camshaft timing.
While there are close to 25 variants in the K-series lineup, all impressive in their own way, it's the K20A2 and K24Z that really stand out in terms of their stock performance, availability, and tuning potential.
The K20A, found in JDM FD2 Civic Type-R, puts out 221 hp at 8,400 rpm. The K24Z3, found in the 2009-2014 Acura TSX, makes around 201 hp and 172 lb-ft of torque.
For reference, the similarly-specced K24Z7 inside the 2012-2015 Honda Civic Si is also well-received in the tuning space. We particularly like the K20A engine for the following reasons:
Clockwise crank rotation (compatible with aftermarket transmissions)
High horsepower potential
Square engine design
Chain driven camshafts
Huge aftermarket support
Carries over most of the B-series' benefits except affordability
Honda F20C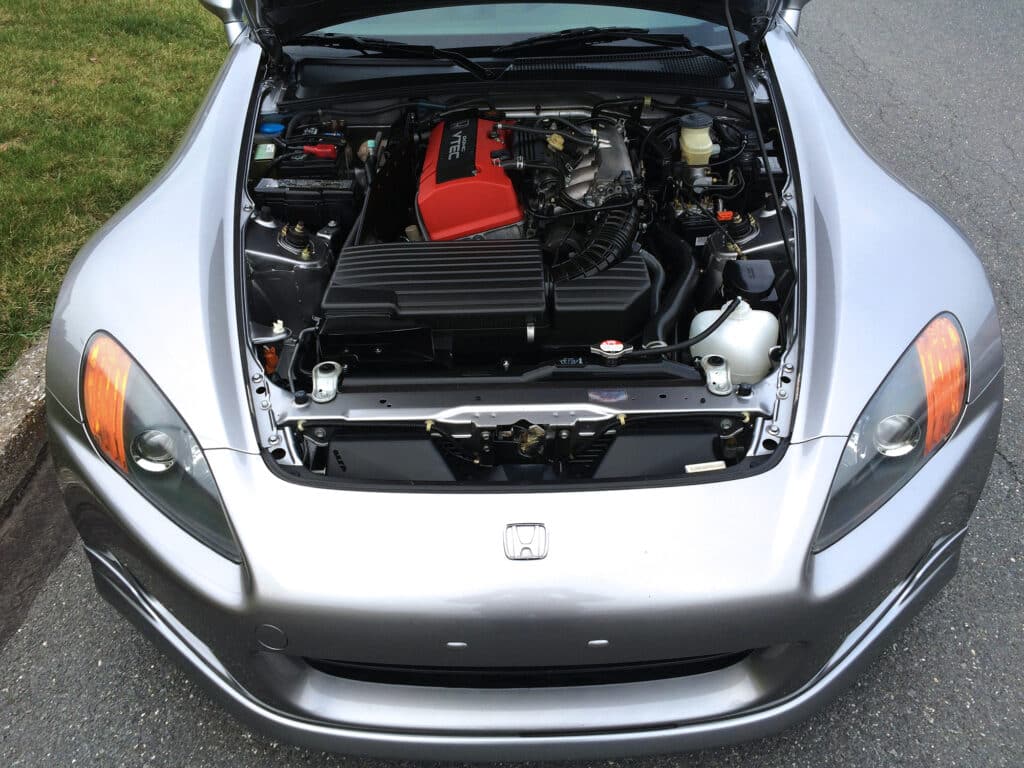 If you're into JDM cars, chances are that you're no stranger to the F20C. This motor, along with the F22C1 powered the iconic Honda S2000.
Engineers developed these engines to near-perfection thanks to the experience and invaluable information accumulated through the company's racing endeavors.
As the name suggests, the F20C is a 2.0L unit that produces 237 hp and 155 lb-ft of torque. The F22C1, on the other hand, displaces 2.2L and puts out 240 hp with 162 lb-ft.
While more displacement is always a good thing since high displacement engines respond better to modifications, many enthusiasts prefer the F20C to the F22C1 because it sounds great and loves to rev high.
Both engines have VTEC at the intake and exhaust, alongside chain-driven cams, roller followers, and molybdenum-coated piston skirts for reduced friction. What's more exciting, however, is that these engines can rev up to 9,000 rpm.
Additionally, the designers achieved yet another impressive engineering feat, with the F20C having one of the highest specific outputs among naturally-aspirated production engines.
You'll find the F20C in the AP1 Honda S2000s between 1999 and 2003, while the F22C1 powered the AP2 S2000 from 2004 to 2009. Here are some of our favorite features of the F20C engine:
Well-designed engine
Decent aftermarket support
Forced induction examples have made well over 800 hp
Short stroke design
Easy to work on
Extremely durable
Honda J35A4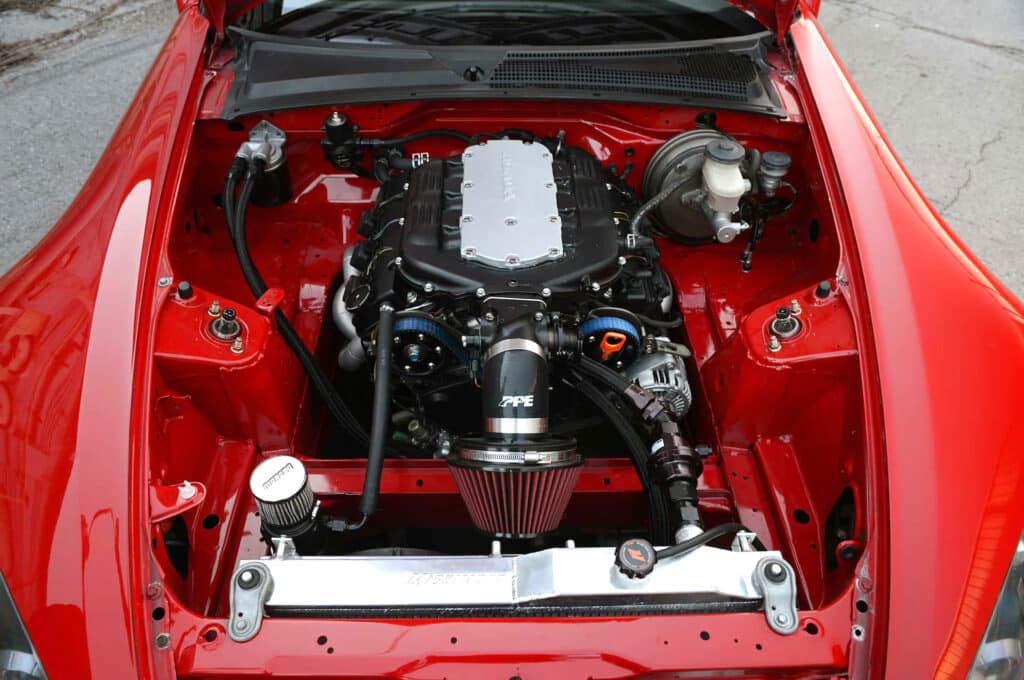 The J35A4 is the only V6 engine on this list and for good reason. Found across several Hondas, this 3.5L V6 is the perfect choice for those who want a fairly reliable motor that's easy to source.
Aftermarket support is pretty decent, and sourcing the engine cheap won't be a huge deal. The only catch is that all J-series engines, including the J25A4 have a single overhead camshaft.
You'll find this engine in a variety of Honda cars, most notably the '02-'05 Odyssey.
The J37A4 is another alternative if you want a bit more stock output and minor differences in weight. The J37 gets aluminum cylinder liners and an intake manifold made of cast magnesium alloy.
While the J35 weighs around 360 lbs, J37 estimates are not too far off, give or take a couple of pounds. Highlight features of the J35A4 motor include:
Variable cylinder management (turns off one cylinder bank for better fuel efficiency)
Can be sourced easily
Designed for transverse use
Extremely reliable
Can punch above its weight
Great aftermarket support
Affordable, depending on where you source it
Best Honda Engine to Build: Our Pick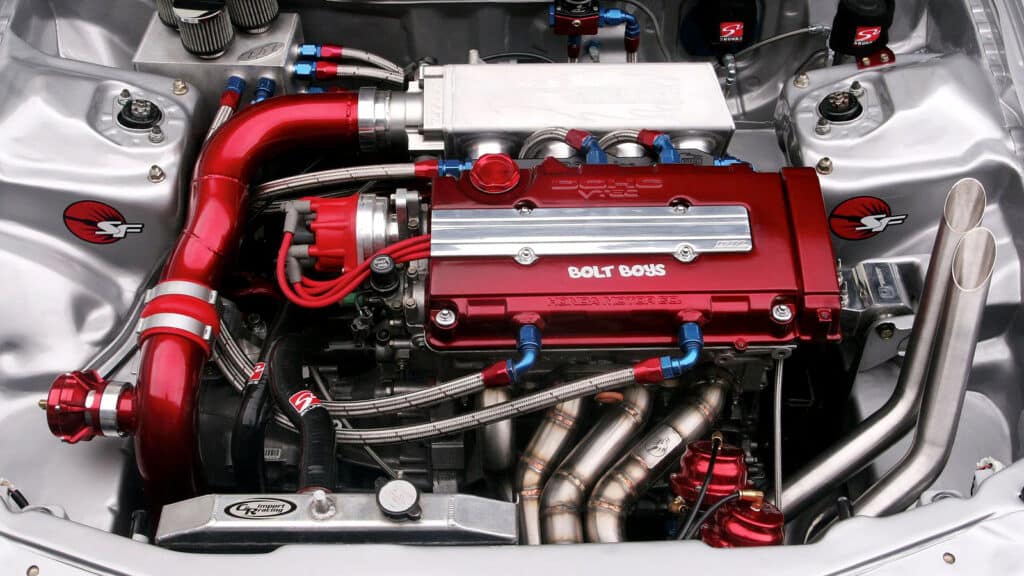 All engines on this list have their strengths and weaknesses. It really depends on what you intend to do with your build.
For instance, if your application involves a decent amount of hauling, we'd recommend going for the J35A4, as it gets more torque right out of the gate. However, if you're after horsepower, the B18C and K20A are hard to beat.
So, the next question is, is the B-series or K-series better? To be honest, the K-series is superior in almost every way.
It's more modern, more powerful, has higher displacement, and offers increased headroom for mods and upgrades. That said, the B-series is significantly cheaper to source than its successor.
There's VTEC on offer, it's no less reliable, and has the same, if not better, aftermarket support.
As you can tell, the only thing that separates the two is really the cost. If you have the money to spend on a K-series, by all means, go ahead. It's an excellent platform for tuning and mods.
But you get almost 80% of what the K-series has to offer in the B-series without spending K-series money. The B-series is most certainly an icon. The engine is still desirable three decades after its inception, which says a lot.
Our top choice is definitely the B-series. That said, the K-series has the potential to overthrow the B-series once it starts getting cheaper.
What's your favorite Honda engine? Let us know by leaving a comment below.
If you enjoyed reading this article, share it with your friends on social media or your favorite car forums. We appreciate your support!