Honda's K20 powerplant was meant to succeed and dethrone their long-reigning B-series engines, and to the disappointment of many loyal fans, that's exactly what happened.
Purists will almost always go for B-series engines because of their simplicity, analog driving feel, and affordability. But there's no denying that K-series engines are mechanically superior and more efficient, albeit more expensive.
There are several reasons why it's touted to be the best FWD engine Honda has ever made. Tuners around the world consider it one of the ideal engines for swapping into all kinds of project cars.
Which begs the question, what's Honda's secret sauce? It definitely has something to do with the K20 being an over-engineered commuter engine capable of producing nearly 3 times it's factory output, despite its miniscule 2.0 L displacement.
In this article, we'll take a closer look at the K20 platform, go through its variants, and discuss some of its common problems.
Honda K20 Engine: History and Variants
The "if it ain't broke, don't fix it" school of thought doesn't always gel with the concept of Kaizen. While the former has worked for many automakers across the globe, Honda has always lived by the mantra of continuous improvement.
For instance, they probably could've milked the B-series platform for another decade, but instead they chose to discontinue it in 2001 and replace it with K-series engines.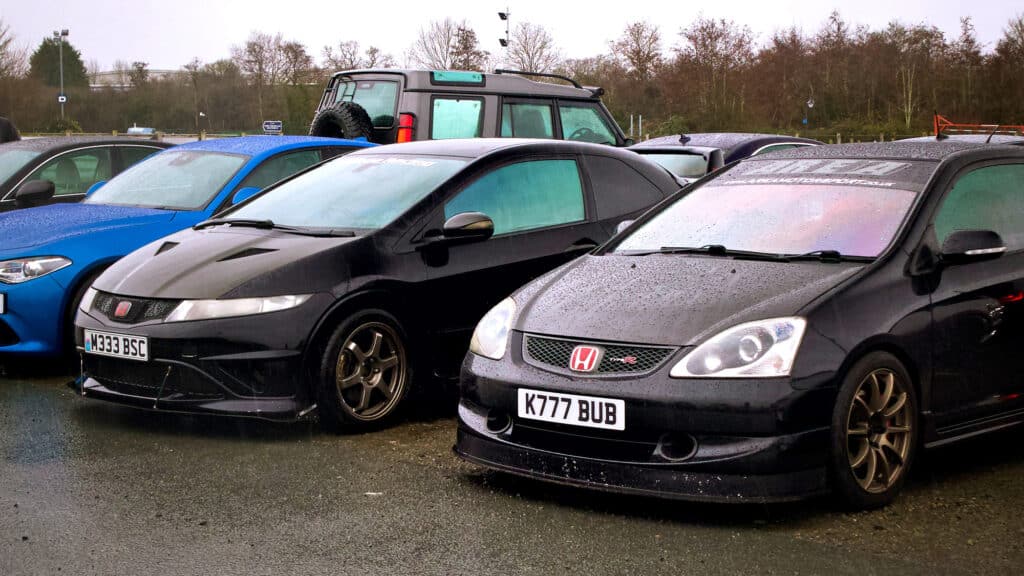 That said, it was based around the tried and true features of its predecessor, such as roller rockers, hollow twin cams, all aluminum design, and of course, VTEC.
As opposed to the B-series engines, the K20 is mounted more towards the left side of the engine bay. It follows a clockwise engine architecture, with the intake pointing towards the front of the car and axles routed lower around the firewall.
The base consists of an aluminum short block with thick iron sleeves. All versions of the K20, including the VTEC-E economy variants, have forged steel crankshafts.
All K20 engines feature cast iron pistons, but the performance variants have larger domes for higher compression. Like the K20A's Type R-only 11.5:1 compression ratio, for instance.
All this is to say, these engines are strong, which is why many tuners consider them to be the best Honda engine to build into high powered machines.
Over the years, the number of revisions and updates made to K-series engines only goes to show that Honda takes continuous improvement seriously.
Starting with the 2001 model year, Honda came out with several different variations of this engine and released many of them at the same time.
These variations are very similar to one another; the main differences have to do with the implementation of Honda's variable valve timing technology (VTEC).
K20A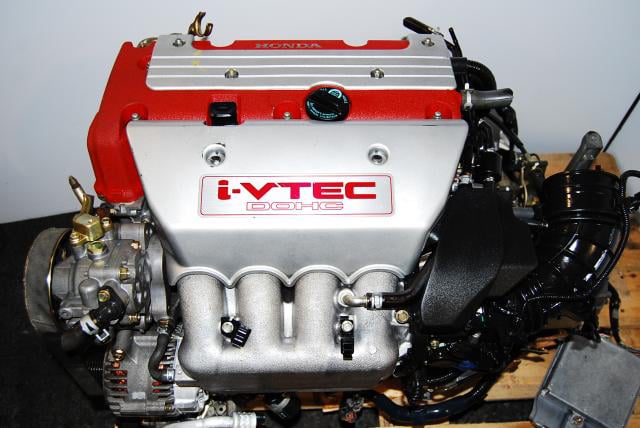 Not only is the K20A the first K20 engine that Honda released, but it's also one of the most sought-after motors for its tuning potential. Many people consider it the best K20 engine.
The Honda Stream (JDM-only) was the first car ever to be powered by the iconic K20A motor. However, in the US, other variants of this engine were seen in the CR-V, RSX, and the Civic Si.
Honda only released this engine in select vehicles in the Japanese market from 2001 to 2011 — most notably in Civic EP3, Integra DC5 Type R, and the FD2 Type R Civic.
For context, the K20A-powered Integra Type R produces 217 hp at 8,000 rpm in stock form, and the FD2R Civic makes 221 hp at a whopping 8,400 rpm.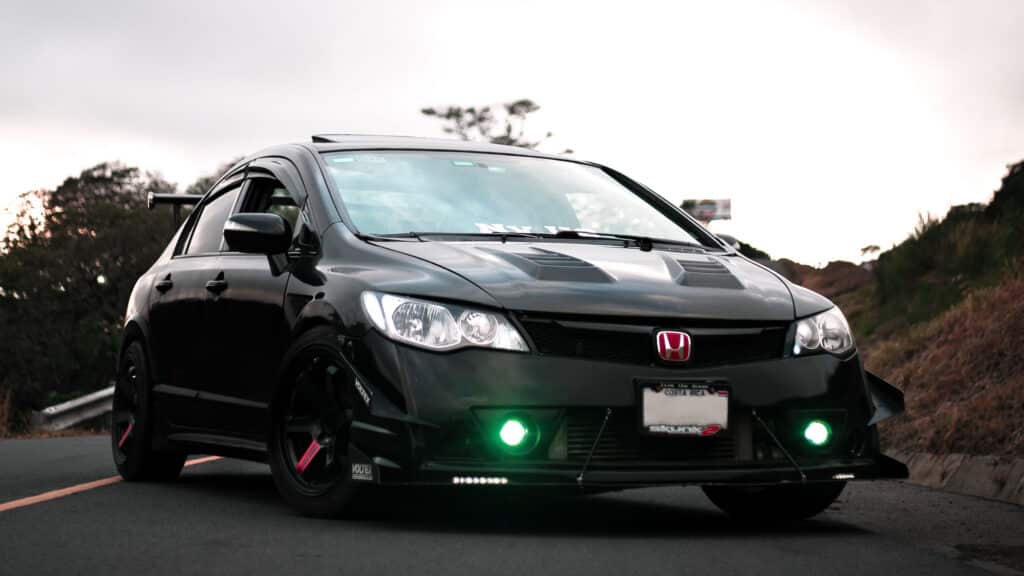 The K20A features a 62 mm throttle body, balancer shafts, a rigid crankshaft, and high compression pistons. It has reinforced con rods, a light flywheel, 4-2-1 headers, and 310 cc fuel injectors from the factory.
Performance-focused K20A Type R engines have fully balanced crankshafts and are enclosed in a single-piece griddle. These motors are even taken off the assembly line and personally inspected by specialized technicians for rod-bolt stretching.
More features of the K20A Type R engine include:
Chromoly flywheel
High-tensile con-rods
High compression pistons
Stiffer valve springs
Higher-lift hollow cams with more duration
Cylinder head intake and exhaust port surfaces are polished, just like in the NSX-R.
Post 2007, it was updated to include a 64 mm throttle body, improved intake and exhaust head ports.
VTEC kicked in at 200 rpm sooner than before, and the compression ratio was bumped up to 11.7:1. These upgrades were only seen in the FD2 Type R Civic.
The K20A is a powerful and reliable block with tons of tuning potential, but getting your hands on one of these engines is an expensive and complicated process.
K20A1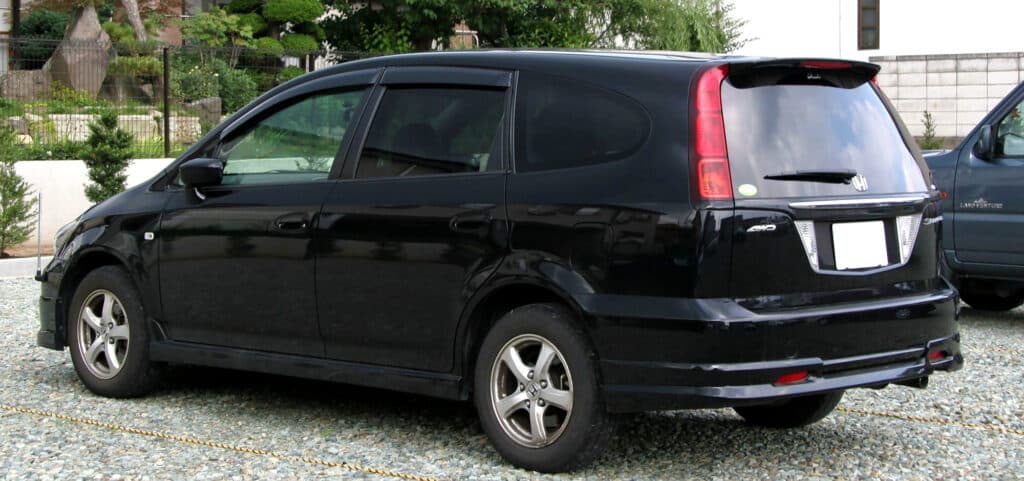 The K20A1 is a K20 engine variant that only ever appeared in the Honda Stream. It doesn't have the most impressive performance specs, as it only makes up to 158 hp at 6,500 rpm and redlines at 6,800 rpm.
It's not the most popular K20 engine out there, and if you're looking to import an engine, you really don't want to spend the money on a K20A1. Instead, consider the K20A, A2, Z1, Z3, or Z4.
There's nothing inherently wrong with these engines, but the amount of money you'd have to spend on one of these will buy you better versions of this engine.
You can spot one of these by looking for a black, variable length intake manifold with black i-VTEC lettering. The same applies to the K20A3, A4, A5, A7, A9, and Z2.
K20A2
K20A2 is considered to be the top tier engine in the entire K20 lineup. As far as non-Type R engines are concerned, it features the highest compression ratio and redline among all other variants.
Unlike the K20A1 engine which combines the economy focused implementation of VTEC called VTEC-E with VTC (variable timing control), the K20A2 combines the performance focused VTEC with VTC.
To understand how any of this works, you need to know how camshafts and crankshafts function, along with the basic operating principle of Honda's proprietary i-VTEC system.
Let's start with VTC — if your camshafts operate the same way across all engine loads, throughout the rev range, it's not ideal for MPG, horsepower, or emissions.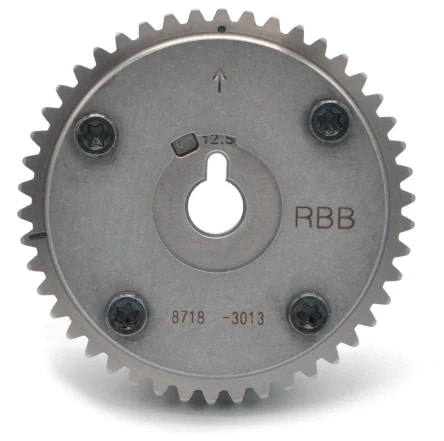 The camshaft's behavior needs to vary at different points in the engine's rev range; that's precisely why the concept of variable valve timing exists — and it's not just a Honda thing.
All manufacturers have their own version of variable valve timing. Honda calls theirs "VTC". It changes 4 parameters:
Valve timing: The point in your engine's rotation at which the valves open and close.
Valve duration: For how long the valves stay open.
Valve lift: How far the valves lift off their seats when they open.
Valve overlap: The point at which both the intake and exhaust valves are open at the same time.
Varying these valve behaviors allows the engine and the ECU to constantly fine tune the balance between power, MPG, and emissions.
The mechanisms involved in making that happen differ from manufacturer to manufacturer. Honda does this by means of a VTC actuator located at the end of the intake camshaft.
It operates with the help of a vane rotor enclosed within a gear-and-tooth body; locking pins, and a series of oil passages which rely on hydraulic pressure to advance or retard the intake valve timing.
This hydraulically controlled actuator changes the angle of the hollow intake cam in relation to that of the crank.
If you've researched how VTEC works, you'll know that the crux of the matter lies in the way Honda makes the cam profile switchover happen.
VTEC stands for Valve Timing and Lift Electronic Control. It involves the use of a high-performance 3-rocker arm system on both the intake and exhaust camshafts.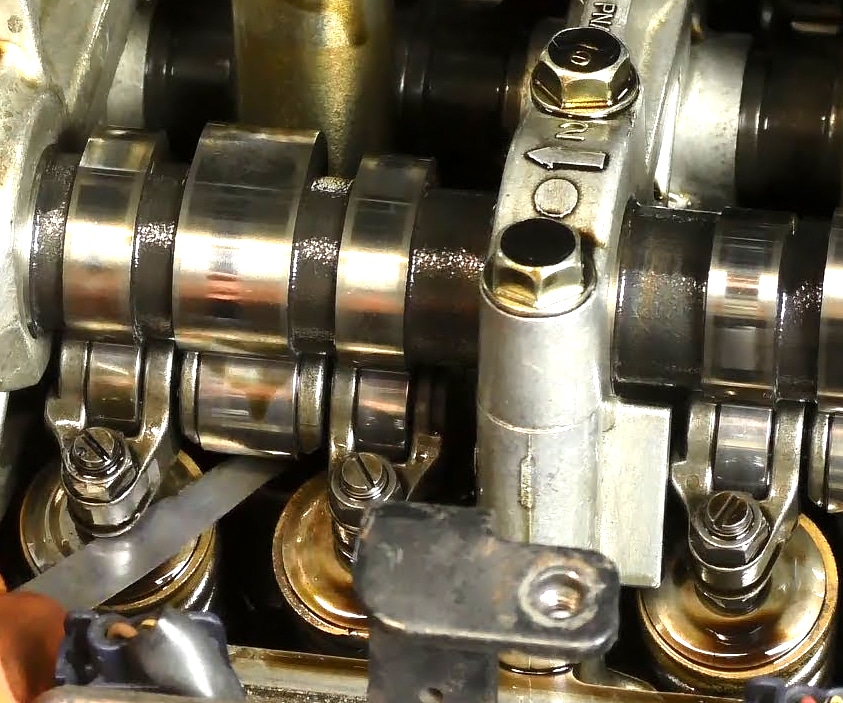 This system effectively engages and disengages the secondary high-lift valve at a certain point in the rev range and switches over to the primary low-lift valves when appropriate.
The way this mechanism works is very interesting to say the least. When pressure increases at high RPM, a series of small hydraulic pins or pistons inside the rocker arms are forced to move across the primary and secondary cam lobes, connecting them as a result.
In other words, when the engine exceeds 4500 rpm, the command module activates a hydraulic control valve, which moves the synchronizing piston to lock all three rocker arms together.
The middle rocker arm rides on a high-lift cam profile, and the secondary lobes are shorter which translates to a lower cam lift.
The middle high-lift cam is engaged at a higher point in the rev-range, and that's when you'll experience a surge in power, better known as the point at which "VTEC kicks in".
That said, VTEC systems vary in function according to what the engineers prioritize more — fuel economy or power.
VTEC-E is a variation of VTEC designed solely for fuel efficiency and not for performance.
By not allowing the 2nd intake valve to open all the way, combustion chamber swirl (rotational motion of the incoming air charge) is improved, which makes the fuel burn more efficiently.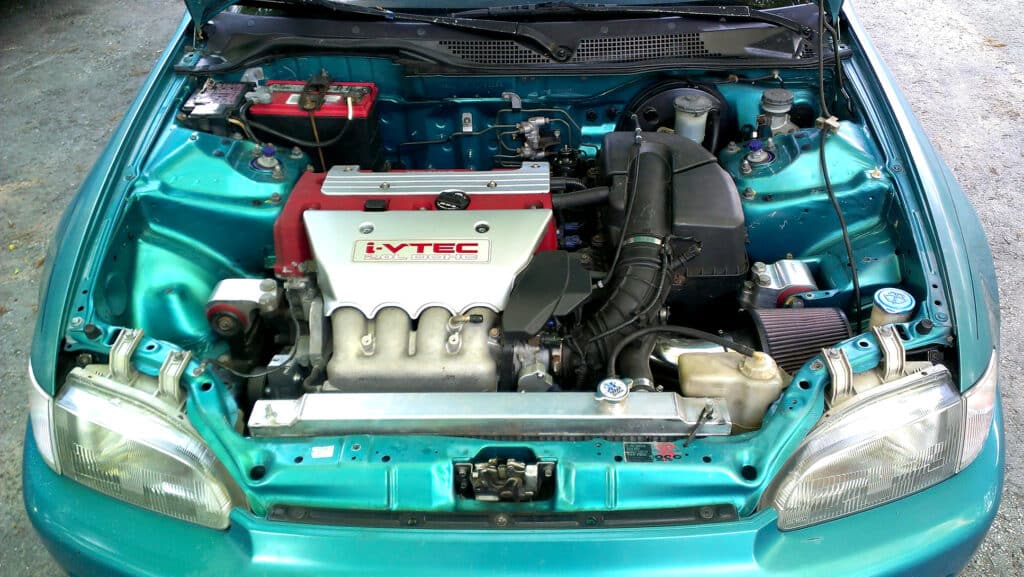 This allows engineers to use a leaner air-fuel ratio, which significantly improves fuel economy as a result. K20A1 and K20A3 engines employ this implementation of VTEC for better MPG. The K20A2 engine, however, combines performance-focused VTEC and VTC.
K20A3
The K20A3 is an economy-focused iteration of the K20 line-up, and it has a lot in common with the K20A1.
The main differences between this motor and the K20A2 are that of a lower redline, lower compression pistons, VTEC implementation, crankshaft design, and valve springs.
In contrast to K20A2 which combines VTEC on the exhaust side and and VTC on the intake side of the valvetrain (i-VTEC), the A3 motor uses the economy-focused VTEC-E. It omits the high-lift cam profile seen on motors equipped with i-VTEC.
Unlike the K20A2, the A3 motor does not come with dual valve springs and the balanced crankshaft that everyone loves. It also has a lower specific output compared to the A2's 100hp/L.
While its 9.8:1 compression ratio might seem low when compared to the A2s 11.7:1, it does have some advantages going for it.
Lower compression is more preferred for forced induction because it enables safer, more reliable power. If you're keen on safely turbocharging or supercharging your K20 engine swap project car, then the K20A3 is the right choice for you.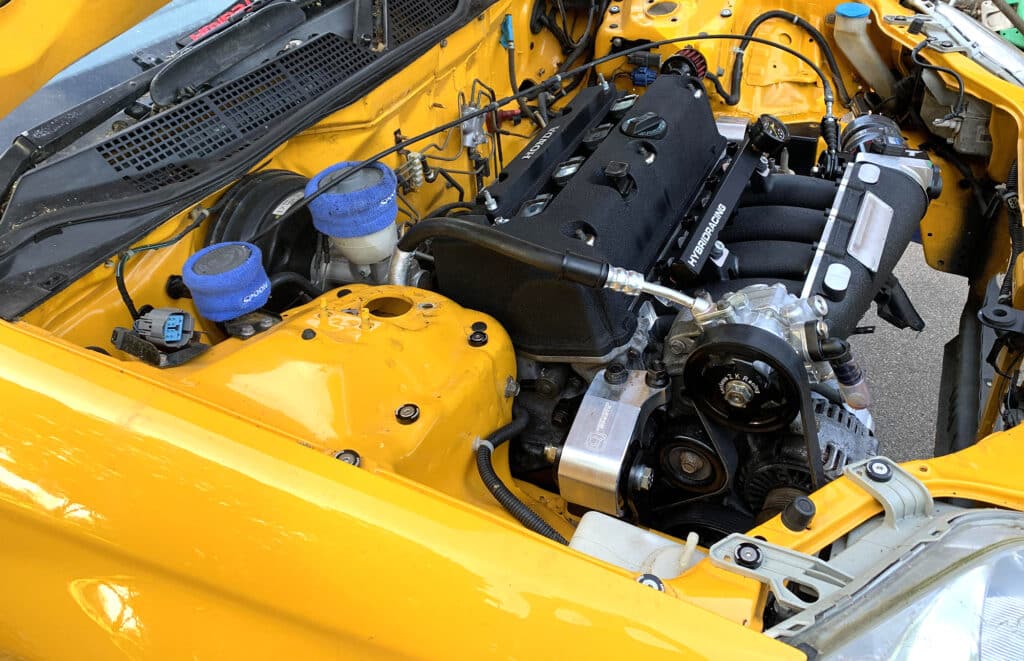 Another advantage with the A3 is that of early torque; it makes 142 lb-ft at 4000 rpm — 2000 rpm sooner than the A2 motor which makes the same torque at 6000 rpm.
The K20A4 and K20A6 are basically the same engines with minor tweaks to make them suitable for the markets they're sold in. The A4 is made specifically for USDM Hondas, and the A6 is seen in the EUDM and AUDM Accords.
K20Z1
The K20Z1 is nearly identical to the performance-focused K20A2, with the exception of upgraded camshafts, catalytic converters, intake and exhaust. While it's not too big of a difference, the upgrade adds about 10 hp more.
It powers Acura's much coveted RSX Type S. The Z1 features DC-5 ITR cams which are slightly superior in comparison with the later iteration of this engine — the K20Z3. Unlike many other engines in the K20 line-up, the Z1 does not utilize balancer shafts.
K20Z2
While the K20Z1 replaced the performance-driven K20A2, the K20Z2 was the replacement for the more economical K20A1.
With just 153 hp at 6000 rpm, it's not the most powerful engine out there, but there's no questioning its reliability.
It features a newer and longer runner manifold, differently designed camshafts, and drive-by-wire throttle.
K20Z3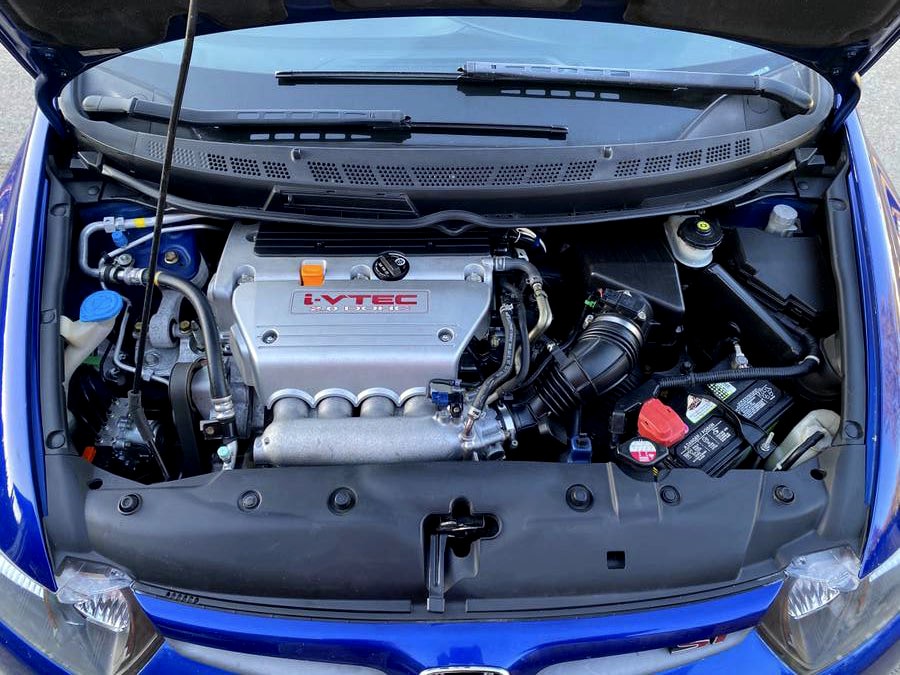 The K20Z3 is essentially a high performance version of the K20Z1 motor, and it's very similar to the K20A engine that powers the JDM Accord Euro R.
The main difference between the Z3 and Z1 has to do with the addition of balancer shafts, different PBC cams, large-diameter RBC intake manifolds which flow really well.
While the K20Z1 produces 210 hp, the K20Z3 produces 197 hp at 7800 rpm. The numbers aren't bad, but there are better K20 engine options out there.
K20Z4
The K20Z4 is another performance-based K20 engine, and it's nearly identical to the K20Z3. Honda replaced the RRB intake manifold on the K20Z3 with an RSP intake manifold.
This translates to more horsepower, which is why the K20Z4 produces 201 hp at 7,800 rpm.
K20C1
After 2011 Honda halted production of their K20 engine series and they didn't revive it until 2015 with the K20C1 engine. It first appeared in the 2015 FK2 Civic Type R.
What sets it apart from its preceding K20 engines is that it's turbocharged. Unlike the K20A which makes the bulk of its power closer to the redline, the K20C1, being turbocharged and all, provides a flat torque curve and a ton of low-end power.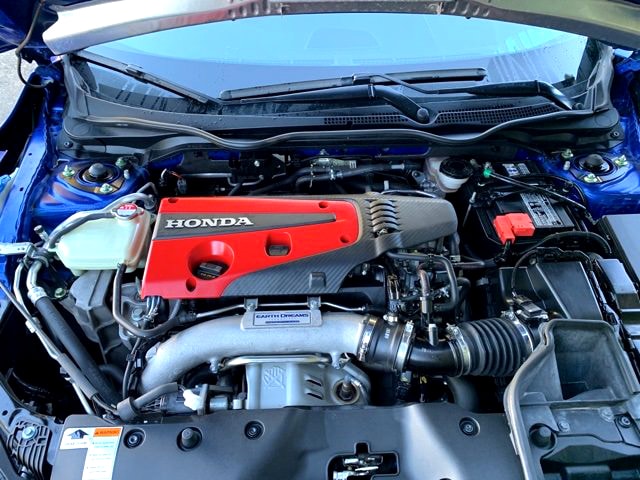 It's one of the few crate engines you can buy directly from Honda Performance Development (HPD) for sanctioned racing applications. This makes it very easy to swap it into any car you want.
Like all other K20 engines, the C1 features an aluminum cylinder block and head. It comes with forged crankshafts and con rods as well.
Interestingly, you'll only find VTEC on the exhaust side and the intake camshaft has just one lobe. Since the engine is turbocharged, the additional cam lift isn't required to push the engine.
The cam is chain-driven, making it practically maintenance-free. Other features include oil-jet-cooled pistons, internal cooling galleries, hollow cams with lighter walls for lower rotational inertia, and sodium-filled valves for better cooling.
It even has a high-tumble intake, smaller spark plugs to allow for more displacement, and a high-pressure direct injection fueling system for better torque across the rev-range.
K20C2
The K20C2 is an economy-focused, naturally aspirated version of the K20C1 engine. It has the direct injection system seen on the K20C2, the same crankshaft, however, it has different pistons and a lower compression ratio of 10.8:1.
You can only find K20C2 engines in the US market, but unless you're looking for an economic variant of the K20, we recommend steering clear from the C2.
It pushes 158 hp at 6500 rpm, almost half of what you get with the K20C1. This engine is all about efficiency and reliability, not performance.
K20C3
The K20C3 is the rarest K20 engine that you'll come across. It makes 272 hp at 6500 rpm, owing to its TD03 turbocharger.
However, Honda only produced this engine for the Chinese market, making it extremely rare to find this engine outside of eastern Asia.
K20C4
If you're looking for the most powerful stock K20 engine that you can purchase in the United States, then you want the K20C4.
It makes 252 hp, but since it is turbocharged, it's not as easy to upgrade as some of the older engines.
Where to Find the Honda K20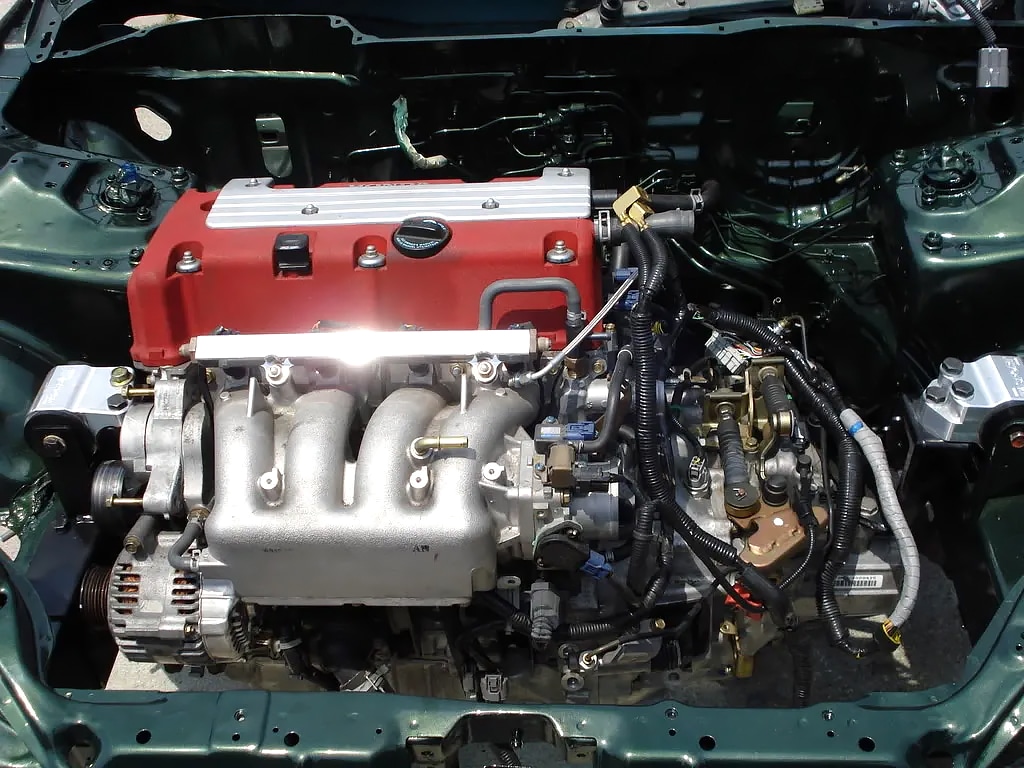 With so many engine variations, it's no surprise that there are many cars powered by this platform.
Below you'll find a table covering some of the most prominent production cars that have a K-Series engine under the hood.
| Engine | Model Years | Car | Production |
| --- | --- | --- | --- |
| K20A | 2001 to 2011 | Honda Civic Type R | JDM |
| K20A | 2001 to 2006 | Honda Integra Type R | JDM |
| K20A | 2002 to 2008 | Honda Accord Euro R | JDM |
| K20A1 | 2001 to 2006 | Honda Stream (RN3) | JDM |
| K20A1 | 2001 to 2006 | Honda Stream (RN4) | JDM |
| K20A2 | 2001 to 2006 | Honda Civic Type R | EDM |
| K20A2 | 2002 to 2004 | Acura RSX Type S | Global |
| K20A2 | 2002 to 2004 | Honda Integra Type R | AUDM/NZDM |
| K20A3 | 2002 to 2006 | Acura RXX | Global |
| K20A3 | 2002 to 2005 | Honda Civic Si | Global |
| K20A3 | 2002 to 2005 | Honda Civic SiR | Global |
| K20A3 | 2002 to 2005 | Honda Civic Type S | Global |
| K20A3 | 2003 to 2006 | Honda Civic 2.0 I-VTEC | SEA |
| K20A6 | 2003 to 2006 | Honda Accord | EDM |
| K20A6 | 2003 to 2006 | Honda Accord | ADM |
| K20Z1 | 2005 to 2006 | Honda Acura RSX Type S | Global |
| K20Z1 | 2005 to 2006 | Honda Integra Type S | AUDM/NZDM |
| K20Z2 | 2006 to 2011 | Acura CSX | Global |
| K20Z2 | 2006 to 2015 | Honda Accord | EDM |
| K20Z2 | 2006 to 2011 | Honda Civic 2.0S/S-L | PHDM |
| K20Z3 | 2006 to 2011 | Honda Civic Si | Global |
| K20Z3 | 2007 to 2010 | Acura CSX Type S | Global |
| K20Z4 | 2007 to 2010 | Honda Civic Type R | EDM |
| K20Z5 | 2007 to 2010 | Honda Civic Si | BDM |
| K20Z5 | 2023 to Present | Honda HR-V | USDM |
| K20C1 | 2015 to Present | Honda Civic Type R | EDM |
| K20C2 | 2016 to Present | Honda Civic LX | USDM |
| K20C3 | 2016 to Present | Honda Avancier | China |
| K20C4 | 2018 to Present | Honda Accord | Global |
Honda K20 Specs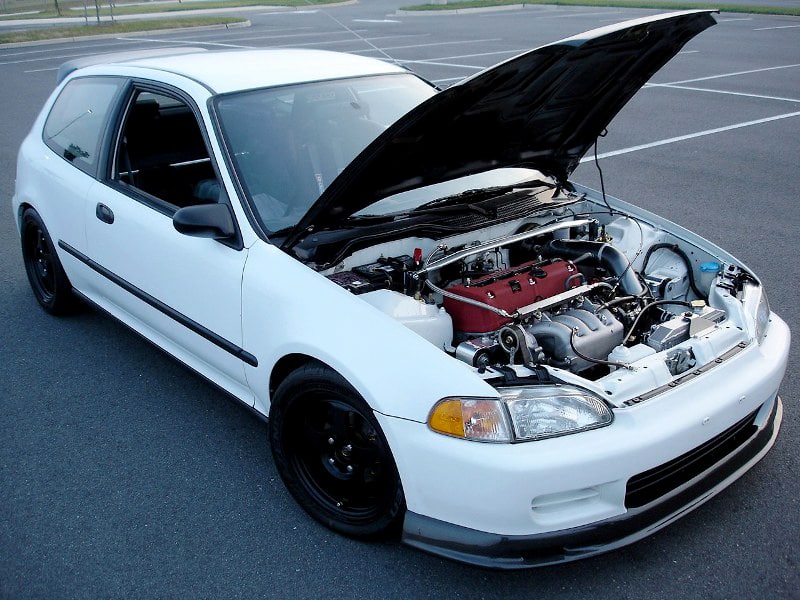 The specifications vary significantly depending on which variant of the K20 engine you choose.
Most of these feature things like high flow ports, 33 mm intake valves, full-roller valvetrains, and roller rockers as opposed to the pad-style rockers seen on B-series engines.
The roller wheels ride directly on the camshaft lobe, reducing friction as a result. K-series engines in general can take a lot of abuse before reaching their limit.
After a certain point, they will need sleeving, upgraded fasteners, forged pistons, and con rods — especially if an aftermarket turbocharger or supercharger is installed.
These engines can handle a reasonable amount of cylinder pressure up to the 300 hp mark. The timing chain does an excellent job of preventing the pistons and valves from coming into contact.
One engineering quirk we really like is that the valvetrain bolts to the head and it's entirely replaceable. That way, if you were to spin a bearing, you wouldn't have to replace the entire engine head.
K20 engines also have a modern coil-on-plug ignition system which helps to deliver more powerful and precise sparks with exceptional accuracy.
The main advantage with a computer controlled ignition system is that the spark advance can be regulated at the perfect time.
That's one of the reasons why K-series engines have a high compression ratio from the factory. 11.7:1 in the K20A Type R engine, for instance.
K20 engines rotate clockwise, which orients the exhaust ports facing the firewall and intake ports towards the front of the car, and the exhaust side towards the rear.
Honda K20: Common Problems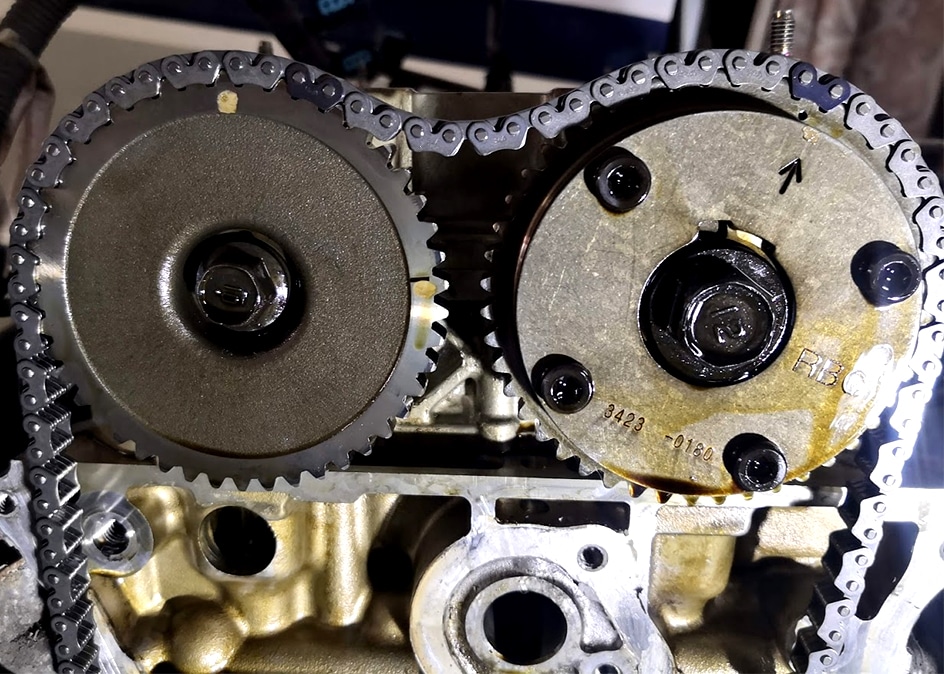 While the Honda K20 is well-known for its reliability year after year, it's not a perfect engine, especially if you don't put in the necessary work to care for it.
If you're dealing with a neglected or much older K20 engine, these are some of the most common problems you might have to deal with.
Valve Adjustments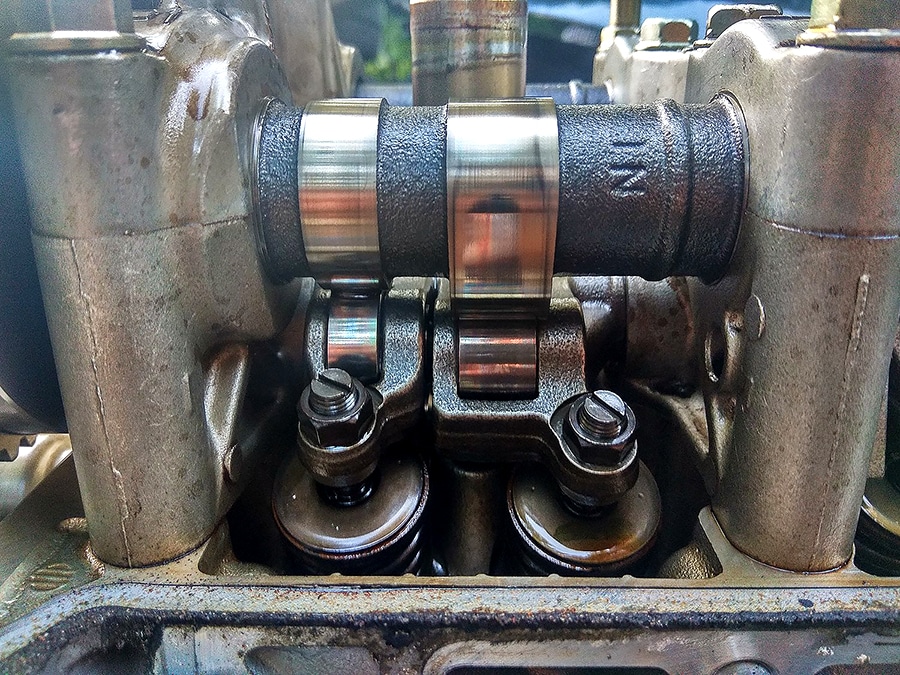 It's probably the most annoying part of a K20 engine, but if you want to keep it running properly, this isn't something you want to neglect. You should double-check and correct valve adjustments every 24,000 miles.
However, since it's not a typical maintenance item people often overlook it. When that happens, the timing gets out of sync, which can lead to camshaft damage. But if you keep up with adjustments, you shouldn't have any problems.
It is recommended to use high octane fuel or octane boosters to prevent engine knock and pre-ignition. Installing idle control valves and air metering sensors is also a good idea.
Front Crankshaft Seal Oil Leak
Over time older engines leak and the K20 engine line is no exception. The real issue here isn't that an older K20 engine will leak, it's where it's leaking from.
While it's certainly fixable, a leaking crankshaft front seal is a much more in-depth repair than an oil pan or even a valve cover gasket.
If you experience a burning smell while driving, especially when the engine is at optimal operating temperature, your front camshaft seal might need replacing.
Clogged Throttle Body and Idle Air Control Valve
While this is a more typical problem with the K20 engine, a high-quality throttle body cleaner, you should be able to get everything back in working order yourself.
The primary symptom of a clogged throttle body or idle air control valve is rough idling.
But even if you don't have a rough idle yet, keeping your throttle body clean is an excellent way of maximizing performance and preventing a problem before it has a chance to start. This problem occurs commonly on tuned K-series engines.
Worn Out Motor Mounts
Once again, this isn't a K20-specific problem, but it typically affects older engines. Engine mounts come with bushings that absorb the impact of any potential movements while holding your engine in place.
Over time those bushings wear out, and when that happens, you're going to feel vibrations coming from the engine bay.
You'll want to swap out the mounts as soon as possible to ensure that the engine doesn't continue to shift and damage other components.
Cam Lobe Galling and Pitting
Arguably one of the most common complaints enthusiasts have with K-series engines is that the cam lobes are prone to galling and pitting.
This essentially means that the smooth surface on the lobes gets scored and scratched up, which messes with the cam timing and causes cluttering in the engine.
The best course of action when this happens is to replace the cam entirely — which is an expensive fix, but it will prevent any further issues from cropping up.
Concluding Summary
No matter which K-series engine you end up getting your hands on, you can rest assured that it's going to be mostly problem-free and a lot of fun to tune.
Parts are always readily available, there's a wealth of information online, and an enormous community of Honda enthusiasts who are happy to help, should you need any.
Are you currently considering a K-swap? Are there any other engines that you're comparing the K20 with? Let us know by leaving a comment below.
If you enjoyed reading this post, please do consider sharing it with your friends on Facebook or posting it on one of your favorite car forums. Your support means a lot to us!