When you're shopping for the best wheels for your Tacoma, you want a set of rims that's going to last, look stylish, and let you explore more options when it comes to suspension setup and wheel fitment.
That's a pretty high bar to clear, but luckily for you, there are many awesome brands and exceptionally well designed wheels that you can choose from.
In this article, we'll recommend some of the best wheels for Tacoma owners, and we'll help you figure out what to look for when shopping for these.
Why You Should Upgrade Your Wheels
Whenever you're modifying your suspension, upgrading your wheels stands out as a necessity; especially if you want to dial in your setup exactly the way you want.
If you're on the fence about changing your wheels or suspension first, check out our guide on the subject for more clarity.
Not only do aftermarket wheels offer a clear stylistic upgrade, but they also give you more space to work in the wheel well.
Aftermarket wheels can be purchased with either positive or negative wheel offset. This allows you to decide how far in or out the wheels should sit, which gives you more space between the wheel and the underside of your truck.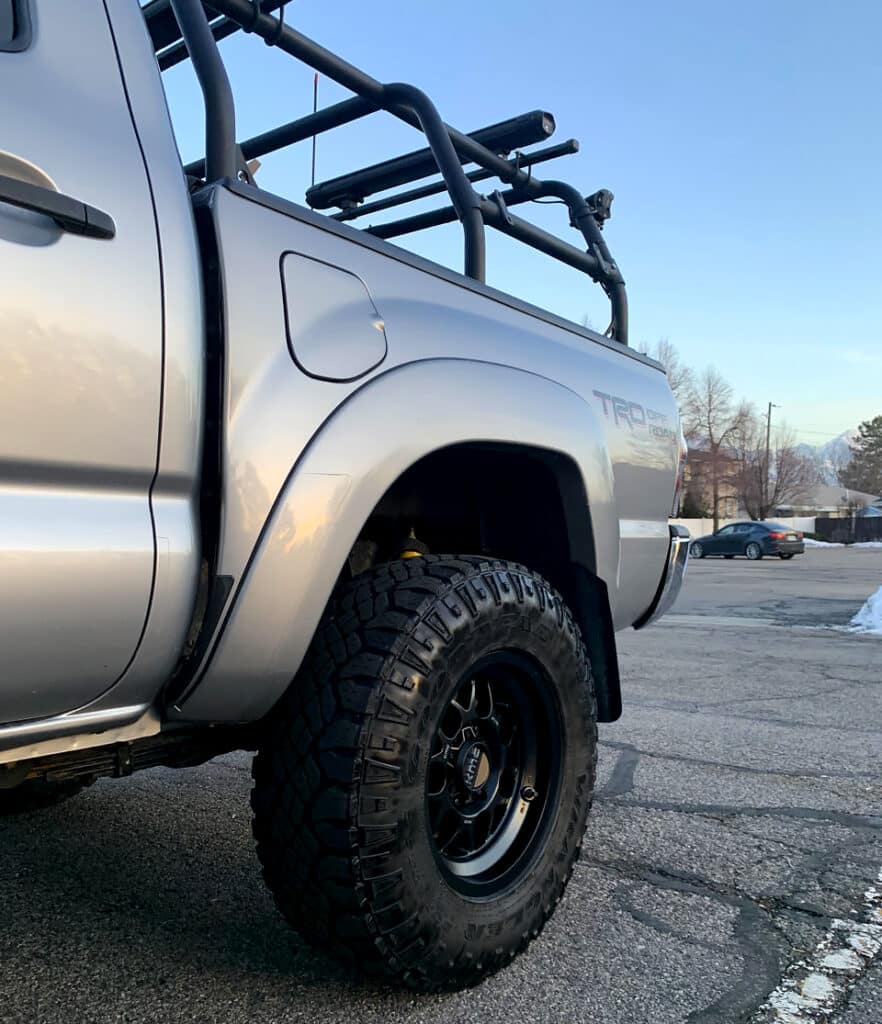 That's where most of the suspension components sit. You can upgrade those components, or you can use the extra space to fit wider tires. Of course, depending on the rims you choose, you might be able to do both!
Negative offset wheels will allow you to widen your wheel track width which, in most cases, will result in better stability.
Finally, aftermarket wheels typically offer a bit more rigidity in complex driving environments. This means you get better handling in off-road conditions.
Aluminum vs Steel Wheels
While there are two different wheel options out there, if you're looking for top-notch quality, we recommend choosing aluminum wheels.
They resist corrosion better, are lighter in weight, and give you a smoother ride. So not only are they more damage-resistant, but they help out in other ways too!
Finally, while it's a bit of a personal preference, most people agree that aluminum wheels have a nicer curb appeal than their steel counterparts. However, you will find some people that prefer the look of steel wheels.
That said, for everything that aluminum wheels offer, one pretty significant drawback is the price. Aluminum alloy wheels cost about twice or even thrice as much as steel ones.
But if you're looking to upgrade your Tacoma, aluminum alloy wheels are always the way to go.
Lug and Bolt Pattern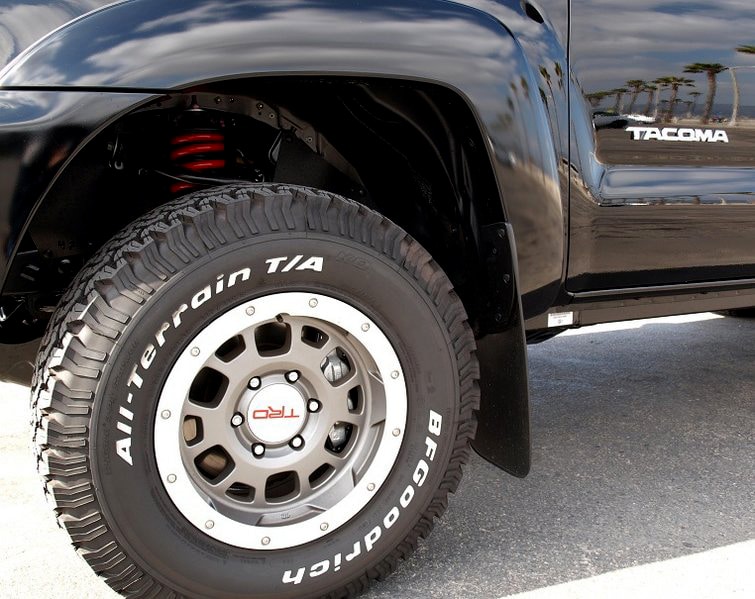 With the Toyota Tacoma, every model past 2005 has the same 6-lug pattern with the same spacing. That means if it fits one Tacoma, it'll fit another, as long as you have the stock hub on there.
However, if you have a pre-2005 Tacoma, that's not always the case. Prior to 2005, Toyota had two different lug patterns that they used for the Tacoma. They had the same 6-lug pattern that they use now, but they also had a 5-lug option.
If you have a 5-lug Tacoma, you need a different wheel option in contrast to the 6-lug wheels.
As for the bolt pattern, here's a table for your reference:
| Generation | Production Years | Bolt Pattern |
| --- | --- | --- |
| Gen 1 (N100) | 1995-2004 | 5×114.3 | 6×139.7 |
| Gen 2 (N200)(+facelift) | 2005-2015 | 5×114.3 | 6×139.7 |
| Gen 3 (N300)(+facelift) | 2016-present | 6×139.7 |
| | | |
Choosing the Right Rim Size
One advantage of upgrading the wheels is that you get to pick the size that suits your application the best.
Choosing a larger rim size gives you Tacoma more of a lift off the ground, and this increases the overall ground clearance and ride height of your truck. This is a huge advantage for off-road driving.
Not only does it decrease the chances of bottoming out your truck, but it also increases your approach angle.
While these are clear advantages, and certainly worth considering, there are a few other things you need to do and be aware of if you're planning on increasing the wheel size on your Tacoma.
Consider the Speedometer
Your speedometer works in conjunction with a wheel speed sensor on each wheel. It counts the number of rotations, and it uses that data to figure out your speed.
The larger the wheel, the more distance it will cover with each rotation, so if you upgrade the rim and tire size without resyncing the speedometer, your speedometer is going to display a number that's slower than your actual speed.
If you don't realize how fast you're driving, it can lead to an avoidable speeding ticket. Luckily with an ECM reprogram you can resync the speedometer and get an accurate reading, even if you change the wheel size.
The Potential for a Drop in Power
Did you know that the ECM in your vehicle uses wheel size to help determine gear ratios and when to shift? Everything in your vehicle is a precise symphony, and if you change out any of the components it can mess with the orchestra.
It can be a pretty noticeable difference too, so we strongly advise getting your Tacoma tuned or regeared after changing the stock wheel size.
New Wheels vs Lift Kits and Spacers
If all you're looking for is more space in the wheel well, then there are a few different ways you can go about this. Of course, you can install new wheels, but you can also install a Tacoma leveling kit or a lift kit to open up some space.
But which option is better? Well, it really depends on what you want to do, which is why it's best to understand what each one does.
Tacoma lift kits raise your vehicle up off the ground, and if all you're worried about is getting a little extra height out of your ride, they're the way to go.
Just keep in mind that they typically max out around 3" before you have to start replacing other components too. But you can combine a wheel upgrade with a lift kit to get a little more height.
Spacers push your wheels out from the center of your truck. This gives you a little more space when you're looking at the maximum width of your tires, but it doesn't help with the maximum height of your tires.
But if all you're looking for is a little extra space for different suspension components, then wheel spacers can help with that too.
Keep in mind that you can combine wheel spacers with aftermarket wheels, but sometimes a little more goes into the equation to ensure the studs are long enough for a secure fitment.
Best Off Road Wheels for the Tacoma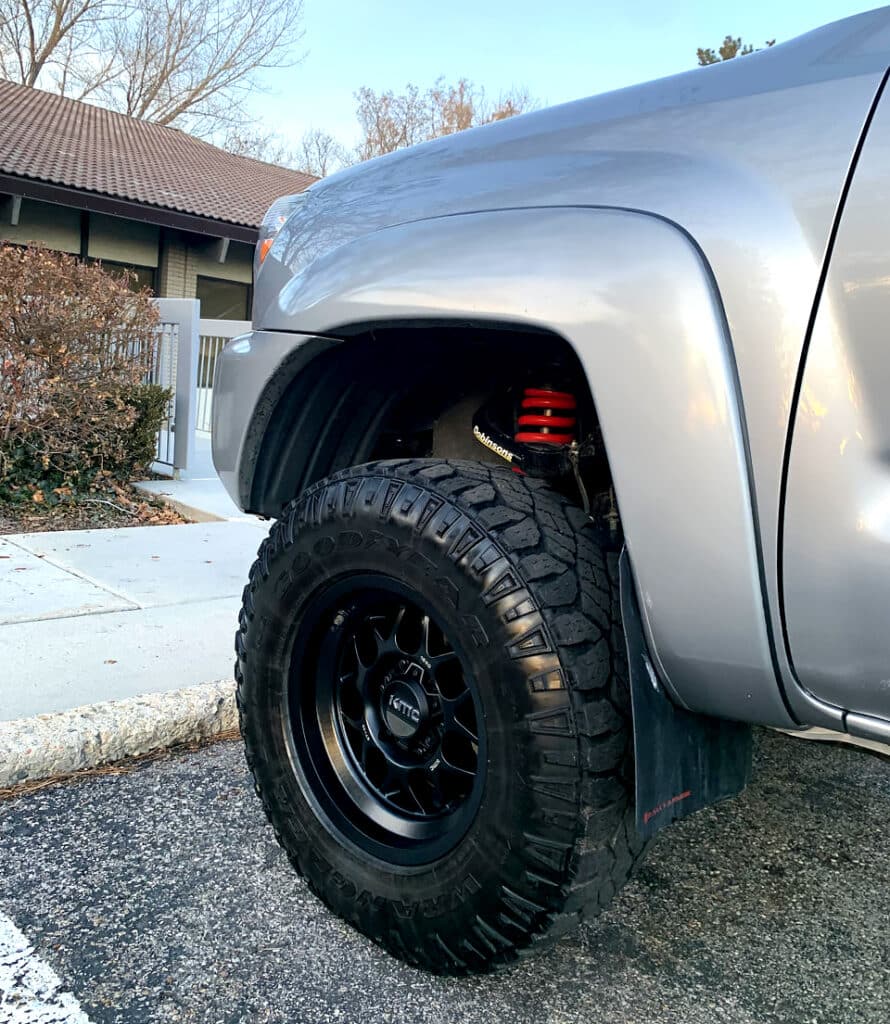 No matter what components you decide to upgrade, it's ideal to choose only the best parts for the job instead of settling for something a little bit cheaper but subpar.
All of the options mentioned below, even the more affordable ones, are very well received and can be relied on.
Now that you have a slightly better understanding of what to look for when shopping for the best Tacoma wheels, let's get into the reviews.
Fifteen52 Turbomac HD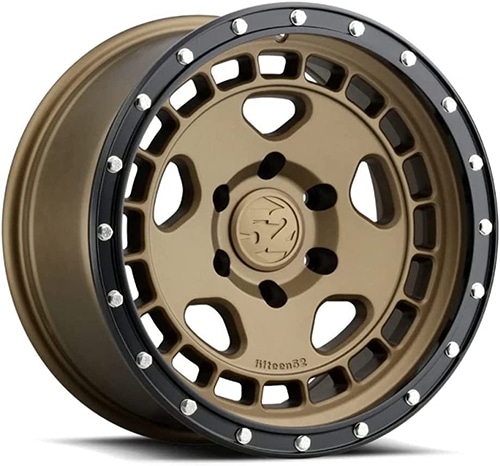 Manufacturer: Fifteen52
Construction: Aluminum
Size: 17×8.5+0
Bolt pattern: 6×139.7
Buy on: Amazon
Turbomac HD wheels by Fifteen52 are quite big in the Tacoma community, and for good reason. The company specializes in making race-inspired wheels that stand the test of time.
Featuring a classic stepped lip, the design suits the newer as well as older models of Tacoma.
These wheels come with a vented ring that helps to keep the brakes cool when you're going hard on the trails. You can purchase these in 16″ and 17″ with varying levels of offset.
Fifteen52 Traverse MX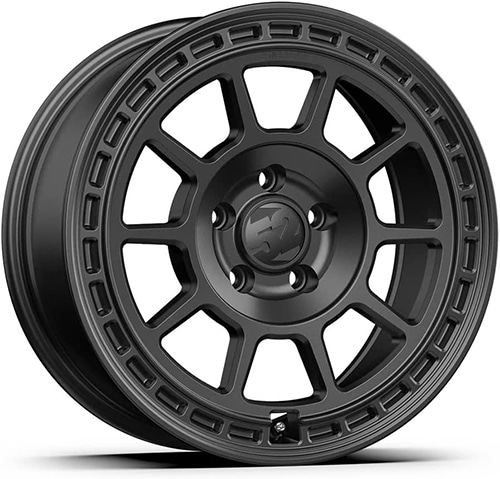 Manufacturer: Fifteen52
Construction: Aluminum
Size: 17×8.0+38
Bolt pattern: 5×114.3
Buy on: Amazon
The Traverse MX is essentially a higher-offset version of the highly successful Traverse HD by Fifteen52 designed specifically for SUVs.
It's among the few off-road wheels suitable for Tacomas with a 5×114.3 bolt pattern, more specifically Gen 1 and Gen 2 models.
Traverse MX wheels are developed specifically with mountain trails in mind. They feature something called RockRing technology, which helps to strengthen the tire bead and provide maximum protection for the valve stem.
These cast monoblock wheels are rigorously tested in extreme conditions, and they manage to strike the perfect balance between form and function.
Method Race 705
Manufacturer: Method Race Wheels
Construction: Aluminum
Size: 17×8.5+0
Bolt pattern: 6×139.7
Buy on: Amazon
Method Race Wheels have been around in the the world of overlanding for a while, and they definitely know a thing or two about crafting quality race wheels.
We recommend the 705 Bead Grip wheel for your Tacoma. The 5-spoke, 10-windowed design will compliment the overall aesthetic of your truck beautifully, and the best part is that they can handle everything you throw at them.
Method Race's Bead Grip technology allows you to deflate your tires down to pressures that would've ideally required bead lock wheels to ensure they don't debead.
That way you can run lower pressure and get the most out of your tire's contact patch for better traction on loose surfaces.
KMC Terra
Manufacturer: KMC
Construction: Aluminum
Size: 18×8.5+0
Bolt pattern: 6×139.7
Buy on: Amazon
When it comes to overlanding accessories, KMC needs no introduction. They've been around since 1982, and they've carved themselves a niche in the off-road scene.
Baja-inspired designs on mesh-styled wheels are KMC's signature aesthetic, and their Terra wheels are a perfect example of that design.
The 7-split spokes fill up the center to form sharp windowed edges. These wheels look awesome on Gen 3 Tacomas. Also, you get a lifetime structural warranty, along with a 1 year warranty on the finish.
TRD Pro 16″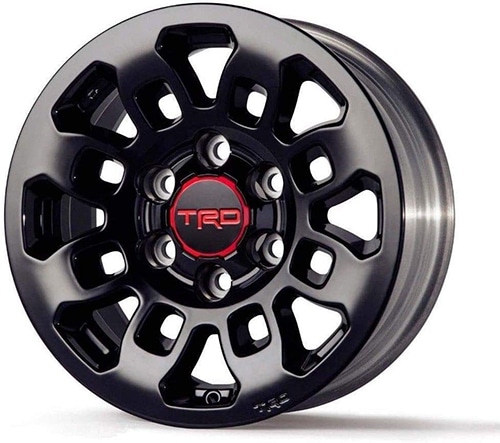 Manufacturer: Toyota
Construction: Aluminum
Size: 16×7.0+13
Bolt pattern: 6×139.7
Buy on: Amazon
If you're looking for the best wheels for a Tacoma, why not see what Toyota has to offer? The TRD Pro series is a top-notch set of wheels, and if you want 16" rims, it's hard to beat these.
Not only are they lightweight and stylish, but they also elevate the truck by just under an inch for more versatile off-road driving.
And while it raises the entire truck by about an inch, it translates to a 2.5° increase for an approach angle. They're constructed using aluminum, making them lightweight, and they ensure rigid handling even in more extreme situations.
They're not the lowest-priced option, but they hold up well and you're getting a genuine Toyota part, and that's worth something all on its own.
TRD Pro 17″
Manufacturer: Toyota
Construction: Aluminum
Size: 17×7.0+4
Bolt pattern: 6×139.7
Buy on: Amazon
From the point of view of build quality, there isn't too much of a difference between these wheels and those mentioned above.
These are 17" rims and they feature a beautiful bronze finish. The extra size will put your truck about an inch higher off the ground, which will improve both the ride height and the available approach angle.
Another advantage with these rims is that they will widen your wheel track by about 0.9″, which will make your Tacoma look a bit more aggressive, and it will also allow you to install slightly larger tires.
Once again by going with a genuine Toyota replacement part, you know you're getting a top-notch and reliable part that you can take to any Toyota dealership if you experience any issues.
RockTrix RT110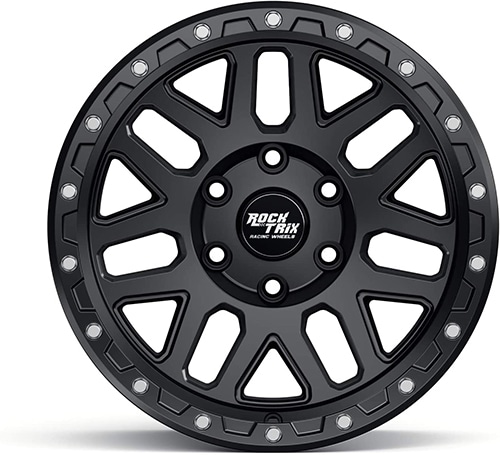 Manufacturer: RockTrix
Construction: Aluminum
Size: 17×9.0-12
Bolt pattern: 6×139.7
Buy on: Amazon
While the RockTrix RT110 isn't a genuine Toyota part, it's a good choice to consider when you're upgrading the rims on your Tacoma.
They give you an extra ½" clearance compared to the factory wheels, which makes it possible to explore more tire sizing options for your Tacoma.
Just keep in mind that if you do go with these Tacoma off-road wheels, you'll need new lug nuts as well.
This is because these wheels require conical extended-thread lug nuts for proper application. You'll need to purchase those separately, but RockTrix has two different options for you.
Finally, it's a stylistic thing, but it's nice that you get to pick between a matte black and a matte bronze finish with these wheels. There's no advantage to either one, so you can pick whichever one you like more.
RockTrix RT111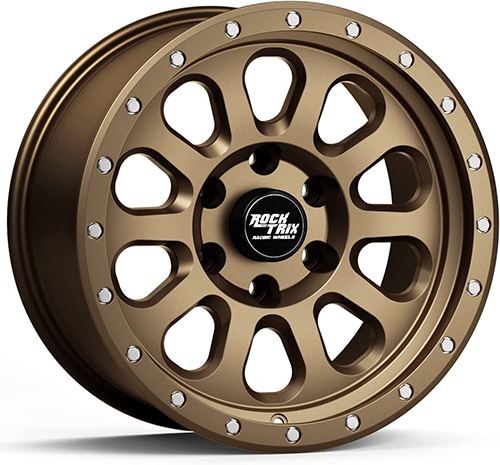 Manufacturer: RockTrix
Construction: Aluminum
Size: 17×9.0-12
Bolt pattern: 6×139.7
Buy on: Amazon
If you don't like the style of the RocxTrix RT110, then their RT111 might be exactly what you want. It's a more traditional aesthetic, but it still comes with all the advantages that you get by upgrading the rims.
This includes an extra ½" of inner clearance for suspension components or larger tires and a sturdy, lightweight wheel option that's great for off-roading.
Still, you will need to purchase new lug nuts if you go with these wheels, as the stock lug nuts won't fit into place, and they're too short, for a proper installation.
OE Wheels Hollander 69429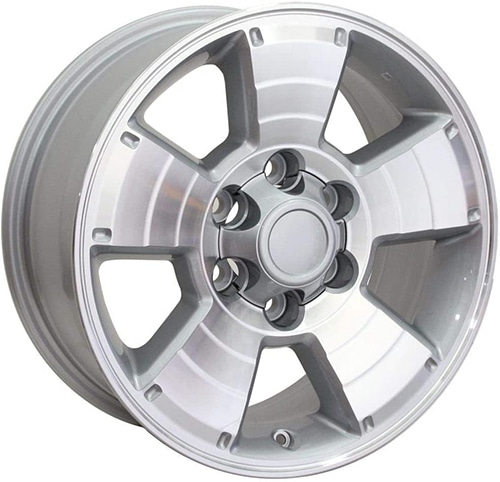 Manufacturer: OE Wheels
Construction: Aluminum
Size: 17×7.5+30
Bolt pattern: 6×139.7
Buy on: Amazon
These OE Wheels certainly aren't everyone's first choice owing to their old school look, but they are among the most affordable options on the market.
They're really a great set of rims to take off-road. Not having to worry about them getting all scratched up is a bonus.
They don't change much from the stock set up, but they can handle everything you throw at them when you're off-road.
RockTrix RT107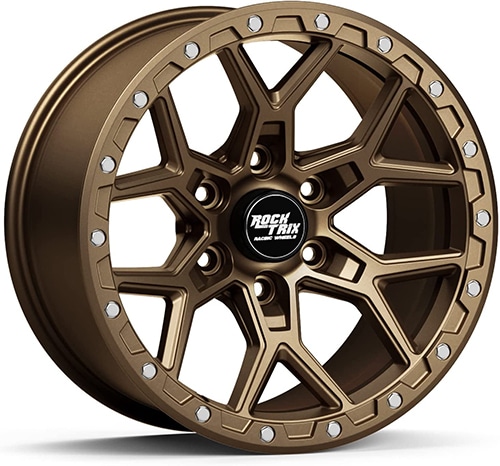 Manufacturer: RockTrix
Construction: Aluminum
Size: 18×9.0-12
Bolt pattern: 6×139.7
Buy on: Amazon
The RT107 wheels by RockTrix will allow you to put 18" tires on your Tacoma, but they can also clear up to 2" of offset for tons of extra room for larger tires or components in your wheel well.
Of course, if you're upgrading from a 16" wheel to an 18" wheel, you'll also get a few extra inches of ground clearance, which can have a huge impact on your Tacoma's off-roading capabilities.
You can go with a matte black or a matte bronze finish with these rims, just ensure you get some of RockTrix's lug nuts on order too, for proper installation. These rims do not work with stock lug nuts.
Our Top Picks
With so many great wheels to choose from, it can be hard to pick the best rims for your Tacoma.
Keep in mind that while these highlight different rim sizes, there's nothing keeping you from changing your rim size if you want. Just ensure you have new tires on hand for the new rim size!
For 5-lug Tacomas: Fifteen52 Traverse MX
If you drive an older 5-lug Tacoma, we highly recommend the Traverse MX off-road rims.
If the high-offset design isn't for you, consider looking into the Fifteen52 Traverse HD which is available in many different sizes and offsets.
Best overall: Method Race 705
For anyone and everyone who takes off-road driving seriously and wants a set of rims, it doesn't get any better than this.
These wheels are forged out of A356 aluminum with a solid T6 heat treatment construction. Their Bead Grip technology engages tire beads for maximum grip at low tire pressures.
The load rating ranges from 2560 lbs to 3640 lbs, and to sweeten the pot, you also get a lifetime structural warranty.
Best OEM replacement: TRD Pro 16″ | TRD Pro 17″
There's nothing wrong with 16" rims, and if that's what you want, simply go for Toyota's recommended upgrade.
The TRD PRO 16 Inch rims give you a little extra space in each wheel well, and they make it easier to get over rough terrain.
They're everything you want in off-road rims, and they come with a genuine Toyota trademark — a real win-win.
Budget 17" rims: RockTrix RT110
17" rims are a great in-between option for the Tacoma, and it's a reason they're one of the most popular sizes. If that's the wheel size you decide to go with, then RockTrix RT110 is one of the best wheels for a Tacoma.
They give you a little extra height if you're upgrading from 16" rims, and they give you a little more offset for a little extra space.
Budget 18" rims: RockTrix RT107
If bigger is better, then the best wheels for a Tacoma has to be the RockTrix RT107. They fit 18" rims perfectly, giving you more space to tackle off-road obstacles with ease.
Not only that, but they come with an offset that easily allows you to get larger tires, add bulkier suspension components, or both! Its versatility and size stuffed into one package, which is everything you could possibly want in the best wheels for a Tacoma.
Cheap OEM replacement: OE Wheels LLC
It might seem odd that we're not going with a TRD part for an OEM replacement rim, but they're really more of an upgrade on the stock rims.
If you don't need the upgrade and simply need new rims, OE Wheels LLC will give you everything you need. You can use them on light trails, and you don't have to break the bank to get them.
What mods do you have on your Tacoma? We'd love to hear about your setup? Let us know by leaving a comment below!