At the time of writing, it seems everyone wants to get their hands on the Honda K-series engine. However, throughout the 90s and early 2000s, it was the B series engines that ruled the roost.
The most common version is the B16, affectionately referred to as "the torqueless monster" by Honda fans and haters alike, and it really does live up to the name.
It's a small 1.6L powerhouse that produces a whopping 100+ hp/liter, but only between 110 and 150 lb-ft of torque, depending on the version.
In addition, it makes all its power close to the redline, so you need to really wring its neck to extract every bit of performance.
The B16 engine found its home in light cars such as the CR-X and various Honda Civic trim levels, making it one of the most rewarding car/engine combos available at the time.
It is also one of the most durable engines and it didn't take long before the world discovered its tuning potential.
Few engines can match the level of support the B16 enjoys. In this article, we'll take a closer look at this legendary motor.
B16 Specs, History, and Variations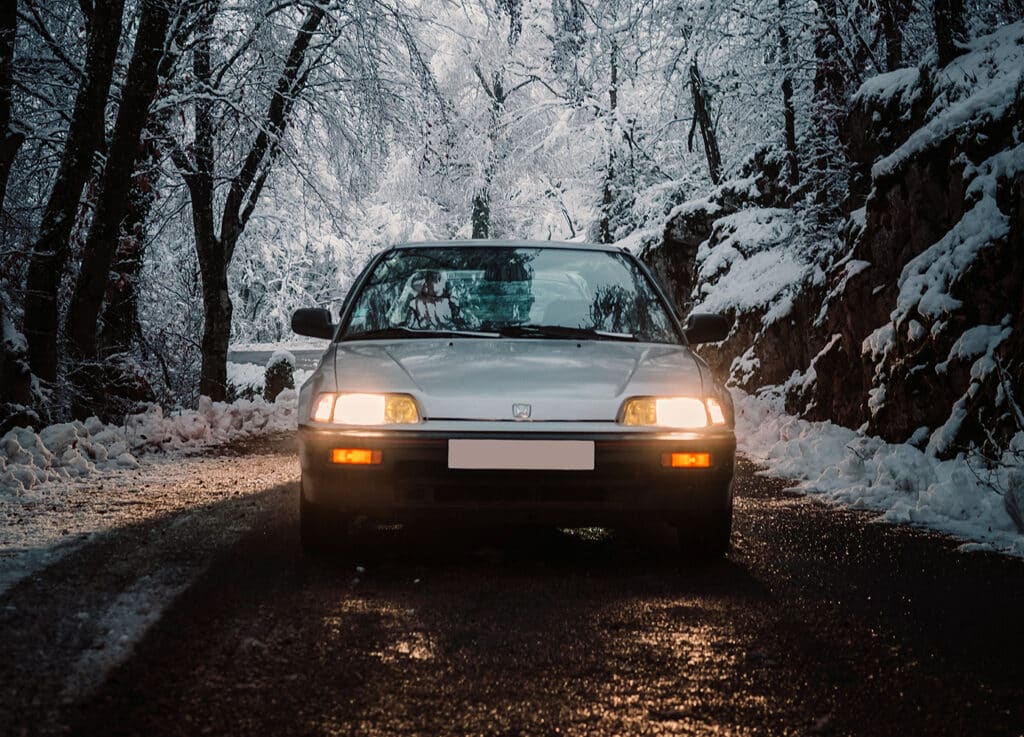 Engine codes: B16A, B16A1, B16A2, B16A3, B16A4, B16A5, B16A6, B16B
Layout: Inline 4-cylinder DOHC 16V
Displacement: 1.6L (1,595 cc)
Fuel system: Programmed multi-point fuel injection
Cylinder bore: 81 mm (3.19″)
Piston stroke: 77.4 mm (3.05″)
Compression ratio: 10.2:1, 10.4:1, 10.8:1
Weight: 306 lbs to 395 lbs
Power: 150-182 hp @ 7,400 to 8,200 rpm
Torque: 111-118 lb-ft @ 6,300 to 7,500 rpm
Firing order: 1-3-4-2
VTEC engagement: 5,200 rpm to 6,100 rpm
Honda launched the 1st generation of the B16 engine all the way back in 1989. Known as the B16A engine, the 1.6L inline-4 aluminum unit was found under the hood of the Integra XSi, and the CR-X SiR.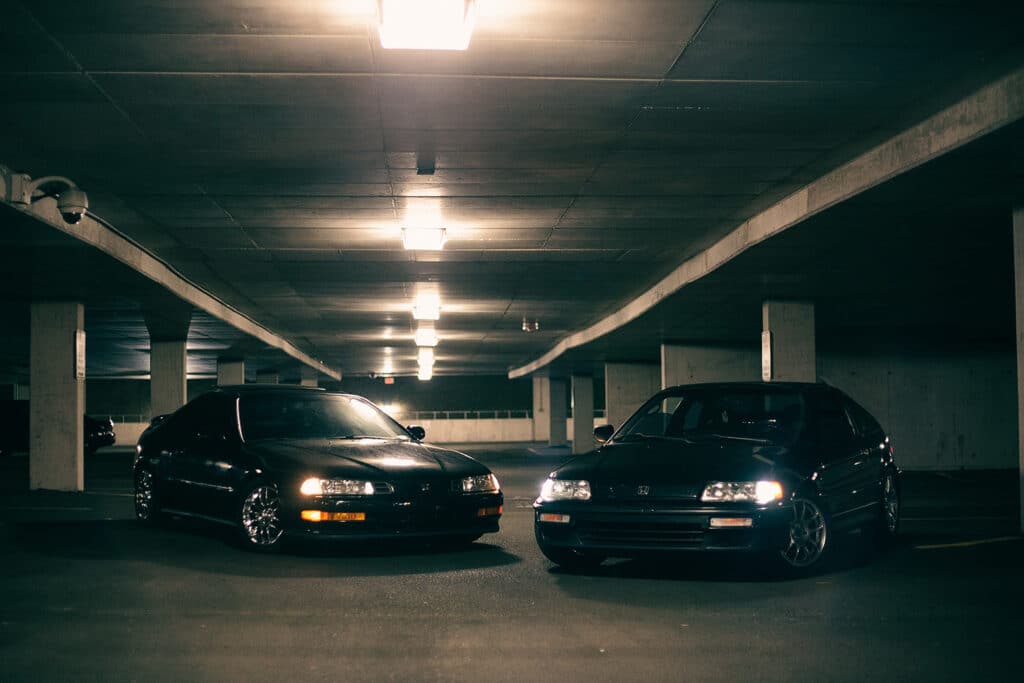 The now-legendary unit would go on to spawn six generations during its 12-year lifespan.
The B16A engine introduced the world to Honda's groundbreaking VTEC system (Variable Valve Timing & Lift Electronic Control).
Perhaps the most impressive thing about the B16A engine was its horsepower-per-liter ratio. The 1.6L unit produced 160 hp and revved to an astonishing 8,200 rpm, while retaining Honda's exceptional build quality.
It didn't end there. Honda continued to develop the B16 engine, resulting in the B16B that produced a downright crazy 185 hp in stock form.
Even crazier is that this engine still has massive tuning potential, which has made it one of the most desirable JDM motors of all time.
As years went by, the B16 was upgraded and eventually replaced by the B17, which displaced 1.7L. Subsequently, the B17 was succeeded by the 1.8L B18, which later gave way to the 2.0L B20.
1st Gen B16A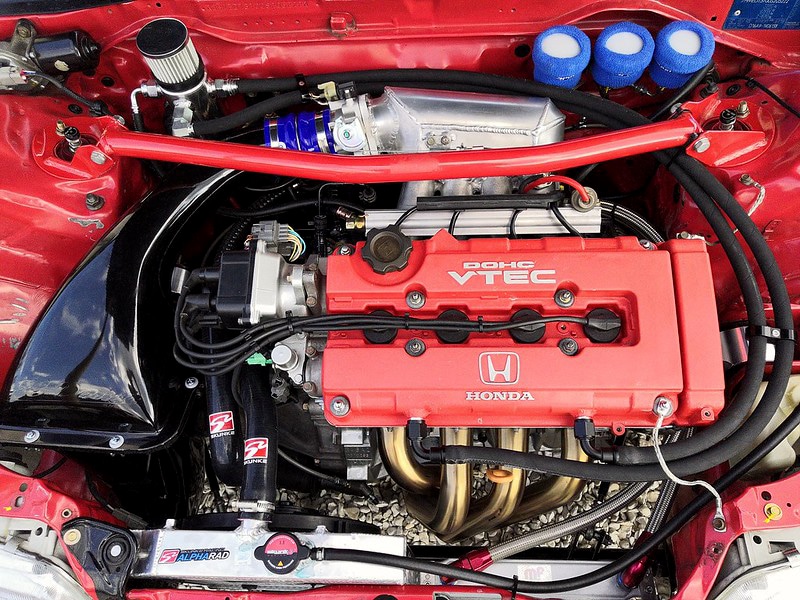 The B16A SiR 1st-gen is the original B16 engine and first saw the light of day in 1989. This was also the world's introduction to Honda's legendary VTEC system, which stands for Variable Valve Timing & Lift Electronic Control System.
The B16A engine only has a displacement of 1.6L (1,595 cc), but it manages to produce 100 hp/liter — quite a big deal considering how old this engine is.
It has a compression ratio of 10.2:1 and the VTEC kicks in at 5,500 rpm. It makes peak power at 7,600 rpm and peak torque of 111 lb-ft at 7,000 rpm. The redline is set at 8,000 rpm, and the rev-limiter kicks in at 8,200 rpm.
2nd Gen B16A
For this iteration of the B16A motor, Honda introduced some changes. The 2nd-gen motor has upgraded pistons, pushing the compression ratio to 10.4:1.
The intake camshaft is less dynamic and the throttle body size is increased to 60 mm. It makes 170 hp at 7,800 rpm, and the redline sits at to 8,200 rpm. However, VTEC actuation remains at 5,500 rpm.
B16A1
The B16A1 was primarily developed for the European audience and was seen in cars such as the Honda CR-X (EE8) and the Civic (EE9) sold in the European domestic market.
Compared to the 2nd-gen B16A, its compression ratio is reduced to 10.2:1, which means the power and torque are also lowered to 150 hp at 7,600rpm and 111 lb-ft at 7,100rpm respectively.
The redline is set at 8,200 rpm, and VTEC kicks in at 5,200 rpm instead of 5,500 rpm as seen in the 2nd gen B16A.
B16A2
The B16A2 keeps the 10.2:1 compression ratio, but receives new camshafts, pushing the power back up to 160 hp at 7,600 rpm. Torque remains at 111 lb-ft, but it peaks at 6,500 rpm — a lot sooner than the B16A1's 7,100 rpm.
Even though VTEC is relatively slower to kick in at 5,600 rpm (100 rpm later), the 8,000 rpm redline, with its limit at 8,200 rpm, makes for a very rev-happy motor.
Several Honda models sold in the U.S., Canada, Europe, Australia, and the Philippines featured the B16A2. These include:
1992-2000 Civic (EG6/EG9 and EK4) (EDM)
1992-1997 del Sol (EG) (EDM)
1996-1997 del Sol (EG2) (USDM)
1996-1998 Civic (EK4) (AUDM & NZDM)
1999-2000 Civic (EM1) (AUDM)
1999-2000 Civic (EM1) (USDM)
1999-2000 Civic (EK4 sedan) (Philippines)
1999-2000 Civic (EM1) (CDM)
B16A3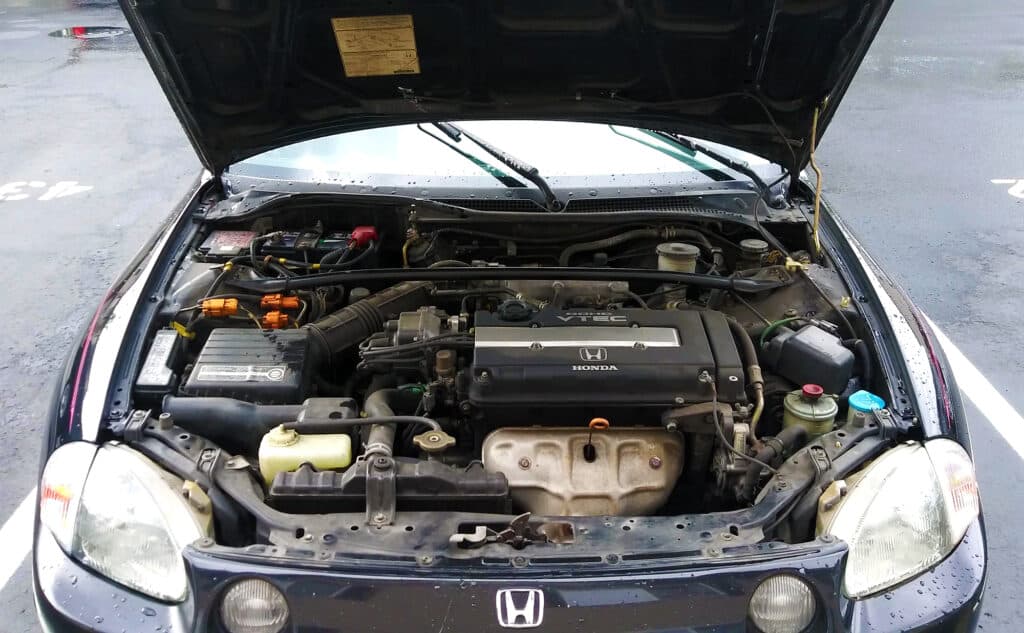 The B16A3 engine was made specifically for the 1994-1995 del Sol sold in the U.S. It has a 10.4:1 compression ratio, with a peak power of 160 hp at 7,600 rpm, and a peak torque of 111 lb-ft at 6,700 rpm.
VTEC engages at 5,600 rpm and the redline is at 8,200 rpm, with the rev limiter sitting at 8,500 rpm.
The B16A3 was exclusive to the 1994-1995 del Sol sold in the U.S. The engine shared similar attributes to the B16A2, however, there were subtle differences in the torque band.
Peak torque remained at 111 lb-ft, the rpm range was shifted to 6,700 rpm in contrast to 6,500 rpm in the B16A2. Though VTEC engages at 5,600 rpm, the engine's redline is pushed to 8,200 rpm, with the rev limiter at 8,500 rpm.
B16A4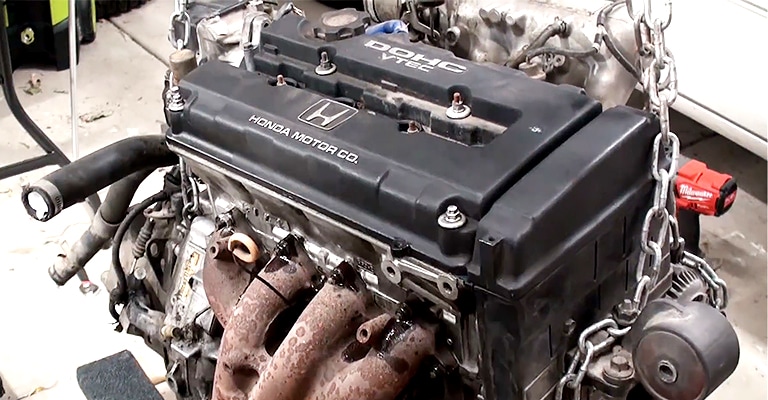 Honda developed the B16A4 for the 1996-2000 Civic SiRII (EK4) sold exclusively in the Japanese domestic market.
The engine has a 8,000 rpm redline and it has quite a few differences compared to older B-series motors. Think of it as a 2nd Gen B16A with P30 pistons.
The B16A4 has a 10.4:1 compression and produces peak power at 7,800 rpm. Effectively it makes 174 hp, while torque capped at 113 lb-ft. However, the torque band is still quite impressive, with peak output coming in at 7,300 rpm.
B16A5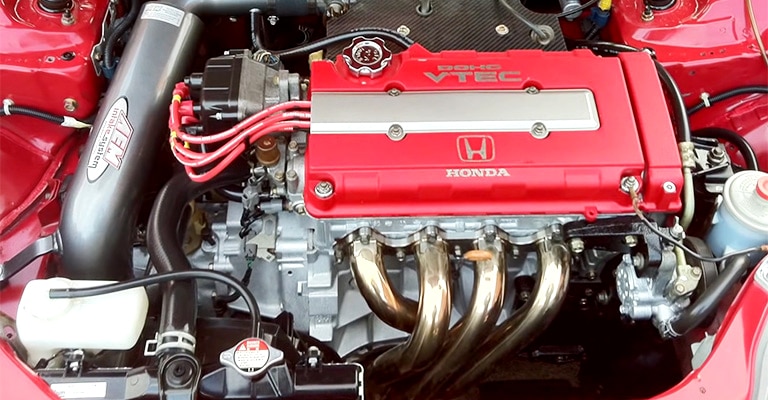 The B16A5 and B16A4 are very similar in that they both powered the 1996-2000 Civic SiRII sold in Japan. However, the B16A5 is exclusive to Civic SiRs equipped with automatic transmissions.
The significant difference, however, was that the engine's peak torque (111 lb-ft) was bumped up from 6,300 rpm to 7,300 rpm in the B16A4. This change allowed it to rev to 8,500 rpm in contrast to the A4's 8,000 rpm redline.
B16A6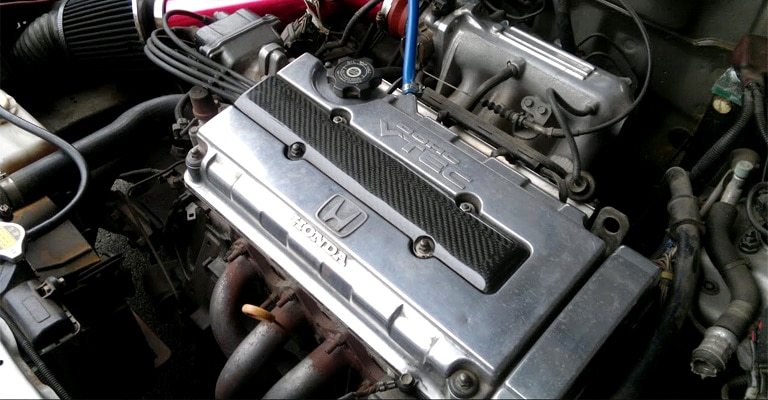 The B16A6 engine was based on the B16A2 and was primarily designed for the Middle East and South African markets.
It has a compression ratio of 10.2:1, and produces 158 hp at 7,800 rpm. Torque was increased to 118 lb-ft torque at 6,400 rpm, and VTEC engages at 5,500 rpm.
You'll find the engine in 1996-2000 Honda Civics sold in the Middle East and South Africa.
B16B
The B16B was used exclusively in the Honda Civic Type R, and is easily the most desirable of all the B16 engines. In essence, this is a highly improved version of the B16A SiR 2nd Gen.
The B16B is like a shorter stroke equivalent of the B18 unit found under the hood of the Integra Type R, providing a new height of 212.4 mm.
Thanks to the extra space, the engine can run an upgraded crankshaft, pistons, and longer, lightweight connecting rods, providing a 1.85:1 rod-to-stroke ratio.
The camshafts were upgraded, it received lightweight intake valves and stronger valve springs.
Honda also tweaked the intake ports, fitted a 62 mm throttle body, upgraded the fuel injectors, installed a lightweight flywheel, and added an improved exhaust system.
The engine has a 10.8:1 compression ratio, which helps it to produce a very impressive 185 hp at 8,200 rpm, with a peak torque of 118 lb-ft at 7,500 rpm.
The VTEC system engages at 6,100 rpm, the redline is set at 8,400 rpm, and hitting the limiter isn't possible unless you rev it to a screaming 9,000 rpm.
Honda B16 Tuning Potential
You'd think it's impossible to extract any more power from a 1.6L engine that Honda managed to tease out over 180 hp from in its most powerful factory version. Well, you can.
Even with some simple bolt-on parts, you can improve on the factory power figures. There are near-endless possibilities when it comes to tuning the Honda B16 engines.
Most gearheads will tell you that tuning a car can easily get out of hand. The best way to approach tuning your B16 is by having an end goal in mind.
If you're looking to build a fast and fun road car, your approach should be very different from building a beast that's designed to annihilate competition down the quarter-mile. Here's how you can go about it:
Start with the simplest mod. Installing a cold air intake (CAI) will help your B16 breathe better.

Make sure you install a proper CAI that actually provides your engine with cool air, such as the AEM V2, not one of the cheap ones that suck in warm air from the engine bay.

Next up, fit some 4-1 exhaust headers. The one found on the B18C is a popular swap, but it's easier to just purchase a brand new aftermarket unit, and it'll most likely give you better results as well.
Install a 2.5" aftermarket cat-back exhaust system to free up a few more ponies and to make your exhaust louder.
At this point, you're probably looking at somewhere in the region of 180 horsepower with a good remap. It's still possible to make a lot more power, though.
Swap your intake manifold for either a Type R or Skunk2 unit to improve your engine's breathing.
The throttle body can either be enlarged or replaced with an aftermarket unit to further improve the airflow.
Aftermarket cams, adjustable cam gears, different valves and valve springs; titanium retainers, ported and polished heads; larger fuel injectors, ARP head studs, bronze valve guides, and a set of high-compression pistons should get you to 220+ horsepower when tuned with a Hondata system.
If you're planning to keep it as a reliable, fun daily driver, this is as far as we recommend taking a naturally aspirated build.
It's a really fun fast road and track day setup capable of making more than enough power for most enthusiasts. It's worth mentioning that your build might be traction-limited beyond this point, that is, your wheels might struggle to find traction.
Still want more? There's always the option of installing a supercharger or turbocharger. The first thing to do is to check the engine and make sure it's up for the task.
If the engine is healthy, the stock internals can withstand around 300 whp, and that amount of power should make it capable of quarter-mile runs in the 12-second range.
Beyond this, you'll need to swap certain engine internals, and for street use it's not really advisable to go beyond 500 whp. A Honda Civic producing this kind of power can potentially run 10-second quarter-mile times.
Common Problems With Honda's B16 Engine
Believe it or not, the Honda B16 engines are practically problem-free and are known for being among the most reliable engines ever made. In fact, the only real problem is leaking around the camshaft seals.
Find one that's been well-maintained and serviced regularly, or recently rebuilt, and you won't have to worry about it. It's not uncommon for these engines to keep on running past the 250-300,000 mile mark with regular maintenance.
The two most common issues with B16 engines are old age and neglect from the previous owners.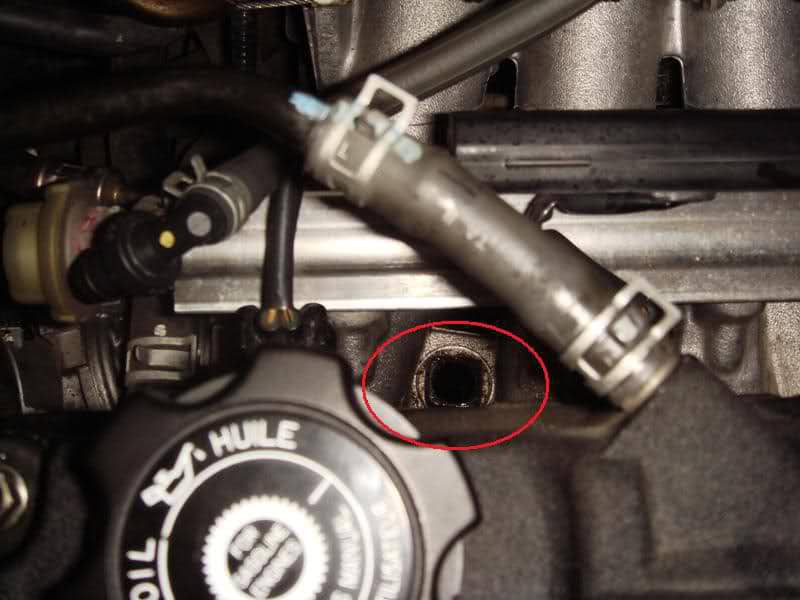 Parts wear out over time, and even an engine that's been taken care of may experience some hiccups, but in those cases, it usually isn't anything serious.
With these engines being available for cheap and able to withstand severe punishment, chances are that whatever you find has probably lived a hard life, bouncing off the rev limiter.
After years of abuse and neglect, it doesn't matter how reliable and durable the B16A and B16B units are, they will need some TLC.
The good news is that everything you need to restore one of these engines to its former glory (or beyond) is readily available, either from Honda themselves, or the aftermarket.
It's always recommended that you do a compression test. Ideally, on a warm engine, the compression should be roughly 170-190 psi across the board.
There's more to the cost than what you pay for the engine, though. If you're looking to swap the engine into an older Honda, the B series will no doubt be the easiest and most affordable option.
Often, it will be as simple as a case of out with the old, in with the new.
Older B16 engines may burn some oil, especially if they're driven hard on a regular basis. Just make sure you perform regular checks and top up when needed. Changing the oil and oil filter frequently will help increase the B16's lifespan.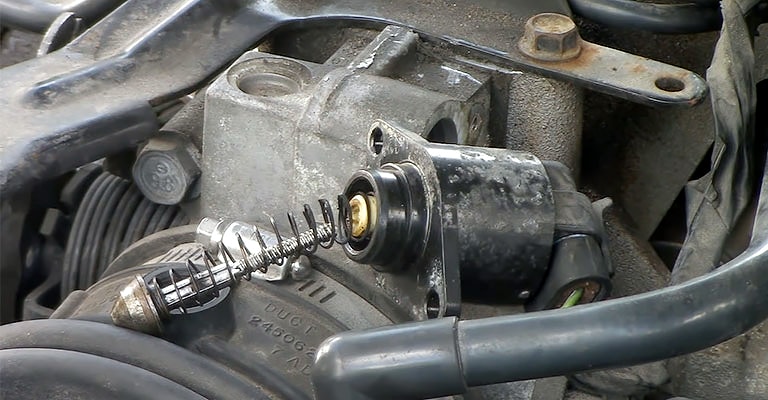 One of the most common issues you may face with a B16 engine is that it won't idle the way it should. Although it's rarely something serious; most of the time it can be traced back to a faulty TPS or IAC valve, or a vacuum leak.
Rubber seals can also degrade over time, so you might want to check around the oil pan and valve cover for any kind of leaks.
Honda B16 vs K20: Which Swap is Better For Your Build?
Both the Honda B-series and the K-series have a cult-like following, so deciding which one is better usually comes down to personal preference. However, let's take a closer look at what they both offer and make it easier for you to decide.
The first thing you need to consider is the budget. The B-series had a 12-year production run, and many cars powered by these engines can now be found in breakers yards.
Additionally, there are many enthusiasts looking to sell their old B16 to help fund their K20 swap. At the time of writing, the B16 engine is available for less money than the K20.
Swap kits are readily available for those who want to drop a K engine in their old EG or EK Civic, but they're not cheap, sometimes costing more than a complete B-series engine.
People have managed to swap Honda's tuner-friendly engines into all kinds of cars, such as Mini Coopers, and even Ferraris.
If that's the case, it will require so much engineering and custom parts, it's impossible to say which engine option would be the most cost-effective.
If you want to keep your car naturally aspirated, the K20 engine does have a solid advantage over the B16. As the old saying goes, there's no replacement for displacement — the K20 offers 0.4 liters more than the B16.
To make it even more unfair, the K20 can use the K24 bottom end. At this point, there's no way a naturally aspirated B16 would ever be able to keep up, even if it's bored and sleeved, and you've fitted every performance part you can get your hands on.
That said, the B16 certainly isn't a slouch, and with the right bolt-on parts, it can still churn out around 220+ horsepower in daily driver guise — very decent numbers if you're just looking to build a fun car that won't break the bank.
Interestingly, the differences between the B16 and K20 aren't as pronounced when we go down the forced induction route.
There are race-spec B series engines out there that produce an astonishing 1000 horsepower! At that point, it becomes pointless to argue which engine is the best to swap into a humble Civic.
Concluding Thoughts
If you're on a shoestring budget or just want to build a fun, cheap, and reliable everyday car, the B16 will get the job done.
But if you want the maximum amount of power and torque from a naturally aspirated engine, then the K20 is definitely the best Honda engine.
Finally, if you're going down the turbo route, it depends on your desires and budget, but both engines can produce ridiculous amounts of power.
All that considered, the B16 is an icon. 30 years since its release and it is still as desirable as it is relevant in the tuner community.
Sure, it lacks the niceties of modern engines, but it more than makes up for it with character. What are your thoughts on the Honda B16? Let us know by leaving a comment below.
If you find this article helpful, share it with your friends on your favorite car forums or social media platforms. We appreciate your support!