The tuner community is no stranger to the Nissan VG30 platform. The V6 engine family is home to many reputable motors including the VG30DE, the VG30DETT, and so on.
While the V6 lineup may not be as desirable as its straight-6 counterparts from Nissan and elsewhere, the engines, however, are not lacking in terms of potential and durability.
The VG30 range offers accessible performance to enthusiasts on a budget, costing a fraction of what the RB26DETT and 2JZ go for.
Let's understand the VG30 engines in detail and see what makes it an underrated bargain. We'll take a tour of the engine lineup, discussing specs, reliability, and tuning potential.
Nissan VG30: Specs
Engine Codes: VG30S, VG30i, VG30E, VG30ET, VG30DE, VG30DET, VG30DETT
Production: 1983-2006 
Layout: V6 SOHC/DOHC 12V/24V with NA, Turbo, and Twin-turbo variants
Displacement: 3.0L (2,960 cc)
Fuel System: Carburettor, fuel injection
Cylinder Bore: 87 mm (3.43″)
Piston Stroke: 83 mm (3.27″)
Compression Ratio: 7.8:1 to 11.0:1
Weight: 485 lbs to 540 lbs
Power: 138 hp to 300 hp (in street-legal applications) 
Torque: 167 lb-ft to 283 lb-ft (in street-legal applications)
Firing Order: 1-2-3-4-5-6
Nissan's VG30 moniker belongs to the company's VG range of 3.0L V6 engines.
Displacing 2,960 cc, the VG30 design incorporates an 87 mm bore and 83 mm stroke, with either SOHC or DOHC valvetrain layouts, depending on the engine.
All VG30 engines feature a cast iron block and aluminum cylinder heads. The VG30 family comprises:
VG30S
VG30i
VG30E
VG30ET
VG30DE
VG30DET
Depending on the engine, the VG30 can either be carburetted or fuel-injected, with some models featuring Nissan's VTC variable valve timing, which is similar to Honda's i-VTEC and VTEC systems.
The VG30S, the family's only carburetted member, makes 146 hp and was designed specifically for markets with relaxed emissions policies, such as the Middle East and Africa.
The VG30i, on the other hand, features throttle body fuel injection but is noticeably underpowered, making just 138 hp and 167 lb-ft of torque.
You'll find the VG30i in D21 Hardbodys and Nissan Pathfinders made between 1986 and 1989.
VG30E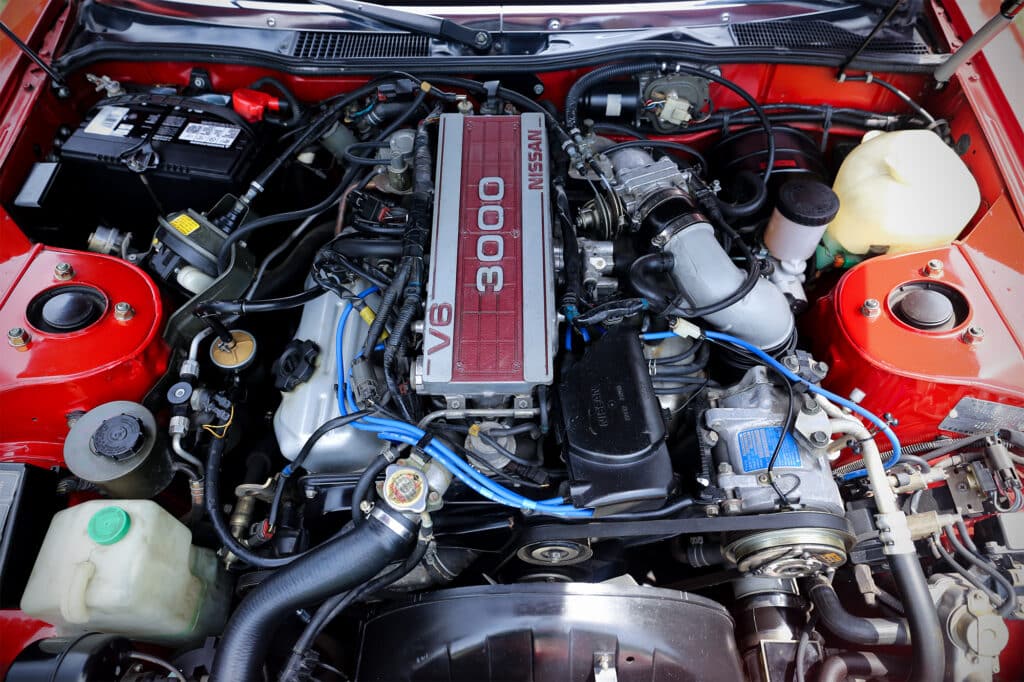 One of the early members of the VG family, the VG30E, uses a familiar design with cast-iron block and cylinder heads but with a SOHC layout. The engine features 2 valves per cylinder and a compression ratio of 9.0:1.
Early versions of the engine produce 160 hp and 173 lb-ft of torque, while later variants (part of the W-series) increased output to 165 horses, with torque remaining unchanged.
A revised version of the VG30E was used in the 1989 Nissan Maxima with variable intake plenum, improving the engine's torque figures to 182 lb-ft.
The V6 motor was in production for quite a while, finding its way into several trucks, SUVs, minivans, and sedans.
VG30ET
This Nissan V6 uses a single overhead camshaft and features 2 valves per cylinder. Essentially, the VG30ET is a turbocharged version of the VG30E engine.
Early engines made in 1984 featured a Garrett T3 turbocharger running at 6.8 psi (0.47 bar) and a 7.8:1 compression. US-spec engines made 197 hp and 227 lb-ft, while European versions put out 230 hp and 252 lb-ft of torque.
Not long after, Nissan introduced the W-series in 1987, which bumped output to 202 hp. In 1988, however, the VG30ET got a revised compression ratio of 8.3:1 and featured a Garrett T25 turbo running at 4.5 psi (0.31 bar).
This was done to reduce turbo lag and improve engine response. A highly tuned, albeit non-street-legal version of the VG30ET, producing 739 hp and 506 lb-ft, was used in Nissan's GTP ZX-Turbo racecar between 1985 and 1990.
VG30DE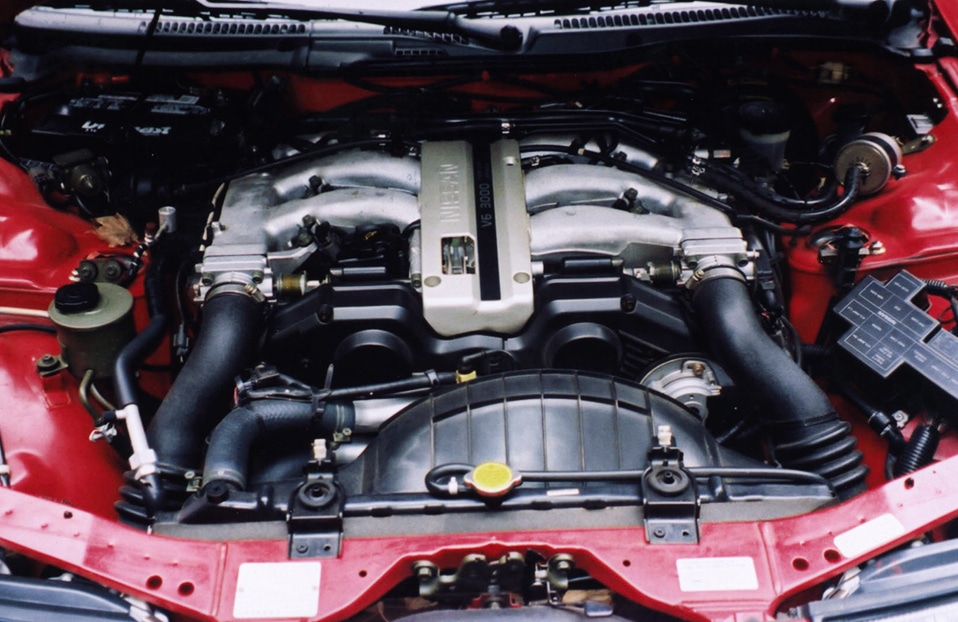 A fairly popular item in the VG30 family, the VG30DE motor was available from 1985 through 2000. The VG30DE is a pretty strong motor, featuring a cast-iron block and aluminum cylinder heads.
The naturally aspirated V6 gets dual-overhead cams and 4 valves per cylinder, with multi-point fuel injection and VTC (Variable Timing Control) on the intake side.
Compression stood between 9.0:1 and 11.0:1, with the engine having a marginally oversquare design. Early versions of the VG30DE put out 190 hp, while later variants were known to output 222 hp from the factory.
Two versions of the VG30DE were available, of which only one made it to North America. This engine had two throttle bodies facing the front of the vehicle, as opposed to the left side, as seen in JDM versions.
Additionally, early VG30DEs used large oval intake ports and round exhaust ports. But later engines went with smaller intake ports and oval exhaust ports.
If you're keen on swapping this engine into your project car, you'll be happy to know that you can buy VG30DE rebuild kits and stroker kits; they're readily available online.
VG30DET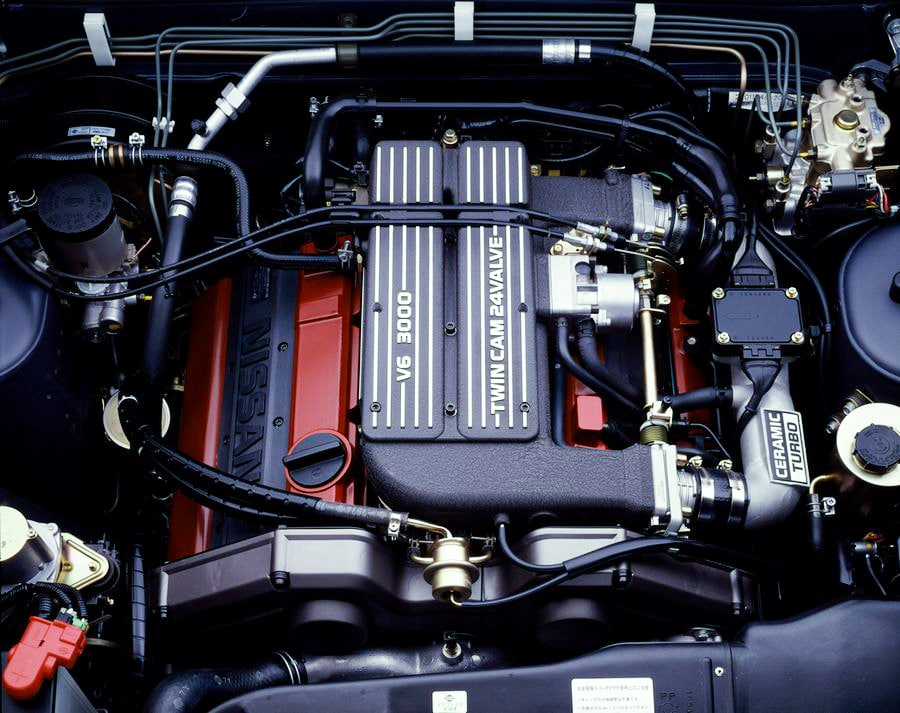 The VG30DET is a 4-stroke DOHC engine that remained in production from 1986 through 1996. Information regarding this particular engine is hard to come by, with very few documented, at least on this side of the pond.
What we know is that the turbocharged VG30 shares much of the internals with its non-turbo DE cousin and allegedly features an 8.3:1 compression ratio.
Series 2 engines, however, have been believed to achieve a slightly higher compression ratio of 8.5:1.
Both engine variants ran significantly lower compression than the VG30DE, owing to the DET's turbocharged layout.
The differences between the VG30DE and DET involve a new intake manifold and an upgraded head design to compensate for the VG30DET's revised compression ratings.
Power figures for Series 1 engines are estimated at around 230 hp, with Series 2 models getting a generous bump, pushing the ratings to 252 hp and 236 lb-ft of torque.
VG30DETT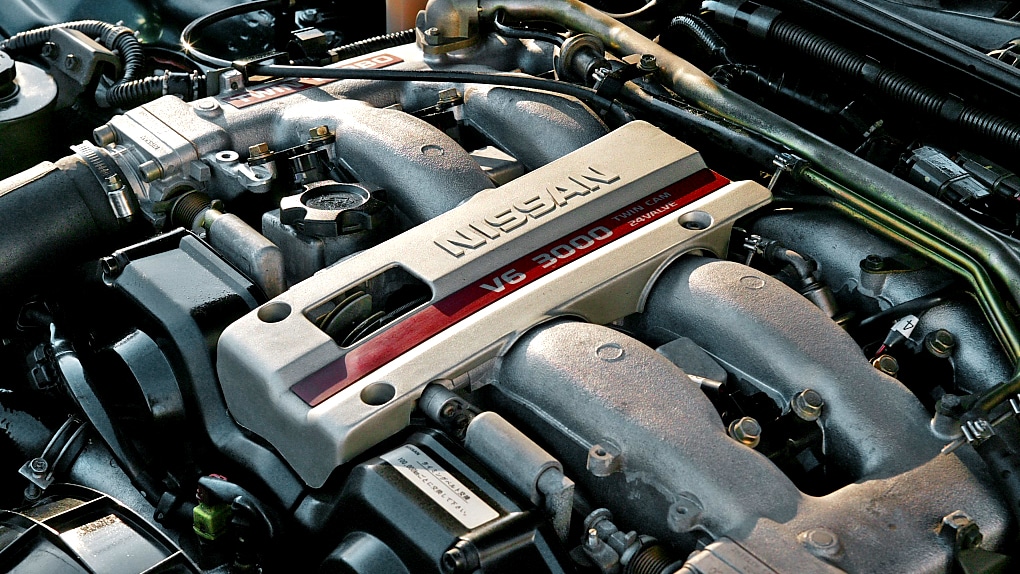 Nissan started the development of the VG30DETT in 1987 for the MID4-II concept car.
Much like other VG engines, Nissan employed a familiar cast iron block design, aluminum cylinder heads, and a valvetrain setup featuring dual overhead camshafts with four valves per cylinder.
The biturbo or twin-turbo VG30 engine displaces 2,960 cc with a cylinder bore of 87 mm, piston stroke of 83 mm, and a compression ratio of 8.5:1.
The engine gets Nissan's cam-phasing VTC system (Variable Timing Control) on the intake side, allowing better top-end performance and smooth idling.
You'll also find free-flowing valves inside the motor, offering excellent flow characteristics.
Although the concept VG30DETT made over 320 hp, street-legal variants found in the 300ZX twin-turbos were limited to 300 hp from the factory.
A more potent version of the engine powered multiple GTP race cars in the early 90s.
How Long Do VG30 Engines Last?
Generally, the VG30's reputation is solid, having the overbuilt qualities of similar JDM engines of the era. Accounts of VG30 engines lasting over 300,000 miles are not uncommon, especially the naturally aspirated variants.
That's not to say turbocharged VG30s are fragile. Expect a well-maintained turbocharged VG30 to last over 200,000 miles.
Bear in mind that VG30 engines are of the interference type, so you might want to keep an eye on the timing belt. Those who know what happens when a timing belt breaks will agree.
Other potential concerns surrounding VG30s include oil consumption, faulty fuel injectors, and corroded connectors.
The former can be from worn-out seals, owing to the age of these engines. As for the fuel injectors, excessive carbon buildup may cause the injector to get clogged, especially if it's a high-mileage engine.
Overall, VG30 engines are extremely reliable and dependable if maintained well, particularly the VG30E, VG30DE, DET, and DETT.
The cast-iron block design is definitely a plus for sustained abuse. That's why these engines are a particular favorite among tuners around the world.
You'd be hard-pressed to find faults in a well-maintained VG30. In fact, the VG30's reputation is overwhelmingly positive. They're easily among the best high-performance Nissan engines.
VG30s are appreciated in the community for their over-engineered JDM perks and robust off-the-shelf performance. But if you find that unimpressive, there's always the option of modifying.
Performance Parts for VG30 Engines
As you can tell, some VG30 engines aren't inclined towards performance and are rather designed for utility.
While the VG30DE, DET, and DETT came with relatively strong figures from the factory, not everyone is happy with the stock performance, at least in today's motoring scene.
The good news is that it's not impossible to push a VG30 to make crazy horsepower figures. However, achieving that will require significant monetary investment.
In terms of mods, start with the basics. Get a remap and upgrade the intake and exhaust system. You may also consider stage 2 items like high-performance motorsport cams, ported heads, and bigger injectors.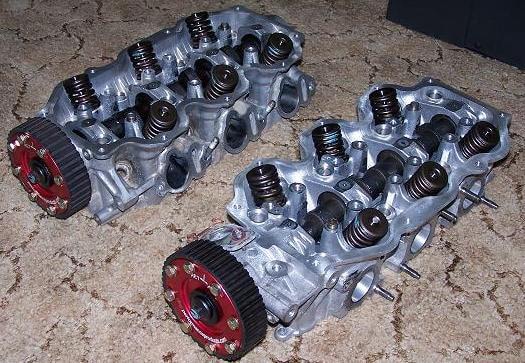 Alternatively, you can experiment with forced induction, especially if it's a VG30E or DE.
Keep in mind that VG30s, the NA kind, run fairly high compression ratios. You might want to alter that for long-term reliability and efficient power generation.
The engine design is from a bygone era, so the stock fuel system is not particularly designed for modern superchargers or turbos.
Invest in an aftermarket fuel injection system if you're looking to build a forced-induction VG30.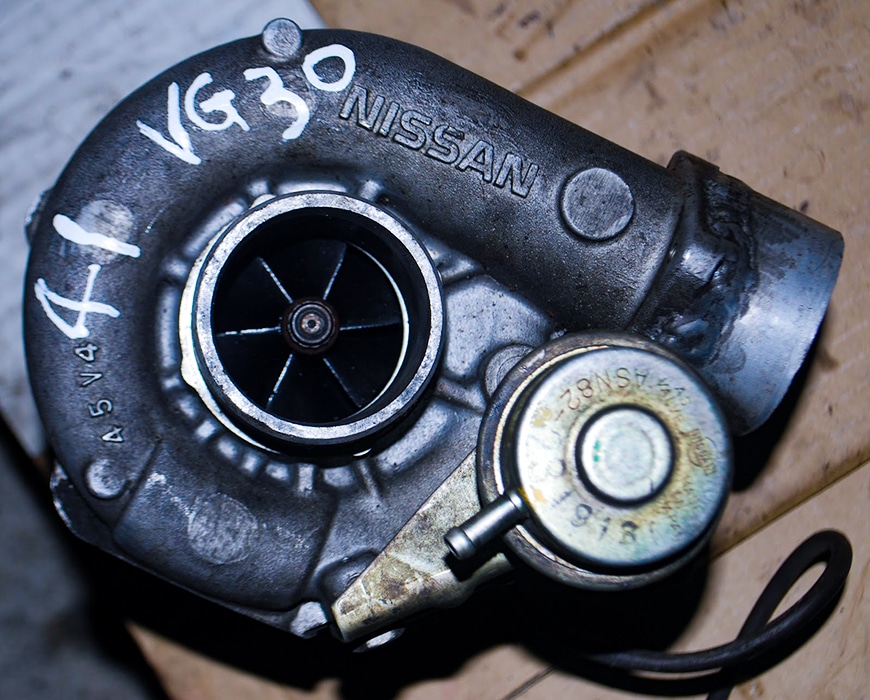 Piston and crank upgrades, including stroker engine kits, are worth considering for the ultimate VG30 build. You might also consider boring the engine block to accommodate wider pistons.
Jun Auto supplies stroker kits for VG30 engines, bumping the displacement to 3,247 cc courtesy of an 89 mm bore and an 87 mm stroke.
The kit comes at a price, though, but is comprehensive, with forged pistons, connecting rods, and crankshaft, all supplied with the package.
Is the Nissan VG30 a Good Engine?
The answer is a resounding yes. Although VG30s, in general, are several decades old, there's no denying the value they offer.
Picking the factory turbocharged items like the VG30DET or DETT should get you excellent performance attributes right out of the box.
Sure you can enhance them even further, but for most people out there, 300 horsepower is good enough.
The engine lineup offers excellent reliability owing to its over-engineered internals. If you're inclined towards modifications, the VG30 is incredibly receptive. The stock cast-iron block is bulletproof.
Unless you're looking to run a competition racer or a drift car, simple stage 1 mods should suffice the enthusiast in you.
Yes, the VG30DET and DETT are relatively sought-after versus the VG30E and DE, making the latter two even better bargains. Compared to an RB or JZ, the VG is better, especially when packaging is brought into the mix.
Although the aftermarket scene may not be as broad as the RB or JZ, there's enough support to fulfill your tuning demands.
The industry wholeheartedly approves the VG30 as a good and reliable V6 engine. It may arguably be the best-ever engine lineup that Nissan made to this date.
Hope you enjoyed reading the piece. What do you think of the VG30? Let us know by leaving a comment.
If you found this article useful, share it with fellow enthusiasts! We appreciate your support.