Nissan's VQ40DE may not be every tuner's first choice, especially when it comes to top-end performance.
Designed for trucks and utility vehicles, this naturally aspirated 4.0L V6 is all about torque. If hauling is what you're after, along with excellent reliability, the VQ40DE should be right up your alley.
Although its stock horsepower numbers may seem underwhelming, at least for its time, the torque more than makes up for it.
Early VQ40s made 261 hp but managed up to 288 lb-ft of torque. Also, it's as reliable as a hammer — a quality you'd want in a 4×4 truck.
The engine saw its debut around 2005 in the Frontier, Xterra, and Pathfinder. Some say the VQ40DE is a stroked-out VQ35. But truth be told, the differences they possess are quite substantial.
Nevertheless, both engines share excellent engineering attributes common to other engines in Nissan's VQ series, such as the VQ30DET and VQ37VHR motors.
Join us as we take an in-depth look at the Nissan VQ40DE, discussing its specs, reliability, problems, and more.
VQ40DE Specs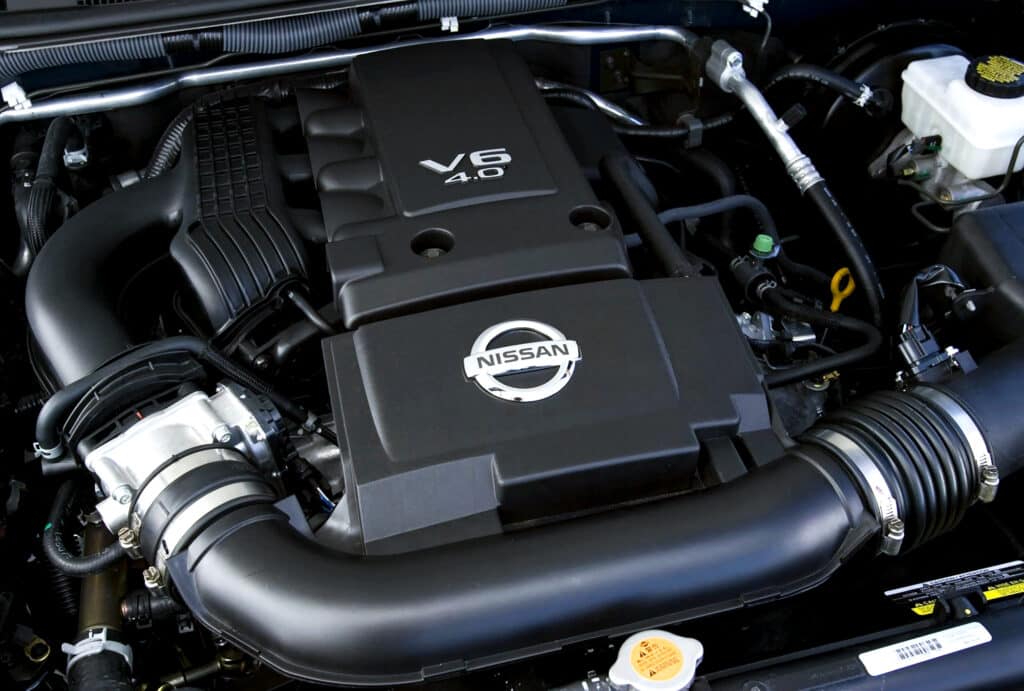 Engine code: VQ40DE
Production: 2005-present
Layout: V6 DOHC 24V
Displacement: 4.0L (3,954 cc)
Fuel system: Electronic Multi-Point Fuel Injection
Cylinder bore: 95.5 mm (3.76 in)
Piston stroke: 92 mm (3.62 in)
Compression ratio: 9.7:1
Power: 261 hp to 275 hp at 5,600 rpm 
Torque: 281 lb-ft to 288 lb-ft at 4,400 rpm
Firing order: 1-2-3-4-5-6
Nissan's VQ40DE features a rather modern design for its time, with dual overhead cams and four valves per cylinder.
The sophistication continues with Nissan using an all-aluminum design for the cylinder block and heads, making it a relatively light production V6, at least at the time it came out.
The VQ40, despite having a noticeably higher displacement, weighs about the same as a VQ30DE, if not slightly more.
However, the engine is not as light as the rather popular VQ35. The VQ40, internally at least, looks like a long-stroke version of the VQ35DE.
Although both share a 95.5 mm cylinder bore, the VQ40 gets a stroke length of 92 mm while the VQ35 comes in at 81.4 mm. This increased the displacement to 4.0L, lending it the VQ40 name.
The compression ratio stands at 9.7:1, with the VQ40 featuring Nissan's CVTC variable valve timing on the intake, a four-bearing crankshaft, and a multi-point fuel injection system.

The engine also gets NDIS (Nissan Direct Ignition System) with individual coils for each platinum-tipped spark plug.
You'll also find a variable intake system, along with hollow and lightweight camshafts inside the engine.
Other highlights of the VQ40DE include forged steel connecting rods, a micro-finished one-piece forged crankshaft, non-hydraulic lifters, and molybdenum-coated pistons.
Depending on the year and model, the VQ40DE makes anywhere from 261 hp to 275 hp with torque rated between 281 lb-ft and 288 lb-ft.
The 4.0L V6 takes 5.4 quarts of oil with a recommended viscosity of 5W-30. Cars featuring the VQ40DE include:
2005-2019 Frontier
2005-2015 Xterra
2005-2012 Pathfinder
2009-2013 Suzuki Equator
2012-2021 NV1500
2012-2021 NV2500 HD
2012-2021 NV Passenger
2017-present Patrol
Wondering what VQ40DE stands for? Here's a breakdown of the engine code:
VQ: Engine series
40: 4.0L Displacement
D: Dual overhead camshafts
E: Electronic Multi-point fuel injection
VQ40DE Reliability
Nissan's VQ engines are well-built and robust. Their reputation is pretty solid in the community, and the VQ40 is no exception.
There is no doubting how reliable the VQ40 is. Just like many of its RB, SR, and VQ brethren, the VQ40 is among the most reliable Nissan engines.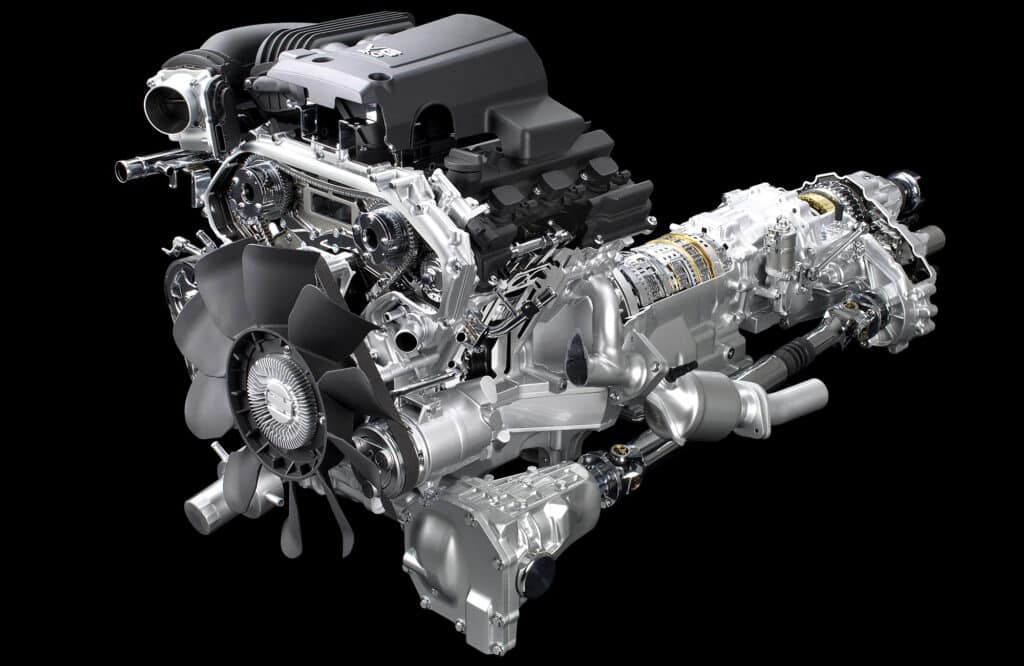 There are accounts of stock VQ40s lasting around 200,000 miles just with routine maintenance.
But at the end of the day, it's still a collection of moving parts, and there are bound to be problems.
The VQ40 is no stranger to that, with timing chain failure gaining notoriety during its initial days. However, Nissan was quick to address the issue.
Some of the problems you may run into in a VQ40DE are oil leaks, the aforementioned timing chain issues (engines after 2011 are less prone), and unusually high oil consumption, especially in old and high-mileage examples.
Other than a few age and mileage-related issues, which are to be expected from any engine, the VQ40 is quite reliable. The engine design is solid, with no major flaws to report.
However, you may end up picking a bad egg from the basket. It's not uncommon for a particular set of engines to run into more problems than the rest of the production lot.
Common Problems With Nissan's VQ40DE
As mentioned, the VQ40DE is not perfect. Early engines were notorious for timing chain issues, in addition to oil leaks and low oil pressure. But that doesn't make the VQ40 a bad choice by any means.
If you encounter an issue with your VQ40, not that it occurs all that often, it could possibly be from these common areas. Let's take a closer look and understand the problems in detail.
Timing Chain Issues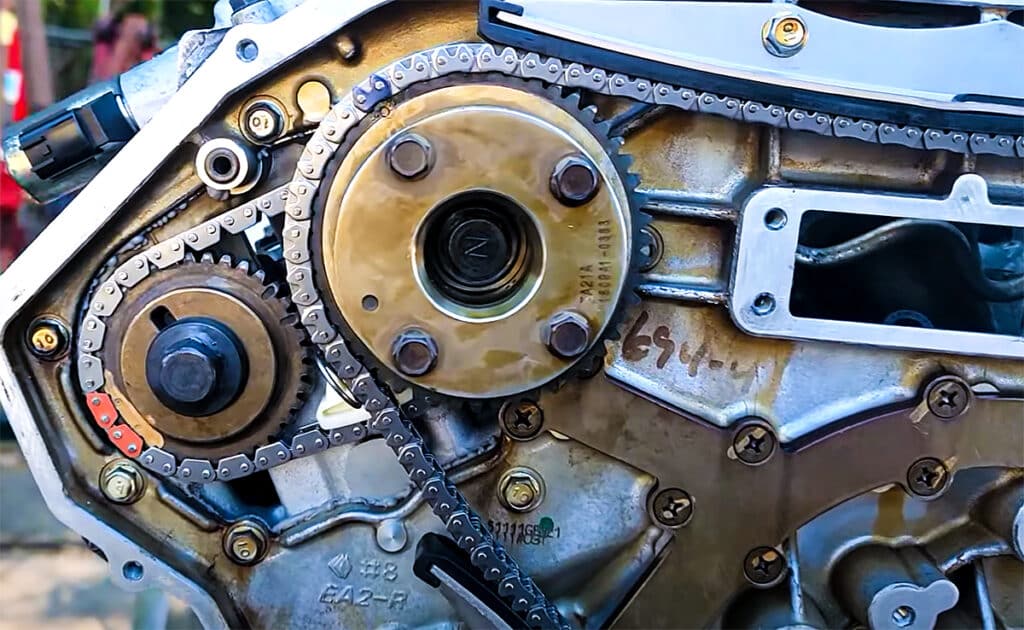 The timing chain issue stems from the tensioner. More specifically, the upper timing chain (also called the secondary timing chain) is prone to cutting through the tensioner.
You might want to check if there are any buzzing sounds accompanied by misfires or a rough idle.
It's never a good sign when a timing chain chews through the tensioner. Especially since the fix isn't cheap. You're looking at anywhere between $1,000 and $1,500 for a VQ40 timing chain replacement.
The issue largely affects 4.0L Frontier, Pathfinder, and Xterra models made between 2005 and 2010. Nissan did issue a TSB, so you might want to check if the repair has been done if you're eyeing any of those trucks.
Oil Leaks, Low Oil Pressure & Excessive Oil Consumption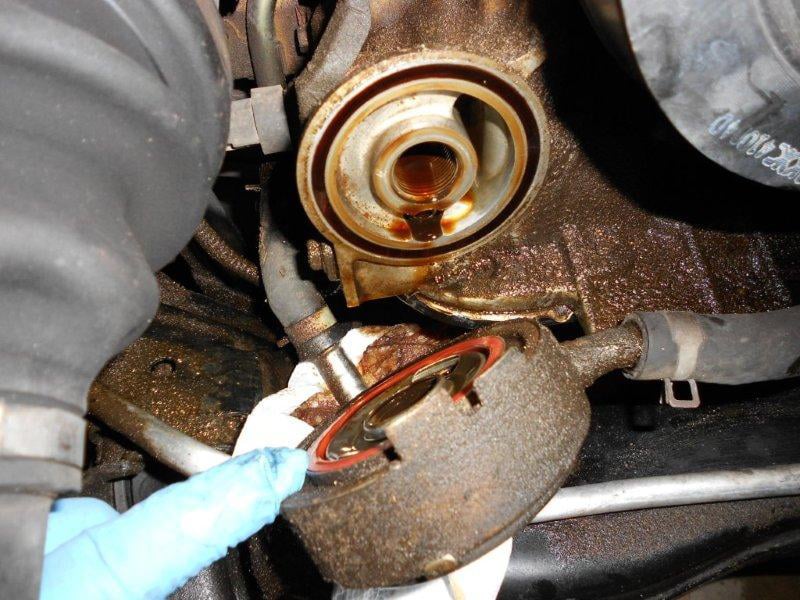 You may notice oil leaks from the VQ40DE's valve covers. It's not an inherent fault of the engine but rather an age and mileage-related concern. As engines age, gaskets and seals tend to wear out, which is fairly common.
VQ40s, especially those that are 8-plus years old and have accumulated over 100,000 miles, generally exhibit issues with worn-out gaskets and seals.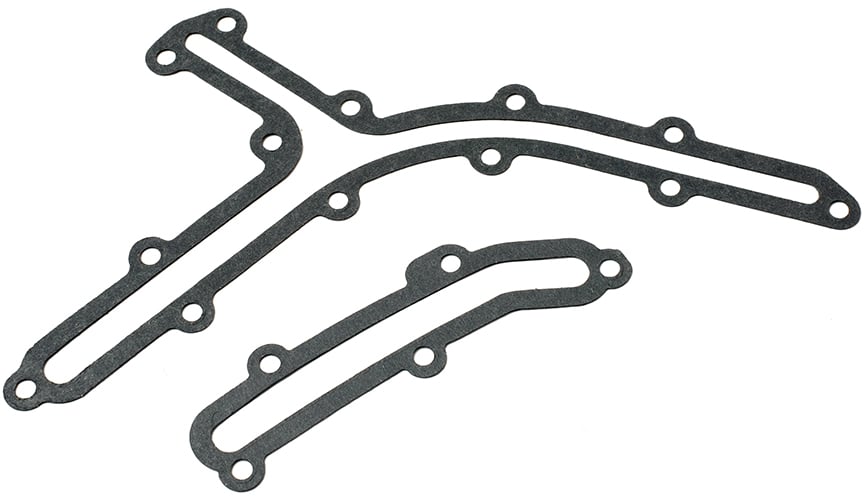 Since these rubber car parts are subjected to a lot of heat, it's not uncommon for them to wear and crack, leading to oil leaks.
It's never an urgent repair, but if you experience visible leaks, the smell of burning oil, and smoke from the engine bay, it's time you get it addressed.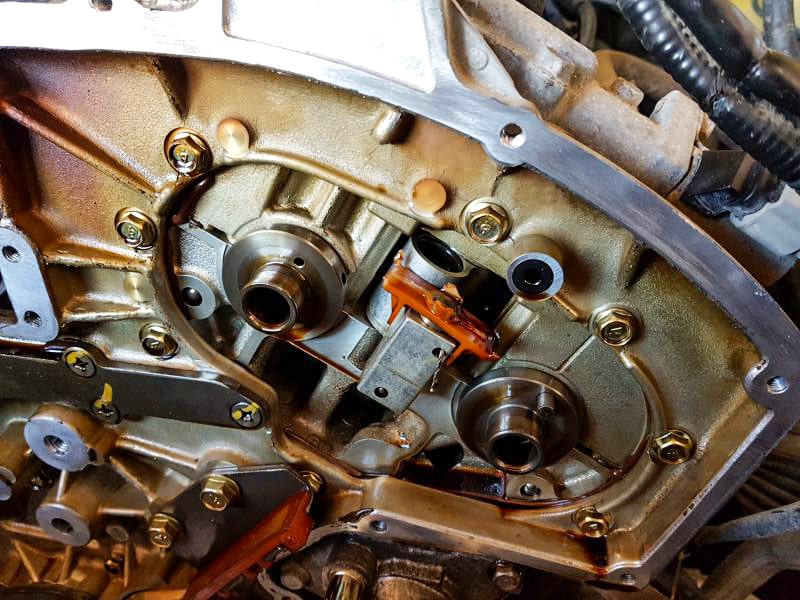 Low oil pressure may stem from excessive oil leaks. It may also be a result of the failing timing chain tensioner we mentioned earlier; oil gets trapped near the rear timing cover and fails to recirculate, causing the low oil pressure issue.
That said, the problem may not exclusively be the timing chain alone and can even be the result of a failed oil pump.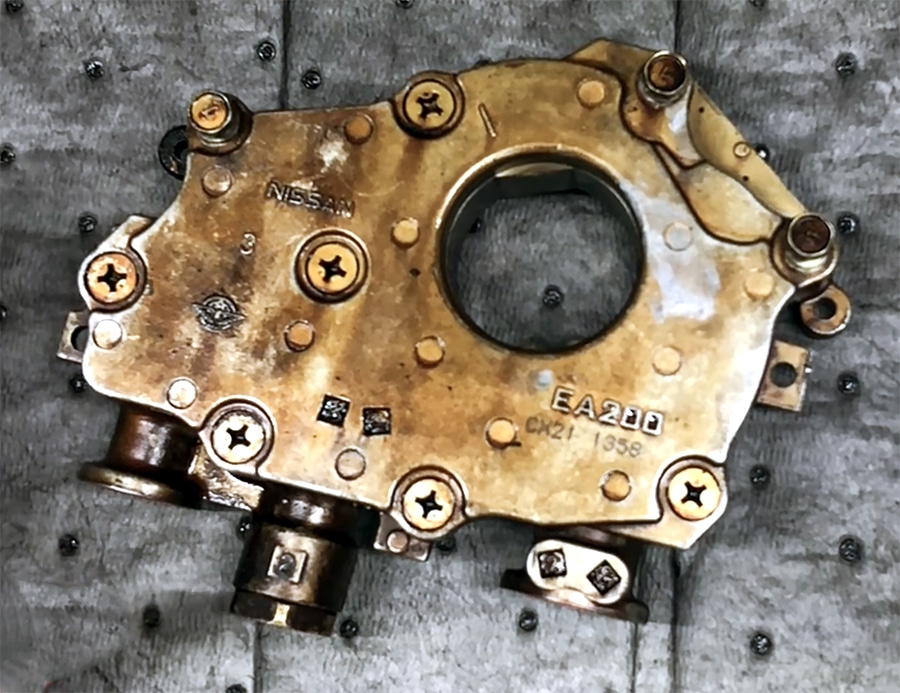 If the engine experiences overheating issues and throws a low-pressure light, we recommend a compression test before taking it for further diagnosis. You can do this by yourself with the help of an engine compression tester kit.
Oil consumption is normal for an old engine, but if your VQ40 consumes more than a quart of oil every 1,200 miles, it may have oil consumption issues. It has been reported that the VQ40's catalytic converters are pretty sensitive.
When they fail, the ceramic dust tends to enter the engine and damage the rings and cylinder walls.
Check to see if the exhaust has a blue smoke or if the oil itself is creamy. Rough idling is also a sign that your VQ40 may have high oil consumption.
VQ40DE: Tuning Potential
The VQ40 is designed for low-end torque, that's why it's used in trucks. It's not exactly a high-performance Nissan engine; the following motors are better alternatives for that sort of thing:
But that shouldn't stop you from enjoying the VQ40's untapped potential. Here's a general list of mods for the VQ40DE:
Aftermarket spark plugs
Full exhaust system
Larger plenum spacers or intake manifold
High-compression forged pistons
Equal length headers
Performance MAF sensors
ECU Remap
A quick forum search reveals several VQ40DE builds running race cams, headers, and the usual stage 2 mods. But most owners agree that the gains don't come cheap.
The engine, however, is extremely potent, and the internals are pretty receptive to mods, provided they aren't over the top.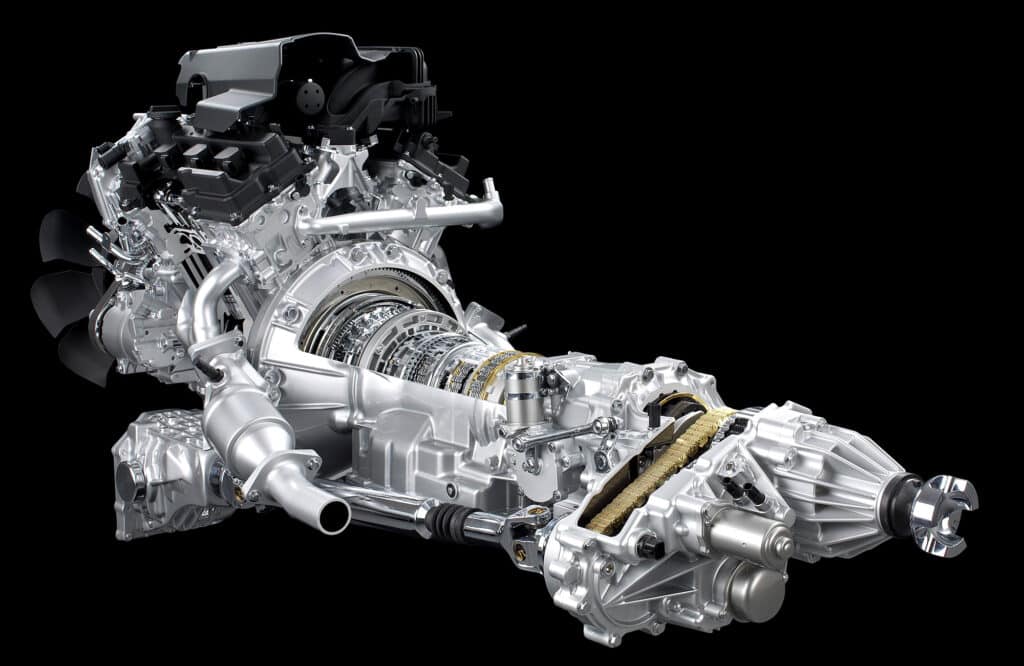 If you're willing to go the distance, the VQ40 can pump out a max hp of over 500. However, that would require a lot of effort and money.
Alternatively, running a turbo could easily help improve the stock VQ40s power output. Owners have gone the "VQ40DET" route, but unlike its VQ35 cousin, off-the-shelf kits are pretty rare for the VQ40.
You may find universal turbo kits, but there will be fitment issues. Plus, it's a whole lot of work which won't justify the cost and time, especially since most of the parts are going to have to be custom built.
But it's a fun project to undertake if you love wrenching and don't mind the effort.
There are, of course, other ways to improve the VQ40's stock performance. You may experiment with 350Z s2 cams, aftermarket valve springs and retainers, adjustable exhaust cams, and an intake cam with a phase lock.
Why We Love the VQ40DE
Nissan has done an excellent job with the VQ40DE's engine design and overall performance. It may not hold a candle to some of the more popular VQ and VK engines in the family, but it sure can handle quite a bit of abuse.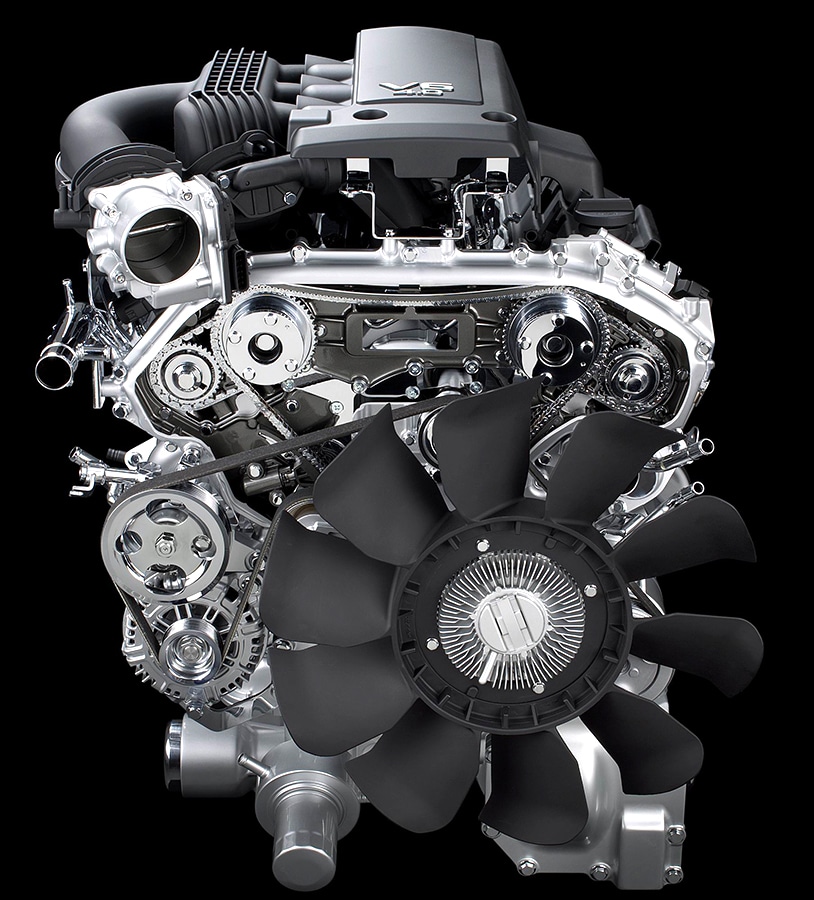 As mentioned, the VQ40 shares a lot of the VQ attributes, including an all-aluminum design, quality internals, and excellent reliability.
The VQ40DE has proven its might as a dependable motor, lasting well over 200,000 miles, with some examples even crossing 300,000!
Yes, it has problems. But so does every engine out there. The VQ40 is a mass-produced item sold in huge numbers. A small fraction of them turned out problematic, but that's largely due to poor maintenance.
The advantage of owning a VQ40 is that the vast majority of its problems are usually attributed to age and mileage, which is the case with most engines of the time. So it's not out of the ordinary.
The VQ40 is nearing 20 years of age since its debut. To have such a reputation for reliability even after all these years speaks volumes about the engine's durability.
We hope you enjoyed reading this article. Let us know your thoughts on the VQ40 motor by leaving a comment below!