Doing a compression test before starting a car that hasn't been driven for a long time is a sensible decision. It's even a good idea to routinely check compression as part of your maintenance schedule. This way you can delay and possibly avoid unnecessary repair costs, saving yourself a lot of time.
Testing your engine's compression from time to time will reveal the condition of your engine's valves, the valve seats, and piston rings; and whether or not they're wearing evenly.
If you want to avoid the hassle of paying hundreds of dollars to get this done by your local technician, you can do it yourself. All you need is a reliable and accurate compression tester kit.
In this article, we'll help you better understand the problem of low engine compression, and list some of the best compression testers that you can buy.
Engine Compression Explained
To learn what compression means, you need to have a basic understanding of two concepts:
The four-stroke cycle, and
Compression ratio.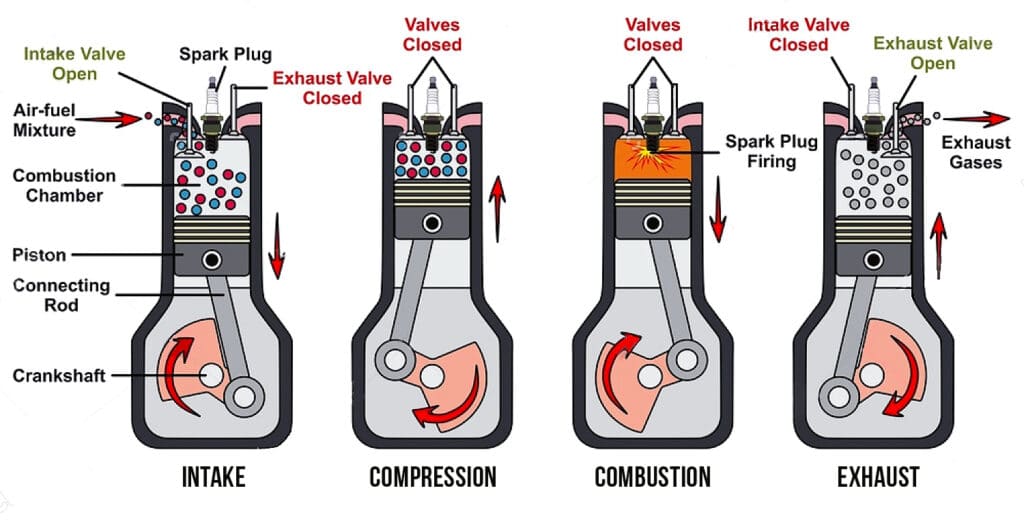 The first stage in the four-stroke cycle is intake, which is when the fuel-air mixture is introduced into the combustion chamber. Compression is the 2nd stage. That is when the piston travels to top dead center, compressing the air-fuel mixture on its way up.
But in the context of testing compression level, the word compression usually refers to the built-up pressure in the combustion chamber when the fuel-air mixture ignites — not the act of the piston traveling towards TDC.
Engines convert heat energy into mechanical motion because of their ability to compress and ignite air and fuel.
If for whatever reason, your engine is unable to compress the air-fuel mixture properly, it won't make enough power. This happens when there's a leak. Although, no engine can seal off the pressure 100%, especially when it's cold because metal expands on heating.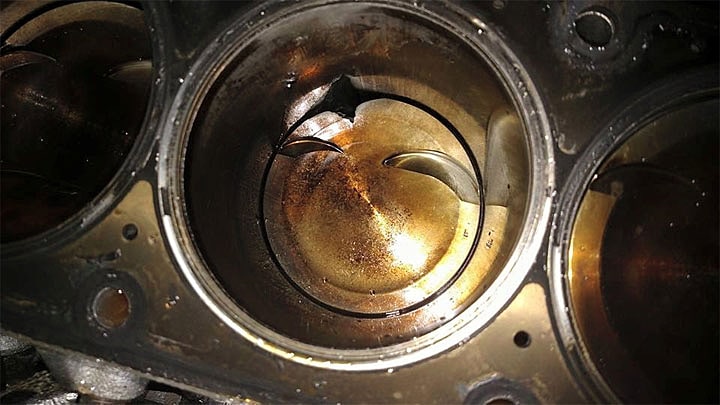 Ideally, the pressure in the cylinder should only escape through the exhaust valve. But when your engine cannot contain the pressure it's trying to build up, it's going to seep through places it's not supposed to — piston rings, head gaskets, and valve seals.
And that's what causes engine damage.
Symptoms, Causes, and Effects of Low Compression
Most modern engines have a variety of electronic components that constantly keep an eye on the engine's vitals — camshaft sensors and crankshaft position sensors being the most important of the lot as they play a role in detecting problems related to low compression.
However, the check engine light and low-pressure warnings hardly show the whole picture.
You can tell that your compression is low if your car feels more sluggish than it once did, or if:
It runs rough and misfires,
Your engine turns over but doesn't start,
The tacho needle doesn't move as quickly as it used to, or
If you see a random misfire code and check engine light.
Engines tend to lose compression because of factors such as:
Faulty timing chain/belt,
Piston damage, possibly due to engine knocking (look into octane boosters),
Worn out piston rings,
Blown head gasket,
Leaky valves, (if they're not fully seated or if the springs, seats, and retainers are damaged),
Splintered cylinder walls, and
Worn out camshaft or bad camshaft position sensor.
Diagnosing Low Compression
This can be done by performing a compression test at the minimum, which can be followed up with a leak-down test.
Compression tester kits like the ones listed below are used to determine your engine's capability of creating pressure, while leak-down test kits show how well your engine maintains pressure.
Leak-down tests involve injecting 100psi of pressure into the cylinder you're testing. The gauge will show how quickly that pressure escapes. Worn-out engines can easily leak 25% or more and damaged engines even more so.
However, in this article, we'll stick to discussing compression tests only.
Optimum Compression Reading
An indicator of good engine health is when each cylinder generates the same compression pressure. As per the norm, each cylinder should be able to produce and sustain a compression rating of at least 100 psi per cylinder or more, depending on the engine.
It is pretty normal to find a mild variation in compression between different cylinders; however, note that the readings should not be more than 10% apart.
It is the difference in pressure between cylinders that are the main factor of measurement. It's worth mentioning that the actual readings will vary from gauge to gauge.
How to Use an Engine Compression Kit
Compression kits allow you to examine the condition of the valves, piston rings, and other cylinder components and analyze if they have even wear and tear.
Using them is quite straightforward, although the exact steps will vary depending on what car you drive and how old or new it is.
Disconnect the main coil wire, spark plug wires, fuel pump, and fuel injection fuses if your car is non-carbureted.
Remove the spark plug and replace it with the threaded end of the compression gauge.
Crank the engine a few times over until the pressure reading tops out.
Repeat the process for each cylinder, and write down the results.
Compare the results, and check for any variation over 10%.
Tip: For any cylinder that displays below 100 psi, pour 1 teaspoon of engine oil down the spark plug cavity and perform the test again. If the reading jumps significantly, it's an indicator that your piston rings are worn out and likely the culprit. If the reading remains the same, it could mean valve problems.
Features to Look For
With all that out of the way, let's explore the types of compression test kits and the features that differentiate them.
Choosing the right compression tester is actually a fairly easy job because it's a very simple tool and you can't really go wrong with any of the recommendations you'll find in this review guide.
Gauge Type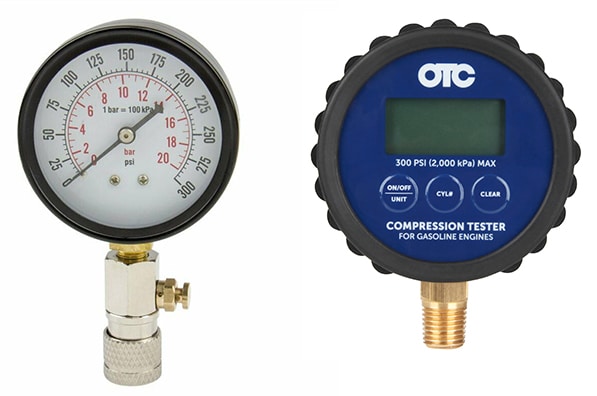 The gauge on the tester is a critical part of the tester as it displays the pressure reading. Needless to say, it needs to be accurate. If there is any miscalibration, the entire task will be rendered meaningless.
It is also vital that the gauge has proper markings and is easy to read. You will find two types of gauges, one is a dial gauge, and the other is a digital gauge.
Digital Gauges are accurate, whereas analog gauges deliver close to accurate readings as they have tiny mechanical components that are susceptible to damage.
Included Adapters and Cable Length
When you purchase a compression tester, in most cases, you only receive a gauge and a hose. However, various kits come with adapters and a carry case.
You want to ensure that the tester can easily access recessed spark plug cavities, but you also want the shortest cable possible for accurate readings.
Another factor you want to ensure is that the valve adapters are compatible with the spark plug seat type on your vehicle.
Best Automotive Compression Tester Kits
Now that you know pretty much everything you need to know before you buy a compression tester kit, let's get to the review list you're here for.
Below we've listed some of the best engine compression testers on the market that you can buy right now.
OTC 5605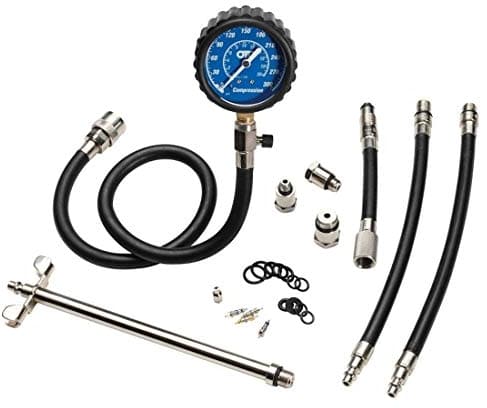 Manufacturer: OTC
Part number: 5605
Gauge type: Analog
Warranty: 1 year
Buy on: Amazon
OTC is a well-established company that manufactures a wide range of high-quality automotive tools. The 5605 Deluxe Compression tester Kit comes with adapters that work on both flat and tapered seat plugs.
You also get an extra-long 25" flex hose with a quick coupler. The length isn't ideal for gauge accuracy but in some cars with cluttered engine compartments, it can avoid fitment issues. Low accuracy is better than not being able to take a reading at all.
The kit includes an eight-inch deep 14mm connector and a five-inch flex 16mm Triton connector along with 3 adapters that are compatible with various seat plugs. 
Another excellent feature is the corrosion-resistant nickel-plated finish that ensures longer life. The 2½" gauge has a chrome bezel with a durable outer boot featuring a dual scale that shows readings from 0-300 PSI.
OTC 5606
Manufacturer: OTC
Part number: 5606
Gauge type: Analog
Warranty: 1 year
Buy on: Amazon
Another excellent compression tool from OTC, this compression tester is ideal for use on all engine types. The tester kit comes with three adapters sizes measuring 10mm, 14 mm, and 12 mm, suitable for various plug types. The flex hose is 25″ long and plated with a nickel coating to ensure durability.
The gauge measures two and a half inches featuring heavy-duty chrome bezels for better durability. It can easily read pressure ranging from 0 to 300 PSI, making it a good fit for testing pressure in cars and motorcycles.
Note that the OTC 5606 is essentially the same as the OTC 5605, but it's cheaper because the kit excludes the 8″ deep-well 14 mm and 5″ flex Ford Triton 16mm adapters. So if you've zeroed in on OTCs 56-series but don't require the deep-well or Triton adapters, go with the 5606.
Mityvac MV5530
Manufacturer: Mityvac
Part number: MV5530
Gauge type: Analog
Warranty: 1 Year
Buy on: Amazon
If you're looking for a professional-level compression tester, look no further. The Mityvac MV5530 Professional Compression Test Kit can accurately do all your required tests. Four adapters measuring 10mm, 12mm, 14mm, and 16mm are part of the kit, making it versatile for compression tests on most engine types.
We get a 2½" color-coded gauge dial for reading the compression pressure. The color-coded dial makes it easy to check the reading after tests and delivers accurate readings. Mityvac MV5530 gauge can read pressure between 0-300 PSI.
Mityvac MV5532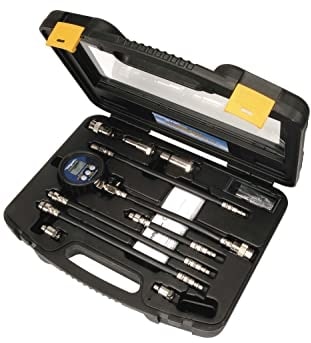 Manufacturer: Mityvac
Part number: MV5532
Gauge type: Digital
Warranty: 1 Year
Buy on: Amazon
This is arguably the best digital compression tester kit available right now. The digital gauge can store up to 12 cylinder values for easy comparison. It ships with a battery of adapters for ease of use and compatibility with several different spark plug types — ideal for workshop use or if you have multiple cars.
Because it has a digital gauge, you can choose from several units of measurement at the push of a button. The Backlit LCD can be read from any angle even in bright environments. The gauge face is sealed and provides more than adequate oil and grease resistance.
The Mityvac MV5532 Digital Engine Compression Test Kit is built with high-quality materials and is a premium option for people who like a little extra quality in all their equipment.
Innova 3612
Manufacturer: Innova
Part number: 3612
Gauge type: Analog
Warranty: 1 year
Buy on: Amazon
Tools made by Innova have an excellent reputation and offer the best bang for the buck. The 3612 compression tester kit is not different. It is a budget option that outperforms some of its higher-priced counterparts.
Readings are displayed on the easy-to-read 2½" gauge. The scales are color-coded to make it easy to get an accurate reading. It features a nifty side-release valve that allows for repeated tests without disconnecting the hose.
It features four different adapters for ease of access. However, it doesn't come in a case which is the only drawback. The Innova 3612 Compression tester has a one-year warranty.
Innova 3615 OHC
Manufacturer: Innova
Part number: 3615
Gauge type: Analog
Warranty: 1 Year
Buy on: Amazon
The Innova 3615 OHC Compression tester plus comes with four adapters measuring 10mm, 12mm, 14mm, and 18 mm. It has a 15″ stainless steel hose which makes it much more durable than rubber hose-equipped compression testers.
It features a side-release valve allowing tests without the need for repeated detaching. It also comes with an 18″ reach adapter for a better reach for an uncomplicated compression testing process.
Actron CP7828A
Manufacturer: Actron
Part number: CP7828A
Gauge type: Analog
Warranty: 1 Year
Buy on: Amazon
Actron's CP7828A compression tester is a great option for enthusiasts who want a professional-level tool at a budget price. It is perfectly equipped to detect brunt valves, broken piston rings, and more.
It features a 2½" gauge that can accurately read the pressure from 0 to 300 PSI. The gauge is made with durable material. It ships with multiple adapter sizes including 10mm, 14mm, 12mm, and 18mm to suit every engine type ranging from cars, motorcycles, ATVs, or snowmobiles.
The handy repair kit also provides valves and rubber O-rings for versatile usability, all neatly packed in a carry case.
Shankly Compression Tester
Manufacturer: Shankly
Part number: G1004
Gauge type: Analog
Warranty: None
Buy on: Amazon
If you're not looking to spend a lot on a compression tester and don't think you will need to use it frequently, the Shankly compression tester is a great fit. It has two adapters measuring 14mm and 18mm. It isn't as versatile as the other testers on our list, but it can certainly get the job done.
The gauge comes in a standard size of two and a half inches, with readings ranging from 0-300 PSI. The long-reach flexible adapters have quick-release valves making it easy to conduct compression tests.
It is the only budget option that comes with a dedicated storage case which makes it stand out from the rest and possibly an excellent choice for the folks that like their tools adequately arranged.
Lisle 20250
Manufacturer: Lisle
Part number: 20250
Gauge type: Analog
Warranty: None
Buy on: Amazon
It's difficult to conclude any workshop product review guide without mentioning Lisle — it's a household name that has been synonymous with high quality for decades.
Their compression tester is as simple and effective as they come, featuring just a single connector hose and 3 different adapters to choose from.
It's the perfect compression tester for small engines and it outputs arguably the most accurate readings compared to any other gauge on this list.
Our Top Picks
Among all the listed compression testers, it is difficult to single out one kit for you because everyone would want something different in terms of utility and price point.
All the tester kits listed above have their own aspects that make them a little different in comparison to the others. But here are 2 that caught our attention.
Best compression tester for the money: Innova 3612
The 3612 tester from Innova ranks better than most products in our catalog. We appreciate the price point of the tester as the quality is far better than what we pay for. The only drawback is the lack of a dedicated carry case to store the tool.
Highest quality: Mityvac MV5532
If budget is not a constraint, the Mityvac MV5532 Digital Compression Test Kit is the best option available.
It features a digital LCD screen that delivers accurate pressure readings and has the feature to store up to 12 cylinder values saving the hassle of taking notes after every cylinder test. Plus the carry case has dedicated sections to store every little component that comes with the compression tester.
Tell us which one you'd choose by leaving a comment below!