The Infiniti G35 was well received right out of the gates. Widely considered a remarkable thanks to its great front-midship V6 engine, its rear-wheel drive layout (all wheel drive came later), and its acclaimed 52% front/48% rear weight distribution.
But performance car enthusiasts always want to push the envelope to see what a car can do. Before long, aftermarket parts became readily available.
The best G35 mods combine various aftermarket parts to enhance handling and performance.
This guide will review the best options for Infiniti G35 tuning—both coupe and sedan models—to show how you can upgrade your car's handling, suspension, brakes, wheels and engine.
Infiniti G35 Handling Modifications
Upgrading your G35's handling is one of the first modifications you should do to increase your car's performance. Though not directly related to the engine, horsepower, or torque, improved handling is just as important.
Your suspension, brakes, wheels, and tires affect how you car sticks to the road.
Aftermarket car component manufacturers have spent years perfecting these components of your car, so you can make your G35 coupe or sedan the best it can be.
Suspension Modifications
It wasn't until 2005 that both the G35 coupe and sedan received a sport-tuned suspension upgrade on all its models. This OEM upgrade also included a viscous limited slip differential. Both of these really contributed to improving the ride quality of the G35.
Before the more refined sport suspension in 2005, many G35 owners complained the standard suspension was too high. That problem stemmed from the G35's heavy weight of 3,628 lbs, which made the car's suspension work hard rather than feel sporty.
This problem can be remedied by tuning your G35 with various aftermarket parts, and even 2005 models and beyond can be made better thanks to some key aftermarket suspension parts.
Coilovers
If you're looking to improve the handling of your car, coilover suspension upgrades are one of the first mods you should consider. A good coilover upgrade will allow you to fine tune your G35's suspension for street driving, track races, or hill climbs.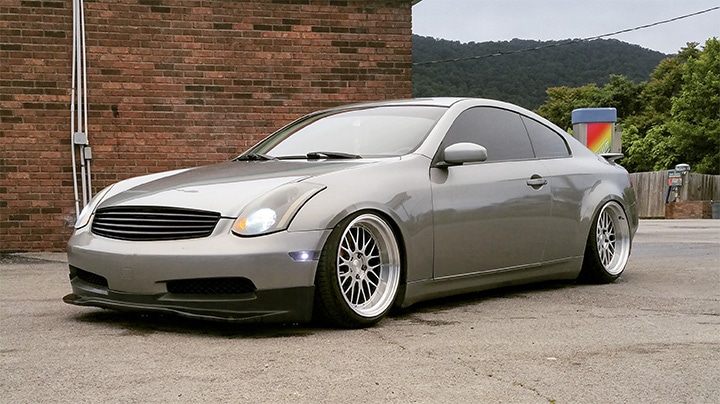 While coilovers can help improve your car's cosmetics, they can also improve comfort thanks to correctly matching shock valving and spring rates.
Of course, this well-matched package can significantly improve your car's handling both on the street and the track.
Some of the most popular Infiniti G35 coilovers are:
Lowering Springs
Most Infiniti G35 drivers will lower the suspension of their car before making any other modification. From the factory, the G35 rides way too high for most car enthusiasts)
It's really up to you to decide if lowering springs or coilovers are best. Lowering your car will make it sit flatter through corners, so there will be less body roll and if setup correctly, more grip.
Aftermarket lowering springs are cheap G35 mods when compared to coilovers. Even though we love coilovers for how adjustable they are, lowering springs still have added benefits, as mentioned above.
Some of our favorite G35 lowering springs are manufactured by:
Air Suspension
Air suspension allows you to lower your car further than most coilovers—even to the ground, if you'd like. This is perfect for G35 owners wanting to show off their car at events, but who also want a more normal ride height during regular, day to day driving.
While coilovers need to be manually adjusted for height, air suspension uses air bags to lower and raise a car's ride height, using an air compressor that can be operated by a button or switch. This adjusted, raised height is helpful for driving up steep inclines or over speed bumps.
Air Lift's kits are easily the most trusted air suspension options among G35 owners.
Sway Bars
Sway bars are designed to mitigate rolling during fast cornering or over bumps. They're also known as stabilizer bars or anti-roll bars.
When you've gotten comfortable in your car's performance and begin pushing it harder through turns, the G35 can start to feel slow to respond.
OEM G35 sway bars are hollow – made of either 5mm or 7mm thick material. They are 34mm in diameter for the front, 21mm in the rear.
They're not very stiff.
Aftermarket sway bars can increase torsional stiffness between 40% and 250%, and the stiffness can be adjusted. What does this mean?
Your car will feel much "tighter" as you steer. Your steering will be more "point and shoot" rather than "point and roll".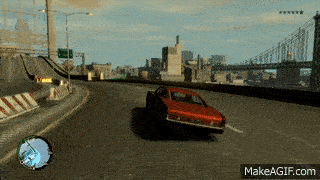 Here are some of the popular G35 sway bars available:
Strut Bar
A strut bar sits between the top of your strut suspension mounts. This increases stiffness of your G35's chassis between the strut towers, which can flex during very aggressive cornering.
Strut bars also have a cosmetic appeal. Some of the best G35 strut bars we've found are from:
Is a G35 Strut Brace Worth It?
Truth be told, the answer is usually no.
This is from a pure performance point of view though. If you are doing it to improve your handling only, make sure you do other suspension mods first.
Strut braces are something that you'll only get the benefits from once the rest of your suspension system is upgraded, and even then you'll probably only notice the difference on the track.
But if you're doing it for looks – then yes, combined with a tidy engine bay they look great.
Camber Kits
If you're looking to increase the adjustment of your Infiniti G35's suspension angles, you'll need to install an aftermarket camber kit.
Aftermarket camber kits are necessary for lowering a G35, since neither the sedan nor coupe offer camber adjustments and can't use camber plates at the front of the car. These camber arms allow you to reduce or increase your camber.
Reducing negative camber allows you to save your tires from wearing quickly, while increased camber improves handling in the corners and can stops your tires from scrubbing when running aggressive wheel fitment. It might seem pointless but trust us, you'll want this adjustment.
The aftermarket camber kits below are some of the best we know of:
Control Arms
Controls arms are responsible for connecting your G35's suspension to the chassis. They're also known as a "wishbone" or "A-arms,".
Aftermarket control arms are lighter than OEM ones, and are typically stiffer. Being made from stronger materials helps them to reduce unwanted flex.
Upgraded control arms are often the last part needed to complete your G35's suspension and handling modifications.
If you're wanting to lower your car, you might want to choose the adjustable control arms in this list as they will give you a better range of camber adjustment on a lowered Infiniti G35.
Here are some great options:
Braking System Modifications
Powerful brakes allow your car to stop faster, allowing you to brake later for corners.
Upgrading your G35's brakes doesn't mean you have to change the entire caliper and rotor units to increase performance.
If your 2003 and 2004 G35 coupe came with the optional Brembo brakes, you probably don't need to upgrade your calipers as they are great units. Upgraded rotors and pads will get your car braking better than it was when it was new.
2005 to 2006 model coupes removed these Brembo brakes due to a class action lawsuit filed in California related to premature wear on the 2003-2004 models. This was a mistake, as the new brakes were not as powerful.
So, these are some of the best G35 brake upgrades for cars without the factory Brembos.
Brake Pads
The standard brake calipers on the G35 are small, which means your car's brake pads need to work harder than those in a bigger brake kit, such as the factory Brembos.
Harder working brakes lead to dusty brake pads and faster wear, meaning you need to replace your pads more often and use your car pressure washer to spray down your wheels on a regular basis.
OEM G35 brake pads are made of composite, non-metallic material. They won't wear your brake rotors out quickly, but the pads have been known to wear down fast.
This composite material will gather on your wheels as the brake pads wear down, leading to the "dusty" pads issue mentioned above.
Different types of brake pad compounds can be made from semi-metallic, full-metallic, or ceramic materials.
Ceramic pads are generally best for street driving, as they combine durability, grip, and resistance to brake fade.
Ceramic brake pads are also very quiet and produce less dust than the OEM pads. For more info on this topic, read our guide on the best G35 brake pads.
Brake Rotors
Ceramic brake pads are best combined with aftermarket slotted or cross-drilled brake rotors, or a combination of both. Aftermarket rotors will not improve stopping power, but they will improve the life of the brake pads.
During extreme driving, with repetitive braking, cross-drilled and slotted rotors became more obviously useful, helping with reducing brake fade.
G35 Big Brake Kits
If upgraded brake pads and rotors doesn't help your stopping power, you'll want to install a big brake kit.
For a modest upgrade, best for street driving, we recommend the factory-upgraded 4-pot Brembo brakes found on 2003-2004 G35 coupes. They are affordable and well supported.
Alternatively, you can try the Akebono big brake kit, which is a cheap G35 mod similar to Brembos, with the same calipers as OEM G35 models.
Many G35 owners use one of these big brake kits:
Braided Brake Hose Kits
If you're going to race your G35, upgrading to stainless steel "braided" brake hoses is something to consider. These brake hoses are less likely to "bulge" than OEM brake hoses.
Always upgrade to a more powerful brake kit before you upgrade to braided hose. We recommend buying a pre-made kit, as it's a messy job to make your own braided hose by yourself.
Upgraded Brake Fluid
This isn't really an upgrade, but it's definitely worth a mention as it will improve your car's braking system!
Bad brake fluid can make any brake pad or rotor upgrade a waste. OEM G35 coupes and sedans both use DOT 3 brake fluid, which can be easily "cooked" or boiled during heavy braking sessions, such as when racing.
Brake fluid absorbs moisture, so over time it will contain water. Water boils at a lower temperature than brake fluid, so street driving can also lead to brake fade.
One brake performance "upgrade" is to flush your braking system with upgraded, higher performance DOT brake fluid, which removes any impurities or moisture. Then use a high quality brake bleed kit to ensure there's zero air in the system.
Bottom line, getting the benefit of a performance brake pad compound means you need a higher quality brake fluid. And don't use DOT 5 fluid, as it doesn't absorb water and can't mix with DOT 3 or DOT 4.
Best Wheel Upgrades for Your G35
Wheel upgrades can help with handling and looks. Most modded G35 wheels range from 16″ to 20″, with widths between 7″ and 11″.
Those are pretty broad ranges, so we've put together a chart below for the OEM wheel sizes by year, to help you decide your ideal wheel size for your G35.
Most people running aftermarket wheels will go with something in the 17×7.5″ to 19×9″ range, with 17″ and 18″ wheels being the norm.
19″ rims look great on Infiniti G35's, but tires are more expensive for them. If the roads in your area aren't in good condition you may find the ride quality too rough. It's all personal opinion.
Factory G35 Wheel Sizes
Here are the factory-set wheel sizes for each model sedan and coupe:
2003 Sedan: 16×6.5" +40mm front / 16×6.5" +40mm rear
2003 Coupe: 17×7.5" +45mm front / 17×8" +45mm rear
2004 Sedan: 17×7" +45mm front / 17×7" +45mm rear
2004 Coupe: 17×7.5" +30mm front / 17×8" +33mm rear
2005-2006 Sedan: 17×7" +45mm front / 17×7" +45mm rear, 18×7.5" +45mm front optional / 18×7.5" +45mm rear optional
2005-2007 Coupe: 17×7" +40mm front / 17×7" +40mm rear
18×8" +30mm front optional / 18×8" +30mm rear optional
19×8" +30mm front optional / 19×8.5" +33mm rear optional
When searching for aftermarket wheels, stick to wheels similar in size to these if you want a guarantee that they fit.
G35 Wheel Fitment
Wheel fitment is difficult as there's a lot of variables at play. Wheel diameter, width, offset. Tire width and height. Suspension height, camber and how much your guards are rolled and flared.
Generally speaking though, you can get away with 19×8.5+22 wheels up front with 225/40 R19 tires, and 19×9.5+22 on the rear with 255/40 R19's.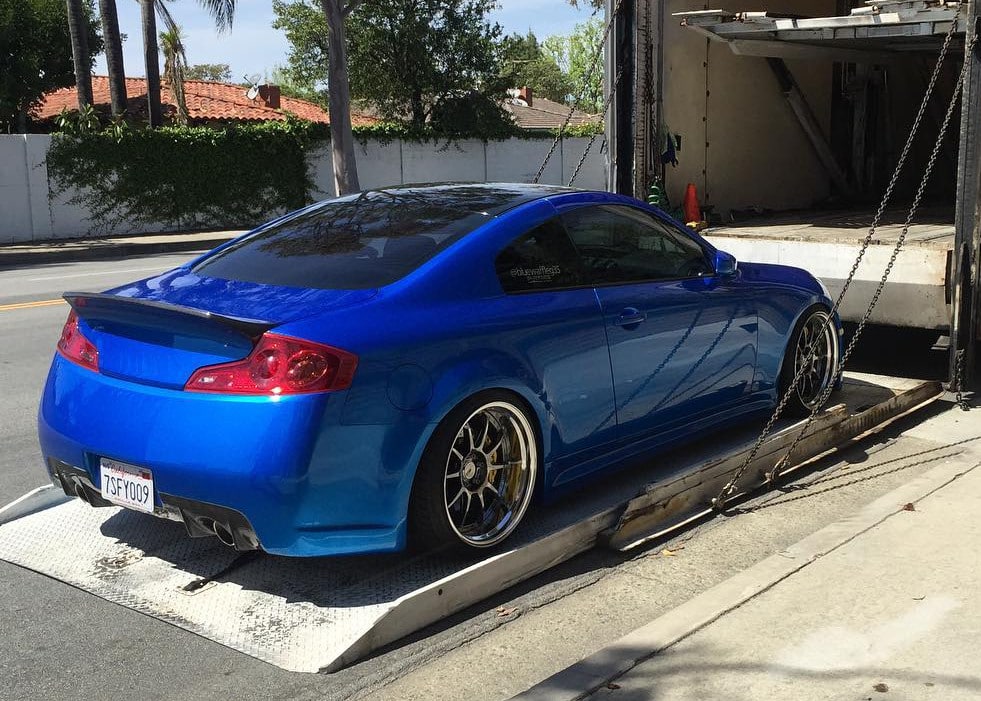 You'll want to do your research in this topic before buying, so to avoid choosing the wrong wheels we're not going to make any suggestions here.
Infiniti G35 Performance Mods
The power output of the G35 varies between models and types but is generally in the range of 260hp and 306hp depending on the year and model of car you own. Torque was between 260lb-ft and 270lb-ft over the years.
G35 sedans from 2002-2006, and coupes from 2003-2007, are 3.5-liter VQ35DE V6 engines. These are tuned to various degrees for automatic and manual transmissions.
2007-2008 cars have the 3.5-liter VQ35HR V6 engine.
These are your two base engines when looking for the best G35 coupe and sedan modifications for performance.
Air Intake
Tuning your G35's air intake will help improve the performance of your car by making sure the air going into your engine is as cool as possible. Your G35's engine is naturally aspirated.
Cold Air Intake
The G35's OEM air intake system is a worthy unit that doesn't need to be replaced. Modifying it however, can increase horsepower and make your car sound a lot meaner.
Depending on the system your choose, it can also make your Infiniti G35 reliable in the summer heat.
Here are some of the best options on the market:
Plenum Spacer
The space between your car's intake and the rest of the engine is called a plenum chamber. It's a pressurized unit. The better it flows and keeps air cool, the better performance your car will receive.
One of the best G35 power mods is to install a plenum spacer.
Infiniti G35's were designed in Japan where they don't see particularly hot temperatures. If you live in a city where it's hot, you really should install a plenum spacer on your G35.
It will help your car breathe easier, increase top-end power, as well as low and mid-range torque, and will make your engine respond better.
It's important to know that you need to do an ECU reset after installing a plenum spacer, or else your car will run worse than before, but this is really simple to do.
We like the plenum spacers from these companies:
Infiniti G35 Exhaust Systems
Aftermarket exhaust systems help your engine to breathe, improve power and response and make your car sound better. Most exhaust systems look much better than OEM too.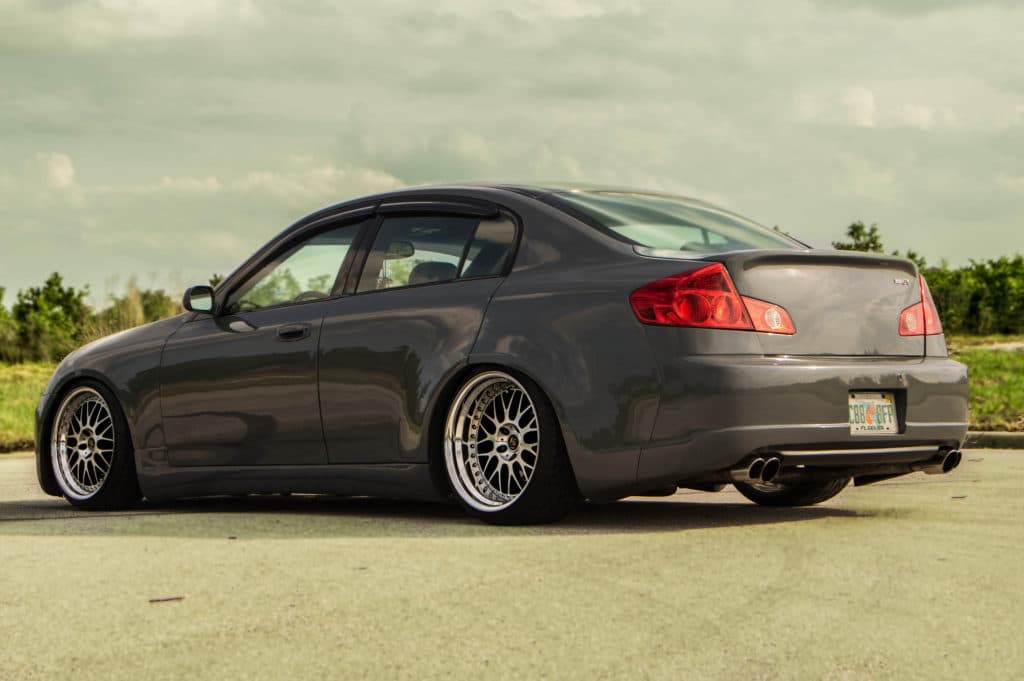 This is one of the most popular upgrades as it really allows you to make your car more unique. Nobody wants their G35 to sound exactly the same as the next guy!
Cat Back Exhaust Systems
We wrote a detailed guide on Infiniti G35 exhaust systems, but the summary is, our favorite exhaust systems are:
For Coupe owners: Stillen Cat-Back G35 Exhaust System
Though it's the second-most expensive on the market, it's widely regarded as one of the best aftermarket exhausts out there. Definitely our pick for all-out performance.
For Sedan owners: Invidia Gemini
Not only one of the nicest looking exhaust systems for 4 door owners, Invidia's Gemini cat-back is a great trade-off between street-driven comfort and all out noise and performance.
Best value system: Tanabe Performance Exhaust System
A high-performance exhaust system for a fraction of the cost, this mid-ranged exhaust is a good overall choice if you're trying to upgrade to the best exhaust for you G35 coupe or sedan without breaking the bank.
Cheap G35 exhaust: Manzo M2 Cat-Back Exhaust System
It's right in the middle of the inexpensive list and will get the job done. It's not the best on the market, but Manzo is a respected company and their product ticks all of the boxes for ballers on a budget.
Exhaust Headers
Being naturally aspirated, if you want to get more power out of your Infiniti G35, eventually you'll need to look at exhaust headers.
The factory G35 exhaust manifold is technically able to be "ported", but the cost and effort involved isn't worth it. Aftermarket headers are usually cheaper, give you more top-end power, and will make your engine bay look great.
Aftermarket G35 headers are available from:
Borla
DC Sports (only for G35 2003-04 models)
Catalytic Converters and Test Pipes
Emission standards stifle a car's performance, but you can upgrade your catalytic converter to something that flows better.
High Flow Cats
If you're using your G35 for street use only, local law usually requires the use of a catalytic converter. A high flow cat will help rid your car of exhaust gas faster, and make your exhaust's sound more distinct. Unlike a test pipe, it won't put you on the wrong side of the law.
Here are some of our favorite high flow cats:
Berk Technology
Motordyne
Test Pipes
Another popular exhaust modification, and one of the best value G35 performance modifications is swapping out your catalytic converters for test pipes.
Test or "straight pipes," are illegal for street use in most states, but they are a simple way to improve performance and increase noise of your G35 coupe or sedan.
We won't encourage you to use these on the street, but laws aside these are great bang for buck mod.
Here are some Infiniti G35 test pipes on the market today:
Berk Technology
Invidia
Tomei
Forced Induction
Turbo kits and superchargers are not cheap G35 mods, but if you're seeking a huge improvement in power they might be worth considering.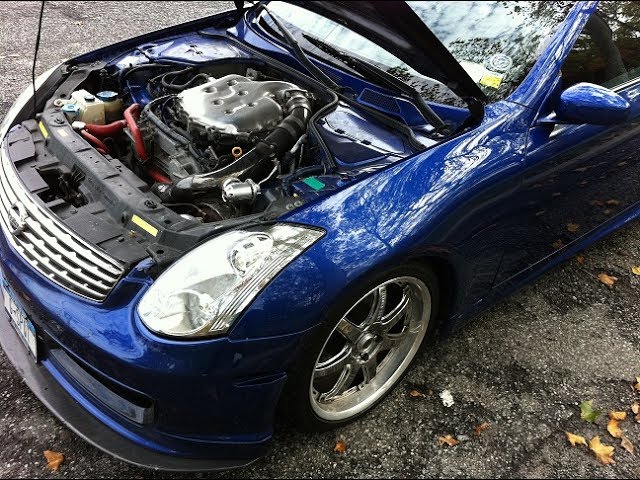 The truth is, intake, plenum spacer, and exhaust upgrades will only take you so far. At best they'll make your car a little bit faster and more responsive, but they will never make a significant difference.
Serious G35 tuning comes from either a naturally aspirated stroker engine, which is expensive and can still be underwhelming, or via a G35 turbo kit or G35 supercharger.
G35 ECU Upgrades and Tunes
On a standard G35 coupe or sedan, remap power gains only come when other changes to the car have been made, like the intake, injectors, exhaust, camshaft, or through introducing a turbo or supercharger.
Most ECU upgrades will allow you to remove speed and rev limits, while others include features such as launch control, EGR valve removal, catalytic converter delete and more.
Infiniti G35 Mods List
When tuning a G35, most owners modify their car in this order, which is why we've laid out this list this way:
Exterior, such as with an aftermarket bodykit or bash bars
Short of a full blown engine swap like a VK45DE or LS swap, these are the key mods you need to know.
Did we miss any modifications you think are important to the Infiniti G35? Please let us know my adding a comment and we'll revise this article for you.
Feature Image: CCSU Car Show – G35, Ricky Aponte, CC BY SA