The Infiniti G35 has tons of potential, but it is heavy — especially the sedan. A part of this problem can be fixed by installing the right aftermarket wheels. Here's why:
Lighter rims means lower rotational mass. This means improved acceleration, steering, and braking.
Being able to choose from different rim sizes opens up more options. This allows different track width, tire width, and rim diameter. Changing these can have a significant impact on driving feel, especially on the track.
With that in mind, we've come up with a definitive guide that'll help you choose the best rims for your Infiniti G35 coupe or sedan.
We'll discuss fitment, suggest rim sizes for different driving styles, and finish up with a list of our top recommendations.
Choosing the Right Rims for Your G35
Modifying the G35 has never been easier. These cars have an enormous aftermarket community. When it comes to wheel selection, your options are endless.
That said, narrowing the selection down is fairly simple. If this is your first time purchasing a set of wheels, there are some things you need to get right to ensure proper fitment.
Sizing
Buying the wrong-sized rims is a rookie mistake, but many of us have been there. To be sure that your wheel fits and functions the way you want it to, you need to learn how to measure rim size, then choose the right diameter, width, offset, and bolt pattern.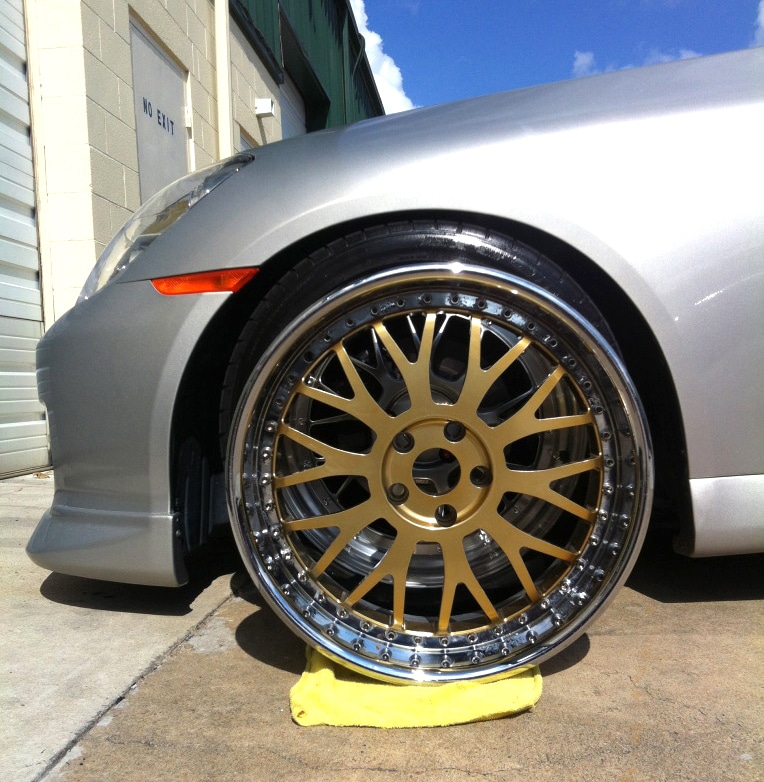 Wheel sizes are usually written as 17×8+45 where 17 refers to the rim diameter in inches, 8 refers to the rim width in inches, and +45 is the rim offset in millimeters.
These are the most important measurements that you need to be aware of. Let's take a closer look.
Diameter and Width
Typically, wide rims fitted with low-aspect-ratio tires will improve traction and cornering performance. But there's a limit to how aggressive the fitment can be — go too wide and it'll be counter-productive because large wheels weigh more.
Both the G35 coupe and sedan can take anything from 17×7.5+30 to aggressive sizes like 19×11-2.
Wheel Offset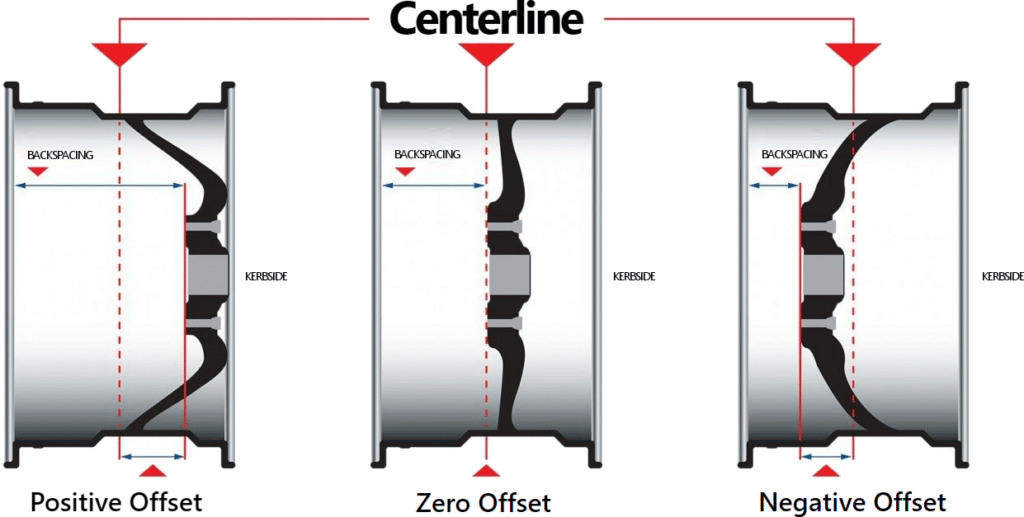 Wheel offset measures how far in or out your wheels will sit when they're bolted to your car. It is the distance between the centerline of the wheel and the surface where it mounts to your axle.
Much like wheel diameter and width, the offset cannot be changed. Your only option to correct this after purchasing is by installing wheel spacers.
Understanding wheel offset will help you to dial in your fitment perfectly. You'll know exactly how far in or out your wheels will sit. This is important for a few reasons:
You might want to fit wider tires without any rubbing or clearance issues. Using less aggressive offsets will tuck your wheels in, allowing you to run wider tires without them sticking out and rubbing against your fenders.
If you want to increase the track of your car, you can use low or negative offset rims to make them pop-out more. But at that point, you'll be making unintentional changes to your suspension geometry which will need to be corrected.
G35 OEM Wheel Sizes
The safest thing to do is to stay within the OEM size range:
Diameter: 17" to 18"
Width: 7" to 8.5"
Offset: +30 to +50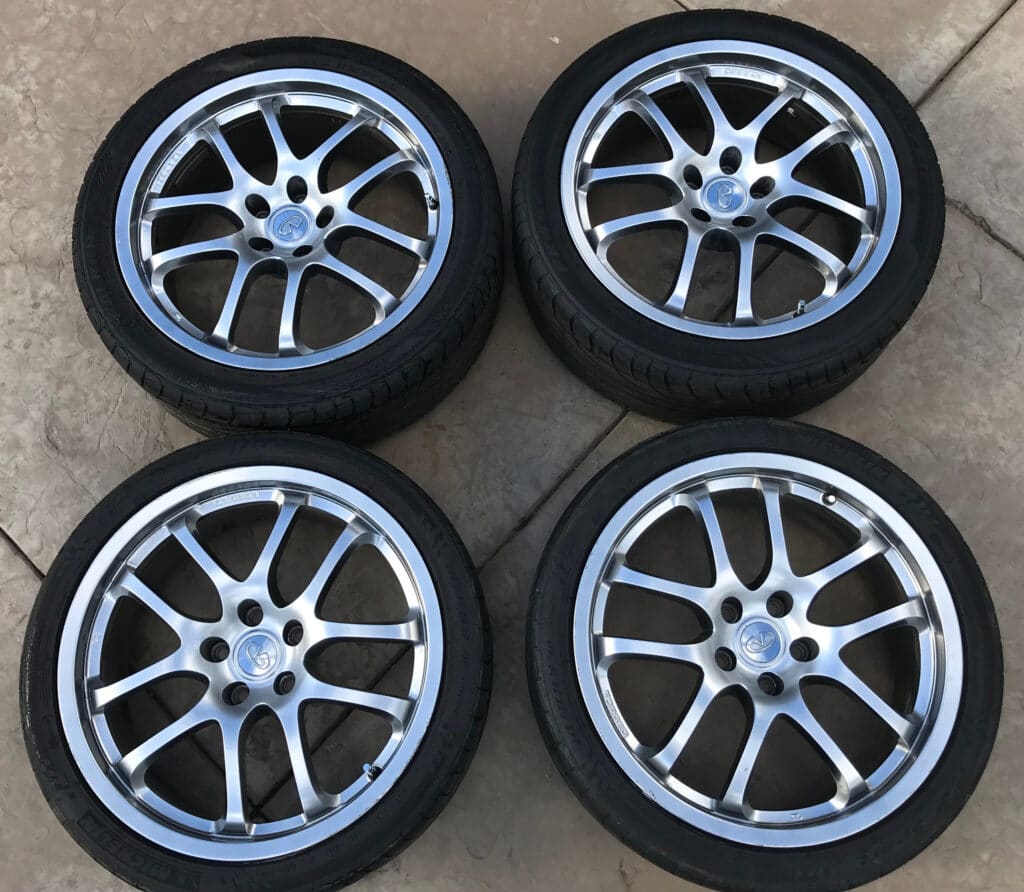 To be more specific, here are the factory wheel sizes for the G35 coupe and sedan:
2003 Sedan: 16×6.5+40 front / 16×6.5+40 rear
2003 Coupe: 17×7.5+45 front / 17×8+45 rear
2004 Sedan: 17×7+45 front / 17×7+45 rear
2004 Coupe: 17×7.5+30 front / 17×8+33 rear
2005-2006 Sedan:

17×7+45 front / 17×7+45 rear,
optional: 18×7.5+45 front / 18×7.5+45 rear

2005-2007 Coupe:

17×7+40 front / 17×7+40 rear
optional: 18×8+30 front / 18×8+30 rear
optional: 19×8+30 front / 19×8.5+33 rear
Any wheel size that's outside the OEM size range might be challenging to install. Often aggressive fitments mean you'll need to adjust your suspension settings and roll your fenders to make sure your tires don't rub.
One reason why the G35 is so popular is because of how easily it can take aggressive fitment. Here's the recommended aftermarket wheel size range:
Diameter: 17" to 20"
Width: 8" to 11"
Offset: +10 to +40
Bolt Pattern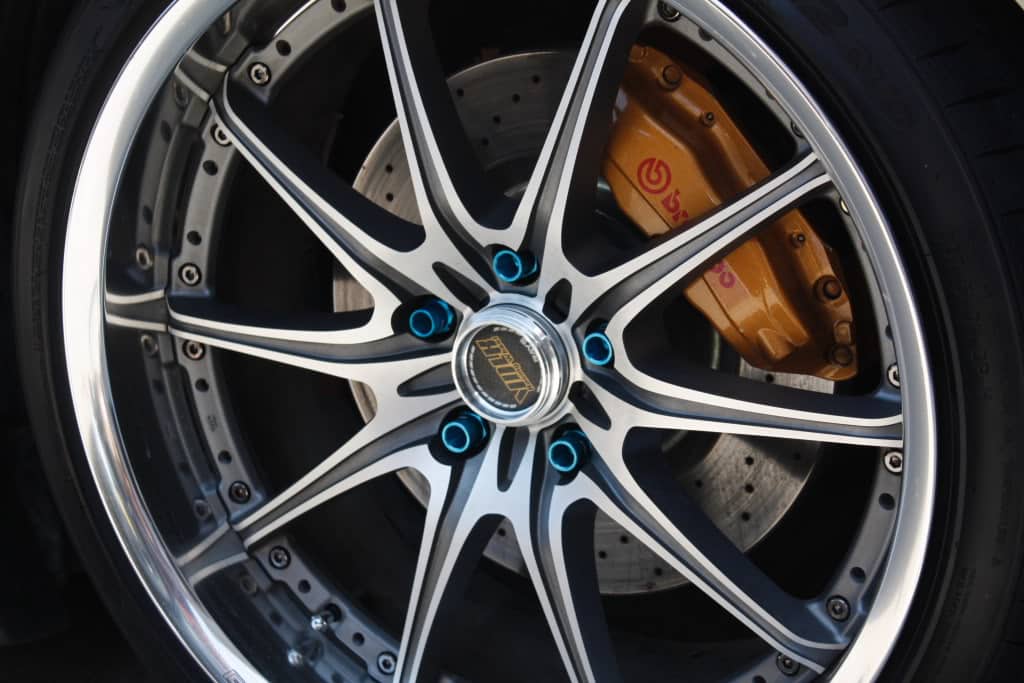 You might get away with choosing the wrong rim width, diameter, and offset. But you cannot get away with selecting the wrong bolt pattern.
Bolt pattern, also known as "bolt circle" or "pitch circle diameter (PCD)", refers to the layout of the bolt holes on the rim.
Every model of the Infiniti G35 uses the same bolt pattern — 5×114.3. This is a very common pattern seen on almost every early-2000s JDM car.
So when you're shopping for rims, be sure to filter your selection with the right bolt pattern. We've made this easier for you by listing the best G35 wheels below.
Construction and Quality
The general rule of thumb is to avoid poorly constructed replica wheels and always buy from reputed brands. Depending on how much you want to spend, you can either buy cast wheels, flow-formed wheels, or forged wheels.
For maximum performance and minimum weight, you need forged wheels. But if you're on a budget and performance is not on the top of your priority list, then flow-formed or cast wheels will also do.
As a general rule, the more you spend, the lighter and stronger the wheel will get. Every gram you remove from the wheel + tire package reduces unsprung mass. This improves suspension performance and reduces rotational mass which helps acceleration, braking, and steering.
Driving Style
Your driving style is going to be the most important determining factor when it comes to fitment. For example, you don't need 11" wide rims for street use, but if you're going to stance your car, then rules all get blurry.
For track use, there are tried and tested sizes that you can opt for. This also depends on whether your G35 is running staggered wheels or a square setup.
Daily Driving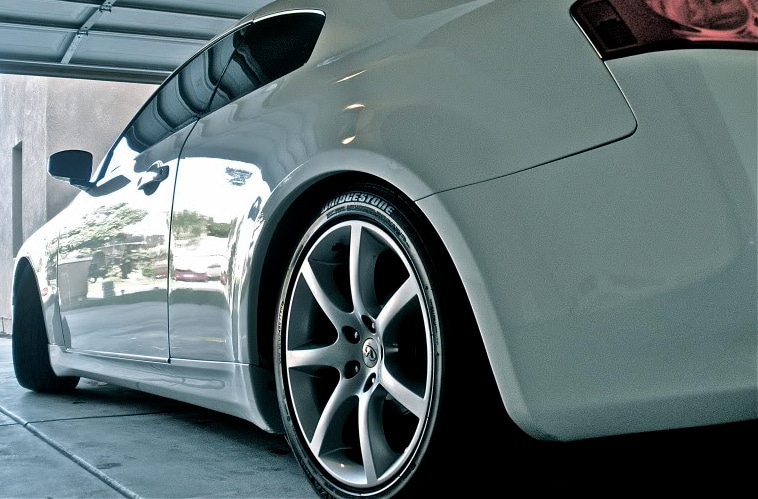 Daily driving doesn't demand a lot from the car. Fitment like this can easily handle occasional spirited driving and canyon carving. It won't be too expensive to find the right tires either.
If you don't want any clearance issues or don't want to hack and chop your fenders to make your wheels fit, these are the best wheel sizes for your G35.
Option 1 (19" staggered)
Rear: 19×11+12
Front: 19×9.5+12
Option 2 (19" staggered)
Rear: 19×10.5+22
Front: 19×9.5+22
Option 3 (18" squared)
Aggressive Fitment (Requires Fender Mods)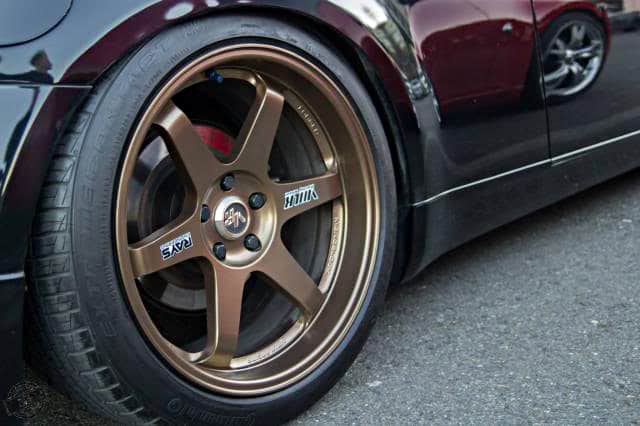 If a little bit of wheel rub doesn't scare you or if you don't mind tinkering around with the bodywork around your wheels, then you can run an aggressive setup.
An aggressive setup will call for really wide rims. These let you run very wide tires along with a low or negative offset. Expect minor clearance issues — nothing that a little fender modification can't fix.
Worst case scenario, you'll have to adjust your camber angle and wheel alignment settings.
Option 1 (19" staggered)
Rear: 19×10.5+22
Front: 19×9.5+22
Option 2 (19" staggered)
Rear: 19×11+22
Front: 19×9.5+22
Option 3 (20" staggered)
Rear: 20×12+20
Front: 20+10+30
Stance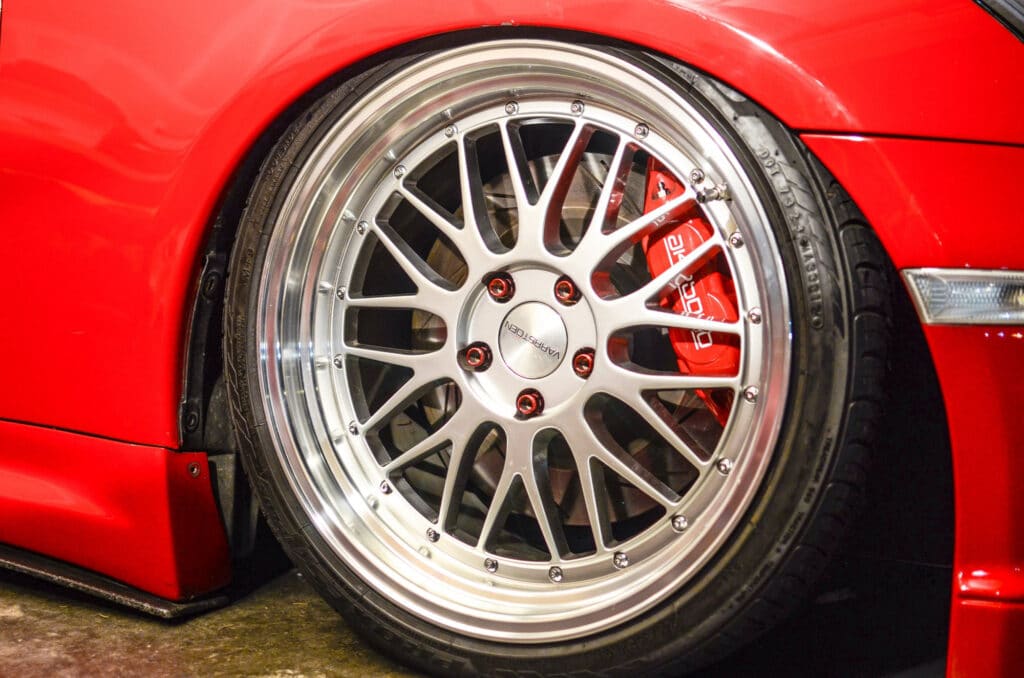 We can't discuss fitment and not mention the stance fam. If you want to run a very aggressive setup for the purposes of form over function, then consider the following sizes.
Option 1 (19" staggered)
Rear: 19×11-2
Front: 19×10+13
Option 2 (19" staggered)
Rear: 19×10-6
Front: 19×9+6
Brake Caliper Clearance
One more thing that you should factor in is brake caliper clearance. Choose your offset very carefully to make sure that your rims clear your brake calipers.
If your Infiniti G35 has the optional Brembo package installed or a big brake kit, you'll have to research which sizes will fit and which won't.
If you get yourself into a bind here, wheel spacers can get you out of trouble. If you're not sure about the safety of wheel spacers, don't be. As long as they are high quality and torqued correctly, they can handle a track day without issue, as well as daily driving.
A lot of this depends on which brake kit you have installed. But if you have the regular OEM brakes, then you don't have to worry about this at all.
The Best Rims for G35 Coupes and Sedans
Finally, let's get to the list you're here for. Now that you know how to select the right wheels, let's look at our top recommendations.
Below we've listed some of the best wheels that you can buy for your Infiniti G35 sedan or coupe. You will also find home helpful specs for each option.
Enkei RPF1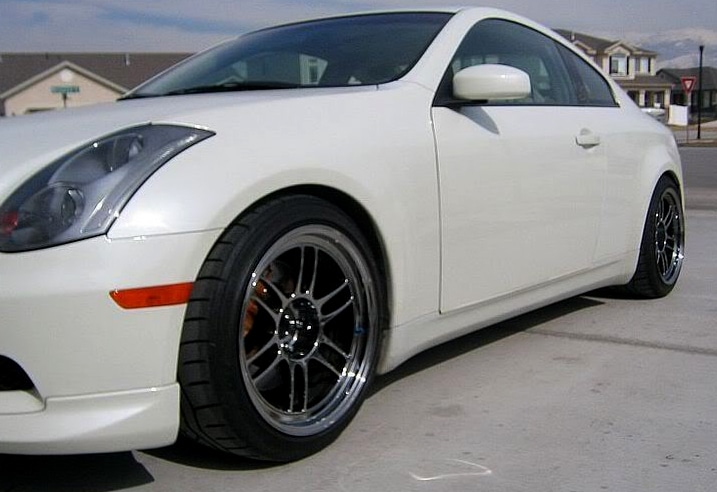 Manufacturer: Enkei
Rim Diameter (In.): 14″, 15″, 16″, 17", 18"
Finish: Black, Silver, Gold
Build: Rotary Forged Monoblock
Warranty: Lifetime
Buy On: Amazon | Enjuku Racing
Enkei's RPF1 rims don't need an introduction. With a balance of unquestionable quality and affordability, it's difficult to want anything other than these.
These rims were designed in conjunction with the McLaren Honda Formula One Team. They use what Enkei calls MAT technology which involves aligning the grain structure of the metal for improved strength and reduced weight.
You can't really go wrong with the RPF1s. The dual six-spoke design is timeless and won't ever go out of style.
Volk Racing CE28N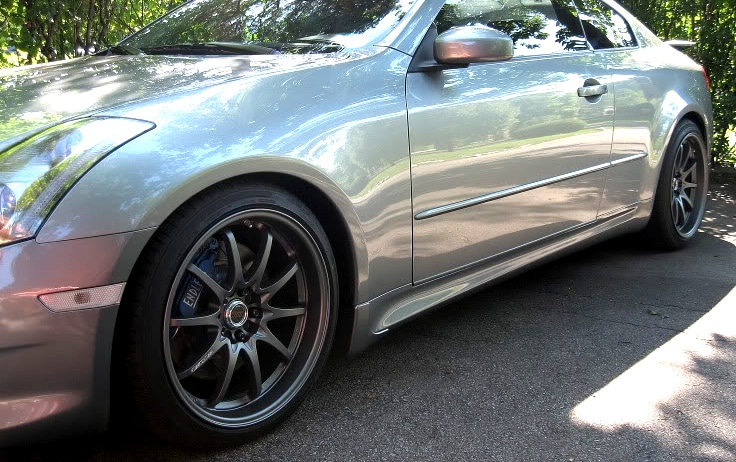 Manufacturer: RAYS Engineering
Rim Diameter (In.): 16", 17", 18"
Finish: Bronze, Gunmetal, Formula Silver, Hyper Gold, Mercury Silver, Titanium Silver
Build: 1-Piece Forged
Warranty: 1 Year
Made by the pioneers of forged wheels, the CE28N by Volk Racing uses the absolute best rim manufacturing technology.
This one-piece forged wheel features a 10-spoke design along with exposed lugs. Depending on the size you choose, these rims can weigh anywhere between 9 lbs to 16.4 lbs for the 17" version.
5×114.3 bolt pattern CE28N wheels are available in the 10-spoke pattern with size options of 16", 17", and 18".
Volk Racing TE37RT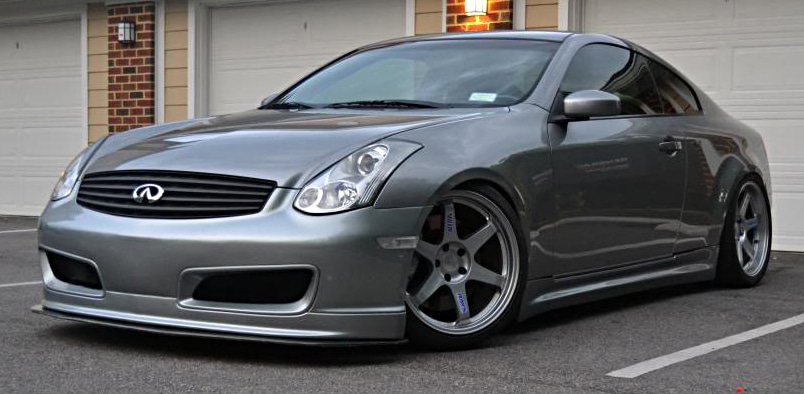 Manufacturer: RAYS Engineering
Rim Diameter (In.): 17″, 18″, 19″
Finish: Blue, Red, Black
Build: 1-Piece Forged
Warranty: 1 Year
If your G35 spends more time on the track than it does on the street, then TE37 rims by Volk Racing are your best bet. The RT or Rigid Tune edition was developed specifically for track use.
These rims are as advanced as the CE28N, if not more. Using the same technologies as Super GT, LeMans, and Formula One racing teams, the TE37RT wheels offer faster acceleration, better handling, and shorter braking distances.
Designed with caliper clearance in mind, these will easily clear any big brake kit.
VarrsToen ES6
Manufacturer: VarrsToen
Rim Diameter (In.): 18″, 19″
Finish: Gloss Gunmetal
Build: 1-Piece Cast Alloy
Warranty: 1 Year
Buy On: Amazon
Ask serious track guys and they'll probably scoff at VarrsToen wheels given how inexpensive and non-performance-oriented they are.
But the way we see it, the VarrsToen ES6 is a fantastic budget wheel. We've seen many G35s rocking these, they're perfect for daily driving and casual spirited driving.
So if you're on a budget and are looking for some cheap G35 wheels to use on the street, then these are worth considering. But yes, if you're serious about performance and want something noticeably lightweight, there are better alternatives.
VarrsToen ES1
Manufacturer: VarrsToen
Rim Diameter (In.): 18″, 19″
Finish: Hypersilver
Build: 1-Piece Cast Alloy
Warranty: 1 Year
Buy On: Amazon
VarrsToen makes great budget wheels that look good and don't suck. The ES1 is quite popular among G35 owners as it perfectly complements the early 2000s aesthetic of the G35.
At this price point, there's no beating the ES1s in terms of aesthetics. These are ideal for daily driving but not recommended for track use.
ESR SR07

Manufacturer: ESR
Rim Diameter (In.): 17″, 18″, 19″
Finish: Gloss Black, Gloss White, Hypersilver, Matte Bronze, Machined
Build: 1-Piece Cast Alloy
Warranty: 30 Days
Buy On: Amazon
In the world of aftermarket wheels, it's easy to get caught up in brand names, and it's even easier to jump onto the replica-hating bandwagon. One look at the ESR SR07 and it's clear that it's a Volk TE37 knock-off.
But if you're someone who doesn't care about the hype and wants something cheap and good-looking for your daily driver, consider these wheels from ESR.
Sure, they are heavy, bulky, and not suitable for the track. But for casual street use, it doesn't really matter.
ESR SR01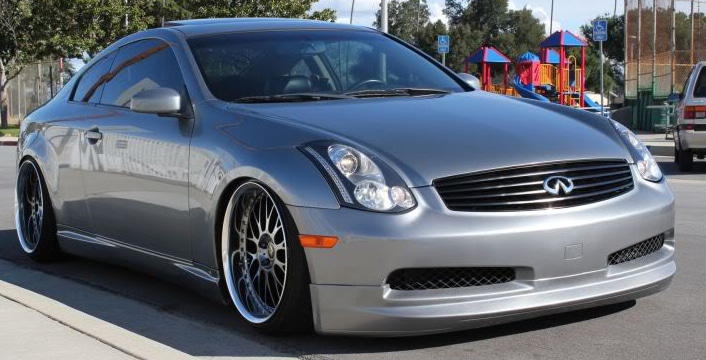 Manufacturer: ESR
Rim Diameter (In.): 17″, 18″, 19″
Finish: Hypersilver, Matte Bronze, Gloss Black, Gloss White, Gunmetal
Build: 1-Piece Cast Alloy
Warranty: 30 Days
Buy On: Amazon | Enjuku Racing
Before you cringe at those fake rivets and discard the ESR SR01s as an option, know that these wheels are the lowest hanging fruit when it comes to affordable quality.
ESR doesn't have the reputation that companies like Enkei and BBS do. But if you don't want to spend $3500 or more on wheels, these are a fantastic option worth considering.
Gram Lights 57CR
Manufacturer: RAYS Engineering
Rim Diameter (In.): 17", 18"
Finish: Gloss Black, Gunmetal Blue
Build: 1-Piece Cast Alloy
Warranty: 1 Year
Buy On: Enjuku Racing
Gram Lights is a subsidiary of RAYS Engineering, just like Volk. If Volk is all about performance, then Gram Lights is about pushing the boundaries of manufacturing techniques.
Their 57CR takes inspiration from the original 57C. It's a 5 spoke cast wheel that is available in different face designs to suit your preferences.
Even though it's a cast aluminum wheel, many enthusiasts have used these for competitive applications with great success.
König Oversteer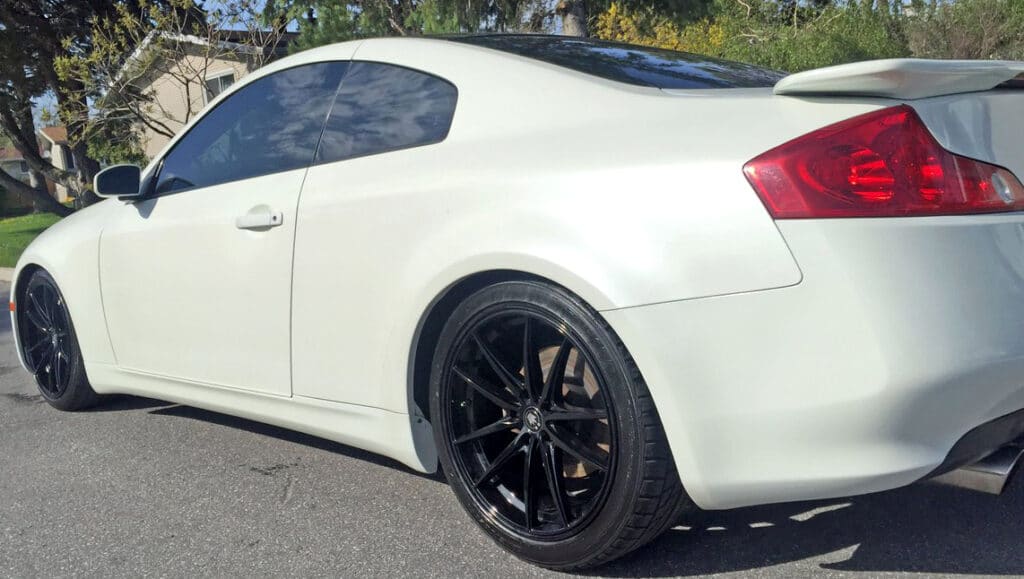 Manufacturer: König
Rim Diameter (In.): 16″, 17″, 18″, 19″, 20″
Finish: Opal, Gloss Black, White, Red
Build: 1-Piece Cast Alloy
Warranty: 1 Year
Buy On: Amazon | Enjuku Racing
Oversteer by Konig is a split 5-spoke design that's designed specifically for those looking for aggressive fitment. The wheel face profile tapers into a gentle concave, offering the perfect balance between luxury and sportiness.
Sizes range from 16" all the way to 80" and it comes in 4 lovely colors that you just can't go wrong with.
Remember, this is Konig's budget offering. Even though it's a 1-piece wheel, at this price point, it's tempting to not choose lesser-known brands like ESR or Varrstoen.
Artisa Elder
Manufacturer: Artisa ArtFormed
Rim Diameter (In.): 18″, 19″
Finish: Raven Black, Brushed Apollo Silver
Build: Rotary Forged Monoblock
Warranty: 1 Year
Buy On: Enjuku Racing
Artisa ArtFormed is a very new company and they're already getting serious recognition with their refreshing wheel designs.
What makes them stand out is their deco-directional design. It's a true-directional style where the wheels are specifically designed for the driver side and the passenger side of the car.
This is something you only ever get to see on bespoke forged wheels that cost upwards of $4000. The design features a lot of concavity as the lip swoops down and back out to give you a "floating spoke" illusion.
At this price point, there's nothing better. They're light too — 22.9 lbs for 19"x11"+7 is very competitive.
Aodhan DS02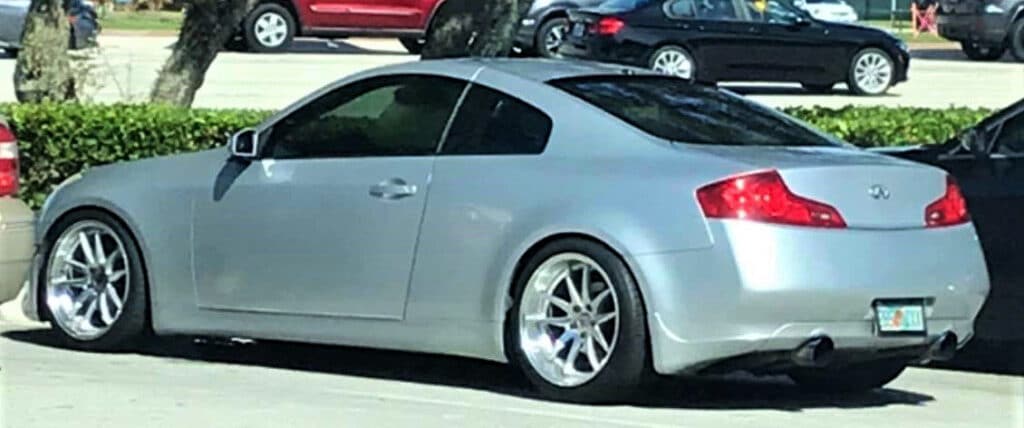 Manufacturer: Aodhan
Rim Diameter (In.): 18″, 19″
Finish: Bronze, Black, Silver
Build: 1-Piece Cast Alloy
Warranty: 1 Year
Buy On: Amazon | Enjuku Racing
If you want a set of effortlessly stylish yet good-quality wheels without breaking the bank, the Aodhan DS02 is perfect for you.
They feature a clean and classy split 5-spoke design with a nice deep dish for a polished look. This is something that very few other wheels in this price range can provide.
We wouldn't necessarily recommend these for track use, but if aesthetics is what you want, then look no further.
Our Favorite G35 Rims
Choosing from so many compelling options can be confusing. To make things easier for you, we've listed our favorite G35 rims considering 3 factors — affordability, track performance, and innovation.
Best Bang For Buck: VarrsToen ES1
There's nothing wrong with buying rims just for the looks. If performance isn't on the top of your priorities, consider buying the ES1 rims by VarrsToen.
For Track Use: Enkei RPF1
When you're pushing your G35 at its limit, you're going to want a set of rims that do both — provide exceptional reliability and weigh less. RPF1's by Enkei is as good as it gets when it comes to all-out performance.
Most Innovative: Artisa ArtFormed Elder
If you want nothing but the latest in rim technology and don't mind experimenting with a new style, then the Elder wheels by Artisa ArtFormed will certainly grab your attention.
Which are your favorite? What's your current setup like? Let us know by leaving a comment below!