For a drive as thrilling as the Infiniti G35, you'll need a set of brake pads that do it justice.
While you can choose to upgrade the braking system in several ways (new rotors, big-brake kits, etc.), it's the brake pads that are the easiest to upgrade and can make a huge difference to braking.
In this guide, we list the best brake pads for your Infiniti G35 coupe (and sedan) based on your performance needs.
Types of Brakes Pads
Depending on the material, you'll see a noticeable change in overall braking performance, how well they work in extreme temperatures and how long they last. These brake pads can be categorized into:
NAO (Non-Asbestos Organic): For daily commutes, organic brake pads work fine. They won't last long which is why they come cheap. Braking performance is okay for everyday use, but the brake feel is a bit spongy. Needless to say, these aren't the best pick for spirited driving.
Metallic/Semi-Metallic: Metallic brake pads are slightly more expensive but offer a wider temperature tolerance. Overall braking performance is great, but you'll want to choose your pads wisely if your G35 is a daily driver that heads to the track on weekends, as they can be noisy and dustry.
Ceramic: For fade-free and consistent braking performance, ceramic brake pads are an easy choice. They are bound to last the longest, but won't do their best in cold climates.
Picking the Right Brake Pads for Your Infiniti G35
When choosing brake pads for your G35 remember that what works well on the track is unlikely to fit your daily commuting needs and vice-versa.
It's best to keep in mind that for the '03 and '04 models of the Infiniti G35 coupes, optional Brembo brakes were available, and ones manufactured after 2005 got an updated braking setup. If your G35 came with Brembo brakes from the factory, the standard brake pads I review in this post won't fit them.
Best Value Brake Pads
Looking for replacement OEM pads that don't burn a hole in your pocket? Our list of budget-friendly pads should do the trick.
Depending on the manufacturer, these could either be semi-metallic or NAO, as ceramics and other compounds won't come cheap. Having said that, if your current setup demands something more serious, we urge you to look at the daily driving pads in this section.
EBC Ultimax2 OEM Replacement
Manufacturer: EBC
Part Number: UD888/UD905
Material: Semi-Metallic
Dust: Medium
Noise: Low-Medium
Warranty: 12 months or 10,000 highway miles
Fits: Infiniti G35 (2005 – 2008)
Buy On: Amazon (Front | Rear)
UK-based manufacturer EBC offers a satisfyingly wide range of brake pads for every need. For OE replacement, it's the EBC Ultimax line of brake pads you should be looking at.
Available for both front and rear, these Infiniti G35 pads come with noise-reduction shims and lower metallic content to keep the rotor wear low. Since this is a budget buy, expect the performance to be similar to that of the stock pads — which is honestly a win-win.
The pads come with chamfered edges, so they will work on your existing rotors. EBC claims the friction material is made to reduce brake judder whereas the center gap provides enough room for expansion due to heat.
Duralast Semi-Metallic Brake Pads
Manufacturer: Duralast
Part Number: MKD888
Material: Semi-Metallic
Dust: Medium
Noise: Low-Medium
Warranty: Limited Lifetime
Fits: 2005 – 2008
If you want a fuss-free replacement brake pad, take a look at the Duralast's semi-metallic brake pads. These brake pads are semi-metallic and guarantee good braking performance, although they are known to be a little noisy and dusty.
They've also got a powder-coated backing plate to minimize corrosion and a limited lifetime warranty. Duralast offers noise-reduction shims along with these brake pads.
For Daily Driving
Dailying your G35 is what it was built for. But if you think it's time for an upgrade from stock pads, you won't be disappointed.
The pads listed below are a massive improvement from OEM in more ways than just performance — they tend to last longer and generally work better in a variety of operating temperatures.
While they cost a bit more than replacement pads, they make up in durability in the long run.
Akebono Pro-ACT Ceramic Brake Pad
Manufacturer: Akebono
Part number: ACT 815/ACT 915
Material: Ceramic
Dust: Low 
Noise: Low 
Warranty: 30 days
Fits: 2003 – 2005 
Buy On: Amazon (Front | Rear)
On certain Infiniti models specced with a Sport pack (or even in standard form), Akebono brakes were the factory fitment. Getting replacement pads from Akebono means going to a brand that has had years of experience in making good-quality ceramic brakes.
The Akebono Pro-ACT pads are high-quality ceramic pads that work as good OE replacements but with improved stopping ability, less brake dust, low NVH (noise, vibrations, and harshness), and most-importantly — fade-free performance.
Hawk High Performance Street Brake Pads
Manufacturer: Hawk
Part number: HB268F.665/HB370F.559
Material: Ferro-Carbon
Dust: Low
Noise: Low – Medium
Warranty: Limited Lifetime
Fits: 2003 – 2004
Buy On: Enjuku Racing (Front | Rear)
Think of the Hawk HPS pads as an intermediate choice between daily driving and those meant for the race track. Made for spirited driving, the Ferro-Carbon material on these pads guarantee a consistent and fade-free performance.
Equally notable characteristics include an ability to perform well despite extreme temperatures, low dust and wear, and most importantly, a progressive brake-pedal feel. The only downside is the price, which can make the Hawk HPS pads hard to justify if you're just using your G35 as a daily.
EBC Redstuff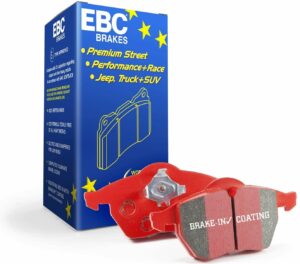 Manufacturer: EBC
Part Number: DP31671C/DP31666C
Material: Ceramic
Dust: Low
Noise: Low
Warranty: 12 months
Fits: 2003 – 2008
Buy On: Amazon (Front | Rear) | Enjuku Racing (Front | Rear)
Another popular pick from EBC, the Redstuff brake pads are made from ceramic and work wonders for spirited driving. Other benefits include improved heat dissipation, better braking performance, and a Kevlar + Ceramic material specially designed for Euro and Asian import cars, like the Infiniti G35.
The pads produce less dust, have a lower brake noise (especially once the 1500-mile bed-in time is done), and you won't encounter brake fade either. Much like other ceramic pads, the EBC Redstuff will last you longer than OEM units.
Power Stop Evolution Sport
Manufacturer: Power Stop
Part Number: Z23-815/Z23-905
Material: Ceramic
Dust: Low
Noise: Low
Warranty: 30 days/500 miles
Fits: 2003 – 2004 
Buy On: Amazon (Front | Rear)
The Power Stop Z23 Evolution Sport Ceramic Brake Pad offers improved braking, lower noise, and fade-free performance.
In addition to noise-reducing shims, the pad follows an OE-like construction (slotted and chamfered) for low noise. The powder-coated steel plate on these pads is resistant to corrosion.
Better yet, the pad surface comes thermal-scorched to ensure faster break-in.
Bosch QuietCast Premium Ceramic
Manufacturer: Bosch
Part Number: BC888/BC905
Material: Ceramic
Dust: Low
Noise: Low
Warranty: 12 months
Fits: 2005 – 2008
Buy On: Amazon (Front | Rear)
With the advancements made in brake pad tech, more brands are offering ceramic brake pads for daily driving. These Bosch QuietCast Premium pads are a good example. They promise to have good stopping power (for everyday use), low dust, and noise-free braking.
Like other ceramic pads, they also benefit from a longer life — which in turn means they'll offer better value in the long run. It doesn't hurt that the retail price of the Bosch QuietCast is very reasonable.
For Competitive Track Use
Unlike stock-replacement and daily-driving pads, track-oriented pads are built with one objective — to offer supreme braking performance, even under high stress. This makes them less forgiving on other components of the braking system.
We've included two strong options in the list here — one that's made for use solely on the track, while the other can do a bit of high-performance street driving as well.
Project Mu B-Force Brake Pads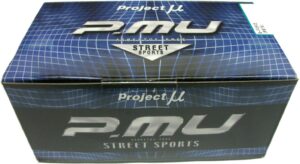 Manufacturer: Project Mu
Part Number: PBF249/PBR209
Material: Semi-Metallic
Dust: Low
Noise: Low
Warranty: 30 days
Fits: 2003 – 2007
Buy On: Enjuku Racing (Front | Rear)
The Project Mu B-Force brake pads are some of the most expensive on this list but that doesn't make them any less popular. Superb initial bite with fade-free and consistent braking performance is what you can expect from them.
You can use these for spirited everyday driving as well as light track use. These made-in-Japan graphite-metallic pads will keep both dust and noise to a minimum.
EBC Orangestuff
Manufacturer: EBC
Part Number: DP91671/DP91666
Material: Semi-metallic
Dust: Medium
Noise: Medium 
Warranty: 12 months/10,000 miles (not valid for track use)
Fits: 2005 – 2007
Buy On: Amazon (Front | Rear)
Made to be used only with high-performance braking systems and by drivers who're well aware of how ruthless these can be, these EBC pads are semi-metallic and certified for track days.
These are EBC's grippiest pads and offer great levels of brake bite. Each pad gets two cooling gaps to dissipate heat quickly whereas the backing plate has balance weights to reduce squealing. 
EBC even conducted a dyno test and the Orangestuff pads survived repeated 1G of brake force at around 1800° F.
Best Brake Pads for Infiniti G35: Our Top Picks
Choosing the best brake pads for the G35 is actually easier than it sounds — most of these have been tested by owners and reviewers for hundreds and thousands of real-world miles.
If you're still having a hard time zeroing in on the right brake pad, we've selected a few for you. These strike the best balance in their respective categories.
Best Brake Pads for Daily Driving Your Infiniti G35: Akebono Pro-ACT
Best G35 Competition Use Brake Pads: Project Mu B-Force
Cheap Brake Pads for the Infiniti G35: EBC Ultimax2 OE Replacement Pads
Got a favorite brake pad that didn't make it to our list? Tell us in the comments below!