For conventional gas engines, spark plugs are the lifeline. You can't expect your Infiniti G35 to be reliable and perform well if one of the spark plugs has stopped functioning. Despite this, it's not common for spark plug replacement to get ignored.
Keen enthusiasts will, on the other hand, keep an eye out for any signs that can potentially mean a spark-plug failure.
In this guide, we'll take you through some of the best spark plugs available for your Infiniti G35 as well as our top picks from the lot.
Time to Replace Your Spark Plugs?
Let's face it, your Infiniti G35 has been around for a long time and will need a spark plug replacement sooner or later. Luckily for you, spark plugs are some of the easiest parts to replace.
A good practice is to check for signs of wear, tear, and fatigue. Bad spark plugs just won't perform the same way and they can also cause a lot of irreversible damage to the other components. Infiniti recommends a 105,000-mile replacement interval for the G35.
It's a good idea to keep an eye out for signs that can prove that your car's spark plugs are on the way out, such as:
Lack of power
Misfires
Check-engine light
Increased fuel consumption
Rough idle and hesitant movements
Why Upgrade?
The easiest and most plausible reason is to increase the interval between plug changes. Aside from saving money and time spent on maintenance, your Infiniti G35's performance will see a noticeable change once you upgrade to a better spark plug.
This means all the extra modifications and engine components you've spent your hard-earned money on will get a solid companion. And if you've modified your car, you know that every last horsepower counts!
Types of Spark Plugs
Depending on their construction, different spark plugs suit different needs. On the cheaper end of the widely available range, you get copper/nickel spark plugs, followed by platinum plugs, and finally the premium iridium tipped spark plugs.
Keep in mind that there are more expensive options out there (like silver plugs), but the ones listed below are all you really need.
Copper
The least expensive of the lot is the copper plug. The main core is copper while the electrodes are nickel-plated.
Suited mainly to older vehicles, the copper spark plugs don't last very long, so they aren't common on more modern cars. While you'll need to replace these more often, copper plugs have a tendency to perform consistently even at higher temperatures.
This makes copper plugs worth a look but in real-world use, there's a strong chance that an iridium plug will outshine it.
Platinum
Platinum spark plugs cost more to replace than copper spark plugs for a good reason. You end up getting a much longer life, no carbon build-up, and a gap that stays unaffected by driving conditions.
Infiniti themselves recommend using platinum spark plugs on the G35. The use of platinum spark plugs is also helpful on cars in which access to the plugs is difficult. Longer intervals between spark plug changes mean you'll spend less on potential labor costs.
Iridium
Sitting comfortably on the top of the spark-plug list is iridium. These plugs offer better combustion characteristics than others on the list. Improved combustion leads to more power, better response, lower fuel wastage, and an overall smooth-running engine.
While they are the most expensive spark plugs on the list, these will outperform both platinum and copper plugs — that's for sure.
Infiniti G35 Spark Plugs: OEM Specs
Infiniti recommends its owners stick to platinum spark plugs. The suggested gap for the plug is 1.1 mm or 0.044 inches. Most platinum and iridium spark plugs come gapped from the manufacturer, so check this before ordering.
Sticking to their recommendation is a personal decision, but if you've boosted your car or are looking to make improvements, it always makes sense to upgrade to iridium.
Cheap Spark Plugs for Infiniti G35
Copper plugs may not last very long but they make for a great budget-friendly alternative. These aren't the ideal choice for modern cars, especially considering that platinum plugs are only slightly more expensive and can offer a longer life.
If you have a heavily modified G35, the only place where a copper plug can arguably have an advantage is performance under extreme conditions since copper tends to run cooler. 
Champion Copper Plus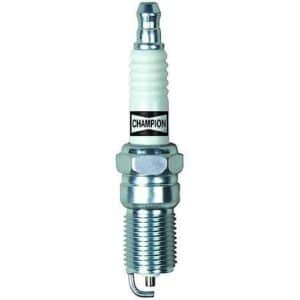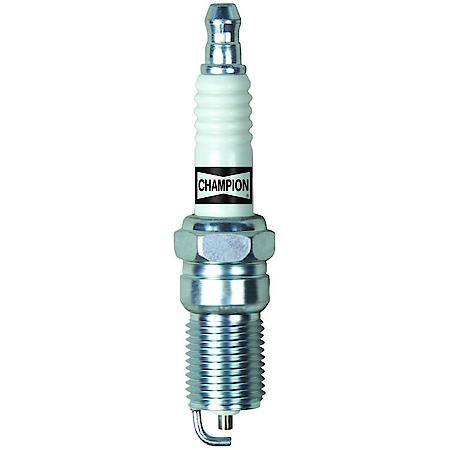 Manufacturer: Champion
Part Number: 446
Electrode Type: Copper
Heat Range: 10
Gap Size: 0.044 inches
Warranty: 1 year
Buy On: Amazon
Champion is one of the most recognizable brands when it comes to spark plugs and its Copper Plus plugs are a reliable choice. These are made keeping in mind the OEM standards, and have plenty of protection against corrosion.
Champion uses a patented resistor on the plug to make sure there's minimal interference. The spark plug itself houses a copper core while the center and ground electrodes are both nickel.
Though they come gapped, you'll want to check the correct spark plug gap during installation for optimal performance.
Platinum Spark Plugs for Infiniti G35
If you're looking for great longevity without compromising the car's performance, platinum spark plugs are the ideal choice.
The downside is that you won't get as much of a benefit as with the iridium plugs. Nevertheless, their competitive price puts them at an advantage over copper.
NGK G-Power Platinum
Manufacturer: NGK
Part Number: 5018
Electrode Type: Single Platinum
Heat Range: 5
Gap Size: 0.044 inches
Warranty: 3 years
Buy On: Amazon
NGK's G-Power Platinum spark plug is an OEM replacement for your Infiniti G35 which is why it feels right at home after installation. The platinum-tipped electrode gives it a longer life than the standard copper plug.
In addition to this, these NGK plugs have a fine wire center electrode and an alumina silicate ceramic that offers great insulation. The center core is made of 98 percent pure copper which further helps in enabling consistent combustion.
It's a cost-effective product that is hands down the best replacement spark plug for your Infiniti G35.
ACDelco Gold Platinum
Manufacturer: AC Delco
Part Number: 19323046
Electrode Type: Single Platinum
Heat Range: 8
Gap Size: 0.048 inches
Warranty: 3 years
Buy On: Amazon
ACDelco is well-known for making OEM replacement parts, and if you're in the market for a set of new spark plugs, it's Gold (or Professional) line won't disappoint. This single platinum spark plug is corrosion-resistant, has a longer life than conventional plugs, and comes with a solid-state suppressor to keep the interference minimum.
The center wire electrode is tapered which increases the firing efficiency. Understandably a double platinum spark plug would have had its advantages but that would have also jacked up the prices.
Denso Platinum TT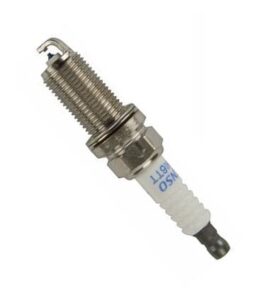 Manufacturer: Denso
Part Number: PKH16TT
Electrode Type: Platinum
Heat Range: 16
Gap Size: 0.040 inches
Warranty: 12 months
Buy On: Amazon
Think of the Denso Platinum TT platinum spark plug as a cost-effective alternative to the Denso Iridium TT which we review later in this article.
It offers a unique electrode arrangement where the center electrode is platinum-tipped and the ground electrode has titanium plating. This definitely makes the spark plug more expensive, but at the same time, it improves combustibility.
You can expect to see improved fuel economy, a small bump in performance and easier starts, especially in Winter (assuming your G35's battery is in good health). Its twin tips offer improved ignitability, which is the main reason behind these positives.
Iridium Spark Plugs for Your G35's VQ Engine
One step ahead of the platinum plugs are iridium spark plugs. These may not be as cheap as the copper units but they offer improved performance and better combustion.
If your G35 has seen its share of upgrades and aftermarket mods, iridium will be the spark plug for you. The price difference between these and platinum plugs isn't a huge deal but you'll notice the difference in how your car runs right away.
Bosch Double Iridium Spark Plug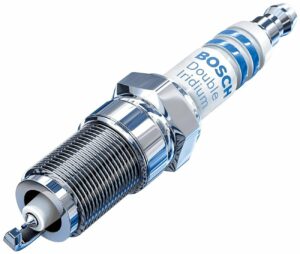 Manufacturer: Bosch
Part Number: 9609
Electrode Type: Iridium Double Tip
Heat Range: 8
Gap Size: 0.043 inches
Warranty: 12 months
Buy On: Amazon
Our list would be incomplete without the mention of Bosch's Double Iridium spark plugs. These plugs have iridium plating on both the electrodes, making firing even better. The 0.6 mm firing pin ensures that the plug has great performance and ignitability.
Aside from this, the pre-gapped plug is said to live 4x the usual life of a standard copper plug. The nickel-plated shell offers corrosion resistance whereas the longevity is further benefited from the 360-degree continuous welding construction.
Denso Iridium TT Spark Plug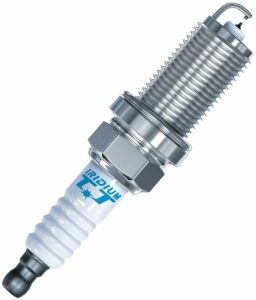 Manufacturer: Denso
Part Number: IKH16TT
Electrode Type: Iridium
Heat Range: 16
Gap Size: 0.040 inches
Warranty: 12 months
Buy On: Amazon
The Denso Iridium TT is another great spark plug that you can pick up for the Infiniti G35. Designed to last 100,000 miles or more, the spark plug isn't just about long life but also increased performance. It gets an iridium-tipped center electrode and a platinum ground electrode.
Where the Denso Iridium TT absolutely stands out is with the inclusion of a 0.4 mm center electrode. This enables a stronger, more concentrated spark, without requiring a lot of voltage.
With the 360-degree laser welding technique the ground electrode has been made thinner (0.7 mm) as well, further aiding efficiency in the combustion.
Be it daily driving or high-performance requirements, it's clear that the Denso Iridium TT spark plug is going to shine.
NGK Iridium IX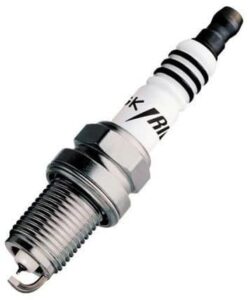 Manufacturer: NGK
Part Number: LFR5AIX-11
Electrode Type: Iridium
Heat Range: 5
Gap Size: 0.044 inches
Warranty: 3 years
Buy On: Amazon
The NGK Iridium IX spark plug is aimed at those looking for increased performance from their cars. If you're running a modified Infiniti G35, this can pretty much be the spark plug of choice for your car. NGK mentions that the Iridium IX offers not just better performance but also longer life.
The Iridium tip manages higher temps the best among the more popular replacement plugs. The NGK Iridium IX's trivalent metal plating gives it better anti-seizing and corrosion-resistance qualities.
In addition to that, the Iridium IX's ability to resist fouling means the plug will run healthier for longer, preventing misfires and other possible damage that result from spark plug fouling.
Best Spark Plugs for Infiniti G35 Owners
Whether you're looking for a regular OEM replacement or something to suit your boosted needs, you'll find an overwhelmingly large number of spark plugs available for the G35.

Amidst these are some spark plugs which stand out from the rest, either because of their durability or all-rounded performance. Take a look at the ones that made it to our top picks.
Best OEM Replacement Spark Plug: NGK G-Power
If you're looking for an OEM replacement, it doesn't get any better than this. The NGK G-Power is a great platinum spark plug that's made to factory specs but will last longer.
Long-Lasting G35 Spark Plug: Denso Platinum TT
The Denso Platinum TT, with its unique choice of platinum and titanium electrodes, offers improved performance and longer life. The perfect platinum plug to upgrade to! 
G35 Spark Plug for Increased Performance: Bosch Double Iridium
The Bosch Double Iridium plug isn't cheap but if you're after a high-performance spark plug, it's going to be a good choice.

Which spark plug worked wonders for your G35? Got a favorite that didn't make it to our list? Tell us in the comments below!