The importance of routine maintenance cannot be understated. It not only helps to keep your car running as it should but also saves you a lot of money in the long run.
This includes oil changes, air filter replacements, rotating the tires, and so on. But among the key components that you need to keep an eye on are the spark plugs.
To do that, you need to know exactly how long spark plugs last, and what the correct spark plug replacement interval is.
That's what we'll discuss in this guide, so you can stay on top of your car's maintenance schedule and keep it running like new.
Spark Plug Life Based on Type
How long your spark plugs will last comes down to how many miles you're clocking, as well as the replacement intervals and the type of spark plug you're using.
We'll break it down for you by each spark plug type, that way you know when you should start pulling and replacing the spark plugs in your vehicle.
Copper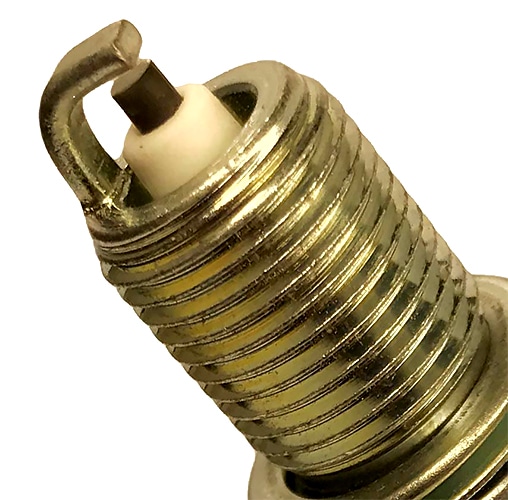 Considering the average spark plug replacement costs, copper core plugs are the cheapest option, and that's the reason why they're the most common type.
They're cheap, sure, but even though you're saving a little money upfront, when you compare the cost per mile to higher-end options you'll end up spending more because of their frequent replacement interval.
But because copper is a softer metal that has a lower melting point, these plugs don't last very long.
You should change out copper spark plugs between 10,000 and 20,000 miles, which is a much shorter interval than what other spark plugs offer.
That's why we don't necessarily recommend these, unless you have a supercharger or turbo installed.
Platinum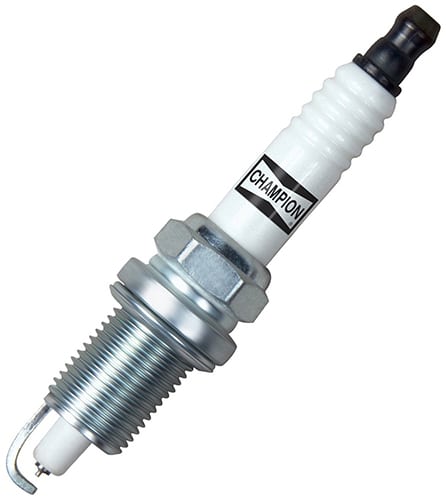 One step up from copper spark plugs are platinum spark plugs. They typically cost about two to three times as much as copper spark plugs, but they more than makeup for it with their longer durability.
Platinum spark plugs typically last about 60,000 miles, which is three to six times more than what you can expect from copper spark plugs!
Double Platinum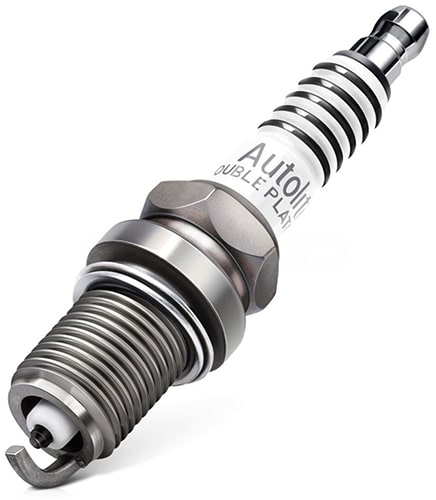 Double platinum spark plugs are just like regular platinum spark plugs, except that they last much longer. That's because they have a platinum disc on both the center and side electrodes.
If you like the platinum spark plug design and want more longevity, these are the ones to go for. They cost a little more than regular platinum spark plugs, but they typically last about 100,000 miles.
Iridium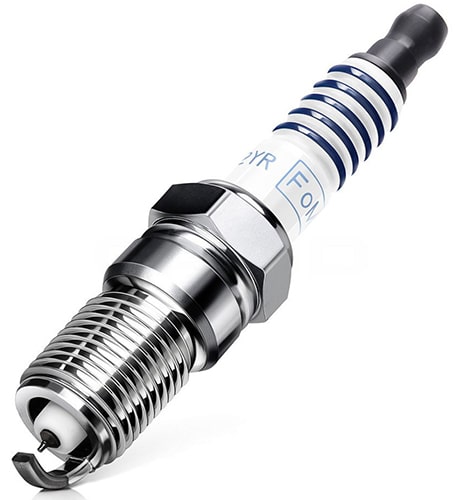 Even though iridium spark plugs are the most expensive option on our list, we definitely recommend them. They're a bit more expensive than platinum spark plugs, but you can expect to get a lot more life out of them.
The average iridium spark plug will last between 60,000 and 100,000 miles depending on your car and the way you drive it.
Double Iridium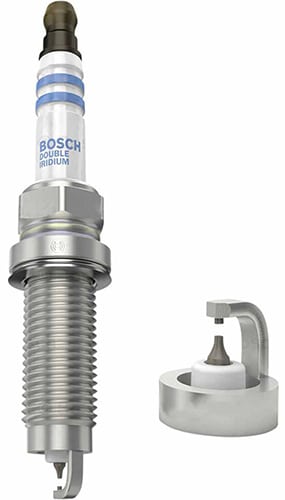 Just like double platinum spark plugs extend the lifespan of regular platinum spark plugs, double iridium spark plugs last a bit longer than regular iridium spark plugs.
They cost a bit more, but because they last between 100,000 and 150,000 miles. They really have a low cost per mile.
Ruthenium
Ruthenium spark plugs aren't quite as common as copper, platinum, or iridium, but if you find a set of ruthenium spark plugs for your vehicle, they're an outstanding choice.
That's because they're incredibly durable and can easily last for well over 100,000 miles. Some ruthenium spark plug manufacturers claim that their spark plugs can last up to 200,000 miles!
We recommend changing them a little more frequently than that though, but there's no doubt that ruthenium spark plugs can last quite some time.
What Happens if You Don't Change out Your Spark Plugs Regularly?
Bad spark plug symptoms aren't always easy to spot. Most of the time you won't realize there's a problem right away.
But eventually, they will fail, and you'll notice this when your engine starts misfiring. If this is ignored, it can lead to more damage.
An even more serious concern comes about when you have a seized spark plug. The longer it stays in your vehicle the more likely it is to seize.
When this happens it makes it far more challenging to remove the spark plug. In the worst-case scenario, the spark plug will crack.
Your mechanic will have a few different options to remove the spark plug at that point, but the worst-case scenario is that they'll need to drill it out.
This will involve tearing apart your entire engine to clean out the combustion chamber. And if that has to be done because you didn't change the spark plugs on time, there's a good chance the mechanic will pass on the expense to you.
All this to say, replace your spark plugs at the correct service intervals to prevent problems from snowballing and costing you a ton of money!
Tips for Changing out Your Spark Plugs
There's nothing wrong with getting your spark plugs changed by a mechanic. But if you want to save yourself some money, you can do it yourself. It's pretty straightforward.
It all starts with using the right tools. You can't use a regular socket wrench as it won't reach the bottom where it needs to latch on to the plug, so consider purchasing a quality set of spark plug sockets.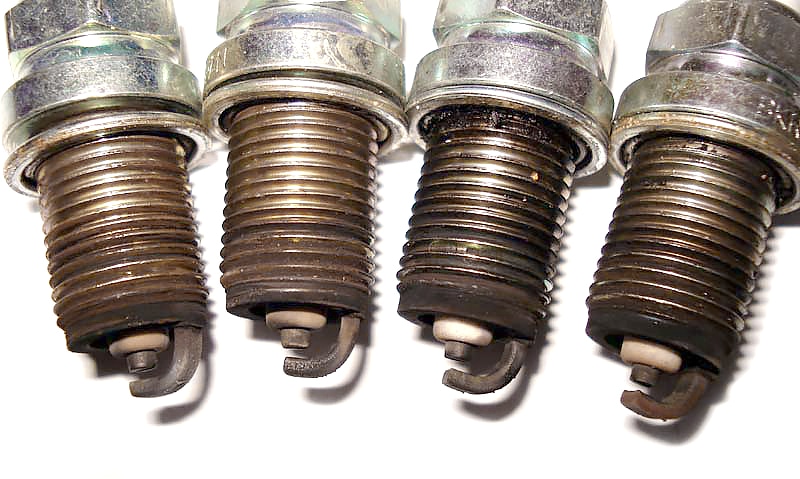 Not only will using these sockets make the job a lot easier, it also reduces the risk of snapping any spark plugs while you're taking them off.
Another thing to be mindful of is to replace the plugs one at a time. It is tempting to unplug them all at once, but it's a lot easier to keep track of everything and hook up the wires correctly if you install the new plugs one at a time.
Finally, the last thing you want to do is swap out all the spark plugs only to realize that the gap is wrong. It's a rare occurrence with new spark plugs, but it does happen.
Because of this we highly recommend purchasing a spark plug gapper. However, it is possible to gap your spark plugs without a tool.
It only takes a few seconds to check each spark plug when you have the gapper, and it can save you a ton frustration later if you happen to get a spark plug that had its gap knocked out of place.
Choosing the Right Spark Plugs for Your Vehicle
There's no "right" type of spark plug for any vehicle, but there are spark plugs that will save you some work and money.
That's why we highly recommend going with platinum, iridium, or ruthenium spark plugs. They cost a little more upfront, but they last far longer than their copper counterparts.
From there, platinum is a little less durable than both iridium and ruthenium. And while ruthenium lasts the longest, if you're driving a high-performance vehicle, iridium can handle a little more heat.
Once again there's no "wrong" choice here, but that's how you'll get the most out of your spark plugs!
The Last Spark
Car maintenance is expensive, and to many, it might seem like an unwanted expense. But you're really saving yourself money in the end by preventing future problems from cropping up.
Do you have a favorite type of spark plug for your vehicle or a question about which spark plugs you should use? We'd love to hear from you!