The well-acclaimed Infiniti G35, appreciated by owners and critics alike, had an unabated run between 2002 and 2007. It shared its platform and engine with one of the best Nissan Z cars ever, and there hasn't been a speck of dust on its reliability.
But owing to its age, some of its components may need a replacement — and some for the second time. For many cars, this will be the Infiniti G35's battery.
In this guide, we'll take a look at some of the popular options to help you choose the best battery for Infiniti G35.
Why and When Should You Replace Your Battery?
There was a time when car batteries didn't have to do much besides powering up your vehicle and lighting the way. Today, things are very different.
Modern cars rely heavily on the onboard computer for the majority of functions. Without a battery providing adequate power supply to the ECU, the list of what can go wrong is longer than you'd want to deal with.
Infiniti G35 owners generally tend to replace their battery every 4-5 years, which gives you an idea of how long one lasts under regular load.
Having said that, there are other influencing factors like accessories, the weather and battery type which also play an important role in the life of your battery.
Some telltale signs to look out for when your battery is on its way out: 
difficulty starting the car (especially in cold weather)
dim interior or head lights
dashboard check engine light
You can also look at the physical state of the battery — check for corrosion on the terminals for potential leaks. Chances are, if your car has been sitting for a while, you'll need to replace it's battery.
| Image | Brand | |
| --- | --- | --- |
| | Incredible power in a very lightweight unit. | VIEW LATEST PRICE → |
| | It's difficult to beat the combination of price and performance of this AGM battery. | VIEW LATEST PRICE → |
| | This Spiral Cell battery is designed to outlast AGM and lead acid competitors. | VIEW LATEST PRICE → |
Picking The Right Battery
To choose the right battery, you need to be clear about your requirements. For instance, a battery that is lightweight for track day use might not have the best specs to start the car in extreme temperatures.
You could always just stick to OEM the next time you need a replacement — it's got everything you would need for daily driving, except for the high price tag.
However, if you live in an extremely cold area or simply want more juice to run accessories or heavy in-car audio, a high performance battery would be a better option.
Construction
Battery construction is a topic that deserves an entire article for itself. For the sake of simplicity, we're going to keep this short. While Lead Acid batteries will meet most of your needs, you also have the option to upgrade to AGM (Absorbed Glass Mat) batteries or the lighter Spiral Cell option.
The former is heavier but offers a great deal of power and vibration resistance. Spiral Cell batteries by Optima, on the other hand, can take the vibration resistance up a notch. These are also much lighter, so if you've got a track car and want to shave some weight, they'll be a great choice.
Basic Battery Specs
On your search for a new battery, you'll frequently come across CCA which stands for cold crank amps. These determine how much current the battery can provide to cold start an engine. The larger the value, the better it's going to perform while starting an engine in a cold climate.
It's absolutely necessary to check this if you live in an area where winters are extreme. Replace your tired battery with one that has a lesser CCA rating, and you may see a drop in reliability in colder environments.
Another rating you can check when picking up a new battery is Reserve Capacity. This tells you for how long the battery of a vehicle will work normally (supply a specific amount of current, at optimum temperature, to maintain the required voltage difference between the terminals) if the vehicle's alternator gives up.
"BCI Group" number represents the size of your car's battery. It makes it easier to find a replacement without having to actually try and fit every battery that's available for your car.
Most Infiniti G35 owners choose to replace theirs with a new Group 35 battery as it is the perfect size and fit. The stock replacement battery available from Infiniti dealerships is also BCI Group 35.
Stock Replacement from Infiniti
The easiest replacement for your G35's aging battery is the stock Infiniti battery itself. You'll find these online and also at your local Infiniti dealership. They'll be able to provide you with a battery that works exactly as the manufacturer intended.
While that means no looking around to find a new, compatible battery, its advantages over a stock one are none.
Of course, you do get a new battery with a warranty and a perfect fit. But if you've modified your car or need a more powerful battery for a fraction of the price of an OEM replacement, you will want to look elsewhere.
Best Value Batteries for an Infiniti G35
Depending on its construction and specifications, you'll find both budget and high-end batteries for your Infiniti G35. This means you can get something from as cheap as $100 if you're on a budget.
It's worth keeping in mind that while OEM batteries and some of the value choices work great as stock replacements, they won't be able to support extra power needs. These are perfect if the stock battery in your car has served you well — and your driving conditions aren't bound to change.
DieHard Platinum AGM
Manufacturer: DieHard
Part Number: 35-AGM
Cold cranking amps: 650
Group: 35
Size/Dimensions: 9.06 x 6.937 x 8.875 inches
Type: AGM
Buy on: Amazon
One of the better choices for an upgrade is the DieHard Platinum AGM. It comes with a CCA rating of 650 amps, weighs about 40 pounds, a 100-minute reserve capacity, and is backed by a 3-year free replacement (in case of defects).
Since this is an AGM battery, it's bound to be more reliable than regular batteries, under increased load, extreme climates, and harsher driving conditions.

DieHard claims that the battery can serve for twice as long, in comparison to standard batteries, and that it has a better flow for consistent power delivery. As an added bonus, its manufacturing process is claimed to be less harmful on the environment as well.
Delphi MaxStart AGM Premium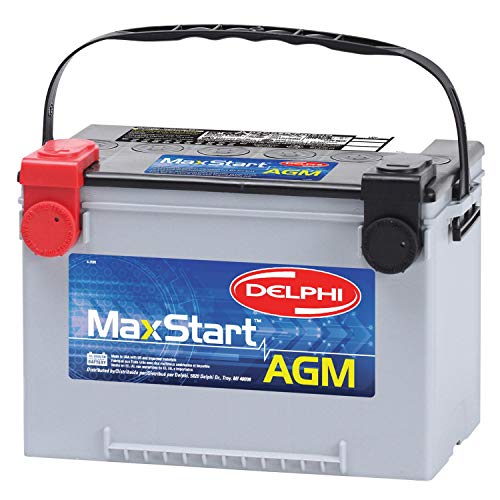 Manufacturer: Delphi
Part Number: BU9035
Cold cranking amps: 660
Group: 35
Size/Dimensions: 9.01 x 8.99 x 8.2 inches
Type: AGM
Buy on: Amazon
Delphi is a reputed brand and the MaxStart AGM battery certainly lives up to its name. This  battery sits somewhere between conventional batteries and other AGM ones on the price scale.
It's claimed to have a CCA rating of 660 amps, reserve capacity of 100 minutes, and about 20 times the vibration resistance in comparison to regular batteries. Other factors that make the MaxStart AGM battery for Infiniti G35 worth a look include solid construction and its corrosion-resistant sealed housing.
Best High-Performance Batteries for an Infiniti G35
Budget batteries are great for what they achieve without breaking the bank, but if you're looking for more power, they're bound to fall short.
It's not just the outright ability to run more accessories or audio equipment, but also basic tasks like starting the car on a freezing cold morning.
That's where high-performance batteries for the Infiniti G35 come in. They may not be cheap but they're made to suit more specialized requirements.
Optima Red Top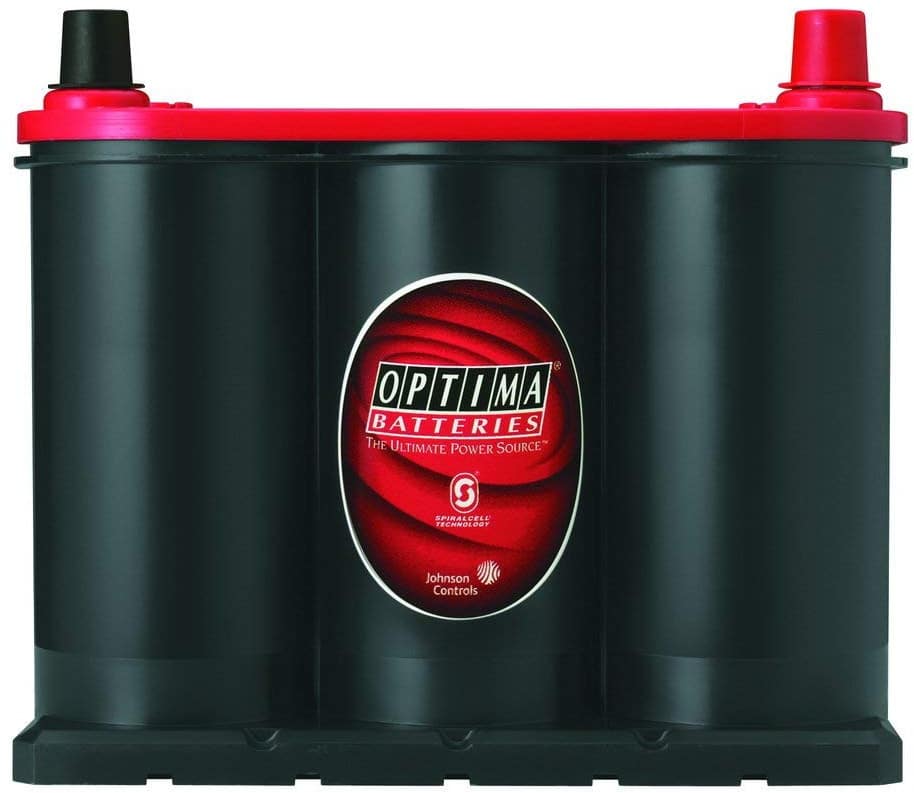 Manufacturer: Optima Batteries
Part Number: 8020-164
Cold cranking amps: 720
Group: 35
Size/Dimensions: 9.38 x 7.69 x 6.75
Type: Spiral Cell
Buy on: Amazon
Spiral construction is Optima's forte, and that alone makes the battery worth considering for your Infiniti G35. Its combination of superior resistance to vibration and low weight mean that it can be the perfect battery for your Infiniti G35 if you intend to track your car.

There is a weight difference of about 10 pounds between the Optima Batteries Red Top and similar-spec AGM ones.
But that's not all it has to offer. With a CCA rating of 720 amps, the Optima Red Top will be a great choice  for extreme climates. The reserve capacity of 90 minutes is a bit less in comparison.
Odyssey PC1400
Manufacturer: Odyssey
Part Number: 35-PC1400
Cold cranking amps: 850
Group: 35
Size/Dimensions: 9.47 x 6.85 x 8.75 inches
Type: AGM
If you're in search of the best AGM batteries, don't forget to give the Odyssey a good look . Among the performance options, it's easily one of the best out there for any car, not just your Infiniti G35.

The Extreme Series battery packs in quite a punch as well — with twice the power and three times the claimed life in comparison to conventional batteries.
It has a CCA rating of 850 amps, a reserve capacity of 130 minutes, and an overall weight of 50 pounds. Clearly, not for your track car, but if you have a fair bit of accessories installed or live in cold climates (or both), the Odyssey is hard to ignore.
Optima Yellow Top
Manufacturer: Optima Batteries
Part Number: 8040-218
Cold cranking amps: 620
Group: 35
Size/Dimensions: 9.38 x 6.75 x 7.69 inches
Type: Spiral Cell
Buy on: Amazon
The Optima Yellow Top might have a lower CCA (of 650 amps) and a reserve capacity of 98 minutes, but its advantage lies in deep-cycle use and lower self-discharging rate.
It's a dual-purpose battery, which means it not just handles cranking but also provides consistent current over long periods of time. Other car batteries can only deal with the former. If you're someone who has a lot of accessories like audio equipment and lighting, this battery will work wonders for you.
Like the Optima Red Top, the Yellow Top is also a Spiral Cell battery. And it thus comes with an advantage against vibration, and is lighter as well — at around 36 pounds.
What Is the Best Battery for Infiniti G35?
The best battery for your G35 is the one that fits your requirements but without proving to be a compromise. Our choices are mentioned below.
Lightweight Battery for Infiniti G35: Optima Red Top
Best G35 Battery for Cold Climates: Odyssey 35-PC1400T
Best Value AGM Battery: Delphi MaxStart
Did we miss a battery that worked really well for your Infiniti G35? Tell us in the comments below!