Having the right type of oil in your Evo X is essential if you plan to keep it running smoothly at its peak performance.
Driving it with the wrong grade for a long time can put your engine through a lot of stress, premature wear and tear, and eventually leave you with a huge repair bill.
This guide lists the best engine oil for Evo X owners to use in summer and winter, taking into account different driving styles.
Recommended Oil for the Evo X
Considering the fact that all Evo X's left the factory with the Mobil 1 5W-30 engine oil, you can choose the same oil weight if all you want is a quick fix. It's great for a stock setup that sees minimal weather changes.
However, if your Mitsubishi Evo X is modified or if you live in a tougher climate, there are a number of options that will work well for you.
Hot vs Cold Weather
Having a more viscous oil in hot temperatures provides overall better engine operation and lubrication.
If you live in a warmer climate, opt for a 10W-30 viscosity oil. The higher Winter (W) number means it is thicker at low temperatures and provides better oil flow, and it's safe to use up to an ambient temperature of 104 Fahrenheit.
On the other hand, if you're living in a climate that sees moderately cold winters, the 5W-30 oil grade will serve you well. No ticking sounds or long engine warm-ups.
But if you live in a freezing climate where the ambient temperature drops to -4 Fahrenheit, you will have to use 0W-30 to achieve the same condition as 5W-30.
High-Performance
When it comes to performance, two oil viscosities stand out — the 10W-40 and 15W-50.
10W-40 is a highly recommended option for Evo Xs that make around 500 whp for regular city driving and heavy track days.
15W-50, on the other hand, can only be used in cars that are only built solely to race. This means it has more than 600 whp, upgraded bearing clearance, cams, exhaust, and other performance mods in place.
Evo X Oil Change Intervals
Mitsubishi recommends changing the Evo X's engine oil every 5 months or every 5,000 miles for a stock car.
If you have a slightly modified Evo 10, you should cut the interval to around 3,000 to 3,500 miles to keep your 4B11T engine safe from excessive wear.
In case you have an extensively modified car, you should change the oil at around 2,000 to 3,000 miles. Depending on your daily commute, that's once every 3 months! For this reason, many CZ4A owners install a quick drain plug in their oil pan to make changes quick and easy.
How Much Oil Does Evo X Take?
Before topping up your motor oil, you'll need to know exactly how much you need. 
The Evo X manual recommends 4.8 liters of oil, so buying 5 to 6 quarts is the way to go.
If you're planning on changing the oil yourself, keep in mind that this number may differ. The old oil will stay in some tight places when doing a flush, like turbo lines and the oil cooler.
Top Engine Oils for Evo X
Finding the best oil for your Evo X can be overwhelming when there are so many options to choose from.

To make things easier we've compiled a list of different engine oils, some of which work better in summers and others in winters.
Mobil 1 Synthetic Motor Oil
Manufacturer: Mobil 1
Oil Weight: 5W-30
Check Prices: Amazon
The Mobil 1 5W-30 is the recommended engine oil for most variants of Evo X so you can't go wrong with this option.
It has its own patented combination of a high-quality synthetic base reinforced with exclusive additives to aid your engine's longevity and maximum performance.
This line is specifically designed for high mileage cars, but that doesn't mean that you can't use it on your low mileage vehicle.
In fact, by using this oil in every oil change you will have the least wear and tear on your engine.
Royal Purple 51530 High-Performance Oil
Manufacturer: Royal Purple
Oil Weight: 5W-30
Check Prices: Amazon
This high-performance engine oil by Royal Purple is a great option for those living in moderate climates where you can push your Evo X to its limits.
It has the best oil viscosity for the Evo X and is proven to provide excellent protection while driving aggressively. More importantly, it has been designed to work flawlessly with cars that have ethanol kits installed.
While using the Royal Purple Oil, expect improved fuel efficiency because of the low friction coefficient.
Royal Purple claims that its 5W-30 equals a 5W-20 fuel economy requirement, which is even better if your Evo X serves it's purpose as an AWD daily driver.
Motul 300V Racing Oil
Manufacturer: Motul
Oil Weight: 5W-40
Check Prices: Amazon
If you have a modified Evo, live in a hot climate — or both, then using a 5W-40 is a much better idea than 5W-30.
Motul's 300V is a 100% synthetic racing motor oil which will give your engine the best lubrication at very high temperatures while maintaining excellent performance.
Its improved formula of low volatility reduces oil consumption and keeps a stable oil pressure during different driving conditions.
The higher price point is worth every penny if you're into an extensive mod list.
Mobil 1 94002 Full Synthetic Motor Oil
Manufacturer: Mobil 1
Oil Weight: 15W-50
Check Prices: Amazon
Another winner from Mobil 1, this 15W-50 oil features an extra high viscosity and anti-wear properties to maximize the engine's protection when racing or towing.
It's a super thick oil specifically used in cars with high-end modifications for increased power and long track days.
Evo X owners that make more than 500 whp will see a positive increase in performance, lower engine temperatures, and less engine wear.
Pro Tip: Don't use this oil in cold weather. It's just too dense to flow smoothly when starting your car in the morning.
Royal Purple API-Licensed High Performance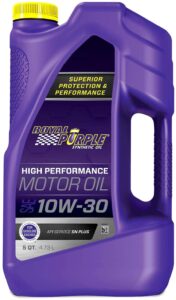 Manufacturer: Royal Purple
Oil Weight: 10W-30
Check Prices: Amazon
The last on our list is the Royal Purple 10W-30 viscosity engine oil — a popular choice amongst most Evo X owners.
What makes this oil versatile is its ability to perform well in warmer climates without being a drag in winter.
It has similar properties to the other Royal Purple variant on our list but is a bit more viscous to improve lubrication when driving in hot weather conditions.
Best Engine Oil for Your Evo X: Our Final Verdict
After reviewing the five most popular engine oils for Evo X, it's important to remember that they aren't all suited to all circumstances.
Below you'll find some scenarios where certain oils will work the best.
For Daily Driving: Mobil 1 5W-30
Mitsubishi suggests this oil, and for good reason. Most Evo owners choose this oil for daily driven cars.
For Cold Weather: Royal Purple 51530 Engine Oil
A solid match for those residing in cold climates, this 10W-30 viscosity engine oil is a favorite of many Evo X owners. It allows your car to idle fine after cold starts and heats up quickly.
Best Summer Oil for Your Evo X: Motul 300V Racing Oil
If your Evo X sees a fair share of hot summer days, Motul's 300V engine oil should do the trick. The 100% synthetic racing oil will protect your engine against oil pressure drops, wear and tear, and oxidation too.
If a clean engine is important to you, don't forget to check out our guide to the best Evo X catch cans too!
And if you're planning to modify your car, be sure to check out our guide to Evo X insurance. Get a quote through our team for the best possible coverage on a modified Mitsubishi CZ4A at the best possible price.
Got a favorite that didn't make it to our list? Let us know in the comments below!