Engine oil is instrumental in making your Infiniti G35 perform the way it's supposed to. If you truly want to do justice to it's sublime V6 engine, we doubt you'll want to settle for anything less than the best.
Things like regular top-ups and timely replacement of the engine oil are bound to help your engine live longer and also perform optimally.
In this guide, we'll take a look at the best oils for your Infiniti G35, be it for daily driving, track use, the coldest of winters or ridiculously hot summers.
Recommended Oil for Infiniti G35
Every manufacturer recommends a particular grade of oil that's bound to work with a variety of users under various driving conditions.
While following the manufacturer's suggestion is a good idea, keep in mind this is a recommendation for a stock car. Before you go driving your G35 up onto your low-profile car ramps for it's next oil change, consider if OEM oil is best.
If you've replaced OEM parts in favor of high-performance ones and your Infiniti G35 is modified to produce more power, there's a strong chance the Infiniti-recommended engine oil might not be able to hold up as brilliantly as a high-performance engine oil.
Stock Engine Oil Grade
The specified engine oil grade for the G35 is 5W-30 which works great where temperatures drop below 0° F. If you live in a slightly hotter climate, other SAE grades like 10W-30 and 10W-40 are your best options.
Infiniti further mentions that the use of oil additives is not something the brand recommends as long as the maintenance intervals are followed. Infiniti's official G35 oil change interval is 3,750 miles. That's a short interval between changes, so you might want to use a quick release drain plug to make the work quicker.
Types of Oil
While there are a number of engine oil variants available on the market, what you need to look out for is the SAE grade of the oil.
It's the alpha-numeric rating given to every oil which tells you how the oil will perform in cold climates. For instance, in SAE 5W-30, the '5' represents the oil flow at 0° F, 'W' is for winter, and the number that follows is the viscosity at 212° F.
The lower the first number is, the better your oil will serve you in winter. The second number represents how soon the oil will lose its viscosity at 212° F.
With that out of the way, let's look at the different types of oils available for your Infiniti G35.
Synthetic Blend Oil
A blend of synthetic oil with premium conventional oil, the synthetic blend is a good intermediate solution. It works well on most modern cars, and it certainly doesn't burn a hole in your pocket.
Its performance at higher loads is bound to be better than OEM-spec oil, at a price lower than that of fully synthetic oil.
Fully Synthetic Oil
The real deal or fully synthetic oil is the king of oil types. It's certainly more expensive than other choices here, but it has great performance benefits at higher temperatures.
Unlike other conventional oils, fully synthetic oil won't lose its viscosity that easily. It also lasts longer and doesn't break down under extreme conditions.
Best Oils for Your Infiniti G35
We've identified the modern-day requirements of drivers and compiled a list of engine oils for the Infiniti G35.
This includes some budget choices, some intermediate ones, and some high-quality options which might be a bit heavy on the pocket but their long-term benefits make them worth a second look.
Again, these oils work well whether you're looking for a replacement or an upgrade. If you've done an engine rebuild, then we suggest you get a conventional engine oil for the run-in period.
Castrol GTX Ultraclean
Manufacturer: Castrol
Viscosity: 5W-30
Buy On: Amazon
The Castrol GTX Ultra Clean is a premium multi-grade oil made to handle everything that your daily driver endures. It's rated SAE 5W-30, so those living in colder countries won't have an issue using it.
Castrol promises sludge protection and soot management, both of which ensure that the oil flows smoothly over long periods. The oil comes with custom-made additives for improved performance. Its Trishield tech offers protection against deposits as well.
Schaeffer Supreme 9000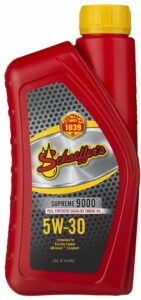 Manufacturer: Schaeffer
Viscosity: 5W-30
Buy On: Amazon
At roughly twice the cost of others on this list, Schaeffer Supreme 9000 ticks a lot of boxes since it:
doesn't age quickly
doesn't break down at high temperatures
protects the engine from friction and heat
Rated SAE 5W-30, you won't have a problem with this oil if you're living in a colder climate. The addition of a viscosity index improver means it can tackle a wider range of temperatures. In addition to that, Schaeffer claims that the oil will keep your car's engine free from oil residue, sludge, and other deposits.
Blended with friction modifiers, the Schaeffer Supreme 9000 protects your engine against wear, abrasion, and scuffing.
These benefits will be evident in the long run as it delivers amazing stability, optimum viscosity, and resists breaking down.
Mobil 1 European Car Formula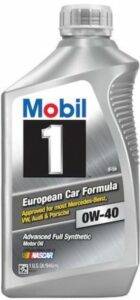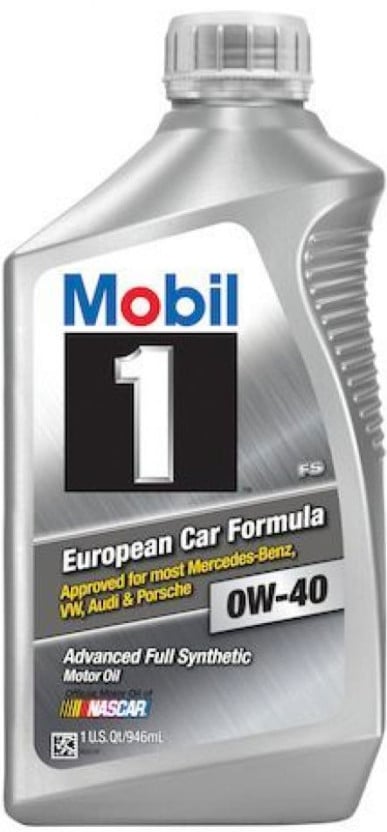 Manufacturer: Mobil 1
Viscosity: 0W-40
Buy On: Amazon
The Mobil 1's 0W-40 formula oil has to be on the top of your list if you liver in a colder region. It's a fully synthetic oil, one that offers great cleaning ability, but most importantly it works exceptionally well when the temperatures are low.
However, if it's an outright high-performance oil that you're after, this might not be the most perfect fit.
Having said that, the Mobil 1 European Car Formula offers a wide range of benefits one can expect from fully synthetic oil like this one. It protects the engine from both sludge build-up and deposits while offering great protection against high temperatures thanks to its uniform molecules.
Pennzoil Ultra Platinum
Manufacturer: Pennzoil
Viscosity: 5W-30
Buy On: Amazon
The Pennzoil Ultra Platinum is a fully synthetic oil that provides adequate lubrication, protection against wear and tear, and optimum performance.
For a modern car like the Infiniti G35, which is tuned and upgraded to run faster, having an oil that can sustain more challenging conditions is a must.
The oil itself is made from natural gas, comes with additives, and has an amber color. Other features include sludge protection and its resistance to breaking down at higher temperatures — to ensure consistent viscosity and performance.
The fact that Pennzoil claims that it keeps the pistons cleaner is an added bonus.
Castrol Edge Full Synthetic Engine Oil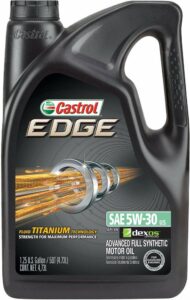 Manufacturer: Castrol
Viscosity: 5W-30
Buy On: Amazon
Rated 5W-30, the Castrol Edge Advanced conforms to the recommended standard by Infiniti. It's a fully synthetic oil that has performed well both in lab tests and even in the real world, as confirmed by customers.
Like other high-performance oils, the Castrol Edge depends heavily on consistent performance regardless of the operating temperature. This one's suited to GDI-Turbo engines, which is great if you've got a modified Infiniti G35.
Thanks to its Titanium tech, the oil stays stronger even under added stress and claims to be 3 times stronger than rivals. It protects the engine from deposits and minimizes metal-to-metal contact at varying driving speeds.
Royal Purple Full Synthetic Oil
Manufacturer: Royal Purple
Viscosity: 5W-30
Buy On: Amazon
For a reputed brand like Royal Purple, this synthetic oil certainly lives up to its name and price point.
It's a 5W-30 oil and is made to offer protection for high-performance and modified engines. So if you're running some crazy tunes or upgrades on your G35, this one is right up your alley.
The oil comes with added oxidation stability which aims to improve the performance of your engine — as well as fuel economy. It also has an anti-wear additive, which keeps the catalyst safe from the effects of exhaust gases.
In addition to that, the oil reduces low-speed pre-ignition as well, making it another solid choice for turbocharged and direct-injection gas engines, and lessening the need to use an octane booster in your gas tank.
Pennzoil High Mileage Full Synthetic Motor Oil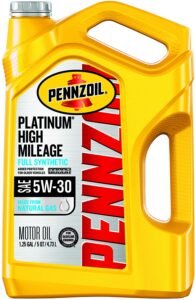 Manufacturer: Pennzoil
Viscosity: 5W-30
Buy On: Amazon
High-mileage oils are designed to keep your engine in peak condition even after you hit the 75,000 mile mark. If you're on the search for the best high-mileage oil for your G35, the Pennzoil High Mileage Full Synthetic is a reliable option.
Rated 5W-30, the oil is enhanced with conditioning seal agents and high-quality additives that work hard to keep your engine running smooth and free of any leaks.
Another strong aspect of the Pennzoil full synthetic oil is that it provides protection against low-speed pre-ignition. It also keeps the pistons cleaner and can function well at higher temperatures as well.
What's the Best Motor Oil for Your Infiniti G35?
The Infiniti G35's highly acclaimed V6 engine is a long-lasting motor. As long as it's well maintained, you won't need to worry too much about its longevity.
Getting the best oil for the G35, then, has to be on the top of the list. Here are our picks from the list above.
Daily Driving: Pennzoil Ultra Premium
If your Infiniti G35 is a daily driver, the Pennzoil Ultra Premium engine oil should serve you well. Its supreme ability to keep the power and efficiency loss at a minimum makes it a top choice for daily driven cars.
High Performance: Castrol Edge Advanced
Installing a bunch of performance parts will make the Infiniti G35 faster, but to sustain all that power, you'll need an oil that works equally well under stress and regular conditions. The Castrol Edge Advanced is exactly what you need in this case.
Extreme (Cold) Weather: Mobil 1 European
Harsh winters can be rough on your G35s engine and leave you with insufficient lubrication. Luckily, the Mobil 1 European Car Formula engine oil handles low temperatures with ease and keeps your car running smoothly as ever.
Has your Infiniti G35 been a reliable car? Do you think we've missed your favorite oil on this list? Let us know in the comments below.