If you spend more time in the garage than you do in your living room, you already know the importance of having car ramps and jack stands. Everything from simple oil changes to making modifications can be made a lot easier with a little bit of extra height.
Although jack stands have their advantages, the risk-to-safety and stability make car ramps a better option. Especially for work that's going to have you under your car for long periods of time.
In this guide, we help you pick the best car ramps for your workshop and garage, especially if it's a lowered car you're dealing with!
Benefits of Having Car Ramps in Your Garage
Aside from being a more stable option than jack stands, car ramps are safer and give you more room to work under your car. And while we'd all love a car lift at home in our garage, the space requirements and cost don't make it a possibility for everyone.
Unlike jack stands that require some amount of experience and a floor jack to raise a car, ramps are super easy to set up and use. You simply need to align them to your tires and drive up until your car is secure!
Beyond their utilitarian purposes, car ramps can also be used to display your car. That extra height puts your undercarriage in the spotlight while angling your car for some extra oomph. And there's more.
Accessibility
Car ramps allow you to get under your car with ease — giving you enough wiggle room to move freely, with your automotive tool set by your side. Given that your entire car will be raised and balanced, you'll also have a wider radius and range of motion than you would otherwise.
Also, if you have a car with low clearance, it's possible that a jack won't even fit underneath. So, aside from it enabling you to work on the undercarriage, for some cars it's the only way to raise your vehicle.
Safer Than Jacks
Amongst some safety issues, jacks can damage the body of your car over a prolonged period of time. With the slightest error, jack stands can fail, possibly causing serious damage to your vehicle and you, both.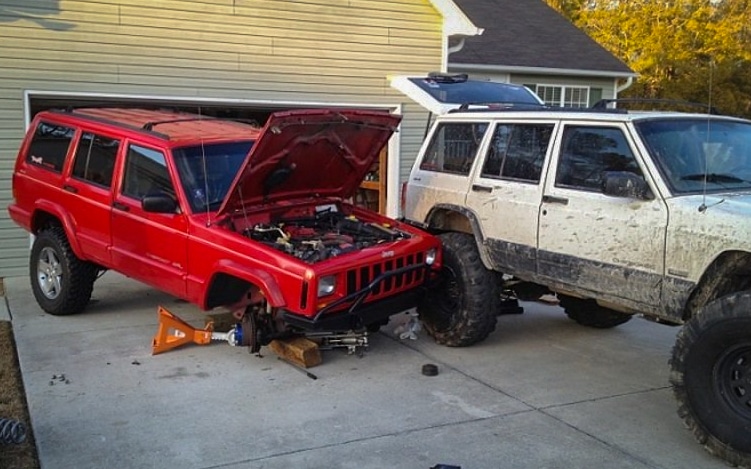 Ramps are much safer because they allow the wheels to rest on a wider surface area reducing the risk of slipping and falling. And given that both wheels are raised simultaneously, the car is better balanced.
Ground Clearance
You can pick out a car ramp that factors in the work that you need to do and the crawl space that you need to get underneath your car.
This also comes in handy when staging your car — car ramps come in various lift options, so you can pick as per your convenience.
Cost-Effective
If you're looking at saving a few bucks by working on your car parts at home instead of handing it over to a mechanic, you'll probably need to set up a home garage.
Car ramps are almost essential and will help keep your credit card in the green in the long run. Easy installation with high returns!
Travel and Display
Car ramps are designed to make it easier to load and unload cars, not just onto moving trucks but for staging as well. Also, if your driveway has a steep incline or a sudden gradient shift, a ramp can help prevent you from scraping the front or the underside of your car. This is especially important for lowered cars.
And if you're someone who spends a fair amount of time, effort, and money modifying your car, then you might be interested in displaying it. Car ramps help you position the car at a height, allowing others to marvel at your work of art — above and underneath!
All these factors will come into play when you purchase your car ramps. The kind you get will vary depending on what you want to use it for, and the type of vehicle you have. But first, let's understand the features that you need to look out for.
Things to Consider When Buying Car Ramps
Unlike most other tools and assemblies, car ramps are fairly easy to navigate. Depending on your requirement, there are just a few things to consider.
We've listed some of the most important deciding factors below, but a lot of it comes down to the use you're looking to get and the type of car you're working on.
Ramp Height & Width
The most important consideration is the height and width you need to fit under your car. Naturally, this is going to be different for different people. You want to make sure that your ramp set not only lifts the car above you but also gives you wiggle room to work comfortably.
Keep in mind, it's possible that you need to get under the car when some parts are hot, so the extra space can protect you from harmful burns.
One of the biggest advantages of using car ramps is balance and stability. Which would be lost if the ramps are narrower than the wheels of your car. In fact, it could help to get ramps that are slightly broader than your tire width.
Construction Material
Ramps are made of everything from metals like aluminum to polymers, resins, and plastics! For larger, heavier vehicles like SUVs and trucks, your top choice would be a steel ramp, while aluminum ones are popular for people needing portable service equipment.
To work on smaller cars, especially if you're working out of your home garage, you should be able to do with ramps made from plastic, polymers, and composite materials. This is not to say that plastic ramps can't handle heavy-duty vehicles!
Remember, the ramp needs to support the weight of your vehicle and hold it steadily so that it doesn't fall on you. So, don't scrounge on the quality of your ramps to skim a few bucks. The risk to safety just isn't worth it.
Other Considerations
Some other safety features you can keep an eye out for are:
Angle of incline
Grips
Tire stops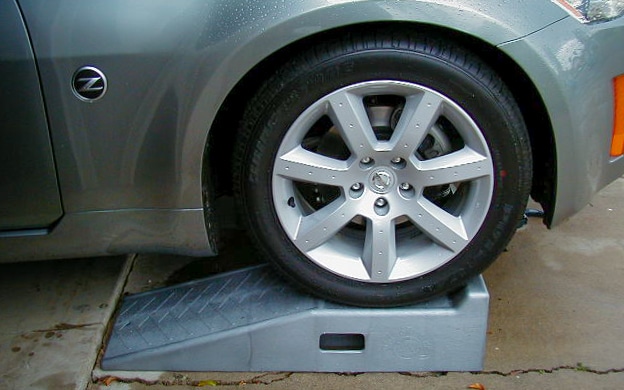 Grips and tire stops are particularly helpful as they secure your vehicle, preventing it from accidentally slipping back or spilling over.
As for the incline, if you have a low car, you will probably need a ramp with a lower angle of incline to prevent the undercarriage or the bumper from hitting the edge.
Types of Car Ramps
Now that we've unpacked the things that you need to consider when picking up car ramps, let's break down the types of ramps.
Aside from the standard options available, the different kinds of ramps can be linked directly to the type of vehicle that you have. Don't make do with ghetto solutions here. A bit of research before buying will be worth your while.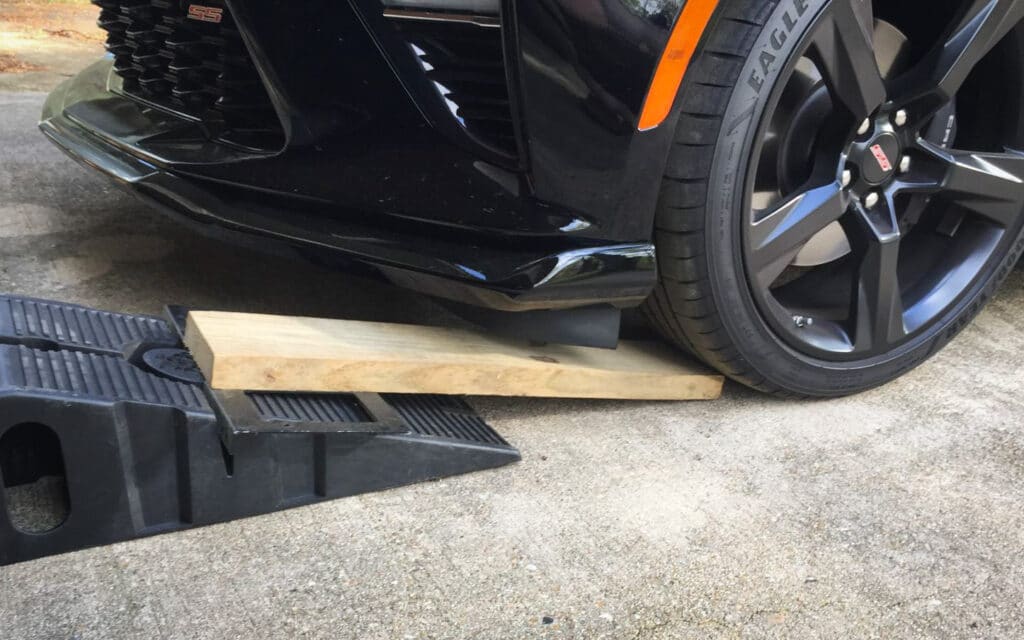 Low Profile Car Ramps
For cars that sit closer to the ground, like sports cars, low-profile ramps are better as they have a gradual angle of incline. Gradual lift reduces the possibility of hitting your bumper or bodywork against the edge as you drive onto the ramps.
This also means that ramps for low cars are longer to accommodate for the gradual climb. Although, two-piece assemblies will help you around this snag.
Heavy-Duty Car Ramps
On the other end of the spectrum, we have heavy-duty car ramps. Now, if you're working on a larger car like an SUV or a pickup truck, you will need ramps that can handle the extra load and tire width too.
Often made of solid steel or reinforced plastic, heavy-duty ramps can hold heavier vehicles. Naturally, due to the stronger and heavier materials used, heavy-duty ramps have lower portability and ease of storage.
Two-Piece Ramps
As mentioned above, some ramps come in two pieces — the slope and the platform. These ramps allow you to detach the slope once the vehicle is secured on the platform. The slopes can then be used as wheel chocks for increased stability.
Dismantling the ramps into pieces also makes for easier storage, thereby increasing portability. You could look at two-piece ramps as a variety in low-profile and heavy-duty ramps.
Best Car Ramps For Your Garage
Aside from the height, width, and construction material, the type of ramp itself pretty much comes down to the vehicle you own. Other factors that will influence your decision are obviously the affordability and load-bearing limits.
If you're looking for portability, then a lighter ramp set would work better for you. The ramps listed below are a mix of the types mentioned earlier, taking into account all these factors and popular opinions too.
RhinoGear
Manufacturer: RhinoGear
Part Number: 11909ABMI
Type: Low profile
Load Limit: 12,000 lbs
Material: Polymer
Buy On: Amazon
RhinoGear is a reputed brand in car care and maintenance, so it's no wonder that the RhinoRamps are an easy fan favorite. Given the features and easy portability, they are affordable and a no-brainer choice for sure.
The material is a patented polymer blend featuring CoreTRAC technology on the surface for skid protection. The ramp has a 17-stage incline which is particularly beneficial for cars with limited ground clearance, although there are better options available.
Another reason why the RhinoRamps are so popular is that they are light and their nesting feature makes for easy storage. However, a word of caution — due to the plastic polymer blend, these ramps can get brittle with use, especially in extremely cold temperatures. That aside, these ramps are an easy go-to.
Race Ramps

Manufacturer: Race Ramps
Part Number: RR-56-2
Type: Two-piece, low profile
Load Limit: 6,000 lbs
Material: Polymer
Buy On: Amazon
Easily one of the best options in the market, this lightweight two-piece ramp set will lift your car 8-inches from the ground, no matter how low it is thanks to its 10-degree approach. These ramps are crafted from a foam-like material with grips that hug the floor, preventing slippage.
The ramp extends for about 56 inches, with a width of 10 inches to accommodate your sports car with ease. Now you can tinker away without stressing about slips and slides, or bumping the short front ends.
Depending on how low your car is, you could potentially damage the undercarriage when driving onto your ramps. To counter this, Race Ramps go the extra mile and even offer an extender that gives you a beautiful, gradual ramp of about 60 odd inches, and with good lift!
Nicky Nice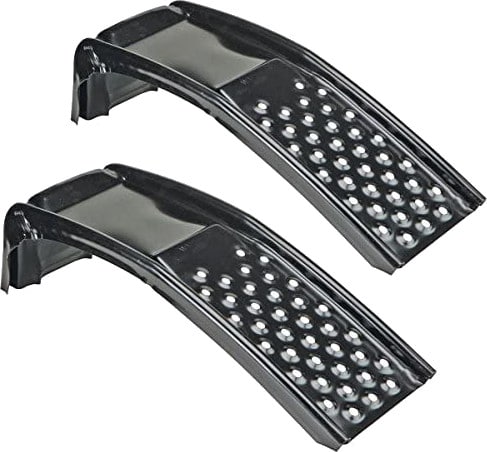 Manufacturer: Nicky Nice
Part Number: 612944
Type: Heavy-duty
Load Limit: 6,500 lbs
Material: Steel
Buy On: Amazon
With a simple design, these steel ramps can support about 6,500 pounds and include safety ribs and traction holes for increased grip. The all-steel construction makes these ramps durable, but with limited portability due to their weight.
They're wide enough to comfortably fit larger tires without all while giving you an ample amount of room to carry on with your maintenance jobs below. The incline is a little too steep for smaller, lower cars. Also, there's no anti-slip treatment on the surface, so you'll have to be careful during mounting and dismounting.
All in all, these Nicky Nice ramps are a great choice for SUVs, minivans, and pickup trucks.
Discount Ramps

Manufacturer: Discount Ramps
Part Number: 6009-V2
Type: Low profile
Load Limit: 4,500 lbs
Material: Plastic
Buy On: Amazon
Discount Ramps are well known for dishing out mid-range ramps for low cars. Their 6009-V2 car ramps are made of plastic and offer sturdy support. Although, with a weight capacity of only 4,400 pounds, these ramps aren't a good fit for heavy cars and vehicles.
The only drawback with these ramps is the fact that they don't have any anti-slip material on the surface. These ramps do, however, come with end walls for stopping the tires. Additionally, they also feature a honeycomb pattern that prevents moisture build-up.
If you're looking for a budget-friendly option for your low car, these ones will serve you just fine.
Rage Powersports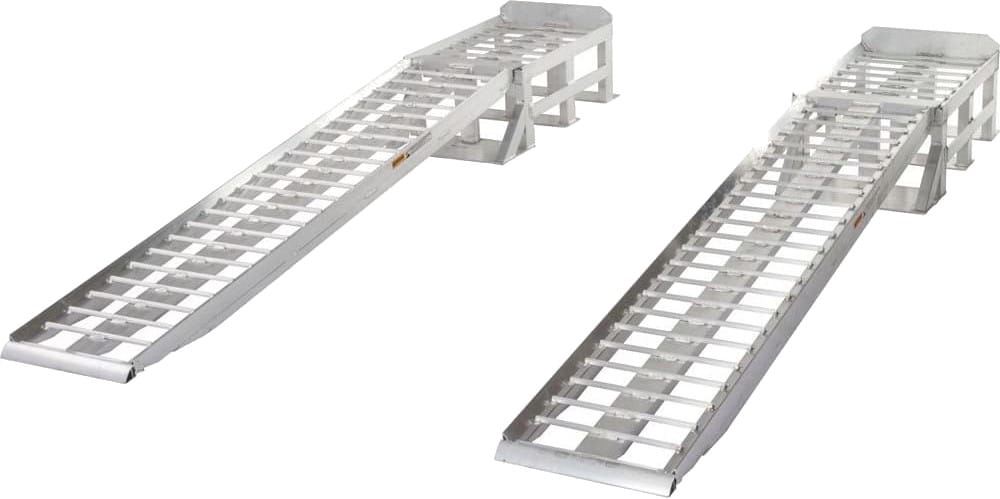 Manufacturer: Rage Powersports
Part Number: CR-7214
Type: Service ramps
Load Limit: 3,000 lbs
Material: Aluminum
Buy On: Amazon
Crafted by Rage Powersports, these aluminum ramps are some of the best car ramps for low cars. These aluminum ramps are of solid build quality and give you 7 inches of lift!
These are serious ramps made entirely of aluminum. They are light in weight for their size but the long length of the ramps makes them bulky and reduces portability.
Although the gentle incline makes it a good choice for low cars, the length of the ramps can pose an issue if your vehicle has a shorter wheelbase. Having said that, most car enthusiasts claim that these are great to lift your car to show it off too.
Magnum
Manufacturer: Magnum
Part Number: 1002-01
Type: Heavy-duty
Load Limit: 16,000 lbs
Material: Plastic
Magnum's 1002-01 ramps are a 4-piece set that is easy to store and travel with. The assembly has a weight capacity of a whopping 16,000 lbs and a safety lock feature that holds it all together.
Overall, Magnum lives up to its name, with ease of use and build quality. There's little left to debate since the ramps are a decent choice for SUVs and trucks. Some car owners claimed that the ramp doesn't suit their cars, so be sure to double-check your requirements carefully before purchasing them.
Black Widow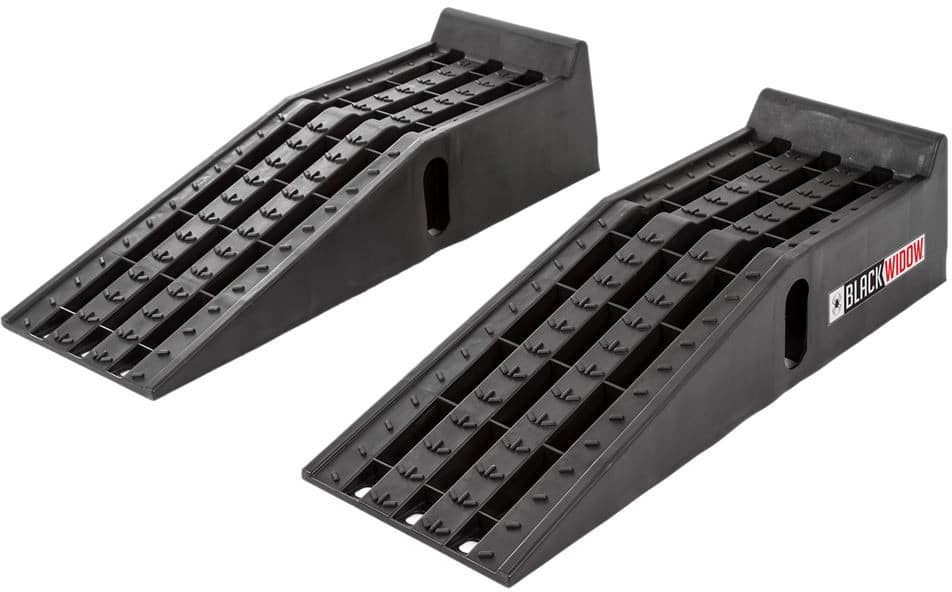 Manufacturer: Black Widow
Part Number: PSR295
Type: Heavy-duty
Load Limit: 16,000 lbs
Material: Plastic
Buy On: Amazon
Designed by Black Widow, these heavy-duty car ramps are built for larger, heavier vehicles like SUVs, vans, trucks, and even larger sedans. With a promise of a 7-inch lift off the ground, these ramps give you more than enough space underneath your vehicle.
Their added stability and balance allow these ramps to easily hold up vehicles weighing up to 8 tons without any strain. Despite being made of plastic, these ramps leave no room for doubt since their design is confidence-inspiring and promises reliability. Additionally, the ramps have rubber feet that prevent any chance of slipping.
The grooves on the ramps add another layer of safety for your heavy-duty vehicles. However, the trade-off for a high lift is the steep incline which makes these ramps unfit for low cars.
Scepter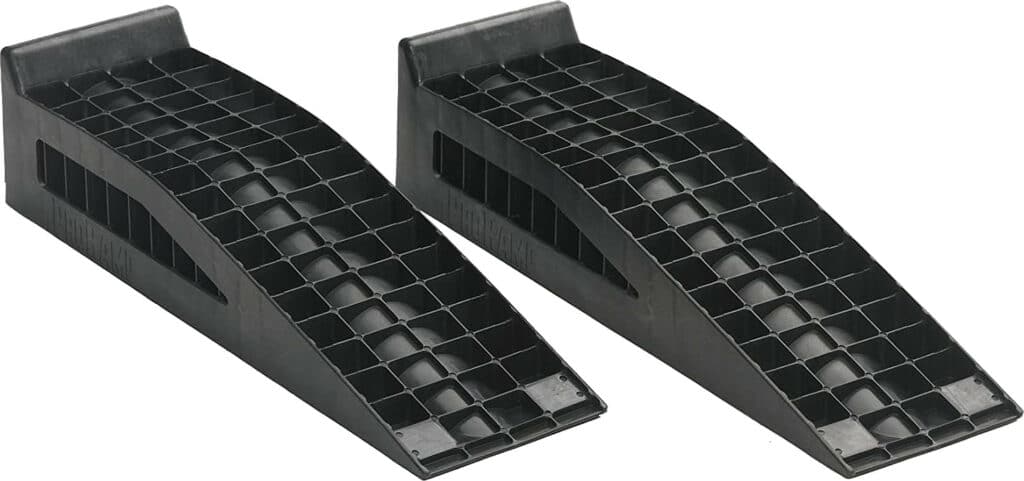 Manufacturer: Scepter
Part Number: 08226
Type: Standard
Load Limit: 12,000 lbs
Material: Plastic
Buy On: Amazon
The Scepter 08226 is yet another plastic car ramp that doesn't compromise on strength despite its lightweight nature. It can bear a max weight of 12,000 lbs, making it suitable for your sedan and even some larger vehicles.
The ramp features a parabolic arc that supports your car with great balance. And the grips on the ramp prevent your car from slipping. On top of this, the surface is designed in a way that prevents dust build-up, thereby reducing your maintenance costs.
Tomioka Racing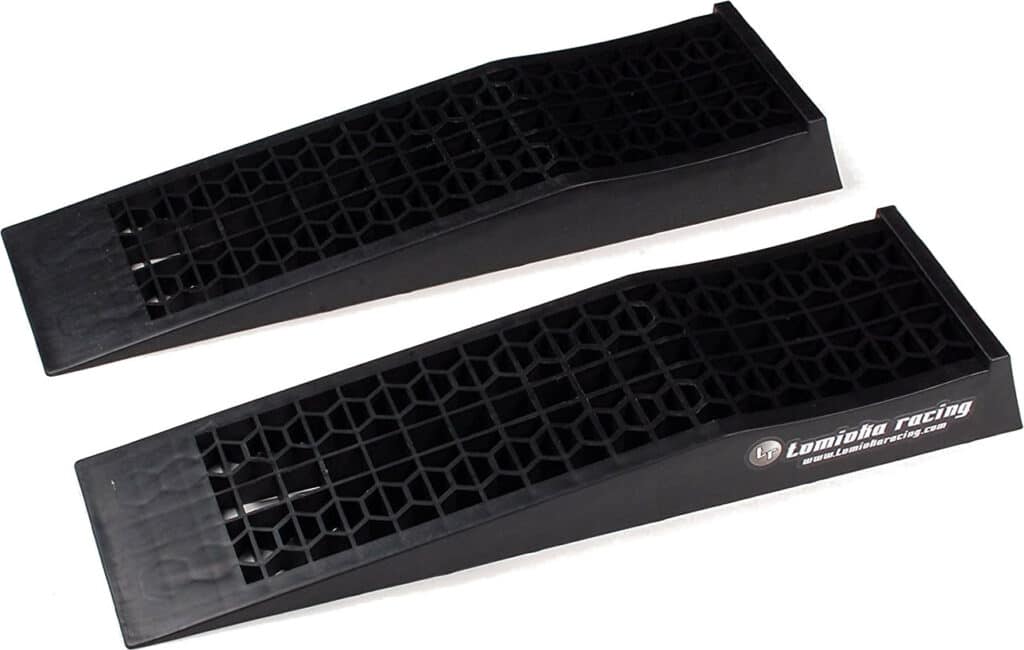 Manufacturer: Tomioka Racing
Part Number: TR-SLOPE
Type: Low profile
Load Limit: 6,000 lbs
Material: Plastic
Buy On: Amazon
Tomioka Racing addresses all your maintenance woes of owning a lowered car. Their hard-plastic ramps have a gradual incline with a superior surface grip. Despite being made from toughened plastic, they only weigh around 10 lbs per set, making them quite portable and easy to travel with.
The only drawback is that the Tomioka ramps only give you about 3 inches of lift. That should be enough for basic maintenance but not much else. Still, given the price and build quality, these are a decent option for your low profile and lowered cars.
Our Favorite Car Ramps
While there's a lot to look at when choosing car ramps, the most important deciding factor is usage and safety — you really do NOT want your car coming down at you while you're under it. Pick the ramp set that is best suited for your car, even if that means spending a few extra bucks.
Remember, each set of ramps is made for different purposes. Just as vehicles are low or high depending on their make, model, and weight, so are car ramps. Similarly, the cost is not proportional to quality. Focus on your vehicle's ground clearance, length, and max weight.
In the list above, some ramps scored well in terms of their load-bearing limit, while others did so for their construction and safety features. We've rounded up some of our favorites below to help make your choice a bit easier.
All Rounder Car Ramps: RhinoGear
Designed to be sturdy and long-lasting, these ramps come with a gradual incline and skid-prevention protection. Their lightweight nature makes them score points for portability and storage, but these ramps can still handle a load of about 12,000 lbs!
Best For Lowered Cars: Race Ramps
Whether you've got an ultra-low car or a performance sports car, Race Ramps has you covered with their gradual slope and slip-protection texture. Keeping with that, their load-bearing capacity of 6,000 lbs makes them a winner in our books.
Best Heavy-Duty Car Ramps: Nicky Nice
While it was a close call between the Nicky Nice and the Black Widow car ramps, we found these to be the more durable option. And for heavy-duty usage, that's exactly what you need. The Nicky Nice ramps are aluminum-built, so they are sturdy and light.
Which car ramps make your maintenance jobs easier? Did we miss one worth mentioning? We'd love to know your thoughts in the comments below!