Are you tired of needing to use a bunch of tools every time you need to complete a simple oil change? With a quick drain oil plug, you don't have to worry about that, and you can complete your oil changes faster than ever.
However, if you select the wrong product, you might find that you're dealing with leaks, stuck valves, and other annoying issues.
We want to save you the frustration and make your life a bit easier. That's why we've listed some of the best quick-release drain plugs that you can buy in this guide.
Why Quick Drain Plugs Make Sense
Installing an easy drain oil plug is an optional upgrade. You don't need one, but once you use it, you'll never want to deal with that pesky drain bolt again.
With one of these installed, you can drain your oil at the pull of a plug or the twist of a cap, and you won't have to use any tools as you'd normally have to. Not only is this easier, but also quicker.
Factors to Consider
When you're choosing a quick drain oil plug you need to look into two things. First, you need to look at the fitting size. The threads on the quick drain plug need to be the exact same size as your OEM drain bolt or it won't fit.
The second thing you need to consider is the mechanism of the drain plug. You can choose one with a lever or with a twist cap. The latter does a much better job at preventing leaks but that comes at a price of dealing with the inconvenience of having to twist the cap and ensuring that you don't misplace it.
The Best Quick Drain Oil Plugs
Now that you know a little more about what to look for when purchasing a quick-release oil drain plug, let's get to the list you're waiting for.
Below we've listed some of the best oil drain plugs on the market. These include both twist-knob and lever-operated options.
ValvoMax Quick Twist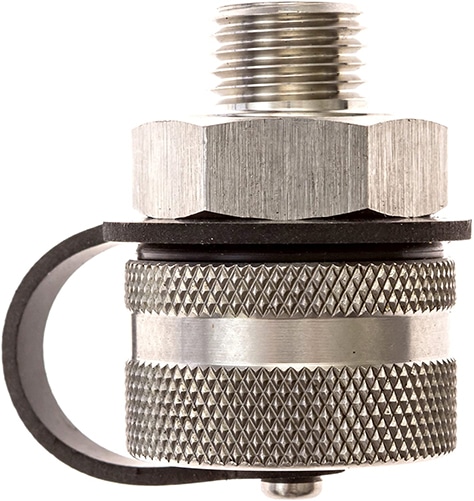 Manufacturer: ValvoMax
Part number: Oil Drain Valve M12-1.75
Thread size: M12x1.75
Drain method: Twist cap
Buy on: Amazon
The ValvoMax Stainless Quick Twist Knob is made entirely of 304 stainless steel. It never rusts, and it has an easy-to-grip textured knob that's secured with a rubber seal to ensure that you don't misplace it.
It ships with a drain tube which allows for easy, spill-free oil changes. The knob comes with a limited lifetime warranty, but it does cost a bit more compared to some of the other options on this list.
Fumoto Original T204N T-Series
Manufacturer: Fumoto
Part number: T204N
Thread size: M20x2.5
Drain method: Lever
Buy on: Amazon
The Fumoto T204N is a lever-operated, long-nipple drain valve that's best suited for vehicles with high ground clearance. The Up & Turn lever mechanism withstands engine vibrations and prevents accidental openings.
These quick-release valves are manufactured in Japan. Each unit is leak-tested before being shipped to ensure maximum quality control.
Featuring double-sealed valves and brass + stainless steel construction, this one-time drain plug will surely replace your drain bolt for good and become your permanent oil-changing solution.
EZ-106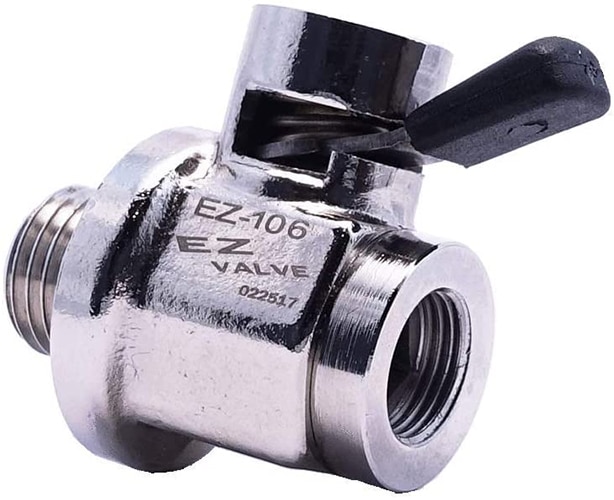 Manufacturer: EZ Oil Drain Valve
Part number: EZ-106
Thread size: M14x1.5
Drain method: Lever
Buy on: Amazon
The EX-106 EZ Oil Drain Valve is one of the most popular quick drain oil plug valves on the market. Though we've listed the M14x1.5 option here, you can buy this drain valve in many different sizes.
You can pair the EZ valve with their optional hose ends which are sold separately. Choose between straight and L-shaped hose ends that can change the trajectory of the oil stream in a way that suits your needs.
DEF F-106N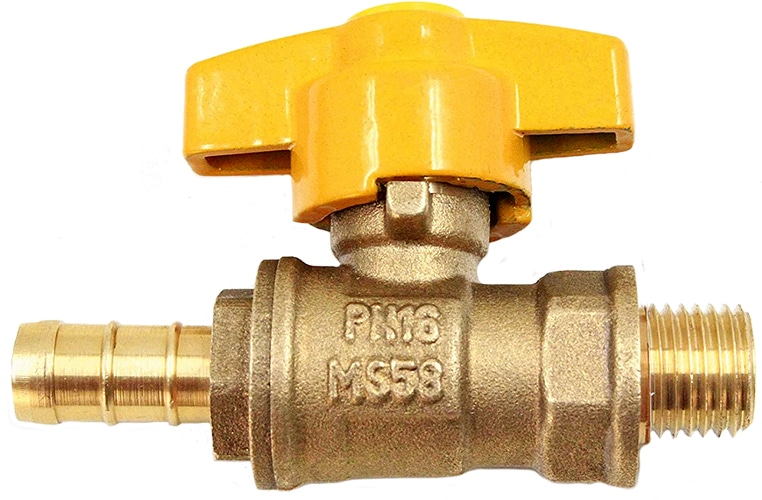 Manufacturer: DEF
Part number: SS-ODV
Thread size: M14x1.5
Drain method: Twist cap
Buy on: Amazon
If you need a drain valve for your SUV, then the DEF F-106N is the way to go. However, if your car is lowered on coilovers or lowering springs, you will have a hard time using this drain knob properly.
It uses a twist knob style release which we really like, and it's constructed using brass, stainless steel, and hardened MDF plastic.
Stahlbus Oil Drain Knob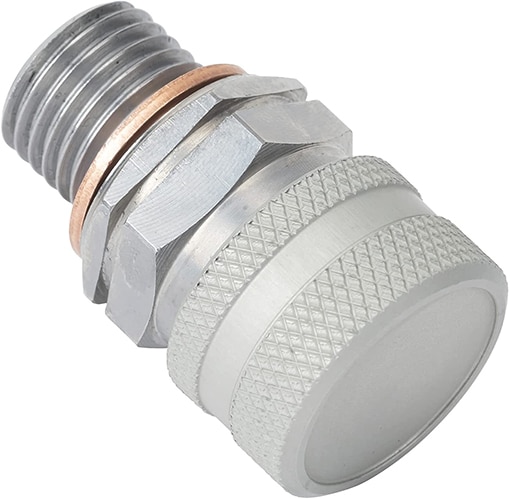 Manufacturer: Stahlbus
Part number: SB-210211-S-NA
Thread size: M14x1.5
Drain method: Twist cap
Buy on: Amazon
The Stahlbus knob is quite similar to the Quick Twist knob by ValvoMax. The main differentiator is the drain plug size. It comes with a silicone hose to help avoid spillage. This feature makes it easier to contain the mess even if your vehicle's oil drain plug is an inconvenient spot.
Unlike the ValvoMax Quick Twist knob, this one does not have a rubber seal that holds the cap in place when it's unplugged, so being mindful and keeping the cap safely is an added step in the process.
Our Favorite Quick Release Oil Drain Plugs
We like twist knobs more than quick-release drain plugs. However, it's entirely a matter of personal preference. We'd say buy both to see which one you like better; maybe donate the other one to a friend.
Below we've listed three of our favorite drain plugs. One is perfect for SUVs, the other for sedans, and the third one is an all-rounder.
For trucks and SUVs: DEF F-106N
The longer body of the DEF F-106N is a perfect fit for trucks and SUVs. DEF uses this extra space to install an easy-to-use twist valve that lets you drain the oil in a matter of seconds. It's also available for a lower price than most other options, which means you get an outstanding value for your money.
Best easy drain oil plug for sedans: EZ-106 EZ
EZ offers quick oil change valves for a ton of different-sized drain plugs, and they also make attachments that make it easy to control the flow of oil when you're draining everything out.
With this quick-release drain plug, you don't have to overpay to get all the convenience that comes with it.
The top performer: ValvoMax Quick Twist
You can't go wrong with twist knobs. They're mechanically simpler, less likely to malfunction, and are extremely durable.
Though it's slightly more expensive than other options on this list, the ValvoMax is certainly the one we'd go with.
Which one caught your eye? Would you use one of these or just stick to the old faithful drain bolt? Let us know in the comments below!