The legendary Evo X, last in Mitsubishi's Lancer Evolution line, is hailed by enthusiasts as one of the greatest performance cars that pushed the boundaries of its predecessors.
Thanks to a perfectly designed 4B11T engine, your Evo 10 can handle almost double the stock power.
So if you've been thinking of diving deep into performance modifications to level up your Evo's driving experience—you can do so knowing your car can handle them.
In this guide, we'll take you through an extensive list of the best Evo X upgrades, along with some useful tips on how to safely modify your Mitsubishi Lancer Evo X without causing any unnecessary damage.
Evo X Performance Mods
Improving the performance of your Mitsubishi ultimately comes down to improving the air quality and quantity that you feed it. Though performance mods will cost you the most in money and time, you'll instantly notice the difference while driving.
If your main goal is to improve engine power, sound, and throttle response, read on as we list the best performance upgrades for your Evo X.
Cold Air Intakes (CAI)
Cold air intakes are often the first upgrade on the list of every Evo X owner. By relocating the air filter, CAIs can draw in more air (that is both cooler and more oxygen-dense) into your engine which essentially translates to more power and better fuel economy.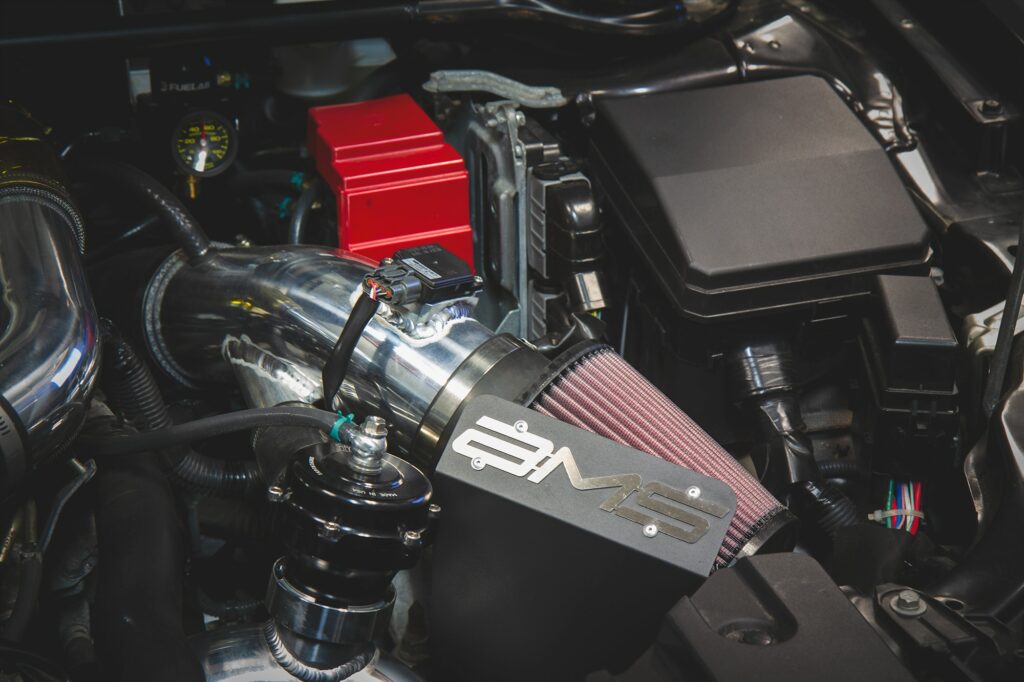 As you start your engine, you'll immediately notice a different sound under the hood, and when you play with the throttle, you'll be surprised by how much more responsive it is.
In general, they don't require any additional tuning, though you can expect an estimated 45 whp increase in power with the right supporting mods.
Finding the best air intake for your Evo X can be overwhelming when there are so many to choose from. Some of the best on the market are made by:
Boost Controller
Boost controllers are a simple way of improving your engine's response to your gas pedal. They control the boost level in your intake manifold, produced by your turbocharger.
The main advantage of a boost controller is that it can reduce turbo lag and the time before your turbo spools up. You can expect a faster boost build up at low rpm.
However, it's important to note that a boost controller can draw certain dangers to your engine. Since it allows a higher boost pressure to your engine and turbo, it can result in a shorter life of these components.
Though the stock 4B11T engine can handle a lot of stress, you should research how to use your boost controller or consult with an expert before installing one.
Some great boost controllers for the Evo 10 include:
Turbo Upgrade
If you want more than an extra 50 whp out of your car, you're going to need to upgrade your Evo X's turbo. Although it's one of the more expensive upgrades out there, you'll see incredible horsepower gains.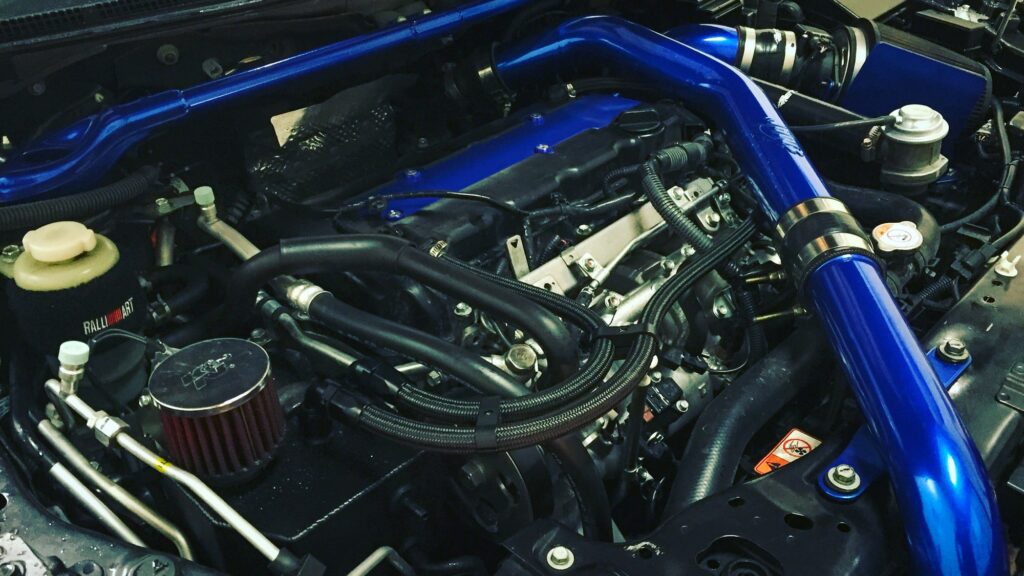 Before you jump-in and slap on a larger turbocharger, it's best if you install the right supporting mods to enjoy the maximum output from this upgrade. These include:
We recommend going with a turbocharger from Garett as they always offer bolt-on installation, great power delivery, and reliability, but MHI is a solid option too.
Our favorites are:
Exhaust System
If you plan on making major engine upgrades (or have already), you can't skip out on upgrading your Evo X's exhaust too. Your engine will have more compressed air that it needs to get out of it's system.
The OEM exhaust system on your Evo is restrictive and reduces exhaust gas-flow, which results in lower performance from your new upgrades.
Upgrading to at least a cat-back exhaust system is a great way to work around this and improve the performance of your turbo and engine.
Combine these with a larger downpipe and a high-flow catalytic converter and you can expect a significant boost in power.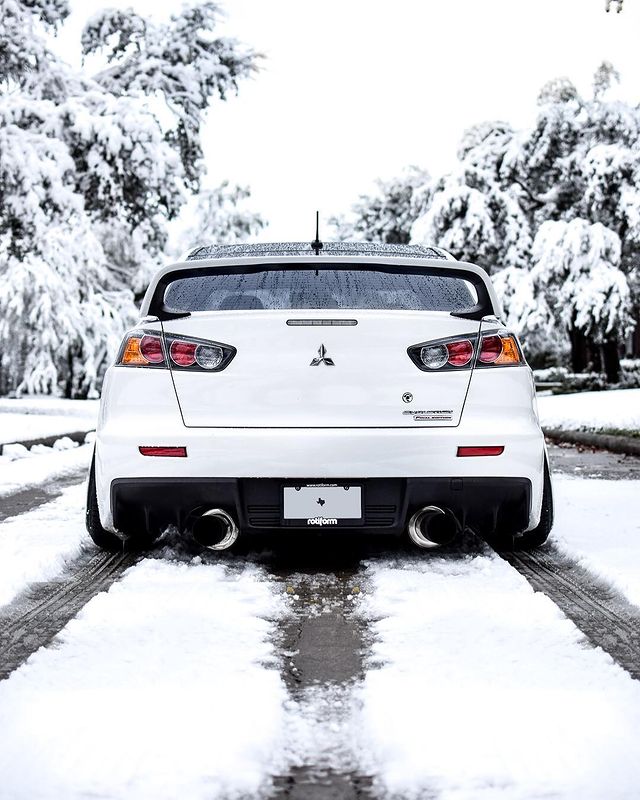 Evo 10 Handling Upgrades
The Mitsubishi Evolution X came from the factory with a considerably stiff and tight chassis that handles like a real sports car if you put it to the test.
However, if you're increasing engine power output, then upgrading suspension and braking systems is a no brainer. With more power, both yourself and your car will have to work harder to keep it under control.
Safety should always be your number one priority, so things like stiffer sway bars, improved suspension geometry, upgraded brakes and quality tires are best adjusted and upgraded together with the engine.
Suspension Upgrades
Suspension upgrades not only improve handling but also tweak the appearance of your Evo.
Coilovers and lowering springs are obvious options when it comes to lowering ride height. Combined with camber kits and sway bars, you can dial in your suspension's geometry for maximum grip between your tires and the road.
Before you choose what to upgrade, you should exactly know what you want from that upgrade and where you plan to drive your car.
Lowering Springs
Unlike other cars, using lowering springs isn't as popular for tweaking the ride height of an Evo X. This is mostly because lowering springs don't offer the kind of adjustability you need for a car that handles very well.
However, lowering springs are one of the cheapest ways to lower your car, so it's still an option for some owners.
Here's are some decent options from trusted brands:
Coilovers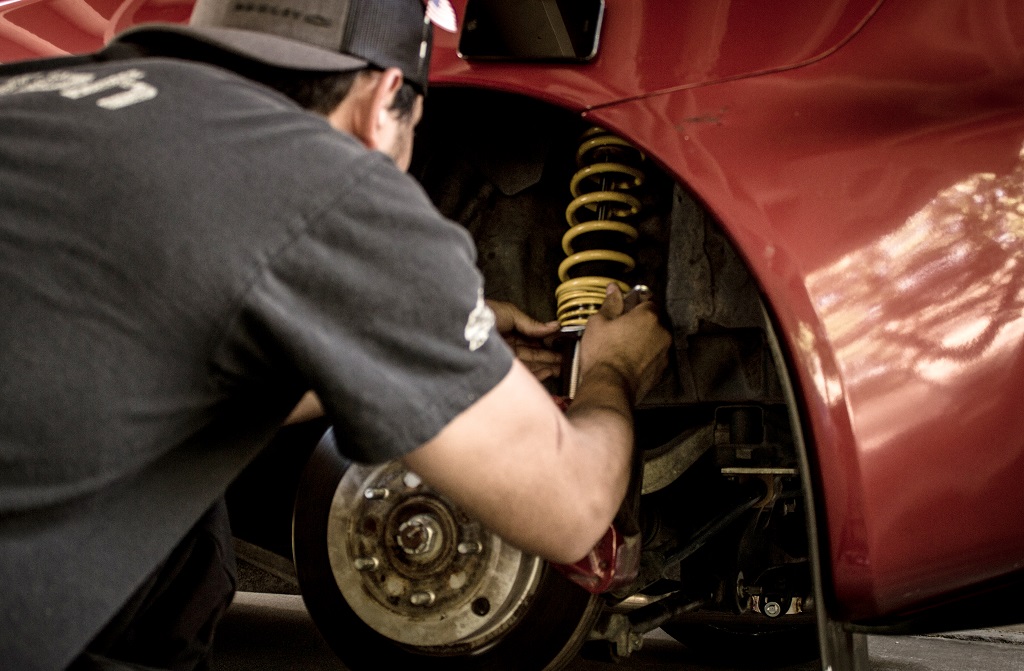 The best way to upgrade handling is by installing high-performance Evo X coilovers. Choosing a more expensive kit will give you the best performance and adjustment while retaining a streetable ride quality.
Most car enthusiasts are aware of the fact that coilovers can make your car ride stiffer, and less comfortable for daily driving. With high-end coilovers, however, you won't have to worry about that.
Although cheap coilovers can work fine in an CZ4A Lancer, they don't tend to last as long, and can end up being more expensive than buying a quality pair in the first place.
Some of our favorite coilovers are:
Sway Bars
Sway bars are a great way of improving the behavior and handling of your Evo X while cornering hard.
Of course, you won't feel the same profound difference as you do with coilovers while on the highway, but when you push your car to it's limits on the track or in the mountains things will become clearer.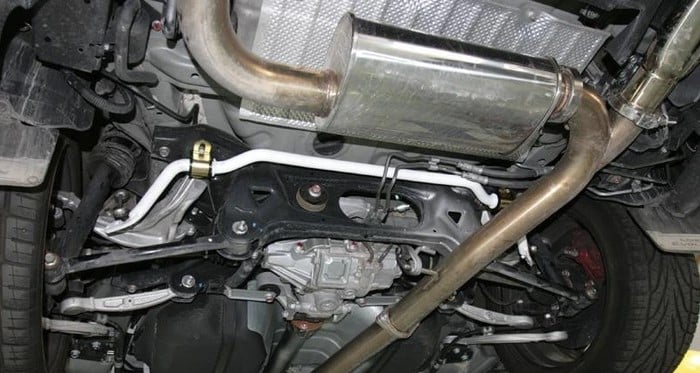 Depending on your set up, they can really help to reduce (or induce) oversteer and understeer.
Some great options include:
Brakes 
When it comes to choosing aftermarket upgrades, brakes are often overlooked by many. Since all car components work in harmony, we're sure you can see how this would be a problem.
Though your stock Brembo brakes are good enough for most driving scenarios, they lack the bite you'll need for heavy track use or spirited driving.
We strongly suggested upgrading your braking system, especially if your Evo X sees a lot of aggressive driving. Thankfully your standard Brembo calipers are suitable for everything outside of heavy competition use.
Street & Track Brake Pads
Brake pads are one of the first things that will wear out on your Evo X. Cheap materials tend to provide a poor braking experience, not to mention make a lot of noise and brake dust.
Upgrading to a high-performance brake pad compound can often mean less dust and noise while also getting a braking system that bites hard when you need it to.
Take a look at some of the options from:
Brake Rotors
High-quality brake rotors are essential if you want to be sure your Evo X can handle repeated heavy braking without overheating.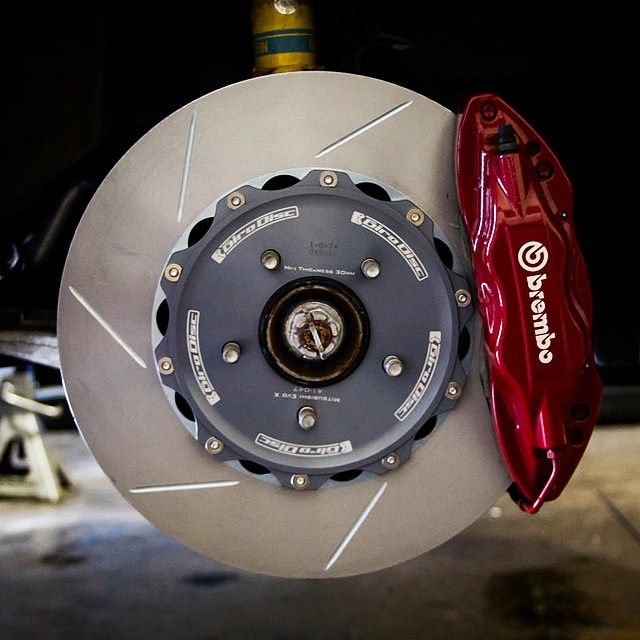 There's a huge debate about which are better — slotted or drilled rotors?
Under high pressure, drilled rotors are more prone to cracking. We suggest choosing slotted as they offer the same level of cooling but are more durable.
Brake Lines
High-performance brake lines provide a more confidence inspiring brake pedal, and a harder bite under heavy braking.

A stainless steel brake line improves brake fluid pressure in the hydraulic system. This means the fluid will reach the calipers faster. With that in mind, you can expect a slightly faster braking effect when you step on the pedal.
Below we have some great stainless steel brake lines for your Evo X:
Wheels
For some, wheels are nothing more than a cosmetic accent of their car but for serious car enthusiasts, they represent appearance and performance.
Opting-in for a lightweight set of wheels can reduce the unsprung weight of your car, while improving handling too.
The Evo X factory wheels dimensions are:
Bolt Pattern: 5 x 114.3
Size: 18 x 8.5"
Offset: +35mm
You can, however, choose different sized wheels ranging from 18" to 20" and different widths between 8.5" to 10.5". Most owners tend to upgrade to wheels around 18×9.5″+20.
Of course, this is just a guide. Some owners choose an even lower wheel offset, wider rim width, stretched tires and need to roll and pull their fenders to make everything fit nicely.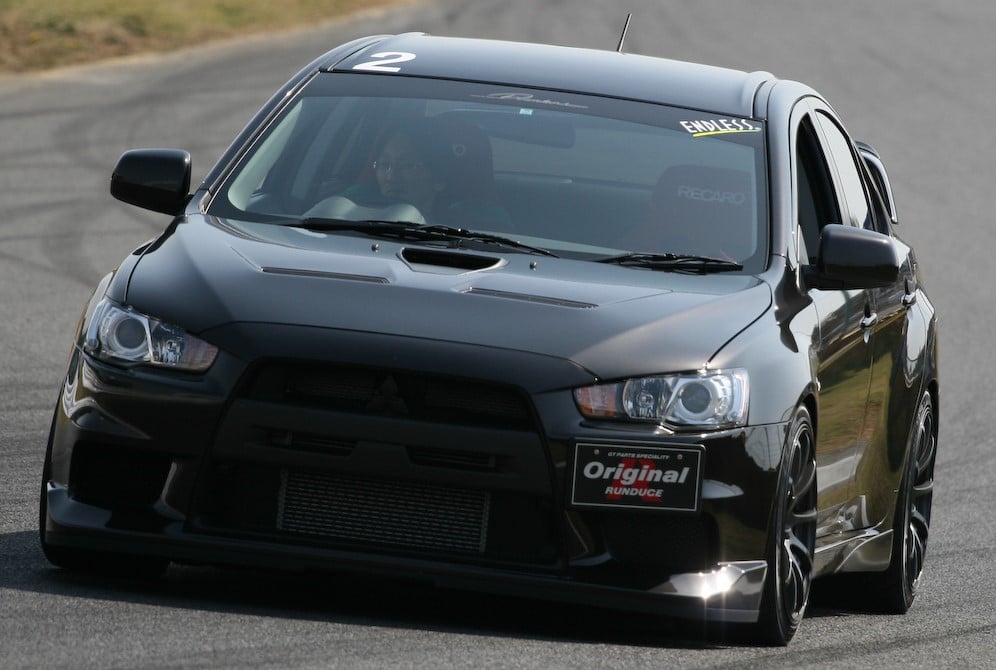 Others opt for safer wheel sizes, similar to OEM, with a lot of rubber. This makes for a comfortable, cheap set up that still handles very well.
Here are some of our top picks:
Evo X Interior Upgrades
Your Evo X comes with a nice and neat interior already but there's always room for improvement. You can switch things up by upgrading the seats, steering wheel, gear shifter, and more.
Moreover, these modifications not only improve the appearance but also provide comfort for daily driving and extra security when driving hard.
Seats 
Your OEM seats are ergonomic enough for both daily driving and moderate spirited driving. But if you really want to push your car to its limits, it becomes hard to stay in one place while pushing hard through the corners.
In this case, consider upgrading your seat to a sport-oriented one. Here a few options that we like the most:
Steering Wheel
Replacing your steering wheel to an aftermarket one or retrimming your OEM unit is a great way of revamping your car's interior on a budget. Here are the most common refinishing options:
Matte carbon
Gloss carbon fiber
Perforated leather
Alcantara
Napa leather
If a replacement is more what you had in mind, we love these upgrades:
Having a perforated leather steering wheel with hints of gloss carbon fiber gives a nice improvement to the interior and driving experience. Also, perforated leather lets your hands breathe better and sweat less.
Short Throw Shifter and Shift Knob
Upgrading the OEM gear shifter to a short-throw shifter is a popular modification on the list of many Evo X owners. Some kits reduce gear throws by as much as 50%, which makes an incredible difference when changing gears.
Depending on the kit, it can also change the height of the shift knob, providing a more comfortable position for your hand. For many owners, short-throw shifters add a ton of fun to their driving experience, especially on track days.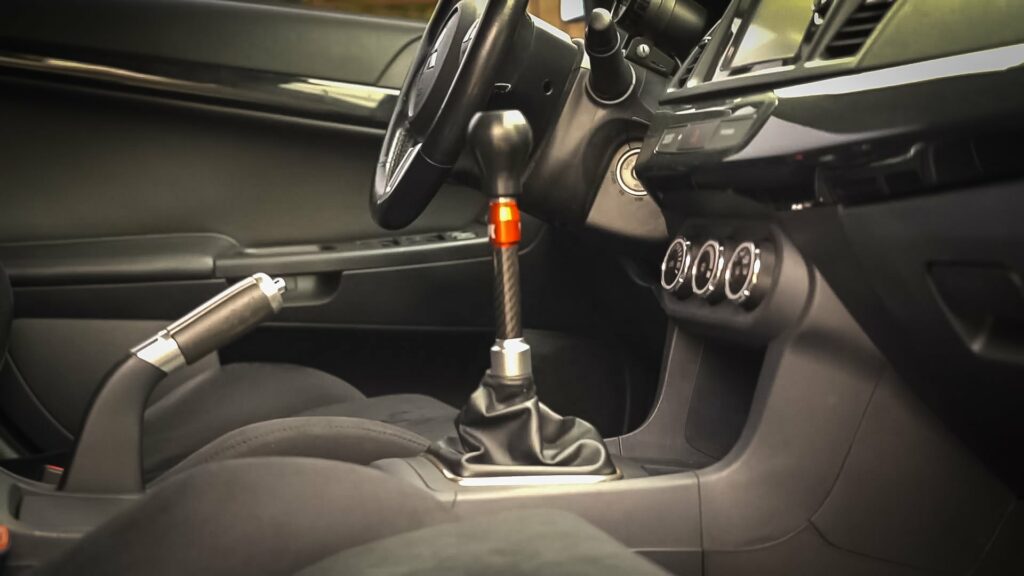 Have a look at our favorite short shifters:
For a more detailed review, see our guide to the best Evo X short shifters.
Evo X Exterior Upgrades
The Evo X looks great as it is, but there's always room for improvement if you're strictly chasing aesthetics. The stock exterior of Mitsubishi's Evo X is sporty, but for many enthusiasts, this isn't enough.

Whether you want the OEM+ look to blend in or something completely aggressive and to stand out, you'll find a wide variety of aftermarket parts for sale to keep you busy.
Carbon Fiber Hood
Carbon fiber hoods can transform the front end of a Mitsubishi Evo X. Furthermore, replacing the OEM hood with a carbon fiber one will reduce weight, which may improve your car's performance and handling.
Options are limited these days, but Seibon still has some great options. Take a look at the different styles below:
Rear Diffuser
Replacing the factory rear diffuser with a carbon fiber unit not only improves the aesthetics of your Evo but also takes a couple of pounds off. A rear diffuser can also help add some downforce to your Evo and provide better traction too.
Take a look at some of the options available from:
Front Lip/Splitter
Adding a front bumper lip or a splitter to your Evo X effectively "splits" the air that you drive into. This reduced airflow helps to increase traction and improve acceleration, all while looking great.
Here are some of the best looking front bumper lips and splitters for your Evo X: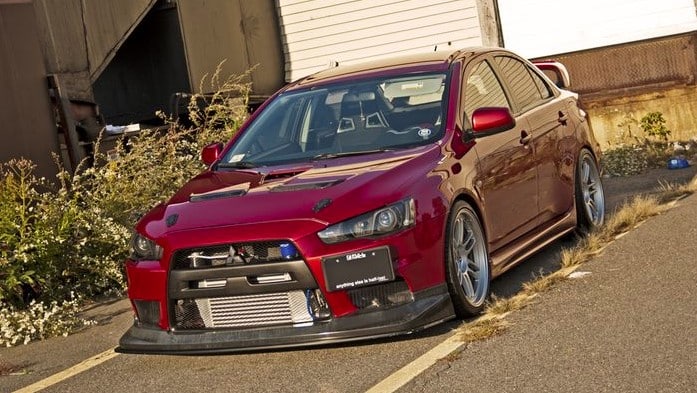 Evo X Mods List: What To Upgrade First?
Once you begin making performance or cosmetic upgrades to your Evo X, there's no going back. The next thing you know — you're scrolling through mod lists like this one asking "what I should upgrade next?"
To help you out, here's a list you can follow when upgrading to different aftermarket parts.
Step 1: Handling
Before you worry about whether or not you have the right amount of boost, your first step should be improving the handling of your Evo X. After all, extra power won't be of much use if you can't control it well.
Here's how you can go about upgrading your handling mods:
Coilovers or lowering springs
Brakes
Sway bars
Wheels
Tires
Step 2: Performance
Performance upgrades are hands-down the most exciting and enjoyable. When tinkering around with your Evo X's power output, it's best if you start with these upgrades first.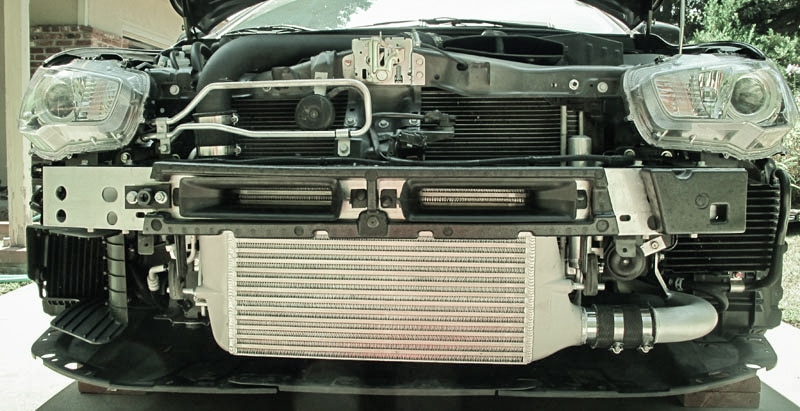 A good order to follow is:
Intake
Exhaust
Turbo and intercooler upgrade
Custom tune
Boost controller
Engine internals
Step 3: Aesthetic Mods
Playing around with the cosmetics of your Evo X doesn't have a "correct" order. But if you're unsure on where to get started, you can begin with these:
Interior tweaks
Carbon fiber lip
Aftermarket lights
Trunk lip or replacement wing
Respray or wrapping
Please keep in mind that many of these modifications will affect the cost of your Evo X's insurance coverage. In the event that you don't declare them, they can void your policy too.
We'd love to hear what's on your Evo X modification list! Are there any upgrades that we missed? Tell us in the comments below!